April, 13, 2012
4/13/12
1:06
AM ET
For all the consternation and criticism dished out over the Boston Red Sox's 1-5 start, another expected American League power is off to a sluggish opening week as well: The
Los Angeles Angels
are 2-4 after
coughing up 20 hits and an eighth-inning lead
in losing 10-9 to the Minnesota Twins on Thursday.
There is one obvious difference between the two starts: The Red Sox have been outscored 38 to 22 while the Angels are even-up 30 and 30. On the other hand, the Red Sox have played the Detroit Tigers and Toronto Blue Jays while the Angels have faced
Bruce Chen
,
Luke Hochevar
,
Jonathan Sanchez
,
Nick Blackburn
,
Carl Pavano
and
Francisco Liriano
. Not exactly Maddux, Glavine and Smoltz there.
Actually, based on ESPN.com's preseason predictions, maybe it's not fair to label the Red Sox an "expected power." After all, 34 of 50 voters predicted the Red Sox to miss the playoffs. Only one -- fantasy expert Matthew Berry -- picked the Red Sox to win the American League East. Meanwhile, 25 of the 50 picked the Angels to win the AL West and 46 of 50 picked them to make the playoffs.
The Angels were easily the most popular World Series pick as well, with 18 of the 50 selecting them to win it all -- 36 percent, a pretty amazing total since last time I checked there are some other pretty good teams around. Only one voter (Karl Ravech) picked the Red Sox to win the World Series.
OK, those are just predictions and as our SweetSpot network blog affiliate says, you can't predict baseball. Still, since ESPN's panel of experts did essentially declare the Angels the World Series favorite, it seems like a fair time to ask:
What's wrong with the Angels and why aren't their fans ready to fire the manager, whine about overpaid left fielders and complain about the bullpen?
Well, it's Los Angeles, for one thing. No less enthusiastic, but perhaps slightly less pessimistic. Still, we can't get all crazy about the Red Sox and just ignore the Angels getting bulldozed by a mediocre Twins lineup.
True fact: In 2011, the Red Sox had a run differential of plus-138. The Angels had a run differential of just plus-34. As good as
Albert Pujols
and
C.J. Wilson
are, and as good
Kendrys Morales
may prove to be, that's still a lot of ground for the Angels to make up.
So, in the spirit of early-season panic, here are some things that could go wrong with the Angels.
1. Jered Weaver doesn't repeat his career season.
Weaver is a terrific pitcher. He has increased his innings each season he has been in the big leagues, peaking at 235.2 last season, when he ranked fifth in the league. It's not a knock against him to say he might not be quite as stingy with the runs as in 2011. But check his basic numbers in 2010 and 2011:
In some regards, he actually pitched better in 2010, most notably in strikeout rate. His walk rate, home run rate and hit rate were all pretty similar, thus his Fielding Independent Pitching runs per nine was basically identical. So why did he allow 18 fewer runs in 2011? A couple primary reasons: 15 of his 20 home runs were solo shots as opposed to 15 of 23 in 2010; he allowed a .195 average with men on base in 2011 versus .236 in 2010. In other words, if you consider hits to be randomly distributed, they worked in his favor last season. Also note: After a hot start in 2011, his second-half ERA rose from 1.86 to 3.21 as he surrendered 15 home runs in 95.1 innings. He's off to a great start in 2012 in one regard: 17 strikeouts and just one walk. But he's allowed five runs for a 3.21 ERA. Random distribution, my friends.
2. Potential bullpen issues.
Mike Scioscia left
Rich Thompson
in to allow four runs in the eighth inning on Thursday, the first two on
Justin Morneau
's go-ahead two-run homer and then two more that proved costly when the Angels scored twice in the ninth. Now, Scioscia would have loved to have had lefty
Scott Downs
face
Joe Mauer
and Morneau, but Downs had rolled his ankle the previous inning in a collision with
Denard Span
. Fellow lefty
Hisanori Takahashi
had already been used since starter
Dan Haren
lasted only five innings.
But put of the reason Thompson was in there was that ancient relievers
LaTroy Hawkins
and
Jason Isringhausen
were apparently unavailable to pitch since both had thrown the night before, Hawkins for 16 pitches, Isringhausen for 10. Seems odd, since neither had pitched on Tuesday. But why not extend closer
Jordan Walden
for five outs? Thompson is a guy who is homer-prone, so why let him face the meat of the Twins' order? Plus, isn't it a bad sign if two-sevenths of your bullpen can't pitch two days in a row? "We're going to need to get our starters maybe over that little hump and then try to get our roles in the bullpen a little more nailed down," Scioscia said. "Our guys tried. We just couldn't shut the door when we needed it."
3. Vernon Wells.
It's early, but he's hitting .217 with no walks and five strikeouts. Stay tuned.
4. Will we get good Ervin or mediocre Ervin?
Ervin Santana
had a career-low 3.38 ERA last season. He has been pretty consistent the past two seasons, but he has been plagued by minor injuries in the past, a reason his ERA rocketed up to 5.03 in 2009 and 5.76 in 2007. Just something to keep in mind.
5. Is Peter Bourjos' bat for real?
Bourjos is a supreme defender in center and he exceeded expectations last year with a .271/.327/.438 batting line. Scouts had doubts about his bat coming up through the minors and he did strike out 124 times against just 32 walks in 2011. While his .338 BABIP may be repeatable -- he is one of the fastest players in the majors, after all -- Dan Szymborski's ZiPS system projects a .261/.309/.412 line, with some regression due to a lower BABIP.
6. Mark Trumbo's defense at third.
I've written about this before
. The early returns aren't good; yes, it's early, I realize that. It's also true that since 1950 only Enos Cabell has successfully converted from first base to third base at the major league level. We don't know yet how determined Scioscia will be to keep Trumbo's bat in the lineup, but playing him at third is likely to be a liability, especially since Trumbo's low OBP means he isn't really much -- if any -- of an offensive upgrade over
Alberto Callaspo
.
7. Howie Kendrick also coming off his best season.
Kendrick posted a career-high .802 OPS in 2011, 50 points above his career mark, fueled by a career-high 18 home runs. It's possible that power growth was real, as he appeared to sacrifice a few more strikeouts -- a career-high 20.4 percent K rate -- for a little more power while maintaining his usual .285 or so batting average. But there's also a chance it was simply his best season and he's not quite as good.
8. Maybe Albert Pujols won't be better than he was in 2011.
Hey, that's still pretty awesome, if also somewhat more mortal compared to his previous decade of production.
Look, it's only a week. The Angels should still have one of the best, and maybe
the
best, rotations in the league. They have a lot of depth and versatility in the lineup, although it remains to be seen who will be a second and third big bat behind Pujols.
The larger point is this: This isn't a perfect team in my book, certainly one that shouldn't rate as such a landslide favorite to make the playoffs and win the World Series.
So, yes, I just managed to slam 49 of my ESPN colleagues. This is what the first week does to us.
PHOTO OF THE DAY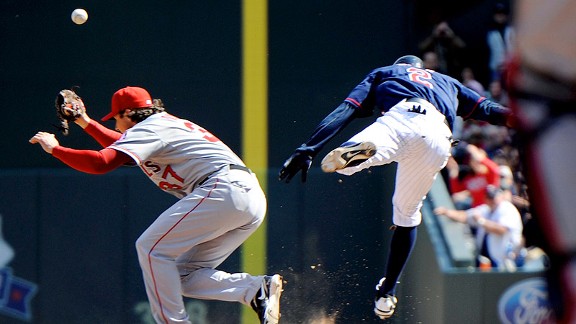 Hannah Foslien/Getty ImagesAngels pitcher Scott Downs collides with Minnesota's Denard Span, injuring his ankle in the process.
January, 26, 2012
1/26/12
8:30
AM ET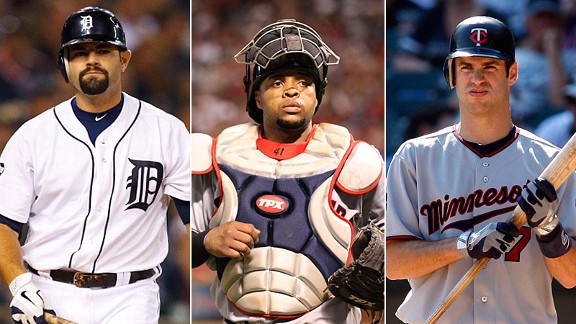 US PresswireWith Alex Avila, Carlos Santana and Joe Mauer, the AL Central is loaded at catcher.
We're back with more divisional position rankings for 2012. You can scream, you can holler, you can protest and call me names. But just because I rated your player lower than you think he deserves doesn't mean I hate your team.
(Here are the
NL East
and
NL West
rankings.)
Catcher
1.
Alex Avila
, Tigers
2.
Joe Mauer
, Twins
3.
Carlos Santana
, Indians
4.
Salvador Perez
, Royals
5.
A.J. Pierzynski
, White Sox
The AL Central might not be baseball's glamor division, but it may have three of the top five catchers in the game if Mauer bounces back from his injury-plagued campaign. Since we're not certain of his health, I'm going to give top billing to Avila, who had the best hitting numbers of any catcher outside of
Mike Napoli
and plays solid defense. I wouldn't be surprised if Santana explodes; with his power-and-walks combo, all he has to do is raise his average 30 points and he'll be one of the most valuable players in the game. Considering that his average on balls in play was .263, there is a good chance of that happening. Perez hit .331 in 39 games; OK, he won't do that again, but he doesn't turn 22 until May and puts the ball in play. There's no shame in being fifth in this group but that's where I have to place Pierzynski, who keeps rolling along and is now 36th on the all-time list for games caught.
First base
1.
Prince Fielder
, Tigers
2.
Paul Konerko
, White Sox
3.
Eric Hosmer
, Royals
4.
Justin Morneau
, Twins
5.
Matt LaPorta
, Indians
In 2009, when Morneau played 135 games, he hit .274 AVG/.363 OBP/.516 SLG. Even if he replicates that line, he may rank only fourth. Konerko has hit a combined .306 with 70 home runs the past two seasons. He's 104 home runs from 500 but turns 36 in March, so he's probably four seasons away; not sure he'll hang on that long, but who knew he'd be this good at this age. If Hosmer improves his walk rate and defense and Konerko declines, Hosmer could climb past him. If it doesn't happen this year, it will happen next. The most similar batter to him at age 21: Eddie Murray.
Second base
1.
Jason Kipnis
, Indians
2.
Gordon Beckham
, White Sox
3.
Johnny Giavotella
, Royals
4.
Alexi Casilla
, Twins
5.
Ramon Santiago
, Tigers
Well, this isn't exactly a
Robinson Cano
/
Dustin Pedroia
/
Ben Zobrist
debate, is it? Kipnis' bat is a sure thing, as evidenced by his excellent play after his call-up (.272 average and .507 slugging in 36 games). His glove was once a question mark but now appears solid enough that he looks like a future All-Star to me. Can anybody explain what has happened to Beckham? He's second mostly by default; he's gone downhill since his superb rookie season in 2009 but is only 25, so there's hope that he'll find those skills again. Giavotella has some potential with the bat (.338/.390/.481 at Triple-A), which is more than you can say for Casilla and Santiago.
Third base
1.
Miguel Cabrera
, Tigers
2.
Mike Moustakas
, Royals
3.
Lonnie Chisenhall
, Indians
4.
Danny Valencia
, Twins
5.
Brent Morel
, White Sox
We'll go with the idea that Cabrera is Detroit's starting third baseman, although I predict he'll end up starting more games at designated hitter. Manager Jim Leyland will end up doing a lot of mixing of his lineups, but for this little exercise we have to choose a starter. Moustakas didn't tear up the league as a rookie and I worry about his ability to hit lefties (.191, homerless in 89 at-bats), but he showed more than fellow rookies Chisenhall and Morel. Valencia doesn't get on base enough and he rated poorly on defense in 2011. I hope he's at least good in the clubhouse. Morel was terrible all season and then exploded for eight of his 10 home runs in September and drew 15 walks after drawing just seven the previous five months. Maybe something clicked.
Shortstop
1.
Asdrubal Cabrera
, Indians
2.
Alexei Ramirez
, White Sox
3.
Jhonny Peralta
, Tigers
4.
Alcides Escobar
, Royals
5.
Jamey Carroll
, Twins
Peralta had the best 2011 season, but he's a difficult guy to project. He had an .804 OPS in 2008 but dropped to .691 in 2009. He had a .703 OPS in 2010 and then .823 in 2011. I just don't see a repeat season, at the plate or in the field. Cabrera didn't rate well on the defensive metrics, and after a strong start he wore down in the second half. Ramirez has turned into a nice player, with a good glove and some power, and he even draws a few walks now. Escobar is a true magician with the glove. Carroll is actually a useful player who gets on base (.356 career OBP), but he's pushed as an everyday shortstop and he'll be 38. He'll be issued the honorary
Nick Punto
locker in the Twins' clubhouse.
Left field
1.
Alex Gordon
, Royals
2.
Alejandro De Aza
, White Sox
3.
Ben Revere
, Twins
4.
Michael Brantley
/
Shelley Duncan
, Indians
5.
Ryan Raburn
/
Don Kelly
, Tigers
I'm not sure what to do here. After Gordon, I just get a headache. We'll pretend to believe in De Aza after his impressive stint in the majors (171 plate appearances, .329/.400/.920). He's hit in Triple-A for three seasons now, and while he's not going to post a .400 OBP again, he should be adequate. Revere is one of the fastest players in the majors, but he's all speed and defense; he hopes to grow up to be
Brett Gardner
, which isn't a bad thing, but he'll have to learn to get on base at a better clip. Brantley doesn't have one outstanding skill so he'll have to hit better than .266 to be anything more than a fourth outfielder; Duncan provides some right-handed pop as a platoon guy. The Tigers have
Delmon Young
, but I'll slot him at DH. That leaves supposed lefty masher Raburn and utility man Kelly to soak up at-bats; both had an OBP below .300 in 2011, although Raburn has hit better in the past.
Center field
1.
Austin Jackson
, Tigers
2.
Denard Span
, Twins
3.
Grady Sizemore
, Indians
4.
Lorenzo Cain
, Royals
5.
Alex Rios
, White Sox
I can't rate Sizemore any higher since he's played just 104 games over the past two seasons, and he hasn't had a big year since 2008. Rios was terrible in '09, OK in '10 and worse than terrible in '11. I'm not betting on him.
Right field
1.
Shin-Soo Choo
, Indians
2.
Brennan Boesch
, Tigers
3.
Jeff Francoeur
, Royals
4.
Josh Willingham
, Twins
5.
Dayan Viciedo
, White Sox
Choo would like to forget 2011, but there's no reason he shouldn't bounce back and play like he did in 2009 and 2010, when he was one of the 10 best position players in the AL. I don't expect Francoeur to deliver 71 extra-base hits again, but maybe he'll surprise us. Viciedo is apparently nicknamed "The Tank," which makes me wonder how much ground he can cover. He did improve his walk rate last season in the minors and turns 23 in March, so there's still room for more growth.
Designated hitter
1.
Billy Butler
, Royals
2.
Travis Hafner
, Indians
3.
Ryan Doumit
, Twins
4. Delmon Young, Tigers
5.
Adam Dunn
, White Sox
Has there been a bigger prospect disappointment than Young in the past decade? I mean, yes, there were complete busts like
Brandon Wood
and
Andy Marte
, but those guys had obvious holes in their games, while Young was viewed as a
sure thing
, a consensus No. 1 overall prospect. But his bat has never lived up to its billing. Other than one decent year in Minnesota, he has low OBPs and he clearly lacked range in the outfield. His career WAR on Baseball-Reference is minus-0.2 (1.6 on FanGraphs), meaning he's been worse than replacement level. He's just not that good, Tigers fans.
No. 1 starter
1.
Justin Verlander
, Tigers
2.
John Danks
, White Sox
3.
Justin Masterson
, Indians
4.
Luke Hochevar
, Royals
5.
Carl Pavano
, Twins
Masterson was better than Danks in 2011, and I do believe his improvement was real. He absolutely crushes right-handers -- they slugged an anemic .259 off him. Danks had two bad months but has the longer track record of success. Even in his "off year" he had a higher strikeout rate and lower walk rate than Masterson. If you want to argue about Hochevar versus Pavano, be my guest.
No. 2 starter
1.
Doug Fister
, Tigers
2.
Ubaldo Jimenez
, Indians
3.
Gavin Floyd
, White Sox
4.
Francisco Liriano
, Twins
5.
Jonathan Sanchez
, Royals
Yes, sign me up for the Doug Fister bandwagon club. Jimenez's fastball velocity was down a couple miles per hour last season but the positives are that his strikeout and walk rates were identical to 2010; he'll be better. Floyd isn't flashy but he's now made 30-plus starts four years in a row, and he'll become a very rich man when he becomes a free agent after this season. Sanchez won't have the luxury of pitching in San Francisco (and to eight-man NL lineups).
No. 3 starter
1.
Max Scherzer
, Tigers
2.
Scott Baker
, Twins
3.
Philip Humber
, White Sox
4.
Bruce Chen
, Royals
5.
Josh Tomlin
, Indians
I could be underrating Baker, who was excellent last season, but only once in his career has he made 30 starts in a season. Tomlin's fans will disagree with this ranking, but he's a finesse guy who relies on the best control in baseball (21 walks in 26 starts). He's the kind of guy you root for, but the league seemed to figure him out as the season progressed.
No. 4 starter
1.
Felipe Paulino
, Royals
2.
Rick Porcello
, Tigers
3.
Jake Peavy
, White Sox
4.
Derek Lowe
, Indians
5.
Nick Blackburn
, Twins
Scouts still love Porcello's arm and I know he's just 23, but he's made 89 big league starts and shown no signs of getting better. His WHIP has increased each season and his strikeout rate remains one of the lowest in baseball. Paulino has an electric arm -- he averaged 95 mph on his fastball -- and
is
getting better. How could the Rockies give up on him after just 14 innings? How could the Astros trade him for
Clint Barmes
? Anyway, kudos to the Royals for buying low on the guy who may turn into their best starter. Peavy can't stay healthy. Lowe has led his league in starts three out of the past four seasons, but I'm not sure that's a good thing anymore. Blackburn is a poor man's Lowe, and I don't mean that in a good way.
No. 5 starter
1.
Chris Sale
, White Sox
2.
Jacob Turner
, Tigers
3.
Aaron Crow
/
Danny Duffy
, Royals
4.
Fausto Carmona
/
David Huff
/
Jeanmar Gomez
, Indians
5.
Brian Duensing
/
Jason Marquis
, Twins
Welcome to the AL Central crapshoot. Turner and Sale have the most upside, but one is a rookie and the other is converting from relief. Crow will also be given a shot at the rotation, but his difficulties against left-handed batters (.311 average allowed) don't bode well for that transition. Even if the artist formerly known as Carmona gets a visa, what do you have? A guy with a 5.01 ERA over the past four seasons. Duensing is another typical Twins pitcher, which means he at least throws strikes. His first full season in the rotation didn't go well, so of course the Twins brought in Marquis, yet another guy who doesn't strike anybody out.
Closer
1.
Jose Valverde
, Tigers
2.
Joakim Soria
, Royals
3.
Matt Thornton
, White Sox
4.
Chris Perez
, Indians
5.
Matt Capps
, Twins
Four good relievers plus Matt Capps. I do admit I'm a little perplexed by Perez, however. In 2009, he struck out 10.7 batters per nine innings. In 2010, that figure fell to 8.7 but he posted a pretty 1.71 ERA. In 2011, it was all the way down to 5.9, but without much improvement in his control. Perez blew only four saves but he did lose seven games. He survived thanks to a low .240 average on balls in play. He's an extreme fly-ball pitcher but didn't serve up many home runs. Bottom line: I'd be nervous.
Bullpen
1. Indians --
Vinnie Pestano
,
Rafael Perez
,
Tony Sipp
,
Joe Smith
,
Nick Hagadone
2. Royals --
Jonathan Broxton
,
Greg Holland
,
Louis Coleman
,
Tim Collins
,
Jose Mijares
3. Tigers --
Joaquin Benoit
,
Octavio Dotel
,
Phil Coke
,
Daniel Schlereth
,
Al Alburquerque
4. White Sox --
Jesse Crain
,
Jason Frasor
,
Will Ohman
,
Addison Reed
,
Dylan Axelrod
5. Twins --
Glen Perkins
,
Alex Burnett
,
Anthony Swarzak
,
Kyle Waldrop
,
Lester Oliveros
If you're starting to think I'm not high on the Twins for this season, you would be correct.
Intangibles
1. Royals
2. Indians
3. Tigers
4. White Sox
5. Twins
I like the youthful exuberance of the Royals, plus the likelihood of improvement from the young players and the possibility of some midseason reinforcements from the minors. The depth of the bullpen will help bolster a shaky rotation, and this just feels like an organization that is finally starting to believe in itself. The Indians are riding last year's positive results and enter the season knowing they might get better production from Choo and Sizemore and full seasons from Kipnis and Chisenhall. I'm not knocking the Tigers here, but they do lack depth in the pitching staff and the pressure is on them.
The final tally
1. Tigers, 65 points
2. Royals, 55 points
3. Indians, 54 points
4. White Sox, 46 points
5. Twins, 35 points
No surprise here: The Tigers will be heavy favorites to win the division with a lineup that should score a ton of runs. I don't think it's a lock that they'll win -- Verlander, Avila, Peralta and Valverde will all be hard-pressed to repeat their 2011 campaigns, for example. But the Royals and Indians appear to have too many questions in the rotations, the White Sox have serious lineup issues, and the Twins have a beautiful ballpark to play their games in.
August, 30, 2011
8/30/11
1:10
PM ET
It was just a decade ago when the
Minnesota Twins
were nearly contracted -- when then-owner Carl Pohlad was ready to wipe their existence off the face of the baseball planet for a few more millions. But the Twins not only survived that, they turned into a model franchise despite a limited budget. They won six AL Central titles from 2002-2010, and lost a tiebreaker game for a seventh. They moved out of the wretched Metrodome and into Target Field last season.
In fact, the Twins became so successful that they became a big-market franchise. They began 2011 with a higher payroll than the Tigers, Cardinals, Dodgers, Rangers or Braves. At $112 million, the payroll was up $15 million from 2010 and up $47 million from just two years ago.
And that payroll has produced one of the worst seasons in Twins history. The Royals are about to catch them in the AL Central. The Twins' run differential of minus-147 is just seven runs better than the Astros ... a team now running out lineups with five or six rookies on a regular basis. Long a team built around pitching and defense, the Twins have allowed the most runs in the American League. The defense has been so bad, the fundamentals so poorly executed, that the team will start spring training three days earlier next year
to work on more defensive drills
. Even
Joe Mauer
has been booed and now
faces criticism
for a series of ads he did for a local fitness gym. Local columnists are calling for him to
improve his offseason conditioning
.
Mauer made $23 million this season and has started just 45 games behind the plate. He'll be making $23 million per season through 2018.
Justin Morneau
, the former MVP making $14 million, has hit four home runs in his return from last July's concussion. He has battled injuries along the way, including a sore shoulder that kept him out of Monday's game.
But the Twins' problems run much deeper than the bad seasons from their two best players. For years, they've relied on a formula of finesse pitchers who throw strikes.
Carl Pavano
won 17 games a year ago despite one of the lowest strikeout rates among AL starters. His ERA has predictably risen nearly a run this year. Soft-tossing
Brian Duensing
fooled big league hitters a year ago; they caught up to him in 2011.
Nick Blackburn
was signed to a four-extension in spring training of 2010 and he's posted a 4.98 ERA the past two seasons, not surprising given that he has the second-lowest strikeout rate among all pitchers with at least 500 innings since 2008.
Matt Capps
had two good months with the Twins so they signed him to a $7 million contract. Predictably, he's been mediocre.
It may be time to scrap that strikes-and-defense approach. What we learned this year is how much the Twins relied on Mauer and Morneau. And if they don't return to their previous levels, this is a franchise that has a lot of rebuilding in front of it. None of the younger players on the team project as stars and the farm system isn't highly rated. The new riches were spent carelessly in 2011.
I'm trying to find a silver lining here, but I don't think three extra days of fundamentals drills are going to solve the Twins' problems.
Follow David Schoenfield on Twitter @dschoenfield.
May, 23, 2011
5/23/11
6:22
PM ET
With
Chase Utley
returning for the Phillies tonight, they finally get another bat in their lineup. Phillies' second basemen are hitting .226 with no homers and 10 RBIs, so I think even if Utley plays on one leg and hops around the bases he should be able outproduce that. Here is a look at the biggest problem positions in the majors so far this season ... but only among teams currently at or above .500.
Rays catchers: .190/.256/.314. John Jaso was a big surprise a year ago, posting a .372 OBP and even leading off. He's not hitting this season (.211, .276 OBP) and platoon mate Kelly Shoppach is even worse.
Rays first basemen: .272/.335/.337. Talk about an empty .272: Rays' first sackers have just one home, nine RBIs and 13 runs scored. Most of the blame goes to Dan Johnson, who hit .115 before getting designated for assignment over the weekend. Casey Kotchman his hitting .352 in 117 plate appearances, so the problem may be solved.

Blue Jays second basemen: .217/.268/.317. Aaron Hill has received most of the playing time, but has yet to homer in 116 at-bats. He's hit 62 home runs the past two seasons, although hit just .207 in 2010.

Rockies third basemen: .169/.219/.247. There was a lot of competition for this spot, as Toronto, Baltimore and Oakland third basemen are also hitting under .200, with Seattle and Detroit under .210. That .466 OPS is the worst of any position other than Twins catchers. Take a bow, Jose Lopez, Ian Stewart and Ty Wigginton.

Rays shortstops: .199/.236/.288. That's the lowest OPS of any shortstop group in the majors. Reid Brignac and company have combined for 40 strikeouts and seven walks. Did we mention the Rays are tied for first with the Yankees?

Red Sox left fielders: .207/.244/.272. That's one expensive No. 8 hitter.

Mariners center fielders: .179/.263/.288. That was mostly Michael Saunders. Franklin Gutierrez just returned from the DL and I predict he will outhit that line.

Brewers right fielders: .236/.288/.348. Corey Hart is back but has one RBI in 21 games.

Blue Jays DHs: .235/.313/.324. The Mariners don't have a home run from their DHs (that's you, Jack Cust), but at least have a .361 OBP. Yankee DHs are hitting .195, but at least have nine home runs. Toronto's DHs aren't getting on base or hitting for power.

By the way, how bad are the Twins? Here are their position OPS ranks across the majors: C (30th), 1B (22nd), 2B (30th), 3B (22nd), SS (26th), LF (29th), CF (17th), RF (6th), DH (11th of 14). Oh ... the Twins have allowed the most runs in the AL as well. It's not going to be a fun summer in Minnesota.

In my weekly look-ahead piece, I made an off-hand comment that only three AL outfielders currently have an OPS greater than .900 (and only eight have are higher than .800). Is that a low total? Actually, we haven't had more than three AL outfielders post a .900 OPS since 2006 (at least 50 percent of games played in the outfield). Here's the chart of .900 and .800 OPS seasons by AL outfielders since 2001:
Fun look from The Common Man at the Platoon Advantage on the three position players who have been on a 25-man roster season and have yet to draw a walk ... plus some other non-walking feats.
The Mariners' streak of nine straight games where their starting pitchers went at least seven innings and allowed two or fewer runs is the first time that's happened since the 1999 Braves.
Sticking with the Mariners. Check out the list of pitchers with the highest percentage of strikes, from ESPN Stats & Information:
Michael Pineda, 70.4%
Cliff Lee, 70.0%
Ted Lilly, 69.9%
Roy Halladay, 69.0%
Jordan Zimmerman, 68.1%

And guess which starting pitcher has the highest average fastball velocity this season?

The Stats & Info department passes this note along as well: Josh Tomlin has pitched a quality start in each of his first nine starts this season, the longest streak to start a season by an Indians pitcher since 1913. He has gone 5+ IP in each of his first 21 career starts, tied for the third-longest streak in the Live Ball Era (since 1920).
Carl Pavano is averaging 3.31 K's per nine innings, lowest among qualified starters. Only four pitchers since 2000 who pitched at least 162 innings have struck out so few batters: Aaron Cook for the 2007 Rockies (3.31), Danny Graves of the 2003 Reds (3.20), Chien-Ming Wang of the 2006 Yankees (3.14; he led the AL with 19 wins that year), Kirk Rueter of the 2004 Giants (2.65), and the immortal Nate Cornejo of the 2003 Tigers (2.13). Cornejo made 32 starts that year and struck out 46 batters in 194 innings. He didn't record a strikeout in nine different.
March, 30, 2011
3/30/11
12:25
AM ET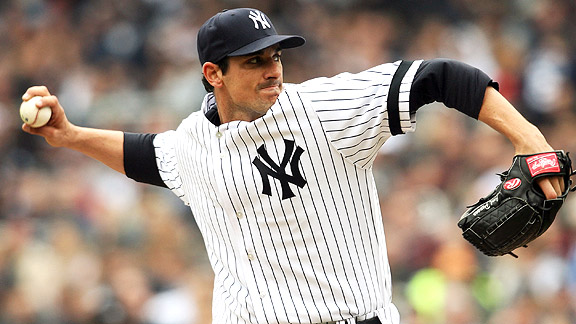 Nick Laham/Getty ImagesApril 2, 2007: Carl Pavano draws the Opening Day start for the Yankees.
Last week the
Kansas City Royals
announced
Luke Hochevar
as their Opening Day starter, which certainly made for a happy day for the Hochevar family, but considering his career 5.60 ERA probably didn't send Royals fans flocking to purchase 20-game plans.
I'll be honest: I love hearing the official announcements of all the first-game starters. Why? Because I heard about Luke Hochevar and it sent me searching for the most improbable Opening Day starters of the past decade.
10. David Wells, Red Sox, 2005
Wells, of course, had a long and successful career, but how did he end up drawing the first start following Boston's historic 2004 World Series title, considering he wasn't on that team? Well,
Pedro Martinez
signed with the Mets,
Derek Lowe
left for the Dodgers,
Curt Schilling
had an injured ankle that meant he wasn't ready and Terry Francona simply decided to give the ball to Boomer (against the Yankees, no less) rather than holdovers
Tim Wakefield
or
Bronson Arroyo
.
9. Carl Pavano, Yankees, 2007
Pavano hadn't pitched in 643 days when he drew the start. Why?
Chien-Ming Wang
had pulled a hamstring,
Andy Pettitte
was battling back spasms and
Mike Mussina
had pitched too late in spring training. So it was Pavano drawing the start, "the same Pavano whose many ailments have included a bruised buttocks," as the New York Times heralded. Pavano started the game, started again seven days later … and that was it for his 2007 campaign.
8. Jimmy Haynes, Reds, 2003
Haynes was a hotshot prospect coming up through the Orioles system but like a lot of pitching prospects of that era melted under the barrage of longballs. He drifted to Oakland, Milwaukee and finally Cincinnati, where he put together a superficially good 15-10 season in 2002, thus drawing the 2003 opener. He really wasn't that good in '02: 210 hits allowed in 196 innings, a 126/81 strikeout/walk ratio and 1.48 WHIP. He went 2-12 with a 6.30 ERA in 18 starts in '03.
7. Runelvys Hernandez, Royals, 2003
Hernandez was known as Fat Elvys for his ample body mass. He had a decent rookie season in 2002, with a 4.36 ERA in 12 starts, and was really the only option for the Royals, since
Paul Byrd
, their only good starter, had signed with Atlanta. Despite Fat Elvys drawing the opener and
Darrell May
eventually leading the club with 10 victories, the Royals had a surprising 83-79 record in 2003, their only winning season since 1994.
6. Ryan Drese, Rangers, 2005
Drese drew the start after going 14-10 with a 4.20 ERA in 2004. Under Rangers standards of that time, that was a pretty awesome season. Believe it or not, that was the third-best ERA of any Rangers starter from 2000 to 2008 (behind only two seasons by
Kenny Rogers
). Drese lasted just 12 starts and was released with a 6.46 ERA after getting into an in-game scuffle with catcher
Rod Barajas
.
5. Mike Maroth, Tigers, 2003
As a rookie in 2002, Maroth had posted a 4.48 ERA in 21 starts and struck out an uninspiring 58 hitters in 128.2 innings. Among pitchers with at least 75 innings, that was the second-lowest strikeout rate in the American League. However, considering the '02 Tigers had lost 106 games, that was good enough to draw the opener. The Tigers lost that game 3-1 on their way to a 1-17 start and 119 losses -- 21 of them by Maroth.
4. Mark Hendrickson, Marlins, 2008
Hendrickson has lasted nine seasons in the bigs despite a 5.02 career ERA, splitting time as a starter and reliever. He started for Florida even though he'd gone 4-8 with a 5.21 ERA with the Dodgers the previous year. The Marlins didn't have a lot of good options.
Dontrelle Willis
had been traded to Detroit and their No. 2 guy in '07,
Scott Olsen
, had posted a 5.33 ERA. Rather than go with a youngster, Hendrickson drew the start.
3. Omar Daal, Phillies, 2001
The Phillies have come a long way in a decade. This one was weird since Daal had led the majors with 19 losses in 2000, pitching for Arizona and Philadelphia. The Phillies' best starters in 2000 had been
Randy Wolf
and
Robert Person
. Curt Schilling was traded to Arizona during the season for Daal and others, and it appears the Phillies held Wolf for the home opener in the fourth game of the season.
2. Ron Villone, Pirates, 2002
This one caught my eye since Villone spent most of his career as a reliever. He'd spent 2001 with the Rockies and Astros, starting in just 12 of his 53 appearances, and not pitching very well with a 5.89 ERA. He'd had a 5.43 ERA with the Reds in 2000, mostly as a starter. After losing 100 games in 2001, the Pirates signed him as a free agent and made him their Opening Day starter. He lasted just seven starts before moving back to the bullpen.
1. Dewon Brazelton, Devil Rays, 2005
Easily the worst pitcher on our list, Brazelton had an 8-25 career record with a 6.38 ERA. He'd been the third overall pick in the 2001 draft, taken just after
Joe Mauer
and
Mark Prior
, and just ahead of
Gavin Floyd
and
Mark Teixeira
. He'd won six games in 2004 with bad peripherals (64/53 strikeout/walk ratio), despite which Lou Piniella gave him the ball on Opening Day. He actually pitched pretty good matched up against
Roy Halladay
, allowing three runs in 7 1/3 innings with no walks and four strikeouts, but drew the loss. It would be the last good outing of his major league career. He made seven more starts, allowing 31 runs, and then made 12 relief appearances, giving up runs in 11 of them.
Follow David Schoenfield on Twitter at @dschoenfield. Follow the SweetSpot blog at @espn_sweet_spot.
January, 19, 2011
1/19/11
2:59
PM ET
Yes, it seems to be true.
According to Ken Rosenthal
, the Yankees' people really were talking to Carl Pavano's people. It's not clear how strong the Yankees' interest was, or Pavano's; they wouldn't go more than one year, and his agent might simply have been looking for leverage against the Twins. Still ...
According to one source, the Pavano camp made frequent contract with the Yankees, expressing a desire for the pitcher to return. The Yankees, though, were mindful of Pavano's history with the team and unwilling to forfeit a first-round draft pick by signing him - a sacrifice they later made for free-agent reliever Rafael Soriano.

Yet, the return of Pavano would not have been completely without logic.

[Brian] Cashman defended Pavano throughout the pitcher's injury-filled tenure with the Yankees. Pavano, who has averaged 210 innings the past two seasons, offered durability that the Yankees currently are lacking.

Still, Pavano's willingness to rejoin the team was surprising. Fans, media and even teammates criticized him heavily during his time in New York. But he was willing to risk such criticism again.
If I were 8 years old and my heroes were baseball executives rather than baseball players, I would have a Brian Cashman
Fathead
on my bedroom wall. Cashman was heroic in defending Pavano during his time with the Yankees, and he's heroic for considering bringing Pavano aboard once again. Many general managers, and perhaps most of them, would not have done either thing.
There's something heroic about Pavano, too, isn't there? Pavano was a Yankee for four years, and pitched the grand total of 146 innings. You might have excused him for getting discouraged, even giving up. Maybe he did give up once or twice, and maybe he wasn't as tough as he might have been. Those fans and writers and radio hosts and even teammates probably thought so.
But he didn't give up, ultimately. He finally did get healthy, and just finished pitching 420 innings in two years. In a playoff game against
the Yankees
in 2009, he pitched seven fine innings and struck out nine
Yankees
. Can't handle the pressure? Really?
Two years ago, Carl Pavano was supposedly a shining example of one thing. Today, he's a shining example of another. I was actually sort of hoping that he'd pitch for the Yankees again, just because it would have been a fantastic story. With two heroes.
December, 2, 2010
12/02/10
5:03
AM ET
Joe Pawlikowski on Carl Pavano and what's it's
going to take to get him
:
In 2010 Pavano saw his strikeout rate dip quite a bit. He'd never been a strikeout pitcher, but 4.76 K/9 fell considerably below his career average. He did see a spike in his groundball rate, which suggests he adapted a bit, but that low strikeout rate is certainly concerning. There are only 86 player seasons since 1970 wherein a pitcher has struck out fewer than 5 per nine and has pitched more than 150 innings in his age 35 through 37 seasons. Only about half had a league average or better ERA.

Still, there's a good chance Pavano turns in another quality season next year, as both his xFIP, 4.01, and his SIERA, 4.15, point to some sustainability. But once pitchers, especially ones with an injury history as deep as Pavano's, hit that age-35 mark, the situation becomes a bit murkier. If it takes a two-year commitment to land Pavano, that seems reasonable. But to add that third year, effectively giving a team a low-strikeout 37-year-old, is a bit too much. There's a good chance it will become a freebie year, in which the team receives little to no production, meaning they're paying more for those first two years.
In this market? Are you kidding? With so many teams desperate for starting pitchers and so few good starting pitchers available, somebody might just deliver a blank check to the gate outside Cliff Lee's mansion. The
only
limiting factor is probably that the Red Sox and the Yankees (
especially
the Yankees) don't figure to have any interest. But I'll bet Pavano gets that third year guaranteed, and I'll bet he gets more money than you'd guess.
Is the strikeout rate a concern? Yeah, it probably should be. If he's striking out 4.8 per nine innings when he's 34, what's he going to do when he's 37? There is a point at which it just becomes nearly impossible to prevent runs, and Pavano's already approaching that number.
Granted, maybe it was just a blip. If we combine his last two seasons -- between which, there doesn't seem to have been an injury that would have knocked down his strikeout rate -- Pavano struck out 5.7 per nine innings, with an excellent 3.5 strikeout-to-walk ratio.
For what it's worth, Pavano threw just about as hard in 2010 as 2009; his fastball maybe a touch slower, but his slider and change-up right in line. All things considered, the last two seasons might have been the best of his career.
Granted, he'll probably never pitch quite as well again. And Pavano's low strikeout rate will leave him vulnerable to poor luck. His ERA might be around 4 next season, but it might almost easily be around 5 (as it was in 2009). As long as he's giving you 200 innings and striking out three times more hitters than he walks, you pays your money and you takes your chances.
Of course, this being The Land of Guaranteed Contracts, even if Pavano doesn't give you those things, you're still going to pays your money. Which is where the risk comes in.
Me? I probably wouldn't give him that guaranteed third year. Unless I thought he might be all I needed to put me over the top in one of those first two years. In which case I might just takes my chances.
October, 1, 2010
10/01/10
10:29
AM ET
Today's links are vacationing near San Francisco, and can't help hoping the Padres pull off a miracle this weekend so there's more baseball on Monday ...
With October dawning, Nick Nelson is concerned about Francisco Liriano and Carl Pavano, both of whom have serious injury histories and haven't pitched well lately.
Speaking of Nick Nelson, the Platoon Advantage -- as they do most days -- offers a SweetSpot roundup jam-packed with juicy items.
Cameras hovering just above the diamond? I'm for them ... exactly until the moment when a game's outcome is impacted because a baseball hits some bit of the apparatus. At that moment, I will argue for ripping the wires down and throwing them into a cauldron of molten lava.
I spoke to a working BBWAA member yesterday. He's got an NL MVP ballot, and still hasn't decided between Joey Votto and Albert Pujols. Meanwhile, he's convinced (as I am) that Felix Hernandez is going to win the Cy Young Award. Man, did that happen fast.
In the Times, Neil Paine presents one more update on the historic nature of Jose Bautista's power-packed 2010.
In the wake of Madison Bumgarner's winning effort against the Diamondbacks yesterday, we present Albert Lyu's microscopic (i.e. PITCHf/x-based) analysis of Bumgarner's pitches.
You might remember Matt Walbeck as an offensively challenged catcher with the Twins and Angels. Baseball fans in Altoona are going to remember Walbeck as a winning manager. Now he's looking for work. In the minors, sometimes winning isn't enough.
Meanwhile, the Angels just fired scouting director Eddie Bane, and Mark Whicker says all we know is that Bane wasn't fired for lack of performance. Personally, I'm disappointed because Bane seemed like a genuinely nice guy. A few years ago, he invited me -- despite some of the uncharitable things I had written, over the years, about the imprecision of subjective player evaluation -- to address all of his scouts. I have no doubt that Bane will land another job, and I hope he gives me another shot at talking to his people. I know a lot more now about what I don't know, than I did then.
July, 19, 2010
7/19/10
4:01
PM ET
After recapping
Carl Pavano
's odd history ("American Idle" always makes me giggle) and noting Pavano's successes this season, The Common Man
explains them away
:
We could credit a new pitch. According to Pitch F/X, Pavano's been using a two-seam fastball for the first time this year. So while he throws the same number of total fastballs, two-thirds of them are breaking slightly more. And indeed, Pavano's fastballs have gone from being a liability (23.7 runs below average last year alone) to a strength (more than half a run above average per 100 pitches).

But for another thing, Pavano has been extremely lucky, giving up just a .259 BABIP. It is WAY out of line with the rest of his career (.307) and is unprecedented. Indeed, Pavano's currently fifth in the American League in the category. Given that every other Twins starter is above .327, it's safe to assume that Pavano's luck is probably going to run out sooner or later. He'll settle back into a league-average pitcher, at best, soon enough. Probably just after the Twins sign him to a 3 year, $33 million extension.
Actually, that's not
quite
fair to Pavano.
Last season, he was unlucky. This season, he's been lucky.
But if you strip most of the luck away, Pavano was a 4.00-ERA pitcher last season and he's been a 4.00 ERA pitcher this season. Last year, American League starting pitchers combined for a 4.63 ERA; this year it's been 4.34. That makes Pavano better than league average in both seasons. Throw in his (new-found) durability -- 33 starts last year, third in the AL with 135 innings this year -- and Pavano is, all things considered,
significantly
better than league average.
Pavano's 34. But if he keeps pitching like this he'll be worth a lot more than $11 million per season.
February, 5, 2010
2/05/10
2:00
PM ET
As usual, Cameron's
dead right
:
When people talk about teams that have had good offseasons, the usual names that come up are the Seattle Mariners, the Boston Red Sox, and people that hate the New York Mets. For all of them, this has been a productive winter full of good news. But there's a new contender in the mix for best offseason in baseball: the Minnesota Twins.They were able to retain Carl Pavano on a one year deal, solidifying their starting rotation. They picked up J.J. Hardy on the cheap to solve their shortstop problem. They added Jim Thome as a bat off the bench and to provide depth at DH, and by extension, the corner outfield spots. And they're reportedly on the verge of signing Joe Mauer to a long term contract that will keep him in Minnesota for the rest of his career, or most of it, anyway.

They capped their winter yesterday by signing Orlando Hudson to play second base, getting him for the bargain rate of just $5 million.
Forget about Mauer for a moment.
Retaining Pavano, trading for Hardy, and signing Jim Thome and Orlando Hudson ... individually, you're talking about four players who won't come within a mile of a Cy Young or MVP ballot next October. In the aggregate, though? It's hard to imagine how the Twins could have done much better, short of signing
Johnny Damon
to replace
Delmon Young
.
Over the years, I've been complimentary about the Twins' drafting and player development but often critical of their personnel decisions at the top level. This time around, though?
It started last summer when they looked past Carl Pavano's 5.37 ERA and ugly injury history, and he pitched exceptionally well in his dozen starts (and then again against the Yankees in the playoffs). Pavano might not pitch as well again, and considering the market this winter, $7 million might be a little much for one season. But I like the thought.
Hardy was obviously undervalued, and so was Hudson. Suddenly the Twins seem to get it, and in their new ballpark might be in a position to rule their division for a few years.
May, 22, 2009
5/22/09
1:39
PM ET
What's wrong with the Indians? You might look at
Carl Pavano
's ERA and say, "Carl Pavano's wrong with the Indians." But as Dave Cameron writes,
you would be wrong
...
After his ninth start yesterday, Pavano's ERA stands at 6.10. It would be easy to assume that he's just continuing his downward descent out of baseball, and that Cleveland was simply the latest team to throw money away on the guy. It would also be remarkably untrue.

Pavano's FIP currently stands at a robust 3.74, thanks to outstanding peripherals - 2.03 BB/9, 7.40 K/9, .92 HR/9, 45.9% GB%. Pavano's racked up 40 strikeouts against just 11 walks in 48 2/3 innings, giving him a strikeout to walk rate equal to pitchers such as Erik Bedard, Aaron Harang, Jake Peavy, Ted Lilly, and Cliff Lee. That's some pretty nifty company.

Pavano's ERA has been inflated by a .370 batting average on balls in play, which will almost certainly improve as the year goes on. In fact, after a pessimistic preseason ZIPS projection that pegged him for a 5.18 FIP in 2009, the updated ZIPS now pegs him for a 4.36 FIP from here on out. After posting an ERA of 6.10 over 48 2/3 innings, ZIPS has been impressed enough to slash his projected FIP by 0.8 runs.

There's probably no better example of why ERA isn't a useful tool for evaluating pitchers anymore. Pavano's got one of the highest marks in the league, but based on how he's actually pitched, we should be revising our estimates significantly upward for his expected performance from here on out. His recovery probably won't come in time to help save the Indians season, but a smart team may get a bargain at the deadline when they call Mark Shapiro and make a deal to bolster their pitching staff.
Funny thing about Pavano: Entering the season, I figured that he was their biggest question mark; their biggest gamble. ERA aside, the gamble's paid off brilliantly ... and yet the Indians have the worst record in the American League and probably rank as the most disappointing team in the majors.
The lesson here -- aside from the fact that ERA can be terribly deceptive, especially this early in the season -- is that while we spend a great deal of energy in the offseason trying to identify specific reasons why a team might or might not win, each team has so many moving parts that any specific thing can easily be overwhelmed by other things. In this case, Pavano's pitching is overwhelmed by Jhonny Peralta and Grady Sizemore not hitting, by Travis Hafner not playing, and by any number of high ERAs -- gotten the old-fashioned way -- among Pavano's staff mates.
April, 9, 2009
4/09/09
1:56
PM ET
Rob Neyer joins Nate Ravitz on the Fantasy Focus podcast to talk about the launch of his
new baseball blog

as well as key players in the AL and NL like Carl Pavano and Kosuke Fukudome. Also, has the Rangers' ballpark become the new Coors Field?
April, 8, 2009
4/08/09
3:04
PM ET
Good (if preliminary)
news from YankeeLand
:
BALTIMORE -- Alex Rodriguez could resume baseball activities back at the team's Tampa, Fla. minor league complex as early as next Monday, New York Yankees manager Joe Girardi said.

| | |
| --- | --- |
| | |
| | Jim McIsaac/Getty Images |
| | A healthy A-Rod would separate the Yankees from the rest of the pack in the American League. |

"He's in a good frame of mind and his rehab is going well," said Girardi, who has been texting Rodriguez over the last month, which the star has spent in Vail, Colo. recovering from hip surgery. "You hope that he doesn't have any setbacks."

Girardi said he is operating under the assumption that the May 15 target date for Rodriguez's return still applies.
Obviously, Alex Rodriguez is
the
X-factor for the Yankees this season. If he's back reasonably soon and plays as usual, the Yankees are as good as anybody. If not, they're just another contender. Which got me to wondering about the other key players among the American League contenders ...
Red Sox: Mike Lowell. Nobody's been talking much about Lowell; speculation generally trends toward David Ortiz or perhaps John Smoltz. But Ortiz will hit and if Smoltz isn't good the Red Sox have other options. If Lowell's not good, though? Jed Lowrie has to slide over, with Julio Lugo taking over as the every-day shortstop.
Rays: B.J. Upton. If the Rays get anything like the Upton we saw last October, there's no obvious reason they can't win 95 games. If they get the Upton we saw from April through September, they're the third-best team in their division (not that there's anything wrong with that). Considering that he's opened this season on the DL, which do you think is more likely?
Indians: Carl Pavano. Yes, I picked the Indians to win the Central. And yes, when I picked the Indians, I knew they were relying on Pavano to win a dozen or so games this season. No, I don't bet real money on my predictions.
Tigers: Justin Verlander. Speaking of lousy predictions, I believe I might have offered Verlander as my Cy Young choice, one year ago. So of course he went 11-17 with a 4.84 ERA, after going 35-15 (and 3.65) over the previous two seasons. Verlander wasn't the Tigers' biggest problem last year, but he might have been their unhappiest surprise. If he can flip that 11-17 around this year, the Tigers should be competitive into September.
Twins: Joe Mauer. Duh.
Athletics: Justin Duchscherer. It's odd to anoint a 31-year-old pitcher with 31 career wins as the key anything, but Duke might be the key to the American League West. I just don't know if the A's win without someone who's likely to win more than a dozen games.
Angels: Kendry Morales. Well, probably not. But the Angels do need to score some runs, and Morales -- finally given the chance to play regularly -- should help at least a little (though it won't matter much if the Angels' two best starters don't get back soon and strong).
For my next trick, I'll come up with a similar list for the National League contenders.