SweetSpot:

Carlos Delgado
November, 24, 2014
Nov 24
9:00
AM ET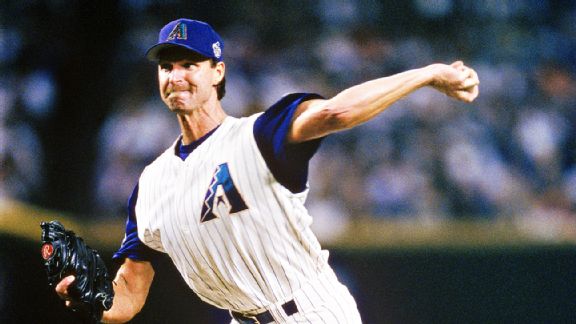 Rich Pilling/Getty ImagesRandy Johnson should be a unanimous selection in his first year on the Hall of Fame ballot.
Hall of Fame season is kind of like Christmas season: It brings gifts and memories but also a lot of acrimony and stress, and it lasts
way
too long. Hall of Fame ballots were mailed out Monday to eligible members of the Baseball Writers' Association of America, which means the next six weeks will feature many Hall of Fame columns, debates, analyses and other assorted name-calling and belligerence.
Here are 10 main questions of conversation this Hall of Fame season:
1. Who are the new names on the ballot?
Last year's star-studded ballot that featured the election of first-timers Greg Maddux, Tom Glavine and Frank Thomas is followed by another long list of intriguing newcomers: Randy Johnson, Pedro Martinez, John Smoltz, Gary Sheffield and Carlos Delgado are the top names.
2. How many of those guys get in?
Johnson should be a unanimous selection with his 303 career wins, five Cy Young Awards, four ERA titles, nine strikeout titles and six 300-strikeout seasons, but 16 of the 571 voters last year failed to vote for Maddux, so Johnson likely awaits the same slight and will get 95-plus percent of the vote but not 100 percent.
Martinez would certainly appear to be a lock to get the required 75 percent, but Hall voters tend to emphasize wins at the expense of everything else for starting pitchers and Martinez has just 219, so you never know. The BBWAA hasn't elected a starter with that few wins since Don Drysdale, who had 209, in 1984. Still, with the second-best winning percentage since 1900 of any pitcher with at least 150 wins (behind only Whitey Ford), three Cy Young Awards, five ERA titles and the best adjusted ERA for any starting pitcher in history, Pedro should cruise to Cooperstown at well above the 75 percent line. Really, like the Unit, there is no reason
not
to vote for him.
Smoltz has a little more complicated case and may suffer in comparison to being on the same ballot with Johnson and Martinez. While Pedro was 219-100 with a 2.93 ERA, Smoltz was 213-155 with a 3.33 ERA. He did pick up 154 saves while serving as a closer for three-plus seasons and maybe that will resonate with voters. Smoltz also has a great postseason record -- 15-4, 2.67 ERA -- but similar postseason dominance didn't help Curt Schilling last year when he received just 29 percent of the votes. I believe Smoltz does much better than that, but I don't see why Schilling -- 216-146, 3.46 in his career with 79.9 WAR compared to Smoltz's 69.5 -- would receive just 29 percent and Smoltz 75 percent.
Sheffield, with the PED allegations, has no chance despite 509 career home runs and over 1,600 RBIs and runs. Delgado put up big numbers in an era when a lot of guys were putting up big numbers, and his 473 career home runs with 1,512 RBIs may not be enough to even keep him on the ballot (you need to receive 5 percent to remain on).
3. Does Craig Biggio get in this year?
He fell just two votes short last year on his second time on the ballot, so you have to think at least two voters will add him, assuming some of the holdovers don't change their minds. Biggio's Hall of Fame case is kind of ironic in that he was probably one of the more underrated players in the league while active. He finished in the top 10 of the MVP voting three times (10th, fifth, fourth), but the same writers who once dismissed him as an MVP candidate will now be putting him in the Hall of Fame. He's a deserving candidate, but if he hadn't played that final season when he was terrible and cleared 3,000 career hits, you wonder if he'd be even this close. Voters love their round numbers.
4. What's the new 10-year rule?
Candidates will now be allowed to remain on the ballot for only 10 years instead of 15. Three current candidates -- Don Mattingly (in his 15th season), Alan Trammell (14th) and Lee Smith (13th) were allowed to remain on the ballot.
For the first time, the names of all voters will also be made public, although neither the Hall of Fame nor BBWAA will not reveal an individual's ballot.
5. Who will be most affected by this?
Well, all the steroids guys, obviously. Mark McGwire, for example, is on the ballot for his ninth year, not enough time in case voter attitudes toward PEDs starts reversing course. Aside from that group, Tim Raines is on the ballot for the eighth year. He received 46 percent of the vote last year; that was actually a drop from the 52 percent he had in 2013. Historically, nearly every player who received 50 percent of the vote from the BBWAA eventually got elected, but now Raines has just three years left and was affected by the crowded ballot last year.
6. But the ballot is still crowded, right?
Yep. Remember, voters are allowed to vote for up to 10 players -- although most ballots don't get to 10, so the "crowded" ballot is somewhat of an overrated issue. Still, it's there, and several players saw their vote totals decrease last year. Anyway, I would argue there are as many as 22 or 23 players who have some semblance of a Hall of Fame case based on historical precedent. In order of career Baseball-Reference WAR: Barry Bonds, Roger Clemens, Johnson, Pedro Martinez, Mike Mussina, Schilling, Jeff Bagwell, Larry Walker, Trammell, Smoltz, Raines, Edgar Martinez, Biggio, McGwire, Sheffield, Mike Piazza, Sammy Sosa, Jeff Kent, Fred McGriff, Delgado, Lee Smith. Plus arguably Nomar Garciaparra and Mattingly, who had high peak levels of performance but short careers.
Anyway, those who believe in a big ballot will once again have to make some tough choices on whom to leave off.
7. For which players is this an important year?
Raines needs a big increase this year, but it's starting to look slim for him. That makes Bagwell and Piazza two of the more interesting names. Piazza was at 62 percent last year on his second year, a 4.4 percent increase from 2013. If he sees another vote increase, we can assume he's on his way to election; but if he holds at the same percentage, we can probably assume there are enough voters who put him in the PED category and are thus keeping him permanently under that 75 percent threshold. Similar issue with Bagwell; he was 54 percent last year, actually down from 59.6 percent in 2013. If he gets back up over 60 percent, he may be back on a Cooperstown trek.
8. Hey, Mike Mussina and Curt Schilling look like pretty good candidates.
That's not a question, but, yes, yes they are. Mussina (270 wins, 82.6 WAR) and Schilling are overwhelmingly qualified by Hall of Fame standards, even by BBWAA-only standards, especially when factoring in Schilling's postseason success. That both received fewer than 30 percent of the vote in their first year on the ballot was a little shocking and definitely disappointing.
9. What about the steroids guys?
No changes -- or progress, if you prefer -- here. Clemens (35.4 percent) and Bonds (34.7 percent) both received
fewer
votes than the year before. Rafael Palmeiro already fell off the ballot, and I suspect Sosa (7.2 percent) falls off this time.
10. What about Jack Morris?
Mercifully, Morris is no longer on the ballot so we don't have to spend all December arguing his case yet again. His candidacy goes over to the Expansion Era committee, which will next vote in 2016. I suspect Morris gets in then.
May, 1, 2012
5/01/12
4:40
PM ET
Time for a quick poll.
Ryan Braun
went 4-for-5 with three home runs, a triple and six RBIs (the first player with three homers and triple since Fred Lynn in 1975) on Monday night, giving him 15 total bases. Certainly a great day, one of the best in major league history, especially if you factor in that it came at spacious Petco Park. But according to Baseball-Reference.com's Play Index, since 1918 17 players have had at least 16 total bases.
So today's question: Which hitter had the greatest day in major league history? We can only list five in the poll, so I've narrowed the field down to five finalists. (Note: Postseason performances not included since they're a different beast.)

1. Carlos Delgado, 2003 Blue Jays: 4-for-4, 4 HR, 4 R, 6 RBIs
(
box score
)
Several players have hit four home runs in a game, but Delgado is the only one to do it in four plate appearances. Isn't that perfection? He hit a three-run homer in the first and three solo shots, all leading off an inning.
2. Shawn Green, 2002 Dodgers: 6-for-6, 4 HR, 2B, 6 R, 7 RBIs
(
box score
)
Green set the major league record with 19 total bases in a game the Dodgers hit eight home runs. He's also just one of eight players since 1918 to score six runs in a game. Green's homers came off Brian Mallette (two), Glendon Rusch and Jose Cabrera. I had to look up Mallette. He pitched in five games in his career and this ended up being his final major league appearance.
3. Mark Whiten, 1993 Cardinals: 4-for-5, 4 HR, 4 R, 12 RBIs
(
box score
)
In the second game of a doubleheader, Hard-Hittin' Whiten tied major league records with his four homers and 12 RBIs. He hit a grand slam, two three-run homers and a two-run shot, fouling out with the bases empty in the fourth.
4. Fred Lynn, 1975 Red Sox: 5-for-6, 3 HR, 3B, 4 R, 10 RBIs
(
box score
)
Lynn hit a two-run homer and three-run homer in the first two innings off Joe Coleman, a two-run triple in the third and a three-run homer in the ninth. In between, he lined out and singled.
5. Jim Bottomley, 1924 Cardinals: 6-for-6, 2 HR, 2B, 3 R, 12 RBIs
(
box score
)
Batting cleanup for the Cardinals against the Brooklyn Robins, Bottomley hit a two-run single, an RBI double, a grand slam, a two-run homer, a two-run single and an RBI single. Not a bad day's work.
My vote goes to Green: The total bases record
and
six runs scored. Jose Reyes scored six all month for the Marlins.
April, 14, 2011
4/14/11
12:23
PM ET
Well, Mr.
Barry Bonds
was in the news. Eric and Keith discuss that and things that happened on the field in Thursday's
Baseball Today podcast.

April, 13, 2011
4/13/11
5:55
PM ET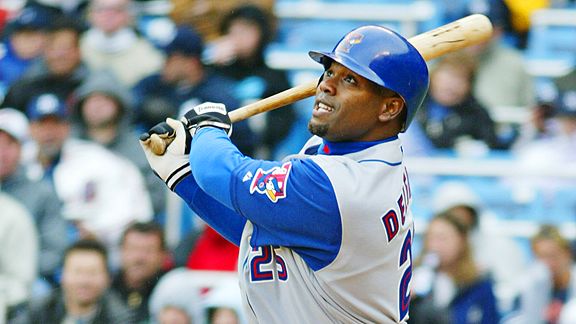 David Seelig/Icon SMICarlos Delgado hit 473 home runs and drove in more than 1,500 runs in his career.
Carlos Delgado
officially
announced his retirement
, in slightly less dramatic light than
Manny Ramirez
.
He was a great hitter, a player worthy of some random thoughts ...
1. Delgado came up through the minors as a catcher and everyone knew he could hit -- he ranked as Baseball America's No. 4 prospect in 1993 and No. 5 in 1994. He caught two games in the majors but the Blue Jays originally tried him in left field before he settled in at first base. The attempt to make him a catcher meant he spent two seasons in Triple-A when he was ready for the majors (and probably cost him 500 career home runs).
2. Long home runs. Outside of maybe
Mark McGwire
,
Barry Bonds
and
Sammy Sosa
(ahem), did anyone in the past 15 years hit longer home runs than Delgado? Loved that left-handed power stroke, like he was using a big sledgehammer.
3. The four-homer game against Tampa Bay in 2003. Delgado had taken antibiotics for a cold earlier in the day and homered in all four trips to the plate. His fourth homer was a mammoth blast to center field off
Lance Carter
.
4. His 99 extra-base hits in 2000 -- he had 57 doubles, a triple and 41 home runs -- tied for 16th-most in one season. Delgado hit .344/.470/.664 that season -- and finished fourth in the MVP voting. Yes, there was a lot of offense that year.
5. His one season with the Marlins. Actually, I don't remember this much at all.
6. Finally making a postseason appearance with the Mets in 2006 -- and raking. He hit .351/.442/.757 in 10 games, with four homers and 11 RBIs. In Game 7 of the NLCS, the Cardinals wanted nothing to do with him -- they walked him three times.
7. He only made two All-Star teams (2000 and 2003). What? The same number as Scott Cooper? How is this possible? Well, here are the first basemen who got selected in his prime years ...
1998:
Jim Thome
,
Rafael Palmeiro
,
Mo Vaughn
.
1999: Jim Thome, Rafael Palmeiro,
Ron Coomer
... yes, Ron Coomer! ... plus THREE DHs (
Harold Baines
,
John Jaha
and
Jose Canseco
).
2001:
John Olerud
,
Tony Clark
,
Jason Giambi
,
Mike Sweeney
.
2002: Jason Giambi,
Paul Konerko
, Mike Sweeney.
2004: Jason Giambi,
Ken Harvey
... yes, the immortal Ken Harvey.
2005:
Derrek Lee
,
Albert Pujols
. This one was weird. The NL selected only two first basemen, but Pujols started at DH. Third baseman
Morgan Ensberg
ended up playing first base. But
Cesar Izturis
and
Felipe Lopez
were All-Stars that year.
2006: Albert Pujols,
Lance Berkman
,
Ryan Howard
,
Nomar Garciaparra
. Nomar was hitting .358 at the break.
2007: Delgado had a bad year.
2008: Lance Berkman, Albert Pujols,
Adrian Gonzalez
. This was the year Delgado had a monster second half.
Anyway, I'm not saying he deserved to make it all those years, but it's surprising he was only a two-time All-Star. Heck, Bruce Benedict was a two-time All-Star.
8. His stance against the war in Iraq. Not an easy decision, but I applauded his courage to take a political stand
with thought and conviction
.
9. He finished with a career WAR of 49.1 via
FanGraphs
, 44.2 on
Baseball-Reference
. I'd thought it would be higher, but he's being compared against some great first basemen from his era. That places him about 26th among first basemen (minimum 50 percent of career games at first base) since 1901, similar in career value to guys like Orlando Cepeda, Gil Hodges, Don Mattingly and Boog Powell. He loses a lot of value for baserunning (terrible) and fielding (below average). Based on hitting value alone, he's about 13th to 15th among first basemen.
10. Hall of Famer? Not quite.
March, 11, 2011
3/11/11
9:48
AM ET
By
Dan Hennessey
| ESPN.com
In the past week, I've been writing at Baseballin' on a Budget about the
A's recent history with compensation picks
lost or gained through free agency. The A's added players such as
Huston Street
,
Nick Swisher
and
Joe Blanton
with draft picks that weren't originally their own. I thought it would be interesting to see what other steals have been found with "free" draft picks. (Note: I only looked at first-round and sandwich picks that a team got for losing a player).
After the 1984 season, the Padres signed former Cubs pitcher Tim Stoddard to a three-year, $1.9 million contract. Stoddard threw 105 innings for the Padres in a season and a half, going 2-9 with an ERA+ of 85. He had one more good season in 1987 with the Yankees. The Cubs selected
Rafael Palmeiro
with the Padres' pick the following June; Palmeiro didn't blossom until he was traded to the Rangers, but the Cubs made the right decision not signing Stoddard and found a gem late in the first round. Later, the Orioles would draft
Brian Roberts
with a sandwich pick after the Rangers signed Palmeiro for his second tour of duty in Arlington.
[+] Enlarge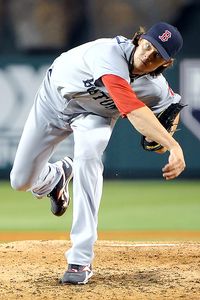 Lisa Blumenfeld/Getty ImagesBoston used a compensatory pick to draft Clay Buchholz.
After the 1990 season, the Giants signed Bud Black from Toronto to a four-year, $10 million contract. Black had ups and downs the previous five years, but was coming off a good year. For San Francisco's trouble, Black was worth 1.0 WAR over the four years. With the pick, the Blue Jays took
Shawn Green
; Green, along with
Carlos Delgado
, anchored Toronto's lineup for a four–year stretch from 1996 to 1999, before being traded to the Dodgers.
Kansas City shortstop Kurt Stillwell signed with the Padres after the 1991 season; he played only 193 games the next two seasons, posting an OPS+ of 61. For the low, low price of $3.5 million over the two years, Stillwell posted minus-3.3 WAR (yeah, that's negative). Adding insult to wallet-injury, the Royals took
Johnny Damon
with their sandwich pick.
Other tales include Toronto drafting
Chris Carpenter
(for aging but still-effective Tom Henke), Minnesota drafting
Torii Hunter
(for John Smiley), and the Mets drafting
David Wright
with a sandwich pick after letting
Mike Hampton
sign one of the worst contracts in baseball history with the Rockies.
Two teams in particular had drafts that could have been classified as great hauls with just compensatory picks. The Braves took
Adam Wainwright
in 2000 with Arizona's first-round pick for letting
Russ Springer
go and later added
Kelly Johnson
with a sandwich pick for "losing"
Jose Hernandez
.
But the kings, as they are wont to do lately, are the
Boston Red Sox
. After 2004, the Red Sox played shortstop roulette, signing
Edgar Renteria
from St. Louis (losing their own first-round pick that became
Colby Rasmus
) and letting
Orlando Cabrera
go to Anaheim (picking up a first). The Red Sox also lost
Derek Lowe
to the Dodgers and
Pedro Martinez
to the Mets, giving them two firsts and three sandwich picks. With the picks for Cabrera, the Red Sox drafted
Jacoby Ellsbury
and
Jed Lowrie
; with the picks for Lowe, they drafted
Craig Hansen
and
Michael Bowden
, and with the pick for Martinez, the Red Sox took
Clay Buchholz
. That's a pretty good haul for any team, much less one that had just won the World Series.
Almost all of these teams did well letting their free agent sign elsewhere, which is the same conclusion that I came to looking at just the A's. That some of the compensatory picks pan out is just a bonus.
One more interesting note: In 1983, the Mets drafted Calvin Schiraldi with their sandwich pick, setting him on a course in which he would play a vital role in their 1986 World Series win. Traded to Boston in 1985 in an eight-player deal, Schiraldi blew a save in Game 6, the famous "it gets through Buckner" game, and lost Game 7, giving up three runs in the seventh after entering with the game tied.
Dan Hennessey writes Baseballin' on a Budget, a blog about the Oakland Athletics. Follow him on Twitter @DanHennessey31.
July, 16, 2009
7/16/09
5:31
PM ET
The Mets are six-and-a-half games out of first place in the National League East, behind three teams. The Mets are six-and-a-half games out of first place in the wild-card standings, behind seven teams. The Mets have been outscored by 33 runs. They have not, with the exception of two glorious weeks in May, looked anything like contenders.
But still, they're the Mets, you know? They've got a $150 million payroll. Before this season, on paper they looked an awful lot like a 95-win team. Sure, they're behind a lot of teams and haven't played well enough to inspire anything but (at best) apathy or (at worst) derision. But that 95-win talent is still there, right? Sure, they'll need some breaks in the second half, but when everyone is healthy the Mets have a legitimate shot of storming back into contention, right?
Well, sure. But as Ben Shpigel reports this afternoon, there's still no telling when everyone's going to be healthy:
Sorry, folks, but August is too late. The Mets need a miracle. They need to rip off eight or 10 wins before the end of this month. If they don't, it's time to start thinking about 2010. Do you think management has the guts to make that decision before the trade deadline?
May, 15, 2009
5/15/09
2:42
PM ET
In the wake of the news that
Carlos Delgado
might be
out for a long while
, Ted Berg and Michael Salfino discuss
what's next for the Mets
. Among the possibilities (which they don't necessarily endorse): shift David Murphy to first base and summon top prospect
Fernando Martinez
from the minors to take over in left field.
The thinking, I guess, is that Murphy's going to wind up at first base and Martinez in left field eventually, so why not bow to the future now?
Well, because that's why they call it the future. It's not clear that Murphy, right now, will hit enough to play first base every day. Sure, you could platoon him at first base and he wouldn't kill you ... but then who's going to play left field? Right: young Fernando Martinez. But it's not clear that Martinez, right now, will hit enough to play regularly in the majors, and at 20 he needs to be playing regularly (or close to that). Fernandez currently sports a .315 on-base percentage in Triple-A, and there's little reason to think he'd do better than that in the National League. Not right now. In two or three years he figures to be one of the game's bright young stars. Right now, though? Probably not.
Here's the thing: Right now, the Mets have a first baseman. Fernando Tatis has backed up Delgado all spring, and he's been fantastic. You thought last season's .297/.369/.484 line was a bit of a mirage? I did. Well, this season it's .358/.417/.566. No, I know that's only 60 plate appearances and he's not really that good, but Tatis' career line is .266/.348/.447, which is better than Murphy or anyone else at hand is likely to do, right now.
Right now, the Mets have one big problem (or two, depending on how you look at it): their corner outfielders are not hitting. Murphy's not doing much in left field, and Ryan Church is doing even less in right field. Both of them bat left-handed. So does one of their backups, Jeremy Reed (who is hitting, but can't be expected to keep hitting). Gary Sheffield bats right-handed, but isn't hitting (and can't be expected to hit, ever).
The Mets need a good right-handed hitter, and they don't seem to have one on hand (unless you think this guy is the answer). I can't help thinking that a good general manager could find someone, just floating around out there, who can mash lefties and play left field or first base adequately. The Mets can survive, right now, without a guy like that. But if right now turns into July and August, people might start asking questions ...
April, 8, 2009
4/08/09
4:43
PM ET
Continuing my groundbreaking series of posts, I present the key players in the National League.
Mets: Carlos Delgado. It's hard to win if you don't get much offense from your first baseman. In 2007 the Mets didn't get much from Delgado, and they didn't win (enough).
| | |
| --- | --- |
| | |
| | AP Photo/Tom Mihalek |
| | Brad Lidge doesn't have to repeat his perfect performance from 2008, but he needs to be close for the Phillies to contend again. |
In 2008 the Mets didn't get much from Delgado in the first half of the season, but they took off in the second half when Delgado was doing the same.
David Wright
,
Jose Reyes
and
Carlos Beltran
all rank among the best players in the National League. If Delgado merely complements those three, the Mets will score enough runs to win.
Phillies: Brad Lidge. Last year, Lidge somewhat famously was perfect: 41 save opportunities, 41 saves. Elite closers typically blow five or six saves per season; if Lidge had done that, the Phillies wouldn't have qualified for the playoffs, let alone won the World Series. Lidge won't be perfect again this season. But for the Phillies to have any chance at all, he's got to be closer to perfect than usual.
Braves: Jeff Francoeur. The obvious answer, I guess. We might also choose rookie Jordan Schafer, but I don't think he's much of a question mark; he's going to struggle with the bat, and the Braves will live with those struggles if he catches the ball. But they have to get some production from their outfielders, and Francoeur -- coming off a dreadful 2008 -- is the only candidate in right field.
Cubs: Kosuke Fukudome. Speaking of dreadful 2008s, you have to admit it took some guts for the Cubs to trade Felix Pie and spurn Jim Edmonds, with only Fukudome left as a viable candidate for center field. The Cubs are probably the best team in the league, and that's without assuming their center fielder gives them much at all.
Cardinals: Chris Carpenter. I can't see the Cards making much noise without an ace, and I don't see any aces except for maybe this guy.
Brewers: Yovani Gallardo. Another obvious answer, especially since he seems to be a dark-horse candidate for the Cy Young Award (not saying I buy that, but still). Nobody on the current staff won more than 10 games in 2008 (except Braden Looper, who won 12 but lost 14). Yes, I know there's more to life than wins and losses ... but wins are nice when you're trying to, you know, win.
Dodgers: Manny Ramirez. Duh.
Diamondbacks: Chris Young. Justin Upton, too. In terms of supposed talent, the Diamondbacks can match the Dodgers player for player (with the exception of Manny). But they can't match them in projected performance, and the chief culprits are Young and Upton, neither of whom have yet met our expectations. If both do this season, though? Watch out for the D'backs.