SweetSpot:

Carlos Martinez
November, 5, 2013
Nov 5
4:23
PM ET
From Derrick Goold
of the St. Louis Post-Dispatch:
The Cardinals will open spring training in 2014 with [Trevor] Rosenthal as closer, manager Mike Matheny confirmed Monday during a season review news conference at Busch Stadium. ...

Rosenthal often expressed his interest in competing for a spot in the rotation for 2014, but the club has long believed his power fastball and mentality would eventually thrive at closer.

"Right now there is no reason to go anywhere differently than how we ended," Matheny said. "Trevor Rosenthal is a guy who is going in there getting the saves for us. That's how we're heading into this spring. ...

"This is a touchy topic in the fact that we know Trevor would like to start and be a starter someday. And we don't deny the fact that that could realistically happen and he would do a terrific job at it. ... When you look at our club and what we have ... we have need for that bullpen ... all based around our closer. We have a lot of confidence in how he has been able to handle that position."

The Cardinals are a smart organization. They know a good starting pitcher is more valuable than a great closer and that closers are easier to find than starting pitchers. But Matheny is right, the Cardinals do have depth in the starting rotation, which would line up something like this for 2014:
Adam Wainwright
Michael Wacha
Shelby Miller
Lance Lynn
Joe Kelly
Jaime Garcia (expected to be healthy for spring training)
Carlos Martinez
Tyler Lyons
That's eight quality options, before even getting to Rosenthal.
What's most interesting about the decision is that if Rosenthal hadn't fallen into the closer role almost by default -- Jason Motte got hurt in April and then Edward Mujica tired in September after superbly filling in for Motte -- it would be easier to give him a chance at starting. He was so dominant as a reliever, particularly in the postseason when he pitched 11.2 scoreless innings, that it now becomes more difficult to remove him from that role. He's Matheny's 100-mph security blanket. But if he was still in the less-valued role of setup guy the Cardinals would probably be more willing to start him.
When starting in the minors, the reports on Rosenthal were that he worked in the mid-90s while showing a hard curveball and solid changeup. In 2012, between 17 starts in Double-A and three in Triple-A, he posted a 2.97 ERA with 78 hits, 42 walks and 104 strikeouts in 109 innings. While pitching in relief in the majors, Rosenthal stuck almost exclusively with his fastball, which averaged 97.3 mph and reached 101. Including the playoffs, Rosenthal threw 1,461 pitches in 2013 -- 1,161 fastballs (80 percent). He threw 15 percent changeups and basically ditched the curveball.
As a starter, he would likely need all three pitches to succeed. The scouting reports on him were certainly positive in that regard, and you would have to think Rosenthal would have more upside as a starter than Lynn or Kelly (who will find it difficult to replicate his 2.69 ERA). Of course, we don't know for sure how Rosenthal would fare, while we do know how he did as a reliever; he has limited experience above Class A as starter and Lynn, while more of a mid-rotation workhorse, has at least proven he can handle 190-200 innings a season as a starter.
The problem with keeping Rosenthal as a closer is that you have to get the lead before he has any value. Rosenthal didn't do the Cardinals any good when he pitched the final innings of 3-1 and 6-1 losses to the Red Sox in Games 5 and 6 of the World Series. If Rosenthal has top-of-the-rotation potential, do you owe him that opportunity? After all, starting pitchers make a lot more money than relievers, and the kid wants to start. Is this the same debate as the Nationals sitting Stephen Strasburg in 2012 for (arguably) the good of his long-term future?
The other issue is what the Cardinals do with Martinez, who was rated a notch above Rosenthal as a starting pitching prospect entering 2013. He only pitched 79 innings in the minors in 2013, so do you send him back down for more seasoning as a starter, and insurance against an injury from another starter, or use him as a power arm in the eighth inning like you did in the postseason?
Hey, these are good problems to have and it's possible the Cardinals end up trading one of these pitchers to find an upgrade at shortstop. As good as Rosenthal was in the postseason, closers are easily replaced -- in fact, only two teams are likely to begin 2014 with the same closer it had in 2012. For me, I'm trying to extract the most value out of a player. I would try Rosenthal as a starter, move Kelly to a swingman/relief role and put Martinez in the pen for a year.
October, 24, 2013
Oct 24
11:20
PM ET
Thoughts on a Game 2 of the World Series that was a thousand times more interesting than Game 1, that ended with the Cardinals beating the Red Sox 4-2.
Hero:
Cardinals rookie sensation
Michael Wacha
was nearly sensational once again, taking a shutout into the sixth inning. Facing
David Ortiz
with a runner on and one out, he threw one changeup up too many to Big Papi -- four in a row, with Ortiz depositing the 3-2 changeup just over the Green Monster in left-center. But Wacha recovered to strike out
Mike Napoli
and retire
Jonny Gomes
to get through six innings. The Red Sox ran up his pitch count -- 114 pitches -- and he walked four batters, but he gave up just three hits, got a big double play on Napoli with two on and no outs in the fourth and improved to 4-0 in the postseason when the Cardinals took the lead in the top of the seventh.
Goat:
Red Sox reliever
Craig Breslow
replaced starter
John Lackey
with two runners on in the seventh. Breslow isn't exactly a lefty killer (.238 average allowed, including the postseason) but it made sense for manager John Farrell to bring him in to face lefties
Daniel Descalso
(.183 versus southpaws) and
Matt Carpenter
. But Breslow allowed a double steal and then walked Descalso on a 3-2 slider to load the bases, setting up the play of the game.
Turning point:
So bases loaded, Carpenter lifts a fly ball to shallow left, setting in motion four awful plays that are basically unacceptable in any major league game, let alone a World Series game: (1) Gomes' throw was offline even though he wasn't that far beyond the infield cutoff; (2) catcher
Jarrod Saltalamacchia
didn't catch the ball; (3)
Jon Jay
, on second base, for some reason headed
back
to second base as the throw went home, and got a late break for third; (4) which drew a throw from Breslow (at least he was backing up the throw home), which went wildly into the third-base stands, allowing Jay to score. Final tally: two runs, and when
Carlos Beltran
followed with an RBI single, it was 4-2.
At-bat of the night:
How about the walk by
David Freese
to start that rally? He fouled off two pitches with two strikes, eventually taking a 3-2 cutter outside. Lackey threw 71 of 95 pitches for strikes, his season-high percentage of strikes, so terrific job by Freese to work a walk.
The Jonny Gomes Hunch:
All season, John Farrell platooned
Daniel Nava
and Gomes in left field. Suddenly in the postseason he's gotten the itch to play Gomes against all pitchers, even though Nava had a .411 on-base percentage against right-handers. The Red Sox like Gomes' energy, and Boston had been 7-0 with Gomes starting in the postseason, but Farrell's lucky charm hurt the team in this game. Gomes went 0-for-4, had the bad throw and is 0-for-7 in the two World Series games. Unless there's something going on with Nava we don't know about, he should be out there in Game 3. Yes, Gomes may be more likely to pop one out (especially at Fenway), but Nava gets on base against righties and is a little better in the field.
Hey, it worked, but ...
Eighth inning, 22-year-old rookie
Carlos Martinez
protecting the 4-2 lead in his second inning of work, Ortiz up with a runner on and two outs. Matheny had three options: (1) Bring in lefty killer
Randy Choate
(.161 against left-handers including the playoffs with no home runs allowed); (2) bring in closer
Trevor Rosenthal
for a four-out save; (3) leave in Martinez. Choate seemed like the obvious choice, considering Ortiz's production falls way off against lefties. The cameras panned to a nervous-looking Matheny on the dugout steps. He chose to keep Martinez in there, perhaps preferring to battle Ortiz with the 100 mph fastball instead of Choate's junk. I think Choate was the right call, but while Ortiz reached on an infield single, Martinez did get Napoli to pop out.
Revealing statistic:
Rosenthal struck out the side in the ninth. Eleven pitches, all fastballs, average speed of 97.2 mph, 99 on the final pitch to Nava (pinch-hitting for Drew). And, yes, all 27 outs recorded by rookie pitchers for the Cardinals.
October, 7, 2013
Oct 7
5:57
PM ET
Michael Wacha
last pitched 13 days ago. You may remember that he was pretty good in that game: He lost a no-hitter with two outs in the ninth inning on
Ryan Zimmerman
's infield single.
Amazingly, in just his 10th career start, Wacha followed up that start with not just the game of his lifetime, but almost the game of
anyone's
lifetime, taking a no-hitter into the eighth inning before
Pedro Alvarez
crushed a meteor to right-center field with one out. Still, while Wacha was five outs short of the third no-hitter in postseason history, following Don Larsen's perfect game in the 1956 World Series and
Roy Halladay
's no-hitter for the Phillies in the 2010 NLDS, his dominant start gave the Cardinals a 2-1 win over the Pirates in Game 4 to even the series.
Many believed the Cardinals should have started
Adam Wainwright
on three days' rest in this game, but
Mike Matheny
had ultimate confidence in his young rookie -- just like he has confidence in the five other rookies on his playoff pitching staff. Like Wainwright, Wacha is tall and thin, but while Wainwright relies on that nasty curveball, Wacha's best off-speed pitch is a lethal changeup that makes him extremely tough against left-handed hitters, who hit just .197 off him this season.
On this day, Wacha dumped his curveball and stuck with the fastball and changeup. After an eight-pitch seventh inning, the no-hitter was no longer a fantasy but appeared to be an impending reality. Wacha blew away
Marlon Byrd
with a 96-mph fastball for the first out. Up stepped Alvarez, who had the big hit in Game 3 and had homered in the first two games. Wacha fell behind 3-1 and, not wanting to walk him to bring up the tying run, threw a 93-mph four-seamer into Alvarez's wheelhouse and Pedro didn't miss, sending it 438 feet into the Pittsburgh afternoon.
After Wacha walked
Russell Martin
(who has had great at-bats all postseason), his day was done after 96 pitches. The one questionable decision in this game: Matheny turned to
Carlos Martinez
, one of those rookies, leaving closer
Trevor Rosenthal
(yet another rookie) in the bullpen. Rosenthal has just recently become the team's closer and had pitched two innings on six occasions, so is certainly
capable
of going five outs, but Matheny went with the Martinez (who, like Rosenthal, can hit 100 mph with his fastball).
Josh Harrison
pinch-ran for Martin and
Jose Tabata
pinch-hit. On a 2-1 pitch, Clint Hurdle sent Harrison but Tabata missed the pitch on what might have been a hit-and-run.
Yadier Molina
's one-hop throw was in time to get Harrison, who started his slide too early and looked like he was diving into quicksand. Tabata fanned on a 3-2 curve, quieting the Pittsburgh faithful. I don't have a huge problem sending Harrison there; ahead in the count, Tabata had to be sitting fastball and he's pretty good contact guy. He did get fastball; he just missed.
Pirates fans had one last moment of hope in the ninth when Rosenthal inexplicably walked
Neil Walker
on four pitches with two outs to bring up
Andrew McCutchen
. After falling behind 3-0 to McCutchen, he finally got him to pop up to second on a 3-1, 96-mph fastball.
Now Matheny's decision to bypass Wainwright puts the Cardinals in the driver's seat. He has his ace going in Game 5 at home, where Wainwright had a 2.53 ERA. Hurdle will have to decide whether to stick with
A.J. Burnett
, who got hammered in Game 1, or go with rookie
Gerrit Cole
, who dominated in his Game 2 start. With the off day on Tuesday, Cole would be pitching on regular rest.
I know what I'd do: As Wacha showed today, have faith in the youngsters. Especially when they have talent on the level of Wacha or Cole.
* * * *
Wacha's final Game Score ended up as 79 ... a great start, although not historical, at least by the Game Score method. Here are the best starts in postseason history by Game Score:
Roger Clemens
, 2000 ALCS, Yankees vs. Mariners: 98 (9 IP, 1 H, 0 R, 2 BB, 15 SO)
Dave McNally, 1969 ALCS, Orioles vs. Twins: 97 (11 IP, 3 H, 0 R, 5 BB, 11 SO)
Babe Ruth, 1916 WS, Red Sox vs. Robins: 97 (14 IP, 6 H, 1 R, 3 BB, 4 SO)
Tim Lincecum
, 2010 NLDS, Giants vs. Braves: 96 (9 IP, 2 H, 0 R, 1 BB, 14 SO)
Roy Halladay, 2010 NLDS, Phillies vs. Reds: 94 (9 IP, 0 H, 0 R, 1 BB, 8 SO)
Don Larsen, 1956 WS, Yankees vs. Dodgers: 94 (9 IP, 0 H, 0 R, 0 BB, 7 SO)
Ed Walsh, 1906 WS, White Sox vs. Cubs: 94 (9 IP, 2 H, 0 R, 2 BB, 12 SO)
October, 6, 2013
Oct 6
8:49
PM ET
Before the postseason,
Pedro Alvarez
looked like the key guy for the Pittsburgh Pirates, as much as one player can be the key guy (this isn't basketball, after all).
Alvarez is a prodigious slugger -- he tied for the National League lead with 36 home runs -- but he also hit just .233 and led the league with 186 strikeouts. He can carry a team when he gets hot, like he did in June when he hit .309 with 10 home runs and 24 RBIs. But he's also prone to spells of strikeouts and little production, like when he hit .180 in April or a 25-game stretch from late August through into September when he hit .178 with just two homers.
A good sign for the Pirates was Alvarez snapping out of that last slump with two home runs the final weekend of the regular season in Cincinnati. He went 0-for-3 in the wild-card win over the Reds, hitting a sacrifice fly, and then homered for the Pirates' only run in 9-1 loss in Game 1 against the Cardinals and went 2-for-4 with another home run in Game 2.
So Alvarez has been swinging the bat well, which set the stage for two key plate appearances in Sunday's critical Game 3, which ended up a 5-3 victory for the Pirates -- critical because, of the past 15 division series that were tied 1-1, the Game 3 winner has won the series 14 times (the exception being the 2011 Cardinals beating the Phillies).
[+] Enlarge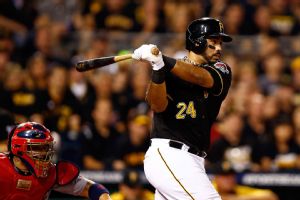 Justin K. Aller/Getty ImagesPedro Alvarez's problems with lefties should make him a target for late-game matchups, but he beat the rap on Sunday.
In the sixth inning, with the game deadlocked 2-2, runners at second and third with one out, Cardinals manager
Mike Matheny
had starter
Joe Kelly
intentionally walk Alvarez and brought in ground-ball specialist
Seth Maness
to pitch to
Russell Martin
, who hit a sacrifice fly. You can quibble about Matheny's move here, but it looked like a toss-up: Maness had a double-play rate of 30 percent in possible DP situations; Alvarez had a strikeout rate of 30 percent during the regular season. The third option would have been using lefty
Randy Choate
to face Alvarez and go for the strikeout, and Choate is basically here to get Alvarez out in a big situation. But again, Maness versus Martin isn't a terrible matchup for St. Louis, even if it did load the bases (which I'm rarely a fan of).
(If anything, the bigger issue was letting Kelly start the inning with
Andrew McCutchen
leading off. Considering the Cardinals are carrying 12 pitchers on the roster and considering the magnitude of the game, letting Kelly go through the order a third time was the risky move. Numbers show pitchers fare worse the third time through an order, and while Kelly did have a 2.69 ERA for the Cardinals, he also outpitched his peripherals; there was good logic to go with the bullpen to start the inning. McCutchen walked and
Marlon Byrd
doubled with one out, knocking out Kelly.)
Anyway, Martin hit a sac fly off Maness to give the Pirates a 3-2 lead.
To the eighth inning, after
Carlos Beltran
homered to tie the game (paging Reggie Jackson: somebody wants to borrow your nickname). Matheny went to rookie
Carlos Martinez
with McCutchen again leading off -- choosing Martinez over veteran
Edward Mujica
, the team's closer most of the season who hit the wall in September when he allowed 18 hits and nine runs in 7 1/3 innings.
Martinez just turned 22 and has just 28 innings in the majors but has a monster arm that can hit 100 mph on the radar gun. If they say the postseason is about power pitching then you can't argue too much with this move, and Matheny and the Cards have decided they're going with the kids this October -- installing rookie
Trevor Rosenthal
as the closer late in the year, giving other key outs to rookie relievers Maness and
Kevin Siegrist
, and they'll start
Michael Wacha
, another rookie, in Game 4.
But Martinez is also a bit of a one-pitch guy with an inconsistent curveball and batters did hit .313 off his fastball. McCutchen fouled off a 101-mph heater but Martinez then threw two balls and McCutchen knew what was coming and doubled to left field off a 97-mph heater.
Justin Morneau
grounded to short, with McCutchen foolishly darting for third where he was easily thrown out. Marlon Byrd walked on a 3-2 curveball -- seven of the eight pitches Martinez threw him were curves, certainly an interesting set of calls by
Yadier Molina
-- setting the stage for Alvarez.
Matheny correctly went to the hard-throwing lefty Siegrist, who averaged 95 mph and touches 99 on his fastball (where do the Cardinals find all these guys?). Alvarez hit just .180 against left-handers with just three of his 36 home runs. You
could
argue that Clint Hurdle should have hit for Alvarez, but Alvarez is one of his guys, do or die.
Toeing the rubber, Siegrist threw three fastballs. At 1-1, Alvarez lined the third fastball into right for an RBI single, scoring pinch-runner
Josh Harrison
. Good decision by Matheny, better result by Alvarez. Russell Martin added another RBI single for the final margin.
One interesting note is how the Pirates played aggressively in the field -- it hurt when McCutchen got caught at third -- and also on the managerial front. Hurdle pinch-hit for shortstop
Clint Barmes
with
Jose Tabata
in the sixth when the Pirates led 3-2; with two runners on, he was hoping to get an insurance run and was willing to sacrifice defense. While Matheny waited a couple batters too long to pull Kelly, Hurdle removed
Francisco Liriano
after six innings, even though he'd allowed just three hits and lefty
Jon Jay
was leading off the seventh for St. Louis. Liriano was only at 101 pitches, so he could have remained in the game, but Hurdle was not going to wait a batter too long to remove his starter.
Wacha faces
Charlie Morton
on Monday, and I'd give the pitching edge to Wacha, but the emotional and home-field edge to the Pirates. The Cardinals need leadoff hitter
Matt Carpenter
(.091, .231 OBP in three games) to get on base in front of Beltran. Both pens are in good shape and with an off day on Tuesday neither manager should hesitate to go to their relievers.
In other words: I expect another key matchup for Mr. Alvarez.
July, 31, 2013
Jul 31
10:36
PM ET
PITTSBURGH -- Pittsburgh general manager Neal Huntington and his St. Louis counterpart, John Mozeliak, spent the requisite long hours at the trade deadline making calls, kicking tires and putting out feelers in an effort to improve their rosters. But when the sellers are dictating the terms, it's hard for two baseball executives in buyer mode not to feel like the main characters in a show about nothing.
At 5:30 p.m. Wednesday, Huntington popped into the media conference room at PNC Park and spent 15 minutes explaining the team's decision to refrain from an impact move at the deadline. Shortly thereafter, Mozeliak sat in the visitors dugout and shared a similar tale.
The Pirates acquired infielder
Robert Andino
from Seattle later in the evening and St. Louis traded lefty reliever
Marc Rzepczynski
to Cleveland for a minor league shortstop at the deadline. Throw in a similar lack of activity by third-place Cincinnati, and July 31 was Stand Patrick's Day in the National League Central.
[+] Enlarge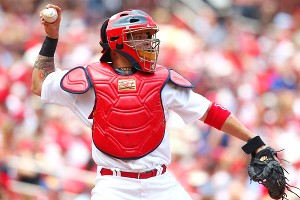 Dilip Vishwanat/Getty ImagesEven absent Yadier Molina for two weeks, the Cardinals didn't make a move.
"There's no question we forced the issue," Huntington said. "I made offers that made me incredibly uncomfortable, but we did so with the idea that we wanted to help this club. When the holder group became larger than expected, it made it even more of a seller's market. And even when those clubs were willing to sell, it was either a difficult match or they didn't have the players that matched what we were looking for."
Of the two clubs, the Pirates were operating under greater scrutiny to get something done. How crazy are things in Pittsburgh now that the Buccos enter August in first place for the first time since 1992? When manager Clint Hurdle visited Starbucks Wednesday on one of his daily Man-About-the-Steel City rituals, the other patrons gave him a venti-sized standing ovation.
Recent history has shown that a flurry of midseason moves doesn't necessarily produce the desired result. Last year, the Pirates acquired
Gaby Sanchez
,
Travis Snider
,
Wandy Rodriguez
and
Chad Qualls
in July, and those reinforcements couldn't prevent them from going into a 20-39 free fall in August and September.
Huntington said the team's primary focus this year was on upgrading the offense, which ranks in the bottom half of the NL in batting average, runs, hits and total bases and near the top in strikeouts. The Pirates checked out an assortment of hitters that included
Giancarlo Stanton
,
Mark Trumbo
,
Alex Rios
,
Justin Morneau
and
Nate Schierholtz
, only to discover that the objects of their affection were either unavailable, cost-prohibitive or not a heck of a lot better than the talent already on the Pittsburgh roster. And any deal that mentioned top prospects Jameson Taillon, Gregory Polanco and Tyler Glasnow was guaranteed to make Huntington swallow hard.
"We were willing to do something stupid," Huntington said. "We weren't willing to do something insane."
In the absence of a new bat, Hurdle said several Pittsburgh hitters are capable of contributing more than they have to this point.
Neil Walker
entered Wednesday's game hitting .242 before launching his seventh homer of the season off
Adam Wainwright
, and
Garrett Jones
has 10 homers and a .433 slugging percentage compared to totals of 27 and .516 in 2012. Huntington also seems intrigued by minor league outfielder Andrew Lambo, who has hit 27 homers in a
Darin Ruf
-like power breakout with Double-A Altoona and Triple-A Indianapolis this season.
The Pirates also felt comfortable not adding a relief pitcher even though their bullpen has logged a heavy workload and the team's closer,
Jason Grilli
, is on the shelf with a strained forearm. They have faith in
Mark Melancon
in the ninth inning and think they have enough young, hard-throwing arms in the organization to overcome Grilli's absence.
In contrast to the Pirates, who are on an emotional high right now, the Cardinals have to take solace in the knowledge that they're just going through a temporary funk. They were the best team in the National League for the better part of three months, and they have the second-best run differential in baseball behind the Tigers. Mozeliak wasn't about to panic and include Oscar Taveras,
Michael Wacha
,
Carlos Martinez
, Kolten Wong or another top prospect in a trade for a marginal upgrade.
"We didn't want to make a decision in a six-game vacuum," Mozeliak said. "In the end, we think we're going to be a better team and play to what we're capable of doing. When we looked at how we could have improved our club, we just didn't have a lot of access to those pieces that could have made a difference."
At least Mozeliak received some positive news on Wednesday when he learned that All-Star catcher
Yadier Molina
suffered no structural damage to his knee and will probably be fine with two weeks of rest. The Cardinals are talking to the agent for veteran
Kelly Shoppach
, who became a free agent after opting out of his minor league deal with Washington. But barring a change, the Cards will stick with
Rob Johnson
and
Tony Cruz
behind the plate until Molina returns.
Conventional wisdom says that a significant July deadline trade can boost spirits in a clubhouse, but Huntington and Mozeliak put an alternative spin on the status quo.
"I feel like this is a vote of confidence to the talent we have in there, because we weren't scrambling to add to it." Mozeliak said. "For us, those 25 guys in that room right now have to know that we believe in them. And we do."
A general manager can help boost a player's spirits with a back slap or a kind word. In this case, Huntington and Mozeliak showed their faith in their 25-man rosters by doing next to nothing.