April, 11, 2011
4/11/11
5:23
PM ET
By
Christina Kahrl
| ESPN.com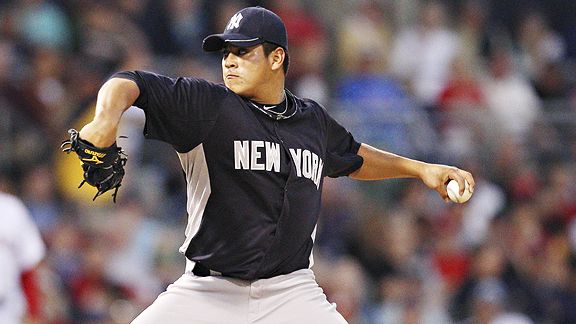 Derick E. Hingle/US PresswireManny Banuelos is the Yankees' top pitching prospect, but he's only made three starts above Class A.
John Ford's
PT-boat classic
, "They Were Expendable," might seem to be a strange sort of reference to kick off a recap of the Yankees' decision to sign
Carlos Silva
, but what are you going to do? It goes to the heart of the nature of the pickup, but also reflects its signal virtue. Silva ain't John Wayne, but for this outfit, he won't need to be.
The Yankees' signing Silva might seem like another admission of failure, as they try to make up for not landing
Cliff Lee
-- or anyone else of note. While the Yankees donned pinstripes to help slenderize the Babe, you make the case that they're just as necessary (and ill-suited) to the purpose when it comes to potentially suiting up the hefty Silva on a staff already employing the even beefier
Bartolo Colon
.
However, there are a number of things to keep in mind. First and foremost, the Yankees have their commitment to win now to observe. Rather than keep moping about what they could not control -- like making up Lee's mind for him -- or making a spectacularly expensive mistake on a poorly stocked pitching market, the Yankees have to work with what they can control for the time being. Until the also-rans start running out of hope and faith, and start peddling their veterans on the verge of free agency, arbitration eligibility, or general all-around expensiveness, Brian Cashman and company really have two options: call up the kids, or rely on temps until the inevitable ill fortunes of others expand their options and make those pre-deadline deals possible.
Calling up the kids will always have its attractions, of course. Prospects are always in vogue, everyone likes the thrill of something new, and Manny Banuelos, Dellin Betances and
Andrew Brackman
all look like they're the real deal as prospects go. Unfortunately, Banuelos and Betances have less than 30 innings above A-ball between them, while Brackman's half-season at Double-A Trenton last year involved his giving up an unimpressive 4.2 RA/9 (the team-wide average in 2010) in pitcher-friendly Waterfront Park. Good as they may be, seeing what they do against upper-level hitters makes more sense than rushing them up.
Happily, these are not your daddy's Yankees, the team that called up and then quit just as quickly on quality homegrown arms like
Jose Rijo
,
Al Leiter
, or even a solid mid-rotation filler like Bob Tewksbury. That way lay Dave LaPoint, Andy Hawkins and madness. The kids will be allowed time to ripen on the vine, and it's more than a little possible that any one of the Triple-B prospects will be a Killer B down the stretch after proving their mettle in the first half. The nice thing for the Yankees is that they don't need to count on any one of them, taking comfort that by having all three they can reap the benefit if any one of them comes through down the stretch.
In the meantime, signing Silva is exactly like bringing in
Freddy Garcia
and Bartolo Colon, in that he's another inexpensive veteran with some reason to invest temporary faith in. Nabbing Silva will only end up costing them a pro-rated share of the minimum (the Cubs have to pay off the rest of his deal until it runs out at season's end), so the combined expense of employing these three vets adds up to less than $3 million. While signing Silva is another case of retreading a guy who isn't what he once was, Colon is demonstrating that age and bulk have not robbed him of the ability to dial up the occasional mid-90s fastball. Silva isn't that far removed from last year's first half, when he went 9-2 in 16 starts while posting a 2.96 ERA. While that wasn't going to last -- and didn't -- and while you can worry about how he'll do as a flyball pitcher in a homer-happy ballpark like NuYankee if they do call him up, as a Yankee he'll have the advantage of a good outfield defense. Like Chief and Colon, spotted against the right foes in the right situations, he can be successful for a short stretch, and that's all the Yankees would need of him.
Consistent with Cashman's past patience, such as during 2008, when he kept his powder -- and his pocketbook -- dry waiting for the day he could sign up
CC Sabathia
and
Mark Teixeira
, it's moves like adding Silva, Colon, and Garcia that afford the Yankees the opportunity to play a waiting game. That lasts until the people they'll want pitching for them for the stretch identify themselves: either from among their prospects, or those top-tier starters who will be shopped by the non-contenders in June and July. Then and only then should Cashman spend top dollar for the players who are worth it.
Christina Kahrl covers baseball for ESPN.com. You can follow her on Twitter here
.
March, 29, 2011
3/29/11
12:02
AM ET
Eric Karabell and Mark Simon discuss all the transactions and make some predictions on Monday's
Baseball Today podcast

. Topics include:
Mark makes his season predictions, including win totals for every team and a surprise winner in the NL Central.
The Red Sox send Hideki Okajima to the minors.
Andrew Bailey headed to the DL.
Carlos Silva gets released ... is he better than Kevin Millwood?
Jayson Werth hitting second and the Nationals outfield situation.
Mark shares a story about Mike Hampton.
Some talk of obscure jerseys ... including the great Bombo Rivera.
March, 27, 2011
3/27/11
9:14
PM ET
There are two reasons I enjoyed the little
Carlos Silva
/Mike Quade/Jim Hendry exchange of words after the Cubs released the veteran right-hander (I was going to say "portly," but "veteran" sounded more respectful):
1. Silva is a beefy (oops) right-hander without good stuff.
As Hendry said, Silva has had two good months over the past several seasons. He was awful with the Mariners in 2009, in a season cut short by a sore shoulder. In 2008, he had one of the worst years of the decade, going 4-15 with a 6.45 ERA and allowing a .331 opponents batting average. I think
Adrian Beltre
sprained his neck watching line drives scream past him. He was OK with the Twins in 2007 (prompting Seattle to give him that ridiculous contract in the first place), but awful in 2006. This guy is not a good major league pitcher and unlikely to be one in 2011.
2. More importantly, it hopefully shows that new manager Mike Quade -- who apparently made the decision to cut Silva loose -- is willing to give young players a chance. In this case, it's
Andrew Cashner
.
In recent years, the Cubs have been dragged down by a motley crew of "proven" veterans. Too late, the Cubs have realized some of those guys can't play. In 2010, they gave 400 plate appearances to the punchless
Ryan Theriot
.
Xavier Nady
had more than 300 plate appearances and produced a woeful .256/.306/.356 line. In 2009, it was
Kevin Gregg
blowing saves and
Mike Fontenot
posting a .301 OBP.
True, the Cubs' farm system hasn't been one of the most fruitful in recent seasons, but it has provided
Starlin Castro
,
Geovany Soto
,
Randy Wells
and
Tyler Colvin
over the past three years. That's more talent than many other teams have produced.
Quade still has to sort out second base. I'd like him to give
Blake DeWitt
a chance to play, but proven veteran
Jeff Baker
(career OPS+: 95) may instead eat up the at-bats. But maybe baby steps are all we can expect from the Cubs for now.
Follow David Schoenfield on Twitter at
@dschoenfield
. Follow the SweetSpot blog at
@espn_sweet_spot
.
March, 27, 2011
3/27/11
2:02
PM ET
Some quick takes at news items from around the majors:
1. Yankees start with Freddy Garcia and Ivan Nova in the rotation, put Bartolo Colon in the bullpen.
Take:
Thumbs up. Garcia has had a poor spring, but deserves the initial chance over Colon based on his OK season with the White Sox in 2010 (28 starts, 4.64 ERA). Since winning the 2005 AL Cy Young Award, Colon has made just 47 starts, including none in 2010, with a 5.18 ERA. For all the consternation about the Yankees' rotation, they won 95 games last year with
A.J. Burnett
and
Javier Vazquez
posting ERAs over 5. It's About The Money
wonders if the Colon snub is an outrage
.

Silva
2. Cubs release Carlos Silva, eat $8 million, give fifth rotation slot to Andrew Cashner.
Take:
Thumbs up. Silva has been pounded this spring, just another indicator that his decent 2010 season was a fluke. And remember that his good first half was really just a good two months. Cashner pitched in relief as a rookie in 2010, but has a live arm and some upside if he can throw strikes.
3. Nationals trade Nyjer Morgan to Brewers for Cutter Dykstra, son of Lenny.

Morgan
Take:
Thumbs sideways. For both teams. The Brewers already have Nyjer Morgan and his name is
Carlos Gomez
. Milwaukee needed a backup outfielder after trading
Chris Dickerson
to the Yankees for
Sergio Mitre
. The Nationals officially hand over their starting center field job to
Rick Ankiel
, but I suspect
Roger Bernadina
will get a fair share of time out there as Ankiel has issues staying healthy. As for Dykstra the Younger, he hit .312 with a .416 OBP in the Midwest League, but (A) lacks power; and (B) needs to find a position (fielded .894 at third base). But anything that keeps a Dykstra in the news is a good thing.
4. A's name Brandon McCarthy their fifth starter.
Take:
Thumbs down. The odds of this working seem pretty slim. McCarthy, of course, has always had issues staying healthy. He's been about a league-average pitcher with marginal peripherals when he does pitch, and his major problem (home runs) should be lessened a bit pitching in Oakland. That said, I would have gone with
Tyson Ross
or even
Bobby Cramer
. But these issues usually end up resolving themselves on their own and if the A's actually get 20 starts out of McCarthy, kudos to them.
5. Mike Hampton retires.

Hampton
Take:
Thumbs up. It would be easy to make a crack about the excellent schools in Denver, but you have to give Hampton credit for persevering and trying various comebacks when he could have hung up the spikes years ago. As a Mariners fan, it still irritates that he was traded to the Astros for Eric Anthony. Hampton had pitched poorly in a few innings as a 20-year-old rookie in 1993, Lou Piniella for whatever reason wasn't a fan, and the Mariners traded him that offseason for Anthony, a left fielder who wasn't any good and lasted just one season in Seattle. Just one of many terrible trades Seattle made around that time. The Mariners could have had a great rotation in the mid-'90s with
Randy Johnson
,
Jamie Moyer
,
Jeff Fassero
and Hampton. Instead, that club never reached a World Series.
Anyway, Hampton might not have lived up to the huge contract he signed with the Rockies, but he had an excellent career with 148 wins. He was one of the best-hitting pitchers of the past 25 years with 16 home runs, including seven in 2001. Or more than Nyjer Morgan will probably hit in his career.
March, 6, 2011
3/06/11
2:30
PM ET
While we learned in grade school that fighting never solved anything, it is said that a good dugout donnybrook can actually be a positive for team morale. Sometimes we get past the ability to use words and our fists take over. The result can be the catalyst that sparks a team to the World Series.
[+] Enlarge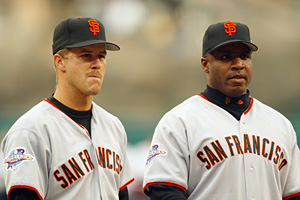 Donald Miralle/Getty ImagesJeff Kent, left, and Barry Bonds were never buddies, but that didn't keep the San Francisco Giants from reaching the World Series in 2002.
The first week of spring training saw yet another dugout meltdown by a Cubs pitcher. This time the feud involved two players in their contract year --
Carlos Silva
and
Aramis Ramirez
. In the first inning against the Brewers on Wednesday, Silva managed to serve up a pair of dingers as his fielders committed three errors. Following the inning, frustration reared its ugly head, comments were made and a fight started in the dugout.
Quoted in a recent Chicago Sun-Times article,
Todd Hollandsworth
, who played for eight teams in his 12-year career, had this to say about inter-team fighting …
"I can't think of a team it didn't happen to ... if it didn't happen, that team probably didn't care very much. If it didn't happen, that, to me, was a show of no team. They show up, put in the time and just get out of there.
"Guys typically care. It's virtually impossible to spend 16 hours a day, seven days a week for eight months without there being conflict. These things happen. It's just that the media is not privy to most of it.''
So, as a tribute to the Silva meltdown (and an effort at keeping hope alive for Cubs fans), here is a look back at a few of the more prominent dugout skirmishes resulting in a success for the team.
1977 - Reggie Jackson vs. Billy Martin
This wasn't the first or last time Billy Martin engaged himself in a disagreement with one of his players. This is, however, the most famous, likely because it involved the team's star player, Reggie Jackson. It didn't help that the game was on national television against the rival Red Sox at Fenway. Apparently, Billy got the feeling that Jackson was dogging it a little in the outfield. Martin benched Jackson, who immediately took exception to it, and the fracas began. After standing nose-to-nose, no punches were thrown and it ended with Martin being held back by a few of the players.
Result: The Yankees won 100 games en route to a World Series Championship over the Los Angeles Dodgers 4-2.
2002 – Jeff Kent vs. Barry Bonds
This one had been brewing for some time. Apparently
David Bell
was in the process of being verbally assaulted by Kent regarding a play that took place the previous inning. Bonds stepped up in defense of Bell, inserting himself between the two, and the shoving began. Kent, who was quoted a year before as saying Bonds was a selfish player, said this skirmish was nothing, and it basically happened all the time between the two of them. Sounds like great clubhouse chemistry, huh?
Result: 95 wins and finished second in the NL West. They faced the Angels in the World Series and lost 4-3.
2007 – Michael Barrett vs. Carlos Zambrano
Similar to Mike Quade and his situation, this was Lou Piniella's first year as manager for the Cubs. What better way to welcome a manager to an organization than with a fight in the dugout?
The Cubs were in the midst of a five-game slide in late May and the booing began at Wrigley early in the year. Zambrano was doing his typical implosion job on the mound, and runs were crossing the plate in abundance for Atlanta. After an inning featuring five runs on five hits and a play where the catcher, Barrett, was charged with a passed ball and a throwing error, the top blew off in the dugout. While Zambrano was able to land what looked like a few punches on Barrett, the real scrap supposedly happened in the club house.
Barrett suffered a cut lip and ended up in the hospital. The best part? It happened to be Zambrano's 26th birthday.
Result: Michael Barrett was traded to the Padres about two weeks after the fight. The Cubs finished first in the NL Central with 85 wins. They quickly were swept in the first round of the playoffs by the Arizona Diamondbacks.
Yes, it is sad that this is considered a positive outcome, but when the team hasn't won a World Series in more than 100 years, the postseason is a feat of its own.
Chet West writes for The View From the Bleachers blog, which is part of the SweetSpot network.
February, 2, 2011
2/02/11
3:06
PM ET
A prospect is a prospect until proven worthy at the big league level.
As a Cubs fan, I have never been so happy to see prospects, promising ones at that, get traded in such a flurry. As a matter of fact, this is the first time in recent memory that I can remember my beloved Cubs trading away the future for the present.
Chris Archer … gone. Hak-Ju Whatever-Your-Name-Is … gone. Traded away for
Matt Garza
, a former Tampa Bay Rays starter with some youth left to boot! Did I mention he was good?
Before this move, the Cubs seemed determined to stick with their homegrown talent at any cost. Names like Rich Hill,
Felix Pie
,
Corey Patterson
were once prospects of gold! It appeared that championships were waiting to be picked off like a snoozing runner with a big lead at first. It was as if the Cubs' brass hoped one of those prospects could be the next Ernie Banks or Greg Maddux so it could end this century-long streak and do it with their own talent, discovered in-house, by their own people. For a period of time this seemed to be the game plan on Chicago's north side. Nobody wanted to give up the next Ernie Banks for, well, the next Ernie Broglio.
Insert the Matt Garza trade. He will get one of the top three spots in the Cubs' rotation for the coming season. Don't get me wrong, Wrigleyville. I'm not trying to predict greatness, but the move does give the Cubs a certain validity in the NL Central. The real question won't be what he does on the mound, but what he does for the rotation as a whole. Even a pedestrian effort could bear fruit in year one!
With Garza's acquisition, a certain amount of strain is removed from
Ryan Dempster
and
Carlos Zambrano
. Two above-average pitchers (on their good days) carrying a rotation is a stretch, and before the Garza trade, your Cubs rotation looked like a head case; an injury waiting to happen (the reason we have Dempster is because of his an injury-riddled past); and a guy (
Carlos Silva
) that another team couldn't wait to get rid of for
Milton Bradley
, followed by two doses of young, unproven talent. One word: Yuck!
With Garza, the clouds seemed to part. If he gives the Cubs 200 innings this year, which many believe he is capable of, then the gray skies become blue … Cubbie blue! Zambrano continues his form from his 8-0 effort in the second half last year, Dempster proves the injuries are in the distant past and keeps forging his path of consistent, not dominant, but consistent stuff, and Silva becomes a nice back-of-the-rotation starter.
If Garza can win 10 or more against the AL East, what can he do against the NL Central? Does anybody remember what
Ted Lilly
did when he came over to the division?
This leaves one spot for a new guy. A young gun in need of some nurturing, but one who has the stuff to be good. A "get your feet wet at the back of the rotation" guy. Who could it be? This is where it gets fun!
Now, if only
Carlos Pena
can hit above .250 …Chet West contributes to View from the Bleachers, a blog about the Chicago Cubs.
Chet West contributes to View from the Bleachers, a blog about the Chicago Cubs.
June, 8, 2010
6/08/10
5:37
PM ET
Second FanGraphs post today ... Jack Moore's postmortem of
Carlos silva's eighth victory
:

Silva threw 102 pitches in today's start, 55 of which were classified by Brooks Baseball's Pitch F/X Tool as either fastballs or sinkers. Both pitches have very similar spin, movement, and velocity, so I think it would be fair to denote all 55 as "fastballs." With that clarified, 53.9% of Silva's pitches today were fastballs, well in line with his 57% fastball rate this season. That's a stark change from the rest of his career. Silva never had a fastball rate lower than 68% entering this season, and in four separate seasons he used his fastball over 80% of the time, including his disastrous 2009 season.

It's not terribly surprising, then, that his strikeouts have risen to above 6 K/9. Even with below average secondary stuff, the addition of more changeups and sliders is certain to increase the amount of whiffs. This change is likely the agent behind a nearly 3 point jump in swinging strike rate from his career mark. In particular, it's his changeup which has been fantastic this season. It has been a strike over 70% of the time, and even though it's nothing special in terms of whiff rate (12.4% vs. 12.63% average), it still manages to get outs, as the pitch had a +8.8 pitch type linear weights value entering play today. Brooks Baseball had it as excellent once again today, with a +2.2 mark.

Including this season, Silva's posted excellent ERAs twice: this year, and in 2005.
In 2005, he
did
throw his fastball more than 80 percent of the time: 84 percent of the time, almost exactly the same as he did last year. I'll also mention that Silva's repertoire (according to Pitchf/x looks almost
exactly
the same in 2007 as in 2008. His fastball/slider/changeup percentages in those two seasons, with ERA:
68/9/23 - 4.19 (2007)
69/9/21 - 6.46 (2008)
Actually, in 2006 Silva had started throwing fewer fastballs and didn't go back to throwing a million of them until his abbreviated (30 innings) 2009, and that might be a sample-size issue.
Still, his fastball frequency is obviously far lower this season than it's ever been, and he's throwing more changeups than ever before (and slightly more sliders, too). Oddly, his changeup has never been a good pitch; usually it's been a bad pitch for him. And yet this year it's a great pitch. Go figure.
There is (as you might guess) one real similarity between Silva's 2005 season and his 2010 season: luck. In Silva's career, he's given up a .311 batting average on balls in play (batted balls minus home runs). In 2005, though, his BABiP allowed was just .293, which wasn't crazy-lucky but does help explain -- along with his absurdly low walk rate -- his 3.44 ERA.
This year he's given up a
.262
batting average on balls in play, which as any schoolboy can tell you just isn't sustainable. Regardless of which pitches he's throwing and how well he's throwing them, Silva's BABiP will probably regress to roughly .300 from now through the end of the season. And his ERA is going to rise concomitantly.
Not that there's anything wrong with that. If he's healthy, Silva's going to finish the season with 14 or 15 wins and an ERA in the low 4s. Pretty good for a guy who wasn't supposed to do anything at all.
June, 7, 2010
6/07/10
5:31
PM ET
Craig Calcaterra on the National League's
perfect pitcher
:
No one saw it, but the Cubs beat the Pirates 6-1 at PNC Park this afternoon. Carlos Silva gave up four hits, struck out five and walked one. He's 8 and freakin' 0, the first Cubs starter to do that since Ken Holtzman went 9-0 in 1967. It was the same story for Silva today as it's been all year: he worked quick, he threw strikes, and he changed speeds. I wonder if there's a lesson in there for anyone.
I don't know. I suppose that's one lesson, but wasn't Silva trying to work quick, throw strikes, and change speeds during those two seasons in which he went 5-18 with a 6.81 ERA as a Mariner?
Among the lessons we might draw are that the National League is easier than the American League, that you shouldn't give up on previously successful pitchers who have been struggling with injuries, and that low-strikeout pitchers are particularly susceptible the many vagaries of luck.
But I'm looking at Silva's numbers this season, and seeing he's struck out 6.3 batters per nine innings this season, after having not struck out more than 4.1 per nine innings in a season since 1993. And I'm thinking the real lesson in this case is an old one: Youneverknow.
May, 13, 2010
5/13/10
2:52
PM ET
By
Joe Aiello, View from the Bleachers
| ESPN.com
When the decision was made to move
Carlos Zambrano
and his $91.5M contract to the bullpen to "shore up the late inning issues," it was clear to Cub fans that something has gone seriously wrong with this team.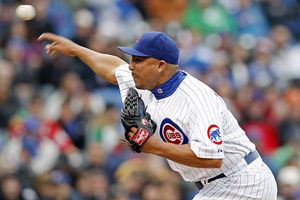 Jerry Lai-US PRESSWIREThe Cubs can't keep Carlos Zambrano in the pen forever.
Since the move, Zambrano has pitched to the tune of a 3.86 ERA in seven innings and has seemingly brought a presence to the pen that was sorely lacking. The problem comes when you look long term for the team.
You can make the argument the money has already been allocated for Zambrano, regardless of where he pitches.
But leaving Zambrano in the pen permanently means general manager Jim Hendry looks completely incompetent for the contract given to Z after the 2007 season that has ultimately resulted in a very expensive 8th inning guy. Couple that colossal blunder with the offseason moves that blew up in his face all last year -- and a two year deal to
John Grabow
this past offseason -- and you've got a GM that has spent an awful amount of cash with very little results. There is no question in my mind that Hendry must get Zambrano pitching and pitching effectively out of the starting rotation again to avoid massive amounts of criticism from the new ownership that could ultimately cost him his job should this team go south.
Zambrano said he expects the move to the pen to be a temporary one. A putrid pen forces the Cubs to figure things out sooner rather than later or risk Zambrano going ape over the fact that he's still in the pen come August. He's known to have a volatile temper, and you can only imagine what might happen should his patience run out while he's sitting on a bench with a bunch of kids that can't get people out. Should he be left in the pen as the long term solution, there is a definite chance of him approaching the Cubs to seek employment elsewhere. He has a full no-trade clause in his contract, but that could be waived in an effort to find someone who will let him start.
The longer the Cubs leave Zambrano in the bullpen, the longer it will take to get his arm in shape to work deep in a ballgame. If Zambrano is going to be an effective starter, especially down the stretch and into the playoffs (No I'm not smoking anything), he's going to need to build his arm strength back up and get that sharpness back as a starter. If not, do you really think the Cubs have a chance at advancing in the playoffs with either
Carlos Silva
or
Tom Gorzelanny
as the fourth starter? I'll bet no.
The Cubs have a move to make and it's a move to bring in enough help to get Zambrano back into the rotation. Perhaps the move involves a trade of Gorzelanny or Silva. Perhaps it means looking closer at guys like
Kyle Farnsworth
or
Jason Frasor
again. Whatever the move, it needs to be made sooner rather than later. The ball is in your court Mr. Hendry, where do we go from here?
April, 21, 2010
4/21/10
6:34
PM ET
Carlos Zambrano is
heading to the bullpen
? So Carlos Silva can remain in the rotation? Has there been a weirder story this spring? Or a sillier story? FanGraphs' Jack Moore -- who doubles as
a Disciple of Uecker
, finds
all sorts of fail
in this move. Yes, Zambrano is demonstrably
better
than Silva ...

Not only that, but a move to the bullpen for Zambrano eliminates his greatest asset – his durability. Last season was the only year since 2003 in which Zambrano didn't throw 200 innings, and he still made 30 starts and threw 188.2 innings. Zambrano's been worth at least 2.8 wins per season in that time frame, and that's in spite of his second-tier peripherals. Simply put, there aren't many pitchers, regardless of their skill, who can throw that many innings year-in and year-out.

Silva, on the other hand, is fresh off an injury in 2009 and also missed time due to injury in 2008. He threw as many innings in 2008 and 2009 combined as Zambrano did in 2009 alone. Not only that, but even in his two excellent starts as a Cub, Silva's fastball velocity is still 1.4 MPH lower than it was in his 3.3 WAR 2007 with Minnesota.

Carlos Zambrano is simply a better pitcher than Carlos Silva. Carlos Zambrano is simply a more durable pitcher than Carlos Silva. Instead of getting 180-200 innings out of one of his top pitchers, Lou Piniella is instead opting for about 40 to 50 innings from him and then 100 to 150 out of a pitcher who projected as average at best coming into the season. The Cubs' chances at the division were low coming into the season. If Piniella's rash and irrational decision stays in place, they become virtually nil.

Speaking of virtually nil, that's about where I would peg the chance of Zambrano making fewer starts than Tom Gorzelanny this season.
Zambrano's given up four home runs in four starts, which is too many. The other things he can control, though? He's walked 10 batters in 19 innings, which is also too many but is roughly no more than he usually walks. Meanwhile, Zambrano's third in the league with 26 strikeouts.
I'll bet this is less about Zambrano's performance than about his attitude (according to Piniella). Call it reality therapy or a mental karate chop or whatever you like, but this strikes me as a momentary expression of annoyance more than anything else. Jack's right: Silva's not going to keep pitching brilliantly, and he's highly unlikely to pitch as well as Zambrano.
But there's room for both of them in the rotation. At the moment, Big Z's ERA is 7.45; his rotation mates go 0.69 (Silva), 1.93 (Gorzelanny), Randy Wells (2.45) and Ryan Dempster (3.15). It's hard to sit a guy with a 0.69 ERA, or even a guy with a 1.93 ERA. Those numbers will change, though, and probably quite soon. When they get where they're supposed to, Zambrano will take his rightful place in the rotation. You just have to wonder if his heart will come along for the ride.
March, 27, 2010
3/27/10
1:09
AM ET
Hey, somebody has to care about
this stuff
, right?
Chicago Cubs manager Lou Piniella announced his rotation Friday to begin the 2010 season, and as expected, Tom Gorzelanny and Carlos Silva will fill out the starting spots.

--snip--

Jeff Samardzija and Sean Marshall will go to the bullpen as long relievers or potential starters in case of injury.

"The thing I'm happiest about is we sent nobody to the minor leagues," Piniella said. "They went from the rotation to the bullpen.

"Remember, when we set this competition up, we didn't know [Angel] Guzman would be out for a whole year and [Jeff] Gray would be hurt."

Piniella said Samardzija was hoping for a starting spot.

"He was a little disappointed," Piniella said. "He thought he had pitched well enough in spring training to stay in the rotation. I agreed with him. But unfortunately, we only have two spots.

"And then remember, [Ted] Lilly is ahead of schedule. In three weeks from now, we're going to have to make a decision again. With that in mind, let's put Marshall and Samardizja in places where they can help our baseball team."

Perfect example of how unimportant the No. 5 starter -- as designated in late March -- can be (not that this stops me from obsessing over them). Sure, it's Silva and Gorzelanny ... but only until
Ted Lilly
's ready to take his turn.
Gorzelanny and Marshall are both 27. Tom's got a 4.78 ERA; Sean, 4.86. Tom's got a 1.55 strikeout-to-walk ratio; Sean, 1.79. Neither of them throws particularly hard, though Marshall's a bit more of a junkballer, specializing in a big curveball. Oddly, it's Gorzelanny who's shown the much larger platoon split, which does argue against his case as a starting pitcher.
My guess is that Marshall will get his chance to start, as he has in each of the last four seasons. But between Marshall and Gorzelanny and Silva, it's not likely that a pennant will be won or lost.
March, 17, 2010
3/17/10
4:56
PM ET
Sorry, I haven't been able to really follow any of today's breaking news, too busy trying to figure out who's going to be the Cubs' No. 5 starter this spring.
Carlos Silva
, anyone?
Silva, who has put himself in the driver's seat for a rotation spot, gave up just two singles and hit a batter, commanding three pitches and putting together his second consecutive strong outing after a miserable debut.

"You can't throw the ball better than he did today," said manager Lou Piniella, adding he was impressed with the way Silva threw the ball inside, changed speeds and changed eye levels on his pitches. "He's been working on some things with our pitching coach [Larry Rothschild], and they're starting to bear some fruit for him."

Between his mom and his pitching coach, Silva said he's feeling as close to that former 14-game winner as he has in years.
It's not exactly a spirited competition; the other candidates for the last rotation slot are
Tom Gorzelanny
,
Jeff Samardzija
, and
Sean Marshall
. Gorzelanny's got a 6.32 ERA over the last two seasons. Samardzija has done well as a starter in the minors, thrived as a reliever in the majors in 2008 but got knocked around in 2009. Marshall's good enough to start for some teams, but he's got a 4.86 ERA in 59 major league starts.
Meanwhile, the math seems simple for Carlos Silva. When he pitched for the Twins, Silva typically threw his fastball around 92 miles an hour. It wasn't a
great
fastball, but it was good enough because Silva essentially always knew exactly where it was going. When he pitched for the Twins, he still knew where it was going, but he lost a couple of miles an hour and so the hitters had time to figure out where it was going, too.
I think if Silva's back to throwing in the low 90s, he can be effective and might actually be the Cubs' best No. 5 starter, at least in the short term. If he's still throwin in the high 80s, though, I would choose Marshall or Samardzija.
December, 18, 2009
12/18/09
1:59
PM ET
Boy, talk about
trading headaches
. Larry Stone:

The Seattle Mariners have found a way to get rid of one of their last lingering problems. According to major-league sources, the club is on the verge of trading Carlos Silva, who still has two years remaining on the four-year, $48 million contract given him by former general manager Bill Bavasi before the 2008 season, to the Cubs in exchange for outfielder Milton Bradley.

--snip--

I understand why the Mariners are making this move -- Silva has absolutely no role on the team any more after two disastrous seasons and little hope for a turnaround. He went 4-15, 6.46 in 2008, and was 1-3, 8.60 in eight games in '09, spending most of the year on the disabled list. Bradley, at least, is healthy and can be very productive when he's focused and happy. They have faith that manager Don Wakamatsu will be able to foster a good relationship with Bradley, as Texas manager Ron Washington did, and that he will contribute to an offense that needs what Bradley, at peak performance, can offer.

Worst case, they can always cut him -- the M's probably weren't going to get anything from Silva any way, so that money was lost regardless. Best case, they have a motivated, resurrected offensive performer to stick in the middle of their lineup. The Cubs had been trying all winter to trade Bradley, talking most seriously with Tampa Bay and Texas, but to no avail -- until now.

Brilliant. Again.
Jack Zduriencik, I mean. The Mariners, at little or no additional financial expense, have traded a player who might be quite useful for a player who almost certainly will
not
be useful. Yes, baseball's a funny game. Silva's still a relatively young man, and might again pitch effectively someday. But considering that Silva's been terrible in each of the last two seasons, and that Bradley was great in 2008 and decent in 2009, doesn't this seem like an incredibly lopsided deal, talent-wise?
There's only one thing I don't quite get ... Where is Bradley going to play? We know he's best suited to DHing, because of the injury-prone nature of his physiology. But the Mariners already have a DH, a 40-year-old man named
Junior
. Now, 40-year-old Junior shouldn't play much because he's not much good anymore. But one wonders what will happen if Bradley's not healthy enough to play left field.
Anyway, that's a better problem to have than spending another $25 million on Carlos Silva.