July, 16, 2012
7/16/12
7:06
PM ET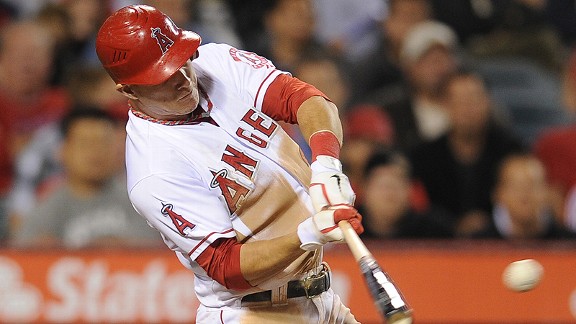 Kelvin Kuo/US PresswireIs Angels outfielder Mike Trout having one of the best rookie seasons of all time?
This came up on my Twitter timeline Sunday night when somebody asked if
Mike Trout
is having the greatest rookie seasons of all time. Entering Monday night's game against the Tigers, Trout is hitting .349/.403/.574 and leads the American League in batting average, stole bases and adjusted OPS. He also leads in Baseball-Reference WAR, at 5.0 ... despite missing the first 20 games while in Triple-A. Assuming he keeps that rate of production over the Angels, we're talking about an additional 5.4 WAR over the Angels' final 73 games (if he plays every game).
That's beyond phenomenal. That's season-for-the-ages kind of stuff. And not just because he's 20 years old. Since 1901, Baseball-Reference rates 46 different seasons for position players at 10.0 Wins Above Replacement or better -- eight of those by Babe Ruth, six by Willie Mays and so on. Only eight of those 46 have come since 1969. For those reasons, the logical analysis is that Trout will slow down a bit at some point. Maybe a little fatigue sets in. More likely, his .401 average on balls in play drops a bit or he falls into a three-week slump.
Anyway, back to the original question. Here are 12 great rookie seasons.
[+] Enlarge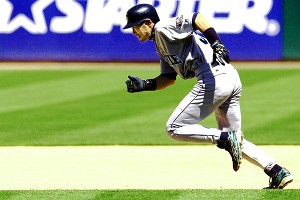 AP Photo/Bob GalbraithIn his rookie season in 2001, Ichiro Suzuki hit .350 and scored 127 runs.
Ichiro Suzuki, 2001 Mariners: 7.5 WAR
Stats: .350/.381/.457, 8 HR, 69 RBI, 242 H, 127 R, 56 SB, 126 OPS+, Gold Glove, MVP
Quote: "It's almost as if he has a tennis racket in his hands. I'm gonna lob this one -- and it's a blooper over the shortstop's head. I'm gonna ace this one -- and it's a liner down the right-field line. He's toying with guys, and there's nothing they can do about it." -- Mariners coach John Moses (Sports Illustrated)
Albert Pujols, 2001 Cardinals: 6.3 WAR
Stats: .329/.403/.610, 37 HR, 130 RBI, 47 2B, 112 R, 157 OPS+, 4th in MVP
Quote: "I watched him in spring training and I saw that he wanted to be here. He adjusts well, he's very coachable, very intense. He concentrates well. He does all of the things you want in a ballplayer. He's going to go through his struggles. Everybody does. But he's a young, gifted player. He's well ahead of his class. In fact, he's the valedictorian." -- Cardinals hitting coach Mike Easler (Milwaukee Journal Sentinel)
Nomar Garciaparra, 1997 Red Sox: 6.5 WAR
Stats: .306/.342/.534, 30 HR, 98 RBI, 44 2B, 209 H, 122 R, 22 SB, 123 OPS+, 8th in MVP
Quote: "He's got power, he's got RBI, he's got average, he's got range, he's got a strong arm and he has great instincts -- but he can't (slide) headfirst. I was telling him the only thing he needs to do is slide headfirst. It seems like he's been safe on an awful lot of plays they've called him out on." -- Red Sox catcher Mike Stanley
Mike Piazza, 1993 Dodgers: 6.8 WAR
Stats: .318/.370/.561, 35 HR, 112 RBI, 81 R, 153 OPS+, 9th in MVP
Quote: "I was at a baseball card show with a scout that knew Mr. (Ted) Williams, and he told him about Mike's hitting. So when Mr. Williams asked if he could come over and see Mike's swing, I said, 'Are you kidding?' He watched Mike's swing and he said, 'If this kid is swinging this well now and he's only 16, I guarantee you that he will hit in the major leagues.'" -- Mike's father, Vince (Los Angeles Times)
[+] Enlarge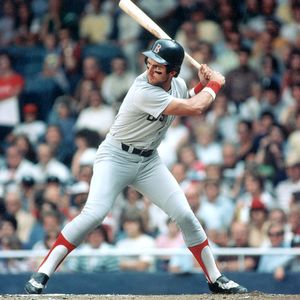 Hulton Archive/Getty ImagesFormer Red Sox outfielder Fred Lynn won an MVP and gold glove in his rookie season.
Fred Lynn, 1975 Red Sox: 7.1 WAR
Stats: .331/.401/.566, 21 HR, 105 RBI, 47 2B, 103 R, 162 OPS+, Gold Glove, MVP
Quote: "But if anybody is ever going to look like the deliverer whom dedicated, oft-disappointed, doggedly impatient Red Sox fans demand -- and have been demanding more and more ever since Yastrzemski filled the role in the team's last pennant year, '67 -- it may be Lynn. He does resemble Yaz, and also Musial, facially, and he has what pitchers see in nightmares: 'a live bat.' -- Roy Blount Jr. in Sports Illustrated
Carlton Fisk, 1972 Red Sox: 7.0 WAR
Stats: .293/.370/.538, 22 HR, 61 RBI, 74 R, 162 OPS+, Gold Glove, 4th in MVP
Quote: "My original intention this year was to use him primarily against running teams. We have always felt he was sound defensively, but he hadn't proven he could hit for average over an entire season. But Duane Josephson got hurt the first week, and I decided to give him his chance. Nobody's beat him out yet. He's our most consistent hitter." -- Red Sox manager Eddie Kasko (Sports Illustrated)
Dick Allen, 1964 Phillies: 8.5 WAR
Stats: .318/.382/.557, 29 HR, 91 RBI, 38 2B, 13 3B, 125 R, 162 OPS+, 7th in MVP
Quote: "I saw Richie hit one this spring that was as long as any I've ever seen hit. When he played at Little Rock last year he hit 33, and we kept getting reports that some were terrific. On March 24 in Tampa I saw him hit one that I will always remember. It came off Mike Fornieles of the Reds. Richie's best power is supposed to be to right center, but he pulled this one. Right above the sign that says 360 feet in Al Lopez field there is a light pole, and on top of the pole are the lamps. The ball hit in the middle of the lamps, and I'd guess that that pole is between 80 feet and 100 feet up. The ball actually was still rising when it hit." -- Phillies general manager John Quinn (Sports Illustrated)
Tony Oliva, 1964 Twins: 6.6 WAR
Stats: .323/.359/.557, 32 HR, 94 RBI, 43 2B, 217 H, 109 R, 150 OPS+, 4th in MVP
Quote: "As a rule, Cubans playing in the United States are looked upon as 'traitors' here and their names are not even mentioned in the newspapers or on radio. Oliva, however, has changed all that. Oliva has been wielding such a hot bat and making such big baseball news that Havana newspapers could not resist reporting his activities to baseball-loving Cubans. Too many Cubans have been calling them to find out how Oliva is doing." -- ANP
Vada Pinson, 1959 Reds: 6.3 WAR
Stats: .316/.371/.509, 20 HR, 84 RBI, 47 2B, 131 R, 129 OPS, 15th in MVP
(Technically, Pinson was not considered a rookie at the time, since he had 96 at-bats in 1958, six more than the 90 the allowed to maintain rookie status.)
Quote: "At the plate, where Pinson hits left-handed, his swing is just like Vada: smooth and compact. He stands in the middle of the box, takes a short, controlled stride, and the bat comes around in a short, controlled arc. If the pitch is in where he wants it, he pulls sharply to right; if the pitch is away, he goes to center or left. He has not allowed himself to become hypnotized by the home run. Vada Pinson is so good that he is almost boring. Except that he can run. Boy, how Vada Pinson can run." -- Roy Terrell in Sports Illustrated
Frank Robinson, 1956 Reds: 6.2 WAR
Stats: .290/.379/.558, 38 HR, 83 RBI, 122 R, 143 OPS+, 7th in MVP
Quote: "He's the greatest young ballplayer I've seen since Ted Williams. This kid can do everything. He'll be around a long, long time." --Reds manager Birdie Tebbetts (Associated Press)
[+] Enlarge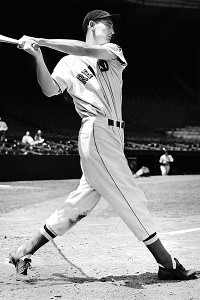 AP PhotoTed Williams' rookie season wasn't his best statistically, but he still finished fourth in the MVP voting.
Ted Williams, 1939 Red Sox: 6.6 WAR
Stats: .327/.436/.609, 31 HR, 145 RBI, 44 2B, 11 3B, 131 R, 160 OPS+, 4th in MVP
Quote: "Notice the kid. He doesn't hit the ball; he doesn't hit at it. He swings clean through it. He's close to being, and may well be before he's through, the wrist-hitter par excellence." -- San Diego sportswriter Stuart Lake (Associated Press)
Shoeless Joe Jackson, 1911 Naps: 9.0 WAR
Stats: .408/.468/.590, 7 HR, 83 RBI, 45 2B, 19 3B, 233 H, 126 R, 193 OPS+, 4th in MVP
(Jackson had 115 at-bats spread out over three seasons before 1911. He would not have been considered a rookie at the time, but using the 130 at-bat cut-off that is now applied, we'll consider Jackson a rookie.)
Quote: "Everything he hit was really blessed. He could break bones with his shots. Blindfold me and I could still tell you when Joe hit the ball. It had a special crack." -- Pitcher Ernie Shore
April, 19, 2012
4/19/12
2:15
AM ET
By
Christina Kahrl
| ESPN.com
You
know
when you shake hands with a former catcher. It's like having an overstuffed bag of walnuts put in your palm and then having it squeeze the circulation out of your mitts. It's the fingers, of course, broken so often that they seem as though somebody had stomped out a tango on each and every knuckle. The toll on each catcher's hands, not to mention his knees, is tremendous. The workload and the toll it takes seems almost cruelly balanced against the near-absence of glory at a position where, often as not, you get to take the statistical rap for something gone amiss because of a pitcher's errant throw home or his poor move to first base. You admire catchers, even if you wouldn't want to be one.
But even among that small fraternity of catchers hardy enough to make it to the majors and stick around and take the daily beating that regular receiving requires, there are those very few who stand apart because of their ability to endure. It's part of the reason why we mourn Gary Carter (fourth all-time in games caught) now, beyond The Kid's natural ebullience. And it's why we respect the catchers who didn't last that long because they hit well at the position or provided "above replacement value," but who lasted that long because they could catch: Bob Boone and
Brad Ausmus
and Jim Sundberg. Easy guys to root for, if long-suffering.
None of that matches the magnitude of what Pudge Rodriguez did during his career, the value he delivered, the greatness that was manifest from his first day behind the plate in the major leagues, all the way back in 1991 as a 19-year-old catching his first game for the
Texas Rangers
as the other half of a battery with
Kevin Brown
.
It might surprise in today's all-media environment in which prospects get to spring with few surprises for us, but even back then, thanks to Baseball America and the like, the legend of how good
Ivan Rodriguez
was behind the plate was spreading. From the squat behind the plate he was as nimble as a cat despite the gear that goes with the trade of framing and catching pitches day after day, and throwing better than anyone ever has as an everyday regular, before, since, and likely ever.
It's well he's calling it quits as a Ranger, because nothing else would have made sense. In the '90s he was one of those players worth the price of admission all by himself, like Jim Abbott on the mound or
Frank Thomas
digging in at the batter's box or even Ken Caminiti's kamikaze glove work at third. For 12 years in Texas, he was as close to a signature star as the franchise had ever had to that point, outshining even sluggers Rafael Pameiro and
Juan Gonzalez
in that performance-enhanced era.
The great novelist F. Scott Fitzgerald said that, "There are no second acts in American lives," and maybe there's something to that, but it certainly wasn't true about Pudge Rodriguez in his career. After a dozen seasons in Texas, the man moved on to the Marlins to help lead their other, less notorious "bought" World Series in 2003, a single-season temp who was just getting started at proving he had plenty left in the tank on the back slope of his career. He was a key player on the 2006 Tigers team that upset a few apple carts by winning an American League pennant.
That sort of second wind propelled him to the elder statesman stints that seem to reflect the end of more than a few great catchers' careers. After a pre-free agency trade to the Yankees, he'd move from Houston to Texas to Washington, an extended victory lap on a career that had seen its share of winning.
There was a special kind of agony associated with watching Pudge at the end of his career that took me back to watching the previous "Pudge," Carlton Fisk, catching games for the White Sox at the end of his career, as he set the games caught record that had been, briefly, Boone's. As catchers, both Pudges had probably taken more pounding behind the plate than anyone else to don a uniform, let alone take up the tools of ignorance.
At the end, there was something both poetic and sad about the contrast between the tremendous young catchers who stood ready to replace them -- Ron Karkovice with the White Sox and
Wilson Ramos
with the Nats -- and their own diminished skills. Draw whatever broad-strokes image about the passage of time in baseball that you care for, but the handoff from an all-time great to a ready kid with skills is the epitome of following teams and players over time. It's why we ache for the ones who have to let go, and root for the ones ready to step in. It's a big part of why we watch.
There's nothing poetic or sad about watching Rodriguez choose to walk away now, though. His greatness is a matter of record. The 14 All-Star appearances, the 13 Gold Gloves, the MVP award or the ring, all of it was his due because he could do what no one else could, catching longer than anyone else has or will, better than anyone ever has, or will. Here's looking forward to seeing Pudge in Cooperstown on the first ballot. It, like so much else, is what he has earned.
PHOTO OF THE DAY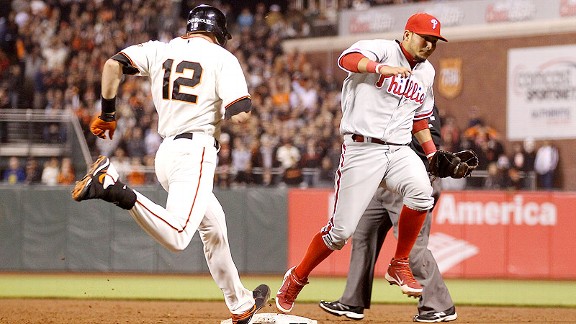 Ezra Shaw/Getty ImagesComing and going at first base, Freddy Galvis barely beat out Nate Schierholtz to the bag.
Christina Kahrl covers baseball for ESPN.com. You can follow her on Twitter.
January, 5, 2012
1/05/12
8:00
AM ET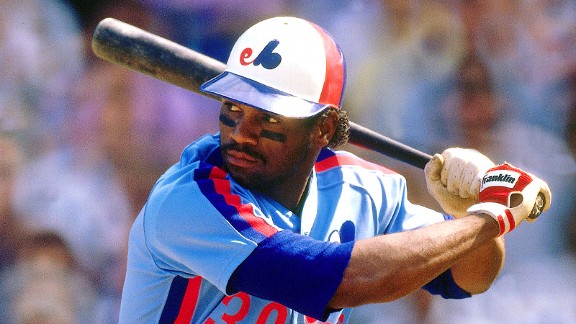 Ronald C. Modra/Sports Imagery/Getty ImagesTim Raines is often cited as the second-greatest leadoff hitter in MLB history.
There are a lot of columns and analysis out there advocating the case for Tim Raines for the Hall of Fame. I probably won't add anything new to the discussion, but let me start here:
Player A is Raines. Player B is Tony Gwynn. That final column is times reached base. Yes, Raines reached base more often in his career than Gwynn, in just slightly more plate appearances. I'm not the first writer to come up with that comparison. Joe Posnanski, among others, is especially fond of this factoid. The point of the statistic isn't to bring down Gwynn, rather to show how potent and devastating an offensive player Raines was. The arc of his game was a little different than Gwynn's but the results are similar: Gwynn got more singles, Raines walked more and had a little more power. He was one of the great base stealers of all time and scored more runs in his career than Gwynn.
That's what Raines did: He scored runs. He's 51st on the all-time list and of the 50 players ahead of him, all eligible candidates are in the Hall of Fame except for Jimmy Ryan and George Van Haltren, two 1890s outfielders; turn-of-the-century shortstop Bill Dahlen; and Rafael Palmeiro.
A common refrain about Raines from his advocates is that he was one of the best players in baseball over a span in the 1980s. This isn't some after-the-fact hocus-pocus going on. It was widely believed at the time. In a 1984 Sports Illustrated piece on Raines, Pete Rose said: "Right now he's the best player in the National League. Mike Schmidt is a tremendous player and so are Dale Murphy and Andre Dawson, but Rock can beat you in more ways than any other player in the league. He can beat you with his glove, his speed and his hitting from either side of the plate." In his annual Baseball Abstracts, Bill James often argued the case of Raines' all-around brilliance. Raines finished fifth, sixth and seventh in MVP votes, despite playing for mediocre Expos teams.
Raines' five-year peak was 1983 to 1987. According to Baseball-Reference's WAR ranking, the top five players during those years were Wade Boggs (39.7), Rickey Henderson (34.1), Cal Ripken (33.3), Schmidt (31.4) and Raines (30.7). Pretty nice company. (The next five were Alan Trammell, Gwynn, Eddie Murray, Murphy and Keith Hernandez.)
To be fair, this alone doesn't make him a Hall of Famer. I checked every five-year period since 1969 (1969 to 1973, 1970 to 1974, etc.) and not all of the names that appear in the top five are Hall of Famers or future Hall of Famers. Heck, Sal Bando rated as the best player in baseball from 1969 to 1973.
Some characterize Raines as having too short of a peak level of dominance. From 1988 to 1995, he averaged .283/.375/.409, with 81 runs and 33 steals per season. Maybe not an MVP candidate anymore, but still a good player, top leadoff hitter and valuable contributor. He's hardly alone in this aspect. He had six seasons with an OPS+ of 130 or higher, the same as Jim Rice, Dawson and Ernie Banks, and more than Kirby Puckett, Roberto Alomar, Johnny Bench, Carlton Fisk, Yogi Berra, Tony Perez or Robin Yount.
Maybe Raines doesn't have a slum-dunk case. But he has a case. Maybe voters have forgotten his great years in Montreal (and they have forgotten; he received only 37 percent of the vote last year). Maybe they remember his final seasons with the Yankees, when he became a part-time player on two World Series champions. Maybe they can't believe he compares favorably with Tony Gwynn.
Believe.
October, 11, 2011
10/11/11
7:37
PM ET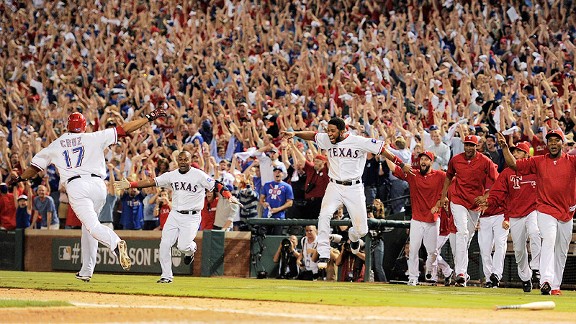 AP Photo/Mark J. TerrillWhere does Nelson Cruz's grand slam in the 11th inning of Monday's ALCS game rank?
There have been 2,208 home runs hit in the history of postseason baseball; 42 of those were walk-off home runs, including
Nelson Cruz
's grand slam on Monday for the Rangers. Only two players have done it more than once. Not surprisingly, the Yankees have hit the most walk-offs, with 11. Seventeen of the 42 came in the ninth inning, 25 in extra innings. Twenty-three were solo homers. Only three came with the hitter's team trailing. Catchers have hit more -- six -- than any other position. Seven were hit by Hall of Famers. Only three have been served up by Hall of Famers. One unfortunate pitcher surrendered two of them.
Here they are. In some sort of order resembling least memorable to most memorable, or least important to most important, factoring in the situation, series and any other dramatic effects that may have come into play (FYI: Bobby Thomson's Shot Heard 'Round the World was technically a regular-season game, since tiebreaker games are counted as regular-season contests.)
42. Alan Ashby, Astros (1981 NLDS, Game 1, off Dave Stewart)
The Dodgers had hit for Fernando Valenzuela in the top of the inning, so Stewart was pitching. The Astros won Game 2 as well, 1-0 in 11 innings, but the Dodgers won the next three and went on to win the World Series.
41. Rafael Furcal, Braves (2004 NLDS, Game 2, off Dan Miceli)
This one is interesting because it came off Miceli. You'll see his name later on. He's the only pitcher to serve up two walk-off home runs in postseason history.
40. George Vukovich, Phillies (1981 NLDS, Game 4, off Jeff Reardon)
Braves fans nod their heads.
39. Mark Teixeira, Yankees (2009 ALDS, Game 2, off Jose Mijares)
Teixeira's low liner in the 11th won the game, but the big hit was
Alex Rodriguez
's game-tying two-run shot off
Joe Nathan
in the ninth.
38. Tony Pena, Indians (1995 ALDS, Game 1, off Zane Smith)
Even Red Sox fans may not remember this one. Rick Aguilera had blown a lead for Boston in the 11th inning when Albert Belle homered to tie. Pena -- in the game after Sandy Alomar had been pinch-run for -- then won it. Pena would hit just one more home run in his big league career.
37. John Lowenstein, Orioles (1979 ALCS, Game 1, off John Montague)
Lowenstein's three-run shot with two outs in the 10th inning gave the Orioles a 6-3 win over the Angels, and came after Al Bumbry had been intentionally walked. What doesn't make sense: Did Jim Fregosi not think Earl Weaver would hit for Mark Belanger, who had hit .167 that season? (Why was Belanger batting second? Good question. He had a career .367 OBP off Nolan Ryan, so that must have been the reason.) What's even more odd is that Montague was the first guy out of the Angels bullpen. He'd spent most of the season with Seattle, came over in late August, and his overall numbers included a 5.51 ERA -- 5.07 in 17.2 innings for California (nine walks and just six strikeouts).
36. Jim Leyritz, Yankees (1995 ALDS, Game 2, off Tim Belcher)
Leyritz is more famous for his home run off
Mark Wohlers
in the 1996 World Series, but his two-run homer in the rain gave the Yankees a 15-inning win and a 2-0 series lead, as they appeared headed to their first World Series since 1981. This game wasn't
that
long ago, but almost seems from a different era: Seattle used five pitchers, the Yankees only four; Mariners closer
Norm Charlton
pitched four innings; Yankees closer John Wetteland pitched 3.1. The winning pitcher? An obscure rookie named
Mariano Rivera
, who pitched 3.1 scoreless innings in his first postseason game.
[+] Enlarge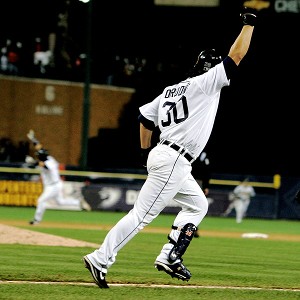 Jim McIsaac/Getty ImagesMagglio Ordonez's three-run home run sent the Detroit Tigers to the World Series in 2006.
35. Mark McGwire, A's (1988 World Series, Game 3, off Jay Howell)
Two games after Kirk Gibson's home run, McGwire's game-ender gave A's fan hope. Alas, Tim Belcher won Game 4 and Orel Hershiser won Game 5 and the Bash Brothers had gone down. (The home run was McGwire's sole hit of the Series.)
34. Johnny Bench, Reds (1973 NLCS, Game 1, off Tom Seaver)
Here's a piece of oddball trivia: This is the walk-off home run in postseason history hit by one future Hall of Famer off another future Hall of Famer. The Reds won 2-1, but the Mets upset the Big Red Machine in five games.
33. Manny Ramirez, Red Sox (2007 ALDS, Game 2, off Francisco Rodriguez)
Mike Scioscia began the inning managing to the save, as he let
Justin Speier
give up a hit before bringing in K-Rod. With two outs, Scioscia intentionally walked
David Ortiz
. Ramirez clocked a 1-0 pitch deep into the Boston night. "He's one of the greatest closers in the game and I'm one of the best hitters in the game," Ramirez said after the game.
32. Magglio Ordonez, Tigers (2006 ALCS, Game 4, off Huston Street)
The Tigers had already won the first three games against Oakland when Ordonez sent Detroit to its first World Series in 22 years with a two-out, three-run shot.
31. Benny Agbayani, Mets (2000 NLDS, Game 3, off Aaron Fultz)
The Hammerin' Hawaiian! Agbayani was a cult hero for a few seasons at Shea, never more so than when he tagged Fultz in the 13th inning to send the Flushing faithful home happy. (
He even wrote a book
after that season!) Was Agbayani a classic late '90s/early '00s kind of player or what? Not exactly Willie Mays in the outfield, but he could hammer a mistake pitch. His career died out pretty quickly after this home run, as he played just two more seasons in the majors and eventually went over to Japan for three years.
30. Nelson Cruz, Rangers (2011 ALCS, Game 2, off Ryan Perry)
The first official postseason walk-off grand slam (
Robin Ventura
hit a ball over the wall to win Game 5 of the 1999 NLCS for the Mets, but was mobbed by his teammates at second base and the hit was officially ruled a single).
29. Bernie Williams, Yankees (1996 ALCS, Game 1, off Randy Myers)
Also known as The Jeffrey Maier Game. (That home run came in the eighth inning.) Williams won it in the 11th and would hit .474 with six RBIs in the series.
28. Bernie Williams, Yankees (1999 ALCS, Game 1, off Rod Beck)
One of two players have two career walk-off home runs in the postseason. Bernie's both came in the first game of the ALCS, both in extra inning, this one in the 10th inning. Williams' career postseason batting line, by the way: .275/.371/.480, 22 home runs and 80 RBIs in 121 games. He never received the accolades like
Derek Jeter
, but was every bit the clutch playoff performer.
27. David Ortiz, Red Sox (2004 ALDS, Game 3, off Jarrod Washburn)
And here's our second guy with two. This was his first one, which came in the 10th inning and won the series for Boston. His next one is a little higher on the list.
26. Mickey Mantle, Yankees (1964 World Series, Game 3, off Barney Schultz)
Mantle was a wreck by the time the 1964 World Series rolled out, playing on a bad knee and through a bum shoulder that required offseason surgery. His error earlier in the game allowed the Cardinals to score their only run in a 1-1 game. Schultz, a 37-year-old knuckleballer, warmed up and Mantle declared in the dugout,
"I'm gonna hit one outta here."
Mantle swung at the first pitch and crushed into the upper deck. It was his 16th career World Series home run, breaking Babe Ruth's record. (The Cardinals would win in seven games, however, although Mantle hit two more home runs.)
25. Chad Curtis, Yankees (1999 World Series, Game 3, off Mike Remlinger)
This is how the Yankees won games in those days: It wasn't just Williams and Jeter coming up with the big hits. Curtis had homered in the fifth inning off
Tom Glavine
and then won the game in the 10th. The Yanks completed the sweep the next day.
24. Todd Pratt, Mets (1999 NLDS, Game 4, off Matt Mantei)
The Mets' backup catcher, Pratt had hit three home runs all season. For a second, it appeared Diamondbacks center fielder
Steve Finley
had made the catch. But it just cleared the wall and Pratt had sent the Mets to the NLCS.
[+] Enlarge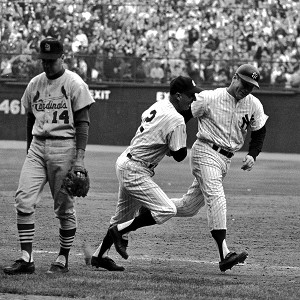 AP PhotoThird base coach Frank Crosetti congratulates Mickey Mantle after his home run gave the Yankees a win in Game 3 of the 1964 World Series.
23. Trot Nixon, Red Sox (2003 ALDS, Game 3, off Rich Harden)
I'd forgotten this: Nixon was actually pinch-hitting in the 11th inning for
Gabe Kapler
, who had started because lefty
Ted Lilly
started for Oakland. The A's had won the first two games, but the Red Sox won the next three, culminating in
Derek Lowe
's infamous crotch grab directed to the Oakland dugout after striking out
Terrence Long
with the bases loaded to save a 4-3 lead in Game 5. Good times.
22. Alfonso Soriano, Yankees (2001 ALCS, Game 4, off Kazuhiro Sasaki)
There were only six hits in this game.
Bret Boone
had homered to give Seattle a 1-0 lead the eighth, but Bernie Williams homered off
Arthur Rhodes
to tie. And then the Yankees' rookie second baseman delivered the crushing blow, and the 116-win Mariners were behind 3 games to 1.
21. Bert Campaneris, A's (1973 ALCS, Game 3, off Mike Cuellar)
Oakland's leadoff hitter, Campy had hit just four home runs all season, but his 11th-inning home run off Cuellar gave the A's a 2-1 win and ended one of the great pitching duels in postseason play. Ken Holtzman went all 11 innings for the A's, allowing just three hits. Cuellar allowed just four hits while striking out 11.
20. Chris Burke, Astros (2004 NLDS, Game 4, off Joey Devine)
Burke's 17th-inning home run ended the longest postseason game in history and also won the series for the Astros. If you want to rank this higher, I won't fight too much.
19. Jeff Kent, Astros (2004 NLCS, Game 5, off Jason Isringhausen)
Kent and Tommy Henrich are the only players to hit walk-off home runs in a postseason to break a 0-0 tie. This was the game when St. Louis'
Woody Williams
allowed one hit in seven innings, and Houston's
Brandon Backe
allowed one hit in eight innings. No small feat considering names like Beltran, Bagwell, Berkman, Walker, Pujols and Rolen were in the lineups. Plus the next guy ...
18. Jim Edmonds, Cardinals (2004 NLCS, Game 6, off Dan Miceli)
A game after Kent's home run, Edmonds slammed a two-run shot off Miceli with one out in the 12th inning to tie the series -- the only time a postseason series has featured walk-off home runs in consecutive games. The Cardinals would win Game 7 as well.
17. Scott Podsednik, White Sox (2005 World Series, Game 2, off Brad Lidge)
You could make a case that this was the least likely home run in World Series history, and certainly the least likely walk-off home run. Podsednik, after all, had batted 568 times all season and hit zero home runs. The Astros had tied the game in the top of the inning on
Jose Vizcaino
's two-out, two-run single, setting up Podsednik's home run. In his previous appearance, in the NLCS, Lidge had served up a mammoth, game-losing home run to
Albert Pujols
.
He said that home run wasn't on his mind
. "Unfortunately, because I happened to give up home runs in back-to-back games, it may look like I was. But the fact is, I threw a fastball to Podsednik that I wanted to throw. He may have hit it out. But that had nothing to do with Albert Pujols." The count was 2-1. He didn't want to fall behind 3-1. Podsednik was sitting on the heater. "I was thinking that he was probably going to challenge me with a fastball," he said. "And I said, 'Hey, let's put a good swing on this fastball.'"
16. Tommy Henrich, Yankees (1949 World Series, Game 1, off Don Newcombe)
Henrich's blast was not only the first walk-off home run in postseason history but remains one of just two that came with the score 0-0 (see Jeff Kent above). Nicknamed "Old Reliable" for his clutch hitting, played alongside Joe DiMaggio and Charlie Keller in one of the greatest outfields ever assembled. The home run also seems to have put a hex over Newcombe, who had taken a four-hit shutout into the ninth: He'd make four more World Series starts in his career and allow 20 runs in 14 innings.
15. Alex Gonzalez, Marlins (2003 World Series, Game 4, off Jeff Weaver)
Weaver had posted an unseemly 5.99 ERA during the season, but Joe Torre brought him in the 11th inning of a tie game. ''I mean, if he's not in the game there, he shouldn't be on our roster,'' Torre said after Gonzalez beat Weaver in the 12th inning to tie the Series. Where was Mariano Rivera, who went unused in the game, you ask? He had thrown 23 pitches in Game 3 (although went unused in the first two games), and perhaps Torre was saving him for the save situation that never came. As for Weaver, it was the last pitch he threw in pinstripes. By the way, the bigger story at the time: Many believed it was the final game of
Roger Clemens
' career. He even doffed his cap to the Marlins' crowd, tears welling up in his eyes, as he received a standing ovation after coming out of the game. "It was a very touching moment," Marlins manager Jack McKeon said. "He's a class act. We're gonna miss guys like him." (I'm thinking that maybe Roger should have retired.)
14. Steve Garvey, Padres (1984 NLCS, Game 4, off Lee Smith)
Before Leon Durham's error, there was Garvey's home run, a two-run blast that gave the Padres a 7-5 win. Based on WPA (win probability added), Garvey's 4-for-5, five-RBI performance that night was the
second-best clutch hitting game in postseason history
.
13. Eddie Mathews, Braves (1957 World Series, Game 4, off Bob Grim)
One of the forgotten great World Series games, the Yankees led the Series 2 games to 1 when Elston Howard's two-out, three-run homer off Warren Spahn tied the game in the ninth inning. The Yankees added another run in the 10th on Hank Bauer's RBI triple to take a 5-4 lead. Bob Grim, the Yankee closer who had gone 12-8 with a league-leading 19 saves that year, came on. He hit Nippy Jones, hitting for Spahn, to lead off the inning, a play famous for many years as the pitch was originally called a ball and then overturned when Jones showed umpire Augie Donatelli a shoe-polish mark on the ball. After an RBI double, Mathews launched his game-winning home run. The Braves went on to win in seven games.
[+] Enlarge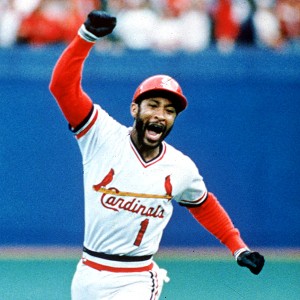 AP PHOTOOzzie Smith's ninth-inning home run gave the Cardinals a victory and its fans a reason to "Go crazy!"
12. Ozzie Smith, Cardinals (1985 NLCS, Game 5, off Tom Niedenfuer)
Jack Buck: "Smith corks one into right, down the line! It may go ... go crazy, folks! Go crazy! It's a home run! And the Cardinals have won the game, by the score of 3 to 2, on a home run by The Wizard! Go crazy!" Ozzie hit five other home runs in his career batting left-handed.
11. Dusty Rhodes, Giants (1954 World Series, Game 1, off Bob Lemon)
To many, the 1954 Indians seemed unbeatable, winners of 111 games with a rotation that featured Lemon, Early Wynn, Mike Garcia and veteran Bob Feller. In the eighth inning of the opener, Willie Mays made his famous catch to keep the game tied. Lemon was in his 10th inning of work when Leo Durocher sent Rhodes -- who hit .341 in part-time duty that season -- in to hit for Monte Irvin with two runners on and one out. Rhodes didn't hit it far, but the right-field wall at the Polo Grounds was only 258 feet down the line. His home run had just enough distance. Rhodes would later add game-tying pinch-single and home run in Game 2 and a two-run single in Game 3 as the Giants pulled off the sweep. "I couldn't buy a drink in New York after that '54 Series," Rhodes once said.
10. Derek Jeter, Yankees (2001 World Series, Game 4, off Byung-Hyun Kim)
Jeter hit Kim's 61st pitch of the night
into the right-field bleachers
. You probably won't be surprised to discover this: Since then, 15 relievers have thrown more pitches in a postseason game, but all were long guys who entered before the fifth inning. And, yes, Bob Brenly brought him to pitch the next night.
9. Lenny Dykstra, Mets (1986 NLCS, Game 3, off Dave Smith)
Mark Simon has more
on Dykstra's drama here
, but needless to say it was huge: It remains one of just three walk-off home run that came with the hitter's team trailing, and in the Mets' case, they were in danger of going down 2-1 to the Astros with Mike Scott going in Game 4.
8. David Ortiz, Red Sox (2004 ALCS, Game 4, off Paul Quantrill)
And the comeback begins ...
7. Chris Chambliss,Yankees (1976 ALCS, Game 5, off Mark Littell)
In the first of three consecutive series between the Yankees and Royals that featured more plot twists than a daytime soap opera, the Royals had dramatically tied the game with three runs in the eighth inning. As Chambliss stepped in to face the rookie Kansas City fireballer, the PA announcer intoned the crowd to stop throwing toilet paper and garbage on the field.
And this happened
. It's worth watching, if only for the Howard Cosell appearance. Not to mention Chambliss trying to round the bases as fans stormed the field.
6. Aaron Boone, Yankees, 2003 ALCS, Game 7, off Tim Wakefield)
You could rate Chambliss' homer higher. Both teams went on to lose the World Series, but I give Boone's the slight edge since it came against the rival Red Sox and completed Boston's painful and dramatic late-game collapse. But Boone didn't have to shove his way through hundreds of drunken New Yorkers
on his home-run trot
.
5. Carlton Fisk, Red Sox (1975 World Series, Game 6, off Pat Darcy)
A little overrated -- the Red Sox did lose Game 7, after all -- but Fisk's 12th-inning home run came in the midst of a brilliant game and hard-fought, exciting World Series with a lot on the line. Everybody knows about Boston's curse at the time, but Reds were also trying to win for the first time since 1940 after their superstar-laden lineup had failed to win in 1970, 1972 and 1973. Add it up, throwing in the iconic image of Fisk willing the ball fair it crossed over the Green Monster, and you have a home run that will be
remembered for a long time
.
4. Kirby Puckett, Twins (1991 World Series, Game 6, off Charlie Leibrandt)
The Twins trailed the Braves, 3 games to 2. Puckett told the story years later to Tim Kurkjian: "I went to the clubhouse, and I gathered [everyone] up. I said, 'Everybody together, we're going to have a short meeting.' Everybody comes in, and I said, 'Guys, I just have one announcement to make: You guys should jump on my back tonight. I'm going to carry us.'"
He did
.
3. Kirk Gibson, Dodgers (1988 World Series, Game 1, off Dennis Eckersley)
Gibson's home run is so legendary
, so awesome, that it almost makes us forget how Orel Hershiser carried that Dodgers that postseason: 3-0, one save, 1.05 ERA in 42.2 innings, .171 average allowed.
2. Joe Carter, Blue Jays (1993 World Series, Game 6, off Mitch Williams)
Williams had already blown three saves that postseason when Jim Fregosi called upon him to protect a 6-5 lead. He walked
Rickey Henderson
on four pitches.
Devon White
flew out after a tough nine-pitch at-bat. Paul Molitor singled to center. And then Carter hooked the ball to left field
and touched 'em all
. Blue Jays 8, Phillies 6.
1. Bill Mazeroski, Pirates (1960 World Series, Game 7, off Ralph Terry)
The granddaddy of them all. His home run off the ivy-draped wall at Forbes Field not only won the World Series but capped off
maybe the greatest baseball game ever played
.
Follow David Schoenfield on Twitter @dschoenfield.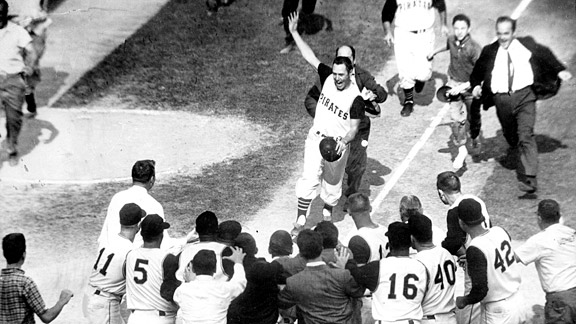 Icon SMIBill Mazeroski remains the only player to win Game 7 of the World Series with a walk-off home run.
June, 20, 2011
6/20/11
6:30
PM ET
In honor of 80-year-old Jack McKeon taking over the reins of the Marlins, we present the all old-team. If you weren't at least 40 years old, you're too young for this club.

C -- Carlton Fisk, 1990 White Sox (42). Only two catchers have caught at least 100 games at 40 or older, with Fisk and Bob Boone each doing it twice. In 1990, Fisk caught 116 games (and played in 137 overall) and hit .285/.378/.451 with 18 home runs and 65 RBIs. His OPS+ was eighth-best in the American League among all hitters. He even stole seven bases -- more than Joe DiMaggio ever stole in a single season.

1B -- Darrell Evans, 1985 Tigers (40). You'd think first base would be the refuge of old hitters who could still rake, but such is not the case. Evans hit .257/.359/.501 with 34 home runs and 99 RBIs, making him the only 40-year-old first baseman (minimum 50 percent of games played at first base) to hit more than 20 home runs or drive in 70. Pete Rose did hit .325 at age 40, although with a homer, and 45-year-old Julio Franco hit .309 in part-time duty for the Braves in 2004.

2B -- Joe Morgan, 1984 A's (40). Only five players have played 100 games at second base at age 40: Morgan, Craig Biggio, Jeff Kent, Rabbit Maranville and Nap Lajoie. Morgan, Maranville and Lajoie are all Hall of Famers and Biggio and Kent may get there. None of them really hit all that, but in his final season in the majors at least Morgan drew a lot of walks to post a good on-base percentage. His final line: .244/.356/.351 with six home runs and 43 RBIs.

3B -- Graig Nettles, 1985 Padres (40). Nettles hit .261/.363/.420 with 15 home runs and 61 RBIs, edging out Hall of Famer Luke Appling, who hit .314 but with no home runs for the 1948 White Sox.

SS -- Luke Appling, 1949 White Sox (42). Appling was back at shortstop in 1949 and hit .301/.439/.394, ranking second in the AL in on-base percentage. He drew 121 walks ... and struck out just 24 times.

LF -- Ted Williams, 1960 Red Sox (41). In his final season, Williams hit .316/.451/.645 with 29 home runs and 72 RBIs in 113 games. There was stiff competition for this slot: Barry Bonds had a .480 OBP at age 42, Stan Musial hit .330 at age 41 and 40-year-old Rickey Henderson hit .315 with 89 runs scored for the '99 Mets.

CF -- Willie Mays, 1971 Giants (40). Mays had lost a step in the field, but thanks to 112 walks led the NL with a .425 on-base percentage. He added 18 home runs and scored 82 runs. two other 40-year-olds have been regular center fielders in recent years: Kenny Lofton in 2007 and Steve Finley in 2006.

RF -- Ty Cobb, 1927 A's (40). Not a bad outfield, eh? Cobb hit .357 with 93 RBIs and 104 runs, edging out Sam Rice's 1930 season with the Senators (.349, 121 runs). Rice was one of the great 40-and-over performers, racking up 551 hits from his age-40 season onward (second only to Pete Rose).

P -- Randy Johnson, 2004 Diamondbacks (40). Johnson went 16-14 with a 2.60 and led the NL with 290 strikeouts while pitching 245 2/3 innings. And here's the thing: He finished second in the NL Cy Young vote to 41-year-old Roger Clemens, who went 18-4 with a 2.98 ERA and 218 strikeouts in 214 innings. Johnson had the better season. The list of 40-and-over great pitchers is a long one, from Cy Young to Warren Spahn (23-7 age 42) to Phil Niekro to Nolan Ryan to Jamie Moyer. Since 1901, Niekro has the most wins from his age-40 season on with 121, followed by Moyer's 103.
May, 19, 2011
5/19/11
10:00
AM ET
The
Jorge Posada
situation is interesting on many levels, but to me it's clear what's going on: Much like the Ken Griffey Jr. situation last season in Seattle, a franchise icon is struggling and appears at the end of his career. The organization doesn't want to look bad by releasing a beloved player, so it attempts to turn public opinion against the player. (Remember the whole "Griffey falling asleep in the clubhouse" story from last year?)
Posada
Now, my take is this: the Yankees have paid Posada more than $100 million in his career. He's been a valuable (and underrated) player to the franchise and has been well-compensated for providing such production. What, exactly, do they owe him? They gave him an over-market and over-long four-year contract as he was entering his age-36 season, not the wisest investment to begin with. They've been lucky to get the years out of him that they did, including a terrific 2009 when he helped them win the World Series.
The club wants to call up top prospect Jesus Montero. He can DH, he can spell
Russell Martin
behind the plate once or twice or week (allowing
Alex Rodriguez
or another position a player a day off in the field) and the Yankees would be a better ballclub for it. Just tell that to the fans and release Posada. The fans will understand. I'm pretty sure they care more about winning than sentiment.
And for those who believe this would look bad to other major leaguers, who may then be reluctant to sign with the Yankees, I say: Really? You think a future free agent would turn down more money from the Yankees because they once released Jorge Posada? Please.
* * * *
I've always felt Posada has been vastly underappreciated during this 15-year run of Yankee greatness. Switch-hitting catchers with power and plate discipline don't grow on trees. I recently ranked
Posada the eighth-greatest Yankee of all time
... ahead of
Mariano Rivera
. Pretty much everyone disagrees with that, but employing one of the best catchers of all time is more valuable in my opinion than employing the greatest closer ever.
Where does Posada rank all time? Let's run some numbers. If you're not familiar with WAR, it stands for wins above a replacement level player for that position. OPS+ is a players on-base percentage plus slugging percentage, adjusted for home park and era, and scaled to where 100 is a league average hitter. Anyway, here are the top 10 catches via WAR from Baseball-Reference.com, plus Posada and Roy Campanella.
Posada spent his first year in the minor league as a second baseman. But 20 errors in 64 games at Oneonta necessitated a position change and he moved to catcher. He was never a top prospect coming through the minors; although he displayed good patience and moderate power, he hit just .258 in six minor league seasons, including three years at Triple-A learning the catching craft.
As a rookie in 1997, Joe Girardi earned the majority of the playing time. Posada turned 26 that year and hit .250. Nobody was predicting he'd turn into a star at that point.
Because of that late start, Posada falls just short of the top-10 catchers on the career WAR value list above. But what about peak value? I like to look at a player's best eight consecutive seasons as another way to assess his value, more of a "Did he dominate when he was at his best?" kind of question. Obviously, not every player has his best eight seasons consecutively, but it's just another to break down a player's career.
1. Johnny Bench (1968-1975), 49.2 WAR (43.4 offense, 5.8 defense)
2. Gary Carter (1978-1985), 49.2 WAR (38.5, 10.7)
3.
Mike Piazza
(1993-2000), 48.4 WAR (50.6, -2.2)
4. Yogi Berra (1950-1957), 41.9 WAR (40.3, 1.6)
5. Mickey Cochrane (1928-1935), 40.9 WAR (41.0, -0.1)
6.
Ivan Rodriguez
(1997-2004), 40.2 WAR (32.8, 7.4)
7. Ted Simmons (1973-1980), 38.0 WAR (39.4, -1.4)
8. Jorge Posada (2000-2007), 37.1 WAR (37.8, -0.7)
9. Bill Dickey (1932-1939), 36.1 WAR (35.7, 0.4)
10. Roy Campanella (1948-1955), 34.4 WAR (33.0, 1.4)
11. Carlton Fisk (1972-1979), 33.8 WAR (31.4, 2.4)
12. Gabby Hartnett (1930-1937), 28.5 WAR (27.4, 1.1)
Anyway, not a bad career for an error-prone minor league second baseman. Even though he has a solid case as one of the 10-12 most valuable catchers ever, it seems to fall a little short of Hall of Fame standards in my book, even with extra credit for World Series rings.
Posada wasn't in the lineup Wednesday night (
Derek Jeter
got a night at DH) and I get the feeling we won't be seeing him much there in the coming weeks. I suppose if he's forced out he'll end up leaving the majors like he came in -- very quietly.
(For more Yankees coverage, check out our SweetSpot blog affiliate,
It's About the Money, Stupid
.)
March, 23, 2011
3/23/11
11:35
AM ET
I don't actually remember the first baseball game I attended, but in the spring of 1973 my father assures me we went to see a local high school phenom named Floyd Bannister, who would go 15-0 with an 0.00 ERA and three years later become the first pick in the draft by the Astros.
The first major league game I saw in person was Mariners versus Red Sox, Kingdome, May 1977. Must have been backpack night or tote bag night because the attendance totaled more than 52,000, and back then the Mariners drew that many fans only on Opening Day or for promotional giveaways. Jim Rice and Carlton Fisk hit home runs and, of course, the Mariners lost.
[+] Enlarge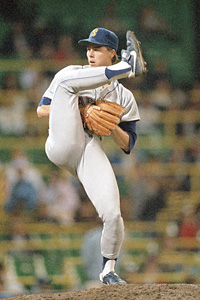 AP Photo/Fred JewellFormer Seattle ace Mark Langston's high leg kick was a staple at Mariners games for years, like during this 1987 shutout of the White Sox.
While I suffered through endless defeats, I witnessed plenty of exciting moments, like Ruppert Jones hitting an inside-the-park home run against the Yankees that first season that propelled everybody into a "Rupe! Rupe! Rupe!" chant at the top of our lungs. Or bat night in 1981, when Tom Paciorek beat the Yankees for the second night in a row with a ninth-inning home run and we started banging our bats against the metal bleachers in a deafening celebration. I was there with my father when Gaylord Perry won his 300th game and later that season when Perry was ejected for the only time in his career for throwing a spitball (Boston's Rick Miller swung and missed a pitch by about two feet and charged the mound, leading to an impressive melee).
I've seen Mark Langston two-hit the Tigers, compelling Sparky Anderson to call him the best young left-hander he'd seen since Sandy Koufax. I loved Langston and his high leg kick, but the Mariners couldn't afford him and he was later traded for a tall, gangly rookie named
Randy Johnson
, and I was there in the upper deck when Johnson beat the Angels (and Langston) in the 1995 tiebreaker to put the Mariners into the playoffs for the first time in franchise history.
I've sat in primo box seats at Fenway Park (thanks, Rob), watching
Pedro Martinez
strike out 17 Devil Rays … and lose 1-0 because
Steve Trachsel
pitched a three-hit shutout. I've seen Clemens throw a bat at Piazza, squinting from the upper deck at Yankee Stadium, not sure I saw what I thought I saw. I've seen
Tino Martinez
and
Scott Brosius
hit bottom-of-the-ninth homers to tie World Series games, and I definitely couldn't believe what I saw.
I'm just one fan, with my own chamber of baseball memories. You have your own, but we all keep going to the ballpark or watching on television or checking updates on our phones for the same reasons: We still love the games. We want to know who wins, who loses, hope for a game-winning home run or a young left-hander who throws 95 and makes us believe he's the next Koufax.
So with the 2011 season soon upon us, I can't wait for the games to begin, to see more memories formed.
To see what
Buster Posey
and the Giants will do for an encore.
To see whether
Jason Heyward
will explode in his sophomore campaign.
To see
Carl Crawford
going first to home on an
Adrian Gonzalez
double off the Monster.
To see if the Rays can again shock the baseball world and win the AL East for the third time in four seasons.
To see Cardinals fans give
Albert Pujols
a five-minute standing ovation the first time he steps to the plate.
To see
Joey Votto
deliver more big hits for Reds. (Note: I have a man crush on Joey Votto.)
To see
Troy Tulowitzki
range deep in the hole and rob a batter of a sure single. And then blast a 425-foot home run later in the inning.
To see
Joe Mauer
spray line drives all over the field.
To see
Justin Verlander
and
Josh Johnson
blow away hitters.
To see the artistry of
Roy Halladay
.
To see Yankees fans panic if
Derek Jeter
starts the season 1-for-14.
I can't wait to see the late game on Opening Day:
Tim Lincecum
versus
Clayton Kershaw
, the little righty with the funky motion and two Cy Young Awards versus the big lefty who could win one this season.
If our memories of games are a tangled web of neurons, well, that's kind of how baseball works, too. Langston was drafted in the second round with a pick acquired from the Rangers after they signed Bill Stein as a free agent. The Mariners picked Stein in the expansion draft from the White Sox, who had acquired him for Jerry DaVanon, who had been traded for Roger Repoz, who was acquired for Jack Sanford, who came up on the unlucky end of a 1-0 loss for the Giants in Game 7 of the 1962 World Series. The Giants didn't win a World Series in San Francisco until 2010, led by their ace Lincecum, who grew up in the suburbs of Seattle -- maybe the first game
he
ever saw featured Mark Langston -- using a pitching motion his father taught him, a motion modeled on the delivery of Sandy Koufax.
The SweetSpot blog will be here all season, writing about and discussing and analyzing the web that is a baseball season. Join myself and other contributors as we discuss the news, have some fun and give you a chance to interact. Mostly, we'll be watching a lot of games, as the moments of 2011 unveil themselves.
I can't wait. How many hours until the first pitch?
Follow David Schoenfield on Twitter at @dschoenfield. Follow the SweetSpot blog at @espn_sweet_spot.