February, 13, 2013
2/13/13
7:59
PM ET
2012 in review
Record: 76-86 (75-87 Pythagorean)
651 runs scored (tied for 10th in National League)
710 runs allowed (11th in NL)
Big Offseason Moves
Acquired
Tyson Ross
from the
A's
for
Andrew Werner
and
Andy Parrino
. Re-signed free agent
Jason Marquis
. Signed free agent
Freddy Garcia
.
OK, it's the Padres. They're not sitting on a pile of money like their rivals to the north. Still, when retread veterans Jason Marquis and Freddy Garcia qualify as your big moves, that's an uninspiring offseason even if your projected payroll will be higher only than the
Astros
',
Marlins
' and
Pirates
'.
The Padres gave starts last season to
Kip Wells
,
Jeff Suppan
and
Ross Ohlendorf
after a slew of injuries wiped out much of their rotation, so adding starting pitching options was the offseason priority -- the only requirements being the pitchers be cheap and have a pulse.
Ross has long been an interesting arm, but he was never able to put it together with the A's (they won 94 games even though Ross went 2-11 with a 6.50 ERA). It's a gamble but didn't cost the Padres much.
Position Players
Here's an interesting fact: The Brewers led the NL in runs scored, but the Padres scored more runs on the road than the Brewers. With the Padres, you have to factor in the difficult hitting environment at Petco Park, especially in the power department. The Padres hit 74 home run on the road, but just 47 at home.
The offense starts with NL RBI leader
Chase Headley
, who drove in 115 runs -- even more impressive considering the Padres only had mediocre OBP numbers from their 1 and 2 hitters. Headley had that monster second half, of course, hitting .308/.386/.592 with 23 of his 31 home runs. He had a higher road OPS than
Miguel Cabrera
.
The rest of the lineup shapes up as a middle-of-the-pack offense.
Carlos Quentin
can hit when he actually plays (86 games last year) and
Will Venable
and
Chris Denorfia
make for an excellent platoon in right.
Cameron Maybin
turns 26 in April but it's probably time give up hope for a breakout season; at this point, it's safe to assume he's .250 with an OBP in the low .300s, but makes up for his mediocre offense with above-average defense in center field.
For the Padres to improve, they'll need more power from first baseman
Yonder Alonso
, who homered just nine times as a rookie. Petco or not, he'll have to slug higher than .393 or the Padres will be looking for a replacement. Catcher
Yasmani Grandal
impressed in a 60-game rookie season, but he's been suspended for 50 games for a positive test for performance-enhancing drugs.
The Padres ranked 23rd in Defensive Runs Saved (minus-24), with the biggest liabilities being the statuesque Quentin in left field and
Logan Forsythe
at second. Rookie Jedd Gyorko has a career .319 average in the minors and hit 30 homers in 2012 (24 in Triple-A). A third baseman, the Padres tried him at second and he may have a chance to win the job there at some point.
Overall, the offense is probably a little better than the raw numbers indicate, although I'm dropping the grade a bit since Maybin is really the only plus defender.
Pitching Staff
Where to start? Staff ace
Clayton Richard
led the NL in hits and home runs allowed and struck out just 107 batters in 218.2 innings. No. 2
Edinson Volquez
walked 105 batters. No. 3
Anthony Bass
had a 6.35 ERA on the road. Marquis had been let go by the
Twins
after allowing 33 runs in 34 innings. Anyway ...
OK, so it's a bad rotation, its inadequacies masked somewhat by the Padres' forgiving home park. This isn't the rotation the Padres were hoping for a year ago.
Cory Luebke
and
Joe Wieland
both underwent Tommy John surgery. Top prospect
Casey Kelly
missed three months with a strained elbow ligament, although did return to make six late-season starts for the team.
Andrew Cashner
, acquired from the
Cubs
in the
Anthony Rizzo
trade, started in the bullpen before moving to the rotation to help conserve his innings, and made a couple starts before straining a lat. He then cut his thumb in an offseason hunting accident and will begin the season on the disabled list.
No, the future of the Padres doesn't rest on Bass and Marquis, but on those four guys and younger prospects like Max Fried, Matt Wisler and Joe Ross. It's not a good rotation now, but it should be better in 2014.
Heat Map to Watch
What explains Headley's second half in 2012? For one thing, he started destroying fastballs. As you can see from the heat map, there is a lot of red. After hitting .303 with four homers against fastballs in the first half, he hit .392 with 11 homers against fastballs in the second half. From the numbers, it's hard to see exactly what happened. His swing percentage and chase percentage (on pitches outside the zone) were basically the same, so he didn't become more or less aggressive. He did improve his contact rate -- swinging and missing about 4 percent less often -- but that doesn't explain everything. Maybe he just hit the ball harder. Maybe he just got a little lucky. We'll find out in 2013.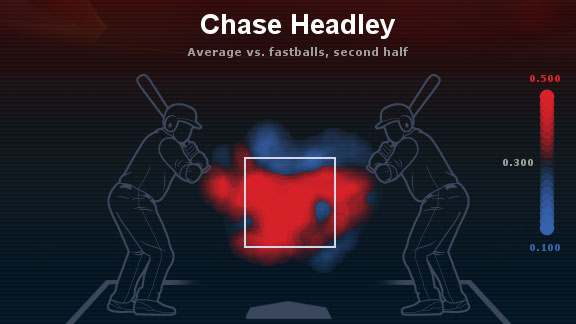 ESPNThe switch-hitting Headley feasted on fastballs in the second half of 2012.
Overall Grade
Some people view the Padres as a sleeper playoff candidate, but I have a hard time seeing it with the current makeup of the rotation. Even if some of the young guys return or suddenly mature, they need a lot of things to go right. The offense could be interesting if Alonso adds some power, Headley does his thing again, Maybin improves and Grandal returns and hits, but, again, that's a lot of ifs.
Factor in that the
Diamondbacks
have improved, the
Dodgers
have added
Zack Greinke
and get full seasons from last year's trade acquisitions, and I'm not sure I see the Padres cracking .500.
Thoughts?
December, 2, 2011
12/02/11
12:18
PM ET

Welcome to the National League West, baseball's most unpredictable division. I wouldn't be surprised if all five teams finished 81-81 in 2012.
Here are three fixes or action items for each club.
Arizona Diamondbacks
1. Rotation (
Joe Saunders
, eligible for arbitration)
Arizona's rotation posted a 3.84 ERA, only ninth in the NL, but a strong figure considering it had to pitch half its games in the desert. Most impressive, only the Phillies received more innings from their starters. If there's a red flag, it's that the rotation ranked 14th in the NL in strikeouts per nine innings. Saunders is in his final year before free agency, after posting a solid 3.69 ERA over 212 innings, and Arizona might not want to pay him the big increase he'll get from his 2011 salary of $5.5 million. The back of the rotation has an opening as well.
Likely solution: Look for the D-backs to re-sign Saunders to a two-year deal. He doesn't strike out many guys, but Arizona's outfield of
Justin Upton
,
Chris Young
and
Gerardo Parra
might cover the most ground in baseball. Rookies
Jarrod Parker
,
Wade Miley
and 2011 No. 1 pick Trevor Bauer should battle for the No. 5 spot out of spring training.

2. Find a leadoff hitter
Arizona's starting eight looks set, but nobody on the roster profiles as a quality leadoff hitter. Arizona leadoff hitters compiled a .314 OBP, with light-hitting
Willie Bloomquist
leading off most often, 75 times.
Likely solution: Kirk Gibson needs to think outside the box here, with a lefty/righty platoon perhaps necessary. How about Young leading off against lefties? He posted a .392 OBP against them in 2011, and Justin Upton and
Paul Goldschmidt
can provide power lower in the order. Parra might be the best option against right-handers.
3. Bullpen depth
The bullpen ERA improved from 5.74 in 2010 (worst in the NL) to 3.71 (10th). It helped that it didn't have to throw many innings, but there's no guarantee the rotation will carry such a heavy workload again. Plus, closer
J.J. Putz
has been injury-prone in his career and guys like
Micah Owings
and
Bryan Shaw
were surprising contributors.
Likely solution: Arizona won't spend big here, although a guy like
Jonathan Broxton
would have been a nice gamble. Look for them to troll for a veteran lefty or make a minor deal.
San Francisco Giants

1. Finder another bat -- one who can hit
The Giants' offensive woes were well-documented, of course -- last in the NL in runs scored, with the lowest on-base percentage. Some of that is the ballpark, some of it was injuries, but there's no denying it was a terrible offensive team.
Likely solution: No,
Melky Cabrera
is not the only answer. Or shouldn't be. While he had a career year with the Royals, his .339 OBP is hardly star level, and he hit 30 points above his career average. The other outfielders on the roster are
Andres Torres
and
Nate Schierholtz
. That's not a division-winning outfield. Brian Sabean: You need
Carlos Beltran
back. How many more years can you get out of that great young rotation before somebody gets hurt or leaves via free agency? You have to win now. Sign Beltran.
2. Shortstop (
Brandon Crawford
)
The ill-advised idea to sign
Miguel Tejada
last season predictably didn't work out. Crawford has the goods on defense, but his .204 batting average is an accurate indicator of his offensive abilities. Crawford remains the default option right now, and while the Giants got into a bizarre bidding war for Bloomquist, Giants fans would love to see a different free-agent shortstop in the Bay Area.
Likely solution: You never know, but there are no signs the Giants are pursuing
Jose Reyes
or Bay Area native
Jimmy Rollins
. The Giants signed
Javier Lopez
to a two-year, $8.5 million deal and picked up
Jeremy Affeldt
's $5 million option. Why not use some of that money for a shortstop? In the end, unless the Giants sneak in for a second-tier shorstop like
Rafael Furcal
, it looks like Crawford will be the guy.
3. No. 5 spot in the rotation
The two candidates on the roster right now are
Barry Zito
(5.87 ERA in 53 innings) and
Eric Surkamp
(5.74 ERA in six starts as a rookie). As good as
Tim Lincecum
,
Matt Cain
and
Madison Bumgarner
are, and as good as
Ryan Vogelsong
was in 2011, the rotation is one major injury and Vogelsong regression from looking a little shaky.
Likely solution: Surkamp had great numbers at Double-A -- 142.1 IP, 110 hits, 44 BB, 165 SO -- and the Giants skipped him past Triple-A in promoting him to the majors. He's a lefty who isn't overpowering with a fastball that averaged just 87.9 mph in his stint in the majors. Look for Zito to get the job out of spring training: "I'm not gonna hide from it: Barry Zito is our fifth starter next year," Bruce Bochy told KNBR radio station in November.
Los Angeles Dodgers

1. Find a new owner
While the Dodgers were allowed to sign
Matt Kemp
to a $160 extension, until Frank McCourt sells the club, the bankrupt Dodgers will be hamstrung on moves. McCourt has agreed to sell the team by April 30.
Likely solution: The bidding process starts next week and
Mark Cuban says he'll participate
. Dodgers fans should love that idea, but baseball previously balked when Cuban looking into buying the Cubs and Rangers. A team of investors fronted by ex-Dodgers Orel Hershiser and Steve Garvey is one possibility. Former agent Dennis Gilbert, who also pursued the Rangers, fronts another group of partners.
2. Infield
Here's how bad the Dodgers' offense was in 2011:
First base: 27th in majors in OPS
Second base: 28th in majors in OPS
Third base: 24th in majors in OPS
Shortstop: 19th in majors in OPS
Likely solution: The Dodgers have already signed
Mark Ellis
to play second base and
Adam Kennedy
to help at third, low-cost fixes but hardly great solutions. It looks like another year of
James Loney
at first base, but maybe it's time to punt on him and try prospect
Jerry Sands
. Loney has hit just 48 homers over the past four seasons and doesn't walk much. He's a .281 hitter without anything to go with it, and he's due a raise in arbitration over the $4.88 million he made in 2011. The lone bright spot is speed demon shortstop
Dee Gordon
, who looks to show his .304 rookie season wasn't a fluke. (
Juan Uribe
is also still around, at $16 million over the next two seasons. Yay.)
3. Rotation (
Hiroki Kuroda
, free agent)
GM Ned Colletti has indicated the club can't afford to re-sign Kuroda, unless he's willing to take a big cut. (Kuroda has said he'll either sign with the Dodgers or return to Japan). After
Clayton Kershaw
,
Ted Lilly
and
Chad Billingsley
, there are two spots to fill.
Likely solution: Cheaper free agent veterans like
Aaron Harang
or
Chris Capuano
are possibilities. Trading
Andre Ethier
for a starter is another option. Look for the No. 5 spot to be filled from within -- somebody like Nathan Eovaldi, Allen Webster or Chris Withrow.
Colorado Rockies

1. Third base (
Ian Stewart
)
Rockies third basemen hit a combined .222/.281/.348, among the worst production from the position in the majors, as
Ty Wigginton
earned the majority off the playing time after Stewart collapsed. Stewart hit .156 with zero home runs in 122 at-bats, although he found his stroke at Colorado Springs (of course, everyone finds their stroke at Colorado Springs). Here's the thing about Stewart: Even when he was good, he wasn't that good -- his park-adjusted OPS from 2008 to 2010 still places him as a below-average hitter.
Likely solution: It's possible Stewart gets non-tendered; there's also rumors off a Stewart-for-
Blake DeWitt
deal with the Cubs (your abscess for our canker sore). Top prospect Nolan Arenado, the Arizona Fall League MVP, hit .298 with 20 home runs at Class A Modesto, but he's just 21 in April and probably needs another season in the minors. The Rockies have also asked about Atlanta's
Martin Prado
, reportedly offering outfielder
Seth Smith
.
2. Starting pitcher (
Jorge De La Rosa
out for at least half the season)
As 2011 proved, it's still difficult to build a consistent rotation in Colorado. The Rockies' rotation compiled a 4.73 ERA, ranking 15th in the NL. Yes, Coors Field is a hitter's park, but it's no longer the Coors Field of old. It was a bad rotation. Right now,
Jhoulys Chacin
is the only starter who looks like a reliable option for 2012.
Likely solution: What the Rockies have done is collect young, power arms. They got
Drew Pomeranz
and
Alex White
for
Ubaldo Jimenez
; they just picked up
Tyler Chatwood
from the Angels for
Chris Iannetta
.
Esmil Rogers
is still around, and still very raw. A veteran starter acquired via trade is a possibility to line up behind Chacin and
Jason Hammel
; one guy the Rockies have pursued is
Jeremy Guthrie
, offering closer
Huston Street
.
3. Second base (Mark Ellis signed with the Dodgers)
Jonathan Herrera
is still around, but the .300 average he posted in April looked more and more like a fluke as the season progressed. He finished at .242, and considering he has no power, isn't a viable short-term or long-term solution.
Likely solution: Look for the Rockies to make a trade pitch for Padres second baseman
Orlando Hudson
. There isn't much left on the free-agent market, although
Kelly Johnson
would make for an interesting risk in the thin air if he doesn't re-sign with the Blue Jays.
San Diego Padres

1. Bullpen/closer (
Heath Bell
, signed with Marlins;
Chad Qualls
, free agent)
Welcome to San Diego, Josh Byrnes. The new GM will have to figure out how to build a winning club on a payroll of $53-55 million. But you know what? The Padres aren't
that
far behind the Diamondbacks. The Padres had a run differential of minus-18; the Diamondbacks had a run differential of plus-69. The Padres would have been expected to win 79 games based on their differential; the D-backs 88. With the departure of Bell and last season's trade of
Mike Adams
, the Padres will be looking for bullpen depth.
Likely solution: Ernest Frieri and
Luke Gregerson
are the best internal candidates, but Frieri needs to improve his control and Gregerson is more of a righty specialist. Rookie
Brad Brach
, a one-time 42nd-round draft pick who signed for $1,000 has dominated in the minors but probably needs time in middle relief. The Padres won't spend big on a free agent, so look for a trade.
2. Power (empty)
Ryan Ludwick
led the team with 11 home runs. Nobody else reached double digits. And don't blame the deep canyons of Petco Park -- the Padres hit 45 home runs on the road, fewest in the majors.
Likely solution: None. The Padres' "big" moves have to been bolster the bench with
Mark Kotsay
and
John Baker
. Prospect
Anthony Rizzo
, who hit 26 home runs in 93 games at Triple-A Reno, will be given another shot at first base after hitting .141 with one home run in 128 at-bats with San Diego.
Kyle Blanks
is still around, but at 270 pounds, his lack of range in the outfield is a problem. Third-base prospects Jedd Gyorko and
James Darnell
are both close to big-league ready and provide some hope for punch down the road.
3. Starter (Aaron Harang, free agent)
Mat Latos
,
Cory Luebke
and
Tim Stauffer
are a solid top three, with Luebke's season in particular flying under the radar (154 strikeouts in 139.2 innings). The Padres got good work out of
Dustin Moseley
and
Clayton Richard
over 38 combined starts, but both guys delivered just 4.8 strikeouts per nine innings and are good bets to regress, even pitching in Petco.
Likely solution: The Padres have offered Harang arbitration, but he'll probably get a two-year offer from another team. Otherwise, it's hoping that Moseley and Richard hold their own and that prospects Casey Kelly and Robbie Erlin (acquired in the Adams trade) are ready by midseason.
September, 13, 2011
9/13/11
3:31
PM ET
A good ol' time was had by all on Tuesday's
Baseball Today podcast
, as Keith Law and I discussed many topics, including:
1. The Red Sox are fading but it only matters because the Rays are good. We take a closer look at this legit race.
2. Meanwhile, any loss for the "contending" Cardinals is a big one, and someone who didn't swing a bat or throw a pitch is responsible for Monday's loss.
3. More Tigers talk! If
Justin Verlander
's crew played in the AL East would they beat the Rays?
4. An emailer wants Bruce Bochy included among the top managers. Do we agree?
5.
Justin Masterson
over
Felix Hernandez
? For this year, a case can be made.
Plus: Excellent emails, Casey Kelly, "Winter's Bone,"
Tim Wakefield
and much more on a packed Tuesday edition of Baseball Today!