SweetSpot:

Casey Kotchman
July, 25, 2013
7/25/13
1:35
PM ET
By
Hudson Belinsky
| ESPN.com
Throughout July we're presenting 30 deals in 30 days: the best trade-deadline deal ever made by each team. We've covered the AL East, NL East, AL Central and NL Central, and now wrap up the AL West.
THE TEAM:
Los Angeles Angels
THE YEAR:
2008

THE SITUATION:
The Angels had the best record in baseball (65-40) by a 3.5-game margin and held an 11.5-game lead over the Texas Rangers in the AL West. Casey Kotchman was doing a decent job at first base, providing excellent defense and triple-slashing .287/.327/.448. Everything was good, but it would get even better.
The Braves found themselves 7.5 games behind the Mets for the NL East lead, and the Phillies and Marlins were significantly ahead of the Braves as well. They would look to extract as much value from their tradable assets as possible.
THE TRADE:
Atlanta sent first baseman Mark Teixeira to the Angels for Kotchman and Double-A reliever Stephen Marek. Teixeira would be a free agent at the end of the year, while Kotchman would have two more seasons under team control.
THE AFTERMATH:
Teixeira exploded, having perhaps the best two-month stretch of his career. He was .358/.449/.632 and smoked 13 homers for the Angels in a 54-game stretch.
They cruised to a 100-62 finish, easily giving them the best record in baseball. They'd run into the Boston Red Sox in the division series and lose in four games, but the aftermath of the Teixeira trade wouldn't be realized until much later.
Before Teixeira took funny money from the Yankees, the Angels offered him arbitration, meaning they would receive the Yankees' first-round pick in the following year's amateur draft. With that pick, the Angels took a New Jersey high school outfielder named Mike Trout.
Trout, obviously, has become a superstar. Marek bounced around the upper minors, but has yet to ascend to The Show. Kotchman struggled in the second half of 2008, but has posted a few decent seasons since the trade, although the Braves sent him to the Red Sox at the 2009 deadline for Adam LaRoche.
--Hudson Belinsky, Halos Daily
May, 23, 2012
5/23/12
12:30
AM ET
OK, I'll give you
Justin Verlander
.
I'll even give you
Miguel Cabrera
,
Prince Fielder
and
Austin Jackson
.
But five through 25? I think I'll take the
Cleveland Indians
over the
Detroit Tigers
.
The
Indians beat the Tigers 5-3
on Tuesday, even though
Ubaldo Jimenez
struggled once again with his control. Relief ace
Chris Perez
, who criticized Indians fans on Saturday for their lack of support (Cleveland is last in the majors in attendance), was greeted with a thunderous ovation as he came in out of the bullpen in the ninth inning. With two runners on, he struck out Cabrera and got Fielder to ground out.
Just another save. "That's the loudest I've ever been cheered here," Perez said. "I was pumped, the adrenaline was going. It could have gone the other way. I came through. I didn't know which way it was going to go. I was thankful it went the good way."
The good way pushed the Indians to 24-18. The Tigers are 20-22, and for the life of me I can't understand why everyone still thinks Detroit is the better team. Mind you, I'm not saying the Indians are better. I just don't see why the Tigers are better. Just because everyone picked them before the season?
Once you get past those big shiny names on the Tigers' roster, if you want to pinpoint one big difference between the two clubs, it's a little statistic that us sabermetric types love: the old base on balls. The Indians lead the American League with 188 walks, 25 more than any other team; the Tigers have 127 walks, ninth in the league. That patience will go a long ways toward giving Cleveland an offense capable of scoring as many runs as Detroit's (the Indians have outscored the Tigers by one run so far, 184 to 183).
In fact, when you go position by position, you'll see what I mean.
Catcher: Carlos Santana versus Alex Avila.
So far, Avila has been unable to match 2011's .366 average on balls in play, the sixth-best average in the majors. Which means he's hitting like he did in 2010. Santana, meanwhile, is a walks machine who hit 27 home runs in 2011.
First base: Casey Kotchman versus Prince Fielder.
Obvious edge to Fielder, of course. The most interesting thing about his start (.292/.354/.472) is his walk rate is down from 15.5 percent to 8.5 percent. Part of that is he was intentionally walked 32 times a year ago, just three this year.
Second base: Jason Kipnis versus Ramon Santiago/Ryan Raburn.
Please. Big edge to Kipnis with Santiago and Raburn both hitting under .200. Will Detroit make a move here?
Third base: Jack Hannahan/Jose Lopez versus Miguel Cabrera.
This may be the first and only time you'll see Jose Lopez mentioned in the same breath as Miguel Cabrera. So far, however, this edge has been minimal. Cabrera is hitting .304/.362/.488, Hannahan .287/.365/.436 but with better defense. According to Defensive Runs Saved, Cabrera has cost the Tigers four runs -- worst among third basemen (tied with
Hanley Ramirez
).
Shortstop: Asdrubal Cabrera versus Jhonny Peralta.
With the Indians preaching plate discipline, check out Cabrera: Last year, 44 walks and 119 strikeouts; this year, 18 walks and just 12 strikeouts. He's hitting .309 with an OBP over .400 but hasn't lost any power. In 2011, he swung at 31 percent of the pitches out of the strike but he has cut that down to 24 percent. Small differences can go a long way. Peralta was a big surprise for Detroit last season but hasn't matched the numbers in the plate or in the field.
Left field: Johnny Damon/Shelley Duncan versus Andy Dirks/Delmon Young.
Damon has looked terrible. Dirks has looked great, but too early to evaluate this one.
Center field: Michael Brantley versus Austin Jackson.
With his defense and hot start at the plate, Jackson has been as valuable as any player in the American League not named
Josh Hamilton
.
Right field: Shin-Soo Choo versus Brennan Boesch.
This one isn't close and that's with Choo off to a middling start in the power department. Choo has a .391 OBP, Boesch a .271 OBP. Choo is a solid defender while Boesch is slow and lumbering. With his poor start at the plate and poor defense, Boesch has been one of the worst regular in baseball so far. Choo is an underrated asset and I love Manny Acta's decision to move him into the leadoff spot.
Designated hitter: Travis Hafner versus field.
Cleveland's designated hitters have six homers and .370 OBP (fourth in the league). Detroit's DHs have one home run and a .238 OBP (13th in the league). Big, big edge to Pronk.
Rotation.
With the best pitcher on the planet, Detroit's rotation has posted a 3.87 ERA; without the best pitcher on the planet, Cleveland's rotation has posted a 3.94 ERA. Both teams have played 42 games and Cleveland's starters have thrown 12 more innings. Moving forward, maybe you think Detroit's group will perform better. After all,
Doug Fister
missed some,
Max Scherzer
just struck out 15 in game (never mind that the Pirates have been an historic strikeout binge of late) and
Rick Porcello
will put it together one of these years, because everyone says so. Meanwhile, Ubaldo Jimenez can't throw strikes,
Justin Masterson
hasn't pitched as well as last year and
Derek Lowe
is doing it with smoke, mirrors and a deal with the devil. The one thing the Cleveland starters do is keep the ball in the park; they've allowed 20 home runs, second-fewest in the league. Look, maybe you think Scherzer will start pitching better; I'd say so will Masterson. Maybe you're a Porcello believer; I'm not, especially with that infield defense behind him. Lowe is a fluke? Well, let's see how
Drew Smyly
does as the scouting reports get around on him.
Bullpen.
Neither pen has been stellar, as Cleveland's 4.16 ERA ranks 13th in the AL and Detroit's 4.76 ranks 14th. Cleveland's top guys, however, have been pretty solid -- Chris Perez is 14 of 15 in save opportunities while
Vinnie Pestano
,
Joe Smith
and
Nick Hagadone
have pitched well. Detroit's top two of
Jose Valverde
and
Joaquin Benoit
, so dominant a year ago, have both struggled to throw strikes.
I said before the season that I believed the Tigers were drastically overrated. On the Baseball Today podcast late in spring training, I predicted Cleveland would win the division. Unfortunately, when ESPN.com published predictions a few days later, I changed my pick to Detroit. I bought into the hype.
I'm not buying any longer. This division is wide, wide open. (And I haven't even mentioned the White Sox!)
PHOTO OF THE DAY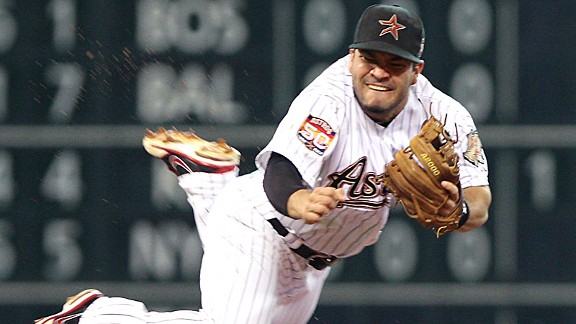 Troy Taormina/US PresswireDiminutive Astros infielder Jose Altuve isn't always so low to the ground.
May, 15, 2012
5/15/12
9:45
PM ET
By
Christina Kahrl
| ESPN.com
Not every move involves rosters: Some just involve putting your better assets to work. Case in point: Today's lineup card for the
Cleveland Indians
, which featured
Shin-Soo Choo
batting leadoff, something Manny Acta started trying just yesterday.
Choo was followed by second baseman
Jason Kipnis
in his usual slot, then
Asdrubal Cabrera
, then
Carlos Santana
. If that sounds to you like every good Indians batter, stacked up in a row, you'd be right. But with Choo's .362 OBP (pre-game) up front, it gave manager Manny Acta some big-inning potential, and when Minnesota's
Jason Marquis
got into trouble in the fifth, there was no easier out for him to get, and they
cranked a trio of home runs
before Ron Gardenhire could get him off the mound.
[+] Enlarge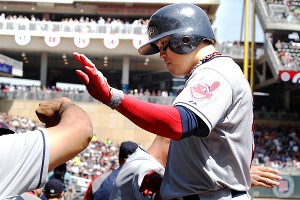 AP Photo/Jim MoneShin-Soo Choo homered as part of the Indians' fifth-inning barrage against Minnesota.
Admittedly, your best four up front is pretty much the definition of a short-sequence offense. But stacking all the good stuff up front is usually a better way to get a crooked number or two on the board, and then you can try to be cute with the assorted sidekicks in the bottom of the order:
Jack Hannahan
and
Michael Brantley
,
Casey Kotchman
and
Johnny Damon
. Considering that it was a rare day off for
Travis Hafner
against a right-hander, though, that front-loaded lineup can at least go five deep, Choo to Kipnis to Cabrera to Pronk to Santana. That isn't a bad place to start.
And while that back end might not be a good group, it's worth remembering that the Indians aren't married to any of them. Hannahan and Kotchman are defensive specialists who at the best of times get on base. But behind them, the Tribe has options:
Lonnie Chisenhall
's slugging .562 at Columbus and ready to roll, while
Matt LaPorta
's hammered 10 home runs as his teammate.
It's the outfield where things aren't happy. Damon's utility as a source of OBP or power is now several seasons out of date, while Brantley's marking time until he goes from ex-prospect to outright suspect and career fourth outfielder. And the Tribe doesn't have a ready or ready-ish alternative in the upper levels among their outfielders; rather, they have the latest iteration of a story they've been putting children to sleep with for years: "Grady Sizemore will be back soon." When your former center field star is the stuff of milk-carton legend, you know that you probably shouldn't count on him as an in-season solution.
Which is what will make the weeks and months to come interesting to follow as far as the Tribe's lineup cards are concerned. Will Brantley or Damon earn his keep? Will Sizemore actually return, and play well enough to consign one of the other two to the bench? Will Chisenhall or LaPorta get the call?
Or will Mark Shapiro simply deal for a corner bat worthy of the name before the end of July? Because that's the thing that you can really wonder about: If you're not getting offense out of first base or left field, that's usually one of the easiest things to fix around the deadline, and without having to give away a top prospect. If Choo gets to be the Indians' once and future leadoff man, then in addition to riding the benefits of that front-loaded lineup, you can stop excusing Damon or Brantley as guys who help at the top of the order, and start looking at how little they're delivering on offense. Fix that, and the team the Tribe's winning with now could be better still a deal later in August.
Christina Kahrl covers baseball for ESPN.com. You can follow her on Twitter.
May, 9, 2012
5/09/12
9:00
AM ET
By
Christina Kahrl
| ESPN.com
We're almost a fifth of the way into the season, and many of the expected storylines in both leagues have gotten the usual attention. The East divisions get the attention because both provide full five-team tangles of contenders and pretenders, with heightened expectations raised higher still with the addition of two more wild-card entries this postseason. The NL Central has bad blood and historic rivalries. And the Wests have the L.A. teams riding their respective highs and lows. The Rangers have a pair of pennants. The NL West gives you a surprise team every season.
Who's missing from all that? The AL Central, and perhaps it's easy to see why. The division is home to baseball's two worst teams, the Twins and the Royals, by any standard you might care to measure such things by: record or run differential. Only a simple Pythagorean interpretation of the Royals' runs scored and allowed gets them out of their duet with the Twins at the very bottom of the majors, but even that might be generous, because however many runs the Royals sporadically get, it's tough to outscore one of the only two rotations that can't generate a quality start even a third of the time. And the other starting staff that is that bad? The Twins -- what, you needed to ask? -- even after
Scott Diamond
's masterful shutdown of the Angels on Tuesday night.
But you can't just blame this dud-ly duo at the bottom of the standings. The three teams competing for a playoff slot that's theirs as a matter of geographical destiny aren't blowing the league away in the early going. The Indians, White Sox and Tigers are a combined three games over .500, and have a combined run differential of zero. Taken collectively, they're three teams around .500 that are supposed to be .500.
Now sure, that's fun with math, because the Indians have slipped out to a modest early lead with their 17-12 start. However, that just echoes last year's 30-15 season-starting run: Cause for celebrations on the banks of the Cuyahoga, and healthy skepticism everywhere else.
Can the Tribe be taken any more seriously this time around? Maybe if
Ubaldo Jimenez
and
Justin Masterson
get a handle on their early-season control problems, that would help, but their front five doesn't match up well with the best rotations.
On offense, they're currently 10th in the American League in ISO or isolated slugging; it's hard to identify where they're going to get a major power boost as the season progresses.
Johnny Damon
hasn't been a moderately useful power source for an outfield corner or DH since he left the Yankees after 2009.
Grady Sizemore
would be if and when his latest comeback gets under way. 'Soon,' 'June' and 'when the cow jumps over the moon' all seem like reasonable answers given his track record.
Casey Kotchman
isn't hitting; he rarely does.
Which suggests that the Indians' best fix on offense is currently outside the organization. First base is usually a good spot to find a free agent-to-be on a non-contender and trade for him as a two-month temp at the deadline, but next winter's crop of free agents at first base is mostly appalling:
Aubrey Huff
?
Carlos Lee
? But how about
Kevin Youkilis
, as
Gordon Edes has pointed out
? Indians fans can certainly hope, but GM Chris Antonetti doesn't have a ton to work with.
What of the White Sox? In all their early celebrations over Adam Dunn's resurrection and
A.J. Pierzynski
popping a quick five homers, there's still
Gordon Beckham
's and
Brent Morel
's slack bats. Homegrown
Dayan Viciedo
has fit right into that brand of ghastliness, struggling to post an OPS above .600. And with their whipsawing
Chris Sale
moving from the rotation to the pen, it's clear they haven't entirely figured what they can do with the working parts they do have.
So barring the Indians making some sort of game-changing deal, this really should still be the Tigers' division to win. That might sound like a declaration of faith in the famous people, but propositions that start with names like Verlander, Miggy or Prince involve happier endings than those that rely on Pronk or Becks.
They aren't perfect, of course, and a lot of that is because of the rest of Jim Leyland's crew. I don't blame you if you're a
Brennan Boesch
skeptic -- has any other 27-year-old corner outfielder with a .424 career SLG ever inspired so much faith he's going to be something more? -- or unconvinced that
Delmon Young
is ever going to really break out. But eventually
Miguel Cabrera
and
Prince Fielder
and
Alex Avila
will have more to work with than they have had in the early going.
At least in the rotation
Doug Fister
's already back, and if
Drew Smyly
pans out, maybe he's the third starter that
Max Scherzer
hasn't been or
Rick Porcello
isn't ready to be. But it says something that you have to already count on Fister as a sure thing as their No. 2, something nobody would have said about him on anybody's team a year ago.
This early, though,
project them over 162 games
and the Tigers still look like the one team in the division with a legit shot at 90 wins. So I'd suggest Tigers fans keep the faith. They may feel letdown by initial expectations that they'd romp from day one, but a couple of long months beating up on the Twins and Royals will help. Barring an in-season overhaul for the Indians, it's still Detroit's division to win.
PHOTO OF THE DAY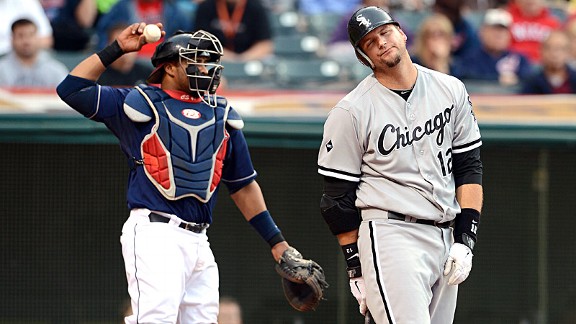 Jason Miller/Getty ImagesA.J. Pierzynski may well be wondering, did Momma say there'd be days like this?
Christina Kahrl covers baseball for ESPN.com. You can follow her on Twitter.
April, 28, 2012
4/28/12
2:17
AM ET
By
Ben Duronio
| Special to ESPN.com
Facing baseball's top team in their ballpark Friday night, the
Tampa Bay Rays
brought home run power at the plate and strikeouts on the mound to put away the
Texas Rangers
,
8-4
. This marked the sixth consecutive win for the Rays, who have seemingly righted themselves after sputtering to a 4-5 record to start the season.
The Rays have managed to go 9-2 since then, mainly due to a potent offense that is fourth in the American League in runs scored.
Evan Longoria
has hit like an MVP candidate, currently sporting a .319/.437/.569 line with four home runs, including a three-run shot Friday.
Desmond Jennings
owns a nine-game hitting streak, during which he's hit .324, and
B.J. Upton
has come off the disabled list with a vengeance with a .788 OPS.
Newly acquired bats
Carlos Pena
and
Luke Scott
have made Rays fans forget the short, though productive, stints in Tampa Bay of
Johnny Damon
and
Casey Kotchman
. Pena and Scott have already combined for nine home runs, more than one-third of the amount that Damon and Kotchman produced all of last year. For reference, the Rays have played 12.3 percent of their games so far, so it looks like these one-year deals on the heels of letting Damon and Kotchman walk could provide excess value.
Interestingly, the Rays are not utilizing the stolen base as the catalyst to their offensive production. Last season the Rays finished second in the majors in stolen bases, marking the first time since 2007 that they did not lead the league in the category. Entering last night, the Rays ranked 16th with 12 total steals. The Rays do have stolen-base threats in Jennings and Upton, but the Rays have been generating offense in a different manner than they are accustomed to -- with power.
The Rays have hit 27 home runs this year, tied for fourth in the majors. Longoria, Pena, Scott, and
Matt Joyce
have hit at least four long balls apiece. Behind them, Jennings and
Ben Zobrist
have three each. Those hitters comprise the Rays' 1-5 hitters against right-handed pitchers, as Joyce sits against southpaws. The impressive patience and power displayed by the Rays has been evident over their current win streak in that they have hit at least one home run in each of the past five games.
In addition to their offense, which was on display against Rangers lefty
Matt Harrison
on Friday night, the Rays have gotten a lift from their pitching over their past 10 games. Allowing just 2.9 runs per game has been a huge part of their 8-2 record over that span. Their run prevention has not all been pitching, however, as their defensive shifts have also proven to be effective. Adam Berry of MLB.com has
a great article
on the Rays and their shifts, along with the index cards they pull out for each hitter. The Rays currently rank second in the majors in Defensive Runs Saved with 19, nine more than the third-place
Arizona Diamondbacks
.
The Rays pride themselves on taking as many small advantages as possible, which is a testament to the quality of their front office, scouting and management. Signing players like Scott to a $6 million, one-year deal and moving starter
Wade Davis
to a bullpen role rather than trading him, are just two decisions that appear to be solid. Davis currently has a 1.86 ERA along with eight strikeouts and two walks in 9.2 innings out of the bullpen and was able to get out of a bases-loaded jam unscathed in the eighth inning of Friday's victory.
The Rays will have to pitch better overall, specifically in the bullpen, over the course of the season. With the type of talent they possess and their excellent defense, their over-4.00 ERA should continue to decrease. With their offense scoring plenty of runs, improved pitching may make them the best team in baseball. But for now, that designation belongs to the team that is in the opposite dugout this weekend: the Rangers.
Ben Duronio writes about the Braves at Capitol Avenue Club. Follow him on Twitter.
PHOTO OF THE DAY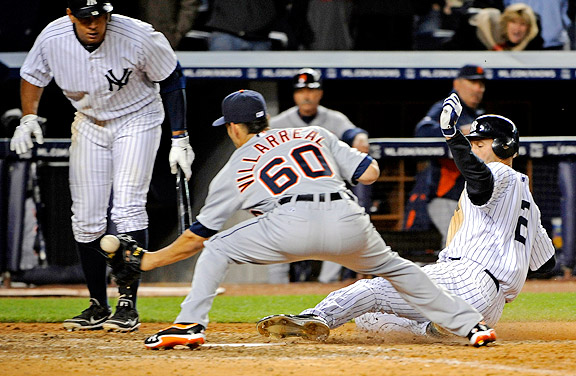 AP Photo/Bill KostrounFar from your typical ending, Derek Jeter scores the winning run on a passed ball as the Yankees topped the Tigers.
April, 7, 2012
4/07/12
9:30
PM ET
By
Stephanie Liscio
| Special to ESPN.com
After my father and I nearly froze to death from 16 innings of Opening Day "magic" at Thursday's Indians game, he turned to me and asked, "What if it goes extra innings on Saturday as well?" I responded by saying, "
Ubaldo Jimenez
will probably give up seven or eight runs in the first couple of innings.
Dan Wheeler
will be sent in for mop-up duty, and he'll give up a few more. The offense will be terrible, so it will assuredly end in nine innings."
I'm glad to say that if I had to be wrong about one of those statements, it was the one about Jimenez. Nobody really knew what to expect from Jimenez today, but Indians fans seemed to fear the worst. He was all over the map in spring training, and was shaky after he plunked
Troy Tulowitzki
against Colorado last Sunday. With a five-game suspension looming (Jimenez announced that he will drop his appeal) and the ongoing drama with the Rockies, would he be able to put all of that behind him and help the Indians bounce back from their heartbreaking loss Thursday?
Jimenez looked sharp today, and despite the fact that he earned a no-decision in Cleveland's
7-4, 12-inning loss
, he took a perfect game into the sixth inning, and a no-hitter into the seventh. From what I saw on the radar gun at the ballpark, he topped out at 93 mph and looked like he was throwing a lot of off-speed pitches. His command, a problem at times this spring, was sharp until the sixth inning. He was able to quiet the bat of
Jose Bautista
, which no Indians pitcher seemed able to do on Thursday (including
Justin Masterson
).
While I'm certainly not ready to declare last summer's trade with Colorado a complete success yet, it has to make Indians fans feel a little bit better to see a strong opening performance from Jimenez. I expected to see more tension and excitement at today's game as it reached the later innings. The closest I've ever been to witnessing a no-hitter was when
Cliff Lee
took one into the eighth inning against the Cardinals on June 14, 2009; on that night, you could just feel the electricity in the air at Progressive Field, as if something really special was taking place. Today, much of the crowd around me appeared to be disengaged, or Toronto fans. Nobody really seemed to fully grasp the performance they were seeing from Jimenez.
To be fair, most people with a rooting interest in the Indians were preoccupied with complaints about the Indians' offense. The Tribe has now played 28 innings of baseball in just two games. In those 28 innings, they've scored eight runs, six of which have come via the home run. The Indians left just three runners on base on Saturday, two of which were left stranded in the 12th inning after Toronto had already gone ahead by four. While there were a number of missed opportunities on Thursday, they didn't even have any opportunities to miss this afternoon. In their first two games they've had just 12 hits, and three of those came in the bottom of the 12th today. The "major" free agent signing this winter,
Casey Kotchman
, has started the season 0-for-12. He has yet to hit a ball out of the infield; a couple of his groundouts today didn't even make it past the pitcher's mound.
The "Bullpen Mafia" has shown some signs of weakness early in the season, with
Chris Perez
,
Jairo Asencio
,
Vinnie Pestano
, and
Tony Sipp
all responsible for surrendering runs in pivotal situations. With the offense as weak as it has looked these first two games, the Indians would probably still be playing Thursday's game if the bullpen continued to hold the Toronto offense scoreless. Both Thursday and today, manager Manny Acta appeared slow to pull the trigger once Perez and Sipp got into trouble. Nobody was warming up, and nobody even tried to stall for time to get someone else up in the bullpen. When your team is struggling to score runs, a quick hook with a struggling bullpen pitcher may be the best form of action.
Even though the Indians have only played two games thus far, Masterson and Jimenez have been the bright spots in both. This offseason, fans were most worried about the starting pitching and the offense. Even though it's far too soon to declare the starting pitching situation "fine," I've seen enough from the offense to know that I'm concerned. Masterson went eight innings on Thursday, and Jimenez lasted seven today; you can't ask for much more than that from your starting pitchers.
Now the offense needs to step up and prove that these two games were a fluke, and not the norm. Perhaps they just need to start a feud with Troy Tulowitzki and the
Colorado Rockies
. It seemed to work for Jimenez.
PHOTO OF THE DAY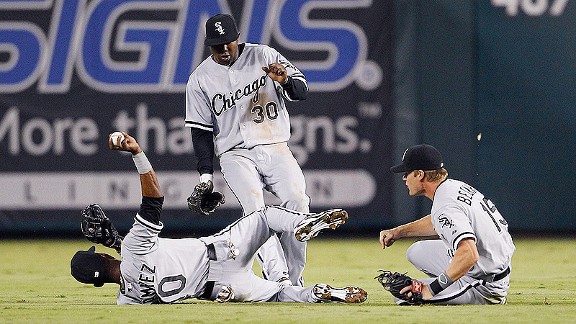 Jim Cowsert/US PresswireAlexei Ramirez took a tumble with a critical ninth-inning catch for the Sox.
Stephanie Liscio blogs about the Indians for the SweetSpot network at "It's Pronounced 'Lajaway'," and can be followed on Twitter at @stephanieliscio.
February, 22, 2012
2/22/12
12:45
PM ET
By
Christina Kahrl
| ESPN.com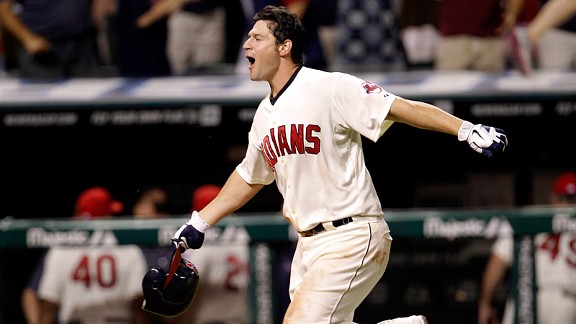 AP Photo/Tony DejakCleveland's Matt Laporta hasn't had much to celebrate in the majors. Will 2012 be different?
On Tuesday I ran through Freddie Freeman's
projections and reasons to feel good and bad about his 2012
, but there's a larger point to make about young first basemen these days, starting with this: Freeman's one of the success stories.
Look around the rest of the game, you'll find a surprisingly large number of first-base disappointments with major questions to answer over whether or not they're ever going to break through:
Chris Davis
, Orioles: MLB career line of .252/.301/.448.
After mashing 36 homers as a 21-year-old in his full-season debut in the minors, Davis was ranked 65th on Baseball America's 2008 list of baseball's top 100 prospects. In fairness, Davis has had to deal with getting shuttled between the infield corners and from Texas to Baltimore, but he's struck out more than 31 percent of the time in 1082 big-league plate appearances, and an OBP around .300 isn't going to fly, even with his tremendous power. In his age-26 season, he needs to break through.
Lars Anderson
, Red Sox: .175/.292/.200 (in 48 PAs)
Before 2009, Anderson ranked as the 17th-best prospect in baseball. It was all about projection, of course: He'd already reached Double-A and hit there before his 21st birthday. But the expectation that doubles would turn into homers as he matured hasn't happened, and he hadn't hit that many doubles in the first place -- a career minor-league ISO of .162 is nice, not excellent, not at first base. He's not done, but he's also not pushing his way into Boston's plans.
Matt LaPorta
, Indians: .238/.304/.397 in 1008 MLB PAs
The days when LaPorta was considered a top prospect and worthy payment for a couple of months of
CC Sabathia
's time seem long gone now. He ranked 23rd on Baseball America's top-100 list before 2008, "fell" to 27th as Indians property going into 2009, but after several clean shots as the Indians' starter, he now looks like the guy who will lose his job to…
Casey Kotchman
, Indians: .268/.336/.398
Seeing Kotchman on this list after his nice little season with the
Tampa Bay Rays
might seem harsh, but after already bouncing from Anaheim to Atlanta to Boston to Seattle, he's already been a non-answer for a number of teams before his 30th birthday. But you can sort of understand why so many have taken a look: He had a four-year run on BA's top-100 list where he never rated as
low
as LaPorta's best, rising from the 22nd-best prospect in the land in 2002 to sixth (!) in 2005. Even allowing for the initial stumble at the outset of his big-league career with mono, Kotchman's produced little power at a power position. He's a slick fielder and a nice place-holder of last/cheap resort -- perhaps especially if you've already endured LaPorta-induced heartbreak -- but if he's supposed to be an OBP guy, just remember that his career walk rate (8.3 percent) is lower than the MLB average over that time (8.5). Is that really what you're supposed to have gotten from the sixth-best prospect in baseball?
Brett Wallace
, Astros: .248/.323/.354
Back when Wallace was the 13th overall selection by the Cardinals in the 2008 draft, he was considered a pure hitting machine, but somebody whose thick build probably wouldn't work out at third base. Even as a hit tool-only prospect, BA rated him as the world's 27th-best prospect before the 2010 season. But in four years as a pro he's flitted through four different organizations, hasn't hit, and now the Astros are talking about giving him a shot -- back at third base, perhaps in part because he hasn't hit anywhere close to well enough to be an adequate answer at first.
James Loney
, Dodgers: .288/.348/.436
Including Loney on this list might seem unfair. He's been durable, and like Kotchman he gets credited with good glovework. He bounced around the 30s and 40s on BA's top-100 lists in the early Aughties, and that career rate might make it seem as if he's delivered. Unfortunately, he hasn't matched his career OPS since his rookie season back in 2007, when he wowed folks with a .919 clip. Back then, you could talk about
Matt Kemp
and Loney and think the Dodgers were set with two MVP candidates, but nothing Loney has done since has kept him in that conversation.
Chris Carter
, Athletics: .167/.226/.254 in 124 MLB PAs
Carter hasn't had a clean shot at a job yet, so he hasn't accrued much playing time. But at this rate you have to wonder if the A's will ever clear the path for him considering how many equally frustrating rivals they've collected to put in his way. Carter topped out as the 28th-ranked prospect by BA before 2010, and he's also moved around a lot (three organizations). Heading into his age-25 season with a career .540 SLG in the minors, you might figure he's due for a look, but the A's also have
Brandon Allen
, sabermetric favorite
Kila Ka'aihue
(long live the Kila Monster), and…
Daric Barton
, Athletics: .252/.362/.378
Barton might be the perfect example about of how "Moneyball" was a nice movie, but if there was even an organizing philosophy, you have to wonder if it hopped off the tracks at some point. When the A's acquired Barton (with
Kiko Calero
) for
Mark Mulder
, it seemed like a perfect match. Barton topped out at 28th on BA's top-100 list, but his patience at the plate made him seem like the organization's idiosyncratic answer at first base. But in the middle of what seemed like a breakthrough season in 2010, he got fascinated with bunting at will (worse yet, manager Bob Geren indulged him), and he lost most of 2011 after tearing up his shoulder. Where the modern walking man fits in on the team that's supposed to love walks more than anybody is up in the air.
Justin Smoak
, Mariners: .227/.316/.385
There's no joy to be had in putting Smoak on this list, and there are certainly special circumstances: He played with injuries to first one thumb and then the other and saw that sap his early season production. He then suffered a broken nose that placed him on the DL, and he lost his Dad -- all really tough things to work through. There was enough good stuff before he got hurt and after he healed to make you think he'll be fine this year. But set against that you've got a first baseman who rated 13th on Baseball America's top-100 prospects list heading into 2010, and he's barely topping a .700 OPS.
Now, 'tis the season for hope and faith, new beginnings and redemption, and all the rest of the warm fuzzies you're supposed to get this time of year.
Carlos Pena
's career got off on the wrong foot (several wrong feet, actually), to the point that the Tigers simply released the former top-five prospect at the end of spring training in 2006. But after five organizations Pena finally stuck as a 29-year-old journeyman with the Rays. How many of these guys' stories are going to have similarly happy endings? Touted as they've been, they've got plenty of questions to answer over whether or not they'll be flat-out useful.
Christina Kahrl covers baseball for ESPN.com. You can follow her on Twitter.
January, 20, 2012
1/20/12
4:30
PM ET
The
Tampa Bay Rays
dug through their pockets for spare nickels, took their metal detector to the Florida beaches, maybe auctioned off
Dan Johnson
's home run ball and somehow
came up with $7.5 million to sign
free-agent first baseman
Carlos Pena
.
I love it.
Pena brings a power bat to the middle of the Tampa Bay order and while he doesn't come without risk, the addition of a guy who can hit 25 to 30 home runs, draw 90 walks and play a good first base helps solidify a lineup that needed another big bat. Here's a look at what Tampa's lineup may look like:
LF
Desmond Jennings
CF
B.J. Upton
2B
Ben Zobrist
3B
Evan Longoria
RF
Matt Joyce
/
Brandon Guyer
1B Carlos Pena/
Russ Canzler
DH
Luke Scott
SS
Sean Rodriguez
/
Reid Brignac
C
Jose Molina
Other bench options include
Sam Fuld
,
Elliot Johnson
,
Justin Ruggiano
plus a backup catcher. I included Guyer and Canzler in the lineups because I believe Joe Maddon will have to maximize the versatility to get the most out of this roster.
With Pena, that includes the suggestion that he become a platoon player. His overall line in 2011 was dragged down by an anemic .133 average against left-handed pitching. But he hit .255/.388/.504 against right-handers. Even with the poor splits against his lefties, his overall .357 on-base percentage would have ranked second on the Rays in 2011, behind only the now-departed first baseman
Casey Kotchman
. Minor league veteran Canzler would be a nice, cheap platoon for Pena. He hit .314/.401/.530 at Triple-A Durham, but the key is he's not just a first baseman: He played third, right, left and first for the Bulls. In other words, a perfect Maddon bench player.
Like Pena, Joyce probably needs to be platooned; he has an .867 career OPS against righties but .601 against lefties (.657 in 2011 in 101 plate appearances). But Guyer provides another nice platoon option. Like Canzler, he's an older minor leaguer, but he can hit, .312/.384/.521 at Durham, including .346 against lefties. Most managers are averse to using platoons these days because their benches are already limited due to the desire to carry 12 or 13 pitchers. But Maddon has been using multi-position platoons for years in Tampa; it's just another reason he's the best manager in the game today.
There is a risk with Pena. He hit 28 home runs in 2011 playing in hitter-friendly Wrigley Field; he'll move to a tougher home run park at the Trop. Pena, however, did hit much better on the road in 2011 (.855 OPS versus .780) and if you look at his home run distances at
Hit Tracker Online
, Pena doesn't hit many cheap home runs. When he connects it's going out of just about any ballpark. Of his 28 bombs, only two were classified as "just enough."
As for Kotchman, I would think he'll find a job somewhere after hitting .306 with a .378 OBP. But that's no guarantee; despite those numbers, Rays first basemen (Kotchman played 146 games) finished last in the majors in both runs scored (52) and RBIs (51). The Indians remain the only team with an obvious first-base opening as they don't appear committed to
Matt LaPorta
; maybe the Yankees or Tigers consider him for a DH role.
The Rays may have been waiting to see if Pena or Kotchman fell to them, but I think they signed the better player. If Pena and Scott can combine for 45 to 50 home runs (the Rays got just 28 out of first base and DH in 2011) this is a lineup that will outscore last season's total of 707 runs.
January, 13, 2012
1/13/12
11:01
AM ET
Some stuff to check out from across the SweetSpot network ...
December, 3, 2011
12/03/11
2:00
PM ET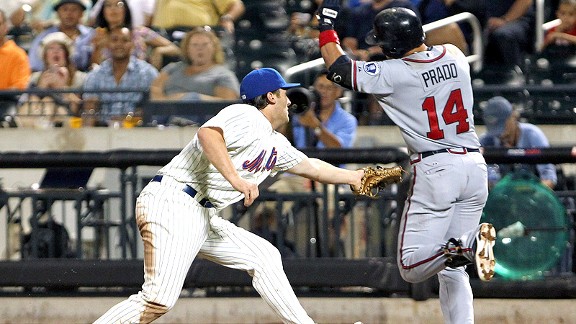 Anthony Gruppuso/US Presswire
Nick Evans
' defensive skills could be of value down the road.
You probably didn't notice that the
Pittsburgh Pirates
recently signed first baseman and outfielder Nick Evans to a minor league contract within the past two weeks. There wasn't much reason to do so. Evans was nondescript with the bat, hitting .256 with four home runs and 25 RBIs for the Mets in 2011.
But Evans did something within his limited time that was significant to those of us trying to learn about advanced defensive stats. It struck me as being the defensive equivalent to hitting .400 over 150-or-so at-bats. In 337 2/3 innings, the equivalent of 37 ½ nine-inning games at first base, Evans finished with seven defensive runs saved. That's a good number for a first baseman.
It tied him for most in the majors for the season
with Angels first baseman
Mark Trumbo
.
It's also significantly better than what the Pirates got from their first basemen last season. Theirs ranked 28th in the majors, costing the team 11 runs.
Defensive runs saved for first basemen calculates the ability to turn batted balls into outs and the success at getting outs on bunts.
Evans scored well primarily because he did well handling the 46 balls that were hit into his "zone," with "zone" defined as the areas on the field in which first basemen turned batted balls into an out more than half of the time.
Evans' revised zone rating was 84.8% (of the 46 balls in his zone, he converted 39 into outs).
That rate was tied for fifth-best
among the 46 first basemen that played at least 300 innings at the position.
It was within striking distance of MLB leader
Todd Helton
(85.9 percent) and considerably ahead of Evans' crosstown counterpart, Yankees first baseman
Mark Teixeira
(77.0 percent). For every 46 balls hit into his zone last season, Teixeira got 35 outs, four fewer than Evans did in his (admittedly small) sample.
The way that Baseball Info Solutions, which calculates a plus-minus rating for every fielder, looks at it, they divide batted balls into three areas for infielders -- balls hit to the left and right of the area where most outs are recorded, and balls hit directly where a first baseman most often records outs.
Evans was a plus-six on balls hit into the latter area, meaning he was six plays better than the average first baseman. That factored significantly into Evans' defensive runs saved rating, as did his defense on bunts, which was similarly above average.
Evans' success jibed with that which he'd had
as a minor leaguer
as well.
The researchers at Baseball Info Solutions, whose founder John Dewan came up with the defensive runs saved metric, acknowledge that the stat isn't necessarily the perfect measure of a first baseman's skills.
There are many other components to first base defense (a recent article in
the blog "DRays Bay"
attempted to put a value on each), the most recognizable to fans being the ability to handle throws from one's teammates.
So we dug a little deeper.
In addition to coming up with sabermetric stats, Baseball Info Solutions hires "video scouts" (for the most part, former high school and college players) to chart games from television viewing, tagging notable plays into more than 80 subcategories of "Good Fielding Plays" (GFPs) and "Defensive Misplays & Errors." (DM&Es)
There are tightly defined rules, devised by sabermetrician Bill James, to what constitutes a GFP and a DM.
First basemen were credited with just over 2,000 Good Fielding Plays and just under 1,100 Defensive Misplays & Errors in 2011, the ratio of good to bad being about 1.9-to-1.
In his time at first base, Evans' ratio of GFPs to DMs was 24-to-5, or almost 5-to-1.
The reason for this was that in the eyes of multiple viewers (video scouts rotate so not to watch the same team or player too often), Evans was adept at a key aspect to his position not measured by Defensive Runs Saved or UZR/150- catching throws.
Evans was credited with 11 GFPs for "handling a difficult throw" (usually either by scooping it out of the dirt or coming off the base) in which the Mets got the batter out, and four GFPs for "catches wild throw," meaning that he prevented a batter or baserunner from gaining an extra base by coming off the bag to block/catch an errant throw.
Samples of Evans handiwork in this area can be seen at
these
three
links
.
Evans was tagged for only one DM&E for "failing to catch the throw" from a teammate. His ratio of good-to-bad plays was 15-to-1. By comparison, the average ratio for a first baseman on these plays was 5-to-1. Reds first baseman
Joey Votto
, who won the NL's Gold Glove, had 29 GFPs and 10 DM&Es related to handling throws.
We're not saying that Evans can maintain the sort of success from his small sample over a full season.
But for the Pirates, who also showed a
defensive-minded commitment
with the signing of shortstop
Clint Barmes
, it's an interesting sort of gamble that could be worth watching more closely as the 2012 season unfolds
December, 1, 2011
12/01/11
9:35
AM ET

The American League Central may have a reputation as baseball's skinflint division, but such is not the case: The White Sox, Twins and Tigers each had payrolls over $100 million in 2011 and ranked in the top 10 of highest-salaried ballclubs.
The problem was that two of those three teams didn't get much for their money. Considering the issues in Chicago and Minnesota, and the youth and unwillingness to spend big in Cleveland and Kansas City, Detroit will enter 2012 as the heavy favorite to win the division -- no matter what happens in the offseason. But even the Tigers are far from a sure thing and if the Indians can get good health from
Shin-Soo Choo
and
Grady Sizemore
in 2012, plus strong seasons from youngsters
Jason Kipnis
and
Lonnie Chisenhall
, their offense could be dramatically improved.
But that's getting ahead of ourselves. Here's a quick look at some action plans and items of interest for the five teams.
Detroit Tigers
1. Third base (
Brandon Inge
)
With Inge plummeting to a .197 average, Detroit's third-base production was among the worst in the majors. The team has already been linked to free agent
Aramis Ramirez
and trade discussions with Angels on
Maicer Izturis
. Both would be big upgrades over Inge, who still has one year remaining on his contract. The dark horse possibility: With
Carlos Guillen
($13 million) and
Magglio Ordonez
($10 million) off the books, the Tigers pursue
Jose Reyes
to fill their leadoff void, moving
Jhonny Peralta
to third base.
Likely solution: As much I love the Reyes idea, Ramirez to Detroit seems like a logical fit. The negatives are Ramirez's lack of range and Detroit's need for a little more athleticism in the lineup.

2. Middle relief
By the postseason, Jim Leyland was down to two relievers he trusted:
Jose Valverde
and
Joaquin Benoit
.
Al Alburquerque
had a strong rookie season out of nowhere and
Phil Coke
and
Daniel Schlereth
provide rare power lefty arms, but Albuquerque and Schlereth still have trouble throwing strikes. The Tigers could go after a low-cost veteran like
LaTroy Hawkins
,
Mike Gonzalez
or
Darren Oliver
, or maybe make a trade pitch for White Sox lefty
Matt Thornton
, although it seems unlikely Chicago would trade Thornton to a division rival.
Likely solution: A veteran righty-hander, with the Tigers counting on improvement from Coke and Schlereth.
3. A left-handed bat.
The Tigers missed
Brennan Boesch
's stick in the playoffs, as
Victor Martinez
and the hobbled
Alex Avila
were the only threats from the left side (granted,
Don Kelly
hit a big home run). Boesch's return will help, but Detroit could use a lefty bat to help balance out the lineup.
Likely solution:
Andy Dirks
may given another shot at that third/fourth outfielder job after hitting .251/.296/.406 as a rookie. But what about Rockies left fielder
Seth Smith
, who is on the trade block? His career .518 slugging percentage against righties has been bolstered a bit by Coors Field, but he's a solid hitter who could platoon with
Ryan Raburn
in left, or allow Raburn to play some at second base.
Cleveland Indians

1. Find a left fielder who can hit.
Michael Brantley
is a decent asset -- but as a center fielder. The plan to use Brantley as an everyday left fielder was never a great one to begin with, as he's never going to pop many balls over the fence. Brantley,
Austin Kearns
,
Shelley Duncan
and
Travis Buck
all started at least 20 games in left; Jared Head started six games there. As a group, Cleveland's left fielders hit a miserable .233 with seven home runs; only Baltimore and Minnesota received a lower OPS from their left fielders.
Likely solution: Signing
Grady Sizemore
doesn't necessarily push Brantley back to a starting role in left field. He's best used as a fourth outfielder and Sizemore insurance.
Michael Cuddyer
may end up getting priced out of Cleveland's range, so how former Twins teammate
Jason Kubel
? He can play left and step in as designated hitter when
Travis Hafner
suffers his inevitable breakdown.
2. Find at least one more starter.
Right now, the Indians can only count on
Justin Masterson
and
Ubaldo Jimenez
for their rotation.
Carlos Carrasco
is out for the season following Tommy John surgery,
Fausto Carmona
was terrible and even
Josh Tomlin
is a question mark after the league caught up to him in the second half (5.26 ERA).
Likely solution:
Jeanmar Gomez
has been roughed up in two stints in the majors (146 hits in 116 innings), but his Triple-A numbers were solid, if unspectacular. He'll be given another chance in spring training to battle
David Huff
for a rotation spot.
3. If not
Matt LaPorta
, who plays first base?
The big prospect acquired in the
CC Sabathia
deal, LaPorta just hasn't hit as expected, posting a .299 on-base percentage in 2011. The Indians seem ready to punt on LaPorta, who turns 27 in January so isn't even that young.
Carlos Santana
ended up playing a lot of first base down the stretch, but let's hope he's kept behind the plate, where his hitting value would be maximized.
Likely solution: If free agent
Carlos Pena
lowers his price, he's a possibility, and the Indians reportedly talked with Houston about
Brett Wallace
. I'm not sure Wallace is much of an upgrade over LaPorta, but at least he's younger.
Casey Kotchman
could fit nicely here as lower-cost alternative after posting a .378 OBP with Tampa. And hey, he's only two years older than LaPorta.
Chicago White Sox

1. What do you do with
Adam Dunn
and
Alex Rios
?
Dunn hit .159 with a .569 OPS. Rios hit .227 with a .613 OPS. Dunn was the least-valuable position player in baseball, according to Baseball-Reference.com, while Rios was seventh-worst. They made $24 million in 2011 and will make a combined $26 million in 2012. Both are signed through 2014.
Likely solution: General manager Kenny Williams will be busy during the winter meetings, perhaps shopping around guys like
Gavin Floyd
,
John Danks
and Matt Thornton, looking for some sort of backup plan to these two pieces of junk. The 40-man roster currently includes
Alejandro De Aza
, who probably deserves a chance to play somewhere after a nice run (if over his head) last season. Let's put it this way: he can produce an OPS higher than .613.
2. Third base (
Brent Morel
)
After struggling all season, hitting .250 with just two home runs and seven walks in 328 at-bats through August, Morel suddenly changed his approach in September, got more patient and swung for the fences. He hit just .224 the final month, but with eight home runs and 15 walks. Was it a legitimate improvement, or merely feasting off September tired arms and rookie call-ups?
Likely solution: Morel's hot September earns him another shot.
3. The new manager
This isn't so much an action plan, as a big question mark. Robin Ventura has no previous managerial experience, but the good sign for the White Sox is that respected pitching coach Don Cooper is still around to handle the pitching staff.
Likely solution: If Dunn and Rios stink it up again, it won't matter how well Ventura transitions into the job -- he'll be doomed.
Kansas City Royals

1. Fix the rotation
The Royals had a 4.82 ERA from their starters; only Baltimore was worse in the American League.
Likely solution: The Royals already made a move here, trading
Melky Cabrera
to the Giants for
Jonathan Sanchez
. The club also re-signed
Bruce Chen
. With the signing of
Jonathan Broxton
, and the emergence of rookie relievers
Greg Holland
,
Louis Coleman
and
Tim Collins
in 2011, fellow 2011 rookie
Aaron Crow
will be given a shot at the rotation. I have my doubts it will work: Crow walked 31 in 62 innings out of the bullpen and left-handed hitters tagged him for a .311 average and .538 slugging percentage. There's a reason he struggled in the minors as a starter in 2010 (5.73 ERA). He has a great arm, but won't be able to rely on his fastball/slider combo as a starter.
2. Second base (
Chris Getz
)
Royals second basemen posted a .301 OBP and .636 OPS (26th in the majors) in 2011.
Likely solution: Rookie
Johnny Giavotella
played the final two months there and hit .247 with a .649 OPS. He'll head into spring training as the favorite to win the job. He hit .338/.390/.481 at Triple-A, so the batting potential is there: Bill James projects him to hit .295/.342/.419.
3. Center field (empty -- Cabrera traded)
The Royals were smart to deal Cabrera after his career season.
Likely solution:
Lorenzo Cain
, acquired from Milwaukee in the
Zack Greinke
trade, will finally get a chance to play after spending 2011 in Triple-A. Cain is old for a guy still considered a prospect -- he turns 26 in April -- so he should be a polished product by now. He showed some power for the first time in his career, hitting 16 home runs for Omaha while batting .312. He doesn't walk much, so won't be a star, but should come closing to matching Cabrera's 2011 production.
Minnesota Twins

1. The M & M boys
After 2011's train wreck -- the club's first 90-loss season since 2000 (and at 99 losses, the most the 1982 Twins lost 102) -- it seems pretty clear this team will be dead in the water again unless
Joe Mauer
and
Justin Morneau
get healthy and regain their All-Star status. But they also can't assume these guys are going to play 140-plus games.
Likely solution: Obviously, the Twins need a better backup plan for Mauer than giving .167-hitting
Drew Butera
250 plate appearances. They already accomplished with the smart signing of
Ryan Doumit
to a one-year deal for $3 million. Doumit can catch or play right field, but his bat is good enough to warrant a regular place in the lineup even when he's not behind the plate. Of course, he's also been injury-prone throughout his career. Prospect Chris Parmalee, who impressed in a September call-up, gives the team a potentially decent backup option for Morneau as well.
2. Right field: Empty (Michael Cuddyer, free agent)
For all the attention Cuddyer is getting, let's remember that he's really just a complementary bat on a good team. Unfortunately, considering some of the other outfielders the Twins tried last season --
Rene Tosoni
,
Jason Repko
,
Trevor Plouffe
-- you realize they had nobody in the upper levels of the system.
Likely solution: Doumit may factor into their plans here, but regardless, the Twins need another bat to play a corner or DH. Smith is a trade option and free agent
Josh Willingham
is another possibility.
3. Closer: Empty (
Matt Capps
and
Joe Nathan
, free agents)
Nathan signed with Texas while GM Terry Ryan recently told the St. Paul Pioneer Press that it's likely Capps could return.
Likely solution: Capps was terrible last year, allowing 10 home runs in 65.2 innings while striking out just 4.7 hitters per nine innings. Two years ago, he had a 5.80 ERA. I can't fathom why any team would want to make Capps its closer. Sadly, however, the rest of the Minnesota bullpen is nearly as uninspiring (as is the rotation, but I don't have room to get to them here), but Capps throws strikes and there's nothing the Twins love more than a pitcher who throws strikes (velocity are ability to miss bats don't seem to be a factor). There's no reason for this team to spend big money on one of the remaining free-agent closers, so it probably will be Capps or lefty
Glen Perkins
.
July, 10, 2011
7/10/11
12:51
AM ET
I recently had a discussion with my "Baseball Today" podcast co-host Eric Karabell and a couple of my colleagues over what I would do, as a Mets fan, if I was in the building when
Derek Jeter
reached the 3,000 hit mark. I got to find out on Saturday when I was an intruder, or at least a neutral observer in Yankee Stadium, one of a very few who wouldn't be rooting for Jeter, at least not before the fact.
In the end, I settled on compromise: When the Yankees fan standing next to me on the lower level, just off to the side of home plate, extended his hand in a high-five gesture, I reached mine out to meet his. I did nothing more than that so to maintain my neutrality, at least in spirit.
This was different for me than the two times I was at Shea Stadium when
Mark McGwire
hit his 50th home run, and I watched ambivalent and annoyed as others stood and cheered. And why not? As his former teammate,
Johnny Damon
said: "Derek stands for the good stuff in baseball."
"One of the all-time great players in the history of the game," said Rays ace
David Price
.
"He went a little above and beyond today," said Rays manager Joe Maddon.
In the world of ESPN Stats & Information, it is protocol to give a colleague a cap-tip when they provide an impressive note or an assist to others in the department. And I think the Rays realized both the impressiveness of the accomplishment and the boost that someone like Jeter represents to their department -- in this case, the game of baseball. Rays first baseman
Casey Kotchman
did, offering a spontaneous cap-tip of his own when Jeter passed him after hitting the home run for his 3,000th career hit.
"I felt like it was the right thing to do," Kotchman said afterwards.
We do too.
---
The most interesting things seen and heard at Yankee Stadium on Saturday:
Seen:
The oddest combination of jersey T-shirt backs sitting next to each other. The immortal trio of whom I wish I'd gotten a picture featured a Babe Ruth in-between
Jeff Weaver
and Steve Balboni.
Heard:
Maddon has some novel ways of doing things when it comes to managing his Rays, and though he immediately noted he couldn't do it in this situation, he did broach afterward the idea of playing a five-man infield once
Joel Peralta
got a two-strike count on Jeter, prior to Jeter's game-winning hit. Maddon noted that Jeter's history was such that he hit ground balls 70 percent of the time or more. "I was worried about the hole up the middle and I was worried about the hole between first and second," Maddon said. "But you can't be everywhere."
May, 12, 2011
5/12/11
4:24
PM ET
Through their first nine games, the
Tampa Bay Rays
were 1-8, had scored 20 runs, were hitting .163, their best player was injured and their cleanup hitter had retired. Playing in the AL East is tough enough, but it appeared as if things were getting away in a hurry from Joe Maddon's club.
On April 11, they went to Boston. In the top of the second inning against
Daisuke Matsuzaka
,
Ben Zobrist
doubled,
B.J. Upton
walked,
Felipe Lopez
singled,
John Jaso
doubled,
Reid Brignac
singled and
Sam Fuld
smacked a two-run homer to finish off the six-run outburst. Just like that, the Rays were back.
After beating Cleveland 7-4 on Thursday afternoon
-- handing
Justin Masterson
his first defeat -- the Rays are 22-15, in first place by half a game over the Yankees, and it's been the offense that has led the 21-7 surge since those bleak days in early April.
They've averaged 5.2 runs per game over those 28 contests while hitting .276 with 27 home runs. In the 2011 version of offense, that's a veritable lineup of mashers. They are especially tough on right-handers. Platoon outfielder
Matt Joyce
is hitting .358/.410/.569, and you wonder if Maddon will start giving him more playing time against lefties. Ben Zobrist is back to crushing righties like he did in 2009 (seven of his eight homers have come from the left side of the plate). The big surprise has been first baseman
Casey Kotchman
, who joined the club only after
Manny Ramirez
called it a career, but is hitting .360/.435/.453 after getting two more hits Thursday. Sure, maybe he's been lucky on groundballs sneaking through the infield, but he also had
offseason eye surgery to clean up a bacterial infection
. After a disastrous .217 season in Seattle last year, he can actually see the ball. "It was kind of like looking through a dirty windshield wiper," he told the St. Petersburg Times.
Oh, the pitching and defense are still pretty good: The Rays have a 2.79 ERA over those past 28 games.
Follow David on Twitter: @dschoenfield. Follow the SweetSpot blog: @espn_sweet_spot.