SweetSpot:

Charlie Keller
October, 28, 2011
10/28/11
12:18
PM ET
Win Probability Added is a statistic that doesn't necessarily tell us who had the
greatest
game, but tells us who had the most timely game. It uses historical play-by-play data to determine the value of each play based on the score, inning and situation, and calculates how the odds of winning or losing the game changed based on that play. So a game-tying home run in the bottom of the ninth is worth more than a home run in a 10-2 blowout.
[+] Enlarge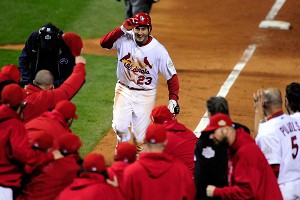 Jeff Curry/US PresswireSt. Louis' David Freese is greeted by teammates after his walk-off home run in the 11th inning of Game 6.
Well ...
David Freese
had the single highest WPA in World Series history in Game 6. But to tell you what kind of game it was, teammate
Lance Berkman
had the third-highest. Here are the top 10, from Baseball-Reference.com:
1. David Freese, Cardinals, Game 6, 2011 (.969 WPA):
Two-out, two-run triple in the bottom of the ninth, game-winning home run in the 11th. Not a bad day at the balllpark.
2. Kirk Gibson, Dodgers, Game 1, 1988 (.870):
Two outs, bottom of the ninth, down by one, runner on base, Dennis Eckersley throws a backdoor slider ...
3. Lance Berkman, Cardinals, Game 6, 2011 (.832):
Because the Cardinals staged two dramatic, two-out comebacks, Berkman's heroics also score high. He had a key walk in the ninth, tied it in the 10th with his two-out single and also hit a two-run homer in the first.
4. Charlie Keller, Yankees, Game 4, 1941 (.826):
This is the famous game in which Mickey Owen dropped the third strike, leading to the Yankees scoring four runs in the ninth to win 7-4. Keller hit a two-out, two-run go-ahead double in the ninth, and also had an RBI single in the first during a 4-for-5 game.
5. Cookie Lavagetto, Dodgers, Game 4, 1947 (.822):
Lavagetto's pinch-hit two-out, two-run double in the bottom of the ninth broke up Bill Bevens' no-hit bid and gave Brooklyn a 3-2 victory.
6. Stan Hack, Cubs, Game 6, 1945 (.806):
The Cubs' leadoff hitter, Hack went 4-for-5 with two walks and three RBIs in a 12-inning 8-7 victory, including the winning double with two outs.
7. Devon White, Blue Jays, Game 4, 1993:
Toronto scored six runs in the eighth to win a wild 15-14 game. White's two-out, two-run triple off Mitch Williams knocked in the go-ahead runs. He finished 3-for-5 with a walk, two runs and four RBIs.
8. Ed Sprague, Blue Jays, Game 2, 1992:
His two-run pinch-hit home run off Jeff Reardon in the top of the ninth gave Toronto a 5-4 victory.
9. Terry Pendleton, Cardinals, Game 2, 1985:
Trailing 2-0 entering the ninth, the Cards scored one run and loaded the bases with two outs against Charlie Leibrandt. Pendleton cleared the bases with a double down the left-field line.
10. Hal Smith, Pirates, Game 7, 1960:
Smith's three-run home run in the bottom of the eighth with two outs gave the Pirates a 9-7 lead. The Yankees tied it in the top of the ninth, setting the stage for Bill Mazeroski's game-winner.
April, 7, 2011
4/07/11
5:10
PM ET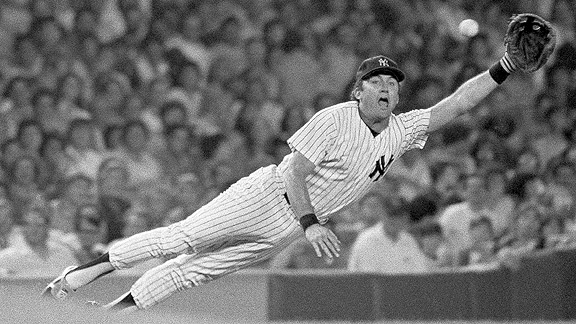 AP Photo/Ron FrehmFew third basemen could play the hot corner like Graig Nettles.
Last week, ESPNNewYork.com ran its list of the
50 greatest Yankees of all time
. I was part of the voting committee and ran
Nos. 50 through 31
on Wednesday. Here are Nos. 30 through 16. The overall panel ranking is in parenthesis.
30. Vic Raschi, P (39)
The ace of the Yankees staff along with Allie Reynolds when they won five straight World Series from 1949-53, Raschi was 120-50 with New York, annually placing among the league leaders in ERA, wins, innings, strikeouts and WHIP. He relied primarily on a high fastball, mixing in an occasional curve or change. He was at best in the World Series, posting a 2.24 ERA in 60 innings, including a two-hit shutout in Game 1 in 1950 and a three-hitter in Game 2 in 1952.
29. Roger Maris, OF (22)
His greatest play was one nobody talks about: In the bottom of the ninth of Game 7 of the World Series, Felipe Alou doubled into the right-field corner with two outs and Willie Mays on first. Maris somehow cut the ball off (Alou was a right-handed batter) before it reached the wall, holding Mays at third base. When Willie McCovey then lined out, the Yankees won 1-0.
28. Lefty Gomez, P (14)
It's really a shame we don't give guys nicknames like "Goofy" anymore. Gomez was spectacular in 1934 and 1937, years he led the AL in wins, ERA and strikeouts, and went 6-0, 2.86 in seven career World Series starts. He mixed in less impressive years but won 189 games in pinstripes.
27. Gil McDougald, IF (47)
A gifted infielder who played third, second and short -- basically, wherever Casey Stengel needed him -- and hit 10-15 home runs a season, got on base and played in eight World Series in his 10 seasons with the Yankees. Largely forgotten now, but he was a five-time All-Star, finished in the top 10 in the AL MVP voting three times, and if players were described as "glue" guys in the '50s, McDougald would have been described as the "ultimate glue guy."
26. Tony Lazzeri, 2B (18)
The Hall of Famer drove in 100 runs seven times -- only
Jeff Kent
with eight has more as a second baseman. Lazzeri had one of the great days in baseball history on May 24, 1936, when he hit three home runs, a triple and drove in 11 runs.
25. Mel Stottlemyre, P (31)
More famous now for being Joe Torre's pitching coach for many years, Stottlemyre went 164-139 in pinstripes and pitched 250-plus innings nine seasons in a row -- with a high of 303 in 1969 -- before his arm finally gave out. His rookie season was 1964, the last year of the dynasty, and thus his only World Series appearance.
24. Roy White, OF (44)
Spent his entire career with the Yankees. Vastly underrated while still active -- he had a broad-based range of skills that didn't stand out, plus most people at that time had no idea that drawing a lot of walks was a good thing -- Bill James has written how he was a better player than Jim Rice. (
Baseball-Reference agrees
, giving White a career WAR of 44.5 compared to Rice's 41.5.) His best seasons came during offensive doldrums of the late '60s and early '70s and B-R rates him as the best position player in the AL in 1971, when he hit .292/.388/.469, big numbers for the era. The MVP voters didn't agree: He didn't receive a single vote.
23. Charlie Keller, OF (36)
Had Hall of Fame numbers through age 29, combining power and 100-plus walks a year, but a ruptured disc in his back ruined the second half of his career.
22. Allie Reynolds, P (26)
"Superchief" (he was one-quarter Creek Indian) was Casey Stengel's secret weapon during the Yankees' five straight titles from 1949-53, starting and relieving as needed. He went 7-2 in his World Series career with a 2.79 ERA, posting five complete games and four saves. In 1952 against the Dodgers, he pitched a four-hit shutout in Game 4, saved Game 6, and pitched three innings of relief to win Game 7. He delivered 131 of his 182 career victories with the Yankees, after coming in a trade with Cleveland for Joe Gordon.
21. Graig Nettles, 3B (29)
One of the great heists in Yankee history was stealing Nettles from the Indians after the 1972 season for John Ellis, Jerry Kenney, Charlie Spikes and Rusty Torres; there's a reason you've never heard of any of those guys. A gifted fielder who remained a productive hitter with the Yankees into his late 30s, during the 1977-78 World Series years Nettles finished fifth and sixth in the AL MVP voting -- ahead of Reggie Jackson both seasons.
20. Phil Rizzuto, SS (20)
Would rate higher if you want to give extra credit for his announcing career.
[+] Enlarge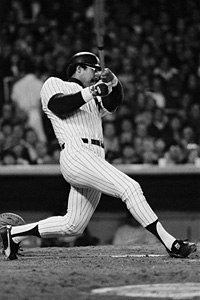 AP File PhotoReggie Jackson made an impact in his five seasons with the Yankees.
19. Reggie Jackson, OF (15)
Reggie was a Yankee for only five seasons, so it's difficult to place him much higher. While still a great hitter in the Bronx, his fielding became an issue and he was no longer one of the very best players in the league as he had been with the A's (Baseball-Reference has him as the AL's best player three seasons with Oakland). But he obviously was dynamic, memorable and his three-homer World Series game in 1977 gave the Yankees their first World Series title since 1962 and cemented his legend status.
18. Alex Rodriguez, 3B (13)
A-Rod has averaged 38 home runs, 120 RBIs, 107 runs and a .952 OPS with the Yankees. He's won two MVP awards. He won a World Series. His place as an all-time great Yankee is deserved and should be unquestioned by now. In fact, he even finally qualifies as a True Yankee.
17. Ron Guidry, P (17)
I can still remember sitting in the family station wagon and hearing the report on the radio that Rice had edged out Guidry for the 1978 AL MVP Award. Rice received 20 first-place votes, Guidry the other eight. I wasn't a Yankees fan, but I was angry that Guidry didn't win the award. I mean,
25-3
just sounded surreal. He never came close to that season again, of course, but he won 20 twice more and finished with 170 career wins.
16. Willie Randolph, 2B (33)
A tremendously underrated player (check his ranking from our panel) who did everything well except hit for power. Even then, he was one of the best offensive second baseman in baseball. Here are his annual rankings among all second basemen via Baseball Prospectus' VORP statistic (runs produced above a replacement-level second baseman): 5th, 7th, 3rd, 4th, 1st (1980), 12th, 8th, 13th, 6th, 9th, 5th, 2nd (1987), 27th, 12th (no longer with Yankees), 27th, 6th, 21st. Factor in that he was a very good glove man and a good baserunner who had more than 2,200 career hits, and you can make a Hall of Fame case for him.
Follow David Schoenfield on Twitter at @dschoenfield. Follow the SweetSpot blog at @espn_sweet_spot.