SweetSpot:

Charlie Morton
August, 19, 2014
8/19/14
12:29
AM ET
By
Christina Kahrl
| ESPN.com
This is a big week for the
Pittsburgh Pirates
, perhaps even a defining week. Monday night's loss to the
Atlanta Braves
was their sixth straight. They're now two games back in the wild-card standings, with the Braves between them and the Cardinals and Giants.
The big factor that people no doubt worry about is that they've gone 5-9 since the grudging acknowledgment that reigning NL MVP
Andrew McCutchen
had to go to the disabled list. Add in that second baseman
Neil Walker
has been healthy enough to make just five starts in August in what had been his best season since his rookie year, and the Pirates have had to get by a whole lot of
Jayson Nix
and
Michael Martinez
. Some of those losses have been especially tough, including getting swept over the weekend in a trio of one-run losses to the Nationals, and losing four one-run games during McCutchen's absence. Operating without their best hitter, as well as their best starting pitcher --
Gerrit Cole
-- and those margins are that much tighter.

I'd argue that the absences of Cole and
Charlie Morton
have been every bit as critical as the losses in the lineup. Since the break, the Pirates have averaged 4.6 runs per game, and even 4.1 with McCutchen on the DL, slightly above league-average for the NL. But on the pitching side, since the All-Star break the Pirates have seen some things unfold that they have to have anticipated:
Jeff Locke
's transient magic once again fading with repeated exposure to National League lineups that have cranked out a 1.60 WHIP in his last six starts, while
Edinson Volquez
has been looking very much like nothing more than a No. 5 while allowing 4.9 runs per nine in his six turns in that time. These are not the guys you're going to win a division with; they're whom you get by with when Cole and Morton are out. The happier news is that
Vance Worley
looks like a keeper, but we'll see if he pushes past Volquez to enter postseason rotation consideration.
One of the things you can consider a lesson learned is that the enthusiasm for the Pirates' young outfield is still mostly deserved.
Starling Marte
has been excellent since the All-Star break, with an 1.132 OPS.
Gregory Polanco
, not so much (.632 OPS), but it's too soon to see if he's going to have to join
Pedro Alvarez
on the team's growing pile of disappointing superstars-to-be (or not). But another happy surprise is that
Josh Harrison
seems as ready as
Omar Infante
was to make people eat those "
that
guy's an All-Star?" taunts, hitting .331/.369/.570 since the break.
The weeks to come are going to provide all sorts of interesting questions for Clint Hurdle and company as they try to get back on top, because the Pirates and Hurdle have proven themselves reliably creative when it comes to lineup solutions in particular. I think it's fascinating to see them play Harrison at shortstop these last four games. Breaking out a rare "small sample-size" caveat this late in the season, it hasn't been lovely (the first three games were at a minus-38 Defensive Runs Saved level for a full season), but if by some chance he proves that he can play short as a regular, that creates an expanded range of options in the lineup. It might even provide Alvarez a chance at redemption at third base, at least against right-handed pitching -- if the choice is between
Jordy Mercer
(.656 OPS, career) or
Clint Barmes
and Alvarez (.790 OPS) against a righty. I'd like to see a loose Alvarez-Mercer platoon in the lineup. Maybe Harrison is only affordable at shortstop on days when Cole pitches (because of his large number of strikeouts) or Worley (because he's a fly ball-out guy), but it's interesting to see Hurdle and the sabermetrically savvy Pirates experiment, even at this point of the season.
And that's because, with 37 games left, everything is still possible. The good news is that they'll get McCutchen
back from the DL on Tuesday
, and Cole should make his return from the DL on Wednesday, in time to face these Braves. Sometime around Sept. 1, they should have Morton back to start for them as well.
As long as the Pirates are within a game or two, when you're talking about adding that kind of talent, you're talking about a team with a chance. Last year's playoff appearance should not be a one-time thing. And after what Pirates fans endured for two decades, you have to hope it wasn't.
Christina Kahrl writes about MLB for ESPN. You can follow her on Twitter.
April, 6, 2014
4/06/14
3:07
PM ET
By
Christina Kahrl
| ESPN.com
Top prospect
Jameson Taillon
is going to miss the season with Tommy John surgery? If you wanted to see the latest Pirates prodigy pumping mid-90s gas and big-breaking benders in the big leagues, you're going to have to wait another season.
Considering there was little to no concern about Taillon's workload and he'd been handled as carefully as any top prospect should be, this automatically becomes another suggestion that some guys are just going to get hurt. But more important, it's extremely disappointing news, because we're greedy when we start talking about a young pitcher this good. Whether you're a Pirates fan or just a fan of the game, you want to see him, because we all want to see him pitch the way he can.
On the other hand, will this hurt the Pirates that badly in terms of the 2014 season? Over the course of a full 162-game campaign, maybe it won't. The Pirates still have depth to cover their rotation needs for the full season. A front four of
Francisco Liriano
,
Gerrit Cole
,
Wandy Rodriguez
and
Charlie Morton
is a quartet you can win with -- if everyone stays healthy, which is no sure thing.
[+] Enlarge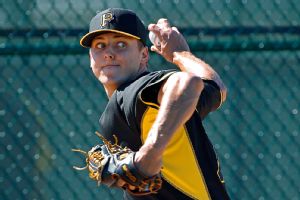 AP Photo/Gene J. PuskarFans will have to wait another year to see Jameson Taillon pitching regularly in the Pirates' rotation.
They also have two live science projects to choose from for their fifth slot. Right now, they have the task of building journeyman
Edinson Volquez
back up to what he was, as
Jerry Crasnick covered in detail
. Perhaps later, they'll see if they can bring
Jeff Locke
back -- once he's healed up from his strained oblique -- to the form that got the defense-dependent lefty into last year's All-Star Game. If both of them pan out, the Pirates would be ready to endure an injury among their front four. And they have swingman
Jeanmar Gomez
to turn to before having to reach from Triple-A for a solid organizational guy like
Brandon Cumpton
. So they have the depth to be able to compete and perhaps contend with.
And keep in mind that in terms of the full scope of Taillon's career, this may also perhaps not dent their long-term outlook that much. Assuming that Taillon is one of the 75 percent or so of guys who recover fully from the surgery, he's going to be a big part of their 2015 rotation at some point, the same as was already expected before injury struck.
However, the problem with losing Taillon now is multifold. A great young pitcher just experienced the first major stumbling block of his career. Here's hoping he can roll with it, recover fully, and work with the Pirates to deliver on the promise that has so many fans ready to watch him in the majors. And there's that element of anticipation that's always associated with a young prospect, now thwarted.
But the bigger problem by far is losing the stuff that fuels that anticipation about Taillon's future. As Cole showed last October -- as did
Michael Wacha
for the Cardinals and
Sonny Gray
for the Athletics -- you want to be able to turn to a guy with the stuff to overpower a postseason lineup. Any postseason lineup. Guys like Morton or Rodriguez are great assets to have over a full six months, but are they the guys you want on the mound in a must-win postseason game? To advance deeper into October? It's possible, but you'd rather have the outcome depend on someone with Taillon's talent, someone with an arm so able he can take complete control of a low-scoring game. Say Liriano gets hurt or Volquez doesn't become their latest resurrection. Who starts a crucial third or fourth game in an League Division Series? Who starts twice in an LCS?
Assuming the Pirates make it back into the postseason, that's when losing Taillon might hurt most, when they won't have the freedom to choose one of their best arms to exploit a championship opportunity. And if anyone knows how rare those opportunities can be, it's Pirates fans, who just recently saw their team's two-decade run of futility end.
Christina Kahrl writes about MLB for ESPN. You can follow her on Twitter.
September, 2, 2013
9/02/13
10:52
PM ET
When the Oakland A's acquired
Chris Young
in the offseason from the Arizona Diamondbacks, it appeared
Coco Crisp
would be the odd man out in the Oakland outfield, or at least see his playing substantially reduced. While it was billed as a "four guys for three positions" type of arrangement along with
Yoenis Cespedes
and
Josh Reddick
, Young was viewed as the better defender in center field, and Cespedes and Reddick, Oakland's two best position players a year ago, weren't likely to sit too often.
It's not that Crisp was going to sit on the bench; after all, he put up a solid .259/.325/.418 line last year with 39 steals in 43 attempts. As a switch-hitter, he would help give Bob Melvin the platoon advantage no matter who would be pitching. But Crisp's crucial misplay against the Detroit Tigers in the American League Division Series cost the A's a victory, forcing a Game 5 confrontation against
Justin Verlander
that proved to be all Verlander, and Young's power potential would be intriguing to a club that relied on heavily on the home run in 2012.
Whatever the plan, it has worked out that Crisp has been the A's best outfielder, and their second-most valuable position player behind third baseman
Josh Donaldson
. With Cespedes, Reddick and Young all struggling at the plate, where would the A's be without Crisp? Not tied with the Rangers for the AL West lead. Just over a week ago, the A's looked like a team on the fall, at risk of losing its hold on the second wild card to the Indians or the Orioles or maybe the Yankees. Now they've won seven of eight and caught the Rangers in the standings for the first time since Aug. 9.
[+] Enlarge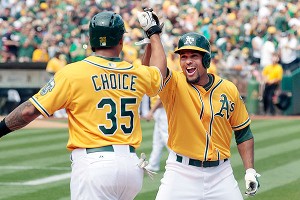 Cary Edmondson/USA TODAY SportsCoco Crisp has reason to celebrate, and so do the A's.
In the opener of a crucial three-game series in Oakland against the Texas Rangers, Crisp hit the go-ahead two-run homer in the fifth, hitting the left-field foul pole and upheld upon review, and the A's bullpen held on for the
4-2 victory
. It was Crisp's career-high 17th home run, but maybe his power shouldn't be that big a surprise: He hit .281/.349/.511 in the second half last year with eight home runs. He has been hitting like this since last July.
Crisp was just one of Monday's surprise heroes -- players who usually fly under the radar but provide the contributions that push teams into the playoffs. Here are a few others:
June, 7, 2012
6/07/12
1:33
AM ET
By
Justin Havens, ESPN Stats & Information
| ESPN.com
The Pirates have won eight of their past 11 overall and sit just three games out of first place in the National League Central. While it was just last year that we were talking about the "surprising" Pirates before a remarkable second-half collapse, 2012 might be different. Below is a look at what's fueling the Pirates' run this season, how we got to this point and how much of it we can expect to last.
Pitching fueling the Pirates
The Pirates are posting one of their best pitching seasons in the last 30 years. In fact, it's the best since 1984 and eerily similar to 1992 -- the last season they had a winning record.
Pirates' lowest team ERA since 1980:
1984: 3.11
2012: 3.30
1971: 3.31
1992: 3.35
1976: 3.36
The Pirates have seen their overall ERA drop each season since 2010, which is also true for the team's starting pitching ERA. However, the relief pitching has experienced an improvement going all the way back to 2008. In fact, the Pirates' bullpen ERA is its lowest since 1975.
2012: 2.58 (third in the majors)
2011: 3.73
2010: 4.55
2009: 4.59
2008: 4.66
How did we get here?
What makes the Pirates' pitching success even more remarkable is how these pitchers were acquired -- largely, off the scrap heap. Here's a look at how general manager Neal Huntington and his team procured the notable top-performing pitchers on his roster.
Brad Lincoln
(2.40 ERA in 30 IP) -- Drafted by Pirates in first round of 2006 MLB draft.
Jason Grilli
(1.71 ERA in 21 IP, 35 SO) -- Signed as free agent, July 21, 2011.
James McDonald
(5-2, 2.14 ERA, 71 K in 71.1 IP) -- Acquired from Dodgers for
Octavio Dotel
, July 31, 2010.
Juan Cruz
(2.18 ERA, 20 K in 20.2 IP) -- Signed as free agent, Feb. 1, 2012.
Joel Hanrahan
(15 saves, 2.57 ERA -- Acquired from Nationals for
Sean Burnett
and
Nyjer Morgan
, July 30, 2009.
Erik Bedard
(3.72 ERA, 56 K in 55.2 IP) -- Signed as free agent, Dec. 7, 2011.
A.J. Burnett
(5-2, 3.76 ERA) -- Acquired from Yankees for two minor leaguers, Feb. 19, 2012.
Kevin Correia
(4.19 ERA in 58 IP) -- Signed as free agent, Dec. 17, 2010.
As you can see, most of the rotation members were acquired for very little cost; Burnett is making $5 million this season, Bedard $4.5 million, Correia $3 million and McDonald a crisp $502,500. This entire group is making less than $20 million. That's for 80 percent of a rotation and three key bullpen arms.
Can this be sustained?
Fielding Independent Pitching, or FIP, looks at the things a pitcher can control: strikeouts, walks, hit by pitches and home runs allowed. FIP is an effective statistic at predicting future performance -- i.e., a pitcher's FIP number is usually a better indication of his true skill, good or bad, than his present-day ERA. So while the Pirates starters can expect some regression (do we really think McDonald will keep his ERA barely above 2.00 all season?), FIP provides a great deal of optimism regarding the ability to sustain solid performance.
As you can see, 60 percent of the team's starting rotation (though Charlie Morton is currently on the disabled list) can actually be expected to improve moving forward based on their FIP. The only pitcher "predicted" for a significant dropoff is Correia.
Improvements worth noting
What has been the key to Burnett's turnaround this season? While some of it can anecdotally be attributed to the move to the National League, it's much more about increased effectiveness with his fastball.
McDonald's breaking stuff, meanwhile, has been outstanding, among the most effective in all of baseball. Here's a list of highest strikeout rates with curveballs and/or sliders among starting pitchers:
Edwin Jackson
, Washington -- 53.6%
Chris Sale
, White Sox -- 53.0%
Stephen Strasburg
, Washington -- 51.7%
A.J. Burnett, Pittsburgh -- 50.8%
James McDonald, Pittsburgh -- 48.5%<< >>44.1% strikeout rate last season
(Minimum 200 curveballs/sliders thrown)
Specifically, McDonald has become much better at using his breaking pitches against left-handed batters:
Bedard's out pitch has always been his curve, and that is no exception once again. However, he's been markedly more effective with the pitch.
Justin Havens is a researcher for "Baseball Tonight." Follow him on Twitter @jayhaykid.
February, 18, 2012
2/18/12
11:00
AM ET
By
You Can't Predict Baseball
| ESPN.com
Last year, You Can't Predict Baseball came up with
bold predictions
for the year. We had a lot of fun coming up with them, and then laughing at how hilariously wrong they were
at the end of the year
. This year, we're bringing these predictions to SweetSpot, along with explanations for some of them. Keep in mind, these predictions are supposed to be bold, but not insane -- even we know the Orioles aren't going to the playoffs in 2012.
Los Angeles Angels:
Kendrys Morales
stays healthy all year.
Houston Astros:
Bud Norris
is top five in K/9 in the NL.
We figured something good had to happen to the Astros, right? Norris actually has a pretty nice career K/9.
Oakland Athletics:
Yoenis Cespedes is their starting center fielder by Memorial Day.
Toronto Blue Jays:
Brandon Morrow
makes the jump to elite starting pitcher.
He's struck out more than 10 batters per 9 innings two years running, though his ERAs have remained ugly. We think this is the year his results finally match the stuff, especially considering his declining walk rate.
Atlanta Braves:
Julio Teheran
has more wins than
Tim Hudson
.
[+] Enlarge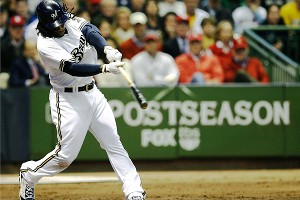 AP Photo/David J. PhillipWith Prince Fielder gone to Detroit and Ryan Braun facing possible disciplinary action, Rickie Weeks could lead the Milwaukee Brewers in home runs in 2012.
Milwaukee Brewers:
Rickie Weeks
leads the team in home runs.
He was fourth on the team last year, with 20. In front of him were Corey Hart with 26, Ryan Braun with 33, and Prince Fielder with 38. Fielder is gone, and for this prediction we'll assume Braun will miss a third of the year due to a suspension. It's not too bold to think Weeks could pass Hart in 2012.
St. Louis Cardinals:
Carlos Beltran
outproduces
Albert Pujols
from last year.
Albert Pujols was great last year, but not quite best-player-of-his-generation Albert Pujols. If healthy, it's not absurd to think of Beltran outproducing Pujols' 5.1 WAR in 2011.
Chicago Cubs:
Matt Garza
isn't their best pitcher.
It'll be Ryan Dempster, who had great peripherals but bad results last year.
Arizona Diamondbacks:
Aaron Hill
will be good again.
He was great with them in limited time, and Arizona's park is quite hitter-friendly.
Los Angeles Dodgers:
James Loney
will be a top-three first baseman in the National League.
Many thanks to Mike Scioscia's Tragic Illness for somewhat alerting us to this one. We just decided to take it semi-absurdly far.
San Francisco Giants:
Madison Bumgarner
is their best pitcher.
In terms of ERA, he already wasn't very far behind Matt Cain and Tim Lincecum, and his K/BB ratio eclipsed theirs by quite a bit.
Cleveland Indians:
They'll have the best pitching in the American League Central.
We're banking on Ubaldo Jimenez, making a major comeback to something closer to what he was in 2010, and the rest of the staff displaying the good that they did in 2011. We're also counting on the Tigers' starters not being very impressive behind Justin Verlander, which is bold but not quite insane, and the pitching of the White Sox, Twins and Royals not being able to keep up with Cleveland's.
Seattle Mariners:
Jesus Montero
catches 100-plus games.
The Mariners probably aren't going to compete, so why not try and play him where he'll accrue the most value?
Miami Marlins:
Despite all their new acquisitions and the hype, they still finish fourth in the NL East.
When you think about it, this one isn't so crazy. If Josh Johnson isn't healthy and maybe even if he is their pitching still trails that of Philadelphia, Washington, and Atlanta; even with Heath Bell, we don't think their bullpen is as good, either. Their offense might be better than some of those teams', but the Marlins were quite a bit below league average offensively last year and we're not sure how much Jose Reyes is going to make up for that.
New York Mets:
Mike Pelfrey
is the worst starter in the NL.
Pelfrey's been pretty terrible two of the past three years, and now they're moving the fences in at Citi Field. He was far better in his huge home stadium, but we're guessing with the moved-in walls he'll be significantly worse at Citi. Here at YCPB, we actually don't think the Mets are going to be quite as dire as many are saying, even if they do come in last place in the NL East - but Pelfrey won't be a bright spot.
Washington Nationals:
Stephen Strasburg
has a 17-strikeout game.
Baltimore Orioles:
Matt Wieters
is the best catcher in the AL.
A lot of people are so obsessed with Wieters not matching the hype that they didn't notice he became a plus offensive performer last year, to go along with very good defense. His taking the next step isn't that bold as predictions go, especially if Joe Mauer has to move off catcher.
San Diego Padres:
Luke Gregerson
is a top-three closer in the NL.
Philadelphia Phillies:
Cole Hamels
is their best starter.
And this isn't meant to be a slight to Roy Halladay or Cliff Lee, but considering their ages and the fact that Hamels is pretty darn good himself, plus a possible boost from a contract year...
Pittsburgh Pirates:
Charlie Morton
is their All-Star.
Texas Rangers:
Yu Darvish
isn't their best starter -- but he's still good.
And we think he'll be pretty good, we just think Derek Holland will become more consistently good, or Matt Harrison will put up numbers like his 2011.
Tampa Bay Rays:
James Shields
will have no complete games.
Predicting someone to have no complete games might not seem bold, but it is when it's a guy who was known as "Complete Game James" last season. Shields did have 11 complete games in 2011, an almost unheard-of number these days, but he had no complete games in 2009 or 2010.
[+] Enlarge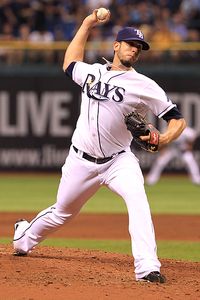 Kim Klement/US PresswireAfter none in either 2009 or 10, James Shields pitched 11 complete games for Tampa Bay in 2011.
Boston Red Sox:
No one hits 30 home runs.
This might seem crazy when you consider their great offensive numbers last year, but only one player on their team hit 30 home runs and it was Jacoby Ellsbury with 32.
Cincinnati Reds:
Brandon Phillips
is the best second baseman in the NL.
Colorado Rockies:
Jamie Moyer
will have the best HR/9 on the staff.
Kansas City Royals:
They reach .500.
While their pitching won't be great, their offense will take a big step forward this year. Combined with the rest of their division being the Tigers and some dumpster fires, it's not that difficult to see it happening.
Detroit Tigers:
They score fewer runs than they did in 2011.
Yes, that's even with Fielder. It's not improbable that Jhonny Peralta, Alex Avila and Delmon Young regress quite a bit from their numbers with Detroit last year, and that Prince Fielder's production "only" makes up for the offensive loss of Victor Martinez in 2012. They'll still have a very good offense, though.
Minnesota Twins:
Joe Mauer hits 15 home runs.
Chicago White Sox:
Robin Ventura gets ejected more times than Ozzie Guillen.
Look at the state of the White Sox. We'd get ejected too.
New York Yankees:
Hiroki Kuroda
leads the team in ERA.
You Can't Predict Baseball is an affiliate of the SweetSpot network.
June, 27, 2011
6/27/11
1:25
AM ET
The
Pittsburgh Pirates
couldn't complete a series sweep of the
Boston Red Sox
, but taking two of three and knocking the Sox out of first place qualifies as one of the biggest moral victories for the franchise in years.
A year ago, the Pirates were a disaster. Nothing new there, of course, but even for them their 57-105 season was below standards -- the 105 losses were the most in the majors since the Royals lost 106 in 2005, and they allowed the most runs in the majors and scored the second-fewest. Considering their big offseason moves were to sign
Lyle Overbay
,
Matt Diaz
and
Kevin Correia
, expectations were not high, but here stand the Pirates at 39-38 and just four games out of first place in the NL Central.
It's enough to make them my biggest surprise story of the first half.
But ... can they keep it going? The Central remains wide open: The Cardinals have lost 12 of 15, the Brewers struggle on the road (15-24), and the Reds haven't put it together (tied with the Pirates). Let's look at four key reasons why the Pirates are a game over .500 and whether they can improve in the second half.
1. Andrew McCutchen is awesome.
According to FanGraphs' WAR (wins above replacement), McCutchen has been the sixth-most valuable position player in baseball, trailing only
Jose Bautista
,
Adrian Gonzalez
,
Jose Reyes
,
Matt Kemp
and
Curtis Granderson
. His defense has improved, his on-base percentage is up 35 points from a year ago, and his slugging percentage is up a bit. Last season, he was a good player. He's become a superstar.
Likelihood to continue: Excellent.
2. The team's defense has improved dramatically.
Last season, UZR (Ultimate Zone Rating) ranked the Pirates as the worst defensive team in the majors. This season it ranks them ninth. Other than McCutchen, no individual Pirate rates as especially spectacular; they're just solid across the board.
Neil Walker
and
Ronny Cedeno
appear improved from last season and the fewer innings
Pedro Alvarez
plays at third base only makes the defense better.
Likelihood to continue: Fair. Of course, the defensive numbers are tied into the next category ...
3. The starting rotation has been solid.
The Pirates are sixth in the NL with a 3.70 ERA from the rotation. Let's take a closer look at the five starters.
Jeff Karstens: Currently ranks fifth in the NL with a 2.66 ERA, despite allowing 14 home runs in 84 2/3 innings. No offense to Jeff Karstens or his family, but he's not this good. As a finesse righty with an 88-89 mph fastball, there's only a fine line of success for him. So far he's managed to toe that line: Thirteen of those homers have come with the bases empty and he's held hitters to a .151 average with runners in scoring position.
Paul Maholm: He's been the biggest beneficiary of the improved defense, as his batting average on balls in play, .308 over his career, is at .250 in 2011. His K and walk rates aren't really any different than his career norms. While his home run rate has dropped, it seems unlikely he can maintain a 3.21 ERA over the second half.
Kevin Correia: We've discussed him in the blog before. He's cut way down on his walks at the expense of fewer strikeouts, but the new approach has worked. As long as he continues walking two batters per nine, he can remain successful even with his low strikeout rate. As with Maholm, however, any decline in defense will be especially problematic for him.
Charlie Morton: He's not that good. Among 113 qualifed major league starters, he's 62nd in ERA ... but 110th in runners allowed per nine. OK, he's gotten a lot of groundballs so far and has allowed just two home runs. Call me skeptical.
James McDonald: He's 112th among those 113 starters in runners allowed per nine. Until he stops walking four or five batters a game, he's not going to be anything more than a fifth starter.
Likelihood to continue: Poor. Clint Hurdle has expertly managed the rotation and seems to understand their limitations. The Pirates have pitched the fewest 100-pitch games in the league and rank 14th among NL teams in innings by the starters. Even though Hurdle has done a nice job with them, I don't believe they'll sustain this level.
4. Joel Hanrahan has been lights out as closer.
Hanrahan should make the All-Star team with a 1.24 ERA and a perfect 22-for-22 in save opportunities. Hanrahan has always had the big fastball, but like Correia, he seems to have been benefited from some simple advice from pitching coach Ray Searage: throw more strikes, walk fewer guys. Last season, Hanrahan blew hitters away, fanning 12.9 per nine. He walked 3.4 per nine, which was actually way down from his previous season with the Nationals. This year, his strikeouts are down but so are his walks. He's throwing his fastball more and his slider less, and it's resulted in more groundballs.
Likelihood to continue: Excellent, although he will blow a save or three in the second half.
As you can see, the Pirates will be hard-pressed to stay in the race, or even finish .500. But they've been a terrific story so far and, who knows, maybe they will stay in this thing and have their first .500 season since 1992. I certainly hope so.
SERIES OF THE WEEK


Boston at Philadelphia, Tuesday through Thursday
Tuesday:
Josh Beckett
(6-2, 1.86) vs.
Cliff Lee
(8-5, 2.87)
Wednesday:
John Lackey
(5-6, 7.36) vs.
Vance Worley
(2-1. 2.83)
Thursday:
Jon Lester
(9-4, 3.66) vs.
Kyle Kendrick
(4-4, 3.23)
The pitching matchups fall in Boston's favor as right now the Sox are scheduled to miss
Cole Hamels
and
Roy Halladay
, although Hamels could start Thursday on regular rest if Charlie Manuel decides to move around his rotation. Beckett hasn't pitched since June 15 due to an illness but leads the majors in ERA, WHIP (0.92) and opponents' batting average (.174). Lee, meanwhile, is coming off consecutive shutouts and has allowed just one run his past four starts.
The Phillies have struggled to score runs in interleague play, with just 17 runs in nine games against Texas, Seattle and Oakland. The Red Sox lead the majors in runs scored, but will presumably be without DH
David Ortiz
, although Terry Francona has mentioned the possibility of playing Adrian Gonzalez in the outfield so Big Papi doesn't sit for nine straight games. I wouldn't make the move -- you're making defense considerably worse at two positions while risking injury to Gonzalez -- but it's something to watch for.
PITCHING MATCHUP OF THE WEEK

Kershaw
Saturday:
Clayton Kershaw
(8-3, 2.93) vs.
Jered Weaver
(9-4, 1.97), Dodgers at Angels
There are several must-see duels this week -- including the above Beckett-Lee game, a
Tommy Hanson
-
Michael Pineda
matchup in Seattle on Tuesday that could go 19 scoreless innings, Cole Hamels-
Ricky Romero
on Friday -- but this one I'll be sure to watch, record or check out the replay on MLB.TV. By the way, considering the mess with the Dodgers, are the Angels now L.A.'s No. 1 team?

Weaver
After "slumping" in May with a 3.38 ERA, Weaver has a 1.76 ERA in June. He hasn't allowed more than four runs in a game this season and has now gone 24 consecutive starts allowing four runs or fewer dating back to last August. Kershaw -- who had a 31-start streak of four runs or less of his own from May 2009 to April 2010 -- leads the majors in strikeouts.
From
Baseball-Reference.com
, the longest such streaks of allowing four runs or fewer since 2001:
1.
Jake Peavy
, Padres, Aug. 2003-May 2005: 39 starts (20-7, 2.39 ERA, 244 IP)
2.
Johan Santana
, Twins, July 2006-July 2007, 35 starts (21-8, 2.60 ERA, 238 IP)
3. Johan Santana, Twins, May 2004-May 2005, 32 starts (23-5, 2.04 ERA, 229 IP)
4. Clayton Kershaw, Dodgers, May 2009-April 2010, 31 starts (9-7, 2.33 ERA, 177 IP)
5.
Josh Johnson
, Marlins, April 2009-Sept. 2009, 29 starts (13-5, 3.10 ERA, 182 IP)
5.
Roger Clemens
, Astros, Sept. 2004-Aug. 2005, 29 starts (14-4, 1.35 ERA, 199 IP)
It's a good reminder of how dominant Santana was over those three seasons for the Twins, when he went 55-19 with a 2.75 ERA and WHIP under 1.00.
THREE SWINGS

Hamilton
1.
Josh Hamilton
is right about one thing -- he
doesn't
hit in day games. He tried new contact lenses on Saturday and went 0-4 with four strikeouts (he wasn't wearing sunglasses at the plate) and Ron Washington didn't play him Sunday. Is there any truth to his "blue eyes in day games" theory? From the Elias Sports Bureau, here are the top 10 active hitters with the biggest night/day batting average differential (minimum 2,000 plate appearances):
1. Hamilton: .333 night, .240 day (-.093)
2.
Delmon Young
: .307 night, .249 day (-.058)
3.
Casey Blake
: .277 night, .229 day (-.048)
4.
Denard Span
: .302 night, .263 day (-.039)
5.
Michael Bourn
: .277 night, .239 day (-.038)
6.
Rickie Weeks
: .270 night, .232 day (-.038)
7.
Luke Scott
: .276 night, .239 day (-.037)
8.
Johnny Damon
: .298 night, .261 day (-.037)
9.
Craig Counsell
: .269 night, .232 day (-.037)
10.
Prince Fielder
: .294 night, .258 day (-.036)
Based on this limited sample size, let's just say Hamilton's blue-eye theory doesn't quite hold up. Clearly, he does have a real problem during day games -- his split is 35 points worse than Delmon Young, the No. 2 guy.
But what's more interesting is six of the 10 guys on the list have played primarily for dome/retractable roof teams -- Young (domes in Tampa and Minnesota), Span (Metrodome), Bourn (Houston), Weeks (Milwaukee), Counsell (Arizona and Milwaukee) and Fielder (Milwaukee). Makes you wonder if the lighting during day games in those places isn't very good. Worth a more in-depth study, perhaps.
2. Through June 25, MLB attendance was down 325,000 from a similar point in 2010. You'll hear this hammered home all season long by baseball haters. That's about 282 fans per game. Of course, what the haters won't mention is the Dodgers by themselves are down about 371,000 -- and can you blame Dodgers fans for not showing in droves? The second-biggest drop? The Mets, down about 144,000 fans. So take out the two troubled ownership groups and attendance is up over a year ago. The biggest increases? The Rangers and Giants. And Sunday's games saw six crowds over 40,000-plus. Don't let them tell you baseball is dying.
3. Brien Jackson, who writes for our Yankee blog, had a couple tweets on Saturday night that I couldn't agree with more. It's time the New York media (and to a certain extent, Yankee fans) realize that
A.J. Burnett
is what he is -- an overpaid No. 3 starter. It's time the media stops setting Burnett up for its wrath by saying he has great stuff. Burnett's a two-pitch pitcher without great command, and his fastball isn't even what it used to be. Look, Burnett's had a nice career -- 117 wins, ERA better than league average -- but he's never been a
great
pitcher. Yes, he led the AL once in strikeouts, but the last four seasons he's ranked 90th, 48th, 50th and 29th among major league qualified starters in ERA.
RANT OF THE WEEK
Entering Sunday, the quality start percentage across the major leagues was 55 percent, up two percent from last season and seven percent from 2008 and 2009. It's the highest total since 1988's 56 percent. Complete games are up, on a pace of 207 for the season, which would be the most since 209 in 2003. Starters are averaging 6.1 innings per start, the most since 6.1 in 1998.
All this is a way of saying starters are pitching better and going deeper into games than a long time. OK, no surprise there. But few teams are adjusting to this -- most are still carrying 12, or even 13, pitchers. Managers are gaining slight tactical advantages out of the bullpen ... but giving up perhaps bigger tactical advantages with a smaller bench of position players. If starters are going 6-7 innings per start, it's very difficult to get seven or eight relievers regular work. Let's see teams cut down to six or seven relievers and carry an extra bat on the bench that you can use to pinch-hit against that LOOGY or ROOGY in the middle innings. Runs are scarce these days; having more pinch-hitters available could be a nice little edge.
Follow David on Twitter @dschoenfield and the SweetSpot blog on Facebook.
PHOTO OF THE DAY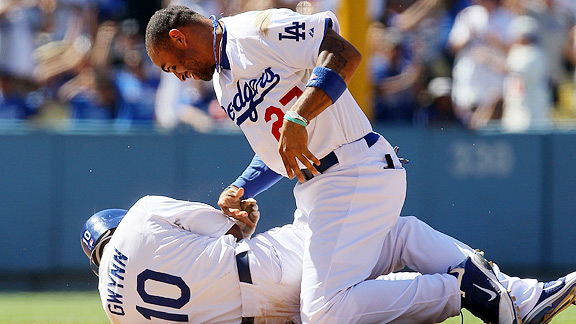 Stephen Dunn/Getty ImagesMatt Kemp has Tony Gwynn Jr. down, and he's not letting him up until the rest of his teammates can dog-pile on top. But that's what happens when you score the winning run, as Gwynn did Sunday.
May, 24, 2011
5/24/11
4:51
PM ET
If you like your podcasts filled with opinion and the occasional rant, then Tuesday's
Baseball Today podcast

with myself and Keith Law is just for you ... and everyone else. Here are a few of the topics broached:
1. Yes, we discussed the messed up Mets on Monday's show, but now Keith gets his shot. Should the players be firing back? Listen and find out.
2. I feel like every day, between players and management, we can say "nice going" to someone for saying something silly.
Oakland Athletics
closer
Brian Fuentes
wins the award for late Monday night. See why.
3. Fans of National League teams rarely seem to want to hear it, but there are reasons why the American League is just flat-out better, and Mr. Law explains why.
4. Some major players returned to the lineup Monday, but can
Chase Utley
and
Josh Hamilton
adjust their style of play just to remain healthy? I don't think that's so easy.
5. So, the
Cleveland Indians
just keep on winning, five games better than any other AL team ... and one of us still doesn't believe. You know what? This won't be settled in the next few weeks, either.
Plus: Excellent emails, discussion about a top
St. Louis Cardinals
infield prospect, checking the potential debut schedule for baseball's top teen prospects, how MVP voting either should or should not correspond with a team's record, the top matchups for Tuesday and, really, so much more on Baseball Today! Enjoy and get those questions in for Wednesday!
May, 19, 2011
5/19/11
4:39
PM ET
Here are five reasons why
Thursday's ridiculous Baseball Today podcast

-- but ridiculous in a good way -- with me and Mark Simon
must
be listened to:
1. We probably could have talked for hours just about the Yankees-Orioles 15-inning affair,
Hector Noesi
, the umpires, etc. We didn't, but why wasn't
Bartolo Colon
given the same consideration to finish the game as
Jake Peavy
was?
2.
Jose Bautista
had an interesting Wednesday night, not only being bypassed at the plate, but with a wild defensive play. Mark reminisces about the anniversary of another memorable outfield throw.
3. Was Simon like this as a child, in a good way, of course? He harkens back to a 1985 memory with unearned runs galore, and discusses what
Vin Mazzaro
and Al Travers have in common. You think Mazzaro had a bad day?
4. OK,
Charlie Morton
, you've got our attention. But I'd trust the
Cleveland Indians
before I would Morton's ERA, as we delve deeper.
5. With run scoring down, are we watching baseball or soccer? As long as you're winning, does it matter?
Plus, a few excellent emails, why John Russell helped shape my childhood, looking past the box scores for information, how dangerous playing through the rain can be and really, so much more on Thursday's Baseball Today podcast! Don't forget to listen Friday as well!
April, 29, 2011
4/29/11
12:05
PM ET
The SweetSpot blog network weighs in with April's best surprises ...

Beachy
Atlanta Braves
Simply put, the Braves' most pleasant surprise has been
Brandon Beachy
. At this time last year, Beachy was a virtually unknown prospect at Double-A Mississippi. Now he's leading the Atlanta starting staff in strikeout per nine innings (9.51) and is a prime candidate for the NL Rookie of the Month award for April. At this pace, it's going to be impossible for
Mike Minor
to unseat him for the fifth-starter role, regardless of his dominance in Triple-A.
--Kevin Orris. Capitol Avenue Club
Florida Marlins
It is absolutely amazing that the Marlins are just a half-game out of first place, especially considering the rough start of
Hanley Ramirez
(.197/.299/.250). In another amazing twist, given the shaky outfield defense that was expected of them, the Fish have the best defensive efficiency in the National League, turning almost 73 percent of balls in play into outs, and understandably have given up the fewest runs in the Senior Circuit.
--The Common Man, The Platoon Advantage
New York Mets
Though the hot starts of
Ike Davis
and
Jose Reyes
have been greatly appreciated by Mets fans, they are not necessarily surprises -- at least, not compared to
Pedro Beato
. A Rule 5 pick, the hard-throwing Beato began the season as the last man out of the bullpen but has quickly emerged as arguably the Mets' most reliable reliever. Through 12 innings, Beato has yet to allow an earned run, has struck out eight and boasts a 0.75 WHIP. Perhaps most impressive, the youngster is now being called upon in high-leverage, late-inning situations.
--Joe Janish,
Mets Today

Bastardo
Philadelphia Phillies
The Phillies' most pleasant surprise has been
Antonio Bastardo
. As
Brad Lidge
,
J.C. Romero
and
Jose Contreras
succumbed to injury, Bastardo emerged as a legitimate late-innings option, striking out 15 and allowing just one run in 10 1/3 innings.
--Bill Baer, Crashburn Alley
Washington Nationals
Wilson Ramos
has been the Nats' pleasant (yet probably unsustainable) surprise. He is hitting a cool .375/.426/.563, while playing acceptably behind the plate, gunning down three of eight attempted base stealers. Given that he has a batting average on balls in play of around .450, he's sure to cool off a lot, but we're grateful for each additional day he keeps the corpse of Pudge Rodriguez from getting up to bat.
--Harper Gordek, Nationals Baseball
Chicago Cubs
Darwin Barney
came into spring training fighting to make the roster. One month into the season, he's a viable No. 2 hitter in the lineup and deserving of the spot on the All-Star ballot
Blake DeWitt
is hoarding.
--Joe Aiello, View from the Bleachers

Gomes
Cincinnati Reds
The plate discipline shown by
Jonny Gomes
has been the most pleasant surprise, by far. Gomes has drawn 19 walks in the first month (second in the league, behind teammate
Joey Votto
), after walking only 39 times in the entire 2010 season. Because of Gomes' patience, his OPS remains over .900, despite a batting average hovering around the Mendoza line.
--Chad Dotson, Redleg Nation
Houston Astros
As the last-place team in the NL Central, there's been very little for the Astros to be pleasantly surprised about. But for the team that won one series in April (a distinction the Mets would rather forget), its lone pleasant surprise is
Brett Wallace
, who is hitting great despite having the unfortunate situation of being sandwiched between
Carlos Lee
and
Bill Hall
. He leads the team in batting average (.373), on-base percentage (.441) and slugging (.518).
--Austin Swafford, Austin's Astros 290 Blog
Milwaukee Brewers
The best surprise for the Brewers is they're 12-12 despite
Zack Greinke
not making a start,
Corey Hart
missing nearly the entire month and the bullpen leading the majors with seven losses. They can thank the hot starts of
Ryan Braun
(.356/.454/.689),
Prince Fielder
(leading the NL with 23 RBIs) and
Rickie Weeks
(21 runs scored).
--David Schoenfield

Morton
Pittsburgh Pirates
In five starts,
Charlie Morton
already has as many wins as he did in 2010, and his ERA is 60 percent lower. Don't buy into it, though. His 18:18 strikeout-to-walk ratio is highly troubling, and his .253 BABIP is completely unsustainable, even though he's getting 2.25 grounders for every fly ball so far. The Pirates will have to hope the coming regression is accompanied by a return to form for
James McDonald
, who has been terrible.
--The Common Man, The Platoon Advantage
St. Louis Cardinals
When the Cardinals lost ace
Adam Wainwright
for the season, the pressure suddenly shifted to their starting rotation. In particular, to
Kyle Lohse
, the righty who made only 40 starts in the two seasons since signing a hefty 4-year, $41 million contract extension. Given that from 2009-10 his ERA was indistinguishable from his strikeout rate (though, to be fair, his expected Fielding Independent Pitching was much lower), expectations were tempered. So his 2011 campaign thus far -- five Wainwright-like starts with an ERA of 1.64 -- has been the most pleasant surprise for the Cardinals. He is inducing ground balls like never before (48.6 percent) and limiting self-inflicted damage with a walk rate (1.17 walks per nine innings) that
Cliff Lee
would be proud of. And he's tied for fourth among NL pitchers in Wins Above Replacement.
--Matt Philip, Fungoes.net
Arizona Diamondbacks
Bright spots are fairly few and far between for the D-backs. The starting pitching has been atrocious, but the hitters have proven solid. The most shocking performance has been from
Ryan Roberts
, a minor league lifer who has seemingly taken over the third-base job by hitting .311/.408/.607 through 20 games. It's not a mirage. Roberts is a legitimate hitter, and as long as his defense holds up, he'll be a very productive and cheap option for the near future.
--The Common Man, The Platoon Advantage
Colorado Rockies
Where in the world did
Jonathan Herrera
(.317/.442/.429) come from? The 26-year-old has never really done anything like this before and is a good bet to regress. Still, he's done a terrific job of making up for the disappointing, but totally predictable, performances of
Ty Wigginton
(.233/.309/.383) and
Jose Lopez
(.143/.169/.254).
--The Common Man, The Platoon Advantage

Kemp
Los Angeles Dodgers
The return -- and then some -- of
Matt Kemp
has been the biggest surprise. Even though he has tapered off in his past 10 games, going 10-for-41 with 15 strikeouts, he still has walked six times in that stretch and has had a superb start overall (1.072 OPS). One question is whether his walks reflect better plate discipline or the horrors of the Dodgers lineup after his spot in the order.
--Jon Weisman, Dodger Thoughts
San Diego Padres
In a month of unpleasant surprises, one exception for San Diego has been the performance of catcher
Nick Hundley
. After splitting duties with veterans
Henry Blanco
and
Yorvit Torrealba
the past two seasons, Hundley has assumed a larger role this year and responded. He is hitting .286/.356/.481 and providing the bulk of what little offense the Padres have been able to muster.
--Geoff Young, Ducksnorts
San Francisco Giants
The Giants' most pleasant surprise is this: They're still around .500 despite going through a month bereft of actual pleasant surprises. That's not to say the Giants haven't had good performances, but what's been good hasn't been surprising and what's been surprising hasn't been good.
Pablo Sandoval
shouldn't surprise anyone when he hits .330 in a month; he'll do that.
Buster Posey
and
Tim Lincecum
have played well, yes. They're good, you know. The bad surprises on the other hand: a bushel of injuries, month-long slumps from key regulars and defense that has had fans saying to each other, "You know, I don't think that fellow can really play that position."
--Otis Anderson, Bay City Ball
May, 15, 2010
5/15/10
12:38
PM ET
By
Peter Hjort, Capitol Avenue Club
| ESPN.com
I don't suppose it's simply my imagination running wild when I think that after the Braves shipped a trio of prospects to Pittsburgh for the privilege of employing
Nate McLouth
for the next two and a half years at the price of nearly $14 million, they probably expected a bit more than a .237/.342/.386 line over his first 514 plate appearances. Not that a .237/.342/.386 line is intolerable from your center fielder -- the average MLB center fielder hit .267/.334/.414 last year, for example -- but when coupled with
suspect defense
, it's not particularly valuable. Of course,
Charlie Morton
,
Gorkys Hernandez
, and Jeff Locke haven't exactly set the world on fire, but the oldest of that group is 26 and the trio is under team control for nearly two more decades combined. If there's anything the Pirates have it's time and patience (and
Andrew McCutchen
). But the Braves are not exactly in a position to wait on their increasingly rusty year-old toy to develop into a well-oiled machine.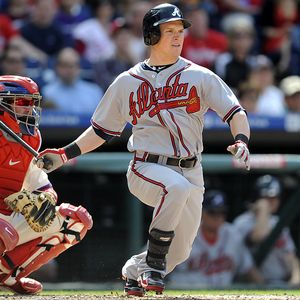 Howard Smith/US PresswireBraves center fielder Nate McClouth isn't living up to his 2008 numbers.
Five hundred and fourteen plate appearances is about a quarter of the sample I'd like to have when establishing true talent level, and anything within reason could theoretically happen in five non-consecutive months. I'd also be remiss if I didn't mention his .275 batting average on balls in play over that span likely indicates a bit of poor luck that Nate had nothing to do with. But at some point poor results are no longer an aberration, and when the
opinions of visual talent evaluators
align with the poor results, it comes much quicker. Maybe McLouth will snap out of his funk and hit 40+ doubles again, but at 5-11 and 28 years old I have to consider the possibility that he'll never come close to having another offensive year like he did in 2008.
Quite simply, the Braves were planning to and will need to get more production from their center fielder than McLouth has given them thus far. The question is, "Will they get it from Nate McLouth or somebody else?" Whether or not the Braves have made up their mind nobody knows, but I'll bet their patience is thinning if it hasn't run completely dry. So, it's probably appropriate to examine the various options.
Other than McLouth, the Braves have one player on the active roster that is "capable" of "playing" center field --
Melky Cabrera
. In addition to leaving much to be desired in the field thus far and appearing out of shape, Cabrera isn't doing a whole lot of hitting. His 15-to-13 strikeout-to-walk ratio is somewhat encouraging, but replacing a guy hitting .167/.302/.271 with a guy hitting .196/.283/.234 doesn't seem like much of an upgrade to me -- especially when said replacement owns a career .705 OPS.
Omar Infante
can be called upon in a pinch, but he's really an infielder by trade and I somehow doubt his career .265/.310/.390 line represents a solution to any scoring problem. The most intriguing option in the organization is their once top prospect --
Jordan Schafer
. Coming off of season-ending surgery to repair a
wrist fracture
that Jordan attempted to play through for nearly two months last year, he'll join the class AAA team tomorrow. As soon as the Braves like what they see from him, though, I imagine they'll be inclined to hand him the center field job in light of McLouth's recent struggles.
The right field job belongs to
Jason Heyward
and the Braves seem to have found a somewhat productive platoon in left field with
Eric Hinske
and
Matt Diaz
, so if McLouth does lose the center field job there's probably not another place to put him. Perhaps a team would be willing to take on all or some of the $11-plus million McLouth is owed through 2011 and acquire him via trade. He does have options, so as long as the Braves are willing to stick a player making $4.5 million in AAA, they could go that route. More likely he could be retained as a reserve, which is probably what he should be anyway.
If Schafer doesn't improve the situation, they may have to turn to the trade market. If not, maybe they turn to
Brent Clevlen
or Matt Young or
Gregor Blanco
. Maybe McLouth does start hitting again. Whatever happens, the Braves need to get more from center field, or the hole they're in may prove to be inescapable.
April, 23, 2010
4/23/10
2:20
PM ET
Amazing what a few lousy starts in April can do to your team ERA, huh? Dejan Kovacevic on what the Pirates can (or can't) do about
their awful numbers
:
Of signing a free agent, Huntington said, "By the time we could sign and stretch out one of the free agent options, we'll have internal solutions."

Of a possible trade: "No one has excess starting pitching they are willing to give up. Additionally, it makes little sense to panic and give up a legitimate prospect to acquire a short-term-fit, fringy, bottom-of-the-rotation starter that might be an incremental performance upgrade."

It is hard to imagine at this point what would not represent an upgrade over the Pirates' current rotation, with mild exceptions for Zach Duke and Paul Maholm. As Huntington indicated, few teams go legitimately five deep, but this staff has yet to firm up more than two, if that many.

That said, there also cannot be many teams struggling this much with the No. 5 starter.

Daniel McCutchen was hit hard yet again in the epic loss Thursday, six runs on eight hits, including home runs by Prince Fielder and Ryan Braun, over 3 2/3 innings. His ERA through three abbreviated starts is 14.73, exactly as it was before the first pitch, and opponents are batting .360 off him with five home runs in just 11 innings.

He is a virtual lock to be optioned back to Indianapolis, and he seemed aware of that after the game as part of a visibly emotional interview session with reporters.
Huntington's confident about
Ross Ohlendorf
returning soon to the rotation, and he's pretty sure that
Charlie Morton
will pitch better (with a 16.55 ERA, he'll pitch better just by falling out of bed before his next start). The bottom line, though, is that when you know you're going to finish last (or close to last), there's little sense in spending blood or treasure on one more stopgap. You go to war with the guys you've got, and you hope that prospects
Brad Lincoln
and
Tim Alderson
-- first-round draft picks, both -- are ready to contribute at some point between now and next summer.
Things really will get better, if only because they can't get worse. But this just isn't a decent rotation, and never really had a chance to be.
Meanwhile, McCutchen is just another great example of the fungibility of No. 5 starters (or if you prefer, another, lesser example of my lousy prognosticating). Here's what I wrote about McCutchen
just a few weeks ago
:
He'd better be a better pitcher this year, because last year he was really, really lucky to post that 4.21 ERA in his six starts. In McCutchen's defense, in 43 career Triple-A starts he's 20-15 with a 3.72 ERA and an excellent ratio (4.45) of strikeouts to walks. Of course, most people think pitchers who rely on changeups have a rougher transition to the Show than other sorts.

All of which is moot, for the moment. As long as Kevin Hart's battling Steve Blass Disease, McCutchen can throw as many changeups as he likes. Because with Charlie Morton ahead of him, and Hart and a cast of nobodies filling the rotation down in Indianapolis, McCutchen might be the safest No. 5 starter in the National League.
Safe? Really, Rob? If McCutchen isn't the first No. 5 starter to lose his job, he's close. Of course, a 14.73 ERA is funny that way, especially when it's accompanied by more walks than strikeouts. Last season in the majors, McCutchen gave up six home runs in 36 innings; this year, five homers in 11 innings. McCutchen and Morton will pitch better. But it'll be mostly Triple-A hitters who have to suffer their wrath.