SweetSpot:

Chris Antonetti
July, 26, 2011
7/26/11
12:32
AM ET
An impartial observer might take a snapshot of the American League Central and conclude that the race is an exercise in wheel-spinning. But that's not entirely correct: The four teams at the top just have no idea if they're coming or going.
The Twins were treated to a combination wedgie and noogie in a 20-6 loss to Texas on Monday and are now 47-55. But they seem strangely resistant to entertaining offers for free agent-to-be
Michael Cuddyer
, a solid righty bat, terrific clubhouse guy and crafty situational reliever in blowouts who might net them a decent prospect haul in return. It's nice to be loyal and cling to hope based on some recent fast finishes, but you have to wonder if Twins general manager Bill Smith is missing an opportunity to capitalize on a valuable asset here.
The Indians, who beat the Angels 3-2 on a walk-off single by rookie second baseman
Jason Kipnis
, have an AL Central-best run differential of plus-2. They began the season at 30-15, but injuries to
Shin-Soo Choo
and
Grady Sizemore
and an overall lack of lineup depth have stalled their momentum and left fans wondering when the magic ends and the reality check begins. Meanwhile, GM Chris Antonetti continues to look for a bat on a limited budget.
The White Sox, the American League's answer to the enigmatic Reds, are always a stinker away from an Ozzie Guillen expletive-fest. And general manager Kenny Williams, a guy who lives to make waves at the trade deadline, seems genuinely conflicted. Amid rumors that he's talking to St. Louis about a deal for young outfielder
Colby Rasmus
, Williams appeared on ESPN Radio in Chicago and said he might "turn over the entire roster'' if the White Sox don't make a move here shortly.
That leaves us with the division leaders in Detroit, where
Justin Verlander
might or might not have enough help in the rotation to get the Tigers to the postseason, and GM David Dombrowski and manager Jim Leyland might or might not be on the spot with owner Mike Illitch in the final year of their contracts.
It was only fitting that when the Tigers and White Sox met in a big AL Central showdown Monday night at U.S. Celluar Field, all the division's warts were on display. Between home runs by
Paul Konerko
and
A.J. Pierzynski
, the Chicago crowd was treated to botched pop flies, a muffed pickoff, a near-collision between
Juan Pierre
and
Alex Rios
in the outfield and a wild pitch that careened off Pierzynski's shinguard and was turned into an out at second base by reliever
Jesse Crain
.
The Tigers ran out four pitchers --
Duane Below
,
Chance Ruffin
,
Charlie Furbush
and
David Purcey
-- with a combined 215 2/3 innings in the big leagues. The vast majority of those belong to Purcey. And White Sox starter
Mark Buehrle
, miracle of miracles, actually issued a leadoff walk in the fifth inning.
Is this any way to run a pennant race?
Take an informal survey of people in baseball front offices, and their predictions for the division generally fall along the same lines. Just about everyone favors Chicago's pitching staff, but the White Sox are going to have a hard time winning if
Adam Dunn
(.159 batting average) and Rios (.301 slugging percentage, 23 RBIs) continue to look this pathetic at the plate. If Dunn plans to hit .200 this season, he better have some Ted Williams-caliber mashing in store for August and September.
Offensively, the Tigers win the Best in Show award. Detroit ranks fifth in the league in runs scored, and
Miguel Cabrera
,
Jhonny Peralta
,
Alex Avila
,
Brennan Boesch
and
Victor Martinez
all have an OPS north of .800.
The Tigers have been trolling for a front-end starter. But with
Ubaldo Jimenez
and
James Shields
pretty much un-acquirable, they might have to stand pat or settle for a back-end guy to complement their top four of Verlander,
Max Scherzer
,
Rick Porcello
and
Brad Penny
.
It could be worse: Scherzer, although up-and-down this season, has generated a swing-and-miss percentage of 9.3 -- better than
Matt Cain
,
Jered Weaver
and
David Price
. And Porcello has quietly gone 4-0 with a 3.33 ERA in July. He's still 22 years old, remember?
In a race this chaotic, the schedule can make a difference. While the Tigers are finished playing Boston and New York this season, the White Sox welcome the Red Sox and Yankees to Chicago for seven games starting Wednesday. As for the feisty Indians, they have 10 games against Boston, Texas and Detroit in early August. That's their sink-or-swim stretch.
"It's a weak division,'' said a National League personnel man, "but I've liked the Tigers all year. Never underestimate a team with a good offense and an ace [starter]. You just don't have long losing streaks.''
And who cares about labels? Dunn can't step to the plate these days without another out-of-town broadcaster referring to him as "the struggling Adam Dunn.'' But as he told Yahoo! Sports in a recent interview, he still enjoys playing, "Even though I suck.''
Say this for the Big Donkey: He's come to the right place.
PHOTO OF THE DAY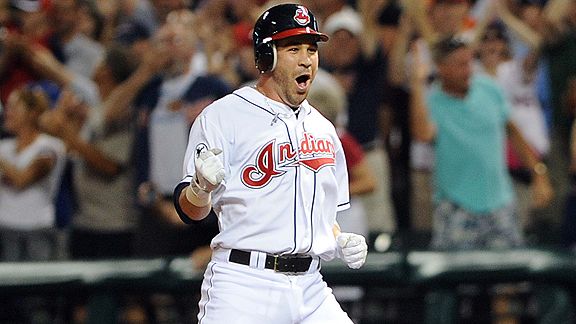 Eric P. Mull/US PresswireJason Kipnis celebrated his first hit. Why not? It was a based-loaded, two-out walk-off in the ninth.
May, 10, 2011
5/10/11
1:01
PM ET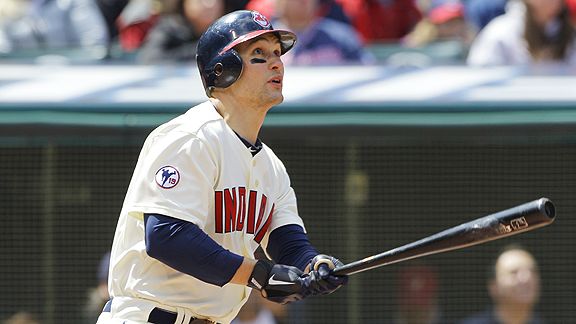 AP Photo/Mark DuncanGrady Sizemore's return has provided a big boost -- offensively and defensively.
The
Cleveland Indians
were quiet this past offseason. No sexy free-agent signings, no wheeling and dealing. When I arrived to Indians camp in spring training, I spent considerable time with rookie GM Chris Antonetti and second-year manager Manny Acta. Both were convinced that if everything went as planned the Indians could contend as early as this season -- even though this was a team that hadn't had a winning record since 2007 and had lost 93 games in 2010 and 97 in 2009. Contending? Really? How?
Antonetti, one of the youngest and brightest GMs in baseball, broke it down this way for me on that hot Arizona March day: "To contend we need the following to happen: (1) We need our key players to get healthy, specifically
Grady Sizemore
,
Carlos Santana
,
Asdrubal Cabrera
and
Travis Hafner
; (2) We need our other young players on the roster to continue their development with meaningful contributions on the field. This list of players includes
Justin Masterson
,
Carlos Carrasco
,
Josh Tomlin
,
Chris Perez
,
Michael Brantley
,
Matt LaPorta
and our young bullpen arms; (3) We need our veterans to contribute and provide leadership on the field and in the clubhouse, including
Orlando Cabrera
, Sizemore and Hafner."
Check, check and check, Mr. Antonetti.
This Indians team is not only contending but has the best record in the American League. Are they for real? Yes, they're for real. I'm not saying they're going to win the division, but what I am saying is that if they stay healthy, this team will contend into September and should win more games than they lose. The main reason this team is for real is the pitching and defense. The starting pitching is solid, the bullpen underrated and the infield defense is the best the Indians have seen since
Jim Thome
,
Roberto Alomar
,
Omar Vizquel
and
Travis Fryman
played together.
[+] Enlarge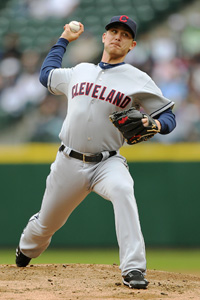 Otto Greule Jr/Getty ImagesJosh Tomlin is 4-1 with a 2.43 ERA and a 0.81 WHIP through six starts this season.
The starting rotation is led by
Fausto Carmona
, who won 13 games last year and is capable of winning 13-16 again this season. Masterson, one of the pitchers acquired in the
Victor Martinez
trade with Boston, is emerging as a solid No. 2 behind Carmona. Masterson has great size and stuff. His four-seam fastball goes up to 97 mph while the two-seamer sits between 89-94. He mixes in a slider and change from a deceptive lower arm angle and has great downward bite. His command in the lower part of the strike zone has improved due to the fact he solidified his delivery. Most importantly, Masterson continues to develop the understanding of how to best utilize his stuff to attack left-handed hitters, a weakness throughout his career. Masterson has quickly become one of the better pitchers in the league, starting 5-0 with a 2.11 ERA.
Carrasco just spent time on the DL for the first time in his career, but the Indians are not concerned as he is set to return to the rotation this week. In my discussions with
Shin-Soo Choo
, Santana and Acta, they raved about Carrasco's potential. They think he'll develop into a 15-game winner. That brings us to Josh Tomlin, who wins everywhere he goes. His minor league career record is 54-21 and his major league career record is 10-5, including 4-1 this year. Here is Antonetti's scouting report on Tomlin that he gave me this week: "Great competitor. Won't beat himself. Pounds the zone. Good four-pitch mix. Understands how to pitch and get hitters out." No argument from me. He might not chalk up a lot of strikeouts each night, but he'll get the groundballs and get the outs to win games.
That brings us to the infield defense. When you have a rotation that pounds the lower part of the strike zone, but doesn't always miss bats, then you better catch the ball in the infield with range. This infield catches the ball with range.
Jack Hannahan
, the journeyman infielder, has done a tremendous job defensively at third base, catching everything with soft hands and an accurate arm. Asdrubal Cabrera is quickly becoming one of the best all-around shortstops in the American league, a very good offensive and defensive shortstop with power, quick hands and feet and a strong arm from the hole. He also has great baseball instincts. He exchanges the ball from glove to release as quickly as anyone. Orlando Cabrera was the one major free-agent signed by Antonetti this offseason and here's his assessment of Cabrera: "He has made an impact both on the field and in the clubhouse. He has great baseball intelligence and understands what it takes to win." In fact, it seems wherever Cabrera goes his teams win (see: Reds, Twins, Red Sox).
Behind the plate Santana has helped lead the Indians' staff to the third-best ERA in the AL. He has well above-average arm strength and eventually will be able to stop the running game when he gets more experience. He's off to a slow start with the bat, but he can hit and hit with power from both sides of the plate. He's a legit future All-Star.
The outfield defense matches the infield defense. Choo is one of the best right fielders in baseball. He gets great jumps, angles on balls and has a strong arm. He can also hit and hit with power. Sizemore is back diving for baseballs and Brantley covers everything in left field like a center fielder. Not a lot of balls are going to be falling in the the gaps at Progressive Field this summer.
The Indians' starting pitchers are pitching deep into games, their offense has put up quality at-bats and has manufactured runs in a variety of ways, thanks to the shrewd managing of Acta, and the bullpen has done a great job of closing games when they get leads as closer Chris Perez has saved 10 of 11 opportunities while
Tony Sipp
,
Vinnie Pestano
and
Rafael Perez
all have ERAs under 2 setting him up.
Remember, this first-place team is doing it without much production from the heart of the order as Choo and Santana have struggled to get past the Mendoza line and top hitting prospect Lonnie Chisenhall is in the minor leagues getting additional seasoning. But we all know that will change, and all three will be productive offensive weapons by season's end.
Hafner and Sizemore are competing for the Comeback Player of the Year Award. Hafner's shoulder is finally healthy and according to Acta, that allowed him to weight train for the first time in years in the offseason. The result is that Hafner's bat speed is back, as shown by his .347 average and .932 OPS.
The farm system is also about to add another wave of young talented players as well. Rookie starter
Alex White
made his debut recently with a win, Nick Hagadone and Drew Pomeranz aren't far behind ( not to mention Jason Knapp, Zach Putnam and Bryce Stowell) and Chisenhall will probably be taking over third base by the middle of this summer. Chisenhall has a chance to be a .290-to-.300 hitter in the big leagues with 15-20 home runs and 40 doubles. He can really hit and is adequate and improving defensively at third base.
Acta is not only one of the best-dressed managers, but he's also quickly becoming one of the most respected young skippers in the game. He's done a phenomenal job in developing the Indians' young arms the last two years and his ability to communicate and motivate are special.
The Indians -- if they stay healthy -- are for real and should produce a summer of winning and continued improved parity in the American League Central.
Thanks for reading and as always I appreciate your comments and feedback. Follow me on Twitter @JimBowdenESPNxm and feel free to send me ideas for future blogs.
March, 3, 2011
3/03/11
12:00
PM ET
By
Bill
and
The Common Man
| ESPN.com
On Tuesday, Darryl Johnston caused a bit of a stir when he ranked the components of "organizational management" -- the owners, GMs and managers -- of
the five AL East teams
. Being Midwest guys, we thought we'd try the same thing with the AL Central; not as sexy, maybe, but fun nonetheless. We're using the same basic method Darryl did, with one point for a fifth-place ranking and five points for a first-place ranking.

Owner
: Jerry Reinsdorf |
AL Central rank
: 2nd |
Points
: 4
Reinsdorf generally stays out of the way and cuts checks these days. He's also succeeded at the unenviable job of maintaining détente between his manager and general manager. Which is good, because the two are both excellent in their roles, even if they don't always work well together. Reinsdorf gets a slight ding here because of his role as Bud Selig's chief supporter and his role in collusion in the late 1980s.
General manager
: Kenny Williams |
Rank
: 1st |
Points
: 5
Williams, who has held his job since 2000, excels at making trades, picking up guys like
John Danks
,
Gavin Floyd
,
Carlos Quentin
and
Jose Contreras
in very one-sided deals. He's reached into the Cuban market, generally hit on his free-agent acquisitions, and had decent farm systems that he's mostly leveraged to acquire more talent.
Manager
: Ozzie Guillen |
Rank
: 1st |
Points
: 5
Ozzie has made waves this offseason by not keeping his clubhouse's business in-house. But he's typically been quick to leap to his players' defense and take the blame himself for any failures. He also consistently provides the best quotes in the business.
White Sox's composite score: 14 points
---

Owner
: Larry Dolan |
Rank
: 4th |
Points
: 2
The Indians used to be the class of the American League Central. They had a beautiful ballpark, they sold out every single game (literally), and they finished 171 games over .500 from 1994-99. Working diligently, Dolan has managed to undo all of that hard work. The Indians sit at the bottom of the division, they drew under 1.4 million fans last year, and they've finished .500 or worse seven times in nine seasons.
General Manager
: Chris Antonetti |
Rank
: 4th |
Points
: 2
Antonetti's hard to figure, given that this is his first season at the helm and the club still has ties to former GM Mark Shapiro. It's also unclear how much of the Indians' performance these last several years are traceable back to Antonetti, Shapiro's right hand since 2007. His first offseason was not exactly inspiring.
Manager
: Manny Acta |
Rank
: 2nd |
Points
: 4
We like Acta. He earns high marks for his open-mindedness, willingness to experiment, demeanor and jaunty hat. His overall record, 227-345, is deceiving, since his owners and GMs steadfastly refuse to provide him with actual major league players.
Indians' composite score: 8 points
---

Owner
: Mike Ilitch |
Rank
: 1st |
Points
: 5
IIlitch and the Tigers spent a long time in baseball's wilderness. Now he's mostly content to hand out the checks and let Jim Leyland and Dave Dombrowkski run the show. This is a good thing. Pizza! Pizza!
General manager
: Dave Dombrowski |
Rank
: 2nd |
Points
: 4
When he's had a free hand, he's put winners on the field. He's occasionally played a little too fast-and-loose with Ilitch's money -- like this year, comically overpaying for a middle reliever and apparent DH in
Joaquin Benoit
and
Victor Martinez
.
Manager
: Jim Leyland |
Rank
: 4th |
Points
: 2
Leyland's still a good and popular manager when he's engaged and happy. As he gets older, there's additional risk that he'll burn out again or fall asleep in the dugout. We're probably starting to get into Casey Stengel-with-the-Mets territory here.
Tigers' composite score: 11 points
---

Owner
: David Glass |
Rank
: 5th |
Points
: 1
We'll never blame an owner for refusing to spend on a team that's going nowhere, but their continually going nowhere is in large part BECAUSE of Glass, who had a huge hand through the mid-90s in turning the team into the perpetual downer it's become.
General manager
: Dayton Moore |
Rank
: 5th |
Points
: 1
Yes, the farm system is excellent right now. Yes, GMDM remains the worst GM in all of baseball. Virtually every move he has made at the big league level has failed spectacularly and predictably. There's been no indication at all that, once those great kids are ready, he is capable of acquiring the pieces necessary to turn that core into a contender.
Manager
: Ned Yost |
Rank
: 5th |
Points
: 1
He's had only about three-fourths of a season in KC, but he has a rep among Brewers fans as a high-strung statistics-phobic dinosaur who used his bullpen in a bizarre and ineffective way. Yost probably isn't a terrible manager, but he's at the bottom of a strong stack.
Royals' composite score: 3 points
---

Owner
: Jim Pohlad |
Rank
: 3rd |
Points
: 3
Pohlad's father did basically what Glass did in the '90s, with the same results. The Twins are spending a lot more these days, but that's the park, not the owner. It's pretty hard to argue with the results under either Pohlad since 2002, though.
General manager
: Bill Smith |
Rank
: 3rd |
Points
: 3
Smith is an enigma. After starting his career with two disastrous trades and little else, Smith shockingly hit a home run with nearly every move a year ago. This offseason, he seems back to his old ways. Antonetti gets ranked behind him for now, but I have a suspicion that Smith might be pretty close to 29th out of 30.
Manager
: Ron Gardenhire |
Rank
: 3rd |
Points
: 3
The esteem in which one holds Ron Gardenhire seems to have an inverse relationship to how often you watch the Twins play. You love him at 30,000 feet, but if you're close enough to see his irrational love of "scrappy" players and his bullpen usage, the cracks start to show. But the players seem to love him and love playing for him, and I think that's the one aspect of managing that sometimes gets unfairly overlooked.
Twins' composite score: 9 points
---
Overall AL Central ranking
:
1. Chicago (14 points)
2. Detroit (11 points)
3. Minnesota (9 points)
4. Cleveland (8 points)
5. Kansas City (3 points)
This roughly approximates how you might expect the 2011 standings to look, at least with the group of three who will finish at the top and the two who are destined for the bottom. The all-around futility of the Royals kind of skews the rest of the results (making Cleveland and Minnesota appear closer than they probably are), but the general order is right.
The Common Man and Bill write obsessively on The Platoon Advantage and bicker incessantly on Twitter here and here.