December, 31, 2012
12/31/12
6:45
PM ET
By
Christina Kahrl
| ESPN.com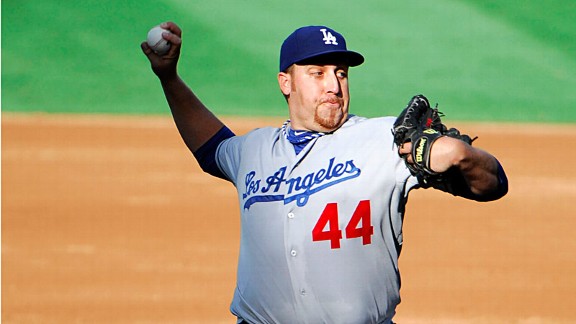 Denis Poroy/Getty ImagesThe Dodgers should wait to see how their starters work out before looking to move a pitcher like Aaron Harang.
This time of year, it's easy to look at 40-man rosters around the game and wonder how teams are going to fit everybody into their regular-season rotation. The overstocked starting staffs of the Dodgers and Cardinals might seem to demand action, for example, but not so fast. Credit their general managers and a few other decision-makers with sitting tight.
Consider the Dodgers. It might seem that their cup runneth over after adding
Zack Greinke
and Korea's
Hyun-Jin Ryu
. On paper, they have eight plausible options in their rotation, including
Clayton Kershaw
,
Josh Beckett
,
Chris Capuano
,
Aaron Harang
,
Chad Billingsley
and
Ted Lilly
.
That number gives you a sense of mass that's far more certain than the identity of the Dodgers' final five. Billingsley was hitting the mid-90s during rehab work in November, but there's ongoing concern over his elbow. Lilly is supposed to be all the way back from shoulder surgery in spring training, but we'll see how he looks once he reports. Capuano's second-half fade in 2012 on top of a long list of surgeries (including two Tommy John procedures) don't add up to a sure thing.
So they have to make a deal, right? Staff-filling No. 4 pitchers like Harang and Capuano aren't liable to bring much in return. The Dodgers might be asked to eat considerable cash given the back-loaded deals Ned Colletti gave the two pitchers.
If you're Colletti, why hurry or worry until you see what shape everyone is in, and who's ready to go in the latter half of March?
Similarly, the Cardinals' situation looks good on paper, but perhaps not so much when you ponder their past. Getting
Chris Carpenter
back to round out a rotation featuring
Adam Wainwright
,
Jaime Garcia
,
Jake Westbrook
and either
Lance Lynn
,
Joe Kelly
or top prospect
Shelby Miller
might allow GM John Mozeliak deal from a position of strength.
But would the Cardinals, after getting by without Carpenter and Wainwright at the same time for most of the past two seasons, trade either in their final seasons before free agency? That would hamper the Cardinals' bid to win one more title armed with both, and absent somebody coughing up a top-shelf middle infielder, they're not a team with many needs.
Sticking with the NL Central, the Reds' decision to move
Aroldis Chapman
back into the rotation might make it seem like
Mike Leake
is extraneous. But why should Walt Jocketty deal Leake before seeing how well the Cuban Missile takes off while pitching every fifth day? And where would dealing Leake leave the Reds should anyone get hurt in the early going?
You don't even have to be a contender to want to join the ranks of hoarders. The Cubs' decision to sign veterans
Edwin Jackson
,
Scott Feldman
,
Scott Baker
and
Carlos Villanueva
during a busy winter doesn't mean that both
Travis Wood
and
Jeff Samardzija
are out of their jobs. But it
could
mean that
Matt Garza
is now a bargaining chip who would become available
after
he shows that he's healthy this spring.
Baker is also working his way back from injury, so there will be plenty for the Cubs' brass to monitor. The freedom to deal a pitcher as good as Garza can be in his last year before free agency -- and the possible draft compensation he'd create on departure -- could bring in some sorely needed talent to their rebuilding effort.
Which all goes toward saying that right now it's sensible to carry six or seven or more starters and let events and availability dictate your actions if you're a GM. Wait and see who breaks down, on your team or everyone else's, because inevitably somebody will.
Sensible as this may all be, some people are hurt by it.
Kyle Lohse
is the most obvious example. If a club wants to add a veteran starter, why go two years on a likely one-year wonder like Lohse, when you might wait and see if Garza is healthy and if the Cubs like one of your prospects?
On the other hand, if you're one of those teams that really could use Harang or the like to round out your rotation and complete your offseason plans, it's easier to wait out the next two months until the Dodgers may have to make a move than it is to sign him on the market.
If you're worried about a seemingly incomplete rotation on your hometown nine, don't sweat it -- the talent pool isn't just made up of who's left on the market, it also includes everybody on the other 29 teams. And if you're wondering about who's going to round out your starting quintet, don't worry -- it might just be a Dodger TBNL.
Christina Kahrl covers baseball for ESPN.com. You can follow her on Twitter.
August, 14, 2012
8/14/12
1:00
AM ET
By
Christina Kahrl
| ESPN.com
Matt Kemp
didn't go yard. He didn't need to. And
Andre Ethier
? He didn't put the lineup on his back either. What of Mattingly's mighty mites, the guys who were the toast of Los Angeles back in May? They were there, sure, but they essentially clocked in and clocked out, proverbial lunch pails in hand.
And the
Los Angeles Dodgers beat the Pittsburgh Pirates
just the same on Monday night, because the team that made people wonder how general manager Ned Colletti had done it three months ago doesn't really exist anymore. Kemp had a good night, and journeyman
Aaron Harang
tossed his 14th quality start -- a reasonable stand-in definition for "winnable game" -- of the season. This could be the second year in Harang's career that he tosses a quality start 60 percent of the time, the sort of serviceability that recommended him to the Dodgers in the first place, just as it did
Chris Capuano
and now
Joe Blanton
. Rounding out a rotation after you have an ace in place isn't sexy but it's necessary, and perhaps that's the word that will define what Colletti's done this summer: the necessary things.
That's because Colletti didn't stand still any more than circumstances did. When forced to do something necessary, he has done it. He has adapted and overcome, and that, as much as anything, might be what puts the Dodgers into the postseason. Colletti never made the mistake of settling, not for the team he built over the winter on back-loaded deals to an odd collection of journeymen, and not when that team started the season 30-13 behind Kemp's brief triple-crown bid. After a 6-19 swoon through July 17 helped kill any complacency over their brittle early-season achievements, Colletti acted, armed with the newly added largesse of his team's new owners. Trading for
Hanley Ramirez
and
Shane Victorino
and Blanton represents a facelift significant enough to elicit professional respect among cosmetic surgeons.
As a result, the new-look Dodgers might resemble that surprise hot-start team you remember from April, but only in the broadest particulars. Kemp and Ethier you remember. But the undercard? Let's just say the Dodgers aren't going to try getting to the dance with everyone they initially invited. Transient heroes such as
Bobby Abreu
,
Elian Herrera
and
Dee Gordon
have had their moments, but Colletti was as married to any of them as Kris Humphries was to Kim Kardashian -- give me a good month, maybe two, and then, see ya! As brutally unfair as that might seem, that's life in baseball's middle class.
Let's not forget Don Mattingly's part in also doing a few necessary things. The skipper didn't settle on
Javy Guerra
as his closer, last year's 21 saves or no. Faced with a necessary choice after Guerra pitched poorly, Mattingly let performance be his guide, and
Kenley Jansen
nailed down Monday's game. Confronted by
James Loney
's consistently crummy production, the Dodgers have turned more and more to
Juan Rivera
at first base -- Rivera has started 16 of their past 30 games. Giving Ramirez a test-drive at short to see if he can still swing it sets up a later necessary decision about what Gordon's role might be down the stretch. Gordon might be the franchise's long-term future at shortstop, but there's a right-now future to honor as well, and you can bet Mattingly will make a necessary choice with that in mind.
If you want to speculate about anything with this club, though, don't think about the warm fuzzies of the Dodgers' new age of Magic (Johnson) or what might have been if Kemp had stayed healthy. That way lies madness -- with Kemp around, perhaps the Dodgers' needs might not have seemed so dire, and maybe then Colletti doesn't bring in HanRam and the Flyin' Hawaiian and rent Joe Blanton. Follow that thread of possibilities and you're probably left with a nice little team, an 85-win team that gets remembered fondly as a symbol of the Dodgers' return to respectability, if mildly disappointing for its late fade.
But perhaps because the Dodgers did start strong and Kemp did get hurt, Colletti did those subsequently necessary things to make something more of his team's circumstance. As a result, the Dodgers are turning into something more than just a rival with those Angels
arrivistes
from Anaheim for Angeleno affections, they're turning into the sort of team you can see going toe-to-toe with anybody in a postseason series. Outside of the non-
Clayton Kershaw
nights, they can now beat you with the sort of depth in talent that is usually associated with the Yankees or Red Sox or last year's Cardinals (or the Phillies, up until this year).
They're stronger now because they were weak in June, possibly as strong as any team in the league. Think on that: Do you really want to run into a team that can lead off a postseason series with Kershaw? If you're a gambling man, here's hoping you don't find that necessary.
PHOTO OF THE DAY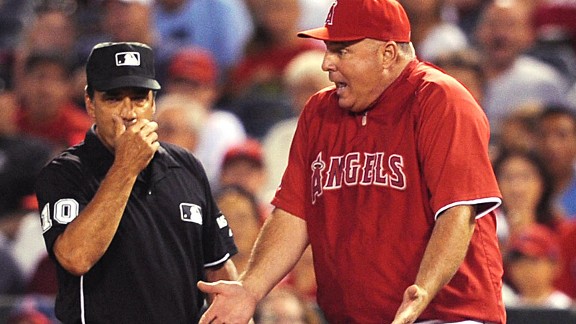 Kelvin Kuo/US PresswireIf Mike Scioscia wants to make a federal case out of it, there's always the Ninth Circuit.
Christina Kahrl covers baseball for ESPN.com. You can follow her on Twitter.
July, 5, 2012
7/05/12
12:30
AM ET
By
Christina Kahrl
| ESPN.com
At some point, you might start thinking that the Dodgers' litany of woes is like the real estate market: Sure, it's
supposed
to get better, but it finds new ways to make you unhappy. After all, no sooner had they started working up excitement over
Matt Kemp
's imminent return from the DL than they had to absorb the next unaffordable body blow to the lineup: Now right fielder
Andre Ethier
is headed to the DL, as well.
Earlier in the year, you could talk about how the Dodgers were a testament to the purported wisdom of general manager Ned Colletti's aggressive offseason assemblage of journeyman bit players -- usually at top dollar, and overwhelmingly on two-year, back-loaded contracts. People wondered about those deals in December and January, but those concerns were easy to set aside in the early going.
Chris Capuano
and even
Aaron Harang
were doing good things in the rotation,
Mark Ellis
was getting on base as their regular at second base and with
Jerry Hairston Jr.
getting plugged into every hole in the lineup as it opened up, Colletti was an easy April tout.
Bobby Abreu
washing up on waivers and longtime farmhand
Elian Herrera
posting a .400 OBP in his first month on the roster, and Colletti's crew appeared to be the roster equivalent of found money. It was easy to credit Colletti with a certain brand of genius in an NL West without any easy favorite.
But all of that is much more easily affordable when the middle of the order features Kemp slugging .700 and Ethier providing his blend of offensive balance. Bit players doing their bit is nice and further evidence of the old saying that victory has many fathers, while defeat's an orphan. Boppers bopping has a way of making everybody look good.
But take that one-two punch of Kemp and now Ethier out of the picture, and you've got a lineup that scrapes by at best. Without either Ethier or Kemp around this past week, the Dodgers have averaged just more than two runs per game and are drawing about two walks per game. They've hit one home run. That's what happens when your supporting cast is put into the limelight, not for a scene, but carrying the whole show.
Things were already bad before Ethier left, though. Last week's three consecutive shutouts to the Giants may be the signature setback, but during their latest 5-12 run, the Dodgers have scored more than three runs in a ballgame just three times. (Consistent with the way their luck has been going, they also managed to lose one of those rare outbursts.)
None too coincidentally, the supporting cast looked terrible during that time. The highest OPS of
any
Dodger position player over the past 30 games is
Juan Rivera
's .653. The team-wide OPS from June 1 on is .572. The guys who are supposed to be center pieces have been anything but: Ethier is among those struggling (.628 OPS since June 1, with one homer).
James Loney
's bat has been MIA for so long that you're more likely to see it on a milk carton, but even he has managed to disappoint the low standards he's set for himself in recent seasons, contributing just a .540 OPS since the calendar turned to June.
How low can the Dodgers go? Much depends on if Ethier will really be ready to come back right after the All-Star break -- the same time as Kemp's supposed to return to action. Back-dating Ethier's trip to the DL to June 28 isn't suggestive so much as it's a formality. Ethier joins a long list of ballplayers who've suffered oblique injuries in the past two seasons, and rushing him back brings on a high risk of re-injury -- as high as 12 percent, according to the American Journal of Sports Medicine in a 20-year study that Dodgers senior trainer Stan Conte co-authored earlier this year.
So there's that risk, but that's without getting into the Dodgers' unhappy recent experience with Kemp at the end of May. The Dodgers reactivated their star slugger from his original hamstring injury six weeks ago only to have to return him to the DL two games later because he aggravated the injury. Even if Kemp's back and 100 percent after the All-Star break, however much everyone involved might want all of the best Dodgers back on the field, their tenuous contention bid can't afford a rush-back re-injury repeat experience with Ethier, as well. As the Dodgers have learned as the bit players get overexposed by everyday play, the supporting cast simply isn't good enough for them to be able to afford it.
Things will get better once Kemp and Ethier return, of course. But how much better, and will it be in enough time? Even then, thanks to Colletti's multiyear commitments, the question of whether or not the Dodgers can honestly expect better things next year remains to be seen, especially when the balloon payments to Capuano, Harang, Ellis and Hairston add another $11.5 million to the team's payroll. If you think things can't get worse, the bad news is that, relative to their fast opening in April and May, they may never get better.
PHOTO OF THE DAY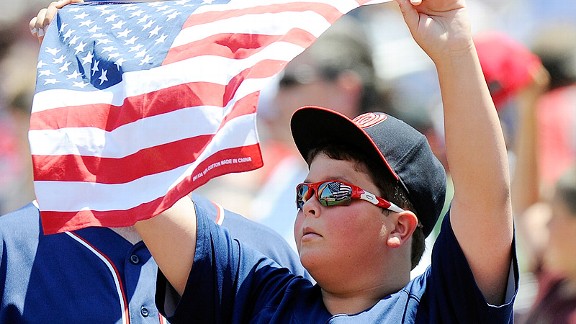 Greg Fiume/Getty ImagesWhat fan doesn't want to say happy birthday to the U.S. of A.?
Christina Kahrl covers baseball for ESPN.com. You can follow her on Twitter.
June, 25, 2012
6/25/12
5:15
PM ET
A look at some of the candidates to start the All-Star Game for the National League:
Umm ... if you get the idea there is a lot of run prevention going on in the National League from starting pitchers, you are correct; we didn't even mention
Clayton Kershaw
,
Cole Hamels
,
Madison Bumgarner
,
Lance Lynn
and others.

Anyway, Dickey and Cain are probably the favorites right now, but I want to focus on Diamondbacks rookie Miley, who is certainly the most surprising name on the list considering he didn't even start the year in the rotation. In his last four starts, he's allowed one run each outing while pitching at least seven innings. And note that even though he didn't draw his first start until April 23 when he replaced
Josh Collmenter
in the rotation, he's still pitched more innings than Strasburg or Gonzalez.
His key pitch over that four-game stretch has been his slider, which ESPN Stats & Information reports has generated 32 outs against right-handed batters and just one hit allowed. For the entire season, right-handers are hitting just .203 off him.
Another note: Unlike Dickey or Cain, Miley pitches in a tough park; impressively his ERA at home is 2.33. Does he deserve to start? Probably not. It's just 12 starts and we certainly want to see more from him before we say he's turned into a legitimate ace. While he throws strikes, his K rate isn't in the category of most elite pitchers and he's allowed just four home runs, a rate which will be difficult to keep up.
But considering the struggles of
Ian Kennedy
and
Daniel Hudson
, who combined for 37 wins in 2011 but have a 5.11 combined ERA this year, Miley has been a staff savior for the Diamondbacks.
And with the more-hyped rookie Trevor Bauer making his major league debut on Thursday, maybe the D-backs will have a one-two punch in their rotation ... just not the two everyone expected.
April, 30, 2012
4/30/12
1:15
PM ET
One of the popular concepts in the baseball stats community is to look at a pitcher's strikeouts, walks and home runs as a means for estimating what his ERA should be. The resultant stat is known as Fielding Independent Pitching (FIP), and is scaled similarly to ERA. The stat can be found on
FanGraphs.com
.
The idea behind this is that most pitchers with a good combination of strikeouts, walks and few home runs allowed tends to have a good ERA. Rare is the pitcher who doesn't. If a pitcher has a bad ERA, but a good FIP, his ERA may be due to something beyond what he controls most. This could be the defense behind him, the ballpark he's in, bad luck, or any number of factors.
Statisticians will often project a pitcher with a bad ERA and good FIP to improve the following season. The poster child for this is Rays starter
James Shields
, whose FIP indicated that he was far better than his 5.18 ERA in 2010. He responded with a 2.82 ERA in 2011.
How does this apply to April of 2012?
The three pitchers who had the widest differential between their ERA and FIP in 2011 were
Derek Lowe
,
Ricky Nolasco
and
Brandon Morrow
. Each had an ERA of 4.50 or higher. Each had a FIP of 3.70 or lower. All three have been great in 2012.
These three aren't the only pitchers with significant ERA-FIP differences who are thriving in 2012.
Giants starter
Madison Bumgarner
finished last season with a 3.21 ERA and 2.67 FIP. He won on Sunday and is 4-1 with a 2.53 ERA through five starts.
Dodgers starter
Chris Capuano
had a 4.55 ERA last season and a 4.04 FIP. He won Sunday and is now 3-0 with a 2.73 ERA through five starts.
December, 26, 2011
12/26/11
9:00
AM ET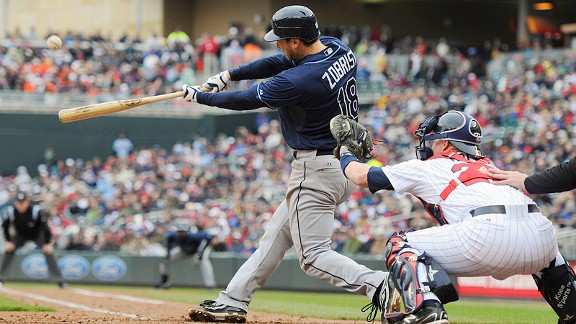 Hannah Foslien/Getty ImagesBen Zobrist had one of the biggest days in baseball history on April 28 with seven hits and 10 RBIs.
On April 22,
Ben Zobrist
went 0-for-5 in Tampa Bay's 11-inning loss to the Blue Jays, dropping his average to .183. The Rays were struggling at 9-11,
Evan Longoria
was out with an injury,
Manny Ramirez
had been suspended for a positive drug test and
Felipe Lopez
was hitting cleanup. The little team that could was looking more like the team that couldn't hit.
On April 23, Zobrist batted in the cleanup spot and hit a big three-run homer in Tampa's 6-4 victory in Toronto. The next night, Zobrist's two-run homer off
Ricky Romero
accounted for the only two runs in a 2-0 victory. On April 27, after a day off and a rainout in Minnesota, Zobrist tripled in two runs and added a sac fly in an 8-2 victory over the Twins.
That set the stage for my selection of the top single-game performance of the 2011 season. OK, I admit ... I cheated slightly, as you'll see.
On April 28, in the top of the first inning, Zobrist singled in two runs off Minnesota's
Nick Blackburn
. In the sixth inning, he blasted a three-run home run to right field off
Jim Hoey
. In the seventh, Zobrist moved over to the right-side of the plate and drilled a two-run double to deep left field. In the ninth, he hit another two-run double, capping an eight-RBI game.
But Zobrist wasn't done. In the second game of the doubleheader, he went 3-for-4 with a double and a two-run home run. All told, he went 7-for-10 with three doubles, two home runs and 10 RBIs in the doubleheader, joining Jim Bottomley (1929 Cardinals), Pete Fox (1935 Tigers) and Nate Colbert (1972 Padres) as the only players with at least seven hits and 10 RBIs in a single day.
"I really had no idea what was happening," Zobrist said after the second game. "I just was kind of in the zone. Just trying not to think about it too much. I just felt real comfortable, obviously, in the box. The ball was big. I saw the ball big today and put good swings on it. I felt like when I swung the bat, good things were going to happen every time."
The outburst capped an amazing five-game stretch for Zobrist in which he hit four home runs and drove in 18 runs. The Rays won all five games, a key point in their season as they climbed over .500 after starting the season with six consecutive losses.
Zobrist has been one of baseball's underrated stars the past three seasons, a versatile player who excels defensively at second base or right field. He was one of only 16 players in the majors in 2011 with at least 90 RBIs and 90 runs scored. He ranked tied for 10th in the majors in extra-base hits. He might not be widely recognized as a star, but one day he shined brightest.
Honorable mention
December, 6, 2011
12/06/11
12:50
PM ET
Baseball Today
is back on Tuesday and live from the winter meetings in Dallas -- well, one of us is! -- as me and Keith Law talked about the busy baseball offseason. Guess what, we'll be podcasting on Wednesday and Thursday as well! As for the topics, glad you asked ...
1. I compared what the
Miami Marlins
are doing to Richard Pryor's exploits in the fun movie "Brewster's Millions." Hey, I enjoyed the movie, at least. How will it work out for the Marlins?
2. What else is on the horizon for the next 24 hours at the winter meetings? Did I mention Keith Law is actually there getting all the dirt? We discuss why a deal involving
Prince Fielder
news isn't likely pending but plenty of other stuff is.
3. Kudos to the
Los Angeles Dodgers
for assembling … well, we're not really sure what they're doing in L.A. But what could go wrong with
Mark Ellis
,
Chris Capuano
and
Aaron Harang
aboard?
4. Want emails? We got emails. Today we serve up information on under-25 stud
Jason Heyward
and how to cook olive oil. Yep, I don't write the emails.
5. Ron Santo makes it into the Hall of Fame, but certainly a little late. Still, it's a better Hall with him in it.
Tune in Wednesday as we talk more baseball with KLaw, discussing the big and small news from Dallas and also answer your emails. For now, download Tuesday's Baseball Today and have a great day!
December, 6, 2011
12/06/11
12:16
AM ET
DALLAS -- The Dodgers are kind of like that guy you invited into your fantasy league in 2006 who hadn't followed baseball in 10 years and immediately traded three players for Ken Griffey Jr.
Name recognition? Check.
Rigorous analysis of the players involved? Umm ...

Besides signing MVP runner-up
Matt Kemp
to a $160 million contract, the Dodgers have signed the following six players this offseason:
Give GM Ned Colletti credit for being quick with the trigger finger. He identified the glaring holes on his team and moved to fill them. Sure, he overpaid and he's deferred the salaries, but now he has a second baseman! And two third basemen! A quick review of these signings:
Ellis:
He hit .316 in 2005. He hit 19 home runs in 2007. But he'll turn 35 in 2012 and his home runs have declined from 19 to 12 to 10 to five (and back up to seven in 2011, although five of those came in Colorado). At one point, he was an underrated fielder with excellent range, but while he's still sure-handed, he doesn't cover as much ground as he used to.
Capuano:
In his first full season in a major league rotation since 2007, he posted a 4.55 ERA for the Mets. Decent season? Well, among 75 NL pitchers who threw at least 100 innings, that ERA ranked 61st. Pitching in a favorable park for a left-handed flyball pitcher, he still served up 27 home runs (17 on the road). He comes with some positives, namely a 168/53 strikeout/walk ratio, but the home run rate is a potential red flag.
Rivera:
A poor defensive outfielder with a .315 on-base percentage since 2007 who will turn 34 in July.
Harang:
Reports have him coming to L.A. on another two-year deal. Harang had a nice comeback year with the Padres, going 14-7 with a 3.64 ERA -- in the best pitcher's park in baseball. Dig deeper into the numbers and you see Harang allowed a .684 OPS at Petco Park, but an .878 OPS on the road. His strikeout rate, which peaked at 8.7 K's per nine innings in 2007, has dropped to 6.5 per nine, a strong indicator that 2011 wasn't a resurgence so much as a pitcher benefiting from the Petco canyons.
Hairston:
He's scrappy and managers love his attitude (Ron Roenicke said Monday that he loved having him on the Brewers), but in the end he's still a 36-year-old utility player. A nice guy to have on a team, but at $6 million for two years?
Kennedy:
Hey, he had that big playoff game for the Angels back in 2002.
The collective problem with these signings is that they have little chance of making the Dodgers better in 2012. Only Capuano has much of an upside, but even that is unlikely to match what
Hiroki Kuroda
produced in 2011 (3.07 ERA over 202 innings). Worse, there is a good chance all five players contribute little more than a replacement-level signing would accomplish ... but instead of at league minimum wages, they'll cost the Dodgers $29 million plus Harang's deal.
Somewhat problematic as well: The Dodgers have backloaded the contracts (Hairston will get $3.75 million in 2013, Ellis $5.25 million in 2013, Capuano $6 million plus a $1 million buyout in 2013). The new owner will be saddled with contracts of these mediocre, declining veterans (not to mention that
Juan Uribe
is owed $16 million over the next two seasons).
The Dodgers have Kemp and Cy Young winner
Clayton Kershaw
. Shortstop
Dee Gordon
could become one of the most exciting players in baseball.
Kenley Jansen
should step in and become a dominant closer. That's a great foundation for a new owner to take over.
Unfortunately, that foundation now has the cracks of a group of players who won't push the club past the 82 victories of 2011. It looks like another season of Dodger Stadium sitting half empty, a once-proud franchise and its fans only hoping the right group of buyers purchases the club. It better have some deep pockets and a large supply of patience.
December, 2, 2011
12/02/11
6:10
PM ET
By
Christina Kahrl
| ESPN.com
Everybody loves a good comeback, and Chris Capuano's certainly deserved all sorts of regard. A guy loses almost two and a half years from his career to elbow problems and then makes it all the way back, and honor is due. In his 2011 season with the Mets, he took the ball every fifth day and performed adequately as an innings-muncher of sorts. He was one of the scrapheap retreads who helped get the Mets through the season, not unlike
R.A. Dickey
, if a lot less effectively.
So on one level, you can feel great for
Chris Capuano
after the news broke that he's getting
a two-year, $10 million deal
from the
Los Angeles Dodgers
. But that's not the point. The point is whether or not this is a good thing for the Dodgers, and things aren't quite so ducky on that score.
[+] Enlarge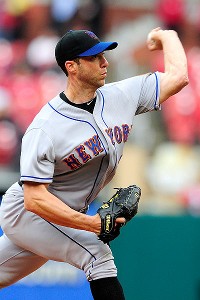 Jeff Curry/Getty ImagesChris Capuano signed a two-year deal worth $10 million with the Dodgers.
First, comeback or no, his season with the Mets wasn't very special. A metric like ERA+ isn't perfect, but Capuano's 82 is a nice starting point for noting this wasn't a great year from a back-end starter coughing up 4.8 runs per nine innings. Then there's the notion that he's an innings-eater, born of his making 31 starts. He notched just 14 quality starts in his turns, not a good rate, even for a fourth or fifth starter.
Worse, that low tally suggests one of Capuano's real problems: He wasn't all that durable in his starts, getting clobbered for a .496 SLG and 17 home runs in the 395 PAs after his first 50 pitches. His OPS against hitters from individual at-bat to at-bat got significantly worse in-game: From a .650 OPS in the first at-bat to .746 the second time through the order to .937 the third time hitters got to take their cuts against him. After those first two times through an order, his bag of tricks wasn't working as well, as batters hit .324 and slugged .580 in their third and fourth at-bats against Capuano.
He also wasn't especially effective as the season wore on, giving up 5.4 RA/9 after the All-Star break. Then there's the really bad news, which is that he owed much of his success to Citi Field, which is fairly remote from where he'll be pitching in Chavez Ravine. On the road, he got hammered by
all
batters at a .291/.345/.538 clip, coughing up 17 home runs in 84 2/3 IP.
But against all that unhappiness on the performance front, Capuano has one thing going for him: He racked up strikeouts, racking batters up 21 percent of the time with a crafty lefty's assortment, changing speeds and trying to pound the bottom of the strike zone to avoid cookies. The strikeouts help conjure up all sorts of statistical joy: A 4.04 FIP, 3.67 xFIP, and 3.60 SIERA.
Which is neat, and liable to encourage people to think that Capuano was just betrayed by ill fortune, and slow fielders, and maybe his ballparks and maybe a few black helicopters while we're at it. You can see where this comes from, because rate metrics like xFIP run off aggregate numbers. Unfortunately, they're blind to the fact of life that while Capuano's effectiveness only goes so far into a ballgame. He might be effective once through the order, and more than a bit less so twice through the order. But a starting pitcher doesn't give you six innings just going through the order twice in a game; he doesn't even give you five innings all that often.
So when Capuano's tasked with the basics of a starting pitcher's job and has to see a big-league lineup a third time around, he gets lit up like its Christmas. And he gets hammered on the road. You can argue that he'd be better served to be hooked earlier and used with great care in any but the biggest ballparks, part of an adaptive pitcher usage pattern that says it's OK if your start goes four innings and hits the showers. I just wouldn't recommend holding your breath waiting for that day, and it certainly isn't what the Dodgers are paying him $5 million per year to do.
You can wishcast that his issues with having hitters solve him goes away in Dodger Stadium. It might happen. And because Capuano has fought long and hard to get back, you can root for him. But I'd just check your expectations at the door, whether they're fueled by sympathy or a few sabermetric stats, because the third time around, he'll be breaking a few Dodger fans' hearts.
Christina Kahrl covers baseball for ESPN.com. You can follow her on Twitter.
September, 24, 2011
9/24/11
2:00
PM ET
"Moneyball" is about a small-market, cash-strapped baseball team that succeeded by using innovative methods -- included valuing OBP, ignoring size and body types when evaluating amateur talent and using quantitative analysis (i.e., sabermetrics). In its purest form, "Moneyball" is about finding value in undervalued assets -- or exploiting market inefficiencies.
Almost a year before the movie's premiere, the "big market," financially distressed Mets hired Sandy Alderson, the "godfather of 'Moneyball,'" to right their sinking ship. Immediately, Alderson began applying Moneyball-style concepts in Flushing -- some that might be familiar from the book, others that may have been developed more recently. How have these strategies worked out? We'll review some of them and then you can be the judge.
Valuing OBP
[+] Enlarge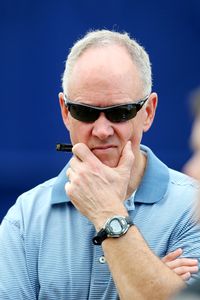 Douglas Jones/US PresswireUnder Sandy Alderson's leadership, the Mets began to favor high OBP-types over free-swinging hitters who didn't get on base as much.
With Alderson as GM, the Mets would no longer be signing walk-less free swingers such as
Jeff Francoeur
and
Rod Barajas
. Instead, they added players with strong on-base potential such as
Willie Harris
and
Brad Emaus
, and gave minor-league OBP machine
Josh Thole
a chance to win the catching position. Additionally, they hired hitting coach Dave Hudgens, who initiated a new hitting approach that valued patience, working counts and taking walks. The result? With a week left in the season, the Mets are first in the NL in walks, and second in OBP -- mission accomplished. However, despite all those baserunners, they're only fifth in the NL in runs scored. Why? Because they also lead all of MLB in runners left on base.
Get On Base, Hit Dingers, and Value Every Out
This is an extension of the previous entry, and may help explain why the Mets couldn't score more runs. Sabermetric studies suggest that it's best to get on board and wait for someone to push you around the bases -- preferably via the long ball. That said, attempting to steal bases should be kept to a minimum, since it risks outs. Similarly, the sacrifice bunt is a bad idea.
This strategy works well when you have sluggers who can hit balls over fences. But that skill was lacking in Flushing this season: The Mets are 14th out of 16 NL teams in home runs, and their leading slugger has hit only 15 -- and he (
Carlos Beltran
) was traded in July.
You can wonder if this Moneyball principle can work for a team that plays half its games in a ballpark as enormous as Citi Field. Indeed, Sandy Alderson has already announced the fences could be moved in for 2012. Which begs the question: Do you build a team to suit the park, adjust the park for the team -- or change the dimensions to force a formula to work?
Batting Average and Stolen Bases Are Overrated
A basic Moneyball tenet is that batting average is not a good indicator of a hitter's value; on-base percentage and OPS are much more reliable measurements. Additionally, attempting to steal a base is a mathematically risky proposition that should generally be avoided. Henceforth, players with high averages and high stolen-base totals -- particularly those with low OBPs -- are usually overrated.
Sandy Alderson applied this tenet when
Jose Reyes
requested a conversation regarding a contract extension prior to spring training. Though the speedy shortstop stole plenty of bases and hit for a fairly high average, Alderson cited Reyes' low OBP in 2010 and recent injury history to deny the request, saying, "we'll wait and see" what happens in the 2011 season. As it turned out, Reyes had a career year, leading the NL in hitting for much of the season and posting a career-high OBP. Did Alderson make a mistake by not negotiating with Reyes at a time when the team held considerable leverage? Or was it a smart move, since Reyes did have some hamstring issues and, in turn, his stolen-base total reduced significantly?
Undervalued Assets: Pitchers Coming Off Surgery
Signing pitchers with bum arms wasn't a concept published in the "Moneybal," but it seemed to be a "market inefficiency" identified by the new Mets front office. Sometimes a team will take a chance on one or maybe two pitchers whose health is a major question mark, hoping to catch lightning in a bottle.
The Mets, however, signed
six
of these guys:
Chris Young
,
Chris Capuano
,
Boof Bonser
,
Taylor Buchholz
,
Taylor Tankersley
and
Jason Isringhausen
. The logic was that all of these pitchers were undervalued because of their injury histories and their recent appearances on surgeon's tables.
How did it turn out? The good news: Capuano wound up giving the Mets 30 starts and Jason Isringhausen came out of the bullpen 53 times. Young was spectacular through his first four starts, then reinjured his shoulder and was done for the year. Buchholz lasted until June, when shoulder fatigue and other issues ended his season. Bonser and Tankersley never made it out of spring training.
Errors Aren't a Good Measurement of Defensive Ability
Defensive statistics are still evolving, with disagreement about the best metrics. One thing that has nearly universal agreement, however, is that errors don't tell much about a fielder's ability. As Bill James once stated, "you have to do something right to get an error; even if the ball is hit right at you, then you were standing in the right place to begin with." We don't know for sure what defensive metrics the Mets are using internally for evaluation purposes. However, we do know for sure that the Mets are second in the NL in errors -- and fourth in MLB -- with 113. Does it mean anything?
Saves are a Useless Stat; Closers are Overrated
This one is a favorite in saber-circles: Converting the last three outs of a ballgame is highly overrated and, in turn, most closers are similarly overrated and overpaid. The thinking is that equally important outs often occur earlier in the game -- sometimes as early as the fifth or sixth inning. Further, the ability to get outs in the ninth is not necessarily a specialized skill -- getting outs, period, is what's important.
Following with that line of thinking, a team is better served "creating" a closer from within their organization or by finding someone undervalued by others, rather than acquiring an established (and expensive) closer. Sandy Alderson did this when he pulled former starter Dennis Eckersley off the scrapheap and made him a one-inning finisher; Billy Beane did the same with Jason Isringhausen at the turn of the 21st century.
Perhaps with this logic in mind, the Mets were quick to shed a potentially enormous vesting option by trading veteran closer
Francisco Rodriguez
after the All-Star Game, using a "closer by committee" situation for the second half of the season. Unfortunately, it didn't turn out so well, as the Mets blew 22 saves in 2011, converting only 65 percent. What makes those numbers more dismal is this: Rodriguez converted 23 of 26 save opportunities before leaving New York, while all other Met relievers converted only 17 of 36 chances (47 percent).
Alderson himself is now wondering whether the save -- and closers -- aren't so overrated after all.
When speaking to Adam Rubin
regarding the bullpen's inability to close out games, Alderson said, "I think it has a real impact on not just team success, but also team outlook, team attitude, team confidence. Blown saves from time to time are part of the game, but blowing them at an inordinate rate can have, I think, a real negative impact on a team. So it needs to be a point of concentration for us."
Conclusion
Sandy Alderson has had less than a full year to establish his imprint on the Mets, so it's too early to know whether his strategies will turn the team into a winner. As of now, it seems that Moneyball tactics may be outdated, and new ones are under development. In some ways, Flushing, New York, could be considered a laboratory, where the next market inefficiencies are being hypothesized and tested. Ten years from now, a sequel to "Moneyball" might be published -- if there are still books by then. And maybe by then Brad Pitt will be old enough to play Sandy Alderson in the movie.
Joe Janish is the founder of Mets Today, a SweetSpot network affiliate, and has thrown BP to Don Mattingly, caught Jim Bouton's knuckleball, and eaten a meal prepared by Rusty Staub. You can follow him on Twitter here.
August, 11, 2011
8/11/11
6:05
PM ET
At his peak, Johnny Bench was lethal at throwing out attempting basestealers, more than 40 percent every season from 1968 to 1978, twice peaking at 57 percent. Even more amazing is that since few guys even attempted to steal on Bench, that means only the very best stealers even tried.
[+] Enlarge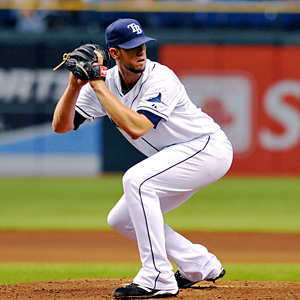 Al Messerschmidt/Getty ImagesJames Shields pitched seven seasons for the Rays before being traded to the Royals earlier this month.
But Bench was no
James Shields
, at least the 2011 version of Shields. The Tampa Bay right-hander allowed his first stolen base of the season the other night (to Kansas City's
Eric Hosmer
). That by itself isn't necessary unique -- since 1990, 27 pitchers have thrown at least 162 innings and allowed one stolen base in a season. Four have allowed zero -- and one of them was a right-hander (
Chris Carpenter
of the 2004 Cardinals; the other three were
Jonathon Niese
last season,
Jarrod Washburn
and
Kenny Rogers
).
What makes Shields' season pretty cool is that he's also picked off 10 guys. (I'm using data from Baseball-Reference.com). Throw in four caught stealings, and that makes baserunners 1-for-15 off Shields, if you add the caught stealings and pickoffs together.
Baseball-Reference has pickoff and pitcher stolen base data back to 1950. There have been 54-pitcher seasons with at least 10 pickoffs, but most of those are by left-handers. Knuckleballer Charlie Hough has the most by a right-hander with 14 in 1988, but he allowed 32 stolen bases that year.
Two guys famous for their pickoff moves were
Terry Mulholland
and
Andy Pettitte
. Indeed, Mulholland picked off 15 runners with the Phillies in 1992, while allowing just two steals in seven attempts. That's a CSPO (caught stealing/pickoff) score of minus-20. Mulholland never had more than seven pickoffs after that, mostly because runners just stood on first base; from 1992 until the rest of his career (more than 1,900 innings), he allowed just 14 stolen bases. Pettitte semi-balk move was questioned many times during his career and he picked off 101 runners, but didn't completely shut down the running game as he allowed 176 stolen bases (against 86 caught stealings).
One of the best recent CSPO seasons was
Chris Capuano
of the 2005 Brewers, when he had 12 pickoffs and basestealers were 2-for-11 off him, a CSPO score of minus-21.
From what I can gather, the best CSPO belongs to Jerry Garvin, a rookie left-hander for the expansion 1977 Blue Jays. He picked off 23 guys -- the record, at least since 1950 -- and basestealers went 10-for-29, giving him a CSPO score of minus-32. That number will hard to beat!
Garvin had a pretty good rookie season, going 10-18 on a terrible team but with a league-average 4.19 ERA and 12 complete games, all at age 21. He was named the left-handed pitcher on the
Topps All-Rookie team
.
Garvin wasn't overpowering and relied on a forkball as a rookie, while unsuccessfully trying to develop a slider or curve. The Toronto Glove and Mail wrote in 1978 that he was looking to "try a cut fastball this spring. For the southpaw Garvin, the pitch would move down and away from a left handed hitter." (Interesting mention of the cut fastball, showing it's
not
a recent development.)
The cut fastball didn't take and Garvin battled elbow injuries the rest of his career. Perhaps the 244 innings as a rookie had taken its toll. As he attempted to rebound in 1980, he talked about his pickoff move in another Globe and Mail story. "The move was so smooth that he frequently caught runners flat-footed, but so technically correct that rival managers never
complained," wrote Neil Campbell. "'It's a matter of timing,' said Garvin, who returned home to Salt Lake City to be with his family after his six weeks in Venezuela. 'My pickoff move takes work and practice, and I haven't been pitching enough to get it down pat.'"
Scrolling through the Lexis database, it's funny seeing the random mentions of Garvin in the Toronto newspaper. He's almost always referred to as the left-hander with the high leg kick and great pickoff off.
As for Shields, he's clearly taken his pickoff game to a new level this year, after allowing 10 steals last year with three pickoffs. Here's a story from May on
Shields talking about his unusual move
, with video highlight of one of his pickoffs.
April, 7, 2011
4/07/11
12:05
AM ET
A few days before the season began I was out running with Matt, one of my editors. Matt is a Mets fan and I was having a good time threatening to write a "Why the Mets could be the worst team in the National League" post.
I never got around to writing it; I guess I didn't really believe in the premise. But we all know nobody thinks the Mets will do anything in 2011, except maybe Bernie Madoff; not one ESPN insider predicted the Mets to make the playoffs. Baseball Prospectus projected the Mets to win 80 games. The Vegas over/under was 77 wins.
So even though they lost Wednesday night to the Phillies to fall to 3-2, they showed some energy by rallying from a 7-0 deficit to tie it. I liked what I saw (other than
Mike Pelfrey
). In fact, I have 10 reasons the Mets may be better than we believe.
1.
David Wright
is still a really good player. He fell out of the "SportsCenter" highlights during that 10-homer season in 2009, but hit 29 last season. If he gets his OBP back in the .390 range, he's one of baseball's best third baseman, a step below the
Ryan Zimmerman
/
Evan Longoria
duo.
2.
Jose Reyes
in a contract year. All the skills are still there. He still has the speed and the rocket arm. He doesn't turn 28 until June. I feel a big year, back among the NL runs leaders … and a big contract in the offseason.
3.
Angel Pagan
is for real. He's a solid center fielder, a switch-hitter with speed and just enough extra-base power to be dangerous. You can win a division title with Pagan out there. For example, is
Shane Victorino
really any better than Pagan?
4. Depth in the lineup. As Baseball Prospectus pointed out in its annual, the Mets gave 40 percent of their plate appearances to hitters worse than league average. Among the culprits with at least 100 plate appearances:
Luis Castillo
,
Rod Barajas
,
Alex Cora
,
Henry Blanco
and somebody named
Jesus Feliciano
. This year, the Mets go eight deep in the lineup, with catcher
Josh Thole
hitting eighth. And Thole isn't that bad. Not much power, but a decent .357 OBP as a rookie in 2010.
5.
Brad Emaus
. My colleague Eric Karabell loves Emaus. Trust in Eric. Hey, he's gotta be better than Luis Castillo. Of course, my couch is better than Luis Castillo.
6. The bench.
Lucas Duda
has some good minor league hitting numbers,
Scott Hairston
can hit lefties,
Daniel Murphy
is back after being injured last season and he's a nice utility guy.
7. Potential in the rotation. I am worried about Mike Pelfrey after two bad starts, but the rotation could be solid with
R.A. Dickey
, a step forward from
Jonathon Niese
, a comeback from
Chris Young
and
Chris Capuano
. Yes, they lack an ace unless
Johan Santana
returns healthy, but all these guys could at least be decent. And if you have five decent starters, you have a chance.
8. The bullpen is sneaky good. Hard-throwing
Bobby Parnell
is ready to emerge in the setup role,
D.J. Carrasco
is a ground ball specialist with a rubber arm who won't give up many homers,
Taylor Buchholz
was really good with the Rockies before getting injured. I'm no fan of K-Rod, but he's better than a lot of closers. (But can we dump the nickname please? He really hasn't been K-Rod since about 2007.)
9. Terry Collins. Let's put it this way: BP reminded me of the incident last season when Jerry Manuel had Castillo bunt in extra innings against Cardinals
outfielder
Joe Mather
. Collins is worth a win or two from a strategic/lineup viewpoint. Or maybe three or four.
10.
Carlos Beltran
's knees. I've avoided mentioning them until now. The Mets are due a little luck in the health department, right?
Add it all up and the Mets could win 86-87 games, and in the National League that could make them wild-card contenders.
Photo Of The Day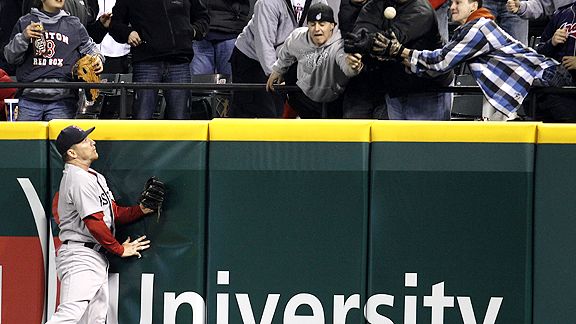 AP Photo/Tony DejakAs the Sox drop to 0-5, could Boston's J.D. Drew be singing "Come Sail Away" already?