April, 4, 2012
4/04/12
10:11
PM ET
There are few events in baseball more exciting than Opening Day. Or Opening Night. Er … let's just go directly to some observations from the Cardinals'
4-1 victory
over the Marlins, ushering in Marlins Park in disappointing fashion for the home crowd onlookers.
Kyle Lohse was brilliant, of course, taking a no-hitter into the seventh inning and reminding everyone of Bob Feller's Opening Day no-hitter. Lohse said after the game that the no-hitter "probably did cross my mind after the fifth inning." He doesn't throw hard, keeping hitters off-balance with a little slider and a changeup that he kept at the knees at night. Lohse had the best season of his career in 2011, although there was some luck built into it: He allowed a .269 average on balls in play, well below his career mark of .302. There's nothing in the numbers that suggests he was doing something different -- his ground-ball rate matched his career and his line-drive rate was actually 1.1 percent higher than his career mark. Everyone expects some regression in 2012, but his first start was more 2011. No walks on the night and through six he threw a first-pitch strike to 13 of the 18 batters he faced. Hitters should know Lohse will come right after them when the bases are empty. He walked only 10 hitters last season in 469 plate appearances with nobody on; with runners, he walked 32 in 306 plate appearances.

Josh Johnson allowed 10 hits for only the second time in his career. While a few of the hits were bleeders and bloopers, he did leave some pitches over the middle of the plate. We can't read too much into the start other than that he threw 91 pitches, avoided the blister issue that popped up in spring training and has his first start under his belt. Undoubtedly, he was pumped up pitching the first game in the club's new park in his first start since last May. There's no reason not to expect better results moving forward.

There was miscommunication in the early innings between Hanley Ramirez and Jose Reyes as both pulled up on Carlos Beltran's little trickler, allowing the ball to roll into left field. In the sixth inning with two runners on and Lohse up in a bunt situation, Johnson made sure to step off the mound and talk with Ramirez. That stuff will sort itself out, but the Marlins' defense is an issue to keep an eye on. The Cardinals legged out two doubles to Logan Morrison in left field on balls that weren't really even in the gaps. As Orel Hershiser said during the broadcast, "A lot of scouts are writing notes down about the arm of Logan Morrison." It doesn't help that Morrison is still battling a sore knee that kept him out most of spring training, but he was a liability out there in 2011 even when healthy. According to the defensive runs saved metric, Morrison was 26 runs worse than the average left fielder -- the worst mark in the majors (only Raul Ibanez was in the same vicinity) and a whopping 46 runs worse than Brett Gardner's majors-leading 23 DRS. There is a lot of ground to cover in deep left-center and center in the new park. In Emilio Bonifacio, the Marlins have an inexperienced center fielder (only 29 games started there in his career entering the season). Chris Coghlan, their other center fielder, rated minus-13 runs in 2011, the worst figure in the majors.

[+] Enlarge

AP Photo/Lynne SladkyOpening night of the 2012 season found Kyle Lohse (26) looking a lot like his 2011 self.

Giancarlo Stanton found out about those center-field dimensions, hitting two deep balls out there that were caught, a towering fly to the warning track in the fifth inning and a deep fly to right-center in the seventh that Jon Jay made a nice running catch on. It's obviously too early to report on how the park will play, and it might play differently when the roof is open versus closed.

Jason Motte threw some 99 mph smokebombs to finish it off. A bit of a step up from Ryan Franklin.

For a while, Lohse had us thinking about the best Opening Day starts. Via Baseball-Reference.com, here are the best Game 1 starts since 1918:


Walter Johnson, Senators, 1926: 111 (15 IP, 6 H, 0 R, 3 BB, 9 K)
Lon Warneke, Cubs, 1934: 96 (9 IP, 1 H, 0 R, 2 BB, 13 K)
Bob Veale, Pirates, 1965: 95 (10 IP, 3 H, 0 R, 1 BB, 10 K)
Mel Harder, Indians, 1935: 95 (14 IP, 8 H, 1 R, 3 BB, 6 K)
Johnny Vander Meer, Reds, 1943: 91 (11 IP, 2 H, 0 R, 5 BB, 3 K)


Six pitchers scored a 90: Bob Feller twice (including his 1940 no-hitter in which he walked five and struck out eight), Tom Glavine, Bob Gibson, Clint Brown and Johnson again with a 13-inning effort in 1919. The best recent effort was Felix Hernandez striking out 12 in eight shutout innings in 2007. Camilo Pascual holds the Opening Day record with 15 strikeouts for the Twins in 1960. Randy Johnson twice fanned 14 for the Mariners.

Opening Night down. Opening Day up next. Good times have arrived.
Follow David Schoenfield on Twitter @dschoenfield.
May, 27, 2011
5/27/11
1:08
AM ET
By
Christina Kahrl
| ESPN.com
Once upon a time, as long ago as spring 2010, Florida had potential problems with its prospects filling their positions. But because of how they've resolved the issues, the Fish might be able to give their feast-or-famine fans another cause to celebrate come October.
Consider their lot little more than a year ago.
Logan Morrison
was a first baseman. As prospects went, he wasn't considered an ideal first-base bat. While he showed an excellent batting stroke in his age-20 and -21 seasons and excellent command of the strike zone, he also had less power than you normally would associate with the position. And no, he wasn't seen as the next Keith Hernandez around the bag, so as good a prospect as he was, he might have been an odd fit at first base.
A rung or two ahead of Morrison in the Fish farm system, the Marlins also had
Gaby Sanchez
, a third baseman whose footwork and defense wasn't considered top-shelf, but also someone whose bat could play in the majors.
This winter, they traded for super utility man
Omar Infante
. They knew they'd also be getting 2009 Rookie of the Year
Chris Coghlan
-- an infielder in the minors -- back from injury. Would they leave Coghlan in left field, and leave Morrison with no place to play?
The Marlins' solution to this multi-corner conundrum? They let the best available bats play. Sanchez had already earned first crack at first base last season as a 26-year-old rookie, and delivered a solid, but unspectacular, .273/.341/.448 season with 19 home runs. They were also already set with
Mike Stanton
looking like a league-leading slugger for years to come out in right field. With two corner positions already filled, Morrison was moved to left in the minors, and he has done nothing but hit since, managing a .292/.397/.487 line in his first 88 games as a pro. Some scouts expected disaster in the field, but disaster has not in fact come. Why should it? With strikeout rates peaking, defenders are making fewer plays than ever, so taking a chance in the corners can pay off, and Morrison's bat is definitely doing that.
What about Coghlan? The Marlins made the daring decision to move him to center field. So far, the fielding metrics are mixed in their evaluation of his performance. But as a way of getting the 2009 Rookie of the Year (after a .321/.390/.460 season) in the lineup, they've few reasons for regret. Added to Sanchez, Morrison and Stanton, the Marlins' brass has found room in the lineup to deploy all of their best ready-now homegrown batters around
Hanley Ramirez
.
The Marlins are not the first team to have problems sorting out a crowded collection of alternatives at various positions, and they won't be the last. But in part because of their decisions -- decisions that go against the grain of any recent "trend" that defense is what matters most -- the Fish are getting set to let their best bats play. Already parked behind the Phillies and boasting the second-best record in the National League, these are the kinds of critical decisions that should keep the Marlins toward the top of the playoff pack well down the stretch.
Why does this matter? In part, because the Marlins are a league-best 14-4 in one-run games so far after sweeping the Giants on Thursday, something that might be seen as "lucky." While having to get by with
Emilio Bonifacio
(during Morrison's three-week absence on the DL) and
Greg Dobbs
in the lineup might lead you to expect regression. But that's the thing about regression -- like life, it isn't fair. Going forward, the Marlins won't have to make do with Bonifacio and Dobbs playing every day, any more than they have to anticipate that Ramirez and Infante will deliver .600 OPS seasons.
The Fish can bank their already-achieved +10 in one-run games and look forward to better offense. They also have the expected advantage of adding prospect Matt Dominguez at third base -- if he earns the call. By already affording themselves reputedly worse defenders in left and center, they should have space for Dominguez's Gold Glove potential at third base -- a case of putting up their best bats
and
their best defenders on the diamond.
As little-engine-that-could stories go, the Marlins are tough to love, given what we know about how they operate on a budget. But it's enough to make you wonder whether the Marlins' anthem ought to be Duke Ellington's "It Don't Mean a Thing." But instead of getting that swing, in the past 14 years the Fish have twice over gotten their ring, their bling, all while delivering a collective ding on the other 27 teams that haven't won two titles in the span. With premium talent deployed to good effect, maybe the Marlins can make it three in 15 as they sail into their ill-gotten pleasure park in Little Havana next season.
PHOTO OF THE DAY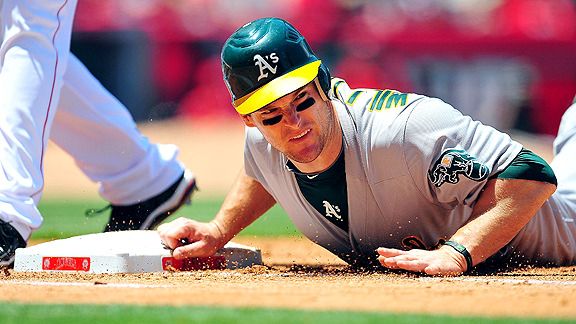 Gary A. Vasquez/US PresswireJosh Willingham's just covering his bases.
Christina Kahrl covers baseball for ESPN.com. You can follow her on Twitter.
March, 29, 2011
3/29/11
2:31
PM ET
And now a look through the Senior Circuit injury wire.
Chris Coghlan and Mike Stanton, Marlins:
Coghlan is suffering from right shoulder tendinitis but is expected to start on Opening Day and will monitor his throwing carefully. Stanton missed much of spring with a quadriceps strain but returned last Friday and hit two home runs.
Mets:
Where to begin?
Jason Bay
could now begin on the DL with a rib-cage discomfort, after missing two games recently with back stiffness. The Mets appear committed to
Carlos Beltran
as their Opening Day right fielder. He played a minor league game over the weekend and went 0-for-5 with three strikeouts and had a double and triple hit over his head. Backup catcher
Ronny Paulino
could be headed to the DL with stomach issues.
Johan Santana
hopes to pitch sometime this season.
Chase Utley, Phillies:
You've been following this one. Nobody knows when he'll be ready ... if it all, although he said Monday a goal is to return before the All-Star break.
Brad Lidge, Phillies:
Lidge will undergo an MRI today
to see if there is structural damage in his shoulder. He'll start on the DL, with
Ryan Madson
taking over as closer.
Placido Polanco, Phillies:
He missed two weeks with a hyperextended elbow but is back and apparently OK.
Adam LaRoche, Nationals:
He has a
slight tear in his rotator cuff
but will rehab and play through it.
Johnny Cueto and Homer Bailey, Reds:
Cueto has shoulder inflammation and Bailey has shoulder impingement and both begin the season on the DL (along with backup outfielder
Fred Lewis
, who has a strained oblique). Cueto has resumed playing catch and Bailey is expected to miss two starts.
Mike Leake
and
Sam LeCure
join the rotation, although the Reds don't need a fifth starter the first turn through the rotation.
Clint Barmes and Jason Castro, Astros:
Castro is out for the season after tearing up his knee (and now catcher
J.R. Towles
has a balky back). Barmes is out 4-6 weeks and the Astros just acquired
Joe Inglett
to help with infield depth.
Zack Greinke and Shaun Marcum, Brewers:
: Marcum missed a start with a stiff right shoulder but
threw four pain-free innings
on Monday. Greinke just started playing catch after suffering a fractured rib playing basketball. A late April return appears to be the goal.
Corey Hart, Brewers:
Hart is aiming
for a mid-April return
from a strained rib-cage muscle. The Brewers just acquired
Nyjer Morgan
for outfield depth.
Chris Snyder, Pirates:
The catcher's bad back will likely land him on the DL, leaving the Pirates with
Ryan Doumit
and
Jason Jaramillo
behind the plate.
Adam Wainwright, Cardinals:
He's out for the season following Tommy John surgery, with
Kyle McClellan
taking his spot in the rotation.
J.J. Putz, Diamondbacks:
A stiff back has limited Putz in Cactus League action, but he's still hoping to be Arizona's closer come Opening Day.
Ian Stewart, Rockies:
He's missed time with a right knee sprain and left Monday's game with a tight hamstring, but said
he isn't concerned
. The Rockies traded for
Josh Fields
as insurance and have
Ty Wigginton
and
Jose Lopez
on the roster.
Jon Garland, Casey Blake and Dioner Navarro, Dodgers:
Garland suffered a strained oblique early in spring training and just getting back to building up his arm strength. He'll need a couple weeks. Blake has back inflammation and will begin the season on the DL.
Jamey Carroll
is around to fill in (or
Juan Uribe
will shift to third with Carroll playing second). Backup catcher Navarro is also expected to start on the DL with a strained oblique.
Mat Latos, Padres:
Latos has bursitis in his right shoulder and
heads to the DL
. Keep tabs on this one as the Padres will undoubtedly be cautious with the young ace.
Brian Wilson and Cody Ross, Giants:
Wilson has a strained oblique and likely to begin on the DL, but could be activated as soon as April 5. Bruce Bochy hasn't announced his backup closer plans. Playoff hero Ross is on the DL with a calf strain and could miss three weeks.
Nate Schierholtz
could take his place or rookie Brandon Belt could play first base with
Aubrey Huff
moving to the outfield.
Follow David Schoenfield on Twitter at @dschoenfield. Follow the SweetSpot blog at @espn_sweet_spot.
March, 11, 2011
3/11/11
10:45
AM ET
By
Dan Hennessey
| ESPN.com
The
Philadelphia Phillies
and
Atlanta Braves
are heavy favorites in the NL East, while the
Washington Nationals
are still building and the
New York Mets
have some talent but are generally a mess. The
Florida Marlins
have won 84, 87 and 80 games during the last three seasons. Could they be the NL wild card, if not the division champions?
The Marlins traded
Dan Uggla
to Atlanta, a severe hit offensively given that they are replacing him with
Omar Infante
(who I presume is keeping second base warm until Osvaldo Martinez is called up). They signed
John Buck
to be their catcher, stabilizing a position that's been a concern for Florida for the last half-decade.
Mike Stanton
and
Logan Morrison
will each get a full season's worth of playing time, adding to a young core that includes
Gaby Sanchez
and
Hanley Ramirez
(hard to believe he's only 27).
Chris Coghlan
, recovering from knee surgery, will take a crack at center field. He's already moved from second base to left field (and handled it fairly well), but the move to center is even more difficult, especially coming off a leg injury. With these five, the core is young and talented, with room yet to improve.
In the rotation,
Josh Johnson
leads the way; over the last two seasons, he's posted a 2.80 ERA that matches a sparkling 2.76 FIP. A big-time groundball pitcher, his home ballpark also helps him keep the ball in the park.
The talented trio of
Ricky Nolasco
(28),
Chris Volstad
(24) and
Anibal Sanchez
(26) follows Johnson, and the Marlins added
Javier Vazquez
on a one-year deal. If he can find what made him great in 2009, when he was one of the top three or four pitchers in the National League (and I think it was just more than moving to the American League), the Marlins will run out an above-average starter every day. Additionally, two Florida trades this winter included bullpen arms coming back.
Ryan Webb
,
Edward Mujica
, and
Mike Dunn
all figure to strengthen the bullpen in front of
Leo Nunez
.
Even with their additions, the Marlins need their young talent to get better. It might seem like an obvious statement, but those young players are also their best players, and they'll need to become elite quickly if the Marlins are going to compete in September.
For the past few seasons (since the trade of
Miguel Cabrera
and
Dontrelle Willis
), it has seemed like the Marlins have been building for the future. That future could be here soon, just as soon as the stars-to-be become stars right now.
Dan Hennessey writes Baseballin' on a Budget, a blog about the Oakland Athletics. Follow him on Twitter @DanHennessey31.
November, 12, 2010
11/12/10
1:51
PM ET
Chris Coghlan
's knee is heeling, and just in time because this winter he's supposed to
learn a (mostly) new position
:

As of now, the Marlins plan on converting Coghlan from left field to third base.

A natural infielder, Coghlan was switched to left field in May 2009 to get his bat in the lineup. The move paid off as he hit .321 and won the NL Rookie of the Year honors.

In 2010, Coghlan was limited to 91 games and was hitting .268 when he suffered his season-ending injury on July 25.

Coghlan damaged his meniscus during a postgame celebration when he landed awkwardly on his knee after smearing a shaving-cream-covered towel into the face of Wes Helms, who delivered a walk-off hit.

When he is cleared to do baseball activities, Coghlan will focus on switching to third base. For now, his primary focus is being completely healthy.

"They told me third base, and I haven't heard otherwise," Coghlan said of where he expects to play next season. "There are a lot of things that can still happen. You never know. But as of right now, the tentative plan is third base.

The Marlins' third basemen last season were
Jorge Cantu
and
Chad Tracy
.
The Marlins have three young outfielders --
Logan Morrison
,
Cameron Maybin
, and
Mike Stanton
-- who absolutely must play almost every day.
So, yeah, if Chris Coghlan is going to play, he has to play third base. Unless
Dan Uggla
is traded, in which case Coughlan could probably play second base, his primary position in the minors. Coghlan did play in 42 minor-league games at third base and posted a sparkling .907 fielding percentage. That's an incredibly small sample and he figures to fare better with more experience. But the major leagues is a tough place for on-the-job training. So the sooner Coghlan knee heels and he can start taking hard grounders, the better the chance he'll be in the Marlins' Opening Day lineup.
May, 10, 2010
5/10/10
2:00
PM ET
In the wake of
Mike Stanton
's monster home run last Thursday, Drew Silva wonders about
Stanton's future
:
The Marlins have a fairly talented outfield this season and don't have an immediate need for Stanton's presence in the big league lineup, but that could change if the mashing continues at Double-A. He should at least gain a promotion to Triple-A New Orleans by June.

Stanton was drafted out of high school by the Marlins in the second round of the 2007 MLB June Amateur Draft. He's only 20 years old and won't turn 21 until November. This kid might be something special.
Two questions:
1.
Might
be something special?
2. Fairly talented
outfield
?
Stanton entered this season as one of the five best hitting prospects in the minors. Baseball America ranked him as the third- or fourth-best prospect overall. John Sickels wasn't nearly as optimistic, ranking him No. 7 among hitters (and presumably behind Stephen Strasburg), but behind three catchers; considering hitting talent alone, Stanton was very near the top.
In 2008, Stanton destroyed the South Atlantic League. He was 18.
In 2009, he killed the Florida State League, then struggled after a promotion to the Double-A Southern League. But he was 19. His .231/.311/.455 line was actually quite good for a baby.
Why was Sickels slightly less bullish than Baseball America? Because Stanton (as John wrote) "has a frighteningly high strikeout rate." It's true: Stanton has struck out 349 times in 298 professional games. Even this spring, he's batting .340 but with 31 strikeouts in 27 games. What's different, though, is the walks. Previously, Stanton walked roughly once for every two-and-a-half strikeouts. This season it's closer to one (unintentional) walk for every one-and-a-half strikeouts.
It's early, of course. But if Stanton can control the strike zone, he'll justify Baseball America's faith.
Now, about that Marlins outfield ... Yes, there's a fair amount of "talent" there.
Chris Coghlan
was Rookie of the Year last season,
Cameron Maybin
used to be a top prospect, and
Cody Ross
... well, Cody Ross has enough power to occasionally make you forget his inability to control the strike zone.
This year, though? Train wreck. Crash site. Horror show. Epic fail.
OPS-wise, Florida's left fielders, center fielders, and right fielders rank 13th, 14th, and 15th in the National League. As a unit, they're
the worst in the majors
.
Stanton's probably not a long-term answer in center field, but he's got the range and arm for right field. If I was Cody Ross, I definitely wouldn't be looking at real estate near
the new ballpark
. And I might be staking out a spot on the bench for this July.
November, 16, 2009
11/16/09
7:54
PM ET
In today's news,
Chris Coghlan
and
Andrew Bailey
were named Rookies of the Year in
tight contests
. And in the case of Coghlan, I did some work and came up with a different answer than I had yesterday.
Leaving aside the pitchers for a moment -- and of course
J.A. Happ
and
Tommy Hanson
both were fine, fine Rookie of the Year candidates -- there were two obviously outstanding candidates among the hitters: Coghlan and Pittsburgh's
Andrew McCutchen
.
Both players scored and drove in roughly the same number of runs. Coghlan hit for a better average, but McCutchen drew more walks. Both finished with adjusted OPS's roughly 20 percent better than league average.
McCutchen stole more bases, but Coghlan played more games. If you showed me those numbers and those numbers alone, I would quickly place Coghlan ahead of McCutchen.
If you told me that Coghlan played left field and McCutchen played center field, though? I might pause.
And here's the thing, though ... The
best available evidence
suggests that Coghlan was a lousy left fielder. Playing left field is bad enough -- because a lot of guys can play left field -- but playing left field
poorly
really take a fellow down a few pegs. It's not surprising that Coghlan wasn't much good in the outfield, because before this year he'd spent his entire career as an infielder: third base in college, second base in the minors.
Knowing that, this would have been an awful choice if McCutchen had played well in center field ... but it's not clear that he did. Last winter, Baseball America wrote about McCutchen, "He has outstanding speed that makes him a basestealing threat and a potential Gold Glover. He has outstanding instincts and an average arm in center field."
You give me a Gold Glover with McCutchen's hitting stats and I'll give you a Rookie of Year, even if he plays on 108 games. But McCutchen doesn't seem to have played Gold Glove defense in 2009. According to Ultimate Zone Rating, he was average at best. According to the Fielding Bible data, he was one of the worst center fielders in the majors.
Unfortunately, that's essentially the difference between Coghlan and McCutchen. If you think McCutchen was decent with the glove, he's better than Coghlan. If you think McCutchen was terrible, you can make an argument for either of them. Given the uncertainty that comes with evaluating the defense of rookies -- a season's worth of defensive statistics are like two months' worth of hitting statistics -- I'm happy to defer to the wisdom of the voters in this case. I don't believe I would have ranked McCutchen fourth -- behind not only Coghlan, but also J.A. Happ and Tommy Hanson -- but it's not easy to separate those four and you can defend ordering them just about any way.
The funny thing, though? There were 96 openings on the Rookie of the Year ballots: 32 ballots, three spaces per ballot. The best, most valuable rookie in the National League this year was probably Cubs righthander
Randy Wells
. He took exactly one of those 96 spots, placing second on one ballot.
Go figure.
October, 5, 2009
10/05/09
1:01
PM ET
A little-noticed nugget, courtesy of Elias:
Chris Coghlan capped his torrid second half with three hits on Sunday and he finished the season with 113 hits after the All-Star break. That's a National League record for most post-break hits in one season by a rookie and it's the highest total by a freshman since Boston's Dave Stapleton collected 120 hits after the break in 1980.
Before I launch into the inevitable sniping, let me say this: the Marlins deserve a great deal of credit for sticking with Coghlan. Despite having played only 25 games in Triple-A, Coghlan joined the Marlins in early May. In his first 25 games with the big club, he put up a .205/.337/.282 line. As you can tell, he drew plenty of walks but did almost nothing else.
The Marlins kept playing him, though, and from June 6 through the end of the season Coghlan batted .343/.400/.493. Not bad for a guy who's got a .298 career average in the minors. OK, now for the sniping ...
From Baseball America's preseason report:
Predominantly a third baseman in college, he has made himself into a solid second baseman. His baseball smarts and work ethic bode well for him. Coghlan's hands aren't the softest, and he remains a work in progress around the bag at second. He probably won't hit for much power, though he does tend to find the gaps. It was a surprise when the Marlins acquired slick-fielding second baseman Emilio Bonifacio from the Nationals in November. Coghlan is a superior hitter and could bounce back to third base if needed, but his fast track to the majors as Dan Uggla's eventual replacement has gained a potential roadblock.
The real surprise came when the Marlins shifted the light-hitting Bonifacio to third base ... and just kept playing him there, game after game after game. Among the 76 National Leaguers who played enough to qualify for the batting title, Bonifacio might have been the worst. He finished with the lowest OPS in the league and wasn't much of a third baseman, either. Meanwhile, the Marlins shifted Coghlan to left field -- where he was just awful --
and
left
Cameron Maybin
, an outstanding outfielder, in the minors for most of the season. Was the Marlins' solution to this puzzle really the best they could do?
They finished five games behind the Rockies in the wild card standings, and were pretty lucky to get that close. But the last week of the season could have been more exciting than it was, for the few Floridians who hadn't shifted their attentions to the football.
Is Coghlan the new Stapleton? The Marlins have to hope not. Stapleton (most famous for not playing in this game) played regularly for a few seasons as a super-utility infielder, but suffered a serious knee injury in 1984 and wound up on the end of the bench in each of the next two seasons. He went to spring training with the Mariners in 1987, but was released and never played again.
There's really no reason to think that Coghlan's career will follow a similar path. Oh, he could become a super-utility player. We know he can play second base and third base, and of course left field (if poorly). But Coghlan's two years younger than Stapleton was as a rookie. And Coghlan's already had a better season than Stapleton ever did.
So, no: He's probably not the new Dave Stapleton. But this winter the Marlins need to decide what he will be. Because he probably shouldn't again be an every-day left fielder.
September, 8, 2009
9/08/09
2:43
PM ET
Hey,
here's a name
I hadn't considered in a while. From Rosenthal:
Chris Coghlan, National League Rookie of the Year.

Who? What?

Coghlan, the Marlins' left fielder, isn't as well-known a rookie as Phillies left-hander J.A. Happ or Braves righty Tommy Hanson, but he should be.

In August, he became only the second National League rookie in the last 60 years to produce 47 or more hits in a month; Wally Moon had 52 in July 1954.

For all the talk about American League Most Valuable Player, the races for the two rookie awards are far more competitive, featuring numerous candidates in each league.

Coghlan, 24, is third in the N.L. in batting with a .376 average since the All-Star break. He has a higher on-base/slugging percentage than Pirates center fielder Andrew McCutchen and Rockies center fielder Dexter Fowler, the latter of whom has not played since Aug. 24 because of a bruised right knee. Brewers third baseman Casey McGehee is closer to Coghlan in OPS but has nearly 150 fewer plate appearances.
Actually, I think there are numerous (viable) MVP candidates in both leagues, too. Just as many MVP candidates as Rookie of the Year candidates, really. But we've discussed them plenty already. You know how I feel about
Joe Mauer
, and you know I think that
Chase Utley
and
Hanley Ramirez
have been just as good as
Albert Pujols
. But you probably don't know how I feel about the rookies, because until this moment
I
didn't know how I felt.
For example, I had no idea how well Coghlan's been playing. Last time I checked -- back in June, probably -- he was just sort of sputtering along with no talk of any award, and now he's the best Rookie of the Year candidate in the league, with a .310/.382/.448 line that's easily the best among the three qualifying rookies (Fowler and Colby Rasmus being the others). That said, McCutchen's right behind Coghlan, OPS- and PA-wise, and he's got more doubles, more triples, and more home runs. Oh, and he's also far more valuable with the glove.
So among the hitters, McCutchen's actually the guy.
Can any of the pitchers bust up the party? I doubt it. In the presence of solid candidates like McCutchen and Coghlan, it would probably take 14 or 15 wins for a starter to draw real support, and Happ and Randy Wells are both sitting on just 10 wins now. And no National League rookie reliever has more than three saves.
At the moment, then, it's McCutchen's to lose. Which is yet another reason to like the Pirates' future.
(Later today: American League rookies.)
June, 30, 2009
6/30/09
3:31
AM ET
Juan C. Rodriguez
asks a question
| | |
| --- | --- |
| | |
| | Al Bello/Getty Images |
| | Marlins third baseman Emilio Bonifacio is struggling this season. |
I thought we'd already answered: "Can the Marlins win with
Emilio Bonifacio
at third base?"
... for all the buzz about Gaby Sanchez moving from first to third at Triple-A New Orleans, it's looking less and less likely Bonifacio is going anywhere. Are the overall numbers still disappointing? Yes. Even aftera 1-for-3 performance with a triple and sacrifice fly that knocked in the deciding run in the eighth, Bonifacio's OPS remains .601. His on-base percentage (.298) has been south of .300 since May 22. He's been error-prone at third, a position he hadn't played before this spring.

Yet for all that, I thought manager Fredi Gonzalez had a telling quote about him after the game: "Boni, even through all the stuff he's been going through, at the beginning of the year and hitting .900 and people expecting him to hit .970, he comes every day to work and he's getting better. He's got a nice little hitting streak going. He's hitting a little over .300 from the right side ... He's doing fine. He's one of those guys you characterize as a winner because he'll find something to do during the course of a game to help you win a ballgame."

--snip--

Would the Marlins be a better team with Mark DeRosa starting at third every day? Probably, but this notion that the only reason Bonifacio is still here is so the Marlins can justify the trade that sent Scott Olsen and Josh Willingham to the Nationals is absurd. If that was the case, why isn't Cameron Maybin here to justify the Miguel Cabrera trade? Come on.

I know Bonifacio's fan base has dwindled to next to nothing since his flashy first week, but if I were a Marlin fan I'd get used to him being in lineup in some capacity. It doesn't look like he's going anywhere.
I wouldn't get used to him being there. Not in the lineup regularly, anyway. I don't know if Bonifacio's still in there because the Marlins are trying to justify a trade, or because someone's got a serious blind spot, or because of something else. I don't want to suggest that management is foolish; it's just that management is behaving foolishly in this particular case. Hey, everybody makes mistakes. Usually they're not so glaring as this one, but someone has to be No. 1, right?
Regarding Fredi Gonzalez, either he really believes that claptrap he's spouting or he's just saying something nice because he has to. If it's the latter, I feel sorry for Marlins fans.
Regarding Gaby Sanchez, I'm not sure why his switch to third base isn't considered more newsworthy. The Marlins moved him a few weeks ago, and he's now got nearly as many games at third base as first. This, after he was voted the best defensive first baseman in the Southern League last year; the Marlins wouldn't have moved him back to third -- where he played quite a bit early in his pro career, and then again last season -- if they didn't think that position might be in his immediate future (and it's not like they have a powerhouse first baseman ahead of him).
Just one problem: Sanchez has been moved off third base twice in his pro career already, simply because he wasn't much good at it; in 126 games there, he's got a .917 fielding percentage, and that just won't play in the majors. So this is probably his last shot. If he doesn't start making the plays, he'll go back to first base for good. And the early returns are not good: four errors in 19 games.
If Sanchez can't play third base, can someone else? Sure. Right now the Marlins often have three second basemen in the lineup: Bonifacio (at third), Dan Uggla (at second) and rookie Chris Coghlan (in left field).
Coghlan hits like a second baseman, Uggla hits like a third baseman, and Bonifacio hits like a surprise call-up from Class AA.
Coghlan used to play third base, in the minors. Uggla's been playing second base like a third baseman for years. Bonifacio's glovework (which is shoddy) is irrelevant because you could justify playing him regularly only if he were a Gold Glove shortstop (which he is not).
Depending on how you measure such things, the Marlins have one, two, or three players who are capable of assuming Bonifacio's duties, and the only catch is that they might have to find a new left fielder. Which -- as I noted just a few days ago -- shouldn't be all that hard, considering that top prospect Cameron Maybin has a .410 on-base percentage with New Orleans this season.
And yes, it was just a few days ago. Sue me. In Blogging for Idiots, right there on Page 37, it says to keep hammering the same point until the suits do what you've told them to do. It also says on Page 37 that when that happens, you get to take credit. So, you can understand my fixation on this matter.
(H/T: BTF's
Newsstand
)