August, 9, 2014
8/09/14
4:30
PM ET
By
Christina Kahrl
| ESPN.com
Maybe it's a matter of sympathy for a team that lost much of its rotation to the surgeon before a pitch had been thrown. Maybe it's because we all love prospects, and indulge them their shortcomings while anticipating their glorious futures. But with the
Atlanta Braves
, as we move into the season's final third, it's time to acknowledge that this isn't much of a contender as teams go. If anything, it's a team that should consider itself fortunate to be .500. The Braves are three games over now, with an expected record a game or two worse than that.
That might be enough to win the increasingly feeble NL East, but the question is where you might reasonably expect the Braves to improve, because it's a club with a lot of areas for improvement -- especially in the lineup. Despite the presence of star slugger
Justin Upton
, the much-ballyhooed breakthrough of
Evan Gattis
, and the continuing development of young stars
Jason Heyward
and
Freddie Freeman
, the Braves rank 13th in the league in runs scored and -- adjusting for a pitcher-friendly home park -- 11th in OPS+. The only other contender trying to do as much with as little offense is Cincinnati, in fourth place in the NL Central but a direct threat to Atlanta's chances should the Braves fail to win the NL East.
A big problem has been the team's power outage: The Braves are tied for 10th in the National League in isolated power. The Cardinals' slugging shortage has been a season-long talking point, but through Friday night's action they had more extra-base hits than the Braves (293 to 290).
[+] Enlarge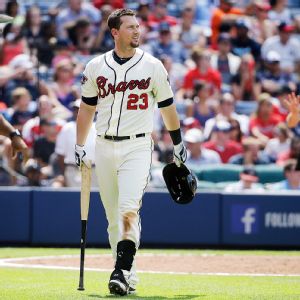 AP Photo/David GoldmanChris Johnson's impatience at the plate has hurt the Braves' offense this season.
Even swapping in
Tommy La Stella
for
Dan Uggla
(and
Ramiro Pena
, and
Tyler Pastornicky
) hasn't been enough to compensate for the multiple empty slots in the Atlanta lineup. The teamwide OPS before that move was .681, but it's .680 since La Stella got called up. That isn't on La Stella but rather on the stack of guys not named Uggla who still aren't contributing on offense.
In part, the Braves reap what they sow because they decided to rely on some fairly extreme hitters, extreme in that they're guys who contribute entirely in some departments but not others:
Andrelton Simmons
, Gattis and
Chris Johnson
don't walk and never have, and La Stella has no power and shouldn't be expected to provide much. Although you can accept excuses for Simmons and Gattis because they're at up-the-middle positions and -- at least in Simmons' case -- provide "best in baseball"-grade defense, if you rely on too many extremes like that, you wind up with reasons why a lineup doesn't function as a whole. Among every-day players, Upton and Simmons are in the bottom 10 in OPS among batting-title qualifiers; Johnson is just 11 points from sharing this "distinction." The Braves are last in the league in WAR at third base and center field.
With this year's disaster piled on top of his first season in Atlanta,
B.J. Upton
might represent the biggest disappointment in the history of Braves outfielders since Claudell Washington or Brad Komminsk. There is no reason for optimism. Upton's strikeout rate is still north of 30 percent, and his walk rate is down from his career norms. Add in his mediocrity afield and he's one of the least valuable players in the game before you even get into what the Braves are paying for the privilege of employing him. The decision to bat him leadoff most of the time in the past 40 games has helped undermine much of the value they received from adding La Stella, while giving the most at-bats to a guy who would be the worst starting player in most big league lineups.
If their worst player isn't Upton, it's Johnson. That might surprise you because last year he threatened to win a batting title. And when he's hitting .320 and slugging .450, he's an asset. But Johnson has been especially impatient at the plate this year, seeing his strikeout and swinging strike rates rise to their highest level since his rookie season while his pitches per plate appearance clip has dropped to its lowest since then, and his power production is at an all-time low (.109 ISO). This year, an even more aggressive approach has reduced a hitter whose signal virtue was that aggressiveness and plate coverage into the epitome of an empty batting average.
To make matters worse, the Braves' bench has contributed next to nothing at the plate, and that's as much a matter of design as accident considering the players Atlanta has. Losing Gattis for the better part of a month exposed career bench jockey
Gerald Laird
and an unready
Christian Bethancourt
behind the plate; Uggla's implosion put Pena and Pastornicky on the spot.
Ryan Doumit
has struggled badly as the primary pinch hitter. This shortage of alternatives inspired the acquisition of
Emilio Bonifacio
from the Cubs. He doesn't walk or bop, but he might nevertheless be a sporadic upgrade on B.J. Upton or Johnson.
Beyond their problems with their worst players, the Braves' additional problem on offense is that most of their good players are generally just that -- good, but not great enough to compensate for some of the worst regulars in the game. Freeman and Heyward have to be called out for what they've been: solid regulars with plenty of upside. But despite years of hype, they're not yet dominant players at their positions. Freeman's WAR (2.2) lodges him among guys such as
Matt Adams
and
Adam LaRoche
, and well behind
Paul Goldschmidt
or
Anthony Rizzo
in terms of value at first base in the NL. Heyward gets rated highly in overall WAR because of his value on defense, but rank him for his offensive production (oWAR) at an offense-first position like right and he's just sixth among NL right fielders. He ranks that high only because
Ryan Braun
has spent time on the DL.
It's reasonable to hope Freeman and Heyward will break out, in the same way you want to bank on them in the long term. But although
Dan Szymborski of ESPN Insider
projected an OPS of .839 for Freeman in the second half at the All-Star break, Freeman has been at .708. More happily, Heyward's been cranking at a 1.024 clip since the break (projected for .757); now, just imagine if that were back at the top of the order instead of B.J. Upton. Coming back from injury, Gattis has struggled (.620 OPS, projected for .808).
Barring a waiver-trade pickup or two, the Braves have little choice but to let it ride. What hope they should really harbor for a big stretch-run improvement on offense rests with Gattis, Freeman and Heyward finally cementing themselves as top players at their positions. As Szymborski projects, you can hope that's the case, but there's no time like the present.
Christina Kahrl writes about MLB for ESPN. You can follow her on Twitter.
May, 9, 2014
5/09/14
3:13
PM ET
By
Jason Rosenberg
| ESPN.com
We're nearing the end of Week 6 and Nolan Arenado is
still hitting
, Seattle can't seem to lose,
the Jays are mashing
, Miami sits atop the the NL East and is unbeatable at home, Laz Diaz is
still taunting
players and a few teams picked to excel this year are below .500 (looking at you, Rays, Pirates, Royals, Reds, Cleveland).
Arizona Diamondbacks: Inside the 'Zona
Projections vs. reality: D-backs position players
: Jeff Wiser compares preseason ZiPS projections to the performances of each of the Arizona position players, showing that some players are more responsible for the team's slow start than others, and discussing what to expect of each going forward. Follow on Twitter:
@OutfieldGrass24
.
Atlanta Braves: Chop County
The Braves made a mistake by signing Chris Johnson
: Martin Gandy says the Braves signed one too many players to a long-term contract when they inked Chris Johnson this week. Follow on Twitter:
@gondeee
.
Baltimore Orioles: Camden Depot
Anatomy of a Scoring Decision
: Joe Reisel discusses what goes into the decision-making process of an official scorer. He uses a specific incident during one of his games in Norfolk. Follow on Twitter:
@CamdenDepot
.
Boston Red Sox: Fire Brand of the American League
Starting rotation could separate Red Sox in AL East
: With a deep and talented set of starters and plenty of prospects biding their time in Triple-A, the Red Sox's depth at starting pitching might prove to be their crucial advantage. Follow on Twitter:
@AlexSkillin
.
Chicago Cubs: View From the Bleachers
Three Cubs prospects who deserve a promotion
: Joe Aiello takes a look at some names in the Cubs farm system who are off to a great start and deserve consideration for a promotion. Follow on Twitter:
@VFTB
.
Chicago White Sox, The Catbird Seat
On Donald Sterling and Jerry Reinsdorf
: Chris Lamberti uses Jerry Reinsdorf's history to explore the fallacy of believing owner misdeeds are as obvious and easily purged as Donald Sterling's boorish racism. Follow on Twitter:
@TheCatbird_Seat
.
Colorado Rockies: Rockies Zingers
Analyst Who? Don't blink
: Richard Bergstrom channels The Doctor with a word to any companions attempting to observe the Colorado Rockies' front office. Follow on Twitter:
@rockieszingers
.
Milwaukee Brewers: Disciples of Uecker
Carlos Gomez and controlled aggression
: Carlos Gomez's game is all about aggression, but he's bringing more control to it all the time according to Curt Hogg. Follow on Twitter:
@cyrthogg
.
New York Yankees: It's About The Money
Derek Jeter and the fastball
: It seems Derek Jeter is having an issue with fastballs and so far, and teams like the Rays and Angels are bombarding him with them.
@edermik
.
The maturation of Dellin Betances:
Dellin Betances has been tremendous out of the bullpen and Brad Vietrogoski writes about how much Betances has matured to get to this point. Follow on Twitter:
@IIATMS
.
St. Louis Cardinals: Fungoes
MAD factor for pitchers
: Pip quantifies the Madduxian ideal of enticing batters both to swing at balls and to not swing at strikes. Follow on Twitter
@fungoes
.
Tampa Bay Rays: The Process Report
Under The Hood: Jennings, Loney and Joyce
: Tommy Rancel examines the hot starts of Desmond Jennings and Matt Joyce while exploring James Loney's performance in "clutch" situations. Follow on Twitter:
@TRancel
Texas Rangers: One Strike Away
Second Base and the offensive regression
: Brandon Land looks at the spot in the lineup that is now hurting the Rangers the most. Follow on Twitter:
@one_strike_away
.
Jason Rosenberg is the founder of It's About the Money, a proud charter member of the SweetSpot Network. IIATMS can be found on Twitter here and here as well as on Facebook, although the to-be-renamed podcast was spiked on iTunes.
April, 25, 2014
4/25/14
2:54
PM ET
Four weeks into the 2014 season, we've already had plenty to talk about. The Diamondbacks have burst out of the gate as baseball's worst team. The Braves have had no issue moving on after losing
Kris Medlen
and
Brandon Beachy
to surgery, taking top billing in the NL East.
Albert Pujols
joined the 500 home run club and reports of his demise may have been greatly exaggerated. And who had the Brewers jumping out to a sizable lead in the NL Central?
Many of these developments, though, will change or be forgotten altogether as the season marches on. If you're skeptical, come with me as we examine some of the newsworthy headlines from
last
April.
Carlos Quentin breaks Zack Greinke's collarbone in brawl
On April 11, the Dodgers were in San Diego for a night game against the Padres with Zack Greinke on the hill. Padres outfielder Carlos Quentin led off the bottom of the sixth and was hit in the shoulder with a 3-2 fastball. He charged the mound and a bench-clearing brawl ensued. Quentin lowered his shoulder into Greinke, breaking the pitcher's collarbone.
In the aftermath, Quentin was suspended eight games and received a $3,000 fine, and Greinke needed a one-month stint on the disabled list. There were debates about just how long Quentin should have been suspended, as many felt eight games was not enough despite the length being a record at the time. In fact, Dodgers manager Don Mattingly said, "He shouldn't play a game until Greinke can pitch." But ultimately, interest in the debates waned and the issue was forgotten shortly after Greinke's return.
The obvious comparison this year is the bench-clearing incident between the Brewers and Pirates, when Pirates pitcher
Gerrit Cole
barked at Brewers outfielder
Carlos Gomez
for staring at a fly ball that eventually bounced off of the center-field wall for a triple. Gomez didn't take kindly to it and went after Cole. The benches emptied and violence ensued. Gomez used his helmet as a weapon while
Martin Maldonado
punched
Travis Snider
in the face, leaving a hefty welt. Maldonado and Gomez got five- and three-game suspensions, respectively; the Pirates' Snider was suspended for two games and Pittsburgh catcher
Russell Martin
for one. Cole was not suspended for his involvement.
As usual, there have been plenty of debates, particularly involving Cole's
lack of a suspension
. Additionally, some have argued that Gomez's emotion is
part of the culture
in which he was raised, and is ultimately good for the game. In a week, however, the incident will be forgotten and nothing will change, just like last April.
Justin Upton and the Braves-Diamondbacks trade
In January 2013, the Diamondbacks and Braves agreed to a headline trade. The Diamondbacks sent outfielder Justin Upton and infielder
Chris Johnson
to the Braves for three minor leaguers, pitcher
Randall Delgado
and jack-of-all-trades
Martin Prado
. The trade was initially hailed as a slight win for the Braves.
Upton started off his time with his new team on fire. In 112 plate appearances through the end of April, Upton hit 12 home runs with an 1.136 OPS. At the end of April, Johnson was also hitting .369 while Delgado was struggling in Triple-A for the D-backs and Prado had a meager .614 OPS. Some thought the trade could end up worse than it looked, even back in January.
But as players on hot streaks are wont to do, Upton cooled off. The 12 home runs he hit in April were followed by a grand total of four between the start of May and the end of July. He finished the season with 27 home runs, meaning that 44.4 percent of his home runs were hit in April, which encapsulated 17.4 percent of his plate appearances. Johnson wound up being the X factor in the trade, as he finished with a .321 average and matched Upton in WAR at 2.4, according to Baseball Reference. At the end of the season, the trade between the D-backs and Braves wasn't nearly as much of a win for the Braves as it appeared at the end of April.
This past offseason's biggest trade involved three teams. The Diamondbacks got
Mark Trumbo
, cash and two players to be named later; the Angels got
Tyler Skaggs
and
Hector Santiago
; and the White Sox got
Adam Eaton
. While the Diamondbacks may appear to have lost that trade in the early going -- Trumbo has minus-0.3 WAR despite an NL-leading seven home runs, and is currently on the DL -- a lot can happen in the next five months to change our evaluations.
Matt Harvey joins baseball's elite, but leaves just as quickly
At the end of July in 2012, the Mets added Matt Harvey to their rotation and were immediately rewarded. He posted a 2.73 ERA over 10 starts, cementing his place in the Mets' rotation. Harvey was even better over a larger sample size in 2013, and it all began in his first start. The right-hander shut out the Padres over seven innings with 10 strikeouts and held the opposition to two or fewer runs in eight out of his first nine starts.
The Mets shut Harvey down after his 26th start on August 24. He finished with a 2.27 ERA, 191 strikeouts and 31 walks in 178 1/3 innings. He led the league in FIP at 2.01 and finished fourth in NL Cy Young voting.
In September, it was revealed that Harvey needed Tommy John surgery to repair a partially torn ulnar collateral ligament in his right elbow. Harvey had tried his best to avoid surgery, but ultimately went under the knife on October 22. The operation meant that he will miss most or all of the 2014 season, a serious blow to the Mets.
Pitchers, as a group, seemingly are needing Tommy John surgery now more than they ever have. Harvey was later joined by Medlen, Beachy,
Matt Moore
,
Patrick Corbin
,
Jarrod Parker
, Jameson Taillon and now
Ivan Nova
, among others who needed the surgery.
The Red Sox really were baseball's best
At the end of April 2013, the Red Sox had baseball's best record at 18-8. It was matched by baseball's best run differential at plus-38. The Sox had finished 2012 at a disappointing 69-93, but made a lot of personnel changes, including at manager, during the offseason. Still, few had them winning the AL East going into the season. Only four of the
ESPN experts polled in March
picked the Red Sox to make the postseason, and all four of them pegged the Sox as wild-card winners, not division winners.
The additions of
Mike Napoli
,
Stephen Drew
,
Jonny Gomes
,
Mike Carp
,
Jake Peavy
and
Koji Uehara
proved to be just what the doctor ordered even though only Napoli and Carp came out of the gates hitting. Peavy wasn't acquired until midseason in a trade with the White Sox, and Uehara didn't become the closer until late June.
The Red Sox were fearsome enough with their core of
David Ortiz
,
Dustin Pedroia
,
Jon Lester
,
Clay Buchholz
,
Shane Victorino
and
Jacoby Ellsbury
. But the ebbs and flows of a season sometimes require tinkering, and GM Ben Cherington and manager John Farrell weren't afraid to tinker when the situation called for it.
Right now, the Athletics (plus-36) and the Braves (plus-21) have the best run differentials in their respective leagues. Will they still be at the top when the end of the regular season rolls around? Will they make the appropriate adjustments to remain competitive through the dog days of summer? That is, after all, why they play the games.
August, 7, 2013
8/07/13
11:37
PM ET
This is how you win 13 games in a row. You're tied 3-3 in the eighth inning. With two outs,
Andrelton Simmons
doubles. A guy named
Joey Terdoslavich
walks.
Jason Heyward
singles in one run,
Justin Upton
doubles in two and then the league's best bullpen does its job the final two innings. Heyward and Upton get the glory stats with the RBIs, but the key at-bat of the inning in the Braves' 6-3 win over the Nationals was Terdoslavich walking on a 3-2 pitch.
1. Thirteen in a row is pretty awesome. How often does it happen? Since 1990, here are the streaks of of 13 games or longer:
2002 A's: 20 (second-longest in history)
2001 Mariners: 15
2000 Braves: 15
1991 Twins: 15
1999 Padres: 14
1994 Royals: 14
1991 Rangers: 14
1999 Orioles: 13
1992 Braves: 13
1991 Phillies: 13
And now the 2013 Braves. That's 11 streaks in 24 seasons, so it happens on average about once every two seasons or so. Pretty impressive.
2.
Kris Medlen
looked pretty good on Wednesday. He's only 9-10, however. What's going on there?
Medlen, of course, had that unhittable stretch as a starter last season, going 9-0 with an 0.97 ERA in 12 starts. He's been much more hittable this season, without the same fastball command and precise location on his change. Opponents are slugging .450 off his fastball as opposed to .355 last year. But it was the changeup that was absolutely devastating a season ago: Batters hit .087 (10-for-115) with one home run; it was arguably the best pitch in the game. In 2013, they're hitting .210, although with just two home runs, so he's still keeping it down in the zone. Maybe he's not the ace some projected at the start of the season, but he's pretty solid.
3. But they don't need him to be an ace, do they?
Not with the way
Mike Minor
and
Julio Teheran
are pitching. Minor is finally starting to get some publicity, but it's the rookie Teheran who has been the big surprise. Since giving up 13 runs and five home runs in his first three starts, he's posted a 2.38 ERA and has allowed zero runs or one run 10 times in 19 starts. He's legit.
4. How about Jason Heyward hitting leadoff?
I love it. Simmons is not a leadoff guy with his sub-.300 OBP. Heyward may have the body of a cleanup hitter but he's the best leadoff option for the Braves right now, so it was a smart move by Fredi Gonzalez to move him there in late July. The Braves are 12-0 since that move, which is mostly coincidence, but partly getting a lineup into a more efficient order.
[+] Enlarge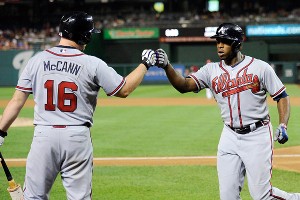 AP Photo/Nick Wass Is Justin Upton the Braves' key ingredient?
5. Justin Upton appears to the straw that stirs the drink, no?
He does. I can't explain what happened during that two-month funk when he hit .224 with two home runs in 54 games. After going 3-for-4 against the Nationals, Upton now has a 12-game hitting streak during which he's batting .440 with five home runs -- those Upton home runs that have that special sound. Remember when Upton started the season red-hot and carried the Braves to a 12-1 start? So two hot Upton stretches, two hot Braves stretches.
6. Is
Freddie Freeman
the new
Chipper Jones
?
He kind of is, in that he seems like the heart and soul of this team, so to speak. He's famous for hugs and he's getting famous for his bat. He's hitting .311 with 79 RBIs and some people feel he's been the team MVP. He's also starting to enter the periphery of the NL MVP discussion as well.
7. OK, the bullpen. How awesome is it? There's that word again.
Pretty hard to say it isn't the best. It has the lowest ERA in the majors (2.40), the lowest batting average allowed (.212), the lowest OPS (.589), the best winning percentage (22-8) and the fewest home runs allowed (16).
Craig Kimbrel
had a little blip earlier when he blew three saves but he's now converted 26 in a row and has allowed one run his past 32 innings. Considering the Braves lost
Jonny Venters
in spring training and
Eric O'Flaherty
early in the year, kudos to Gonzalez and pitching coach Roger McDowell for their work in handling
Luis Avilan
,
Jordan Walden
and the rest.
8.
Chris Johnson
! Dude! How could you wait to No. 8 here to mention him?
No kidding. Two more hits on Wednesday, raising his average to .339, best in the NL. It's insane. His batting average on balls in play is .419. That's not off the charts, that's impossible. Only four players since 1950 have hit .400 on balls in play according to Baseball-Reference, with Rod Carew's .408 in 1977 the "record."
9.
Dan Uggla
? Why does everyone hate him?
Because he's Dan Uggla.
10. OK, the schedule has something to do with this, right? The NL East is kind of a joke.
True, but the streak did start with three wins over the Cardinals. But you know? The Braves have only seven games the rest of the season against teams currently with winning records (four against St. Louis, three against Cleveland). With a 70-45 record and 47 games remaining, the Braves could be on their way to 100 wins.
11. You forgot to mention Andrelton Simmons' defense!
I did. Thanks for covering me there.
January, 24, 2013
1/24/13
5:48
PM ET
One thing is for certain: It will be very cool seeing the Upton brothers playing next to each in the
Atlanta Braves
' outfield. Some reactions to the
big trade between the Braves and Diamondbacks:


Mark Smith, Capitol Avenue Club
:
Although this trade involved Prado (a bummer), the Braves are at least as good as they were before for 2013 and possibly a tiny bit better, but it puts the future of the MLB team in much better shape. Trading Delgado, Ahmed, Spruill, and Drury was basically trading away areas of depth, and the team kept Julio Teheran, who has a higher ceiling than all of them, along with Sean Gilmartin, the next closest pitcher in MLB-readiness, and JR Graham, a high-upside arm whose role is still undetermined.
Keith Law, ESPN Insider

:
The Diamondbacks' new strategy seems to be to trade any player that manager Kirk Gibson doesn't like, regardless of the reason. For the second time this offseason, they've made such a deal and taken less than full value in return for a player the whole industry knew the team wanted to move. At some point, they're going to have to stop blaming the players.
Joe Sheehan, from his newsletter:
The deal, which in a vacuum is a loser for the Diamondbacks, is just the latest in a stretch of transactions that has aggressively depleted the organization's talent without substantially improving the team's short-term outlook.
Dave Cameron, FanGraphs
:
From just a 2013 perspective, this deal probably doesn't move the needle that much. Both teams received one above average player, and no one else in the deal is likely to make a huge impact at the big league level this year. It's the years after this one that will determine whether this trade was worth it for both sides.
So, in the end, the Braves had added
Justin Upton
,
B.J. Upton
and
Chris Johnson
, while losing
Michael Bourn
,
Martin Prado
,
Randall Delgado
and (don't forget)
Chipper Jones
. They replaced backup catcher
David Ross
, who had a good year, with
Gerald Laird
, and also traded starter
Tommy Hanson
for reliever
Jordan Walden
.
2012 WAR via Baseball-Reference:
Old Braves
Bourn: 6.0
Prado: 5.4
Jones: 2.7
Ross: 0.8
Delgado: -0.3
Hanson: -0-9
Total: 13.7
New Braves
B.J. Upton: 2.6
Justin Upton: 2.1
Johnson: 0.7
Walden: 0.3
Laird: 0.0
Total: 5.7
So am I saying the Braves will be eight wins worse than the 94 they won in 2012? No. For starters, Justin Upton is likely to be much better in 2013 after playing through a thumb injury last season. The Braves also have several other positives:
Jason Heyward
and
Freddie Freeman
are still young enough to improve; they get a full year of
Andrelton Simmons
at shortstop and we'll see if he really is the second coming of Ozzie Smith on defense; McCann could bounce back from his injury-plagued season; they'll get a full year of
Kris Medlen
in the rotation, a full year of
Paul Maholm
and a maybe full year of second-half
Mike Minor
instead of first-half Mike Minor.

However, until Beachy returns from Tommy John the fifth starter right now is probably Julio Teheran, who had a 5.08 ERA in Triple-A. The Braves still reportedly have $10 million left in their budget if they want to spend it, so I wonder if they'll go after one of the veteran free agents still available (
Kyle Lohse
may be too expensive, but maybe
Joe Saunders
).
The biggest problem I see is the Braves were seventh in the NL in runs scored in 2012 and have lost their three best OBP guys. They've replaced .377, .359 and .348 with .355, .326 and .298. The Braves also didn't have one starter returning who threw 200 innings last year.
All that said: I like this team a lot. There is some variability here: Heyward and Justin Upton could be MVP candidates to something far less. Medlen could be a Cy Young contender based on his amazing 12-start run last year or something far less. Minor could be a solid No. 3 or a No. 5. Can
Tim Hudson
, at 37 going on 38, churn out another solid season? I do see the Braves as a 95-win team. What's your take? Will the Braves improve on their 94 wins of 2012?
August, 1, 2012
8/01/12
11:40
PM ET
Dodgers, Giants, Giants, Dodgers. Hanley! Hunter!
And ... on the outside ... don't forget about the
Arizona Diamondbacks
. Remember them? Last year's National League West division champions. Had that monster second half. Won 16 of 18 games in late August and early September to blow open the division.
Remember them? Well, here they are again. They were as many as 11.5 games out in late May.
Daniel Hudson
, a 16-game winner in 2011, went down for the season.
Justin Upton
was being shopped around. Kirk Gibson didn't seem so scrappy and tough when his team was six games under .500.
Here they are. They
blanked the Dodgers 4-0
on Wednesday afternoon to complete an impressive three-game sweep, outscoring the Dodgers 19-4.
Patrick Corbin
, recalled from the minors to make his first start since May 21, combined with three relievers on the two-hitter.
Paul Goldschmidt
continued his torrid hitting with a 3-for-3 day. With 10 wins in their past 13 games, the Diamondbacks now are 1.5 games behind the Dodgers for second in the division, and 2.5 behind the Giants. The Dodgers and first-place Giants added reinforcements at the deadline because they needed help; the Diamondbacks didn't do much because they didn't have to.
There's pressure for general managers to make moves at the deadline -- from fans, sometimes from ownership, sometimes even from players on the major league roster. The D-backs quietly acquired third baseman
Chris Johnson
from the Astros a few days before the deadline, an under-the-radar move that plugged the one problem position for the team. While Johnson wasn't a headline acquisition, his season wOBA (weighted on-base average) is .336 while
Hanley Ramirez
's is .328.
Otherwise, like last season, the Diamondbacks decided to put faith in what they already had, to believe in their young players. They could have traded Upton; instead they made the smart choice to say he's probably better than what they could get for him right now. A year ago, instead of trading for a mediocre veteran first baseman such as
Derrek Lee
, they gave the job to Goldschmidt, skipping him past Double-A. He responded by hitting a solid .250/.333/.474 (BA/OBP/SLG) in 48 games. As the deadline approached the past couple of days, there were rumors the D-backs were in on a starting pitcher, maybe
Ryan Dempster
or
Matt Garza
. Instead, they'll once again stick with their own guys.
Corbin began the season in Double-A before making five starts for Arizona in April and May. After some time in Reno, a couple of weeks in the major league bullpen and then more time in Reno, the left-hander was called up to replace
Josh Collmenter
in the rotation.
"I feel a lot more comfortable now and I feel like I should be up here," Corbin said after Wednesday's game.
"That's the biggest difference -- feeling comfortable and going out there knowing you can pitch against these guys. ... My breaking ball was a good pitch for me coming up through the minor leagues, and I didn't have it my first time up here," he added. "But I gained it back when I was in the bullpen and then continued with it in Reno. Today I was throwing it for strikes, getting ahead of guys and then finishing them with it."
Corbin joins rookie All-Star
Wade Miley
in the rotation. Rookie
Trevor Bauer
, now back at Reno, made four starts earlier. Don't be surprised if hard-throwing lefty Tyler Skaggs -- 8-5 with a 2.59 ERA between Double-A and Triple-A -- makes an appearance in the rotation at some point.
Dodgers manager Don Mattingly had called this a "trap series" before the first game. "This series scared me from the beginning," he said. "They hurt us with the long ball all three games, and we weren't hitting the ball."
He should be scared. For starters, look at the season run differential for the three NL West leaders after Wednesday's action: Giants plus-5, Dodgers plus-7, Diamondbacks plus-44. No, that hasn't helped Arizona to a better record right now, but it is a good sign of overall team strength moving forward. As for those reinforcements, consider that heading into Wednesday's games:
Diamondbacks third basemen had been outhit by Dodgers third basemen; the Dodgers have a .687 OPS from third base, the Diamondbacks .644. So Johnson upgrades third base arguably as much as Ramirez does for the Dodgers.
Giants right fielders are hitting .268/.349/.432. Hunter Pence is hitting .271/.336/.447. Factor in that Pence was plying his trade in Philadelphia and now has to go to a tougher hitters' park, it's possible the Giants won't be getting better production from right field, especially when you factor in that Pence is a defensive downgrade from Gregor Blanco and Nate Schierholtz. Now, that doesn't mean Pence won't help the Giants. It's possible the Giants weren't going to continue getting that kind of production from right field. Or they can slide Blanco over to center to spell Angel Pagan. The larger point is that Pence mostly just maintains what the Giants have received so far from right field.
Shane Victorino looks like a bigger upgrade for the Dodgers. He's hitting .261/.324/.401, which isn't great but is better than the Dodgers' current left-field line of .256/.326/.345. Plus, he should be a big defensive upgrade over Bobby Abreu and Juan Rivera.
But ... can't Arizona expect the same kind of increased production from Upton in right field the rest of the way?
ESPN Insider Dan Szymborski ran the
deadline trades through his ZiPS projection system
and how the trades increased each team's playoff chances. He has the Dodgers' chances improving 15.4 percent, the Giants' chances dropping 0.7 percent and the D-backs' chances dropping 6.5 percent.
That doesn't necessarily mean the Dodgers are the team to beat. They still have a gaping hole at first base named
James Loney
. They don't have a fifth starter.
Chris Capuano
got hit hard in July (5.14 ERA). The Dodgers and Giants also rank 15th and 16th in the NL in home runs.
It's August 1. Right now, I expect the NL West to be a three-team race down to the wire. And I'm going with the Diamondbacks to pull it out.
PHOTO OF THE DAY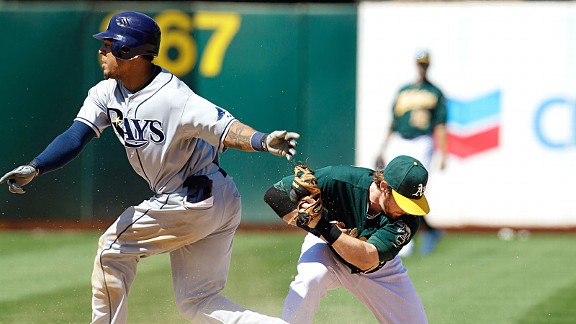 AP Photo/Jeff ChiuDesmond Jennings pops up from his slide with so much flash that Eric Sogard has to look away.
July, 28, 2012
7/28/12
5:03
PM ET
By
Doug Kern
| ESPN Stats & Information
[+] Enlarge

AP Photo/Paul BeatyChicago's Travis Wood became the first starter ever to allow homers in each of the first five innings.

Travis Wood gave up all five of those homers, making him the fifth pitcher in Cubs history to surrender five long balls in a game (Carlos Zambrano did it last season), and according to Elias, the first starter ever -- for any team -- to allow homers in each of the first five innings.

Statistical support for this story provided by Baseball-Reference.com and the Elias Sports Bureau.
February, 22, 2011
2/22/11
10:55
AM ET
By
Austin Swafford
| ESPN.com
Joe Janish over at Red Leg Nation did a good job compiling the ZiPS Projections by Dan Szymborski to figure out the
projected NL Central standings for 2011
. I'm not going to give you a homerific projection of the Astros' season. I've got a pretty good record of being excessively critical of the Astros, and I'm certainly not turning around on that to say they're going to the World Series or anything absurd like that.
But don't you have to question the methodology of anything that places pretty much any team behind the Pirates?
The pessimist in me is perfectly willing to buy
Szymborski's breakdown
that compares the Astros to the Orioles in the way they keep getting just enough wins to convince management that the team doesn't need to go in a drastic new position. He's right that it's a slow downward spiral and I've been saying as much for years.
[+] Enlarge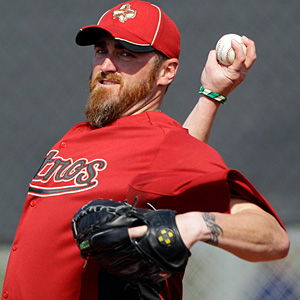 AP Photo/David J. PhillipBrett Myers was 14-8 in 2010 with 180 strikeouts.
But, even granting that it is true, there are a number of reasons to think the Astros will not finish behind the Pirates.
First of all, the Astros have history on their side. In 17 years of sharing the division, the Astros have never finished behind the Pirates. They have had some scares in recent years, but the Astros never finished last in the division and have never finished behind the Pirates. History can change at any moment and that's the beauty of sports, but I'm looking at a Pirates team whose best full-time starter (
Ross Ohlendorf
) posted a 4.01 ERA last year, and I'm not seeing any reason to think the pattern of the Astros beating out the Pirates is going to change this year.
Secondly, the Astros' offense should get better this year. Nobody's going to confuse them with the 1927 Yankees or even the 2004 Astros, but there's plenty of reason to think the Astros will be better with the bats in 2011. They added
Bill Hall
and
Clint Barmes
.
Chris Johnson
will probably take a step back from his surprising rookie campaign, but there's no reason to think that
Brett Wallace
and
Jason Castro
won't see improvement, and no reason to think that
Carlos Lee
and
Michael Bourn
can't rebound and hit more like they did in 2009. They were a team in flux last year, and even with their complete offensive futility, I'll let you take a stab at one of the two teams that finished behind the Astros in virtually every offensive category. Did you guess? Yeah … it was the Pirates.
Thirdly, the Astros have pitching. You can knock their offense from here to October, and maybe their pitching even overperformed a little bit last year with a resurgent season from
Brett Myers
. But Myers,
Wandy Rodriguez
and
J.A. Happ
lead a solid rotation (3.30 ERA last year for those three) and the bullpen is coming together with great young guys like
Fernando Abad
,
Wilton Lopez
and
Mark Melancon
, with
Brandon Lyon
anchoring the closer's spot. Again, nothing that will compete for the World Series, but certainly good enough to finish ahead of the Pirates and maybe even enough to surprise other NL opponents.
I don't write this to proclaim the virtues of a team that might be just this much better than the lowly Pirates. I write it to say that this statistical finding doesn't pass the smell test. I'm sure that Dan Szymborski has put a lot of thought and work into his equations, but when those equations come out with the standings shown by Red Leg Nation, it might be an invitation back to the drawing board. Or, at the very least, a reminder that all the stats in the world will never tell us what we often know just by looking at what's in front of us.
Austin Swafford writes Austin's Astros 290 Blog, a blog about the Houston Astros. You can follow him on Twitter.