SweetSpot:

Christy Mathewson
March, 19, 2013
3/19/13
10:30
AM ET
From the World Of I Can't Believe You Spent The Time Doing This, what would the NCAA tournament bracket look like if we picked the best major leaguer from each school? Well, something like this (* denotes Hall of Famer) ...
REGION 1
Round of 64
Liberty (Sid Bream) over Louisville (Sean Green)
Missouri (Ian Kinsler) over Colorado State (Tippy Martinez)
Oregon (Joe Gordon*) over Oklahoma State (Robin Ventura)
Saint Louis (Gene Robertson) over New Mexico State (Mark Acre)
Saint Mary's (Harry Hooper*) over Memphis (Dan Uggla)
Michigan State (Robin Roberts*) over Valparaiso (Lloyd McClendon)
Creighton (Bob Gibson*) over Cincinnati (Sandy Koufax*)
Duke (Dick Groat) over Albanay (none)
Round of 32
Missouri (Ian Kinsler) over Liberty (Sid Bream)
Oregon (Joe Gordon) over Saint Louis (Gene Robertson)
Michigan State (Robin Roberts) over Saint Mary's (Harry Hooper)
Creighton (Bob Gibson) over Duke (Dick Groat)
Round of 16
Oregon (Joe Gordon) over Missouri (Ian Kinsler)
Creighton (Bob Gibson) over Michigan State (Robin Roberts)
Regional Final
Creighton (Bob Gibson) over Oregon (Joe Gordon)
REGION 2
Round of 64
Southern (Lou Brock*) over Gonzaga (Jason Bay)
Wichita State (Joe Carter) over Pittsburgh (Doc Medich)
Wisconsin (Addie Joss*) over Mississippi (Don Kessinger)
Boise State (Larry Jackson) over Kansas State (Elden Auker)
Arizona (Kenny Lofton) over Belmont (Jerry Bell)
Harvard (Eddie Grant) over New Mexico (Scott Stickland)
Notre Dame (Ed Reulbach) over Iowa State (Bob Locker)
Ohio State (Frank Howard) over Iona (Dennis Leonard)
Round of 32
Southern (Lou Brock*) over Wichita State (Joe Carter)
Wisconsin (Addie Joss*) over Boise State (Larry Jackson)
Arizona (Kenny Lofton) over Harvard (Eddie Grant)
Ohio State (Frank Howard) over Notre Dame (Ed Reulbach)
Round of 16
Southern (Lou Brock*) over Wisconsin (Addie Joss*)
Arizona (Kenny Lofton) over Ohio State (Frank Howard)
Regional Final
Arizona (Kenny Lofton) over Southern (Lou Brock*)
REGION 3
Round of 64
Kansas (Bob Allison) over Western Kentucky (Duane Kuiper)
North Carolina (B.J. Surhoff) over Villanova (Mickey Vernon)
VCU (Brandon Inge) over Akron (Mike Birkbeck)
Michigan (Barry Larkin*) over South Dakota State (Vean Gregg)
UCLA (Jackie Robinson*) over Minnesota (Dave Winfield*)
Florida (David Eckstein) over Northwestern State (Brian Lawrence)
San Diego State (Tony Gwynn*) over Oklahoma (Lindy McDaniel)
Georgetown (Doc White) over Florida Gulf (Chris Sale)
Round of 32
Kansas (Bob Allison) over North Carolina (B.J. Surhoff)
Michigan (Barry Larkin*) over VCU (Brandon Inge)
UCLA (Jackie Robinson*) over Florida (David Eckstein)
San Diego State (Tony Gwynn*) over Georgetown (Doc White)
Round of 16
Michigan (Barry Larkin*) over Kansas (Bob Allison)
UCLA (Jackie Robinson*) over San Diego State (Tony Gwynn*)
Regional Final
UCLA (Jackie Robinson*) over Michigan (Barry Larkin*)
REGION 4
Round of 64
Indiana (Ted Kluszewski) over LIU-Brooklyn (Sid Gordon)
North Carolina State (Dan Plesac) over Temple (Bobby Higginson)
California (Jeff Kent) over UNLV (Matt Williams)
Syracuse (Dave Giusti) over Montana (none)
Bucknell (Christy Mathewson*) over Butler (Doug Jones)
Davidson (Fred Anderson) over Marquette (Ralph Shinners)
Illinois (Lou Boudreau*) over Colorado (John Stearns)
Miami (Ryan Braun) over Pacific (Chase Headley)
Round of 32
Indiana (Ted Kluszewski) over North Carolina State (Dan Plesac)
California (Jeff Kent) over Syracuse (Dave Giusti)
Bucknell (Christy Mathewson*) over Davidson (Fred Anderson)
Illinois (Lou Boudreau*) over Miami (Ryan Braun)
Round of 16
California (Jeff Kent) over Indiana (Ted Kluszewski)
Bucknell (Christy Mathewson*) over Illinois (Lou Boudreau*)
Regional Final
Bucknell (Christy Mathewson*) over California (Jeff Kent)
NATIONAL SEMIFINALS
Creighton (Bob Gibson) over Arizona (Kenny Lofton)
UCLA (Jackie Robinson) over Bucknell (Christy Mathewson)
CHAMPIONSHIP
Creighton over UCLA
* * * *
Anyone want to place a big bet on Creighton to win it all?
Wait a minute ... you can't leave it there! Explain some of your picks, pal.
OK, quickly here. Yes, Kenny Lofton was better than Hall of Famer Lou Brock (and Lofton was a point guard at Arizona, so it makes sense to give him a little extra credit as tie-breaker). And I'm taking Jackie Robinson over Christy Mathewson in the semifinals. Why? It's Jackie Robinson! He happened to play basketball as well at UCLA. And Bob Gibson was good enough at hoops to play for a time with the Harlem Globetrotters. Pretty cool that three of the final four guys played college basketball. Maybe Mathewson did as well, back when they still used peach baskets. As for Gibson over Robinson ... well, he was known as one of the greatest big-game pitchers of all time, so I have to take him in a one-game showdown. Plus, this thing isn't real anyway. I'm just making it up as I go along.
Hey, Gibson versus Koufax in the first round? Tough one!
Yeah, tough one. I was going to give the edge to Koufax (he was at Cincinnati for one year, which he attended on a basketball scholarship) since he beat Gibson four of the five times they started against each other (including two 1-0 shutouts), but in the end I went with Gibson since his career was longer. And he played for the Globetrotters.
Didn't Cap Anson and Carl Yastrzemski attend Notre Dame? Why didn't you pick one of them?
To my knowledge, neither actually played baseball there. In fact, Anson actually only attended the prep school boarding school at Notre Dame when he was about 14 or 15. And Yaz did receive a basketball scholarship to Notre Dame but left after a short time to pursue a professional baseball career.
You went with Robinson over Dave Winfield?
Difficult, but at his peak Jackie was more valuable. I could have gone with Paul Molitor to represent Minnesota, but gave the edge to Winfield since he was a basketball star as well, helping lead the Gophers to the 1972 Big Ten Title.
Any other big names you considered?
Hall of Famer Larry Doby briefly attended LIU-Brooklyn to play basketball for legendary coach Clair Bee, but I couldn't find any evidence he played baseball there. I chose Barry Larkin over Charlie Gehringer at Michigan. Gehringer said he never lettered in baseball at Michigan, although I'm not sure if he played at all. Anyway, it's choosing between Hall of Famers, so I went with the guy I know played baseball there.
Robinson over Tony Gwynn? You sure on that one?
Another tough one. Gwynn was an outstanding point guard at San Diego State, getting drafted by the Clippers in the 10th round the same day the Padres drafted him in the third round. Love all the basketball tie-wins here! Anyway, Gwynn chose wisely. You can make the argument for Gywnn, but Robinson's peak value was impressive, with seasons of 9.3, 9.3, 8.1, 7.1, 6.7 and 5.0 WAR. In 10 seasons in the majors, he averaged 5.9 WAR per season. Gwynn's best seasons were 8.3, 6.4, 6.1 and 5.3. Have to give it Robinson.
More hoops tie-ins!
Dick Groat was a two-time basketball All-American at Duke (he played one season in the NBA). ... Frank Howard was two-time All-Big Ten at Ohio State. ... Lou Boudreau was captain of the basketball team at Illinois. ... Robin Roberts attended Michigan State to play basketball and lettered three seasons and only tried out for baseball after his second year of hoops. Legend has it the coach put him at pitcher only because that's where the team needed help. I'm guessing the 95-mph fastball may have helped with that decision.
January, 2, 2012
1/02/12
8:30
AM ET
There are a lot of misunderstandings about the Hall of Fame and its voting procedures and results, beginning with the little fact that baseball was not, of course, actually invented in Cooperstown, N.Y., in 1839 by a future Civil War general named Abner Doubleday.
For example, many voters and fans divide themselves into "big Hall" and "small Hall" camps. This seems like a reasonable split of opinion. There, is however, a problem with those who advocate for the small Hall premise: the Hall of Fame is not -- and has never been -- a small Hall of Fame, a shrine memorializing only the elite of the elites.
The first Hall of Fame vote was conducted in 1936, when Ty Cobb, Babe Ruth, Honus Wagner, Christy Mathewson and Walter Johnson became the initial five inductees. The next year, a special Centennial Committee elected some 19th-century pioneers and executives. An Old Timers Committee in 1939 elected Cap Anson, Old Hoss Radbourn and others. Throughout the 1940s, the Old Timers Committee elected many more players from the 19th century and early 20th century, some obviously strong candidates and others of far less quality. Meanwhile, the Baseball Writers Association essentially stopped electing anybody; between 1940 and 1946, it voted in only Rogers Hornsby.
[+] Enlarge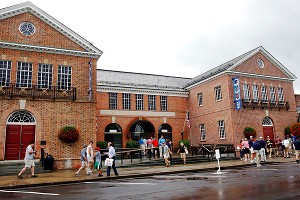 AP Photo/Mike GrollWith baseball writers stingy with their ballots, the Hall of Fame has sought ways to get more members in.
This eventually led to the two means of current entry into the Hall of Fame: the annual Baseball Writers vote, in which a player must obtain 75 percent of the ballots cast; and the Veterans Committee, which considers players bypassed after 15 years on the regular ballot, plus managers, umpires, Negro Leaguers, executives and owners. At the actual Hall of Fame in Cooperstown, there is no distinction made between means of enshrinement, no mention of vote percentage or years spent on the ballot. All Hall of Famers are equal, with a small plaque in the main gallery of the museum, ordered by year of election.
And thus the reality is that we have a large Hall of Fame, one encouraged by the board of trustees with its various incarnations of the Veterans Committee through the years. In so many words, it's saying to the writers, "You're not electing enough Hall of Famers; you're too tough and we believe in a big Hall, so we want another means to elect players you missed." When the Veterans Committee failed to elect any candidates from 2002 to 2007, the Hall revised the committee in attempts to get more inductees.
Despite this, the small Hall versus large Hall debate persists. The writers -- and there were 581 who voted last year -- collectively hold a small Hall mindset, not surprising considering the 75 percent threshold. The writers have essentially averaged between one and two players elected per year for six-plus decades:
2010-2011: 3
2000-2009: 17
1990-1999: 15
1980-1989: 18
1970-1979: 13 (plus Roberto Clemente in a special election)
1960-1969: 6
1950-1959: 15
While this may
appear
to establish a level of consistency, in reality it suggests a toughening of standards -- the number of teams (and players) has increased through the years since baseball's first expansion in 1961, so the writers are electing a lower percentage of eligible players than 30 or 40 years ago. (A near doubling of teams would indicate a doubling of Hall of Famers.)
So the writers have been tougher in recent years; ironically, this span coincides with some of the
weakest
Hall of Fame selections by the writers -- Andre Dawson (2010), Jim Rice (2009), Bruce Sutter (2006) and Kirby Puckett (2001) would all rank near the bottom of the 108 BBWAA Hall of Famers.
That doesn't even get into the inexplicable psychology in Hall of Fame voting. Why does Rice receive 29.8 percent of the vote in his first year, remain stuck at 29.4 percent by year five, languish in the 50 percentile for six years and then ramp up to 76.4 percent and election over his final four years on the ballot? Why does Don Mattingly begin at the same place as Rice -- 28.2 percent -- and slowly slide backwards from there? Why does Sutter start at 23.9 percent and later gain momentum and enshrinement after 13 years on the ballot, but Lee Smith start at 42.3 percent and after nine years remain at 45.3 percent?
It doesn't make sense. And that's why Hall of Fame debates are contentious, spirited, sometimes mean, sometimes logical, sometimes emotional ... but always fun to read and argue about.
Over the next week, leading up to next Monday's 2012 Hall of Fame announcement, I'll be examining some of the players on this year's ballot.
We'll start with Barry Larkin
.
October, 28, 2011
10/28/11
11:37
PM ET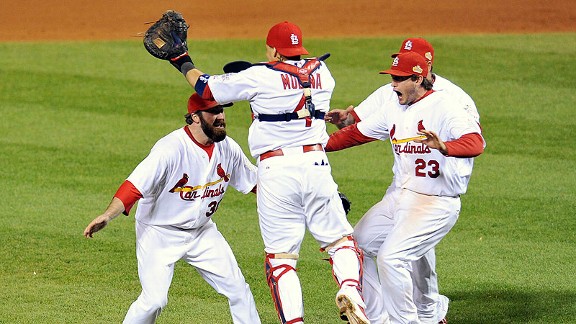 Steve Mitchell/US PresswireThe St. Louis Cardinals celebrate their 11th World Series title, beating the Texas Rangers in Game 7.
ST. LOUIS -- You fight through the monotony of fielding practice in spring training. The sore elbows, the back pain, the starts when you leave your fastball in the bullpen, and maybe a surgery or two at some point in your career.
Chris Carpenter
missed an entire season with shoulder surgery. He missed another season after injuring his elbow on Opening Day and undergoing Tommy John surgery. When the St. Louis Cardinals reached the World Series in 2004, he couldn't pitch due to nerve problem in his right biceps.
A couple days ago, Tony La Russa wasn't sure if Carpenter would be able to pitch Game 7. For one thing, the Cardinals had to win Game 6. La Russa and pitching coach Dave Duncan didn't officially decide to go with Carpenter until Friday, going with their staff ace on three days' rest.
There was a time, of course, when that wouldn't have been a big deal. Christy Mathewson once tossed three shutouts in the World Series over a six-day span. Sandy Koufax pitched a three-hit shutout in 1965 on
two days' rest
. Jack Morris' famous 10-inning shutout in 1991 came on three days' rest.
[+] Enlarge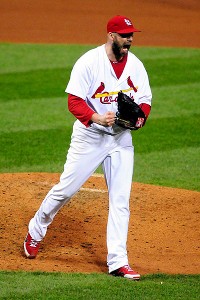 Jeff Curry/US PresswireOn short rest, Chris Carpenter gave up two runs on six hits in six innings to win the clincher.
But Carpenter had only done that once before in his career -- three weeks ago, in Game 2 of the Division Series against the Philadelphia Phillies. He lasted three innings. It wasn't pretty. He said he'd learned a few things from that experience. La Russa made the call: Go with the big guy, the 6-foot-6, 36-year-old veteran from New Hampshire with a scruffy growth of beard, and on this day, in the biggest game of his career, a toolbox full of pitches.
The
St. Louis Cardinals
beat the
Texas Rangers
6-2
in a Game 7 of the World Series that couldn't match the impossible drama and excitement of Game 6. The Rangers played hard, but their pitching staff simply ran out of gas, exemplified by the Cardinals' fifth inning, when they scored two runs without getting the ball out of the infield -- without even getting a hit. Rangers pitchers walked three batters and hit two more, turning a 3-2 game into a 5-2 deficit. Critics will put a lot of blame on manager Ron Washington for the Rangers' defeat, and deservedly so, but in the end the Rangers simply couldn't throw enough strikes and couldn't get the final out they needed in Game 6.
On this night, however, the Cardinals made the big plays:
David Freese
with another clutch hit, a two-out stinging double into the gap in left-center to score two runs in the first (giving the World Series MVP a postseason record 21 RBIs);
Allen Craig
with a go-ahead home run in the third, fighting back from a 1-2 count to hit a 3-2
Matt Harrison
fastball into the St. Louis bullpen in right-center; Craig later robbing
Nelson Cruz
of a home run.
But the key was Carpenter. "Dave had a real heart-to-heart with him to gauge just how ready he was to pitch just physically, not mentally, but physically," La Russa said before the game. He then added, "The last thing is ... what he means to our club. I think our guys feel better about him starting than anybody."
Carpenter pitched into the seventh and became the first pitcher to win two do-or-die games in one postseason, after also winning Game 5 of the division series. No, it won't quite go down alongside Mathewson and Koufax and Morris, but it was a terrific effort, especially since he almost didn't get out of the first inning. The first four batters all reached base as Carpenter fell behind each hitter. But
Ian Kinsler
slipped while taking an aggressive secondary lead and
Yadier Molina
picked him off. The play proved enormously costly when
Elvis Andrus
walked and
Josh Hamilton
and
Michael Young
doubled to right field. Carpenter struck out
Adrian Beltre
and got Cruz to ground, maybe the two key at-bats of the game.
From there, the St. Louis' bullpen mowed down the Rangers, Busch Stadium getting louder and louder with each out, erupting when
Arthur Rhodes
retired
Yorvit Torrealba
and
Octavio Dotel
struck out Kinsler, raising the decibel level when
Lance Lynn
fanned Beltre to end the eighth, the anticipation building into a loud chant of "Let's Go Cards!" in the ninth and the crowd releasing into a deafening explosion of joy as
Jason Motte
recorded the final out on a fly ball to left field.
Maybe Game 7 was over as soon Freese hit his home run onto the grass in Game 6. Many people said it was. I didn't think that was the case; I thought the Rangers had a chance. You make your own breaks, but the Rangers sure didn't catch any: Craig steps in for the injured
Matt Holliday
and has a great game; that 3-2 pitch to Molina with the bases loaded in the fifth could have been called a strike and changed the momentum of the game.
But give credit to Chris Carpenter and the St. Louis Cardinals, a team that could have given up in early September. A team that made the playoffs on the final day of the regular season, that needed to beat
Roy Halladay
just to reach the National League Championship Series, that was down to its final strike twice in Game 6, and figured out how to win the World Series. A worthy champion and one to be remembered.
* * * *
Of course, this World Series will also be remembered for the many questionable decisions by Washington, moves that led to the Rangers suffering one of the most painful defeats in World Series history. Before we get to that, keep this in mind: Rangers pitchers walked 41 batters, a World Series record worst. They walked six more in Game 7. Too many walks, too many walks.
Washington didn't help matters by issuing another ill-timed intentional walk. I said it all series long: the intentional walks were going to come back to haunt the Rangers. A free pass to Lance Berkman hurt the Rangers in Game 6. In Game 7, Washington walked Freese with runners on second and third, which was followed by Scott Feldman's walk to Molina and then C.J. Wilson hitting Rafael Furcal to force in another run.

I didn't necessarily have a problem with using Feldman to start the fifth. The best option might have been Mike Adams, but Washington hasn't shown a lot of confidence in Adams' ability to go more than three outs. He was hoping Feldman could get him a couple innings. (Needless to say, using Alexi Ogando would have been a likely disaster).

Washington's decision to have Andrus bunt in the top of the fifth after Kinsler's leadoff single was odd. Down by one on the road, top of the order, giving up an out? Play for one, get none. Carpenter got Hamilton to pop out to third on a 3-1 fastball -- Freese made a nice catch as he leaned over the dugout railing and stumbled to the ground -- and struck out Young on a 1-2 cut fastball.

In the bottom of the fourth, St. Louis up 3-2, Molina and Furcal singled with one out, bringing up Skip Schumaker and Carpenter. Washington had Feldman warming up, but it made sense to leave in Harrison at that point since Schumaker is a career .210 hitter against left-handers. Schumaker grounded out to first to move up the runners, leaving La Russa with a choice: Hit for Carpenter? There were calls on Twitter to do so. At that point he'd thrown 63 pitches, 34 for strikes, but had retired 11 of the previous 14 Rangers hitters. I thought it was too early remove Carpenter, who had settled down, and especially considering La Russa's own bullpen didn't have a lot of pitches left in it.

In the seventh inning, Albert Pujols came up for maybe the final at-bat of his Cardinals career. Oddly, there was no chant, no standing ovation, just a bunch of flashes going off as he struck out. The crowd did stand and applaud as he walked back to the dugout after striking out.
March, 23, 2011
3/23/11
10:06
PM ET
Major League Baseball released its list of the
20 best-selling jerseys
from the past season.
Derek Jeter
ranked No. 1 ahead of
Joe Mauer
and
Roy Halladay
, mildly surprising since you'd think most Yankee fans would own a Jeter jersey by now.
Anyway, it got me curious. Which jerseys would have been the top-sellers of all time? You know, if replica uniforms had actually been sold back in the old days and merchandise sales tracked and the old ballparks with wooden grandstands had official team stores.
1. Babe Ruth: He wasn't just big in New York, but one of the most famous Americans of his time, along with Charles Lindbergh, Al Capone and
Jamie Moyer
.
2. Stan Musial: I think you'd be hard-pressed to find an athlete more beloved in his hometown than Musial. Played for the Cardinals for 22 classy seasons.
3. Roberto Clemente: Popular in Pittsburgh, but as one of the first Latino stars in the game, his reach would have extended across the nation.
4. Willie Mays: Maybe the greatest ballplayer of all time. When I was in second grade, my teacher gave me an old, wrinkled poster of Mays that I kept hanging in my bedroom for years. I would have loved a jersey.
5. Mickey Mantle: More popular than DiMaggio? I think so.
6. George Brett: He was Royals baseball for 21 seasons. Cool, clutch and every kid, teenager and adult in a 500-mile radius wanted to be him.
7. Jackie Robinson: My father-in-law grew up a Brooklyn Dodgers fan and he's told me there's nothing he's seen like Robinson dancing on the bases, trying to rattle the opposing pitcher.
8. Christy Mathewson: In a time when ballplayers were considered ruffians and hooligans, Mathewson was a college-educated star for the New York Giants and the most admired and respected player in the game.
9.
Cal Ripken
: More than Jeter, I think his appeal spread outside his home city.
10. Carl Yastrzemski: Yes, ahead of Ted Williams, who notoriously feuded with Red Sox fans during his playing days. Yaz carried the Sox to the 1967 pennant, one of the greatest individual seasons ever, and then played 16 more seasons in Fenway.
Disagree? Let's hear your thoughts below.
Follow David Schoenfield on Twitter at @dschoenfield. Follow the SweetSpot blog at @espn_sweet_spot.