February, 18, 2012
2/18/12
11:00
AM ET
By
You Can't Predict Baseball
| ESPN.com
Last year, You Can't Predict Baseball came up with
bold predictions
for the year. We had a lot of fun coming up with them, and then laughing at how hilariously wrong they were
at the end of the year
. This year, we're bringing these predictions to SweetSpot, along with explanations for some of them. Keep in mind, these predictions are supposed to be bold, but not insane -- even we know the Orioles aren't going to the playoffs in 2012.
Los Angeles Angels:
Kendrys Morales
stays healthy all year.
Houston Astros:
Bud Norris
is top five in K/9 in the NL.
We figured something good had to happen to the Astros, right? Norris actually has a pretty nice career K/9.
Oakland Athletics:
Yoenis Cespedes is their starting center fielder by Memorial Day.
Toronto Blue Jays:
Brandon Morrow
makes the jump to elite starting pitcher.
He's struck out more than 10 batters per 9 innings two years running, though his ERAs have remained ugly. We think this is the year his results finally match the stuff, especially considering his declining walk rate.
Atlanta Braves:
Julio Teheran
has more wins than
Tim Hudson
.
[+] Enlarge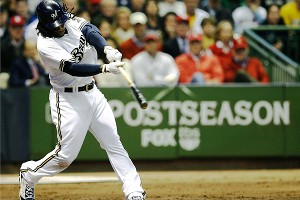 AP Photo/David J. PhillipWith Prince Fielder gone to Detroit and Ryan Braun facing possible disciplinary action, Rickie Weeks could lead the Milwaukee Brewers in home runs in 2012.
Milwaukee Brewers:
Rickie Weeks
leads the team in home runs.
He was fourth on the team last year, with 20. In front of him were Corey Hart with 26, Ryan Braun with 33, and Prince Fielder with 38. Fielder is gone, and for this prediction we'll assume Braun will miss a third of the year due to a suspension. It's not too bold to think Weeks could pass Hart in 2012.
St. Louis Cardinals:
Carlos Beltran
outproduces
Albert Pujols
from last year.
Albert Pujols was great last year, but not quite best-player-of-his-generation Albert Pujols. If healthy, it's not absurd to think of Beltran outproducing Pujols' 5.1 WAR in 2011.
Chicago Cubs:
Matt Garza
isn't their best pitcher.
It'll be Ryan Dempster, who had great peripherals but bad results last year.
Arizona Diamondbacks:
Aaron Hill
will be good again.
He was great with them in limited time, and Arizona's park is quite hitter-friendly.
Los Angeles Dodgers:
James Loney
will be a top-three first baseman in the National League.
Many thanks to Mike Scioscia's Tragic Illness for somewhat alerting us to this one. We just decided to take it semi-absurdly far.
San Francisco Giants:
Madison Bumgarner
is their best pitcher.
In terms of ERA, he already wasn't very far behind Matt Cain and Tim Lincecum, and his K/BB ratio eclipsed theirs by quite a bit.
Cleveland Indians:
They'll have the best pitching in the American League Central.
We're banking on Ubaldo Jimenez, making a major comeback to something closer to what he was in 2010, and the rest of the staff displaying the good that they did in 2011. We're also counting on the Tigers' starters not being very impressive behind Justin Verlander, which is bold but not quite insane, and the pitching of the White Sox, Twins and Royals not being able to keep up with Cleveland's.
Seattle Mariners:
Jesus Montero
catches 100-plus games.
The Mariners probably aren't going to compete, so why not try and play him where he'll accrue the most value?
Miami Marlins:
Despite all their new acquisitions and the hype, they still finish fourth in the NL East.
When you think about it, this one isn't so crazy. If Josh Johnson isn't healthy and maybe even if he is their pitching still trails that of Philadelphia, Washington, and Atlanta; even with Heath Bell, we don't think their bullpen is as good, either. Their offense might be better than some of those teams', but the Marlins were quite a bit below league average offensively last year and we're not sure how much Jose Reyes is going to make up for that.
New York Mets:
Mike Pelfrey
is the worst starter in the NL.
Pelfrey's been pretty terrible two of the past three years, and now they're moving the fences in at Citi Field. He was far better in his huge home stadium, but we're guessing with the moved-in walls he'll be significantly worse at Citi. Here at YCPB, we actually don't think the Mets are going to be quite as dire as many are saying, even if they do come in last place in the NL East - but Pelfrey won't be a bright spot.
Washington Nationals:
Stephen Strasburg
has a 17-strikeout game.
Baltimore Orioles:
Matt Wieters
is the best catcher in the AL.
A lot of people are so obsessed with Wieters not matching the hype that they didn't notice he became a plus offensive performer last year, to go along with very good defense. His taking the next step isn't that bold as predictions go, especially if Joe Mauer has to move off catcher.
San Diego Padres:
Luke Gregerson
is a top-three closer in the NL.
Philadelphia Phillies:
Cole Hamels
is their best starter.
And this isn't meant to be a slight to Roy Halladay or Cliff Lee, but considering their ages and the fact that Hamels is pretty darn good himself, plus a possible boost from a contract year...
Pittsburgh Pirates:
Charlie Morton
is their All-Star.
Texas Rangers:
Yu Darvish
isn't their best starter -- but he's still good.
And we think he'll be pretty good, we just think Derek Holland will become more consistently good, or Matt Harrison will put up numbers like his 2011.
Tampa Bay Rays:
James Shields
will have no complete games.
Predicting someone to have no complete games might not seem bold, but it is when it's a guy who was known as "Complete Game James" last season. Shields did have 11 complete games in 2011, an almost unheard-of number these days, but he had no complete games in 2009 or 2010.
[+] Enlarge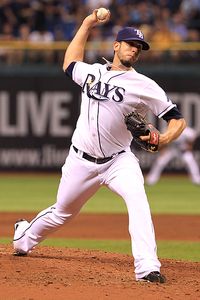 Kim Klement/US PresswireAfter none in either 2009 or 10, James Shields pitched 11 complete games for Tampa Bay in 2011.
Boston Red Sox:
No one hits 30 home runs.
This might seem crazy when you consider their great offensive numbers last year, but only one player on their team hit 30 home runs and it was Jacoby Ellsbury with 32.
Cincinnati Reds:
Brandon Phillips
is the best second baseman in the NL.
Colorado Rockies:
Jamie Moyer
will have the best HR/9 on the staff.
Kansas City Royals:
They reach .500.
While their pitching won't be great, their offense will take a big step forward this year. Combined with the rest of their division being the Tigers and some dumpster fires, it's not that difficult to see it happening.
Detroit Tigers:
They score fewer runs than they did in 2011.
Yes, that's even with Fielder. It's not improbable that Jhonny Peralta, Alex Avila and Delmon Young regress quite a bit from their numbers with Detroit last year, and that Prince Fielder's production "only" makes up for the offensive loss of Victor Martinez in 2012. They'll still have a very good offense, though.
Minnesota Twins:
Joe Mauer hits 15 home runs.
Chicago White Sox:
Robin Ventura gets ejected more times than Ozzie Guillen.
Look at the state of the White Sox. We'd get ejected too.
New York Yankees:
Hiroki Kuroda
leads the team in ERA.
You Can't Predict Baseball is an affiliate of the SweetSpot network.
April, 23, 2009
4/23/09
11:15
AM ET
Dwight Gooden

addresses the recent controversy about his signing a wall at Citi Field and explains how it all happened.
April, 20, 2009
4/20/09
1:38
PM ET
Talk about your
tempest in a teapot
:
When Dwight "Doc" Gooden attended the Mets' Opening Day ceremonies at Citi Field last week, he stopped by the Ebbets Club along the first-base line and mingled with fans who cheered him during his Met career. He shook hands, took pictures and signed autographs.

Someone thought it would be a nice idea if one of the greatest pitchers in franchise history signed a blank gray wall next to the bar. Gooden obliged, taking a black Sharpie and writing in script "Doc Gooden 84 R.O.Y., 85 Cy Young, 86 W.S. Champs."

Gooden took a picture next to the signature, and so did countless fans lucky enough to afford the price of a ticket that allows them access to the club.

But now the Mets, who have been criticized for not showcasing enough of their history in their new ballpark, plan to erase Gooden's signature from the wall, treating it as if it were unwanted graffiti.

"It's a brand-new building," said Jay Horwitz, the Mets' VP of media relations. "No one is supposed to write on the wall. It's going to be erased."

--snip--

Citi Field is a beautiful ballpark, but the absence of Met nostalgia is glaring. The Ebbets Club is a prime example. It has a serving station for food and a nice bar for fans to grab drinks during game. But except for a picture of the old Ebbets Field, there's nothing on the walls other than televisions.

Gooden's signature was a nice, personal touch, something that could have been commemorated. Anyone with some vision might see into the future, when the wall might be decorated with the personal signatures of a number of Met greats.

What better name to start it with than Gooden's? In a few years, even decades, it could be one of the more special spots in the building. Instead, all the Mets see is graffiti.
As near as I can tell, "graffiti" is columnist George Willis' word, not the Mets'. But in all honesty, Gooden did engage in a bit of tagging, didn't he? If that were my blank gray wall, I'd be thrilled to have "Doc Gooden" on there, but all that other stuff, too? I sort of feel sorry for the guy, knowing that he doesn't think his name is enough.
If I'm the Mets and he'd signed just his name, I'd have thought, "Gosh, I sure wish Doc hadn't done that. But since he did, maybe it's not the worst thing in the world, but now that it's there maybe we should get Seaver in here" -- to name just one better name to start with -- "and maybe Jerry Koosman and Jesse Orosco and John Franco and Ron Darling and a few other guys."
This could have been cool. But you can't really blame the Mets for wanting to decide what's cool and what's not.
April, 16, 2009
4/16/09
2:20
PM ET
Neil DeMause visited the Mets' new home last night, and
here's an early review
:
First, some caveats: Citi Field is a typical Populous modern stadium, with all that goes with that: Field-level seats close to the action, a wall of luxury/club seating in the middle, an upper deck that's higher than you'd expect at old-time ballparks, overly quirky outfield dimensions, more places to buy overpriced food than some (present company included) might think necessary. The Mets owners have been fond of comparing their new taxpayer-aided home to Ebbets Field; the comparison doesn't hold much better here than it did for Miller Park, which made the same claim.

That said, it's immediately clear that the Mets got most of the details right here, especially compared to their rivals across the East River. The Jackie Robinson Rotunda may be a bit of a ham-fisted nod to history (it didn't help that last night was Jackie Robinson Night, with a pregame ceremony featuring people wearing jerseys with words like "COMMITMENT" and "INTEGRITY" on their backs), but it's nicely human-scaled and functional compared to the Yanks' gratuitous Great Hall. Thanks to a relatively teensy 42,000 capacity, the upper deck isn't quite so distant as in the Bronx, about the equivalent of the back of the old Shea mezzanine -- Mr. Met could almost even reach it last night with his T-shirt cannon -- though the lessened seating has helped contribute to hikes in ticket prices.

And most of all, unlike the Yanks' new home, Citi Field reeks of baseball. There's plenty of attractive brick and steel, the scoreboards are useful but not overly imposing, and even the non-game attractions let you know that you're at a baseball game, not a mall: free batting cages and a Wiffle ball diamond out beyond centerfield for the younger set. (This was such an insanely huge hit last night, with my son among others, that I wonder if the Yankees are at risk of losing an entire generation of New York baseball fans here.) It may not seem like using brick-colored cinderblocks instead of grey ones should make a big difference, but it does.
By far, my biggest beef with the new ballparks -- all of them, I think -- is that the new upper decks are significantly farther from the field than the old upper decks. Which is simply to say that the new ballparks are built to accomodate the well-heeled fans, and everybody else can go fly a kite (literally; it gets windy up there!).
My other beef is that most of the new ballparks don't look all that different from one another when you're watching a game on TV. I suppose this has always been the case, with only the design paradigms changing. But it's a little jarring to turn the game on and see the Mets or the Yankees in their home togs and not immediately recognize the surroundings as uniquely theirs.
So, yeah. As much as I didn't really care for either of the old buildings, I already sort of miss them.