SweetSpot:

Clay Buchhholz
May, 10, 2013
5/10/13
10:30
AM ET
The hottest team in baseball is those
Cleveland Indians
, and we don't need instant replay to prove it. The Tribe has won 10 of 11 with terrific pitching and more than a few home runs.
Mark Reynolds
leaves nothing to chance with 500-foot blasts.
Scott Kazmir
looked like
Clayton Kershaw
on Thursday. And help is on the way as
Michael Bourn
comes off the DL this weekend, just in time for an AL Central matchup with the
Detroit Tigers
. Are the Indians for real? Well, this isn't the first time the franchise has overachieved early on, just to disappoint later. This weekend they get
Max Scherzer
,
Justin Verlander
and Rick Porcel ... well, they get Max and Justin. Good luck!
Here are other things you need to keep an eye on for this weekend!
[+] Enlarge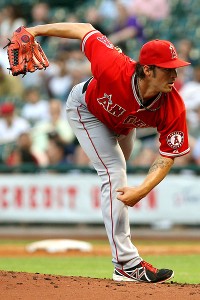 Troy Taormina/USA TODAY SportsThe Los Angeles Angels' C.J. Wilson, coming off a 12-strikeout performance against the Astros, will try to keep it going against the White Sox this weekend.
1. Underachievers:
Two teams not exactly playing quality baseball are the
Los Angeles Angels
and
Chicago White Sox
, but they're in the spotlight Sunday night on ESPN. Pitching has been an issue for each squad, but on Sunday the likes of
Dylan Axelrod
(Friday starter) and
Jerome Williams
(Saturday) step aside for lefties
C.J. Wilson
and
Chris Sale
. Can the Angels contend out West? Well, let's see them get comfortably ahead of the
Houston Astros
first. The White Sox are already in the cellar. If these teams don't turn things around, they'll be
sellers
. Look for the Angels to turn things around sooner, especially with
Jered Weaver
and
Ryan Madson
close to returning.
2. Pass the suntan lotion:
While
Boston Red Sox
designated hitter
David Ortiz
takes offense to allegations his body has been illegally aided, ace right-hander
Clay Buchholz
has remained relatively quiet about
Toronto Blue Jays
announcer Jack Morris accusing him of doctoring baseballs with a foreign substance on his arm, later suggested to be a mixture of suntan lotion and rosin (and for a night game in a dome!). Well, what better way for Buchholz to make a statement than in person as the last-place Blue Jays visit Fenway Park. Buchholz is scheduled to face lefty
Mark Buehrle
Saturday afternoon. In this case suntan lotion is reasonable. If Buchholz pitches poorly, though, it's not going to help his reputation. I'll say he pitches well.
3. Hit on 20:
Two first-place teams with more than 20 wins continue their series out West as the
Atlanta Braves
and
San Francisco Giants
meet in what could be -- you'll hear this quite a bit over the next four months -- a playoff preview. After all, these teams faced off in the 2010 playoffs. The worst of the starting pitchers still pending in the series is, believe it or not,
Tim Lincecum
. Hey, the numbers support that. Lincecum is scheduled to meet
Kris Medlen
Sunday, and while the two-time Cy Young Award winner has had much success against current Braves hitters in the past, that's totally irrelevant. Lincecum isn't the same pitcher he used to be. His underwhelming numbers look pretty much on par with his 2012 ones, with the high ERA, WHIP and strikeout rate.
4. Carlos in Charge:
One of the best players many have never heard of will bring a 14-game hitting streak and an NL-leading .386 batting average to Cincinnati this weekend.
Milwaukee Brewers
center fielder
Carlos Gomez
is hitting .491 during this stretch, and the highlight pitching matchup comes right away on Friday, as
Cincinnati Reds
rookie lefty
Tony Cingrani
faces right-hander
Yovani Gallardo
. It's also an important outing for Cingrani, with right-hander
Johnny Cueto
(oblique) nearing a return to the active roster. It's either Cingrani or
Mike Leake
who will lose a rotation spot, and while it might seem an obvious choice, it probably isn't to Dusty Baker.
5. Harvey's bar:
New York Mets
right-hander
Matt Harvey
has set the bar quite high in the early going, posting a 1.28 ERA, 0.69 WHIP and 4-0 mark through seven starts, and Sunday he gets to face another underwhelming offense in the
Pittsburgh Pirates
. It's possible Harvey really is a legit Cy Young fave, but here are the teams he's dominated so far: Padres, Phillies, Twins, Nationals, Dodgers, Marlins, White Sox. Not exactly top offenses. Still, Harvey is must-see TV each time out. A few years ago the same could be said of lefty
Francisco Liriano
; he's a Pirate now, scheduled to make his season debut Saturday, but after posting an ERA on the wrong side of 5 three of the past four seasons, it's tough to muster interest in him.
Have a great weekend!
June, 7, 2012
6/07/12
12:56
AM ET
"Show us some respect," yell Baltimore Orioles fans. Or maybe they're politely demanding. But I've seen the complaints in the Power Rankings comments, read the emails sent to "Baseball Today," been asked the question in my chats: Why doesn't anyone believe in the Orioles?
The Orioles traveled to Fenway Park this week in a precarious situation. They've lost two of three in Tampa. They've been swept in Toronto. They've lost two of three at home to Kansas City. They've lost two of three at home to Boston. They haven't won a series since the big weekend showdown in Washington from May 18-20.
So, yes, the concerns all of us "experts" had been raising -- it's a long season, let's see what happens to the rotation, let's find out if some of the hitters can keep up their hot starts, the bullpen can't keep its ERA under 2.00 all season -- were proving true. The O's were 27-14 after winning the second against the Nationals but had gone 3-10 since, with the staff posting a 4.95 ERA while the offense scored 3.5 runs per game.
These were the Orioles we all expected. And then they beat the Red Sox in extra innings on Tuesday. And then they
beat the Red Sox 2-1
on Wednesday behind a solid effort from
Wei-Yin Chen
and scoreless innings from
Pedro Strop
and
Jim Johnson
. They're 5-0 at Fenway in 2012 and Chen is now 5-2 with a 3.49 ERA. The key moments came in the seventh inning after the Red Sox threatened with a pair of singles to start the frame. But after a sacrifice bunt, Chen struck out
Marlon Byrd
and induced
Mike Aviles
to pop out to first base.
Normally, Buck Showalter might have turned to his stellar bullpen, but after Tuesday's victory, in which the bullpen threw five innings, he left Chen to escape the jam. He set up Byrd with three fastballs and then got him swinging on a beautiful changeup. He threw three more fastballs to Aviles that he couldn't get around on. Don't underestimate Chen. His stuff plays up big, with his four-seamer reaching 94 mph. His last pitch to Aviles was clocked at 93. In 11 starts, he allowed two or fewer runs seven times and I think this outing will give Showalter more confidence to stretch Chen a little deeper into games.
So the Orioles remain in first place for another day, half a game ahead of the Yankees. Is it time to show them a little respect, to give Orioles fans what they crave? Let's do some position-by-position rankings to help sort out this tightly packed division. Rankings are simply listed in order of who I would want the rest of the season.
(Season-to-date Wins Above Replacement from Baseball-Reference.com, before Wednesday's games, listed in parenthesis.)
Catcher
1.
Matt Wieters
, Orioles (1.6 WAR)
2.
Jarrod Saltalamacchia
/
Kelly Shoppach
, Red Sox (1.6)
3.
Russell Martin
, Yankees (0.7)
4.
J.P. Arencibia
, Blue Jays (0.2)
5.
Jose Molina
, Rays (0.1)
There is a case to be made that Boston's duo is more valuable since they've combined for 14 home runs and an OPS over .900. But Wieters brings elite defensive skills and I also don't believe Salty is going to slug .583 all season. For the second consecutive season, the Rays are essentially punting offense at catcher. Rays catchers have the worst OPS in the majors.
First base
1.
Adrian Gonzalez
, Red Sox (0.8)
2.
Mark Teixeira
, Yankees (0.6)
3.
Mark Reynolds
, Orioles (-0.6)
4.
Carlos Pena
, Rays (0.4)
5.
David Cooper
/others, Blue Jays (incomplete)
Gonzalez is still struggling to get his stroke going, but he's the best of a weak group. Yes, I just called Mark Teixeira weak, but at this point he's a low-average guy who pops a few long balls, doesn't draw as many walks as he once did and isn't as great on defense as Yankee fans believe. But in this group that's good enough to rank second. Reynolds has a low WAR but he's missed time and that includes his bad defense at third base, a position we've hopefully seen the last of him playing. The Jays, meanwhile, need to quit fooling around at first base and find a legitimate hitter, or move
Edwin Encarnacion
there and find a designated hitter. You hate to waste a potential playoff season because you can't find a first baseman who can hit. (No, David Cooper is not the answer, although he's hit well so far in 11 games.)
Second base
1.
Robinson Cano
, Yankees (2.1)
2.
Dustin Pedroia
, Red Sox (1.8)
3.
Kelly Johnson
, Blue Jays (2.1)
4.
Ben Zobrist
, Rays (0.7)
5.
Robert Andino
, Orioles (0.6)
I love Ben Zobrist almost as much as two scoops of Vanilla Heath Bar Crunch from Ben & Jerry's, but a .199 average isn't going to cut it in this group, even if you are on pace to draw 100-plus walks. Zobrist has actually play more right field so far, but should be back at second on a regular basis with
Desmond Jennings
back.
Third base
1.
Evan Longoria
, Rays (1.4)
2.
Brett Lawrie
, Blue Jays (3.1)
3.
Alex Rodriguez
, Yankees (1.2)
4.
Kevin Youkilis
/
Will Middlebrooks
, Red Sox (0.5)
5.
Wilson Betemit
/
Steve Tolleson
, Orioles (-0.1)
Lawrie's WAR is boosted by defensive metrics that treat him like he's the second coming of Brooks Robinson. He's a good player but don't I think he's been the second-best position player in the American League. Longoria hopes to
return at the end of the Rays' current road trip
. As for A-Rod, his health is always a question at this stage of his career, but Youkilis has health questions and I'm not a believer in Middlebrooks' ability to hit .321 with power all season. His 29/4 strikeout/walk ratio is something pitchers should learn to exploit. As for the Orioles ... third base is an obvious concern. But don't expect a rare intra-division trade to acquire Youkilis.
Shortstop
1.
J.J. Hardy
, Orioles (2.1)
2. Mike Aviles, Red Sox (2.2)
3.
Derek Jeter
, Yankees (0.9)
4.
Yunel Escobar
, Blue Jays (1.9)
5.
Sean Rodriguez
, Rays (1.9)
Wait ... Jeter has been the
least
valuable of this group so far? The other four all rate as excellent fielders -- in fact, Baseball-Reference rates them all in the top 13 fielders in the AL. Jeter, meanwhile, ranks 310th in the AL on defense -- out of 313 players.
Left field
1. Desmond Jennings, Rays (1.2)
2.
Daniel Nava
/
Carl Crawford
, Red Sox (1.7)
3.
Brett Gardner
/
Raul Ibanez
, Yankees (0.3)
4.
Eric Thames
/
Rajai Davis
, Blue Jays (-0.1)
5.
Endy Chavez
/
Xavier Avery
/
Nolan Reimold
, Orioles (-0.3)
Not to keep picking on the Orioles, but this is another problem position, especially if Reimold's disc problems lingers all season. Nava has quietly been a huge savior for the Red Sox, batting .305 with a .438 OBP. He's drawing walks at a crazy rate. He should slide some but he's provided the kind of depth the Orioles don't have.
Center field
1.
Adam Jones
, Orioles (2.5)
2.
Curtis Granderson
, Yankees (1.3)
3.
B.J. Upton
Rays (0.9)
4.
Jacoby Ellsbury
/
Scott Podsednik
/Marlon Byrd, Red Sox (0.5)
5.
Colby Rasmus
, Blue Jays (1.3)
Ellsbury might be the biggest wild card in this race, because the Red Sox can't survive much longer with the Podsednik/Byrd platoon. When will he return? How will he hit? He just started throwing and could
return by the end of the month
. I've conservatively put him fourth, which seems fair considering the unknown. And please note, Orioles fans, that I believe in Mr. Jones.
Right field
1.
Jose Bautista
, Blue Jays (0.9)
2.
Matt Joyce
, Rays (2.2)
3.
Nick Swisher
, Yankees (-0.1)
4.
Cody Ross
/
Ryan Sweeney
, Red Sox (1.6)
5.
Nick Markakis
/others, Orioles (0.3)
Markakis is out three to four weeks with a broken bone in his wrist, an injury that once again reflects Baltimore's lack of depth. But all five teams are solid in right field. Ross is about to return from his broken foot; we'll see if he pounds the ball like he was before the injury (.534 slugging).
Designated hitter
1.
David Ortiz
, Red Sox (1.4)
2. Edwin Encarnacion, Blue Jays (1.6)
3. Revolving Door, Yankees
4.
Chris Davis
, Orioles (0.3)
5.
Luke Scott
, Rays (0.0)
No respect for Davis? OK, he's hitting .295/.333/.494. And he has 53 strikeouts and eight walks. Sorry, call me skeptical, O's fans. Yankee designated hitters have actually fared well, hitting a combined .279/.354/.467 with 10 home runs.
No. 1 starter
1.
David Price
, Rays (2.2)
2.
CC Sabathia
, Yankees (1.9)
3.
Ricky Romero
, Blue Jays (0.3)
4.
Josh Beckett
, Red Sox (0.5)
5.
Jason Hammel
, Orioles (1.9)
Look, Hammel has been terrific so far thanks to a career-high strikeout rate
and
a career-high ground-ball rate. But this is tough group and the question is who is going to be best moving forward? My biggest concern is that Hammel has never pitched 180 innings in a season. Can he pitched the 210 to 220 that you need from a No. 1?
No. 2 starter
1.
Brandon Morrow
, Blue Jays (1.1)
2.
James Shields
, Rays (-0.4)
3.
Andy Pettitte
, Yankees (1.5)
4. Wei-Yin Chen, Orioles (0.7)
5.
Jon Lester
, Red Sox (-0.4)
I like Chen. Heck, right now I like him better than Jon Lester, which tells you how much I like him. But he averaged just 172 innings in Japan over the past three seasons. Can he hold up over 32 starts?
No. 3 starter
1.
Jeremy Hellickson
, Rays (1.0)
2.
Hiroki Kuroda
, Yankees (1.4)
3.
Felix Doubront
, Red Sox (0.4)
4.
Brian Matusz
, Orioles (0.2)
5.
Henderson Alvarez
, Blue Jays (0.4)
Matusz is holding his own at 5-5, 4.41, but he's still walking a few too many, allowing a few too many hits, a few too many home runs. The velocity is solid, averaging 91 on his fastball. We're talking minor upgrades needed in his command, getting the ball down in the zone more often to get more groundballs. If the Orioles are to have any chance, Matusz's improvement may be the single most important aspect.
No. 4 starter
1.
Matt Moore
, Rays (-0.6)
2.
Ivan Nova
, Yankees (0.3)
3.
Jake Arrieta
, Orioles (-0.4)
4.
Clay Buchholz
, Red Sox (-1.2)
5.
Kyle Drabek
, Blue Jays (-0.1)
Five pitchers who have struggled, but Arrieta's peripheral numbers are actually pretty solid. Like Matusz, there is hope for improvement. On the other hand, he's been awful since pitching eight scoreless innings against the Yankees on May 2, giving up 29 runs in 31.2 innings. His BABIP was .243 through May 2; it's .361 since. The truth is probably right in the middle, leaving Arrieta third on our list of fourth starters.
No. 5 starter
1.
Alex Cobb
/
Jeff Niemann
, Rays (0.3)
2.
Drew Hutchison
, Blue Jays (0.1)
3.
Phil Hughes
, Yankees (0.2)
4.
Daisuke Matsuzaka
/
Aaron Cook
/
Daniel Bard
, Red Sox (-0.3)
5.
Tommy Hunter
, Orioles (-0.5)
Hunter isn't really a major league starter, but I'm not sure
Jamie Moyer
-- just signed to a minor league contract -- is exactly a solution. The Orioles need to upgrade here.
Bullpen
1. Yankees (2.76 ERA)
2. Orioles (2.48 ERA)
3. Red Sox (3.66 ERA)
4. Rays (3.43 ERA)
5. Blue Jays (4.39 ERA)
If you watched Pedro Strop and Jim Johnson close out Wednesday's win, you'll realize the back of the Orioles' end has two guys with filthy stuff.
Darren O'Day
and
Luis Ayala
are strike-throwing machines and
Troy Patton
is a lefty who isn't a LOOGY. It's a good pen and it's deep. But the reliability of the pen ties into the rotation's inability to pitch deep into games -- Orioles relievers have already thrown 39 more innings than Yankees relievers, for example.
OK, let's add it up … one point for ranking first, five points for ranking fifth. Hey, this isn't meant to be scientific, so don't overanalyze this too much. The totals:
Yankees: 36 points
Rays: 40 points
Red Sox: 45 points
Blue Jays: 51 points
Orioles: 53 points
Not the respect Orioles fans are seeking. Sorry about that; it's nothing personal. Look, I don't think the Orioles are going to fade away anytime soon. I worry about the rotation's ability to hold up all summer and the bullpen's workload. They lack depth on offense and have a couple of obvious holes. Hey, you never know, and the Orioles are certainly due for a winning season. I would love to see it happen.
PHOTO OF THE DAY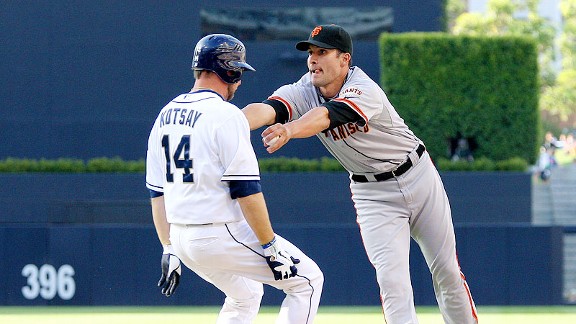 Jake Roth/US PresswireJavier Lopez is sending a message to Mark Kotsay: Tag, you're out!
April, 21, 2011
4/21/11
4:50
PM ET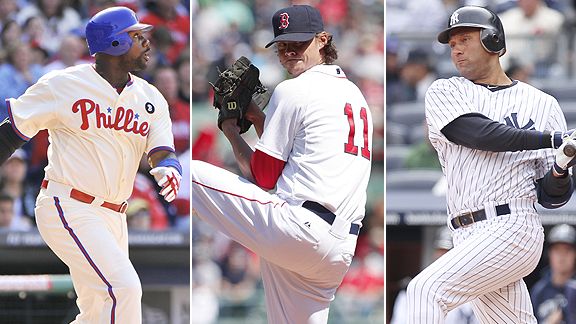 US Presswire, Getty ImagesRyan Howard, Clay Buchholz and Derek Jeter have spots on the all-overrated team.
I did my
all-underrated team
the other day. Here's the all-overrated team. Now, all these guys aren't bad players. In fact, most of them are good players -- just not as good as I think they are widely viewed. And just because I included them doesn't mean I hate them or their team.
C -- Ivan Rodriguez, Nationals.
He's had a Hall of Fame career, but it's been a long time since we've seen vintage Pudge. He hasn't posted an adjusted OPS above the league average since 2004 and posted a .286 OBP over the previous two seasons. And yet the Nationals still brought him back.
1B -- Ryan Howard, Phillies.
When I asked for overrated nominees on Twitter, Howard easily received the most votes. Over the past three seasons, 16 first basemen received at least 1,500 plate appearances. Howard is 14th in OBP. He's fifth in slugging, but 10th in OPS. Look, Howard is a good player. He hits home runs and drives in runs. He seems like a great guy. But he's not one of the top five first basemen in the game and shouldn't be finishing in the top 10 in the NL MVP vote every season.
2B -- Ian Kinsler, Rangers.
How good would he be away from the friendly hitting confines of The Ballpark? He's a career .312/.394/.530 hitter at home, but a pedestrian .246/.317/.404 on the road. He also has trouble staying healthy (he's played 140 games just once in five seasons).
[+] Enlarge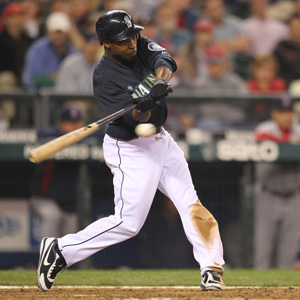 Otto Greule Jr/Getty ImagesChone Figgins is off to a rough start, with just a .217 OBP through 17 games.
3B -- Chone Figgins, Mariners.
OK, with a terrible start and a bad 2010, maybe nobody rates him too high anymore. The Mariners signed him to a big four-year deal after his fluke 2009 season -- his WAR totals via
Baseball-Reference.com
since 2006: 0.3, 2.8, 2.5, 6.9, 1.1 -- and now they're paying the price for misreading that season.
SS -- Derek Jeter, Yankees.
I know, too easy. I'm not a Jeter hater -- I've written that you can make a case for him as the second-best shortstop of all time. His slow start isn't alleviating concerns that he's getting old.
OF -- Delmon Young, Twins.
With a .298 average, 21 home runs and 112 RBIs, Young had a really great season in 2010, right? Except his OBP was only .333 (and .324 career) and nobody thinks his defense is any good. A classic example of a guy with Triple Crown stats that mask other problems.
OF -- Jacoby Ellsbury, Red Sox.
Red Sox fans weren't happy when I mentioned in a recent chat that Ellsbury wasn't all that. I'll stick to that comment. His career OPS+ is 92 (below league average) and while he does steal bases, I think he's more adequate than great on defense. If he didn't play in Boston, he'd be known as "
Michael Bourn
."
OF -- Hunter Pence, Astros.
He's consistent and durable and a good player who plays hard, but his .336 OBP prevents him from being the true star many fans view him as.
P -- Ricky Nolasco, Marlins.
I'm with Eric Karabell on this one: Sabermetricians love his SO/BB ratio, but his career ERA is 4.40 in a good pitcher's park and he hasn't pitched 200 innings since 2008.
P -- A.J. Burnett, Yankees.
Even when he was good, he wasn't
that
good. For years, we heard that he had the best stuff in the game, but his career ERA is 4.00. Now people are back on the Burnett bandwagon after his 3-0 start, but his WHIP is still an unimpressive 1.46.
P -- Clay Buchholz, Red Sox.
He had a 2.33 ERA last season (helped in part by 10 unearned runs) and a lot people said he was a bit lucky since his strikeout rate wasn't impressive enough to match the few number of hits he gave up. So far, they've been proved right as Buchholz has stumbled out of the gate with a 10/14 SO/BB ratio and six home runs allowed (he gave up only nine all last season).
P -- Joba Chamberlain, Yankees.
Have so many words ever been written about a mediocre middle reliever?
P -- Francisco Cordero, Reds.
He's third among active pitchers with 292 career saves, but he's hardly a lights-out closer with a 3.23 career ERA and 1.36 WHIP. He's proof that a lot of guys could rack up 200-plus saves if given the opportunity.