SweetSpot:

Cliff Pennington
February, 8, 2013
2/08/13
8:00
AM ET
2012 in review
Record: 94-68 (92-70 Pythagorean)
713 runs scored (8th in American League)
614 runs allowed (2nd in AL)
Big Offseason Moves
Traded
Cliff Pennington
and Yordy Cabrera to Arizona for
Chris Young
. Re-signed free agent
Bartolo Colon
. Signed Japanese shortstop
Hiroyuki Nakajima
. Acquired
John Jaso
in three-way deal that sent A.J. Cole to Washington. Traded
Chris Carter
,
Brad Peacock
and Max Stassi to Houston for
Jed Lowrie
and
Fernando Rodriguez
. Lost free agents
Brandon McCarthy
,
Stephen Drew
and
Jonny Gomes
.
More than anything, Billy Beane improved Oakland's athleticism and versatility. He lost two designated-hitter types in Carter and Gomes, but acquired an elite defensive center fielder in Young and picked up two infielders to go along with the return of
Scott Sizemore
(the team's best hitter in 2011 who missed all of 2012). Nakajima was a star player in Japan and since Lowrie's range at short is limited, the A's are counting on Nakajima to live up to his defensive reputation. The loss of McCarthy will hurt, but re-signing Colon helps maintain their rotation depth. For the tight-budgeted A's, a solid offseason that gives manager Bob Melvin multiple options around the diamond.
Position Players
As you can see from the projected lineup, there is a lot of unsettled aspect to Oakland's starting nine, but in a good way. Melvin will be able to mix and match and the depth gives the A's injury insurance.
But how
good
is the lineup? The A's set an all-time strikeout record last season and hit just .238. They did hit better with runners in scoring position -- .265 -- which is one reason they ranked eighth in runs despite finishing 12th in on-base percentage and ninth in slugging percentage. Three reasons to like Oakland's chances to score more runs this year, however: The second basemen hit .228 with five home runs; the third basemen had a .280 OBP, lowest in the AL; and the shortstops had a .272 OBP, again lowest in the AL.
And a fourth reason:
Yoenis Cespedes
surprised everyone by hitting .292/.356/.505. Very nice numbers. Those could be big numbers this year.
Pitching Staff
Either you believe in Oakland's young starters or you don't. I'm a believer. Remember that the best of the group might be
Brett Anderson
, and he made just seven starts in 2012 after returning from Tommy John surgery.
Jarrod Parker
,
Tom Milone
and
A.J. Griffin
enter their second seasons with playoff experience under their belts and Colon returns after his suspension for using performance-enhancing drugs.
Dan Straily
and
Travis Blackley
provide depth.
If we're going to nitpick, it's that it's not a big strikeout rotation. The A's ranked 10th in the AL strikeout rate among starting pitchers at 16.6 percent -- more than 5 percent less than Tampa Bay's 21.9 mark. But guess which staff tied for the lowest walk rate? The A's won't beat themselves and they pitch to their big home ballpark -- where Young,
Coco Crisp
and
Josh Reddick
have the speed to run down a lot of flyballs.
If you watched the A's down the stretch, you saw the hard-throwing trio of
Grant Balfour
,
Ryan Cook
and
Sean Doolittle
dominate the late innings. Those three combined for a 2.49 ERA over 195 innings; not bad for a minor free-agent signing, a throw-in in the
Trevor Cahill
trade and a guy playing first base in the minors in 2011. All told, opponents hit .206 off the Oakland pen, second-lowest in the league to the Rays' .205 mark. There's depth behind those three guys as well.
Good rotation. Good pen. Some will predict regression from this group, but I expect another solid season in which the A's once again rank among the AL leaders in fewest runs allowed.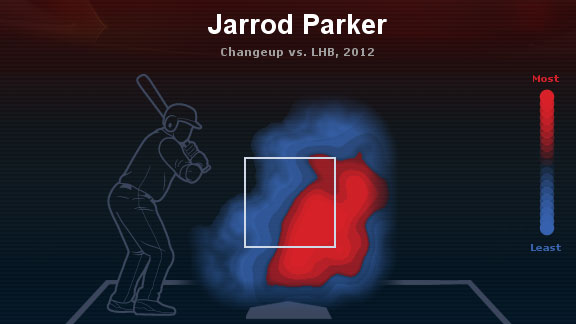 ESPN Stats & InformationJarrod Parker's 3.8 WAR ranked 10th among AL pitchers in 2012.
Heat Map to Watch
Beane acquired Parker from the Diamondbacks and the rookie right-hander showed why he was highly rated coming up through the Arizona system. His changeup made many left-handed hitters look foolish at the plate -- in 140 plate appearances ending with that pitch, they hit .163/.216/.194, with just three extra-base hits (two doubles, one triple). It's one of the best pitches in the game and the reason I expect Parker to have another solid season.
Overall Grade

Many won't believe in the A's simply because they were such a big surprise a year ago. But I'm trying to find reasons to expect a decline and am having trouble identifying them. OK, the offense was sort of one-dimensional last season; but the A's basically received nothing from three positions and they have likely upgrades at all three spots. I didn't even mention Jaso above; if he hits like he did with Seattle, he's another plus at the plate (though the Mariners clearly didn't like his defense behind the plate).
OK, maybe you don't believe in Reddick and Cespedes and
Brandon Moss
. I do. I think they return to the playoffs.
December, 12, 2012
12/12/12
2:20
PM ET
An apparently disgruntled Diamondbacks fan has undertaken to "
update" Kevin Towers' Wikipedia page
(via Dayn Perry of the Eye on Baseball blog). You may think it's funny, but, man, there are a lot of angry fans out there.
It is worth looking at Towers' three big trades over the past two offseasons:
-- Traded rookie pitchers
Jarrod Parker
and
Ryan Cook
and outfielder
Collin Cowgill
to Oakland last offseason for
Trevor Cahill
and
Craig Breslow
. Cahill performed about as expected for Arizona in 2012 -- 200 innings of slightly better than league average performance, worth 2.5 WAR. Parker and Cook, however, were worth 6.4 WAR between them, while making the league minimum. With Parker's potential, right now that deal does look like a great trade for Oakland, assuming Parker stays healthy. But it's not like Cahill is without value.
-- As part of a three-team deal earlier this offseason, Arizona traded away center fielder
Chris Young
and received shortstop
Cliff Pennington
and relief pitcher
Heath Bell
. This deal was pretty widely criticized -- why would anyone want Bell after his implosion in Miami last season? -- and Young has compiled 11.7 WAR after the past three seasons compared to Pennington's 6.3.
-- Just traded
Trevor Bauer
-- the third overall pick in the 2011 -- as part of another three-team deal that netted shortstop
Didi Gregorius
. There were other parts, but for Arizona it's really all about Bauer for Gregorius. Again, the general opinion seems to be Arizona gave up too quickly on a pitcher with Bauer's upside; it didn't help that Towers attempted to put his foot in his mouth by comparing Gregorius to
Derek Jeter
.
Maybe Towers could have gotten more for Young. Maybe he could have gotten more for Bauer. Certainly, it now seems odd that he's traded Young and Bauer to acquire
two
shortstops. At the same time, you can't be afraid to act, and he acquired Pennington to hedge his bets against not later acquiring another shortstop. And while prospect hounds love Bauer and bloggers love that he does things in his own unique way, it's also possible that Bauer has become overhyped and that Gregorius will hit enough (nobody questions his ability with the glove). Plus, it's not that easy to acquire a young shortstop with the potential to develop into a quality regular. Teams are reluctant to trade those kind of players.
And in the end, why does every trade have to have a "winner" and a "loser"? A trade can be beneficial to both teams (or, in this case, all three teams), even if one club ends up winning the WAR.
As I mentioned in my previous post, I like the roster Arizona has built for 2013, especially if Towers decides to hold on to
Justin Upton
. The Diamondbacks' run differential was only 23 runs less than the Giants' in 2012, so the base level of talent between the two teams wasn't that different.
OK, we get it: Towers isn't the most sabermetrically inclined of general managers. But the guy also made the playoffs four times as Padres GM and in 2011 as Diamondbacks GM. That's a fair track record of success.
October, 21, 2012
10/21/12
10:37
PM ET
From the difficult to understand department: In a three-way trade with the
Oakland Athletics
and Florida Marlins, the
Arizona Diamondbacks
gave up outfielder
Chris Young
and acquired infielder
Cliff Pennington
from the A's and relief pitcher
Heath Bell
from the Marlins.
[+] Enlarge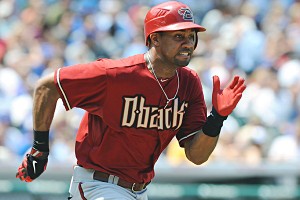 Tony Farlow/Four Seam Images via AP ImagesOakland acquired center fielder Chris Young in a three-team trade.
As with most trades these days, we have to look the individual talent and salaries involved.
Bell: The Diamondbacks will assume $13 million of the remaining $21 million owed on the final two years of his contract.
Young: Makes $8.5 million in 2013 with $11 million team option in 2013 ($1.5 million buyout).
Pennington: Eligible for arbitration, under control through 2015.
The big winner here is probably the Marlins, just for dumping $13 million worth of Bell. They picked up Class A shortstop Yordy Cabrera from Oakland -- he's a former second-round pick but the 22-year-old hit just .232 with no power, few walks and 32 errors at Stockton, so isn't much more than a throw-in.
The A's add an underrated center fielder in Young, a guy who has averaged 22 home runs per season in his career but with a .239 career average. He's a good enough center fielder that he ranked seventh among National League outfielders in WAR over the past three seasons, despite playing just 101 games in 2012 after suffering shoulder and quariceps injuries. About half that value is defensive, but Young isn't a complete zero on offense since has some power and draws enough walks to push his OBP over .300.
The move gives the A's four outfielders in Young,
Yoenis Cespedes
,
Josh Reddick
and
Coco Crisp
, leading to speculation the A's could trade Crisp. Billy Beane said he plans on keeping Crisp. First, there's nothing wrong with having outfield depth. Plus, one of the four could rotate in as the designated hitter, platooning with
Seth Smith
. Regardless, it gives the A's four excellent defensive outfielders, the perfect backbone for a fly ball pitching staff in a pitcher's park.
Where this gets confusing is from the Diamondbacks' perspective. The salary exchange of Bell and Pennington for Young is essentially a wash, so this deal is all about talent realignment. Arizona does have outfield depth with
Justin Upton
,
Jason Kubel
,
Gerardo Parra
and leadoff prospect
Adam Eaton
, who hit .381/.456/.539 for Triple-A Reno (take all Reno stats with a grain of salt).
Pennington and Bell are both coming off terrible years -- Pennington hitting .211 and Bell posting a 5.09 ERA with the Marlins after signing that big free agent contract. Arizona GM Kevin Towers knows Bell from their time together in San Diego and Towers would probably be the first to point out that Bell's slide in 2012 wasn't the result of a decline in velocity. He certainly wasn't helped by the Marlins' defense but his walk rate increased and his strikeout rate was still down from 28 to 30 percent in 2009-2010 to 20 and 21 percent the past two seasons. You can argue that he's a reasonable bounce-back candidate, but that's still ignoring that 1. He's unlikely to ever post his park-influenced San Diego numbers again and 2. he's really just a fungible reliever at this point. So why give up a quality player to get him?
Pennington will compete for the starting shortstop job; his offensive will improve leaving Oakland for Arizona and his defensive metrics were solid in 2012. I could see the trade working out for Arizona, although I'm not sure how it makes the team
better
. At best, they've taken on all the talent in a deal that is unlikely improve the team.
One final note: Does this mean the team keeps Justin Upton or will they still use Upton as trade bait to upgrade third base or shortstop? Stay tuned.
October, 11, 2012
10/11/12
2:00
AM ET
More baseball!
On a day that featured a quadruple-header of baseball playoff action, a game in which a starting pitcher who didn't win a game all season gets a W, a game with a demoted former two-time Cy Young winner coming out of the bullpen for a clutch relief outing, an once-in-a-lifetime performance by
Raul Ibanez
(and I mean all of our lifetimes), the Oakland A's completed the night with a bottom-of-the-ninth three-run rally to beat the
Detroit Tigers
4-3
to keep their American League Division Series alive and force a fifth game.
It also gives us a fourth game on Thursday.
More baseball? Yes, please.
Justin Verlander
in a decisive game? The frenzied A's crowd with one more game to cheer on their heroes?
Miguel Cabrera
and
Prince Fielder
?
Coco Crisp
doing Coco Crisp stuff? The A's swinging from their heels? I can't wait.
Where did this rally come from? It appeared that
Joaquin Benoit
had snuffed out the last-gasp Oakland rally in the bottom of the eighth when he struck out
Brandon Moss
on a lovely, low-and-away changeup with two runners on.
In the bottom of the ninth, Jim Leyland turned to his closer,
Jose Valverde
. We remember his perfect season a year ago, when he seemingly walked the tightrope in every save situation but always managed to escape. Well, he fell off a few times this year.
The A's had led the majors with 14 walk-off wins during the regular season, so even though Benoit had just pitched through
Yoenis Cespedes
and Moss in the order, you know the A's believed. Why wouldn't they? It's a magical season in Oakland.
[+] Enlarge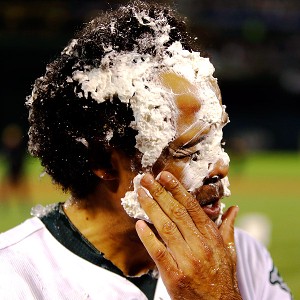 AP Photo/Marcio Jose SanchezPlating the winning run got Coco Crisp a face full -- to say nothing of another game Thursday.
Josh Reddick
pulled a base hit into right field past a diving
Omar Infante
.
Josh Donaldson
crushed a first-pitch, four-seam fastball off the wall in left-center for a double. When he's on, Valverde throws 92-95 mpg and then goes to his splitter to put hitters away. That fastball registered 90. The four pitches to Reddick clocked 90, 91, 91 and 92.
Seth Smith
stepped in and took a ball, swung through a high-and-away fastball, then drilled another fastball away into right-center. The game was tied and, even though
Austin Jackson
cut the ball off before it got to the wall, Smith beat the throw for a double.
The three pitches to Smith: 92, 92, 92. Valverde didn't have his good heat on this night and he had to throw an off-speed pitch. Valverde throwing 95 is a major league reliever. Valverde throwing 90-92 without a wrinkle is batting practice.
George Kottaras
then pinch-hit and Bob Melvin eschewed the sacrifice bunt and let Kottaras swing away. According to conventional wisdom, the situation called for a bunt -- heck, I'm pretty sure even Earl Weaver would have bunted there -- but given the A's propensity to strike out, I understand Melvin's strategy: Give the A's three chances to get the hit.
Kottaras popped out to Cabrera on the first pitch, a 93-mph fastball.
Cliff Pennington
struck out on four pitches, taking a splitter for a called strike on a pitch that registered a bit outside.
Up came Crisp. Game 2 goat. Game 3 hero. Valverde throws a first-pitch splitter. Hard ground ball pulled past Infante into right field, and when
Avisail Garcia
couldn't pick up the ball (with his strong arm, he might have had a shot to get Smith if he comes up with it cleanly), the A's had the win.
More baseball.
Leyland, after the game: "This is baseball. This is why this is the greatest game of all. ... You get tested all the time in this game and this is a good test."
Before the ninth inning, the A's had been hitting .185 in the series (22-for-119). They went 4-for-6 in the ninth. Valverde had not allowed four hits in an appearance all season. He had allowed three runs just twice.
Before the series, I suspected the key element in the series might end up being the Tigers' bullpen. When Benoit blew a lead in Game 2 -- only to see the A's bullpen lose the lead when Detroit scored runs in the eighth and ninth -- I figured the A's had lost their chance to steal a win. You may get one late-inning comeback in a short series, but it's hard to get two.
But the A's got this one. A fifth game. They'll get Verlander and you have to suspect the over/under on his pitch count might be 150. If you're Leyland, do you want to give the ball to Valverde again with a one-run lead in the bottom of the ninth? Next time you think you can manage a major league team, put yourself in that possible situation.
The A's will send rookie
Jarrod Parker
to the mound. On paper, the edge still goes to the Tigers, with the best pitcher in baseball on the mound.
In the postseason, paper means nothing.
July, 18, 2012
7/18/12
8:42
PM ET
By
Christina Kahrl
| ESPN.com
The Oakland A's beat the Texas Rangers Wednesday in the ninth on
Brandon Hicks
' first big league home run. A former Atlanta Braves' shortstop prospect, Hicks was claimed off waivers this spring and is just the latest refugee from someplace else to wash up in Oakland, and potentially provide a solution in a long-shot bid for contention.
In a season that has seen its share of improbable runs -- the Los Angeles Dodgers and Baltimore Orioles being the poster children for surprise starts -- the A's might be more surprising still. In their first full season after the release of the movie
Moneyball
, they're winning despite ranking next-to-last in the league in OBP (bettering only the Seattle Mariners) and last in scoring. And while the movie didn't get into the other really big reason those old A's teams won, this club lacks the strong rotation that made Oakland a contender a decade ago.
[+] Enlarge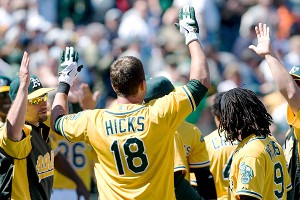 Ed Szczepanski/US PresswireBehind a patchwork offense, the Athletics are surprisingly in contention nearing the trade deadline.
The rotation's been a surprise thanks to the contributions of trade pick-ups
Jarrod Parker
and
Tommy Milone
; two completely different prospects. Parker was the highly touted teen phenom in the D-backs' system, while Milone is a finesse lefty with burglar's guts and precise command. They're not alone, though, as the A's rank third in the league in quality starts thanks also to the contributions from the well-traveled
Bartolo Colon
and the discard duo of
Brandon McCarthy
(when healthy) and
Travis Blackley
. The only brag-worthy home-grown hurler starting games for the A's has been
A.J. Griffin
. If there were questions about the A's front office losing its touch in trades and scraping up talent, this is a group doing plenty to redeem that reputation.
To look at the offense, the problem isn't the absence of walks or power, so they're not really an anti-Moneyball offense. They're fourth in the league in walk rate, after all. While key sluggers such as
Yoenis Cespedes
and
Josh Reddick
don't contribute much OBP, they're generating plenty of power. This is why the A's Isolated Power (slugging minus batting average) rates ninth in the AL, directly behind the much-vaunted Tigers' attack.
What's killing the A's is a dearth of help from their up-the-middle quartet: catcher
Kurt Suzuki
, second baseman
Jemile Weeks
, shortstop
Cliff Pennington
and center fielder
Coco Crisp
. At .620, Weeks has the highest OPS in the group. Add third base to the problem list with
Brandon Inge
providing nothing better than slack-batted temp work (.616 OPS). Unlike the luckless Mariners, the A's home park isn't really hurting them -- with a .659/.689 home/road OPS split.
They're just bad at getting base hits. Because they're one of the most free-swinging teams in baseball (striking out 21.4 percent of the time), their shortage of singles isn't going to get that much better. Fewer balls in play means fewer chances to see that number "regress" up to league average.
So they need to be a bit aggressive about fixes, and to their credit, they have been. Five weeks ago, the A's lineup had a problem at first base problem. They had cycled through bunting fool
Daric Barton
. What other term is there for a first baseman who bunts on his own, and sets the highest single-season mark for players at that power position since bunt-happy Gene Mauch ordered Rod Carew to lay down 16 sac bunts in 1982? They'd also looked at and laughed off the Kila Monster.
Kila Ka'aihue
proved to be another somebody who wasn't going to be the next Ken Phelps -- the minor league slugger immortalized by Bill James in the '80s and by the Mariners by their belated recognition that the guy had a hammer.
Instead, the A's have once again turned to something as anti-Moneyball as it gets.
Brandon Moss
, former Boston Red Sox prospect before he became a Pittsburgh Pirates washout, got sucked into the first-base job simply because nature abhors a vacuum. His unintentional walk rate in the minor leagues is below 9 percent. So what does he do? Rip 11 homers in less than a month. Of course, because that's exactly what you expect from a guy who put a .667 OPS with the Pirates.
Rather than let that ride, they finally brought up
Chris Carter
, something A's fans have been waiting for at least three years, if not longer. Ever since Carter was picked up in the deal that sent
Dan Haren
to the D-backs, their fans have wondered what the payoff was supposed to be. With four of the six players the A's got in that deal (including
Carlos Gonzalez
) long since in other uniforms, it's down to Carter and the occasionally healthy
Brett Anderson
.
So, after making Carter spend parts of four seasons in Sacramento, enough time to get streets named for him, what did he do? Not let himself be outshone by the likes of Moss: He has clouted five homers in little more than a week's worth of games.
Now sure, in a month we won't be talking about how this quick-fix platoon is slugging more than .600. Moss might outperform his Pirates seasons, but he's still just Moss. But Carter ought to start absorbing more of the job. At a high-offense position it's a fix akin to what the A's success did with their DH platoon of
Seth Smith
and
Jonny Gomes
this season. You can hope or wonder whether they'll be similarly creative in addressing their other lineup issues, because if even a shot at the one-and-done wild card is going to last, they'll need to be.
It's a reflection of this season's mayhem that the A's -- the A's! -- might very well be buyers at the deadline. Given the presumably parlous state of their finances, they may be shopping with little more than pennies and good intentions, but for a franchise some people were pegging for 100 or more losses back in February, it's a surprisingly happy state of affairs.
PHOTO OF THE DAY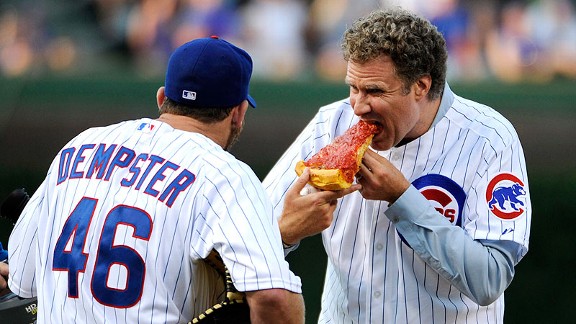 David Banks/US PresswireWhat's a first-pitch hurler like Will Ferrell to do, if not eat the world's best pizza in Chicago too?
Christina Kahrl covers baseball for ESPN.com. You can follow her on Twitter.
May, 3, 2011
5/03/11
2:40
PM ET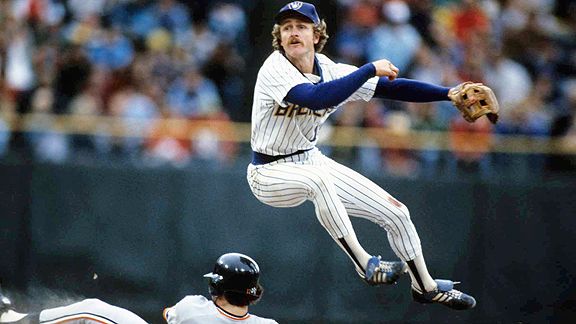 Ronald C. Modra/Sports Imagery/Getty ImagesRobin Yount won the 1982 AL MVP Award while playing shortstop for the Brewers.
In 1980, Robin Yount, then 24, had his first big season for the Brewers, hitting .293 with 82 extra-base hits and scoring 121 runs. The same year, 22-year-old Alan Trammell hit .300, scored 107 runs and won a Gold Glove for the Tigers. In 1982, a rookie third baseman named
Cal Ripken
would slide over to shortstop for the Orioles.
And so began a long run of the American League at the shortstop position. From 1980 through 2006, there were 115 shortstop seasons in the majors of 4.0 WAR or higher, from
Baseball-Reference
; 75 of those were from AL shortstops, 39 from NL shortstops (and one who split time in both leagues). The top 15 seasons were all from AL players and 27 of the top 30 were from AL players.
Now, that's not surprising when you see the list of shortstops with the most 4.0 WAR seasons during that span:
Cal Ripken 10
Barry Larkin
9
Ozzie Smith 9
Derek Jeter
8
Alex Rodriguez
8
Alan Trammell 8
Miguel Tejada
6
Nomar Garciaparra
5
Robin Yount 5
John Valentin
3
Larkin and Ozzie were NLers, but the rest were all ALers, and the AL guys put up a lot of monster numbers. The list doesn't even include
Omar Vizquel
, who had just one 4.0 WAR season. Since 2007, however, the tide has swung -- of the 18 shortstop seasons of 4.0 WAR or better, only five have come from AL players: two from Jeter and one apiece from
Marco Scutaro
,
Erick Aybar
and
Jason Bartlett
.
But with Jeter in decline, Aybar unable to replicate his fine 2009 and Bartlett now with the Padres, the American League seems devoid of a topflight shortstop. In 2010, the only two with a WAR of 3.0 or higher were
Cliff Pennington
and
Alexei Ramirez
. This season's
group isn't doing much better
, unless you count
Jed Lowrie
and
Maicer Izturis
, two utility guys who have filled in at short (or, in the case of Lowrie, potentially winning the job from Scutaro).
Maybe Jeter and Ramirez will start hitting. Maybe Toronto's
Yunel Escobar
will regain his 2009 batting stroke. There's not even an obvious Gold Glove candidate -- Jeter has won the last two as much by default as skill. So who is the best right now? Place your vote!
Follow David Schoenfield on Twitter at @dschoenfield. Follow the SweetSpot blog at @espn_sweet_spot.
April, 20, 2011
4/20/11
10:17
AM ET
OK, let's set the ground rules:
1. Nobody on the Yankees, Red Sox or Phillies can be underrated. (Sorry,
Carlos Ruiz
.)
2. Nobody who has won an MVP Award can be underrated … even if he's Canadian. (That's you,
Joey Votto
.)
3. Nobody who plays for the Dodgers, dated Rihanna and is currently hitting .444 can be underrated. (Nice start,
Matt Kemp
.)
With some helpful suggestions via Twitter, here's my all-underrated team for 2011. We'll revisit later in the season and see how these guys are doing or if they've graced any magazine covers.
[+] Enlarge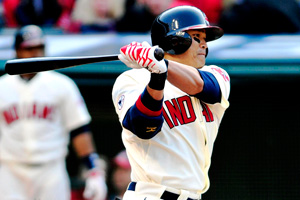 Jason Miller/US PRESSWIREShin-Soo Choo is our most underrated MVP.
C -- Brian McCann, Braves.
Can a five-time All-Star be underrated? I think so, if only because he's never started in one of those games. Sure, us baseball seamheads know how good he's been the past half decade, but since 2006 he has more RBIs than
Victor Martinez
or
Joe Mauer
, more home runs than Mauer and
Yadier Molina
combined and a higher OPS than Martinez.
1B -- Daric Barton, A's.
The new Mike Hargrove, except with better defense and fewer rain delays.
2B -- Orlando Hudson, Padres.
No obvious candidate here, but Hudson is a solid fielder (four-time Gold Glover) with a decent stick (although he slipped a bit last season). Yet nobody likes him too much: he's with his fourth team in four seasons.
3B -- Casey McGehee, Brewers.
He was such a non-prospect with the Cubs that they waived him after a short nine-game stint in the majors in 2008. The Brewers have enjoyed the productivity of the free talent, as he's hit .290/.344/.470 with the Brewers.
SS -- Cliff Pennington, A's.
He's off to a bad start, but was quietly decent in 2010 (yes, "quietly decent" qualifies as a good major league shortstop these days) when he played solid D and stole 29 bases.
OF -- Shin-Soo Choo, Indians.
I think he's our most underrated MVP. One of the best all-around players in the majors last season (second in the AL in
Baseball-Reference WAR
, eighth in
FanGraphs WAR
). And to think Cleveland stole him from Seattle for
Ben Broussard
.
OF -- Logan Morrison, Marlins.
He's only in his first full season, so maybe he hasn't played enough to be underrated yet, but I predict he'll remain underrated until he signs with the Yankees in 2017, at which time he'll become overrated.
OF -- Jose Tabata/Andrew McCutchen, Pirates.
Hey, I need a DH in case we get put in the American League.
P -- Shaun Marcum, Brewers.
He went 22-15 with a 3.53 ERA and 1.15 WHIP with the Blue Jays in 2008 and 2010, sandwiched around his DL stint in 2009. His trade to the Brewers isn't going to improve his recognition factor.
P -- John Danks, White Sox.
Durable, consistent lefty with 3.60 ERA since 2008.
P -- Jered Weaver, Angels.
Got several nominations for Weaver. His great 2010 did get largely lost in the "Only one pitcher with a good season and lousy run support can get any media attention" campaign for
Felix Hernandez
. So far, his 2011 follow-up has been even better.
P -- Hiroki Kuroda, Dodgers.
Ignore the 30-31 career and appreciate a solid No. 3 or 4 starter with a 3.60 career ERA in his three-plus seasons.
Bullpen -- The San Diego Padres.
Heath Bell
,
Mike Adams
and
Luke Gregerson
would be terrific in any park.
Follow David Schoenfield on Twitter at @dschoenfield. Follow the SweetSpot blog at @espn_sweet_spot.
March, 17, 2011
3/17/11
1:30
PM ET
By
Charlie Saponara
| ESPN.com
It's that time of year again. We can almost feel the buzz of Opening Day and, for some, it's time to bear down on some last-minute fantasy baseball draft preparation. Whether in fantasy or reality, fans are always looking to find that breakout player, someone they can tout in the spring and brag about come fall. Who will those breakout players be in 2011? Here's one man's humble opinion...
Catcher
:
Carlos Santana
-- CLE
I'll spare you the "Oye Como Va" cliche (wait, I just went there, didn't I?). Santana, the young Indians catcher, has all the makings of a great hitter. As a prospect, Santana showed incredible plate discipline and contact skills, drawing 332 walks to 322 strikeouts in 2,171 career minor league plate appearances. It was no surprise to see him walk 37 times and strike out only 29 times in 192 plate appearances with the Indians last season. Santana was in the midst of a slump when he fell to a season-ending knee injury. Between Triple-A and the majors in 2010, Santana hit .292/.529/.540 (no, that OBP is not a typo!) with 19 home runs in 438 plate appearances.
[+] Enlarge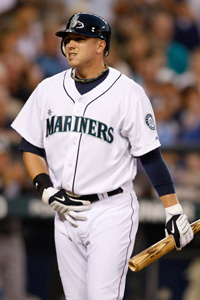 AP Photo/John FroschauerJustin Smoak hit .340 with 3 HRs over the last 14 games of his rookie season.
First Base
:
Justin Smoak
-- SEA
Smoak has the pedigree of an excellent hitter with a track record of good plate discipline and raw power. Despite hitting line drives at a well-above average rate (23 percent) in his rookie season, Smoak only managed a .218 AVG with a .255 BABIP. It would seem like bad luck at first, but he also managed to rank fifth-worst in baseball (minimum 300 plate appearances) in infield pop-ups (18.6 percent). In 2009,
Chris Young
of the Diamondbacks held a 22.4 percent infield pop-up rate. He lowered that rate to 12.4 percent in 2010 and raised his average 45 points while blasting 27 home runs. The bottom line is that Smoak is just a couple of adjustments away from coming into his own. His 397 major league plate appearances are far too few to judge him on.
Second Base
: Tsuyoshi Nishioka -- MIN
Not all Japanese stars find success in the big leagues, but in a lot of those cases a loss of power production is the culprit. It's fairly clear that power numbers don't tend to translate very well from the Japanese leagues to the big leagues, but speed, on the other hand, does. Ichiro is one example of that and even Kaz Mastui, injury plagued throughout his MLB career, stole 32 bases with the Rockies in 2007. Nishioka is known more for his contact, skill and speed than power, so there is a good chance his game translates to the big leagues fairly well. Nishioka hit .346/.423/.482 with 22 stolen bases in 144 games at age 25 in 2010. He's hitting .320 with two stolen bases in nine games this spring.
Third Base
:
Pedro Alvarez
-- PIT
While Pedro Alvarez didn't set the world on fire upon his major league debut, he did give Pirates fans a taste of his potential. Alvarez only managed a .256 average, but he did hit 16 home runs in 347 at-bats, an AB/HR rate that would prorate to about 25 homers in 550 at-bats. While it may take a couple years for the AVG to come around (he has some contact issues), the power has a chance to progress even further in 2011. Hitting in the middle of an improved Pittsburgh lineup, Alvarez has a real shot at 30-plus home runs and 100-plus RBI.
Shortstop
:
Cliff Pennington
-- OAK
As any fantasy baseball nut will tell you, shortstop is not the deepest position in 2011. However, there is a group of players that have a chance to surprise and Pennington is one of them. Pennington has good speed and was successful in 85 percent of his stolen base attempts in 2010 (29-for-34), which should earn him more green lights in Oakland this season. He makes good contact (86 percent contact rate and a 21.5 percent line drive rate in 2010) and doesn't chase an abundance of bad pitches. If he can lower his fly-ball rate in 2011, he could see a spike in AVG to go along with 30-plus stolen bases.
Outfield
:
Jay Bruce
- CIN
In his rookie season, Bruce averaged one home run every 19.7 at-bats. The following season, Bruce was sitting on an even better AB/HR rate (15.7) when he fractured his wrist trying to make a play in right field. After hitting only 10 homers through July of 2010, Bruce went on a power binge hitting eight home runs in August, about a year removed from the wrist injury -- it's normal for a wrist injury to sap power for about one full year. He followed up his torrid August with seven homers in September. I guess the wrist was feeling better.
If Bruce can come close to matching his AB/HR rate from 2009, he'll be a lock for 30 homers with plenty of upside for even more.
Designated Hitter
:
Edwin Encarnacion
-- TOR
Speaking of AB/HR rates, Encarnacion averaged one home run every 15.8 at-bats in 2010 and he already has a 26 home run campaign on his résumé. He's E-5, as some lovingly call him, -- well, maybe not Blue Jays fans -- committed 18 errors in only 95 games played at the hot corner last season. The good thing about that? He will see most of his time at designated hitter this year. Not only does this take the pressure and mental strain of his defensive woes away, but it allows him to do what he does best -- hit the ball a long way.
In many ways, Encarnacion profiles similarly to teammate
Jose Bautista
(and, no, I'm not calling for 50 homers!). While Encarnacion isn't as patient a hitter as Bautista is, he does make very good contact for a slugger and tends to hit the ball in the air far more often than he puts it on the ground, both traits displayed by Joey Bats.
Health may be the only thing between Encarnacion and 30-plus homers in 2011. The last time EDH had over 500 at-bats in a season (506) he hit 26 home runs. Being a full time designated hitter could help him in the health department and lead to his first 550-plus at-bat season.
Starting Pitcher
:
Brandon Morrow
-- TOR
In April and May of last season, Morrow pitched 57 innings, posting a great 10.42 K/9, but a poor 5.37 BB/9. From June 1 on, once he began to use his splitter more often and began to trust his fastball, Morrow pitched 89.1 innings the rest of the way and posted an even better 11.31 K/9 to go along with a greatly improved 3.23 BB/9. Not only did he gain confidence in his splitter, but he gained confidence in his other pitches as well, which helped him drastically improve his walk rate. He no longer felt the need to try and blow fastballs by opposing hitters.
If he continues to be the pitcher that showed up in the second half of 2010, then Toronto may have found a new ace.
Who are your breakout picks for 2011?
Charlie Saponara writes for the SweetSpot Red Sox blog at Fire Brand of the American League, which is part of the SweetSpot blog network. You can follow him on Twitter.
March, 12, 2010
3/12/10
3:05
PM ET
Via our Rumor Central, Susan Slusser with a
hint of March drama
:
Do the A's have a shortstop competition brewing?

Manager Bob Geren said last week that there is "competition" at the position, but Thursday he said emphatically that Cliff Pennington, who spent the second half of last season playing shortstop for Oakland, remains the favorite.

"Cliff is definitely the front-runner," Geren said. "Cliff is doing exactly what we want."

Still, the A's made a strong run at Marco Scutaro this winter, offering him a three-year deal to take their starting shortstop job. Scutaro took two years in Boston instead. Then, Oakland acquired Willy Taveras only to dump him, absorbing his $4 million salary to pry Rosales, 26, from the Reds.

One reason Oakland did that, of course, was because Rosales has options remaining, giving the team roster flexibility. So he's likely to open the season at Triple-A Sacramento, but a standout spring could put heat on Pennington.
That's a lot of money for a guy you're just going to send to Triple-A. Especially a 26-year-old guy.
Adam Rosales is a right-handed hitter. Cliff Pennington is a switch-hitter with a .373 on-base percentage against right-handed pitchers
in the minors
and
terrible
numbers against left-handed pitchers in the majors (warning: small sample size).
This is idle speculation, because the A's aren't half as radical as people think. But if there was ever a time to platoon your shortstops, this might be it. Rosales could play against lefties, and the rest of the time Pennington could play, with Rosales -- who's played plenty of shortstop, second base, third base, and first base in the minors -- serving as a super-sub.
A good baseball man would say you can't platoon shortstops because the shortstop is the anchor of the defense, and your good baseball man might be right. But the A's are projected almost everywhere to finish in last place. Why not try something a little bit radical?