June, 30, 2013
6/30/13
12:50
AM ET
By
Christina Kahrl
| ESPN.com
First team to 50 wins, the
Pittsburgh Pirates
? For reals? Legit? By getting there behind
Francisco Liriano
's start, a deep pen's collective hold and save, and the homers hit by
Pedro Alvarez
and
Garrett Jones
, today's Pirates might have done something no Pirates team has done since the franchise's 1960 championship squad.
Holy moly, we might be witnessing the end of professional sports' longest, dimmest dark age, not least in terms of Steel City baseball history. Praise be that it might be done for; never have so many suffered for so long to so little reward. A generation of children born in Pittsburgh since the Pirates' last winning season and postseason appearance have already been eligible to vote since the Buccos' major-sports record of 20 consecutive losing seasons -- the past six with the Nutting family running the show -- got started. Give it much longer, and they'd have been graduating from college en masse. Say what you will about Cubs fans, but they've never had to endure something like this.
It might all seem improbable enough. But by notching his seventh win in Saturday's
2-1 victory
over visiting Milwaukee, Liriano is making it clear that his initial strong start is not the flashy return from yet another injury, followed by a predictable fade. He's notched five quality starts in his past six turns. His walk rate isn't just down by 1.5 free passes per nine, it's down below 3.5 BB/9, at which it was when he was helping pitch the
Minnesota Twins
into one-game playoffs and contention. As easy as it might be to write off Liriano as flaky, this is the guy who was once the sixth-best prospect in baseball (per Baseball America before 2006), and after a year lost to Tommy John surgery on his elbow plus five different 15-day disabled-list stints for shoulder woes and arm soreness, there comes a point at which you have to stop calling the guy flaky and recognize the talent he's capable of showing when he's healthy, as infrequent as that might be.
But there's the rub: That fragility is part of what made him a Pirate, but that talent is part of why the Buccos were smart to get him. The fascinating thing about the Pirates making the leap from sub-mediocrity to best record in baseball isn't that it's a surprise. It's that they have the talent to make it so.
These Pirates aren't some ragamuffin band of misfit toys -- they are not the Oakland A's of "Moneyball" legend or present-day fact. This is a team built around past top prospects, whether they belonged to the Pirates or others. Guys like
Andrew McCutchen
and
Neil Walker
and Alvarez and
Gerrit Cole
are men that they picked and any team might envy; faded former studs like
A.J. Burnett
and Liriano and even a well-traveled veteran like closer
Jason Grilli
-- if you go back to the '90s and his pedigree as a Giants farmhand 15 years ago -- are past top prospects who they have picked up, recognizing who they've been and what they might still be capable of.
[+] Enlarge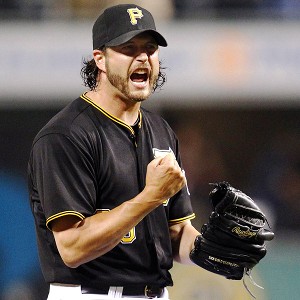 Charles LeClaire/USA TODAY SportsA Jason Grilli save is worth just as much in the standings as any other save, so why pay more than you have to?
Never mind that they're rattling off wins while either three- or four-fifths of their rotation is on the DL. (That depends on how you feel about
Jeff Karstens
' place on the depth chart.) With Burnett and
Wandy Rodriguez
due back from the DL within a week's time, that just means Pittsburgh has the kind of depth in its rotation to sustain big weeks, big months and big seasons, no matter how well or badly its lineup is doing. Add their in-season fixes like switching from the oh-so-glovely
Clint Barmes
to better everyday option
Jordy Mercer
at shortstop, and it's clear the Pirates are willing to fix things on the fly to aim for targets that might once have seemed sky-high.
But that's the thing. As much as things are going right by reaching 50 wins first, for all that, these really aren't your daddy's Pirates. And why is that? How is it that the franchise of Dave Parker, or Roberto Clemente, or Paul Waner, as proud a legacy of right-field greatness as any team this side of Babe Ruth's employers, could be producing a collective .656 OPS before Saturday's action?
That's the lowest RF mark in the National League, the worst among NL corner outfielders (even the
Juan Pierre
-hobbled Marlins), and worse production than 10 teams in the NL are getting from their center fielders. This is even more epically awful when you consider that right field is supposed to be one of your best run-producing slots, with production that bounces around the standard set by first basemen. It is a huge part of the reason the Pirates rank just 10th in the NL in runs scored per game, and it's the most obvious fix that, once addressed, would provide a platform for them to really romp in the second half, something that goes beyond just hoping that the rotation's depth and McCutchen's inevitable monster month carry them.
The Pirates' right-field issue is the biggest problem slot in any outfield in the National League, whether you're just talking contenders or not -- and the Pirates, despite their recent history for second-half fades, have earned the right to be called contenders. So this isn't just something on general manager Neal Huntington's eventual to-do list -- it's important, and it's important
right now
. This is not a problem you solve by getting
Jose Tabata
back from the DL next week; it certainly isn't something you settle for patching up by grabbing
Jeff Francoeur
off waivers and hoping he forgets he's Jeff Francoeur for a few months. This requires a bold stroke in the same way that breaking from two decades of below-.500 baseball demands something more than an 82-win season.
If you think this is a coming-of-age trade deadline coming up for the Pirates, you'd be forgiven for forgetting that Huntington has actually been fairly aggressive at the deadline in recent seasons -- striking deals for Rodriguez,
Gaby Sanchez
and
Travis Snider
last season and
Derrek Lee
and
Ryan Ludwick
in 2011.
So as far as that goes, the Pirates have proven more than willing to play in the inexpensive end of the deadline market when it comes to the self-improvement sweepstakes. But what would it mean if the people signing the checks would pony up the cash to add a premium bat for right field? Everything. Or Nutting.
The Pirates will be defined not by their ambitions, but by their actions. As brilliant as those have been on the field, here's hoping that they're matched by off-field machinations in the month to come. The good folks in Pittsburgh deserve nothing less.
Christina Kahrl covers baseball for ESPN.com. You can follow her on Twitter.
February, 15, 2013
2/15/13
3:40
PM ET
2012 in review
Record: 79-83 (78-84 Pythagorean)
651 runs scored (10th in NL)
674 runs allowed (7th in NL)
Big Offseason Moves
Signed free agents
Russell Martin
and
Francisco Liriano
. Re-signed free agent
Jason Grilli
. Traded
Joel Hanrahan
and
Brock Holt
to Boston for
Mark Melancon
,
Jerry Sands
,
Ivan De Jesus
and Stolmy Pimentel. Acquired
Clint Robinson
and
Vin Mazzaro
from the Royals. Lost free agents
Kevin Correia
and
Rod Barajas
.
What, you expected the Pirates to sign
Josh Hamilton
,
Zack Greinke
and
Kyle Lohse
? The Neal Huntington regime began in late September 2007. The GM took over a club that won 68 games and has won 67, 62, 57, 72 and 79 games. I guess that's progress. The club he inherited wasn't completely without talent, at least on offense:
--
Jose Bautista
: Traded in 2008 for
Robinzon Diaz
.
--
Jason Bay
: Traded in 2008 in a three-way deal. Pirates got
Andy LaRoche
,
Brandon Moss
,
Craig Hansen
and
Bryan Morris
. Also known as the poo-poo platter (although Moss resurfaced with Oakland last year and played well).
--
Adam LaRoche
: Traded in 2009 for
Hunter Strickland
and
Argenis Diaz
.
--
Freddy Sanchez
: Traded in 2009 for Tim Alderson.
--
Jack Wilson
: Hit .296 in '07. Traded in 2009 with
Ian Snell
for
Jeff Clement
,
Ronny Cedeno
and two minor leaguers.
Look, Huntington took over a wreck of a franchise. The farm system did have
Andrew McCutchen
and
Neil Walker
, but not much else. But Huntington had five players with some value (six if you include
Xavier Nady
, who had a decent 2007), traded all of them, and got nothing in return. That's one reason the Pirates are still where they're at today.
Huntington's first draft pick was
Pedro Alvarez
, the second overall pick in 2008. It took longer than expected, but he finally produced a decent season with 30 home runs in 2012. Still, he's hardly a star, hitting .244 last year with mediocre defense and no value on the bases.
Buster Posey
went a couple picks later. The Pirates selected catcher
Tony Sanchez
with the fourth pick in 2009, a choice widely panned at the time. He hasn't hit much in the minors (.268 AVG/.365 OBP/.403 SLG). With the second pick in 2010, the Pirates selected pitcher Jameson Taillon, who looks good, although
Manny Machado
was the next pick.
Gerrit Cole
was the first overall pick in 2011 and should reach the majors this year. Behind those two upside arms, Keith Law ranked the
Pirates' system seventh overall

.
Will that be enough to save the Huntington regime? After contending into July the past two seasons only to collapse over the final two months, this may be a make-or-break season for him.
As for the offseason moves, it was smart to trade Hanrahan while his value was high, although I don't think the Pirates got much back. Melancon is just another relief pitcher and Sands has a chance to stick as a platoon outfielder. Martin is an upgrade over Barajas, although backup catcher
Michael McKenry
actually had better numbers than Martin, and Liriano has had an ERA over 5.00 in three of the past four seasons, so good luck with that. (And now he'll miss the start of the season after breaking his arm in a freak Christmas accident, the day before he was to fly to Pittsburgh for his physical. Only the Pirates.)
Position Players
Well, McCutchen is pretty good. He may have won the MVP Award if he had better teammates.
The Pirates had four regulars with an OBP under .300 last year, but only shortstop
Clint Barmes
is back in his starting role, and he's there for his glove. Young outfielders
Jose Tabata
and
Alex Presley
flopped, so this year's flavors of the month appear to be Blue Jays former top prospect/washout
Travis Snider
and homegrown
Starling Marte
.
Marte is a 24-year-old with tools, but in his first exposure to major league pitching he struck out 50 times in 167 at-bats and walked just eight times. That approach isn't going to lead to a long and fruitful career, that's for sure. His career walk rate in the minors was abysmal, so I don't see much -- if any -- star potential here. More time in the minors may be needed, giving Tabata another chance at full-time duty.
That approach is Pittsburgh's overall problem on offense: They were fourth in the NL in homers but last in walks drawn, leading to a .304 OBP. Walks are good.
Defensively, the Pirates ranked 24th in the majors at minus-25 defensive runs saved, with Barmes being the only real plus defender. Barajas was terrible throwing out runners a year ago: 93 steals and only six caught stealing (not a misprint).
Pitching Staff
There is some potential here for an above-average rotation if Burnett repeats,
James McDonald
figures out what went wrong in the second half (9-3, 2.57 before the break, 3-5, 7.52 after),
Wandy Rodriguez
pitches like Wandy Rodriguez, and Cole makes a rapid ascension into the big league rotation. Even
Jeff Karstens
isn't a bad No. 5 starter, a soft-tosser who at least doesn't beat himself.
On the other hand, it's still
A.J. Burnett
, McDonald's first half may have been a fluke, Rodriguez could be ripe for a decline, and Karstens isn't really that good. You know things are going bad if free-agent reclamation project
Jonathan Sanchez
appears in the rotation.
The bullpen had a solid 3.36 ERA in 2012, seventh in the NL, but I'm skeptical about a repeat performance. Hanrahan wasn't always dominant, but he blew just four saves each of the past two seasons. Veteran Jason Grilli came out of nowhere to fan 90 in 58.2 innings, so if he pitches like that again he'll be fine as the closer. But guys like
Jared Hughes
and
Tony Watson
are good bets for regression, and I don't see much depth.
Heat Map to Watch
What's amazing about McCutchen's final numbers -- .327 average, 31 home runs -- is that it's easy to forget he didn't hit a home run in April. He did fall off the final two months, hitting .252 in August and .254 in September, as maybe the weight of 24 teammates on his shoulders wore him down. He tinkered with his swing mechanics last offseason and it paid off, especially against fastballs. He hit .363/.423/.676 against fastballs, with 22 of his 31 homers. He had hit .280 off fastballs in 2011. The new revamped swing allowed him to do much more damage on inside pitches.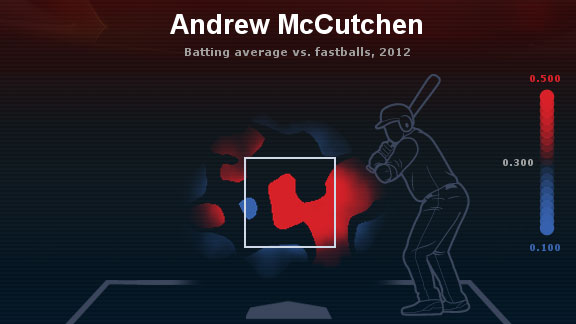 ESPN Stats & InformationAndrew McCutchen feasted on fastballs in 2012, especially those on the inner half of the plate.
Overall Grade

Is this the year? Can the Pirates finish over .500 for the first time since 1992?
I'd like to say yes. I'd like to say that Pedro Alvarez will hit .275 with 40 bombs, and both Travis Snider and Starling Marte will hit .280 (and combine for 40 home runs), and McCutchen will have another MVP-caliber year, and Burnett and McDonald and Rodriguez will win 15 games apiece, and Cole will come up from the minors in May and go 12-5 with a 3.27 ERA.
But I don't see it. The Astros aren't much competition (Pittsburgh went 12-5 against Houston) and the Reds and Cardinals look pretty tough again. But I hope I'm wrong.
August, 19, 2012
8/19/12
10:42
PM ET
By
Jack Moore, SweetSpot network
| ESPN.com
The
Pittsburgh Pirates
can be forgiven for lingering bad memories of 19th innings past. It was the 2011 season that looked like the breakthrough that Pittsburgh has been waiting for since 1992 … until it
all came crashing down on July 26
, as an apparent blown call at the plate gave the
Atlanta Braves
a victory in the 19th frame.
The Pirates entered that game last year at 53-47, tied with the Cardinals for the National League Central lead. Much as they were entering Sunday's game, the Pirates were no lock for the playoffs, but they were right in the thick of things. Fast-forward to October and the Pirates were 24 games out of first. It wasn't a collapse, it was an implosion -- the Pirates were an NL-worst 19-42 after that infamous extra-inning contest.
On Sunday, the Pirates and Cardinals -- along with San Francisco the Pirates' closest rivals for the second NL wild-card slot -- slogged through 18 innings knotted up in an increasingly epic 3-3 tie. Who in Pittsburgh could help but recall the moment that turned last season's seemingly magical campaign on its head?
But then with one out in the Pirates' half of the 19th,
Pedro Alvarez
launched a ball deep into the St. Louis evening. Pittsburgh tacked on two more via an
Andrew McCutchen
single, and then
Wandy Rodriguez
held the lead with a 1-2-3 inning for his
first victory as a Pirate
.
Should the Pirates manage to hold their still-slim lead on the NL's last playoff slot, it will be easy to point at July 26, 2011, and Aug. 19, 2012, as key points in Pirates history. Some will wax poetic about the Pirates breaking free, or of a reversal of franchise fortune. What Aug. 19, 2012, really proves is the quality of this 2012 squad -- far above anything Pittsburgh baseball has seen in recent memory.
Let's not forget the mirage created by the 2011 Pirates' first four months. The lineup featured just four starters with an OPS+ of 82 or lower. The club managed a 3.46 first-half ERA despite a strikeout-to-walk ratio below 2.0 and just 6.2 strikeouts per nine innings. The Pirates' 116 FIP- wound up as the worst mark in the National League. It was, simply put, not a good team.
The differences with the team they're fielding in 2012 begin with Sunday's hero, third baseman Alvarez. Alvarez was easily the worst hitter on the 2011 Pirates, a team featuring 99 games of
Brandon Wood
, 128 games of
Ronny Cedeno
, 100 games of
Matt Diaz
and 121 games of
Xavier Paul
. Alvarez managed just four home runs in 74 games, limping to a 58 OPS+ and an early demotion to Triple-A. Alvarez still strikes out nearly once every three at-bats, but his prodigious power is back -- Sunday's game-winner marked Alvarez's 23rd home run of the season, raising his slugging percentage to .467, nearly 200 points above last year's disastrous clip.
Alvarez is just one component behind the improved lineup --
Garrett Jones
(131 OPS+),
Neil Walker
(123),
Michael McKenry
(140) and obviously McCutchen (180) have all had their say in raising the Pirates' offensive output from 3.8 runs per game in 2011 to 4.2 runs per game this season.
But the biggest improvement for the Pirates has come in run prevention, not run production. The Pirates created their 2011 mirage on pitching and defense. Their 383 runs allowed through the debacle in Atlanta was fourth best in the National League; they nearly doubled that mark in 40 fewer games, allowing a league-worst 329 runs down the stretch.
Adding
A.J. Burnett
to the rotation was key. The bullpen has featured more than just
Joel Hanrahan
this season -- after all, the Pirates' closer and six others combined for 12 innings of nine-hit, one-run baseball in St. Louis on Sunday, with setup men like
Jason Grilli
and
Jared Hughes
lowering their ERAs to 2.38 and 2.51 respectively.
But the real key has been defense. McCutchen could be in the running for a Gold Glove. If
Starling Marte
and
Travis Snider
can return quickly from injuries, they will give the Pirates one of the speediest outfields in baseball.
Clint Barmes
hasn't hit, but his glove has stabilized the always-difficult shortstop position. McKenry saved the game several times Sunday with clutch stops behind the plate.
Overall, the Pirates own a .720 defensive efficiency, meaning they turn 72 percent of batted balls in play into outs. Only Washington, Seattle, Oakland and Anaheim own better marks, with Washington's .723 leading the league. Last year, the Pirates' squad finished 25th in baseball at .700, roughly 10 points below the league average.
Sunday's 19-inning victory against St. Louis showed plenty of things -- heart, perseverance and even some good fortune. But it also showed the one thing that really separates the 2012 Pirates from the 2011 version that faltered down the stretch: Talent. The Pirates still have a long way to go, but this year's team is infinitely better equipped to walk the path and carry Pittsburgh into the postseason for the first time since 1992.
PHOTO OF THE DAY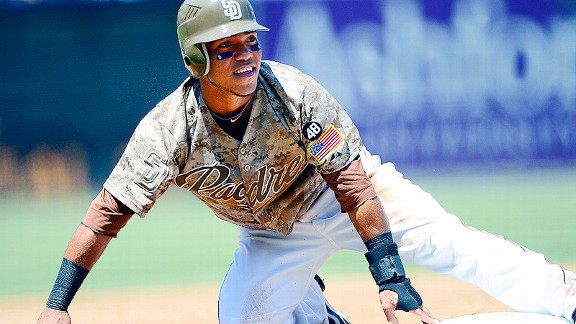 Christopher Hanewinckel/US PresswireThat's Alexi Amarista of the Padres sliding into third base, not G.I. Joe.
Jack Moore's work can be seen at FanGraphs and Disciples of Uecker (a SweetSpot affiliate devoted to the Brewers). Follow him on Twitter @jh_moore.
January, 29, 2012
1/29/12
12:35
PM ET
By
Christina Kahrl
| ESPN.com
With all of this talking about
production up the middle
or
at the four corners
over the past 25 years, it might also be helpful to put this into perspective by asking: Who's average?
Here again, I'm indebted to
Clay Davenport's work
in creating Equivalent Average, as useful a tool for all-time performance on offense today as it was in the '90s. Sticking with the 2011 and following Clay's advice to cheat up a couple of points -- to avoid the impact of the real scrubs -- let's look at who set the bar for mediocrity at all eight regular positions in the field:
Catcher:
Rod Barajas
, .258 Equivalent Average (EqA). Sure, he struggles to get on base, but Barajas' modest pop at the plate -- delivering a .200 ISO last season -- and solid receiving skills makes him the acme of average from the backstop bin. In Pittsburgh, he might help propel their latest bid for a .500 season.
Runner-up: The Brewers'
Jonathan Lucroy
, .254 EqA.
First Base:
Freddie Freeman
, .286 EqA. This might seem like an indictment of the Atlanta Braves' prodigy, but the standards for offense at first base are higher than at any position, and this isn't a shabby place to start for a kid in his age-21 season.
Runner-up: The Marlins'
Gaby Sanchez
, .284 EqA.
Second Base:
Orlando Hudson
, .268 EqA. Hudson's power has taken a hit the last two years since going to slugger-sapping Target Field and now the Padres' Petco Park, but he still provides average offense for the position and above-average glove work, so he'll keep landing gigs.
Runner-up: The Mets'
Justin Turner
, .263 EqA, and an excellent example of how GMs can still find plug-in players on the waiver wire.
Third Base:
One of the funny things about the field is that you'd be hard-pressed to find a truly average regular at third, but the closest might be
Casey Blake
with the Dodgers (.268 EqA) or
Jack Hannahan
with the Indians (.263), so let's call it a platoon and punt on picking a runner-up.
Shortstop:
Clint Barmes
, .257 EqA. Here we have another Pirates offseason acquisition, which might be taken as proof that average is the new up, or that it takes a certain kind of player to choose to go to Pittsburgh. But more fundamentally, Barmes reflects today's higher standard for adequacy on offense at short, because beyond premium defense he ripped a dozen homers for the Astros.
Runner-up: The White Sox's
Alexei Ramirez
, .256 EqA, and another example after knocking 15 homers of his own.
Left Field:
Cody Ross
, .273 EqA. In contrast, here's a great example of the declining standard for what gets by in left. The hero of the postseason in 2010 went back to his more mortal form at the plate with the Giants, and looks like he'll be shunted into a part-time role with the Red Sox, splitting time in right field or spotting for the injured
Carl Crawford
in left early on.
Runner-up:
Jason Bay
, .270 EqA, and a symbol of the Mets' bang-less bucks at work.
Center Field:
Adam Jones
, .273 EqA. Here's a reflection on what a difference a position makes. Cody Ross? Not in high demand. Adam Jones of the Orioles? He's a star, and somebody many teams would love to trade for.
Runner-up: The Diamondbacks'
Chris Young
, .270 EqA. Keep in mind, Equivalent Average is park-adjusted, so all that slugging the Snakes get from their center fielder at home -- including 14 of his 20 homers, with a 131-point difference between his home and road SLG.
Right Field:
Seth Smith
, .283 EqA. Right's the premium offensive position in the outfield these days, so the standard for average is going to be a bit higher. It says something about the Athletics' lot on offense that they traded for Smith and fell he'll provide a big boost with his bat from either corner.
Runner-up:
Jeff Francoeur
, .279 EqA. His comeback with the Royals was nice to see, but it's a reflection of the depths he plummeted to during his three years in the wilderness that he's gone from awful to average, not awesome.
Christina Kahrl covers baseball for ESPN.com. You can follow her on Twitter.
January, 26, 2012
1/26/12
8:30
AM ET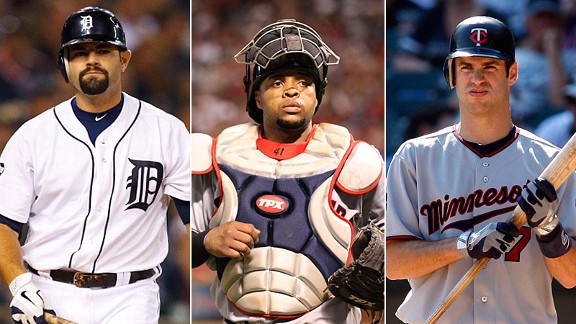 US PresswireWith Alex Avila, Carlos Santana and Joe Mauer, the AL Central is loaded at catcher.
We're back with more divisional position rankings for 2012. You can scream, you can holler, you can protest and call me names. But just because I rated your player lower than you think he deserves doesn't mean I hate your team.
(Here are the
NL East
and
NL West
rankings.)
Catcher
1.
Alex Avila
, Tigers
2.
Joe Mauer
, Twins
3.
Carlos Santana
, Indians
4.
Salvador Perez
, Royals
5.
A.J. Pierzynski
, White Sox
The AL Central might not be baseball's glamor division, but it may have three of the top five catchers in the game if Mauer bounces back from his injury-plagued campaign. Since we're not certain of his health, I'm going to give top billing to Avila, who had the best hitting numbers of any catcher outside of
Mike Napoli
and plays solid defense. I wouldn't be surprised if Santana explodes; with his power-and-walks combo, all he has to do is raise his average 30 points and he'll be one of the most valuable players in the game. Considering that his average on balls in play was .263, there is a good chance of that happening. Perez hit .331 in 39 games; OK, he won't do that again, but he doesn't turn 22 until May and puts the ball in play. There's no shame in being fifth in this group but that's where I have to place Pierzynski, who keeps rolling along and is now 36th on the all-time list for games caught.
First base
1.
Prince Fielder
, Tigers
2.
Paul Konerko
, White Sox
3.
Eric Hosmer
, Royals
4.
Justin Morneau
, Twins
5.
Matt LaPorta
, Indians
In 2009, when Morneau played 135 games, he hit .274 AVG/.363 OBP/.516 SLG. Even if he replicates that line, he may rank only fourth. Konerko has hit a combined .306 with 70 home runs the past two seasons. He's 104 home runs from 500 but turns 36 in March, so he's probably four seasons away; not sure he'll hang on that long, but who knew he'd be this good at this age. If Hosmer improves his walk rate and defense and Konerko declines, Hosmer could climb past him. If it doesn't happen this year, it will happen next. The most similar batter to him at age 21: Eddie Murray.
Second base
1.
Jason Kipnis
, Indians
2.
Gordon Beckham
, White Sox
3.
Johnny Giavotella
, Royals
4.
Alexi Casilla
, Twins
5.
Ramon Santiago
, Tigers
Well, this isn't exactly a
Robinson Cano
/
Dustin Pedroia
/
Ben Zobrist
debate, is it? Kipnis' bat is a sure thing, as evidenced by his excellent play after his call-up (.272 average and .507 slugging in 36 games). His glove was once a question mark but now appears solid enough that he looks like a future All-Star to me. Can anybody explain what has happened to Beckham? He's second mostly by default; he's gone downhill since his superb rookie season in 2009 but is only 25, so there's hope that he'll find those skills again. Giavotella has some potential with the bat (.338/.390/.481 at Triple-A), which is more than you can say for Casilla and Santiago.
Third base
1.
Miguel Cabrera
, Tigers
2.
Mike Moustakas
, Royals
3.
Lonnie Chisenhall
, Indians
4.
Danny Valencia
, Twins
5.
Brent Morel
, White Sox
We'll go with the idea that Cabrera is Detroit's starting third baseman, although I predict he'll end up starting more games at designated hitter. Manager Jim Leyland will end up doing a lot of mixing of his lineups, but for this little exercise we have to choose a starter. Moustakas didn't tear up the league as a rookie and I worry about his ability to hit lefties (.191, homerless in 89 at-bats), but he showed more than fellow rookies Chisenhall and Morel. Valencia doesn't get on base enough and he rated poorly on defense in 2011. I hope he's at least good in the clubhouse. Morel was terrible all season and then exploded for eight of his 10 home runs in September and drew 15 walks after drawing just seven the previous five months. Maybe something clicked.
Shortstop
1.
Asdrubal Cabrera
, Indians
2.
Alexei Ramirez
, White Sox
3.
Jhonny Peralta
, Tigers
4.
Alcides Escobar
, Royals
5.
Jamey Carroll
, Twins
Peralta had the best 2011 season, but he's a difficult guy to project. He had an .804 OPS in 2008 but dropped to .691 in 2009. He had a .703 OPS in 2010 and then .823 in 2011. I just don't see a repeat season, at the plate or in the field. Cabrera didn't rate well on the defensive metrics, and after a strong start he wore down in the second half. Ramirez has turned into a nice player, with a good glove and some power, and he even draws a few walks now. Escobar is a true magician with the glove. Carroll is actually a useful player who gets on base (.356 career OBP), but he's pushed as an everyday shortstop and he'll be 38. He'll be issued the honorary
Nick Punto
locker in the Twins' clubhouse.
Left field
1.
Alex Gordon
, Royals
2.
Alejandro De Aza
, White Sox
3.
Ben Revere
, Twins
4.
Michael Brantley
/
Shelley Duncan
, Indians
5.
Ryan Raburn
/
Don Kelly
, Tigers
I'm not sure what to do here. After Gordon, I just get a headache. We'll pretend to believe in De Aza after his impressive stint in the majors (171 plate appearances, .329/.400/.920). He's hit in Triple-A for three seasons now, and while he's not going to post a .400 OBP again, he should be adequate. Revere is one of the fastest players in the majors, but he's all speed and defense; he hopes to grow up to be
Brett Gardner
, which isn't a bad thing, but he'll have to learn to get on base at a better clip. Brantley doesn't have one outstanding skill so he'll have to hit better than .266 to be anything more than a fourth outfielder; Duncan provides some right-handed pop as a platoon guy. The Tigers have
Delmon Young
, but I'll slot him at DH. That leaves supposed lefty masher Raburn and utility man Kelly to soak up at-bats; both had an OBP below .300 in 2011, although Raburn has hit better in the past.
Center field
1.
Austin Jackson
, Tigers
2.
Denard Span
, Twins
3.
Grady Sizemore
, Indians
4.
Lorenzo Cain
, Royals
5.
Alex Rios
, White Sox
I can't rate Sizemore any higher since he's played just 104 games over the past two seasons, and he hasn't had a big year since 2008. Rios was terrible in '09, OK in '10 and worse than terrible in '11. I'm not betting on him.
Right field
1.
Shin-Soo Choo
, Indians
2.
Brennan Boesch
, Tigers
3.
Jeff Francoeur
, Royals
4.
Josh Willingham
, Twins
5.
Dayan Viciedo
, White Sox
Choo would like to forget 2011, but there's no reason he shouldn't bounce back and play like he did in 2009 and 2010, when he was one of the 10 best position players in the AL. I don't expect Francoeur to deliver 71 extra-base hits again, but maybe he'll surprise us. Viciedo is apparently nicknamed "The Tank," which makes me wonder how much ground he can cover. He did improve his walk rate last season in the minors and turns 23 in March, so there's still room for more growth.
Designated hitter
1.
Billy Butler
, Royals
2.
Travis Hafner
, Indians
3.
Ryan Doumit
, Twins
4. Delmon Young, Tigers
5.
Adam Dunn
, White Sox
Has there been a bigger prospect disappointment than Young in the past decade? I mean, yes, there were complete busts like
Brandon Wood
and
Andy Marte
, but those guys had obvious holes in their games, while Young was viewed as a
sure thing
, a consensus No. 1 overall prospect. But his bat has never lived up to its billing. Other than one decent year in Minnesota, he has low OBPs and he clearly lacked range in the outfield. His career WAR on Baseball-Reference is minus-0.2 (1.6 on FanGraphs), meaning he's been worse than replacement level. He's just not that good, Tigers fans.
No. 1 starter
1.
Justin Verlander
, Tigers
2.
John Danks
, White Sox
3.
Justin Masterson
, Indians
4.
Luke Hochevar
, Royals
5.
Carl Pavano
, Twins
Masterson was better than Danks in 2011, and I do believe his improvement was real. He absolutely crushes right-handers -- they slugged an anemic .259 off him. Danks had two bad months but has the longer track record of success. Even in his "off year" he had a higher strikeout rate and lower walk rate than Masterson. If you want to argue about Hochevar versus Pavano, be my guest.
No. 2 starter
1.
Doug Fister
, Tigers
2.
Ubaldo Jimenez
, Indians
3.
Gavin Floyd
, White Sox
4.
Francisco Liriano
, Twins
5.
Jonathan Sanchez
, Royals
Yes, sign me up for the Doug Fister bandwagon club. Jimenez's fastball velocity was down a couple miles per hour last season but the positives are that his strikeout and walk rates were identical to 2010; he'll be better. Floyd isn't flashy but he's now made 30-plus starts four years in a row, and he'll become a very rich man when he becomes a free agent after this season. Sanchez won't have the luxury of pitching in San Francisco (and to eight-man NL lineups).
No. 3 starter
1.
Max Scherzer
, Tigers
2.
Scott Baker
, Twins
3.
Philip Humber
, White Sox
4.
Bruce Chen
, Royals
5.
Josh Tomlin
, Indians
I could be underrating Baker, who was excellent last season, but only once in his career has he made 30 starts in a season. Tomlin's fans will disagree with this ranking, but he's a finesse guy who relies on the best control in baseball (21 walks in 26 starts). He's the kind of guy you root for, but the league seemed to figure him out as the season progressed.
No. 4 starter
1.
Felipe Paulino
, Royals
2.
Rick Porcello
, Tigers
3.
Jake Peavy
, White Sox
4.
Derek Lowe
, Indians
5.
Nick Blackburn
, Twins
Scouts still love Porcello's arm and I know he's just 23, but he's made 89 big league starts and shown no signs of getting better. His WHIP has increased each season and his strikeout rate remains one of the lowest in baseball. Paulino has an electric arm -- he averaged 95 mph on his fastball -- and
is
getting better. How could the Rockies give up on him after just 14 innings? How could the Astros trade him for
Clint Barmes
? Anyway, kudos to the Royals for buying low on the guy who may turn into their best starter. Peavy can't stay healthy. Lowe has led his league in starts three out of the past four seasons, but I'm not sure that's a good thing anymore. Blackburn is a poor man's Lowe, and I don't mean that in a good way.
No. 5 starter
1.
Chris Sale
, White Sox
2.
Jacob Turner
, Tigers
3.
Aaron Crow
/
Danny Duffy
, Royals
4.
Fausto Carmona
/
David Huff
/
Jeanmar Gomez
, Indians
5.
Brian Duensing
/
Jason Marquis
, Twins
Welcome to the AL Central crapshoot. Turner and Sale have the most upside, but one is a rookie and the other is converting from relief. Crow will also be given a shot at the rotation, but his difficulties against left-handed batters (.311 average allowed) don't bode well for that transition. Even if the artist formerly known as Carmona gets a visa, what do you have? A guy with a 5.01 ERA over the past four seasons. Duensing is another typical Twins pitcher, which means he at least throws strikes. His first full season in the rotation didn't go well, so of course the Twins brought in Marquis, yet another guy who doesn't strike anybody out.
Closer
1.
Jose Valverde
, Tigers
2.
Joakim Soria
, Royals
3.
Matt Thornton
, White Sox
4.
Chris Perez
, Indians
5.
Matt Capps
, Twins
Four good relievers plus Matt Capps. I do admit I'm a little perplexed by Perez, however. In 2009, he struck out 10.7 batters per nine innings. In 2010, that figure fell to 8.7 but he posted a pretty 1.71 ERA. In 2011, it was all the way down to 5.9, but without much improvement in his control. Perez blew only four saves but he did lose seven games. He survived thanks to a low .240 average on balls in play. He's an extreme fly-ball pitcher but didn't serve up many home runs. Bottom line: I'd be nervous.
Bullpen
1. Indians --
Vinnie Pestano
,
Rafael Perez
,
Tony Sipp
,
Joe Smith
,
Nick Hagadone
2. Royals --
Jonathan Broxton
,
Greg Holland
,
Louis Coleman
,
Tim Collins
,
Jose Mijares
3. Tigers --
Joaquin Benoit
,
Octavio Dotel
,
Phil Coke
,
Daniel Schlereth
,
Al Alburquerque
4. White Sox --
Jesse Crain
,
Jason Frasor
,
Will Ohman
,
Addison Reed
,
Dylan Axelrod
5. Twins --
Glen Perkins
,
Alex Burnett
,
Anthony Swarzak
,
Kyle Waldrop
,
Lester Oliveros
If you're starting to think I'm not high on the Twins for this season, you would be correct.
Intangibles
1. Royals
2. Indians
3. Tigers
4. White Sox
5. Twins
I like the youthful exuberance of the Royals, plus the likelihood of improvement from the young players and the possibility of some midseason reinforcements from the minors. The depth of the bullpen will help bolster a shaky rotation, and this just feels like an organization that is finally starting to believe in itself. The Indians are riding last year's positive results and enter the season knowing they might get better production from Choo and Sizemore and full seasons from Kipnis and Chisenhall. I'm not knocking the Tigers here, but they do lack depth in the pitching staff and the pressure is on them.
The final tally
1. Tigers, 65 points
2. Royals, 55 points
3. Indians, 54 points
4. White Sox, 46 points
5. Twins, 35 points
No surprise here: The Tigers will be heavy favorites to win the division with a lineup that should score a ton of runs. I don't think it's a lock that they'll win -- Verlander, Avila, Peralta and Valverde will all be hard-pressed to repeat their 2011 campaigns, for example. But the Royals and Indians appear to have too many questions in the rotations, the White Sox have serious lineup issues, and the Twins have a beautiful ballpark to play their games in.
December, 3, 2011
12/03/11
2:00
PM ET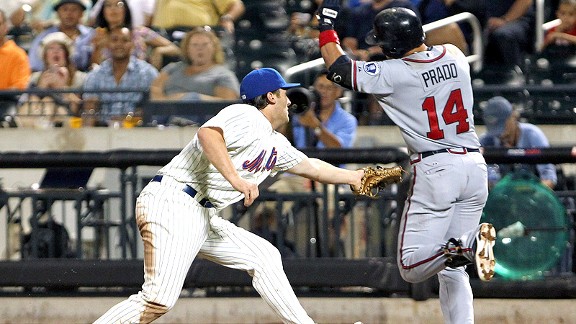 Anthony Gruppuso/US Presswire
Nick Evans
' defensive skills could be of value down the road.
You probably didn't notice that the
Pittsburgh Pirates
recently signed first baseman and outfielder Nick Evans to a minor league contract within the past two weeks. There wasn't much reason to do so. Evans was nondescript with the bat, hitting .256 with four home runs and 25 RBIs for the Mets in 2011.
But Evans did something within his limited time that was significant to those of us trying to learn about advanced defensive stats. It struck me as being the defensive equivalent to hitting .400 over 150-or-so at-bats. In 337 2/3 innings, the equivalent of 37 ½ nine-inning games at first base, Evans finished with seven defensive runs saved. That's a good number for a first baseman.
It tied him for most in the majors for the season
with Angels first baseman
Mark Trumbo
.
It's also significantly better than what the Pirates got from their first basemen last season. Theirs ranked 28th in the majors, costing the team 11 runs.
Defensive runs saved for first basemen calculates the ability to turn batted balls into outs and the success at getting outs on bunts.
Evans scored well primarily because he did well handling the 46 balls that were hit into his "zone," with "zone" defined as the areas on the field in which first basemen turned batted balls into an out more than half of the time.
Evans' revised zone rating was 84.8% (of the 46 balls in his zone, he converted 39 into outs).
That rate was tied for fifth-best
among the 46 first basemen that played at least 300 innings at the position.
It was within striking distance of MLB leader
Todd Helton
(85.9 percent) and considerably ahead of Evans' crosstown counterpart, Yankees first baseman
Mark Teixeira
(77.0 percent). For every 46 balls hit into his zone last season, Teixeira got 35 outs, four fewer than Evans did in his (admittedly small) sample.
The way that Baseball Info Solutions, which calculates a plus-minus rating for every fielder, looks at it, they divide batted balls into three areas for infielders -- balls hit to the left and right of the area where most outs are recorded, and balls hit directly where a first baseman most often records outs.
Evans was a plus-six on balls hit into the latter area, meaning he was six plays better than the average first baseman. That factored significantly into Evans' defensive runs saved rating, as did his defense on bunts, which was similarly above average.
Evans' success jibed with that which he'd had
as a minor leaguer
as well.
The researchers at Baseball Info Solutions, whose founder John Dewan came up with the defensive runs saved metric, acknowledge that the stat isn't necessarily the perfect measure of a first baseman's skills.
There are many other components to first base defense (a recent article in
the blog "DRays Bay"
attempted to put a value on each), the most recognizable to fans being the ability to handle throws from one's teammates.
So we dug a little deeper.
In addition to coming up with sabermetric stats, Baseball Info Solutions hires "video scouts" (for the most part, former high school and college players) to chart games from television viewing, tagging notable plays into more than 80 subcategories of "Good Fielding Plays" (GFPs) and "Defensive Misplays & Errors." (DM&Es)
There are tightly defined rules, devised by sabermetrician Bill James, to what constitutes a GFP and a DM.
First basemen were credited with just over 2,000 Good Fielding Plays and just under 1,100 Defensive Misplays & Errors in 2011, the ratio of good to bad being about 1.9-to-1.
In his time at first base, Evans' ratio of GFPs to DMs was 24-to-5, or almost 5-to-1.
The reason for this was that in the eyes of multiple viewers (video scouts rotate so not to watch the same team or player too often), Evans was adept at a key aspect to his position not measured by Defensive Runs Saved or UZR/150- catching throws.
Evans was credited with 11 GFPs for "handling a difficult throw" (usually either by scooping it out of the dirt or coming off the base) in which the Mets got the batter out, and four GFPs for "catches wild throw," meaning that he prevented a batter or baserunner from gaining an extra base by coming off the bag to block/catch an errant throw.
Samples of Evans handiwork in this area can be seen at
these
three
links
.
Evans was tagged for only one DM&E for "failing to catch the throw" from a teammate. His ratio of good-to-bad plays was 15-to-1. By comparison, the average ratio for a first baseman on these plays was 5-to-1. Reds first baseman
Joey Votto
, who won the NL's Gold Glove, had 29 GFPs and 10 DM&Es related to handling throws.
We're not saying that Evans can maintain the sort of success from his small sample over a full season.
But for the Pirates, who also showed a
defensive-minded commitment
with the signing of shortstop
Clint Barmes
, it's an interesting sort of gamble that could be worth watching more closely as the 2012 season unfolds
November, 20, 2011
11/20/11
10:50
AM ET
By
Christina Kahrl
| ESPN.com
You've already seen the
Jose Reyes
rumors. If he makes a decision to sign with the
Miami Marlins
, the team would suddenly have two of the very few playable people at short between the former Met and
Hanley Ramirez
. Such a signing would make an already grim bit of holiday shopping for several NL contenders into a deal-or-die exercise.
Consider which players are on the market at short beyond Reyes:
Jimmy Rollins
,
Rafael Furcal
and... and a collection of people you sign with a sense of necessity, if not outright regret.
Clint Barmes
.
Ronny Cedeno
. Even
Cesar Izturis
. It's the sort of market that might make even
Nick Punto
or
Jack Wilson
start to look good, even for guaranteed money.
Then consider which teams have postseason ambitions for 2012, and who also need a shortstop -- and their chance for Reyes already gone. Start with the world champion Cardinals sans Furcal, the Phillies sans Rollins, the Braves, the Brewers and the Giants. They're all more likely to spend on a shortstop than the back-of-the-pack teams needing to find a shortstop, like the Astros and Pirates.
And that's the problem in a nutshell at shortstop: There aren't all that many somebodies capable of playing a good short
and
contributing on offense to go around. If Reyes settles early, the subsequent scramble could be the most interesting development of the winter. At the very least, the bidding on Rollins could go nuts, especially those teams that don't have a shortstop prospect worthy of the name in their very near future. The Phillies have their hopes for Freddy Galvis, the Braves their own for Tyler Pastornicky; both clubs are probably the willing "losers" on this winter's shortstop market, gunning for veteran shortstops they can sign for a year to keep the seat warm.
But that kind of consideration aside, this is one line you don't want to be fourth in. The expectation the Pirates will pay Barmes eight figures over two years illustrates the downside. Even if you like Barmes' defense, he'll struggle to achieve a .300 OBP -- he's at .302 career, 10 points better than
Yuniesky Betancourt
, 11 better than
Alex Gonzalez
.
As a result, the chance is obviously there for teams with some depth at short to make a trade. The Red Sox have their surplus with
Marco Scutaro
,
Jed Lowrie
and
Mike Aviles
all marking time while
Jose Iglesias
approaches the majors. There's some speculation the Nats could swap
Ian Desmond
, which might involve pushing
Danny Espinosa
across the bag to short to make room for
Stephen Lombardozzi
at second. (That sort of creative expansion of shortstop alternatives helps explain why the Twins struck early to add
Jamey Carroll
, despite
questions about his defense
.) Given the potential payoff in prospects if the Padres are willing to deal, Josh Byrnes may well decide to peddle Jason Bartlett's remaining season under contract -- for $5.5 million, or what now might be referred to as Clint Barmes money -- to a contender.
Indeed, the market's so weak and the contrast between the big three of Reyes, Rollins and
Rafael Furcal
versus all of the alternatives so significant, that you can understand why a team that doesn't get its top target this winter might decide to change gears and chase one of the shortstops. Take the Cardinals' situation. If they can't convince
Albert Pujols
to stick around, they shouldn't throw the money at another first baseman -- they have
Lance Berkman
already available to move to first, creating an opening for
Allen Craig
. They'd still be short at shortstop, though, which might drive GM John Mozeliak's top priority to be going after Rollins or retaining Furcal.
For those teams that don't get Reyes or Rollins or Furcal, they
can
still potentially win with the other guys. The D'backs made it into the postseason with
Willie Bloomquist
doing his gosh-darned best bit of
David Eckstein
impersonation at short, and the Brewers treated people to the spectacle of being the first and probably last team to reach a League Championship Series with Betancourt as its everyday shortstop. And the Cardinals got by with
Ryan Theriot
at short for a significant portion of the season -- before taking off down the stretch for, among other reasons, replacing him with Furcal.
But with Furcal starting the Cardinals went 29-18. It's that sort of immediate pick-me-up that will help inspire GMs to try and avoid finishing fourth in this particular race, because the difference between the shortstops you want to pay to play, and the ones you employ because you have to is so stark.
Christina Kahrl covers baseball for ESPN.com. You can follow her on Twitter.
February, 22, 2011
2/22/11
10:55
AM ET
By
Austin Swafford
| ESPN.com
Joe Janish over at Red Leg Nation did a good job compiling the ZiPS Projections by Dan Szymborski to figure out the
projected NL Central standings for 2011
. I'm not going to give you a homerific projection of the Astros' season. I've got a pretty good record of being excessively critical of the Astros, and I'm certainly not turning around on that to say they're going to the World Series or anything absurd like that.
But don't you have to question the methodology of anything that places pretty much any team behind the Pirates?
The pessimist in me is perfectly willing to buy
Szymborski's breakdown
that compares the Astros to the Orioles in the way they keep getting just enough wins to convince management that the team doesn't need to go in a drastic new position. He's right that it's a slow downward spiral and I've been saying as much for years.
[+] Enlarge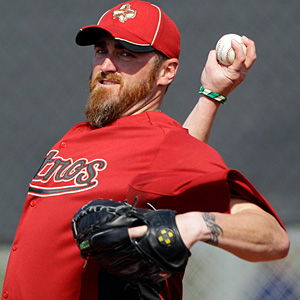 AP Photo/David J. PhillipBrett Myers was 14-8 in 2010 with 180 strikeouts.
But, even granting that it is true, there are a number of reasons to think the Astros will not finish behind the Pirates.
First of all, the Astros have history on their side. In 17 years of sharing the division, the Astros have never finished behind the Pirates. They have had some scares in recent years, but the Astros never finished last in the division and have never finished behind the Pirates. History can change at any moment and that's the beauty of sports, but I'm looking at a Pirates team whose best full-time starter (
Ross Ohlendorf
) posted a 4.01 ERA last year, and I'm not seeing any reason to think the pattern of the Astros beating out the Pirates is going to change this year.
Secondly, the Astros' offense should get better this year. Nobody's going to confuse them with the 1927 Yankees or even the 2004 Astros, but there's plenty of reason to think the Astros will be better with the bats in 2011. They added
Bill Hall
and
Clint Barmes
.
Chris Johnson
will probably take a step back from his surprising rookie campaign, but there's no reason to think that
Brett Wallace
and
Jason Castro
won't see improvement, and no reason to think that
Carlos Lee
and
Michael Bourn
can't rebound and hit more like they did in 2009. They were a team in flux last year, and even with their complete offensive futility, I'll let you take a stab at one of the two teams that finished behind the Astros in virtually every offensive category. Did you guess? Yeah … it was the Pirates.
Thirdly, the Astros have pitching. You can knock their offense from here to October, and maybe their pitching even overperformed a little bit last year with a resurgent season from
Brett Myers
. But Myers,
Wandy Rodriguez
and
J.A. Happ
lead a solid rotation (3.30 ERA last year for those three) and the bullpen is coming together with great young guys like
Fernando Abad
,
Wilton Lopez
and
Mark Melancon
, with
Brandon Lyon
anchoring the closer's spot. Again, nothing that will compete for the World Series, but certainly good enough to finish ahead of the Pirates and maybe even enough to surprise other NL opponents.
I don't write this to proclaim the virtues of a team that might be just this much better than the lowly Pirates. I write it to say that this statistical finding doesn't pass the smell test. I'm sure that Dan Szymborski has put a lot of thought and work into his equations, but when those equations come out with the standings shown by Red Leg Nation, it might be an invitation back to the drawing board. Or, at the very least, a reminder that all the stats in the world will never tell us what we often know just by looking at what's in front of us.
Austin Swafford writes Austin's Astros 290 Blog, a blog about the Houston Astros. You can follow him on Twitter.
May, 21, 2010
5/21/10
5:25
PM ET
Troy Renck on how the Rockies might address
their single crying need
:
When contenders have weak spots, they naturally pop up in roster talk. Spoke to a major league source tonight who said that the Rockies would have interest in second baseman Kazuo Matsui when he clears waivers. Matsui struggled mightily with the Astros this season, losing his starting job before getting jettisoned Wednesday night.

The Rockies have a history of taking chances on no-risk, high-reward veterans. They did as much with Matsui in 2006, and he was a critical component in their 2007 World Series run. But those around the Astros said his bat has really slowed down. If the Rockies put him in Triple-A for depth just to get a look, that would make some sense.

Fox Sports reported Thursday night that the Mets have also contacted the Rockies about second baseman Luis Castillo. The Rockies will be connected to second base rumors as long as Clint Barmes continues to struggle offensively.
At some point, you have to make a move.
But the Rockies aren't at that point yet.
Especially considering their (supposed) options.
Regarding Matsui, I'm having trouble imagining the "high reward." He's 34, and he's got a .267/.321/.380 career line. Yes, he was valuable to the Rockies three years ago, but 1) it was only 104 games, 2) he wasn't
that
good, and 3) that was three years ago. Matsui was lousy last year, and lousier this year. Much lousier than Barmes, even.
Luis Castillo is 34, too. He's getting on base reasonably often -- that's been the hallmark of his long career -- but he's got zero power and his preseason projection was roughly the same as Barmes'. Which doesn't mean he wouldn't be an upgrade; maybe there's just something wrong with Barmes. But before trading even one thin prospect for Castillo, you'd want to be reasonably sure that Barmes isn't just going through a routine slump.
It's easy to focus on Barmes, because second base is the Rockies' only glaring deficiency (I'm assuming that
Seth Smith
and
Dexter Fowler
will eventually start hitting again). The rotation seems set, now that
Jeff Francis
is back, and the bullpen looks decent enough if Jim Tracy can resist the temptation to work Manny Corpas and
Matt Belisle
into the ground.
Barmes is exactly the sort of player you replace if you can find someone who's both better and reasonably priced. But I don't believe that Matsui or Castillo qualifies at this point.