November, 12, 2013
11/12/13
6:55
PM ET
How do you evaluate a manager's performance? It's one aspect of baseball that sabermetrics hasn't figured out exactly how to tackle, in part because much of a manager's duties are the behind the scenes: keeping a positive clubhouse culture, keeping players happy, making sure everyone is on the same page, getting the most out of a rookie or a veteran in decline, or making sure the veterans aren't feeding too much fried food to the rookies.
When we discuss managers during the season, we focus for the most part on strategical decisions, batting orders and bullpen usage. But those things are maybe the
least
important aspect of a manager's job, because in this era most managers take the same approach to in-game managing. Teams carry so many pitchers that pinch-hitting and bench options are relatively limited and most managers don't abuse the bunt.
So the manager of the year balloting tends to throw all that out the window and instead come to an easier process: Which team surprised the most or improved the most?
Thus it was no surprise that Clint Hurdle of the Pirates was a
landslide winner for National League Manager of the Year
, outpolling Don Mattingly of the Dodgers and Fredi Gonzalez of the Braves. The Pirates improved from 79 to 94 wins, finishing over .500 and making the playoffs for the first time since 1992. Hurdle did a terrific job with the bullpen and then working rookie Gerrit Cole into the rotation, but maybe the most important move he made was buying into advanced defensive metrics.
The Pirates dramatically increased the number of defensive shifts they employed and improved from 24th to third in the majors in
defensive runs saved
(minus-25 to plus-68). The Pirates actually scored 17 fewer runs than in 2012; but they allowed 97 fewer -- almost the exact improvement in their DRS (93 runs). You can argue that the improvement came from
Francisco Liriano
and the pitching staff, but the strikeout and walk rates were basically the same as 2012 (they did allow fewer home runs). Most of the defensive improvement for the Pirates did come from the defense, and for that Hurdle deserves some of the credit.
Mike Matheny didn't finish in the top three, but I thought he deserved as much recognition as Mattingly and Gonzalez, both of whom showed in the postseason why they've come under some fire for some in-game decision-making. The Cardinals were expected to do well, but Matheny did a great job with a roster with so many rookies.
In the American League balloting, you could have made a good argument for any of the three finalists -- Terry Francona of the Indians, John Farrell of the Red Sox and Bob Melvin of the A's -- plus perennial contender Joe Maddon of the Rays and even Joe Girardi of the Yankees. Francona, who didn't receive a first-place vote the two seasons he led the Red Sox to World Series titles, edged out Farrell in first-place votes, 16 to 12.
I would have gone for Melvin, mostly because I thought he had to do the most managing -- the A's platooned more than any other AL club, he had to work through the early loss of Opening Day starter
Brett Anderson
and a drop in production from
Yoenis Cespedes
. But Francona is a deserving winner, as Farrell would have been.
October, 3, 2013
10/03/13
10:33
AM ET
By
Christina Kahrl
| ESPN.com
Baseball managers are never more scrutinized than they are right now. From the roster selections they help make -- selecting what options they want to have on hand -- to the way they use those players to the best advantage, the short series of the postseason tests a manager's abilities tactically within individual games and strategically over the course of a series. After witnessing the impact made by Bruce Bochy with the Giants in two of the past three years and Tony La Russa's quick hooks and pen-dependent victory with the Cardinals in 2011, it's clear they can and do make a difference.
With that in mind, let's take a look at the four chess matches in the division series, focusing on what sets these managers apart from the norm.
Pittsburgh Pirates versus St. Louis Cardinals
What Clint Hurdle likes to do:
He isn't afraid of using rookie pitchers in big situations. In Colorado, he won a pennant with rookies
Ubaldo Jimenez
and
Franklin Morales
in his second-half rotation, with rookie
Manny Corpas
closing. So
Gerrit Cole
in the rotation and
Justin Wilson
and
Bryan Morris
in the pen aren't going to be sheltered.
With his starting pitchers, Hurdle has the quickest hook in baseball. He's faster on the draw more often than even Joe Maddon. While some of that resulted from having a number of young starters plus
Jeff Locke
's second-half meltdown, it has been a consistent feature of his Pittsburgh tenure. All those short starts created opportunities for swingman
Jeanmar Gomez
to shine during the season. If a Pirates pitcher gets the hook early, Gomez could be a surprise hero.
On offense, Hurdle will platoon to cover a weaker slot in the order, which you would probably expect from a guy who played for Whitey Herzog. Hurdle has built and won with platoons in Colorado and Pittsburgh. Swapping in
Justin Morneau
for
Garrett Jones
as the lefty half of his first-base platoon with
Gaby Sanchez
suited him just fine. The Cardinals have an all-righty rotation, so Morneau will start, but let's see if Hurdle will hit for him if Mike Matheny goes to a lefty reliever.
Hurdle uses defensive replacements more than anyone in baseball; having
Clint Barmes
available at shortstop is one big reason why. While Hurdle is conventional in letting only the fast guys steal, the Pirates, according to Baseball Info Solutions, had runners moving on the pitch more times than any team in the league.
The Pirates embraced the shift this season (fourth-most in MLB), one reason they rated third in the majors in Defensive Runs Saved at plus-68 and had the fifth-lowest batting average on balls in play. But as Eno Sarris reported in his ESPN Insider
preview of the series
, the Cardinals are not a pull-happy team; they hit to the opposite field more often than any team in the postseason. With that in mind, it will be interesting to see who starts at shortstop, Barmes or the more offensive-minded Jordy Mercer. They shared time in September, with Barmes starting the wild-card game.
What Matheny likes to do:
Stay out of the way of his offense by avoiding little ball in almost any form. The Cardinals were last in the league in steals, and they got just 17 sacrifice bunts out of nonpitchers all year (nine by
Jon Jay
). That isn't to say Matheny's runners aren't aggressive; the Cards were among the best at having baserunners take an extra base on hits (43 percent, better than any other team in the postseason). He also doesn't mess around with his lineup card, turning in an MLB-low 89 different lineups.
After taking a lot of heat for his bullpen management last year and having to turn away from veteran temp
Edward Mujica
in the closer's slot late in September, Matheny has relied more heavily on a younger, more talented crew down the stretch (six rookies in the bullpen for Game 1, including starters
Shelby Miller
and
Michael Wacha
, one of whom will start Game 4 if necessary). Flamethrower
Trevor Rosenthal
gets the most attention now that he'll get the save opportunities, but groundballer
Seth Maness
and hard-throwing lefty
Kevin Siegrist
have been equally critical. The transition from the La Russa pen that relied on and won with a cast of veterans and situational journeyman types is almost complete in its shift to a pen stocked with better overall talent.
That echoes what's happened in the rotation, which gets more of the press. As good as Miller, Wacha and
Joe Kelly
have been, how could it not? But between that group, the new hands in the pen and
Lance Lynn
, Matheny and his staff deserve considerable credit.
Advantage:
If it comes down to in-game tactics, the advantage is Hurdle's to exploit.
October, 1, 2013
10/01/13
5:27
PM ET
Whether or not you like the one-and-done format of the wild-card game, it does present a great opportunity to second guess everything the managers do, from roster management to pitching changes, bunts and, of course, when to use your closer.
Tim Kurkjian has
five key questions
for the game, but here some other key components on how this game may play out.
Prediction: Liriano is tough, the Pirates have the ability to counteract Baker's moves, the bullpen does the job and Chapman doesn't make an impact. Pirates 4, Reds 2. (And I didn't even mention
Andrew McCutchen
!)
June, 27, 2013
6/27/13
1:00
PM ET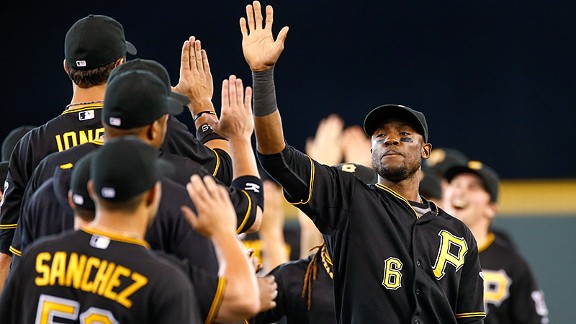 Otto Greule Jr/Getty ImagesThe Pirates began Thursday at 48-30, tied with St. Louis for baseball's best record.
The Pirates -- the
Pittsburgh Pirates
-- have the best record in baseball. In late June.
Want to jump aboard the bandwagon? Here's everything you need to know about baseball's best team (as of this writing).
A -- Andrew McCutchen:
Pittsburgh's center fielder is the face of the franchise. He even made the cover of "MLB 13 The Show" this year thanks to fan voting. And it was legitimate voting, not like when the mean kids in high school vote an unpopular girl prom queen as a prank. Almost all of McCutchen's offensive numbers so far are well off the pace of his 2012 career highs, yet the Pirates are still winning, and winning a lot. This is the most balanced Pirates team in decades -- excluding the many Pirates teams that achieved perfect roster garbage equilibrium, of course.
B -- Base-stealing:
The Pirates have caught 28 percent of attempted base-stealers this year, good for 13th in baseball. What's so great about that? It's a massive improvement over last year, when they were dead last at 11 percent and caught just 19 baserunners attempting to steal -- the lowest total in baseball in 50 years. The reason for the improvement is twofold. New catcher
Russell Martin
has a better arm than
Rod Barajas
, and the organization has decided that ignoring baserunners and focusing solely on the hitter, thereby letting every even mildly ambulatory opposing player who reached first to jog to second, was probably not the best approach. Good thinking!
C -- Cole:
The Pirates drafted
Gerrit Cole
with the No. 1 overall pick in the 2011 draft. He made his major league debut two weeks ago and struck out the first batter he faced on three pitches. He later broke a scoreless tie with a two-run single. With three starts under his belt, Cole is 3-0 with a 3.44 ERA. On Tuesday against the Angels, he became the first starter not named
Justin Verlander
to hit 101 on the gun since 2008. He probably should call Kate Upton.
D -- Division:
The National League Central has long been considered one of baseball's weakest divisions, even though it has produced two of the past seven World Series champions and four of the past nine NL champs. But this season, the Pirates, Cardinals and Reds mean the Central has three of the four best records in baseball. Just imagine if they still got to feast off the Astros 15 times a year.
E -- Errors:
The Pirates have the seventh-most errors in baseball this season, so that's a definite area for improvement.
Errors go both ways
, however, as the Pirates know well.
F -- Francisco Liriano:
The Pirates agreed to a two-year, $12.75 million contract with Liriano in December, but that contract was renegotiated -- under more favorable terms for the Pirates -- after Liriano broke his arm playing with his kids. Liriano is now 6-3 with a 2.30 ERA, 1.28 WHIP and 10.0 K/9. A year ago the Pirates acquired
A.J. Burnett
, who promptly broke his face bunting in spring training and then had a very good season. The lesson is this: If the Pirates sign a veteran pitcher everyone has given up on and then he sustains a comical injury, watch out.
G -- Grilli:
The fourth overall pick by the Giants in the 1997 draft, 36-year-old
Jason Grilli
was given the closer's job this season after Pittsburgh traded
Joel Hanrahan
to the Red Sox. Grilli leads the National League in saves and has an absurd 15.1 K/9. Hanrahan underwent Tommy John surgery in May. It's a strange world when good fortune shines on the Pittsburgh Pirates.
H -- Hurdle:
Manager Clint Hurdle has managed to keep the Pirates positive in the wake of
last season's historic collapse
. Even better, he no longer has the Pirates bunting every time a guy gets on first base.
I -- Inge:
Do the Pirates have the best record in baseball because they are pitching well and getting timely hitting? Or is it because of the INGETANGIBLES provided by
Brandon Inge
? Inge has a .207/.232/.272 slash line, which only further highlights his intangibles.
J -- Jordy Mercer:
One of Pittsburgh's biggest weaknesses was thought to be that
Clint Barmes
provides zero offense from the shortstop position. Barmes has continued to provide zero offense, but now he does it from the bench. Since the 26-year-old Mercer took over at shortstop full time two weeks ago, he has hit .326. While Barmes has a higher OBP than Inge, his name unfortunately doesn't work well with intangibles-related word play.
K -- Kansas City Royals:
If the Pirates finally end their streak of losing seasons -- they need to play just .404 baseball from here on out to do so -- the Royals will take over as the baseball team with the most consecutive losing seasons. In football, the Raiders have the longest streak of .500 or worse seasons, because the Raiders.
[+] Enlarge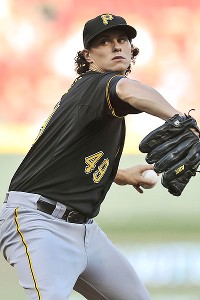 Jamie Sabau/Getty ImagesLefty Jeff Locke could go from maybe-fifth-starter material to the All-Star team.
L -- Locke:
Twenty-five year-old
Jeff Locke
entered spring training as one of the options for the fifth spot in Pittsburgh's rotation. He's now 7-1 with a 2.06 ERA and a 1.11 WHIP and kind of has to be put on the All-Star team. He seems to be holding the team's depth chart upside-down.
M -- "Million Dollar Arm":
"Million Dollar Arm," a Disney film starring Jon Hamm as J.B. Bernstein, the agent who signed Indian pitchers Rinku Singh and Dinesh Patel, is set to be released in 2014. The movie could have an even happier Disney ending if the team that signed Singh and Patel turns out to not be the laughingstock of baseball.
N -- Nineteen Ninety-Two:
It's the year burned into the psyche of every Pirates fan. 1992: The last year the Pirates made the playoffs. 1992: The last year the Pirates had a winning season. 1992: When the sadness began. How long ago is 1992? Jaromir Jagr played in the Stanley Cup finals then. OK, maybe not the best example. But it's a long time ago.
O -- Organizational strength:
Not only do the Pirates have the best record in major league baseball, but their Triple-A team has the best record in
its
league. Baseball America rated their farm system seventh-best at the start of the season, which was before the Pirates brought in two more first-round talents in the June draft. They also have McCutchen signed through 2018. It's going to be really hard to screw this up.
P -- Pedro Alvarez:
The former No. 2 overall pick may never hit for average or even get on base much, but when he does connect, the ball often lands in a faraway land. If you want to compare Alvarez to a great Pedro from baseball history, go with Cerrano.
Q -- Quacks:
The Pirates made news in the offseason when their bizarre practice of putting prospects through a "hell week" of Navy SEALs-style training was revealed. Of course, if the Pirates end the season with the best record in baseball, expect every organization to start doing this. It's a copycat league. Disagree with me and you owe me 75 pushups.
R – Rotation:
In Burnett,
Wandy Rodriguez
, Cole,
Charlie Morton
, Locke, Liriano and
Jeanmar Gomez
, the Pirates have seven solid starters at their disposal, with
James McDonald
and
Jeff Karstens
set to come off the disabled list later this season for a total of nine. When Pirates general manager Neal Huntington took the job, Pittsburgh's rotation featured
Paul Maholm
,
Zach Duke
,
Ian Snell
,
Matt Morris
,
Tom Gorzelanny
and
John Van Benschoten
. An improvement, wouldn't you agree?
S -- Starling Marte:
In his first full season in the majors, 24-year-old leadoff hitter Starling Marte is making headlines with a .340 OBP, 22 steals and eight home runs. His name also has "Star" in it and Marte loosely rhymes with "party," so he is a pun-loving headline writer's dream.
T -- Trades:
Last season, the Pirates made the biggest trade deadline acquisition in their history by getting Rodriguez from the Astros. It was a fine deal for Pittsburgh, but Rodriguez isn't the kind of player who shifts the balance of power in baseball. Making a play for
Giancarlo Stanton
, however, as ESPN.com's David Schoenfield
suggested
? Yeah, that would do it. The Pirates have plenty of prospects and pitching to make a major deal happen. The one downside: If the Pittsburgh Pirates become heavy World Series favorites, the world probably ends. So there's that.
U -- Underwater:
On June 1,
Garrett Jones
became the first Pirates player -- and second player in PNC Park history -- to hit a home run into the Allegheny River on the fly. Pirates ownership didn't even demand that he reimburse them for the lost ball, which is definitely a positive sign.
V -- Voting:
No Pirates are currently on pace to start in the All-Star Game. Is there a better indicator that the team is relevant than getting ignored by All-Star voters? Also, is Cal Ripken still getting All-Star votes? I'm too afraid to look.
W -- Walker:
Neil Walker
is Pittsburgh's second baseman. He is also from Pittsburgh. His nickname is the Pittsburgh Kid. Disparage him in any way at your own risk.
X -- eXplode:
Burnett's rosin bag exploded in Pittsburgh's season opener.
Normally that would be a bad omen for the Pirates. But they played the Cubs that day, so the Cubs probably sucked up all the negativity in the environment like the sponge of failure that they are.
Y -- Yankees:
When Russell Martin signed with the Pirates in the offseason because the Yankees didn't make a comparable offer, he was clearly disappointed to leave the pinstripes. Now the Pirates look clearly superior to the Yankees. There is no one of sound mind who can't enjoy that.
Z -- Zoltan:
The Pirates
make the "Zoltan" sign
-- it's a reference to "Dude, Where's My Car?" ... don't ask -- when they get a big hit. Zoltan also served as the Z in an article very much like this around this very time last season, in which someone wrote that the 2012 Pirates probably wouldn't collapse like the 2011 Pirates because "there are
big differences between the 2012 Pirates and 2011 Pirates
." Ooof. So, yeah. We'll see what happens. All aboard the bandwagon! For now. Know that the exits are clearly marked.
DJ Gallo founded SportsPickle.com and has been a staff writer for ESPN's Page 2 and Playbook.
May, 31, 2013
5/31/13
12:40
AM ET
As sports fans, most of us are usually simultaneously hopeful and cynical when it comes to our teams. We think every first-round pick or highly rated prospect will become a star, that this will be
the
season, that a two-week hot streak means more than just a two-week hot streak. At the same, we panic over every blown save and every three-game losing streak.
Pittsburgh Pirates
fans know this feeling all too well. They know especially all too well that the team hasn't finished over .500 since 1992. There are Pirates fans in college who have never seen their team play a significant game in September. But the Pirates have toyed with their emotions the past two seasons. In 2011, they were 53-47 on July 25 and leading a weak National League Central; by the end of August they were 18.5 games out of first place. In 2012, they went 34-19 in June and July, were tied for first as late as July 18 and were just 2½ games out of first on Aug. 9; by the end of the month they were 10 games out and then went 7-21 in September.
But the 2013 Pirates … I think this might be a different club, a better club. On Thursday, I watched them beat the
Detroit Tigers
1-0 in 11 innings
. Here's the thing: Once the game got to the relief pitchers, I
expected
the Pirates to win. These are the games they're winning this season with that lockdown bullpen that has been so brilliant. On this night, the pen allowed just two hits in 5⅔ innings and
Neil Walker
, the walk-off hero Tuesday, started the winning rally with a leadoff single. The Pirates are 34-20, jumped past the Reds into second place in the NL Central and have won the second-most games in the majors.
I was on Pittsburgh radio on Wednesday, and host David Todd asked about the outsider's perspective on the Pirates. The two main reasons this club is better, I suggested, is that teams can ride a dominant bullpen a long way; in this day, with relievers pitching a third of every game, a decent rotation plus a great pen can equal a very good pitching staff. Here, a quick stat on why to believe in this staff more than the 2011 and 2012 versions:
2011 first-half totals: 47-43, 3.44 ERA, 16th in NL in strikeouts
2012 first-half totals: 48-37, 3.47 ERA, 14th in NL in strikeouts
2013 through May 30: 34-20, 3.12 ERA, 2nd in NL in strikeouts
The first-half success of the Pirates' pitching in 2011 and 2012 were mirages, fueled by low batting averages on balls in play -- as indicated by their low strikeouts. When their luck turned, so did the results.

But look at 2013: This staff is striking batters out. Yes, some of that is fueled by the great bullpen, and, while there are concerns that it's been overworked -- setup man
Mark Melancon
(0.93 ERA) is on pace to appear in 87 games and closer
Jason Grilli
(1.06 ERA, 22 for 22 in saves) in 83 -- Todd pointed out that relievers have been very efficient. Grilli, for example, has faced more than four batters in just three of his appearances and thrown 20-plus pitches just four times. Melancon has allowed just 21 hits and two walks in his 29 innings and is averaging 13.4 pitches per outing.
So far, manager Clint Hurdle and pitching coach Ray Searage have down a masterful job handling the staff. On Thursday, they pulled starter
Jeff Locke
at the right moment -- two runners on in the sixth, one out, Locke at 96 pitches. With the bottom of the Detroit lineup up, it would have been easy to try to get a couple more outs from Locke. But they brought in righty
Vin Mazzaro
to face
Matt Tuiasosopo
, a right-handed platoon hitter, knowing it was probably too early for Tigers manager Jim Leyland to go to his bench (especially in an NL park). Mazzaro worked out of that jam and then escaped a first-and-third, one-out situation in the seventh by getting
Andy Dirks
to pop out and
Miguel Cabrera
to ground out.
Yes, Melancon and Grilli will probably blow a lead at some point, but it's the rotation that is much improved.
A.J. Burnett
has pitched like a legit No. 1,
Wandy Rodriguez
has walked nine batters in 10 starts and
Francisco Liriano
has looked very good in his four starts. The keys have been Locke and
Jeanmar Gomez
, who are succeeding despite low strikeout rates. Thursday's game was my first extended look at Locke, and he impressed. He throws his fastball a lot -- about 66 percent of the time -- but he keeps it down in the zone and gets good late movement on it. It might not be a strikeout pitch, but when he commands it, it's an
effective
pitch. He mixes in a curveball and changeup to right-handers that he pounds low and away. If he keeps doing that, he can keep winning games.
Are the Pirates for real? Sure, I'd like to see some offense, especially if we expect a little regression from the staff. They're certainly in a tough division, and they have 30 games remaining against the Cardinals and Reds. But maybe it's fair to say the Cardinals and Reds have a lot of games left against the Pirates.
Are the Pirates for real? Let's sign off with some Twitter responses from Pirates fans.
@dschoenfield let's talk when the #Pirates get to 20 games over .500. Want to believe but still stung by last two years.

— Matthew Arnold (@SeattleMatthew) May 31, 2013
@dschoenfield I do. More nervous, too, but I do.

— J.K. Riki (@AnimatorJKR) May 31, 2013
@dschoenfield I think the pitching holds up. If the bats come around like they usually do in summer, yeah they're real legit.

— Bobby Leffard (@ibid78) May 31, 2013
@dschoenfield yes. Martin is a huge upgrade from Barajas. Marte and snider developed. Pitching unreal. Cutch isn't even playin his best ball

— Anthony Veltri (@velmel2412) May 31, 2013
@dschoenfield Yes. Skeptical of playoffs but the lineup and staff are better than last year. Could be this year's Orioles of last yr

— Jim(@Jcsteel) May 31, 2013
@dschoenfield Are you trying to taunt us???

— DJ Gallo (@DJGalloESPN) May 31, 2013
September, 11, 2012
9/11/12
2:00
AM ET
New plan after last two seasons: I'll check baseball standings on Oct 1, 2013. If the Pirates are in 1st, I'll watch. No way before that.

— DJ Gallo (@DJGalloESPN) September 11, 2012
Hurdle's explanation: Wandy was 'maybe going to get one more hitter.' Added he was concerned about someone named Navarro.

— Dejan Kovacevic (@Dejan_Kovacevic) September 11, 2012
This is the time of year when losses dig deep, a toothache of inexplicable pain that runs through your blood. This is the time of year when every manager's decision is scrutinized, overanalyzed and ultimately criticized based on the final result of the game.
The last time the Pittsburgh Pirates and Cincinnati Reds played 14 innings was back in 1984. Amazingly, the Pirates used only two pitchers in that game, as Don Robinson pitched eight innings in relief, losing when Reds catcher Brad Gulden hit a two-out, three-run homer in the bottom of the 14th inning.
On Monday night, Pirates fans may have preferred that Clint Hurdle stick with one pitcher. The game's crucial moment -- or at least the first of many crucial moments -- came in the bottom of the seventh inning. Pirates starter
Wandy Rodriguez
had pitched sweetly into the seventh, allowing just one hit, a
Chris Heisey
home run in the fourth inning. The Pirates led 3-1 and
Joey Votto
singled and with two outs
Todd Frazier
reached on an infield single. Rodriguez was at 89 pitches.
As you can see from the tweet from Pittsburgh Tribune-Review columnist Dejan Kovacevic, the decision to remove Rodriguez with
Dioner Navarro
at the plate did not work out. Navarro
doubled into the right-field corner
off
Jared Hughes
, scoring two runs to tie the game.
Was it the wrong move to yank Rodriguez, or is this second-guessing in hindsight? I wasn't watching the game at the time, but it certainly appears Rodriguez was still pitching well. Navarro had only 34 plate appearances at the time and both his home runs had come off left-handers and he has been better in his career against left-handers (.747 OPS versus .631), so it's certainly possible Hurdle was aware of that and went to the right-handed Hughes. It's also worth noting that Hughes had pitched well lately: Over his previous six appearances he'd gone 6.1 innings and allowed five hits with eight strikeouts and no walks. On the other hand, Hughes has a somewhat significant platoon split (.198 versus righties, .248 versus lefties).
One more number: When Rodriguez manages to pitch deep into a game, he has been effective this season. Look at his numbers (entering Monday) at various pitch totals:
Pitches 1 to 25: .307/.365/.500, 1.63 SO/BB
Pitches 26 to 50: .253/.321/.349, 1.82 SO/BB
Pitches 51 to 75: .274/.310/.400, 2.90 SO/BB
Pitches 76 to 100: .196/.226/.331, 5.80 SO/BB
Add it all up, and it's probably a 50/50 call. If Hurdle leaves in Rodriguez and
he
gives up a double, then the criticism comes from not replacing Rodriguez. I can't blame Hurdle on this; he turned Navarro around to his weaker side and used a reliever who has been very good of late.
From that point, maybe it was inevitable the Pirates would lose.
Joel Hanrahan
pitched out of a one-out, runner-on-third jam in the 11th and
Chris Leroux
threw two scoreless innings. Meanwhile, the Pirates had loaded the bases against
Aroldis Chapman
in the 10th, thanks to three walks, but
Sam LeCure
rescued Chapman by getting
Michael McKenry
to ground out.
Then came the 14th inning, and that inning may live on in 2012 Pirates lore longer than the seventh. The Pirates loaded the bases with no outs off
Alfredo Simon
. Chase D'Arnaud flew out to shallow center.
Pedro Alvarez
grounded to Joey Votto,
who made a nice play to record the force at home
.
Jose Tabata
grounded out to Votto to end the inning.
And then
Rick VandenHurk
came in -- his first appearance of the season. In their biggest game of the season (so far!), the Pirates turned to a reliever with a 5.97 career ERA. It was a tough position to put VandenHurk in. We'll forgo the details.
It's not over yet for the Pirates; the Cardinals lost again and Pittsburgh remains 2.5 games behind St. Louis (and notice Philadelphia and Milwaukee slowly creeping back into this thing?). And I'm guessing Pirates fans -- including our friend Mr. Gallo -- will be watching on Tuesday.
August, 1, 2011
8/01/11
6:34
PM ET
The deadline is over. Admit it: You're kind of sad about that. Anyway, we now enter the
really
fun part of the season. Well, at least if your team is still in contention. Who made out the best? Everybody has an opinion, but ESPN Insider Dan Szymborski runs the numbers to see which acquisitions will have the
most impact on the pennant races
.
Other links!
Other random stuff!
July, 27, 2011
7/27/11
2:46
AM ET
Did I stay up until 2 a.m. watching the Pirates-Braves game that ended on the most controversial call since Jim Joyce ruined
Armando Galarraga
's perfect game?
Yes, I did.
And it was something.
Twitter exploded immediately, with sympathy coming from across the country for America's team. A Pirates fan who has lived in Italy for 19 years was watching the game and tweeted me in horror. Other Pirates fans called it the worst Pirates loss since the "Sid Bream Game" in 1992. Page 2 writer and Pirates fan DJ Gallo wondered just exactly where home plate umpire Jerry Meals had to go at 2 a.m. Joe Sheehan wrote that baseball is a wonderful game that deserves better than its umpires.
I simply said the call made me sad.
You can watch the
video of the play in the bottom of the 19th inning
that gave the Braves the 4-3 win. You can see a photo
here
. And a better one
here
. People tweeted that they saw a replay that was 100 percent conclusive that catcher
Michael McKenry
tagged out
Julio Lugo
(yes, Julio Lugo is still in the majors). Others tweeted that the replay they saw was 100 percent conclusive that the tag was missed.
Pirates pitching coach Ray Searage (at least, it appeared to be him) tweeted back at me, saying, "Deal with it," meaning, I assume, that the team will have to move and not let it affect them. A Pirates beat writer said he'd never seen the Pirates clubhouse so fired up. Sheehan followed up with a great point: Pirates manager Clint Hurdle shouldn't be let off the hook.
Why? He didn't get All-Star closer
Joel Hanrahan
into the game, instead letting an obviously fatigued
Daniel McCutchen
throw his 92nd pitch of the game (previous season high: 52). Hanrahan had pitched two days in a row -- but had thrown only 25 pitches. And he hadn't pitched in five days before that. Hurdle, of course, was waiting for the save opportunity that never came. Even if Meals had called Lugo out, McCutchen still needed another out to escape the inning anyway.
Like the Joyce call a year ago, the day will be spent arguing about the need for instant replay, instead of admiring a remarkable baseball game that had seen both bullpens combine for 26 scoreless innings, including six from Braves reliever
Cristhian Martinez
. The debate is necessary, if not fun. You can also debate that baseball should have a rule that rotates the home-plate ump after 12 innings or 500 pitches or whatever. Maybe a fresher set of eyes would have gotten the right call.
Fresh eyes. Mine are tired right now. But I'll be back Wednesday night, watching more baseball, hoping for something remarkable to happen again in this sport we love.
I just hope it has a happier ending.
Follow David Schoenfield on Twitter @dschoenfield.