January, 18, 2013
1/18/13
7:00
PM ET
By
Christina Kahrl
| ESPN.com
The news that
Corey Hart
is
going to miss the first six weeks or so of the season
might seem like a huge setback for a
Milwaukee Brewers
team that
hasn't achieved much this winter
. Hart is a free agent after the 2013 season. If the Brewers aren't contending in the NL Central by the season's midpoint, the time in which GM Doug Melvin has to show off and shop him by the trade deadline will be tightly compressed.
However, the silver lining is that the Brewers have an alternative who is as ready as he's ever going to be: Former top prospect
Mat Gamel
. Already out of options, Gamel's time is now. More properly, it was last year, but tearing up his ACL in May ended his season early, and delayed his long-anticipated breakthrough as the designated replacement for
Prince Fielder
. With a career .301/.374/.512 line in Triple-A across parts of four different seasons with the Sounds, Gamel has nothing left to prove in the minors. And heading into his age-27 season, in the middle of that 25-to-29 sweet spot most players peak, Gamel may be perfectly positioned to finally break through.
Before the news that Hart would be out, Gamel's role was ambiguous at best. He wouldn't clear waivers if exposed. With Hart at first base,
Ryan Braun
in left field and leadoff man
Norichika Aoki
manning right, there's no open regular slot for Gamel in the corners where he might play passably. (In the minors, Gamel spent most of his time trying and failing to hack it at third base, producing a Butch Hobson-esque .886 career fielding percentage.) With Hart out of the way in the early going, this will be Gamel's best, and perhaps last, shot to break through and stick as a Brewer.
The question is whether all of the scouting touts will add up to a hitter whose bat plays at first base. This winter's "Bill James Handbook" projects him to hit .287/.351/.473, not the worst fallback bat to plug in for Hart after his .270/334/.507 season in 2012. If Gamel breaks through, it creates one of those nice problems for the Brewers. Gamel could rotate through first and the outfield corners as the primary reserve. Melvin could then wait and see if he has a contender on his hands, or if Hart's return to action is impressive enough to draw a worthwhile trade offer from someone else who does.
And of course, if Gamel gets hurt -- again, because he lost a big chunk of 2010 to a strained shoulder on top of losing 2012 to that knee surgery -- then we could always start talking about the Brewers' next corner prodigy, first base prospect Hunter Morris. Where Gamel's eventual position has always been in doubt, Morris is a highly regarded defender at first base, and Morris' credentials as a hitter are already impressive after a .303/.357/.563 season for Double-A Huntsville, with 28 homers.
Christina Kahrl covers baseball for ESPN.com. You can follow her on Twitter.
November, 18, 2012
11/18/12
10:30
AM ET
By
Christina Kahrl
| ESPN.com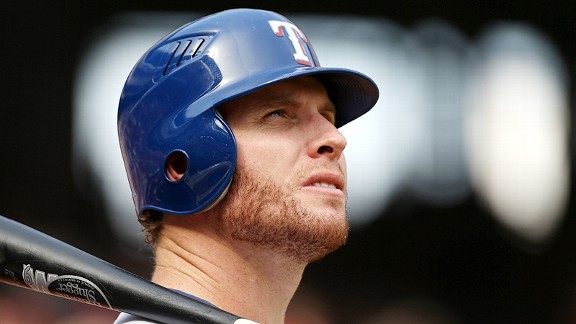 Matthew Emmons/US PresswireJosh Hamilton would provide Milwaukee with a much-needed left-handed power hitter.
It's the big question of the winter: Where will outfielder
Josh Hamilton
go? How much and for how long is sure to elicit squeals of outrage and satisfaction, of course. Rather than root for somebody's checkbook, I'm here to say why the winter's biggest free agent should head for baseball's smallest market in Milwaukee, with the hope that Brewers general manager Doug Melvin acts on it.
Point 1: Milwaukee is a place where Hamilton could thrive.
Face it, Hamilton is going to get his share of media attention just because we vultures in the Fourth Estate know he's news. If he breathes, opines, succeeds or fails, he's going to get attention. And given his past issues with addiction, he isn't exactly going to be every team's idea of a hero in cleats.
But in Milwaukee, the focus will be on baseball while playing in front of a friendly fan base, and he'll get the benefit of playing in a media market where the ink-stained lifers tend to be supportive. And he'll be joining a team where he won't be the primary focus of attention --
Ryan Braun
already owns that job.
Most importantly, the Brewers are an organization with plenty of experience in dealing with players who need a bit of extra consideration. Hitting coach Johnny Narron was Hamilton's off-field "accountability partner" for five years before taking his job with the Brewers in 2012. They don't just have somebody to help Hamilton on and off the field, they have perhaps
the guy
. And when it comes to handling media access for a player who might need special attention, the Brewers have their recent work with
Zack Greinke
to lean on.
So the environment in Milwaukee could be a great match for Hamilton, but what about what he'd do for them? Voila,
Point 2: The Brewers' lineup needs a lefty thumper.
[+] Enlarge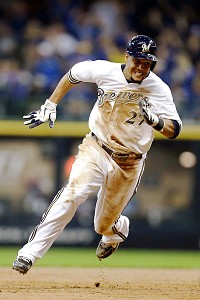 Mike McGinnis/Getty ImagesBy signing Josh Hamilton, the Brewers could trade Carlos Gomez for starting pitching.
Why? Well, ponder this: Braun,
Aramis Ramirez
,
Corey Hart
and
Rickie Weeks
, what do they have in common? They're all right-handed power hitters, and in the season after
Prince Fielder
left Brew City, the Brewers saw their homers hit by righties and lefties get to a huge 175-27 split. Isolated power (SLG minus batting average) just echoes the issue: Milwaukee's right-handed batters had a collective .194 ISO, against .127 for their lefties.
Now, look ahead to a 2013 season, when the Brewers will be competing against a Cardinals team fronting power righties
Adam Wainwright
and
Chris Carpenter
at the same time for the first time since 2010, while the Reds start an all-righty rotation that has
Johnny Cueto
and
Homer Bailey
coming into their own. To compete, the Brewers will need some balance against that stack of right-handed power hitters, and perhaps nobody in baseball could be a single-source solution as readily as Hamilton would be.
Beyond offense, there's the question of where Hamilton would play. As it stands, you'd expect him to play a lot of center or a lot of right field, pushing either
Carlos Gomez
or
Norichika Aoki
to the bench. That's not as bad as it sounds -- sitting Aoki against some lefties and Gomez against some righties already makes sense as is. But Hamilton's litany of nagging hurts suggests he might be good for 120 starts per year. Add in another 10 days off for Braun in left field, and you wind up with about 210 starts to hand out to Aoki and Gomez, plenty of regular playing time without also using them as pinch-hitters and double-switches.
Looking at that outfield and the rest of the organization brings us to the next reason why Hamilton works for them.
Point 3: Adding Hamilton gives Melvin players to trade to fix other problems.
Look at the talent they've got lying around at positions where they won't get to play:
Mat Gamel
is already blocked out by Hart at first base and is heading into his age-27 season. (Not to mention the Brewers also have Hunter Morris coming up behind him.) Third baseman
Taylor Green
is 26, and might have to wait another three years before Ramirez leaves. Gomez is sure to be in demand for his combo of glove work in center and power at the plate, even if he's just a year removed from free agency. That's a lot of ready-now talent with power at positions where this winter's market is weak and other teams have needs.
If the Brewers are going to acquire the help on the pitching staff that they need, their best bet at helping themselves is shopping this surplus of ready-now, cheap hitters with years of club control ahead of them. They can use it to acquire a starting pitcher (or two) and a couple of relievers that would be better than those available in this winter's market. Perhaps ideally, they'd hold on to Gomez and get what they need shopping Green and Gamel, but for the right starting pitcher, Melvin should be willing to talk about their center fielder.
The 2012 Brewers' lineup, weighted by playing time, was already the fourth-oldest in the league at 29.1 years old. Even with
Jean Segura
at shortstop, that number isn't going to go down. Which is brings me to my last point for why Hamilton in Milwaukee works:
Point 4: They should fully invest in winning now.
Considering their collective age, the Brewers' clock is ticking. Stars like Braun (29) and Rickie Weeks (30) are already at the tail end of a normal "peak" performance arc. Weeks and A-Ram could be here through 2015, Braun for another six years beyond that. In light of those kinds of commitments, the Brewers should be in the business not just of contending, but trying to win it all.
Add it up, and however much Hamilton might be a risky, high-stakes addition, because of the mutual potential, his decision to go to Milwaukee could be a win-win for ballplayer and ballclub alike.
Christina Kahrl covers baseball for ESPN.com. You can follow her on Twitter.
August, 4, 2012
8/04/12
7:47
AM ET
By
Doug Kern
| ESPN Stats & Information
Theme of the week: Late-game drama.
[+] Enlarge

Thearon W. Henderson/Getty ImagesThe Athletics on Friday won their second 15-inning game in the span of five days.
Statistical support for this column provided by Baseball-Reference.com and the Elias Sports Bureau.
May, 1, 2012
5/01/12
1:13
AM ET
Yep, just another boring April of baseball where nothing exciting happened. We only had one of the
greatest April performances
of all time. We had a perfect game. We saw the Red Sox blow a 9-0 lead at home to the Yankees -- and lose by six runs. We saw one of the best hitters of all time turn into one of the worst players in the game, at least for a month. We saw pitchers dominate -- 20 starters have an ERA under 2.00. We saw a 19-year-old phenom make his major league debut. We saw a venerable veteran hit .389 with 37 hits. To cap it off, on the final day of the month we saw
Ryan Braun
hit three home runs out of the Grand Canyon -- aka, Petco Park.
Braun is the first player to hit three home runs at Petco, no mean feat considering it's something like 748 feet to the power alleys. As impressive as that achievement is, it doesn't quite land Braun on our all-April All-Star team.
C: Yadier Molina, Cardinals (.316/.369/.592, 4 HR, 15 RBIs)
Molina is proving last season's power surge was no fluke as he ripped out nine doubles and four home runs in April. He's nailed 43 percent of basestealers and the Cardinals have a 2.61 staff ERA. Terms like team leader are thrown out a bit loosely, but there's little doubt Molina is the heart and soul of the Cards. If not for
Matt Kemp
, you could make a case for Molina as April's MVP.
1B: Bryan LaHair, Cubs (.390/.470/.780, 5 HR, 14 RBIs)
One of the feel-good stories of the month, the 29-year-old minor league veteran was given the first base job only as a placeholder for prospect
Anthony Rizzo
. He may not give it up quite so easily. Thirteen of his 23 hits have been for extra bases and, incredibly, he's batting .676 when not striking out. Yeah, yeah ... that impossible to keep up, of course. Still, he could make for some interesting trade bait for a team in a pennant looking for some power at first base. (Yes, we mean you,
Los Angeles Dodgers
.)
2B: Ian Kinsler, Rangers (.298/.400/.574, 5 HR, 12 RBIs)
Most impressively: 24 runs in 23 games. Since 1950, only 11 times has a player scored 140 runs in a season. Only one of those --
Jeff Bagwell
in 2000 -- scored 150 runs. If Kinsler can maintain that .400 OBP -- 45 points higher than last season -- he may have a shot.
3B: David Wright, Mets (.389/.494/.569, 3 HR, 14 RBIs)
Last season was a rough one for third basemen, as several of the top guys landed on the DL. Things got so bad that
Scott Rolen
made the NL All-Star team. It's a different story in 2012, as six regulars are hitting over .300,
Miguel Cabrera
is hitting .298 with power and
Chase Headley
is off to a terrific start for the Padres. But Wright kept his OBP over .500 until the final day of April. Cardinals fans will point to
David Freese
's 20 RBIs, but Wright's big lead in walks (16 to four) gives him the edge.
SS: Derek Jeter, Yankees (.394/.437/.585, 4 HR, 13 RBIs)
So much for needing a rest. Jeter played every game this month (four starts at DH) and led the majors with 37 hits. His 10 extra-base hits are already nearly one-third of the 34 he punched out a year ago. The range at shortstop remains problematic, but nobody seems to care right now.
LF: Josh Hamilton, Rangers (.395/.438/.744, 9 HR, 25 RBIs
OK, maybe I cheated a little bit here: Hamilton has played twice as many innings in center in left. Sorry,
Josh Willingham
.
CF: Matt Kemp, Dodgers (.417/.490/.893, 12 HR, 25 RBIs)
We bow down to your greatness, Mr. Kemp, and can't wait to see what you do in May.
RF: Corey Hart, Brewers (.270/.360/.635, 6 HR, 13 RBIs
Not bad for a guy who had knee surgery in early March and wasn't expected to be ready for the start of the season.
DH: David Ortiz, Red Sox (.405/.457/.726, 6 HR, 20 RBIs)
Remember April and May of 2009, when Big Papi hit .185 with one home run? "Trust me, I am not finished," Ortiz said in early June of that year. Many Red Sox fans wanted the club to release him. A Boston columnist called for the club to do so. Maybe it did come close to doing so.
P: Jake Peavy, White Sox (3-1, 1.67, 37.2 IP, 21 H, 5 BB, 33 SO
My pitcher of the month for April, it's great to see Peavy healthy and slinging again. He put together a terrific first five starts, in part because had to face Boston, Texas, Detroit and Baltimore in four of those games.
P: Stephen Strasburg, Nationals (2-0, 1.13, 32 IP, 22 H, 6 BB, 34 SO
He's allowed four runs in five starts ... and has two victories. Please explain to your friends why wins are overrated. He's been absolutely dominant, hasn't allowed a home run and with the Nationals leading the NL East, the speculation has already heated about what the club will do about Strasburg's supposed innings limit if the club is in the pennant race in September. We'll worry about that then; for now, let's enjoy a master at work.
RP: Aroldis Chapman, Reds (2-0, 0.00, 12.1 IP, 5 H, 4 BB, 21 SO)
He's gotten 37 outs -- so 57 percent of his outs have come via the strikeout. It leaves one to wonder: How would he do starting? Please, Dusty, give us the chance to find out.
Guy I wanted to put on the team: Jose Altuve, Astros (.360/.404/.547)
The little guy can flat rake. Enjoy, Astros fans.
Strikeouts don't mean everything award: Derek Lowe, Indians
Lowe is 4-1 with a 2.27 ERA even though he has just nine strikeouts in five starts.
Most un-All-Star: Albert Pujols, Angels (.217/.265/.304, 0 HR, 4 RBIs)
Sorry, with $240 million comes more pressure, more scrutiny and expectations that maybe you'll hit one or two home runs per month. Pujols was arguably the worst player in baseball in April. Who would have thought we'd ever hear such words?
PHOTO OF THE DAY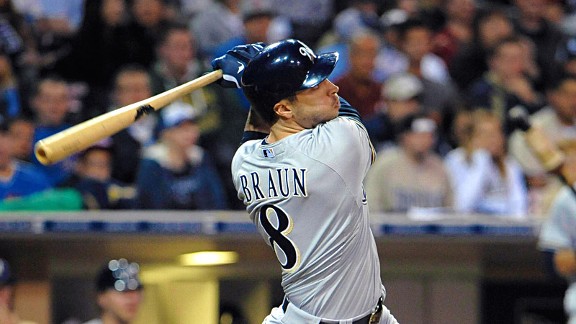 Denis Poroy/Getty ImagesRyan Braun hits his fourth-inning home run -- his first of three big blasts.
Follow David Schoenfield on Twitter
February, 18, 2012
2/18/12
11:00
AM ET
By
You Can't Predict Baseball
| ESPN.com
Last year, You Can't Predict Baseball came up with
bold predictions
for the year. We had a lot of fun coming up with them, and then laughing at how hilariously wrong they were
at the end of the year
. This year, we're bringing these predictions to SweetSpot, along with explanations for some of them. Keep in mind, these predictions are supposed to be bold, but not insane -- even we know the Orioles aren't going to the playoffs in 2012.
Los Angeles Angels:
Kendrys Morales
stays healthy all year.
Houston Astros:
Bud Norris
is top five in K/9 in the NL.
We figured something good had to happen to the Astros, right? Norris actually has a pretty nice career K/9.
Oakland Athletics:
Yoenis Cespedes is their starting center fielder by Memorial Day.
Toronto Blue Jays:
Brandon Morrow
makes the jump to elite starting pitcher.
He's struck out more than 10 batters per 9 innings two years running, though his ERAs have remained ugly. We think this is the year his results finally match the stuff, especially considering his declining walk rate.
Atlanta Braves:
Julio Teheran
has more wins than
Tim Hudson
.
[+] Enlarge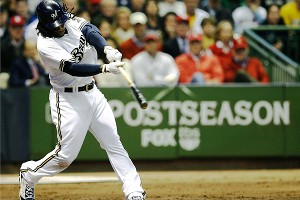 AP Photo/David J. PhillipWith Prince Fielder gone to Detroit and Ryan Braun facing possible disciplinary action, Rickie Weeks could lead the Milwaukee Brewers in home runs in 2012.
Milwaukee Brewers:
Rickie Weeks
leads the team in home runs.
He was fourth on the team last year, with 20. In front of him were Corey Hart with 26, Ryan Braun with 33, and Prince Fielder with 38. Fielder is gone, and for this prediction we'll assume Braun will miss a third of the year due to a suspension. It's not too bold to think Weeks could pass Hart in 2012.
St. Louis Cardinals:
Carlos Beltran
outproduces
Albert Pujols
from last year.
Albert Pujols was great last year, but not quite best-player-of-his-generation Albert Pujols. If healthy, it's not absurd to think of Beltran outproducing Pujols' 5.1 WAR in 2011.
Chicago Cubs:
Matt Garza
isn't their best pitcher.
It'll be Ryan Dempster, who had great peripherals but bad results last year.
Arizona Diamondbacks:
Aaron Hill
will be good again.
He was great with them in limited time, and Arizona's park is quite hitter-friendly.
Los Angeles Dodgers:
James Loney
will be a top-three first baseman in the National League.
Many thanks to Mike Scioscia's Tragic Illness for somewhat alerting us to this one. We just decided to take it semi-absurdly far.
San Francisco Giants:
Madison Bumgarner
is their best pitcher.
In terms of ERA, he already wasn't very far behind Matt Cain and Tim Lincecum, and his K/BB ratio eclipsed theirs by quite a bit.
Cleveland Indians:
They'll have the best pitching in the American League Central.
We're banking on Ubaldo Jimenez, making a major comeback to something closer to what he was in 2010, and the rest of the staff displaying the good that they did in 2011. We're also counting on the Tigers' starters not being very impressive behind Justin Verlander, which is bold but not quite insane, and the pitching of the White Sox, Twins and Royals not being able to keep up with Cleveland's.
Seattle Mariners:
Jesus Montero
catches 100-plus games.
The Mariners probably aren't going to compete, so why not try and play him where he'll accrue the most value?
Miami Marlins:
Despite all their new acquisitions and the hype, they still finish fourth in the NL East.
When you think about it, this one isn't so crazy. If Josh Johnson isn't healthy and maybe even if he is their pitching still trails that of Philadelphia, Washington, and Atlanta; even with Heath Bell, we don't think their bullpen is as good, either. Their offense might be better than some of those teams', but the Marlins were quite a bit below league average offensively last year and we're not sure how much Jose Reyes is going to make up for that.
New York Mets:
Mike Pelfrey
is the worst starter in the NL.
Pelfrey's been pretty terrible two of the past three years, and now they're moving the fences in at Citi Field. He was far better in his huge home stadium, but we're guessing with the moved-in walls he'll be significantly worse at Citi. Here at YCPB, we actually don't think the Mets are going to be quite as dire as many are saying, even if they do come in last place in the NL East - but Pelfrey won't be a bright spot.
Washington Nationals:
Stephen Strasburg
has a 17-strikeout game.
Baltimore Orioles:
Matt Wieters
is the best catcher in the AL.
A lot of people are so obsessed with Wieters not matching the hype that they didn't notice he became a plus offensive performer last year, to go along with very good defense. His taking the next step isn't that bold as predictions go, especially if Joe Mauer has to move off catcher.
San Diego Padres:
Luke Gregerson
is a top-three closer in the NL.
Philadelphia Phillies:
Cole Hamels
is their best starter.
And this isn't meant to be a slight to Roy Halladay or Cliff Lee, but considering their ages and the fact that Hamels is pretty darn good himself, plus a possible boost from a contract year...
Pittsburgh Pirates:
Charlie Morton
is their All-Star.
Texas Rangers:
Yu Darvish
isn't their best starter -- but he's still good.
And we think he'll be pretty good, we just think Derek Holland will become more consistently good, or Matt Harrison will put up numbers like his 2011.
Tampa Bay Rays:
James Shields
will have no complete games.
Predicting someone to have no complete games might not seem bold, but it is when it's a guy who was known as "Complete Game James" last season. Shields did have 11 complete games in 2011, an almost unheard-of number these days, but he had no complete games in 2009 or 2010.
[+] Enlarge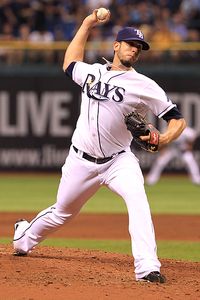 Kim Klement/US PresswireAfter none in either 2009 or 10, James Shields pitched 11 complete games for Tampa Bay in 2011.
Boston Red Sox:
No one hits 30 home runs.
This might seem crazy when you consider their great offensive numbers last year, but only one player on their team hit 30 home runs and it was Jacoby Ellsbury with 32.
Cincinnati Reds:
Brandon Phillips
is the best second baseman in the NL.
Colorado Rockies:
Jamie Moyer
will have the best HR/9 on the staff.
Kansas City Royals:
They reach .500.
While their pitching won't be great, their offense will take a big step forward this year. Combined with the rest of their division being the Tigers and some dumpster fires, it's not that difficult to see it happening.
Detroit Tigers:
They score fewer runs than they did in 2011.
Yes, that's even with Fielder. It's not improbable that Jhonny Peralta, Alex Avila and Delmon Young regress quite a bit from their numbers with Detroit last year, and that Prince Fielder's production "only" makes up for the offensive loss of Victor Martinez in 2012. They'll still have a very good offense, though.
Minnesota Twins:
Joe Mauer hits 15 home runs.
Chicago White Sox:
Robin Ventura gets ejected more times than Ozzie Guillen.
Look at the state of the White Sox. We'd get ejected too.
New York Yankees:
Hiroki Kuroda
leads the team in ERA.
You Can't Predict Baseball is an affiliate of the SweetSpot network.
December, 19, 2011
12/19/11
8:40
PM ET
By
Christina Kahrl
| ESPN.com
The Brewers already have all sorts of trouble to sort through. Prince Fielder left town to entertain offers involving oodles of cash, and
Ryan Braun
is looking at a 50-game suspension for allegedly possessing more testosterone than even Dos Equis' Most Interesting Man in the World.
Aramis Ramirez
provides
at least one new answer for their need for power
. But there's more work to be done if the Brewers are going to have any shot at defending their NL Central title.
To their credit, they're being a bit creative. Having
Alex Gonzalez
at shortstop
might
compensate for A-Ram's disappearing range on the left side of the infield. Having first base open creates the opportunity
Mat Gamel
spent the last four years at either Huntsville or Nashville waiting for.
[+] Enlarge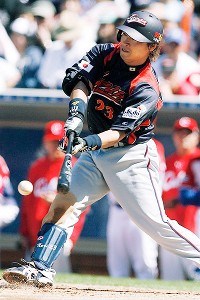 Robert Benson/US PresswireWill Norichika Aoki make this kind of contact for the Brewers?
But to stretch their limited dollars just a wee bit further, the Brewers expanded their personal pool of free agents by paying the posting fee to negotiate with outfielder Norichika Aoki of the Yakult Swallows. Aoki, now coming up on his 30th birthday,
was gushingly compared
to
Ichiro Suzuki
back in the day. He bats lefty, runs well, played center and seemed like a leadoff terror every team would be falling all over to get back in 2007.
But that was five years ago, when he was a career .330/.390/.425 hitter. From 2007-2010 Aoki
would bounce around a .350 batting average, .430 OBP while slugging .500
. In 2007 he scored 114 runs while drawing 80 walks; in 2008, he stole 31 bases in 40 attempts. (Praise be to the always indispensable Baseball-Reference.com for releasing their new tranche of Japanese leagues data today.)
Then came 2011, when Japan adopted a baseball more like the American ball, which radically changed the Japanese leagues. Per a thought-provoking post from
earlier today from Tim Ednoff of Baseball American
, both circuits saw their runs scored per game drop by more than a full run in 2011 -- the Central League's ERA dropped from 4.13 to 3.06, and the Pacific League's -- which uses the DH -- went from 3.94 to 2.94. Good-bye Randy Bass, and hello Deadball Era.
Where this matters is when it comes to interpreting the performance not just of the highest high-profile guys like Yu Darvish, but also a hitter like Aoki. Last year, the second coming of Ichiro saw his performance drop to .292/.358/.360 while stealing just eight bases in 11 attempts. He's also years past his days as an everyday center fielder. I asked Dan Szymborski of
ESPN Insider

if he'd forecasted Aoki yet, and he had -- to to hit .289/.338/.393 in Milwaukee. (
Note: Not a neutral park, as stated earlier.
) Miller Park isn't a launching pad, so that'll do for a place-holding expectation for what Aoki might be able to do in Milwaukee. Good-bye Ichiro, hello Tony Plush.
Which is perhaps exactly why he's the sort of guy the Brewers can afford. A posting fee of $2.5 million isn't much to start out with, and Aoki's 2011 plummet at the plate conveniently gives the Brewers a better sense of what he might do. And assuming that Braun is missing from left field for the first 50 games, there's already a spot open in the Brewers' lineup.
Aoki would presumably be a Ron Roenicke kind of player, presumably running and bunting on command, and complementing the other small-ball gambits that the Brewers' skipper likes to employ now and again.
What about after those first 50 games, when Braun comes back in late May or early June? That's certainly going to be interesting. If Gamel is holding down the job, the Brewers have a nice problem on their hands. But if Gamel isn't earning his keep at the plate at that point, it's worth remembering that
Corey Hart
has played 179 games in the minors at first base, and he rarely charms observers with his ungainly brand of right-field defense.
Whether or not the Brewers wind up actually signing Aoki is another thing altogether, so let's not put too many horses before this particular cart. As the Oakland A's found out in their negotiations with Rakuten Eagles ace Hisashi Iwakuma last year, there's no guarantee that a player will take just any offer from the only team he's allowed to negotiate with. And since the posting fee is refundable, if the Brewers decide that Aoki won't sign for their best offer, they can always just wish him well and leave him on the other side of the Pacific.
Christina Kahrl covers baseball for ESPN.com. You can follow her on Twitter.
October, 16, 2011
10/16/11
11:56
PM ET
I'm not going to suggest it was the single worst play in postseason history. Babe Ruth, for instance, once got caught stealing for the final out in Game 7 of the World Series, trailing by one run with the Yankees' cleanup hitter at the plate. Dropped fly balls and dropped pop-ups have led to winning runs in Game 7 of the World Series.
But when
Milwaukee Brewers
third baseman Jerry Hairston Jr. tried to field a ground ball with his knee, then flip the bouncing baseball to second baseman
Rickie Weeks
with his glove, only to have the ball bounce in front of Weeks, and then to have Weeks see the ball go through his legs, with the runners moving up a base ... well, it was atrocious baseball at its worst. Two physical errors by Hairston, one mental error on Hairston for attempting the trick play in the first place when he had no shot to get the runner at second, and one mental error by Weeks for pulling up on the ball like a fourth grader taking infield practice.
So, no, I won't say it was the worst postseason play we've ever seen; that would be exaggeration just for effect. Plus, that play alone did not lose Game 6 of the National League Championship Series for the Brewers and prevent them from reaching the second World Series in franchise history. But, as the
St. Louis Cardinals
beat up Milwaukee
12-6
to win their 18th NL pennant, it symbolized a night that saw:
While Milwaukee's defense was questioned all season, it was also a questionable decision to stick with Marcum, who had been blistered in his two previous postseason starts and five of his past six starts going back to September. It's certainly understandable
why
Roenicke would believe in Marcum, who went 13-7 with a 3.54 ERA during the regular season. But Marcum clearly tired down the stretch, wasn't getting strikeouts and you had to question his mental state going back to the division series when he threw his glove up in the air after surrendering a home run to
Paul Goldschmidt
.
Sadly for the Brewers, his first inning was all too predictable: Four runs, capped by
David Freese
's three-run bomb to left on a first-pitch curveball (making Freese 7-for-9 with 10 RBIs in the series when swinging at the first pitch). For the Cardinals, it was another game in which they scored first, making them the first team to score first in all six games of a six-game series. Overall, St. Louis scored 11 runs in the first inning and four in the second.
There was a glimmer of hope for the Brewers in the bottom of the third when
Jonathan Lucroy
absolutely destroyed an
Edwin Jackson
fastball way over the fence in left-center to cut the lead to 5-4. But the Cardinals -- as they did all series -- just kept hitting and scored four in the top of third, as Albert Pujols lined a high fastball out to left off
Chris Narveson
, followed by the sac fly/missed cutoff man/two-run single string of events. Craig, hitting for Jackson, fought off a 94-mph fastball from
LaTroy Hawkins
, bouncing it over Hawkins' head and into center.
Yuniesky Betancourt
, shifted over in the hole toward third, had no shot at it; then again, it's Yuniesky Betancourt, and we saw balls all series going
just
out of his range.
But that pinch-hit was the finishing touch on a magical series for Tony La Russa. He saw the chance to score runs and took it, even if it meant removing Jackson from the game and using his bullpen for seven innings. Cardinals starters pitched just 24.2 innings in the series and allowed 19 runs. The bullpen, of course, was brilliant, pitching 28.2 innings and allowing seven runs. Three of those relievers were picked up during the season:
Octavio Dotel
and
Marc Rzepczynski
in the
Colby Rasmus
trade, and
Arthur Rhodes
off waivers after he was released by the Rangers.
The St. Louis pen, of course, had been maligned for much of the season, although it pitched much better after several early-season blown saves by former closer
Ryan Franklin
. But give La Russa credit for his willingness to adjust:
Fernando Salas
became the closer after Franklin, pitched well and saved 24 games. As
Jason Motte
got on a roll late in the season with his high-90s heat, La Russa made him the ninth-inning guy. Salas became a setup guy and then, as he did in this game, has become the team's long reliever of choice. So while most managers resort to using the back end of the bullpen early in games, even in loser-out games -- see Roenicke in this game, or Detroit's Jim Leyland in Game 6 of the ALCS -- La Russa can turn to a good pitcher who closed games earlier in the season.
Of course, the team the Cardinals will be facing in the World Series have a similar approach. Ron Washington has managed his
Texas Rangers
pitching staff in the postseason like La Russa: Turn over the game to the bullpen as soon as reasonably possible.
It should make for a fun World Series of tactical moves and decisions. Both teams have deep benches. The Cardinals have the red-hot Freese (12-for-22 with nine RBIs in the NLCS) and the Rangers have the red-hot
Nelson Cruz
(six home runs, 13 RBIs in the ALCS). What's perhaps most amazing of all: After losing on Aug. 24, the Cardinals were just 67-63. They were 11.5 games behind the Braves in the wild-card race.
Their season was over.
Almost over. They went 23-9 to make the playoffs on the final day as the Braves fell apart, a minor miracle essentially lost in all the attention given to the collapse of the
Boston Red Sox
.
Almost over. And now they're four wins away from a World Series title.
A great bullpen. David Freese delivering huge hits. Who saw this happening back in August?
October, 2, 2011
10/02/11
8:50
PM ET
Sometimes risks are calculated gambles that pay off.
Sometimes risks are just dumb.
The Brewers, after winning Game 1 over the Diamondbacks, took a calculated gamble by starting
Zack Greinke
on three days' rest in Game 2. Greinke had started the season finale on Wednesday for Milwaukee, a game the Brewers needed to win to ensure home-field advantage for the first round. But in order for Ron Roenicke to get two starts from Greinke if this series goes five games, he had him on short rest for the second straight start. It was a calculated gamble that at least made some sense.
Greinke didn't pitch that well -- he lasted just five innings and gave up eight hits, including three home runs, and four runs. But the risk didn't end up hurting, thanks to a risk
Brad Ziegler
took that opened up the floodgates for the Brewers in the sixth inning.
With
Jerry Hairston Jr.
on second base with one out and the game tied 4-4, Ziegler entered to face
Yuniesky Betancourt
. He immediately balked, which is a bad mistake, but Ziegler compounded that by walking Betancourt on four straight pitches. Maybe Kirk Gibson should have pulled Ziegler right there; it's not easy to walk Betancourt, who had just 13 unintentional walks all season.
Then came the
big
mistake.
Ziegler is a ground-ball specialist with his underhanded delivery, so Roenicke called for the safety squeeze.
Jonathan Lucroy
put the bunt down, Hairston raced in and Ziegler made the bad decision to attempt a back-handed flip to home plate.
Here's the deal: Take the out when they give it to you. The run was going to score, but you'd have two outs with a runner on second and down by just one with three still to play. Take that out and get out of the inning. That's the smart thing; the only thing to do since Ziegler had no shot at Hairston anyway. If catcher
Miguel Montero
wasn't shouting "first base," then he's to blame as well.
If you don't make the play, it opens up the probability for a big inning. And that's exactly what happened. Ziegler threw the ball away to put runners at second and third.
Mark Kotsay
was intentionally walked -- yet another questionable decision by Gibson considering on-deck hitter
Corey Hart
is a much better hitter. At least that move was more defensible than the decision to pitch to
Prince Fielder
on Saturday since Hart bats right-handed and Ziegler is tough on righties.
It didn't work. Hart grounded an RBI single up the middle on the first pitch to him.
Nyjer Morgan
lined a two-run single to right-center on the first pitch to him.
Ryan Braun
singled to center to score Hart. The Brewers had scored five runs and the game was over.
The Brewers have looked good these first two games, with
Yovani Gallardo
pitching great on Saturday, Braun going 3-for-4 in both games, and Fielder hitting the big home run. As good as Braun and Fielder are, however, they will need production from others in the lineup, and that makes Hart one of the key players of this playoffs. He needs to get on base in front of Braun and Fielder and he did that on Sunday with two more hits.
Arizona has played two poor games, with bad decisions in the dugout and bad decisions on the field. You can't make those mistakes in the postseason and expect to advance. This looks like it could be a short series.
Follow David Schoenfield on Twitter @dschoenfield.
April, 21, 2011
4/21/11
5:23
PM ET
By
Christina Kahrl
| ESPN.com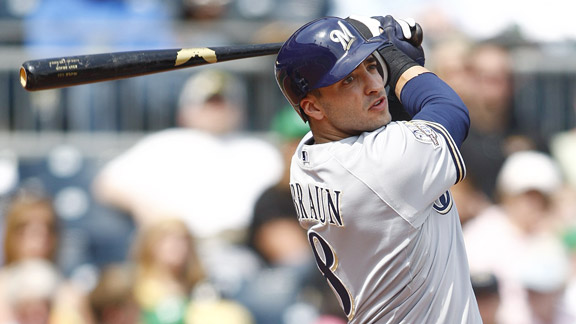 John Grieshop/MLB Photos/Getty ImagesRyan Braun has started the past three All-Star Games for the National League.
Signing left fielder
Ryan Braun
to a
five-year, $105 million extension
through the 2020 season does more than effectively lock the slugger in for the vast majority of his career. Sure, he belongs to Milwaukee through his age-36 season at slightly less per annum than the Red Sox will be paying
Adrian Gonzalez
to slug for them into his mid-30s. This looks like letting the market set a starting point for what people who slug .500 or better are worth, and then working from there.
More significant, though, is the question of what this investment represents for general manager Doug Melvin's near-term decision-making: Is it a bet that
Prince Fielder
will opt to stick around as a free agent-to-be, or does it define how long and who will be a Brewer in the future?
Keep in mind that Melvin has already shelled out all sorts of money to keep what he's defining as the core of this club together in the short term. Consider the Brewers' other major financial commitments in the last 12 months or so:
Add all of that up, and the payroll of the Brewers -- a team that still hasn't won anything since 1982 beyond a lone wild-card slot in 2008 -- won't come down below the $80 million to $90 million range in the immediate future.
Because of those no-trade clauses, there would be some modest difficulties as far as breaking up the team if the Brewers once again come up short in the NL Central's free-for-all this year or next. That isn't really bad news on its own -- even with the injury history of Weeks and Gallardo, counting on those two and Braun to be the foundation of your ballclub over the next five years is a risk worth taking, and there's plenty of recent history suggesting no-trade clauses are just one more biddable item for negotiation.
The problems this commitment involves are twofold: First, was Braun worth extending beyond their previous commitment through 2015? Since they already had Braun under contract through age 31, there was no need to get him inked through the bulk of his 30s -- when his value
will
drop, and when he may be headed toward first base. You can hope that last year's power slip to an ISO (isolated power) number below .200 was just a hiccup, and that he'll continue to deliver .550 or better slugging percentages, and the next several seasons should be productive -- but
the Brewers already had him under contract for those seasons
.
Then there's the fact that, as Buster Olney reports, an up-front signing bonus of $10 million represents a massive outlay of cash, money that might have afforded Melvin the opportunity to add something major at the deadline. That might sound shortsighted, but after trading for Greinke and Marcum, the Brewers are already in win-now mode, so spending this sort of money now dips into coffers that probably aren't bottomless.
That signing bonus brings up the second problem, which is the Fielder follow-on issue. Laying down that kind of money means it isn't there to help pay Fielder the princely sum it'll take to keep him. Maybe owner Mark Attanasio's outfit has deeper pockets than we might guess, but probably not. Braun's commitment looks more like a tacit choice that they're going to be watching Fielder head into free agency as the alternative to
Albert Pujols
on the open market next winter. Signing Braun loudly, splashily, expensively and now might help protect fans from the pain of that, but they'll be happier still if the Brewers win something first.
Christina Kahrl helped found Baseball Prospectus in 1996, is a member of the BBWAA and covers baseball for ESPN.com. You can follow her on Twitter.
April, 17, 2011
4/17/11
10:40
PM ET
Who says there's no such thing as a big series in April? Not me.
Starting Monday, we have Giants at Rockies for three games, and it certainly
feels
like a big showdown to me. The Rockies have baseball's best record at 12-3 -- but have yet to play a team with a winning record, as they've cleaned up against the Diamondbacks, Dodgers, Pirates, Mets and Cubs. So they have a little something to prove. The Giants are 8-7, four games behind the Rockies, and certainly don't want to leave Denver seven games out of first place. They have their three top starters lined up (
Tim Lincecum
,
Jonathan Sanchez
,
Matt Cain
) to prove something to
Troy Tulowitzki
and Co.
The Rockies have been impressive in outscoring their opponents 85 to 59, especially going 7-1 on the road, after a dismal 31-50 mark in 2010. The Rockies have had only one winning road season in franchise history -- 41-40 in 2009 -- so getting off to a strong start there is a positive sign.
Second-year righty
Esmil Rogers
starts Monday against Lincecum in what may look like a mismatch, but Rogers has been solid in winning his first two starts. As a rookie in 2010 he was jerked around between Triple-A and the majors, between the bullpen and starting, so this is a good opportunity for the Rockies to see what they have. So far he's been effective against left-handers (.200/.300/.343) but there are doubts on how his stuff will fare consistently against lefty swingers.
And with
all the attention given to Tulowitzki and
Carlos Gonzalez
, it's easy to forget that
Ubaldo Jimenez
is back after missing a couple starts with a cracked cuticle. The Giants hit just .168 in four games against Jimenez last season. He starts Tuesday against Sanchez.
Cain has allowed three runs over his first three starts, despite just 10 strikeouts over 19 innings. Going back to last September, and including his three postseason starts, Cain has allowed more than two runs just once in 10 starts (his final regular-season start of 2010). He may not impress you with the raw stuff that Lincecum and Jimenez possess, but since 2009 the only starters with a better ERA are
Felix Hernandez
,
Adam Wainwright
,
Roy Halladay
,
Josh Johnson
,
Clayton Kershaw
,
Chris Carpenter
and Lincecum.
The Giants may also make a move with
Cody Ross
during the series. After a couple rehab starts with Fresno on Sunday and Monday, he should be activated from the DL. Will rookie first baseman
Brandon Belt
be sent down? After an 0-for-4 effort on Sunday, Belt is down to .200/.310/.280, with one homer and one double in 50 at-bats. But his eight walks shows the excellent discipline and understanding of the strike zone he displayed in the minors.
Considering Aubrey Huff's shaky efforts in the outfield, the Giants may want to move Huff back to first and send Belt down until his bat gets going. I think it would be a mistake; despite his postseason heroics, Ross just isn't that good (and it hurts saying that, as I'm a big fan). Ross can hit lefties -- .883 OPS in 2010 -- but shouldn't be a regular against righties (.687 OPS in 2010). Andres Torres' strained Achilles tendon that landed him on the DL may give Belt a two-week reprieve, as Ross could slide into center field (except Aaron Roward is inexplicably off to a .364/.378/.568 start in 44 at-bats).
It all adds up to some intriguing subplots to the best series of the week.
OTHER SERIES OF THE WEEK
Los Angeles Angels at Texas
Monday:
Ervin Santana
(0-1, 3.74 ERA) vs.
C.J. Wilson
(1-0, 3.72)
Tuesday:
Matt Palmer
(0-0, 7.71) vs.
Colby Lewis
(1-1, 5.25)
Wednesday:
Jered Weaver
(4-0, 1.30) vs.
Matt Harrison
(3-0, 1.23)
The Angels are riding the red-hot arms of Jered Weaver and
Dan Haren
and come to Texas riding a five-game winning streak. The offense has been solid, but it's coming from surprising sources:
Maicer Izturis
is hitting .383,
Alberto Callaspo
.346 and Howie Kendrick has five home runs.
Vernon Wells
has raised his average to .148, but still seeks his first home run. (How many years left on that deal?) For the Rangers, their own hot pitcher, Matt Harrison, squares off against Weaver in the series finale. Harrison's start is especially impressive considering his outings have come against the Yankees, Orioles and Red Sox. Harrison entered this season with 225 major league innings and not much of a track record -- 5.39 ERA, 261 hits, 31 home runs, only 4.9 K's per nine innings. He's allowed just 14 hits in 22 innings despite a below-average strikeout rate (5.7). He's throwing more strikes and getting more ground balls, but I'm not sold on him just yet.
PITCHING MATCHUP OF THE WEEK
Friday:
Jon Lester
(1-1, 3.20 ERA) vs. Dan Haren (4-0, 1.16 ERA), Red Sox at Angels
Haren has been absolutely dominant so far, pounding the strike zone, allowing opponents a .164 average and generally looking like the best pitcher in the AL. If there's been one complaint about Haren over the years it's that he throws
too
many strikes, leading to a lot of home runs (31 in 2010, 27 in 2009), So far, he's allowed just one in 31 innings, and pitching in Angel Stadium will help, as it's one of the tougher home runs parks in the AL.
THREE SWINGS
1. Watched
Jose Contreras
close out the Phillies' 3-2 win over the Marlins for his third save. It wasn't pretty, as he walked two batters and threw just nine of 22 pitches for strikes, finally getting
Omar Infante
to ground out sharply to end it. Contreras hasn't allowed a run in five innings, but I'm still a little skeptical about the Philly bullpen. But … maybe the Phillies won't need much beyond Contreras,
Ryan Madson
(five scoreless innings) and
Antonio Bastardo
(nine K's in 5 2/3 innings). Philadelphia relievers threw just 421 innings last season, fewest in the NL. No team has pitched fewer than 400 since the 2005 Cardinals threw 397 2/3, but the Phillies are a good bet to do it. That Cardinals team won 100 games and all five starters -- Chris Carpenter,
Jason Marquis
,
Mark Mulder
,
Jeff Suppan
and
Matt Morris
-- made at least 31 starts.
2. Welcome back,
Grady Sizemore
. Nice to see Cleveland's center fielder go 2-for-4 with a home run, double and an RBI in his first game since May 16. The Indians are 11-4 after sweeping the Orioles for their third series sweep already, and it's worth noting that
Shin-Soo Choo
(.214/.286/.339) and
Carlos Santana
(.196/.276/.314) aren't hitting yet, and they will.
3. I watched the major league debut of Arizona pitcher Josh Collmenter and he had one of the weirdest motions you'll see. Midway through the windup, as he brings the ball back behind him, he does a little bit of a knee jerk of sorts, leans back a bit, and then comes straight over the top. He's not really much of a prospect -- Baseball America didn't rate him as one of Arizona's top 30 prospects -- but he entered in the 11th inning against the Giants, threw strikes, worked quickly (a lesson for all rookies), retired all six batters he faced and got the win when Arizona scored in the bottom of the 12th. Congrats, Josh.
RANT OF THE WEEK
Right when I start believing in the Brewers … they go out and lose a doubleheader to Jason Marquis and
Livan Hernandez
, two guys who can't break 90 with their fastballs (actually, in the case of Livan, he can't break 85). The Brewers desperately need
Corey Hart
to return, as the team's lack of depth is embarrassing.
Mark Kotsay
? Forty-year-old
Craig Counsell
? Thirty-three-year-old outfielder
Erick Almonte
, once hailed as the next
Derek Jeter
, but now listed at 245 pounds and coming off a two-homer season in Triple-A? Please. This has to be one of the worst benches in the majors, especially for a supposed contender.
PHOTO OF THE DAY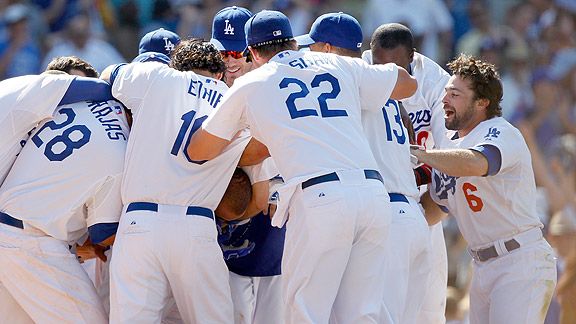 AP Photo/Alex GallardoSomewhere in there is Matt Kemp, who belted a walk-off winner in the ninth against St. Louis.
March, 29, 2011
3/29/11
2:31
PM ET
And now a look through the Senior Circuit injury wire.
Chris Coghlan and Mike Stanton, Marlins:
Coghlan is suffering from right shoulder tendinitis but is expected to start on Opening Day and will monitor his throwing carefully. Stanton missed much of spring with a quadriceps strain but returned last Friday and hit two home runs.
Mets:
Where to begin?
Jason Bay
could now begin on the DL with a rib-cage discomfort, after missing two games recently with back stiffness. The Mets appear committed to
Carlos Beltran
as their Opening Day right fielder. He played a minor league game over the weekend and went 0-for-5 with three strikeouts and had a double and triple hit over his head. Backup catcher
Ronny Paulino
could be headed to the DL with stomach issues.
Johan Santana
hopes to pitch sometime this season.
Chase Utley, Phillies:
You've been following this one. Nobody knows when he'll be ready ... if it all, although he said Monday a goal is to return before the All-Star break.
Brad Lidge, Phillies:
Lidge will undergo an MRI today
to see if there is structural damage in his shoulder. He'll start on the DL, with
Ryan Madson
taking over as closer.
Placido Polanco, Phillies:
He missed two weeks with a hyperextended elbow but is back and apparently OK.
Adam LaRoche, Nationals:
He has a
slight tear in his rotator cuff
but will rehab and play through it.
Johnny Cueto and Homer Bailey, Reds:
Cueto has shoulder inflammation and Bailey has shoulder impingement and both begin the season on the DL (along with backup outfielder
Fred Lewis
, who has a strained oblique). Cueto has resumed playing catch and Bailey is expected to miss two starts.
Mike Leake
and
Sam LeCure
join the rotation, although the Reds don't need a fifth starter the first turn through the rotation.
Clint Barmes and Jason Castro, Astros:
Castro is out for the season after tearing up his knee (and now catcher
J.R. Towles
has a balky back). Barmes is out 4-6 weeks and the Astros just acquired
Joe Inglett
to help with infield depth.
Zack Greinke and Shaun Marcum, Brewers:
: Marcum missed a start with a stiff right shoulder but
threw four pain-free innings
on Monday. Greinke just started playing catch after suffering a fractured rib playing basketball. A late April return appears to be the goal.
Corey Hart, Brewers:
Hart is aiming
for a mid-April return
from a strained rib-cage muscle. The Brewers just acquired
Nyjer Morgan
for outfield depth.
Chris Snyder, Pirates:
The catcher's bad back will likely land him on the DL, leaving the Pirates with
Ryan Doumit
and
Jason Jaramillo
behind the plate.
Adam Wainwright, Cardinals:
He's out for the season following Tommy John surgery, with
Kyle McClellan
taking his spot in the rotation.
J.J. Putz, Diamondbacks:
A stiff back has limited Putz in Cactus League action, but he's still hoping to be Arizona's closer come Opening Day.
Ian Stewart, Rockies:
He's missed time with a right knee sprain and left Monday's game with a tight hamstring, but said
he isn't concerned
. The Rockies traded for
Josh Fields
as insurance and have
Ty Wigginton
and
Jose Lopez
on the roster.
Jon Garland, Casey Blake and Dioner Navarro, Dodgers:
Garland suffered a strained oblique early in spring training and just getting back to building up his arm strength. He'll need a couple weeks. Blake has back inflammation and will begin the season on the DL.
Jamey Carroll
is around to fill in (or
Juan Uribe
will shift to third with Carroll playing second). Backup catcher Navarro is also expected to start on the DL with a strained oblique.
Mat Latos, Padres:
Latos has bursitis in his right shoulder and
heads to the DL
. Keep tabs on this one as the Padres will undoubtedly be cautious with the young ace.
Brian Wilson and Cody Ross, Giants:
Wilson has a strained oblique and likely to begin on the DL, but could be activated as soon as April 5. Bruce Bochy hasn't announced his backup closer plans. Playoff hero Ross is on the DL with a calf strain and could miss three weeks.
Nate Schierholtz
could take his place or rookie Brandon Belt could play first base with
Aubrey Huff
moving to the outfield.
Follow David Schoenfield on Twitter at @dschoenfield. Follow the SweetSpot blog at @espn_sweet_spot.
July, 14, 2010
7/14/10
3:00
AM ET
MLB Trade Rumors with
a pretty good one
:
The Brewers asked the Giants for Jonathan Sanchez or Madison Bumgarner in exchange for Corey Hart, according to Henry Schulman of the San Francisco Chronicle (Twitter link). Giants GM Brian Sabean is understandably hesitant to deal either pitcher.

--snip--

Sanchez has a 3.47 ERA with 9.0 K/9 and 4.6 BB/9 this season. The Giants control the 27-year-old's rights through 2012. Baseball America ranked Bumgarner second among Giants prospects before the season (after Buster Posey). So far in 2010, the 20-year-old left-hander has started four games and posted a 2.57 ERA.
Yes. Understandably. You trade for Corey Hart only if you're trying to win, and removing Sanchez or Bumgarner makes it harder to win.
Granted, Hart
might
be more valuable than Sanchez and is
probably
more valuable than Bumgarner ... but general managers just don't like to trade one key piece just to get another. If the Giants trade one of their starters, who's going to fill in?
Todd Wellemeyer
? They already tried that. It didn't work.
Joe Martinez
? Well, sure. Unless there's a good reason why he's turned 27 and has started only six games in the majors.
And while it's certainly possible that I'm missing someone, it looks to me like Wellemeyer and Martinez are Nos. 6 and 7, with No. 8 somewhere in Class A, little but a gleam in Brian Sabean's imagination. Which brings up another impediment: If the Brewers can't have Sanchez or Bumgarner, they'll presumably want at least one super-hot pitching prospect. And with the possible exception of young Zach Wheeler (and his super-high walk rate), I'm not finding anybody who fits that description.
So maybe there's just not a good fit here.
July, 7, 2010
7/07/10
1:27
PM ET
The most valuable, historically significant bit in
this Nick Cafardo column-o-rama
is the opening section about Allard Baird and his value to the Red Sox, which is gratifying in a variety of ways. I'm not going to run a clip here, because I'm hoping you'll go ahead and read the whole bit for yourself.
This part, though, I will give you:
9. Corey Hart, OF, Brewers — He's available and the Giants have been very interested. The Brewers understand that, given the great season he's had, he'll be very expensive in arbitration, which could hinder their plan to keep Prince Fielder. However, the Brewers aren't completely buried in the NL Central, and don't forget Ken Macha took Oakland from 15 games below .500 at the end of May in 2005 to first place by Sept. 1. Do the Brewers trade Hart for starting pitching? If they heat up, do they become players for Cliff Lee? This is an interesting team to watch over the next couple of weeks.
By the way, some turnaround for a player who opened the season as a platoon guy and
wasn't submitted by his team
for the All-Star ballot.
Granted, Cafardo wrote the above a few days ago, but it's hard to support the argument that the Brewers "aren't completely buried in the NL Central" ... they're 10.5 games out of first place! They're 8.5 games behind the second-place team! Only three teams in the entire National League have worse records!
As fans, we should never discount the possibility of miracles, but Milwaukee's front office simply cannot make any decisions this month with the postseason in mind. Not in 2010, anyway. If the Brewers look at their roster and think they've got a reasonable chance of contending in 2011, then it might make sense to retain Hart, who's still under team control next season. Especially considering that Hart's successor doesn't seem to be immediately at hand.
Meanwhile, the Giants aren't in quite the same leaky boat this season, but they too should think hard before making a big 2010 push. They're in fourth place, and eight National League teams have better records. Like the Brewers, they should be thinking about 2011. Which doesn't mean Hart wouldn't be a good fit. The Giants figure to be competitive again next season, and there's nothing wrong with a pre-emptive strike.
Alex Rios
didn't help the White Sox win last year, but this year he's been one of their best players.