December, 29, 2013
12/29/13
9:30
AM ET
Today, Buster Olney
rated the top defensive teams in the majors
. We thought we'd take the time to look at the offseasons for each team from a defensive perspective. Here's our American League look.
AL East
Blue Jays:
The transition from
J.P. Arencibia
to
Dioner Navarro
behind the plate is likely a wash and there hasn't been much of an overhaul to this team other than the departure of
Rajai Davis
(who did have
a decent amount of defensive value
).
Goins
The most interesting thing for the Jays will be how
Ryan Goins
fares as a regular second baseman. Goins racked up a hard-to-believe 12 Defensive Runs Saved (backed up on video review by 21 Good Fielding Plays and only a pair of Defensive Misplays & Errors) in a 32-game stint last season.
Orioles:
The biggest issue on defense for the Orioles will be dealing with the loss of
Manny Machado
's major-league leading Runs Saved, at least until he returns from injury. Baltimore did make one positive move that should upgrade its outfield defense, getting
David Lough
from the Royals for utilityman
Danny Valencia
.
Rays:
The Rays made a long-term commitment to
James Loney
, which bodes well from a defensive perspective, and also made one to catcher
Ryan Hanigan
, who is considered one of
the best base-stealing deterrents and pitch-framers
in the sport. He'll give them a solid alternative to
Jose Molina
.
Red Sox:
Jackie Bradley Jr
. and
Xander Bogaerts
will likely step into everyday roles and fill the shoes of
Jacoby Ellsbury
and
Stephen Drew
. The Red Sox will also have a new catcher, though there isn't much of a defensive difference between
A.J. Pierzynski
and
Jarrod Saltalamacchia
. Both rate below-average statistically.
Yankees:
There have been some pretty notable changes on the defensive side.
Brian McCann
's pitch-framing rates well, but he's not the baserunning deterrent that
Chris Stewart
was.
Kelly Johnson
and
Brian Roberts
could split time at second base but neither is the Gold-Glove-caliber glove that
Robinson Cano
was. Johnson could also wind up full-time at third base, a position at which he's barely played more than 100 innings, if
Alex Rodriguez
gets suspended.
The Yankees should be great in center and left with an Ellsbury/
Brett Gardner
combo.
Carlos Beltran
has
less ground to cover in the Bronx than he did in Busch
. That could benefit his achy knees and help his defensive rating.
One smart thing the Yankees did: Hire
Brendan Ryan
to be their "shortstop closer" for the next two seasons and as much as it will pain
Derek Jeter
to leave games, it will be for the good of the team to let Ryan finish close games.
AL Central
Indians:
The Indians tried to make a right fielder out of center fielder
Drew Stubbs
in 2013 and it didn't work. They got themselves an upgrade in free agent
David Murphy
who rates adequate enough (5 Runs Saved in about a season's worth of innings in right field) that his D could be a one-win upgrade by itself.
Royals:
The best team in baseball, as it comes to Defensive Runs Saved, tinkered a little bit, swapping out Lough for
Norichika Aoki
in the outfield, which probably rates as a push (they're both good … fair warning to Royals fans, Aoki likes to play a deep right field), and making an offensive upgrade by getting
Omar Infante
to fill the hole that was second base.
The one thing the Royals got from their second basemen last season was good defense (18 Runs Saved from the collection of
Elliot Johnson
,
Chris Getz
and others). Infante isn't at that level, but he rates above average more often than not (he did by UZR, but not Runs Saved in 2013) and his offensive work should make up for any drop-off.
Tigers:
The Tigers' defensive overhaul has been the biggest of the offseason as the team's opening-day infield will be entirely different from 2013.
Ian Kinsler
is a definite upgrade at second base and we'll see if
Jose Iglesias
' wow plays add up over a full season (he has seven Runs Saved in just under 800 career innings at short).
Going from
Prince Fielder
back to
Miguel Cabrera
should actually be a slight upgrade.
The big question will be third base where the scouting reports on
Nick Castellanos
' defense
don't inspire confidence
. But even so, conservatively, the Tigers should be about 25 Runs Saved better in 2014, which takes them from being a lousy defensive infield to an average one.
Twins:
The Twins made the career-preserving move of shifting
Joe Mauer
from behind the plate to first base and signed
Kurt Suzuki
, who has a good statistical history at the position. Suzuki has rated better than Mauer over the course of his career in Runs Saved, though he's not as good at throwing out basestealers.
I asked
Doug Glanville
to assess what Mauer's challenge will be in making the move to first:
"He is a super athlete and I am sure he will be fine. It will be tough to not be as involved with the game in every single moment. No one can compete with catchers in the leadership it requires to play that position and the need for constant vigilance. He has to sharpen his focus to deal with new lulls in time. I am sure he will."
White Sox:
The White Sox had the third-worst Defensive Runs Saved total in the majors in 2013 and they've been overhauled all over the place. Their worst position last season was center field (-19 Defensive Runs Saved in 2013) and they'll have a new look there with
Adam Eaton
.
They'll also be much different at first base with
Jose Abreu
,
whose hitting
has been compared to
Ryan Howard
's (but if his defense is, that's not good) and third base with
adequately-rated
Matt Davidson
, whom they got for
Addison Reed
. Will different equal better? They better hope so.
Al West
Angels:
The aging of
Albert Pujols
will continue to be an issue both on offense and defense. Last season broke a run of eight straight seasons in which Pujols ranked in the top five among first basemen in Runs Saved.
Pujols will have a familiar teammate working at the opposite corner with the addition of third baseman
David Freese
, who had a dreadful season in 2013 per both Runs Saved and UZR, ranking third-worst in the former and second-worst in the latter. That's something that will need to be dealt with.
Astros:
The Astros traded away their second-best defender stats-wise from 2013 in
Brandon Barnes
to get
Dexter Fowler
from the
Colorado Rockies
. Fowler has less ground to cover in the gaps of Minute Maid Park, but has a deeper center field (and Tal's Hill) to worry about. Fowler has posted a negative Runs Saved rating in four of his six seasons, but has fared well at handling balls hit to the deepest parts of the park.
Athletics:
The Athletics made two moves that should definitely help their defense in 2014.
Gentry
By adding
Craig Gentry
in a trade from the Rangers, they've obtained one of the game's premier outfield defenders and one who could fit in well both in left field (to make
Yoenis Cespedes
a DH) and center (to give
Coco Crisp
a breather) very well.
The Athletics also added a valuable utility piece in
Nick Punto
, who could start at second base (ahead of
Eric Sogard
) or close games at shortstop (replacing
Jed Lowrie
, who rates as a poor defender). Either way, he's a big upgrade over what they had.
Mariners:
The Mariners now have a Gold Glove-caliber defender at second in Cano. He'll need to cover more ground to his left than he did in New York, because the Mariners' first-base options (
Justin Smoak
,
Logan Morrison
and
Corey Hart
) do not rate well. Morrison is going to present an issue wherever they put him. He's not quite at the level of
Michael Morse
, but his ratings historically have been poor.
Rangers:
The difference between
Prince Fielder
and
Mitch Moreland
at first base is a sizable one, potentially 15 runs over the course of a season, so if the Rangers do decide to hang on to Moreland, they'd be best off playing him at first base and having Fielder DH. The Rangers could use a good defender at first, since
Jurickson Profar
is basically going to learn on the job at second base. Texas will also have some outfield concerns with
Shin-Soo Choo
having limited experience in left field and the team no longer having the security blanket of Gentry (traded to Athletics).
December, 3, 2013
12/03/13
6:21
PM ET
Take a deep breath. If Tuesday's slew of transactions is any sign of what will happen at next week's winter meetings, then be prepared for a great week of rumors, deals and signings. As for Tuesday, so much happened that I'm starting to believe the
Robinson Cano
-to-
the-Mariners rumors
.
Let's start with the Astros acquiring
Dexter Fowler
from the Rockies. The Rockies have seemingly been shopping Fowler for years, but apparently the market for him was more lukewarm than a three-day-old cup of Starbucks.
Jordan Lyles
is still young and throws strikes but has been hit hard at the major league level (5.35 career ERA with 65 starts) and doesn't possess a quality strikeout pitch; he's the kind of pitcher who will get absolutely destroyed at Coors Field.
Even if the Rockies will put a better defense behind Lyles than the Astros did --
Troy Tulowitzki
and
Nolan Arenado
will help in that department -- Lyles appears to be a long shot to succeed.
Brandon Barnes
was a 27-year-old rookie center fielder who posted a .289 on-base percentage, struck out 127 times while walking just 21 times, and was 11-for-22 in stealing bases, a package that made him one of the worst percentage players in the majors. His defense is OK but he looks like a fourth outfielder at best.
What did the Astros get? A player with two years remaining until free agency who has averaged a consistent 2.4 WAR over the past three seasons. He's a good player whom the Rockies always expected more from, perhaps creating a poor read of his actual value. There is the possibility that his numbers will crater outside of Coors Field -- he's hit .298 there in his career, .241 on the road -- but as a guy who takes his walks I like his chances to produce once he gets away from the Coors effect. Kudos to the Astros for acquiring some talent without giving up much in return. With prospect George Springer presumably ready to take over center, I wouldn't be surprised to see Fowler move to left field; his bat won't play as well there but he'll improve the Astros' defense dramatically over the statue-like
Chris Carter
.
What were the Rockies thinking? Who knows. The Rockies and Mariners seem like the two franchises without any semblance of a game plan right now. Are the Rockies trying to win now? Are they trying to rebuild? Were they merely dumping a salary (Fowler will make $7.35 million in 2014, a relative bargain for a 2-WAR player)? Are they trying to improve the rotation or the offense? If I had to guess, the Rockies see this as a salary dump to clear space to sign a free-agent pitcher. Last year,
Roy Oswalt
,
Jeff Manship
,
Drew Pomeranz
,
Collin McHugh
and
Chad Bettis
combined to go 0-19 in 26 starts with a 7.42 ERA. Can't wait to see the Rockies sign
Ervin Santana
and be shocked when he gives up 40 home runs.
But there was more that happened on Tuesday ... much more!
June, 5, 2013
6/05/13
12:57
AM ET
News items:
1. Sources say Major League Baseball will
seek to suspend about 20 players
connected to the Biogenesis PED scandal up to 100 games.
2. The Oakland A's lost a tough one, 4-3 in 10 innings to the Brewers after blowing a 3-0 lead. Still, they've won 15 of their past 18 games.
3. The
Texas Rangers
were hammered 17-5 in Boston.
The Rangers' lead over the A's in the AL West -- 7 games less than three weeks ago -- remains at 1.5 games. Maybe you were ready to count out the A's back when they were plodding along at 20-22, chalking up 2012's division title as a fluke. But this is what the A's do: They get on these awesome runs, an Oakland tradition going back to the Hudson-Zito-Mulder clubs.
Last year, they were 37-42 entering July, 13 games out of first place. They won 18 of their next 21 games; in August and early September they would run off another stretch of 15 wins in 17 games. In 2006, when they had last won the AL West title, the A's were 25-30 on June 2 when they won 13 out of 14. They would later reel out a 17-3 stretch. In 2004, they had a 16-2 stretch in August/early September. In 2003, it was a 14-2 stretch in August/September that pulled them to a division title. In 2002, it was the famous 20-game winning streak beginning in August. In 2001, they had a 22-2 stretch -- again in August into September.
Those earlier years were a different generation of A's teams, of course, but the A's have always had a similar philosophy, it seems: They're loose, they have fun, they play with that ol' fire in their bellies. Whether or not that helps to lead to more of these hot streaks, I don't know, but when the A's get hot they seem unstoppable.
The Rangers, of course, were supposed to be here, although there were some questions about the offense after losing
Josh Hamilton
, some concerns about the bullpen with
Alexi Ogando
moving back to the rotation, and then some concerns about the rotation after
Matt Harrison
underwent back surgery after just two starts.
It's a fascinating AL West race, especially after the A's swept the Rangers in the final three games last season to pass the Rangers and send Texas into the wild-card game. The Rangers have become one of baseball's wealthy franchises while the A's are still put together with toothpaste and tin foil. The Rangers still have the star power --
Yu Darvish
,
Adrian Beltre
,
Ian Kinsler
-- while Oakland's best player has been the relatively unknown second-year third baseman/former catcher
Josh Donaldson
.
[+] Enlarge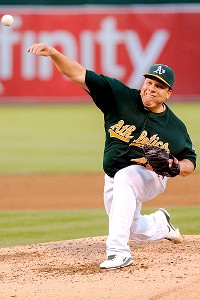 Ed Szczepanski/USA TODAY SportsBartolo Colon has been the A's best pitcher this season.
This race becomes even more interesting if MLB does find a way to suspend the players involved in the Biogenesis report. While the biggest names there are
Ryan Braun
and
Alex Rodriguez
, the two most
important
names are
Bartolo Colon
of the A's and
Nelson Cruz
of the Rangers. Braun's Brewers are way out of the race, the Yankees are hoping A-Rod just goes away and the Nationals'
Gio Gonzalez
, while on the list of Biogenesis clients, might have received only legal substances.
Remarkably, Colon, who just turned 40 on May 24, has been Oakland's best pitcher with a 6-2 record and 3.33 ERA. He's become one of the most unique pitchers in major league history. He's walked just four batters in 11 starts and basically throws just fastballs -- two-seamers and four-seamers, so count that as two pitches if you'd like. Of the 964 pitches he's thrown, 823 have been fastballs, with some sliders and changeups mixed in.
If Colon were to be suspended, the A's have a couple options. First, there's
Brett Anderson
, their preseason No. 1, who's currently on the disabled list with a stress fracture in his right foot. But he might be out another two months. After that, former first-round draft pick Sonny Gray would appear to be the next option, as he has 2.40 ERA at Triple-A Sacramento with 65 strikeouts, 20 walks and just one home run allowed in 63.2 innings.
Cruz may be even more difficult to replace, however. He's having a solid season with a .268/.323/.512 line, hitting his 14th home run in Tuesday's loss. But this Rangers team isn't the offensive powerhouse of recent seasons, ranking seventh in the AL in runs scored. They could play defensive whiz
Craig Gentry
on a regular basis or utility guy
Jeff Baker
, but Gentry would be exposed offensively playing every day while Baker is really just a platoon bat against left-handers. There doesn't appear to be much in the way of outfielders on the Triple-A roster. Of course, the wild card could be moving
Jurickson Profar
to the outfield when Kinsler returns from the DL, but I don't think you would move a rookie infielder to a new position at the major league level. Or, horror of horrors, you could try
Lance Berkman
or
Mitch Moreland
out there.
Of those options, playing Gentry is probably the best one; at least he'll give you great defense. Baker can continue to be platooned with
David Murphy
in left field. But losing Cruz's power still leaves a gaping hole in the middle of the lineup.
The Rangers could look to swing a trade --
Andre Ethier
(and his ugly contract) is probably available for free from the Dodgers!
Of course, we're getting way ahead of ourselves. But if MLB gets its way on the suspensions, it's the A's and Rangers who will be most affected. How Billy Beane and Jon Daniels respond ultimately could decide the AL West.
April, 17, 2013
4/17/13
9:35
AM ET
Some reaction to Tuesday's excellent slate of games ...
October, 28, 2011
10/28/11
1:22
AM ET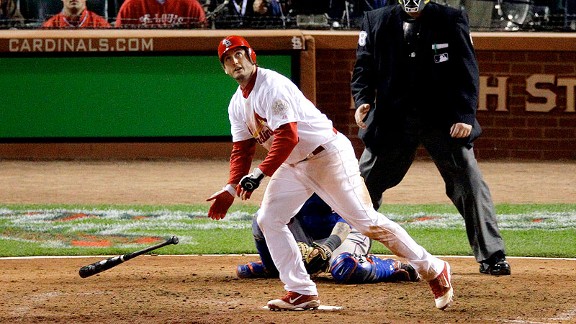 Rob Carr/Getty ImagesDavid Freese tripled to tie Game 6 of the World Series in the ninth and homered to win it in the 11th.
ST. LOUIS -- At the end of "Ball Four," the greatest book about baseball ever written, pitcher/author Jim Bouton writes, "You spend a good piece of your life gripping a baseball and in the end it turns out that it was the other way around all the time."
This sport brings the greatest of joys and then crushes you with pain. It increases its grip on you with game-ending home runs and division titles and playoff victories and rally squirrels. And when the defeats come, it's too late to turn back; you're already in, unable to escape.
Game 6 was a roller coaster for both teams, a laughable parade of Little League errors and miscues, followed by dramatic home runs, a ninth-inning rally, a monumental blast by
Josh Hamilton
in extra innings, another rally by the Cardinals and finally a
David Freese
home run into the grass in dead center field that ended this game -- we say game, but it seemed so much more consequential than a mere game -- and sent Busch Stadium into an eruption of hugs, high-fives, tears of happiness and professional athletes jumping up and down at home plate like 8-year-olds being treated to ice cream.
In the end, the scoreboard reads:
St. Louis Cardinals
10,
Texas Rangers
9, in
11 innings
. That, of course, hardly tells the story of the exciting, unpredictable and at times unfathomable Game 6 of the World Series, one that will be relived and replayed, analyzed and scrutinized, one that will go down as one of the more remarkable World Series games ever played. Some day, somebody might have to write a book about this one.
So in this season of comebacks and collapses, of the best postseason baseball has witnessed in years, we get a Game 7. The Cardinals, down to their final strike in the ninth inning, down to their final strike in the 10th inning, kept fighting and fighting and fighting, somehow keeping this baseball season going a little longer when Freese became just the fifth player to hit a walk-off home run in Game 6 or 7 of the World Series. "Growing up or whatever, and you see stuff like that happen, those become memories," Freese said. "You know, if it's going to be replayed over and over again, I don't know, but it's really cool to be a part of this and to force a Game 7."
The Rangers, one strike away in the ninth inning, one strike away in the 10th inning, will have to regroup and mentally re-energize for one more game. Ron Washington couldn't say much, other than, "It just wasn't to happen tonight."
No, it didn't happen on this night for the Rangers, so, yes, we'll get at least nine more innings. And, yes, baseball, we are in your grip.
* * * *
Where to begin? With Freese, of course. He hit the two-strike, two-run triple in the ninth inning off
Neftali Feliz
, a ball lined off the wall in right field, a tough play but one that
Nelson Cruz
could have made. He was playing deep -- you play "no-doubles" defense at the point of game -- but drifted back too slowly and the ball flew inches over his outstretched glove.
In the 11th, the Rangers brought in
Mark Lowe
, their eighth pitcher of the night, and not the guy you'd expect to be on the mound with the World Series on the line. Freese led off the inning and crushed a 3-2 changeup to center. "You know, I felt like I was part of a circus out there, bouncing balls off the top of my hat a little bit," Freese said of the Cardinals' three errors, including one by him. "But, man, I just wanted an opportunity -- we tied that up, we had some good ABs and we tied it up and just kept battling. That defines our team, that game."
Ron Washington had elected to pinch-hit for
Scott Feldman
with
Esteban German
in the top half of the inning with a runner on first and two out. You can't fault Washington for that, but it was a low-percentage opportunity to score a run. The difference in ability between Feldman and the rarely used Lowe is sizable; he may have been better off letting Feldman bat, hope to keep the game tied, and play for the 12th inning.
Other notes:
[+] Enlarge

Ezra Shaw/Getty ImagesAlexi Ogando reacts after walking Yadier Molina with the bases loaded in the sixth inning.

In the end, the wildness of Alexi Ogando and Feliz finally came back to haunt the Rangers. The worst decision of the game was Washington bringing in Ogando in the sixth inning with the bases loaded. Ogando had been terrible in this series, allowing 12 baserunners in just two innings. I wrote earlier that Game 6 of the World Series was no time to be loyal; Washington remained loyal to Ogando, believing in him as his sixth- and seventh-inning guy. But after a long season, he's clearly gassed and never should have been in there. He walked in the tying run and only escaped further damage because Mike Napoli picked Matt Holliday off third base. (And Derek Holland had to be brought in to escape the inning.)

As for Feliz, his control has been shaky all postseason. He had a chance to close out a 7-5 lead in the ninth inning, but gave up a double to Albert Pujols and then walked Lance Berkman, setting the stage for Freese. The Rangers had gone 5-2 in the postseason when walking five or more batters; that's just not sustainable. When doing that in the regular season, they went 7-19. They walked seven batters in Game 6.

Berkman quietly had one of the great individual performances in a World Series game: 3-for-5, four runs, three RBIs, a two-run home run, a big walk in the ninth, a game-tying single with two outs in the 10th, just the the fourth game game-tying hit in World Series history in the ninth or later when a team was one out from elimination (Freese's triple was the third; the others were the Braves' Otis Nixon in 1992 and the Giants' Josh Devore in 1911). "I actually felt pretty good (there)," Berkman said, "because I figured I was in a no-lose situation. If you don't come through right there, it's only one at-bat and it's over with, and they might talk about it for a couple days, but it's not that big a deal. If you come through, it's the greatest, and plus you've built a little bank account of being able to come through, so that if I don't come through tomorrow I can be like, 'Well, I came through in Game 6, what do you want from me?'"

Should Washington have left in Feliz to start the 10th? He'd thrown 22 pitches in the ninth, while the Cardinals had the bottom of their order up -- and the pitcher due up third, with no position players left to hit. (Could you imagine if the World Series had ended with a pitcher hitting?) But with lefties Daniel Descalso and Jon Jay up, Washington brought in veteran lefty Darren Oliver. Can't really fault him too much for that one; it just didn't work out.

Washington also elected to walk Pujols in the 10th inning -- when he was the winning run. Instead of having Feldman go righty-on-righty, he faced Berkman, who hit a soft single into center to tie the game. What have we been saying? You're playing with fire with all those intentional walks and Washington finally got burned. Yes, it's Albert Pujols, but Berkman isn't exactly Mario Mendoza.

Napoli once again came up big at the plate -- his RBI single in the fourth inning gave him 10 for the series, only the sixth player in World Series history to drive in that many in one Fall Classic. His pickoff of Holliday looked like it would end up being the key defensive play of the 2011 season.

You can't fault Washington for using Holland for two innings, but since he pitched two innings and threw 23 pitches, his availability as a long reliever for Game 7 is now in question. If Game 7 starter Matt Harrison struggles early, that likely makes C.J. Wilson the long man out of the pen for the Rangers.

OK, if you watched this game, you know it won't be appearing on any instructional videos. Freese dropped a routine pop fly that any fifth-grader could catch, Holliday dropped an easy fly ball in left field, appearing to yell "You take it" to Rafael Furcal, but realizing too late that Furcal was in a bad position. Both errors led to unearned runs. Two Michael Young errors at first base also led two unearned runs on the Texas ledger.

Great cat-and-mouse game in the fifth. Freese's error was followed by Young's RBI double. With Young on third and two out, Napoli was walked. Washington sent in David Murphy to hit for Craig Gentry -- and got Holland up in the pen, hoping it might force La Russa to pitch to Murphy. La Russa didn't bite; Murphy was pitched around and Washington let Lewis hit (and strike out to leave the bases loaded).

For what it's worth, the three most recent games that involved crushing defeats in Game 6 to keep the World Series alive were the Cardinals to the Royals in 1985, the Red Sox to the Mets in 1986 and the Giants to the Angels in 2002. All three teams lost Game 7. Also, the home team has won the past eight Game 7s. It won't be easy for the Rangers.
September, 20, 2011
9/20/11
5:30
PM ET
My pal Eric Karabell suggested this post, so I give him the credit.
1. Joe Savery, LHP, Phillies.
Savery made his major-league debut this afternoon against the Nationals, allowing a single to
Chris Marrero
and retiring
Brian Bixler
on a sacrifice bunt. Eric insists Savery has a chance to make the Phillies' postseason roster. Why?
Antonio Bastardo
, so dominant most of the season, is the only lefty reliever but has been struggling of late, allowing a .409 on-base percentage in September and complaining of fatigue. The Phillies may want two lefty relievers on the squad, especially if they're playing
Prince Fielder
and the Brewers.
But Savery's story is more interesting than that. The club's first-round pick in 2007 out of Rice, Savery didn't develop as a starter (he went 1-12 with a 4.66 ERA in Triple-A in 2010, with poor peripherals) and transitioned to an outfielder/first baseman this year at Class A.
He contemplated leaving the sport
and even signed up for a class at Rice. "I was trying to line up internships and jobs, whatever I could find," he told Kevin Cooney of PhillyBurbs.com. "When I got into this, I didn't see myself hanging on as a minor leaguer. I wanted to give this a real shot and, if things didn't work out, I was going to move on. So I figured that I was getting to the point where I had worn out my welcome, I wasn't going to get in the way anymore."
Instead, he moved back to the mound as reliever and a pitched well as a lefty specialist, with a 41-to-6 strikeout/walk ratio in the minors. "I'll stick him out there," Phillies manager Charlie Manuel said. "We'll definitely take a look at him. We got good reports on him. They say he's been pitching good, throwing strikes and his velocity is up."
And now he could make the postseason roster. If anything, he would also give the team an emergency pinch-hitting option.
2. Felix Doubront, LHP, Red Sox.
Like the Phillies, the Red Sox are hurting from the left side, where they have the shaky
Franklin Morales
, the even shakier
Andrew Miller
... and maybe Doubront. He's a 23-year-old lefty who pitched 25 innings with the Sox last year and has appeared in nine games in 2011. In 16 starts at Triple, he posted a 4.22 ERA, struck out 60 in 70.1 innings and allowed 10 home runs. He's not overpowering, but considering Miller's control issues, Doubront could make the postseason roster as a second lefty. If Boston gets there, of course.
3. Craig Gentry, CF, Rangers.
The 27-year-old center fielder has been platooning with
Endy Chavez
, drawing starts against left-handed pitching, so if the Rangers draw the Yankees or Red Sox, you'll likely see him starting against
CC Sabathia
or
Jon Lester
. Gentry is a speedster originally selected by the Rangers in the 10th round of the 2006 draft out of Arkansas. He has no power (five doubles, one triple, no homers in 121 at-bats) but is 18-for-18 stealing bases. He's managed to hit .273 and could be a late-inning weapon as a pinch-runner.