May, 2, 2013
5/02/13
12:31
AM ET
It has been a nerve-wracking 48 hours or so for the
Washington Nationals
. First,
Stephen Strasburg
pitched through some forearm discomfort in Monday's loss to the Braves, but he
felt fine in a bullpen session
Wednesday and will make his scheduled start Saturday. Then came another loss to the Braves on Tuesday. Then
Bryce Harper
left Wednesday's game in the sixth inning after aggravating his left side, originally hurt slamming into the wall on Tuesday. Luckily, like Strasburg's injury, it doesn't appear serious and he's listed as day-to-day. "Hopefully," he told MLB.com, "I can come in tomorrow, feel like a million bucks and play."
The good news on Wednesday was that
Jordan Zimmermann
was dominant in
a 2-0 victory over the Atlanta Braves
, Washington's first in six games against Atlanta, allowing just two hits with no walks and eight strikeouts.
[+] Enlarge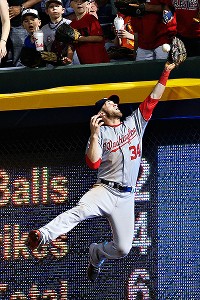 AP Photo/John BazemoreBryce Harper hurt himself going to the wall trying to reel in Tim Hudson's home run Tuesday.
Still, with the Nationals muddling along at 14-14, the injury scares to their young franchise players raises the question: Who is more valuable to the team? Or, to put it another way, if either Harper or Strasburg suffered an injury that did sideline him for a lengthy period of time, which would hurt the team more?
We can start by using projected value for the 2013 season. FanGraphs runs updated ZiPS projections, and Harper's hot start has him now projected to a season line of .281/.366/.511 and 5.3 wins above replacement. If anything, that's probably conservative; we know that among the first aspects of a player's game to stabilize in a small sample size are his walk and strikeout rates, and Harper's rates so far are better than his projected rates, arguably a sign that he'll outperform that triple-slash line.
The ZiPS projection for Strasburg has him posting a 2.96 ERA over 158.1 innings, worth 3.9 WAR. Again, that's probably conservative, since we know if he's healthy he'll pitch more than 158 innings. Projected over 190 innings, we'd get 4.7 WAR. Based on this simple comparison, we'd say Harper is probably more valuable.
However, WAR assumes a generic replacement-level player and not who the Nationals actually have to fill in. In their case, backup outfielders
Roger Bernadina
and
Tyler Moore
could platoon in left field; neither has hit in limited playing time this year but performed well a season ago and would likely be better than replacement-level. On the other hand, there is no obvious candidate to replace Strasburg in the rotation.
Craig Stammen
made 38 starts in 2009 and 2010 but was ineffective (ERA over 5.00) and had a 4.75 ERA starting at Triple-A in 2011. The current rotation at Triple-A Syracuse has been pretty horrific; the best starter has been lefty Daniel Rosenbaum with a 1.14 ERA in four starts, but he has eight walks and just five strikeouts in 23.2 innings, numbers that indicate he'd get lit up in the majors. Veteran
Chris Young
has allowed 11 runs in two starts and
Yunesky Maya
has a 7.45 ERA.
So it's possible that Strasburg's replacement could end up performing
below
replacement level, as well as forcing the bullpen to pitch more innings, something WAR doesn't account for.
Does that make Strasburg more valuable? Not necessarily. For one thing, it's probably easier to acquire a decent pitcher on the trade market than it is a good position player, so that's always a route general manager Mike Rizzo could take. There's also the issue that the Nats' offense has been terrible so far, ranking 12th in the National League in runs scored.
Adam LaRoche
is hitting .129 and has a single hit in his past 35 at-bats,
Danny Espinosa
hasn't hit,
Denard Span
has a .314 slugging percentage,
Ryan Zimmerman
is on the disabled list and
Jayson Werth
has missed a couple games with a sore ankle. Where would the offense be without Harper, their 20-year-old star?

The Nationals are ninth in the NL in runs allowed and behind Strasburg they have Zimmermann,
Gio Gonzalez
and
Ross Detwiler
. Even with Gonzalez and
Dan Haren
struggling so far, it's still a rotation that can you win you games, and on paper the bullpen is deep and strong.
Anecdotal evidence also suggests -- in this era of declining offense -- that perhaps it's more difficult to replace a star position player. The Cardinals won the World Series in 2011 even though
Adam Wainwright
missed the entire season. What if
Albert Pujols
or
Matt Holliday
had gone down instead? The Giants won the NL West and the World Series last year even though
Tim Lincecum
was one of the worst starters in the league -- but missed the playoffs in 2011 when
Buster Posey
went down early in the season. That's not proof, but with the way Harper is hitting, with the way the offense already seems to revolve around him, and with the question marks with some of the other position players, I would say losing Harper would be the bigger blow.
Hey, didn't Babe Ruth eventually move to the outfield?
September, 21, 2012
9/21/12
12:15
AM ET
The most important weekend in
Washington Nationals
history might have been the final three days of the 2008 season. The Nationals began the weekend 59-99; the Seattle Mariners began the weekend 58-101. Both teams were horrible. The Nationals had lost 12 of 14; the Mariners had lost 14 of 15.
The prize for the ultimate futility:
Stephen Strasburg
, already the clear No. 1 pick in the 2009 draft.
The Mariners had it in the bag.
Except the Nationals lost three in a row to the Phillies. Their batting order the final day was a beautiful list:
Emilio Bonifacio
,
Anderson Hernandez
,
Kory Casto
,
Ryan Langerhans
,
Alberto Gonzalez
,
Roger Bernadina
,
Luke Montz
and
Pete Orr
, with
Odalis Perez
on the bump. The Nationals lost 8-3.
And then the Mariners did the impossible: They won three in a row against the A's. On the final day,
Ichiro Suzuki
had two hits and scored two runs.
Yuniesky Betancourt
had a big two-run triple. The starting pitcher and winner:
R.A. Dickey
.
The following June, the Nationals drafted Strasburg first overall. The Mariners drafted
Dustin Ackley
.
* * * *
Or maybe the most important day came in the draft in June of 2005, the first for the Nationals since moving from Montreal. With the third pick in that draft, the Mariners selected
Jeff Clement
. With the next pick the Nationals selected
Ryan Zimmerman
. That draft also yielded
John Lannan
and
Craig Stammen
. In 2007, they drafted
Ross Detwiler
and
Jordan Zimmermann
. In 2008, they drafted
Danny Espinosa
. In 2009, Strasburg and
Drew Storen
. In 2010, they once again had the No. 1 overall. It didn't take long for
Bryce Harper
to arrive.
Maybe the most important day came on June 28, 2009, when then-interim general manager Mike Rizzo traded Langerhans to the Mariners for Mike Morse, a middle-of-the-order bat for nothing.
Maybe the Nationals should give the Mariners part of their playoff share.
* * * *
The Washington Nationals clinched a playoff spot with Thursday's
4-1 victory over the Los Angeles Dodgers
as Detwiler was terrific over six three-hit innings, lowering his ERA to 3.10, another reminder that this rotation is much deeper than Strasburg, Zimmermann and Cy Young contender
Gio Gonzalez
.
The celebration was understandably muted; the Nationals obviously have their eyes on a bigger prize and they'll celebrate with more fever when they clinch the National League East sometime next week. Still, it was a great day in franchise history. In 44 seasons since the team played its first on an April day at Shea Stadium in 1969, the Montreal Expos/Washington Nationals had been just one postseason appearance, in the 1981 strike season. It was another strike season in 1994, of course, that ultimately helped doom the franchise in Montreal and led to its departure a decade later.
There is still one player on the team with ties to the Expos: Shortstop
Ian Desmond
was a third-round pick in 2004. Desmond is a great symbol of the franchise's growth in recent years. His prospect status was up and down through the years, a talented player with a terrific but erratic results in the field and at the plate. After making 34 errors as a rookie in 2010 there were long-term doubts about his viability as a big-league starter. The Nationals stuck with him, however, with Davey Johnson a big believer in his ability. Desmond has added power to his game this year and is hitting .296/.333/.517 with 23 home runs, an important cog in an offense that has the second-best OPS in the National League since the All-Star break.
* * * *
The
Cincinnati Reds
also clinched a playoff spot and they could clinch the NL Central title in a day or two, as their magic number is down to two. Their story might not be as dramatic as Washington's and it's difficult to make the case that they're
better
than the Nationals, considering the Nats have scored more runs and allowed fewer. But it's a good team, a fun team, one that has allowed the second-fewest runs in the NL despite playing half its games in The Great American Ball Park.
Their celebration was also muted, especially with manager Dusty Baker hospitalized with an irregular heartbeat.
"I worry about Dusty, and everybody in that clubhouse was really worried last night," interim manager Chris Speier said. "You don't just go to the hospital for a cold or anything like that. And I still feel that way. ... My thoughts are more about Dusty than this game."
Despite their convincing lead in the NL Central, the Reds still have a few questions to answer in the season's final days. Ace
Johnny Cueto
, the leading NL Cy Young contender a couple weeks ago, earned his 18th victory in Thursday's
5-3 win over the Cubs
with a mixed bag of results: Six scoreless innings but four walks and just two strikeouts. Still, after allowing 14 runs his previous three starts, the six shutout frames was a good sign -- even if they did come against the Cubs.
Closer
Aroldis Chapman
hasn't pitched since Sept. 10, when he walked three Pirates in two-thirds of an inning (three days after losing a game to the Astros). Chapman has said he no longer feels fatigued but wants a couple more bullpen sessions to work on his command before returning. Watch his velocity when he does pitch again.
Joey Votto
is hitting .342 in 13 games since returning from the disabled list, walking like scary-era Barry Bonds (OBP over .500 since return) but hasn't homered. It's a small thing, but worth watching. The Reds
can
go all the way if opponents keep pitching around Votto and the guy behind him produce, but it would also seem the Reds will need Votto to hit some home runs in the postseason if they want to reach their first World Series since 1990.
So our first two teams are in. The Nats are 91-58 while the Reds are 91-59, so the No. 1 seed and home-field advantage is still up in the air. Who knows what will happen, of course, but I'm thinking there's nothing wrong with a Gio Gonzalez-Johnny Cueto showdown in Game 1 of the National League Championship Series.
PHOTO OF THE DAY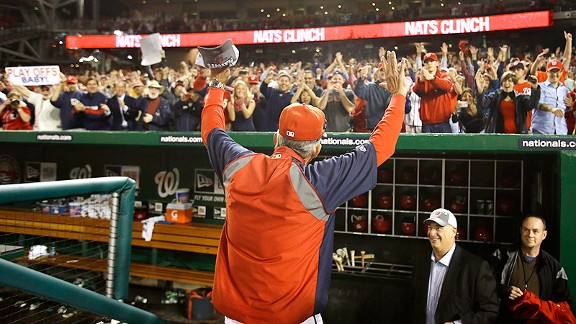 AP Photo/Jacquelyn MartinDavey Johnson will lead the Nationals into the playoffs -- postseason baseball in D.C. for the first time since 1933.
April, 12, 2012
4/12/12
1:52
AM ET
By
Christina Kahrl
| ESPN.com
At first blush,
Stephen Strasburg
's overpowering start for the Washington Nationals might seem like good news for a club trying to get itself taken every bit as seriously as the Miami Marlins in the National League East's "Division of Death" this season. But two outstanding starts into the season, Strasburg's work brings up a couple of interesting things about this Nats club that bear watching as we head deeper into the 2012 season.
First, there's the question of his workload. In the broad strokes, worrying about this now would definitely qualify as a case of too much, too soon. Even if Strasburg is limited to starting in a five-man rotation, in which nobody's turn gets skipped because of scheduled days off, his total starts and innings are going to pile up. Even if Strasburg gets the odd extra day of rest between turns, he's going to have around 17 starts by the All-Star break. As a 23-year-old. Coming back from elbow surgery. With the second half to look forward to. If he fends off a (perhaps unwanted) All-Star Game invite, he'd be on turn to lead off the rotation in the second half, same as the first.
That might not seem like a big deal. Davey Johnson probably isn't going to overwork his young stud starter in individual ballgames, after all. But as dominating as Strasburg was Wednesday against the New York Mets, he still racked up 108 pitches against 24 batters in just six innings. Eighteen pitches facing just four guys per inning? That's life when you're striking people out, and that's going to get you run out of games early, even when you're going well.
But the real problem about the ideal of watching the kid's workload and giving all due care to the logistical tedium of managing top talent carefully is where it might run up against the Nats' bid for contention. That might sound silly to talk about in April, but various projection tools have the Nationals winning 80 to 82 games, and perhaps nobody in the NL East reaches 90. That makes the Nats a contender, on paper or in projections, admittedly, but a team that will be in the running.
Now, what does that mean for how they manage their best starter's workload down the stretch? Is a buzzer going to go off when Strasburg makes his 24th start at the end of August, and general manager Mike Rizzo rings up Davey in the dugout and says, "Bad news, skip, the kid's got just two starts left this year"? An incredulous Johnson might look at the standings and see that his team's just four out and wonder what the point of the first five months was if you have to pull up and watch the Braves or Phillies or Marlins race on ahead.
That becomes even more difficult to swallow with the new two-wild-card setup for the postseason -- if you're the Nats, and you might squeak into a one-game playoff to move into the NL Division Series, wouldn't you feel pretty confident about your chances if you've got Strasburg in the fold?
Happily for the Nats, Johnson has a roster set up with more than a few compensations to deal with a young ace who's going to have to be handled carefully early in the season, so maybe the issue becomes academic. First, you can skip worrying about who's getting saves for the Nats, whether it's
Drew Storen
or
Brad Lidge
at whatever point of the season. The real relief the Nats can look forward to comes from the relative no-names who will be pitching in the sixth, seventh and eighth innings, starting with
Tyler Clippard
-- the NL's most valuable non-Braves reliever last year, according to WAR -- and
Henry Rodriguez
's triple-digit gas, and
Craig Stammen
's ground-pounding sinker. That's the kind of talent that will keep hard-hit balls from happening, usually with strikeouts. They won't notch saves, but they'll allow Johnson to hook Strasburg earlier than a previous generation's skipper might have, and that might help keep the kid in the mix to the very end of the season.
Second, Johnson's an old hand at getting the best from his lineups, to the point that he'll eke out runs by cheating on defense. Witness Wednesday's lineup behind Strasburg: With lefty
Johan Santana
on the mound, it becomes relatively affordable to put the towering
Jayson Werth
out in center field. Why? Because Strasburg generates so many outs at home plate that Johnson can risk a few adequate (or worse) defenders on the field. Against the Mets, Strasburg got half of his outs at home with those nine K's, got three ground-ball outs, and got a fly-ball out per inning.
There's nothing very newfangled about this: Back in the 1980s, Johnson was willing to play sluggers such as Howard Johnson or a young Kevin Mitchell at shortstop when he had an extreme fly-ball/strikeout pitcher such as Sid Fernandez on the mound. And with more strikeouts happening today than ever, it makes even more sense now.
So maybe that's the formula that gets Strasburg deep into the season: Better run support thanks to tailored lineups, a bullpen that can cover three or four frames per game, and not just pitch counts. If the Nats stay in this thing the way you could think they might, we'll see what they decide about Strasburg's workload then.
PHOTO OF THE DAY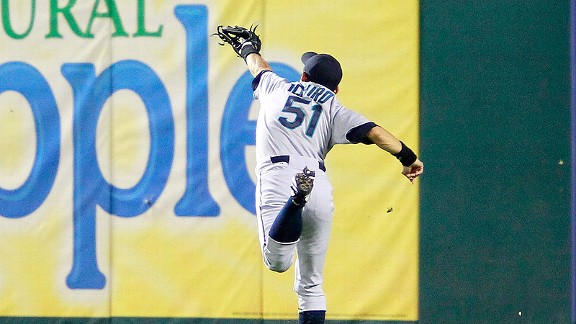 Rick Yeatts/Getty ImagesIchiro might be getting up there, but he can still get on his horse and ride.
Christina Kahrl covers baseball for ESPN.com. You can follow her on Twitter.