June, 28, 2013
6/28/13
11:30
PM ET
Fun fact: In baseball history, there have been 18 seasons in which the MVP and Cy Young winner have come from the same team -- not counting guys who won both awards -- and it's starting to look more and more like the
Detroit Tigers
are going to add to that total this year.
On Friday night,
Max Scherzer
improved his record to 12-0, but it was
Miguel Cabrera
who was the big story, as the reigning Triple Crown winner/AL MVP went 4-for-4 with two more homers and a double in a 6-3 win against the
Tampa Bay Rays
.
Cabrera now has 24 home runs, 81 RBIs and is hitting .377 (!) with a .464 OBP. He leads the AL in the latter three categories, and as good as
Chris Davis
is playing -- he actually has a slight edge in OPS+ -- it seems like the MVP award is once again Miggy's to lose. Nothing against Davis, but Cabrera's track record leaves me with a lot more confidence that he can keep this up. Additionally, Detroit seems poised to win the AL Central, and that usually plays well in awards voting. (Another fun fact: Of the 18 pairs of teammates to win MVP and Cy Young in the same year, 17 of them played for teams that finished in first.)
That brings us to Scherzer, who, as
Dan Szymborski wrote earlier this week
, projects to win the Cy Young award, and he helped his case by improving to 12-0 on Friday.
He wasn't at his absolute best, as he allowed homers to
Wil Myers
and
Ben Zobrist
, but he struck out nine in seven innings to become the first pitcher since
Roger Clemens
in 1986 to win his first 12 decisions of the season. (One final fun fact: In the divisional era, the
longest streak to begin a season
without taking a loss is 26 games, set by Dave McNally in 1969. He didn't take his first loss until August!)
The wins are a big reason Scherzer has the lead in the
Neyer-James Cy Young Predictor
, and they are also a fun piece of trivia, but let's not make them out to be more than they are. He has had a couple of cheapies -- such as when he allowed five runs in five innings against the Royals on April 24 -- and he'd be getting a lot less attention if he had taken a loss or two, even if he had pitched exactly the same.
That's the thing about pitcher wins (or saves or RBIs, for that matter): I don't mind them as stats, I just don't like seeing things attributed to those numbers -- or players who accumulate them -- that don't exist. Good pitchers win games, but lots of randomness is involved that is completely out of the pitcher's control. Go take a look at
Nolan Ryan's 1987 season
if you want to see what I'm talking about.
To quote a smart
tweet by Joe Sheehan
earlier today: "Stats are just information. It's what people do with the information that's bad." And by focusing on the wins, you lose sight of the fact that Scherzer is pitching better than he ever has before. His walk and home run rates are down a touch, and his FIP is actually lower than his ERA, which suggests he's pitching even better than his ERA indicates.
No matter how you slice it, it's another fun summer to be a baseball fan in Motown. I just hope Tigers fans are cherishing these last few summers of Miggy,
Justin Verlander
and now Scherzer, because these kinds of performances don't come around all that often.
May, 19, 2012
5/19/12
12:35
AM ET
By
Christina Kahrl
| ESPN.com
Justin Verlander
very nearly pulled off a no-hitter against the Pirates, which would have been his third career no-hitter. Two outs shy of the feat, the Pirates'
Josh Harrison
waved his bat in time to flick a soft liner up the middle, thwarting the top gun's bid for history.
If Verlander had pulled it off, he would have joined a very short list of people with more than two career no-nos, a select group populated by just five other men in baseball history: Nolan Ryan (seven), Sandy Koufax (four), and Cy Young, Bob Feller and Larry Corcoran with three apiece.
On a visceral level, it's a group he belongs to, but it's also one that might really become just a list of two men before Verlander's done with it. Not because Verlander's a 100 percent lock to throw another no-no (although these days, would you bet against him?). Rather, as a matter of his ability in the face of a time when -- even if you consider this "Year of the Pitcher 3," even while strikeouts are at all-time highs -- it still isn't that easy to dominate, not like this. But before all is said and done, it shouldn't surprise anybody if the top of this list might be just Nolan Ryan and Justin Verlander before Verlander is done with it.
That isn't meant to take anything from the other men on this list. However, as a matter of simple fact, they were competing at different times, confronting very different challenges in very different competitive environments. Corcoran was throwing from 10 feet closer to home plate, back under the old pre-60-feet-6-inches rules in the 19th century, and in all-white leagues. Cy Young was pitching during the dead ball era, when he was throwing something dark, lumpy, and vaguely baseball-ish. Feller threw two of his no-hitters before integration -- a cause that he bravely championed before it was an accomplished fact -- was at long last achieved. Koufax had the high mound of the 1960s going for him, and that plus the Dodgers' move to pitcher-friendly Dodger Stadium helped him as he mastered his incredible talents for overpowering people.
Pitching in today's game, Verlander doesn't have any of those things going for him, any more than Ryan did during his remarkable career. Take it from somebody stupefied as a youngster that Mike Warren had no-hit the White Sox back in 1983: You can't predict no-hitters from anyone. But if Verlander was to add one, let alone two no-hitters on his career, wouldn't that seem like a matter of his talent delivering its due?
On the other hand, Verlander is pitching at a time when there are other advantages and disadvantages. Interleague play gives you a shot at pitching to opponents who might only know you from spring-training scrimmages and "Baseball Tonight" highlights. Only four Pirates in Friday night's lineup had ever faced Verlander in a game that counted:
Andrew McCutchen
,
Casey McGehee
,
Neil Walker
and
Garrett Jones
.
Also, it probably didn't hurt Verlander any that this was an interleague game. The extent to which some teams are less ready than others for interleague play might be best reflected in their lineup choices. Going up against Verlander, who was the Pirates' designated hitter? None other than Harrison, who came into the game with a .256/.275/.436 line on the year. In an increasingly desperate yet fruitless pursuit of runs, the Bucs have sat Opening Day left fielder
Alex Presley
, on the off-chance that getting journeymen McGehee and Jones into the lineup simultaneously will help matters. You can't really blame Verlander for mowing the Pirates down; pitting Pittsburgh against one of baseball's best starters has "historic result" potential any written all over it.
But even saying that takes nothing away from Verlander. The Pirates are a big league team, and it isn't like anyone in their lineup clearly doesn't belong in the major leagues. McGehee had homered off Verlander before; McCutchen had ripped a couple of doubles.
Those four Pirates who had faced Verlander before were a combined 5-for-14 against him coming in -- and fat lot of good that did them, because he was
on
. Even in an age armed with advanced scouting and video-enhanced batting cages for virtual at-bats, when a guy this good is on, let's face it, you're off. And knowing all that we do about how hard it is to no-hit anybody even once, that's as beautiful a thing as the diamond can give us, on this or any night.
PHOTO OF THE DAY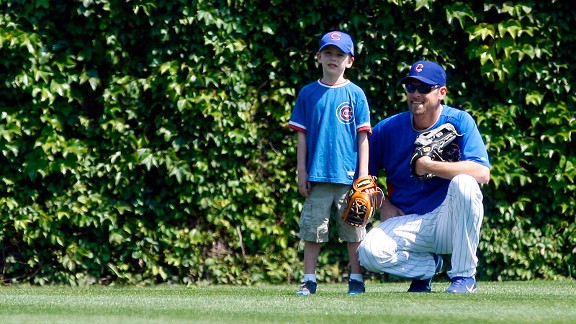 Jerry Lai/US PresswireOn his very last day at the office, Kerry Wood took his son to work.
May, 5, 2012
5/05/12
12:15
AM ET
Earlier this week, when
Evan Longoria
went down with a hamstring injury, there was a
piece written on this very blog
by David Schoenfield saying that the
Tampa Bay Rays
would be able to survive the loss of their third baseman. And as we sit here on Friday night with the Rays having won six straight -- four of which came without Longoria -- it's safe to say that Mr. Schoenfield is looking pretty smart.
Why are the Rays so well-equipped to survive the loss of an All-Star? Because their starting pitching is the envy of the American League, and it begins with
David Price
, who struck out 12
Oakland Athletics
in eight innings of work on
Friday in a 7-2 victory
.
Price has been among the better pitchers in baseball over the past two seasons, but it always seemed like he had another level he could reach. He's always been incredibly reliant on his fastball -- and with good reason -- but all of his pitches seemed to be on the same plane. You hear scouts and coaches talk about "changing a hitter's eye level," and Price's offerings have a tendency to to come at hitters from the same angle. As good as his heater is, that weakness makes him hittable when his location is a bit off.
[+] Enlarge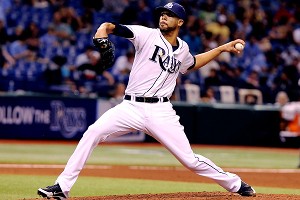 Kim Klement/US PRESSWIREDavid Price struck out 12 A's on Friday and the Rays won their sixth straight game.
This season, Price has taken to throwing his off-speed stuff with a lot more frequency. Per FanGraphs, he threw either his breaking ball or changeup roughly 20 percent of the time in 2011, and that figure is up above 25 percent this season. That's mostly due to the increased use of his change (approximately 20 percent), though on Friday he threw roughly the same number of each off-speed offering.
That increased use of the change is evident in his performance against right-handed hitters, who have a .574 OPS against him this year, as opposed to lefties, who have a .681 mark. For comparison, righties had a .708 OPS against him in 2011, while lefties posted a .508 OPS.
His strikeout numbers are actually a bit down, as he's fanning just 6.82 men per nine innings. However, the combination of Price's two-seam fastball and changeup is allowing him to generate more ground balls than ever. Price currently has a ground ball-fly ball ratio of 1.14, and his previous career high is 0.85. The Rays' defense is always among the best in the league, so there is no harm in Price sacrificing strikeouts for ground balls. Of course, he did fan 12 men tonight, so don't think he's becoming some sort of pitch-to-contact specialist.
Price's use of his changeup bears watching this season, as he has always need a reliable off-speed pitch to combat righties when his fastball wasn't at its best. If this early-season performance is a sign of what's to come, we're looking at a Cy Young candidate.
May, 6, 2011
5/06/11
4:09
PM ET
To go with our Willie Mays package today, SportsNation worked up a list ranker with 30 of the greatest players of all time. Don't agree with me that
Willie Mays was the greatest ever
? Then
Click here to vote
yourself.
Here's my quick list without spending too much time thinking about it:
1. Willie Mays: He could hit, hit for power, run the bases and field with the best we've ever seen. Could have won as many as 10-11 MVP Awards.
2. Barry Bonds: If he had played center field instead of left, I'd consider him for No. 1.
3. Babe Ruth: I'd like to see him hitting 95-mph fastballs on a regular basis.
4. Hank Aaron: A testament to longevity, consistency, durability and greatness.
5. Stan Musial: Won three MVPs and finished second four other times.
6. Ted Williams: Maybe the greatest hitter of all time, but I give Musial the slight all-around edge.
7. Albert Pujols: Barring injury, he's this good.
8. Roger Clemens: We don't know what he did and if it helped. But we know what he did on the field. Greatest pitcher of all time.
9. Mike Schmidt: Dominated the mid-'70s to the mid-'80s. Eight-time home run champ and one of best fielding third basemen ever.
10. Walter Johnson: Could have dominated in any era.
11. Honus Wagner: Won batting titles, ran the bases and hit for power in the dead-ball era.
12. Lou Gehrig: Only strike against him is he didn't play a premium defensive position.
13. Alex Rodriguez: You can't deny the numbers.
14. Lefty Grove: The most underrated great pitcher of all time. Won nine ERA titles.
15. Mickey Mantle: If only he had stayed healthy.
16. Ty Cobb: Would love to go back in time and bring him back to 2011.
17. Josh Gibson: They say he hit 'em longer than the Babe.
18. Joe Morgan: The most underrated great position player of all time. Did everything well.
19. Rickey Henderson: The object is to score runs and nobody has scored more than Rickey.
20. Greg Maddux: 355 wins, fourth-most starts, more pitches painting black than anyone.
21. Cal Ripken: Overrated as a hitter, underrated as a fielder.
22. Tom Seaver: Mets fans still can't believe they traded him.
23. Pedro Martinez: At his
peak
, the best ever. Four pitches that made batters cry.
24. Frank Robinson: And to think he was only third-best NL outfielder of the early '60s.
25. Johnny Bench: Knees gave out, but those first 12 seasons were amazing.
26. Satchel Paige: Was he even the best Negro Leagues pitcher?
27. Rogers Hornsby: No denying his hitting numbers. Too low? Maybe so.
28. Pete Alexander: Won 94 games over one three-year span, impressive even for the time.
29. Cy Young: Yes, you can say I'm disrespecting the 19th century.
30. Sandy Koufax: A little bit of a product of his time and a huge home/road splits, plus short career for this list.
Follow David on Twitter: @dschoenfield. Follow the SweetSpot blog: @espn_sweet_spot.
March, 5, 2011
3/05/11
11:30
AM ET
One of my baptismal moments as a baseball fan came when I was about 9 or so, and I had a new baseball card that was one of those historical tributes, this one to Walter Johnson. Riding in the back of our '76 Plymouth van, I quizzed my dad on how many career strikeouts the Big Train had, thinking there was no way he would get the exact four-digit number. When Dad said "3,509," I was flabbergasted. How could he possibly have known?
[+] Enlarge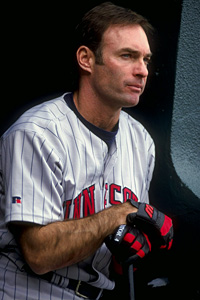 Doug Pensinger /AllsportHall of Famer Paul Molitor, who retired in 1998, is the last player to crack the top 10 in all-time hits.
Soon enough, I learned the joy of losing myself in baseball's career stat leaders. In that long-before-the-Internet era, you would pore over the Baseball Encyclopedia or the Street and Smith's annual preview. We never saw Johnson or Ty Cobb play, but through those numbers (which later proved to be subject to correction by baseball researchers), they began to gain a purpose. They began to gain an identity.
Things change. Johnson, who was No. 1 in career strikeouts when I was a boy (in fact, was the tops from 1921 through 1983), is No. 9 today. Steve Carlton passed him first, then Nolan Ryan leapfrogged Carlton and obliterated the mark, finishing with 5,714. Besides Johnson, just one pre-World War II pitcher is left in the top 20. That's Cy Young, resting in 20th place with 2,803.
With marriage and three children, I'm forced to live much more in the present than maybe I'd like to, especially from a baseball standpoint. It's been years since I've luxuriated in the career tables like I did in the past -- one of life's simple pleasures lost to a much more complex existence. And so when I turned my attention to the career strikeout leaders today, it didn't surprise me much that so much change had occurred.
But when I looked over at the career hit leaders, I was taken aback -- by the utter stability of it all. It was as if it were frozen in time, but the truth is, that top-10 list is a boulder that would not be moved.
It was just as I left it as a single man. The most recent player to break into the top 10 was Paul Molitor, whose major league career began before my 11th birthday and ended back in 1998. Carl Yastrzemski was the only other top-10er to play into my teen years.
I mean, I don't know what I was expecting -- and those of you with healthier attention spans will think me a fool for being the least bit surprised, so forgive me -- but how wonderful, how glorious, how … viscerally energizing it was to see these names hold up over time. Rose and Cobb and their angry, cantankerous 4,000-plus hit careers. The classy Hammerin' Hank and Stan the Man holding strong in third and fourth. The classic old-timers -- Speaker, Cap Anson, Honus Wagner -- in the meat of the lineup at 5-7. At eight and nine, Yaz and Molitor, young whippersnappers even as they court the AARP demographic.
And then … this was my favorite. No. 10, with 3,315 hits: Eddie Collins. To my utter shame, I haven't given Eddie Collins a nanosecond of thought in years. My mind has been too polluted by extraneous, worthless details like work and family to give Collins the time of day -- and yet there he sits, steady as granite. Mays couldn't catch him. Murray and Ripken couldn't catch him. Yount and Gwynn, Winfield and Biggio, Henderson and Carew, Brock and Palmeiro and Boggs … all playing in the 162-game era, many with the designated hitter rule in their right pocket, and none could touch Collins, born in 1887, christened in 1906, retired by 1930. When he passed away in 1951, he was fifth all-time in hits. Sixty years later, he's lost only five spots.
Soon, Collins might finally face his top-10 eviction notice.
Derek Jeter
has 2,926 career hits, more than any ballplayer at age 36 since Yount, two decades ago. By July, Jeter will probably break 3,000 and (with all the subtle media coverage of a moon landing) become the 28th man to reach that milestone, leaving him perhaps no more than two years away from Collins. Behind Jeter looms
Alex Rodriguez
, barely 600 hits from Collins and Molitor at age 34.
After that? Maybe 36-year-old
Ichiro Suzuki
has more than 1,000 hits left in him to catch Yastrzemski. Quite possibly, 30-year-old
Albert Pujols
, who has 1,900 hits in his first decade, picks up close to the same in his second, knocking out Wagner.
And so maybe that stability on the all-time hits list is headed by the wayside. Hours ago, I wouldn't have known what I missed. But now I wonder … I miss Walter Johnson in that No. 1 spot. Is it that crazy that I might miss Eddie Collins at No. 10?
If it is, all I can say is that's the same kind of crazy that made me the baseball fan I am today.
Jon Weisman writes about the Dodgers at Dodger Thoughts for ESPNLosAngeles.com. Follow him on Twitter.
September, 3, 2009
9/03/09
4:25
PM ET
With no prototypical overwhelming Cy Young candidate in the American League, you're going to start hearing some talk about Mariano Rivera, who's finished second or third in the balloting four times but has never won the award. And not as some sort of Lifetime Achievement Award; he may turn 40 this winter, but he's turning in one of his best seasons in a long string of a great ones.
Actually, the talk has already started, and Craig Calcaterra's having none of it:
Look, I love me some Mariano Rivera. He is, bar none, my favorite Yankee of the Torre-Girardi era. But 60 or so innings of 1.78 ERA pitching is simply nowhere near as impressive nor valuable as 200+ innings of 2.32 ERA, and that's before you even get into peripherals. That latter number is from Zack Grienke who, if he played for anyone other than the Royals, would be cruising to 20+ wins right now and we wouldn't be having this conversation. The Cy Young award is an individual award, and as things currently stand, the only reason to not give it to Zack Greinke is if you look past what he has done as an individual and give him demerits for the performance of his teammates.
Look, the best starting pitcher in the league is always going to be my default choice for the Cy Young Award. This year, that's obviously Zack Greinke. In this decade, only one American League pitcher has enjoyed a demonstrably better season than Greinke's 2009 (so far):
Pedro Martinez
. Unless Greinke pitches poorly this month, it'll be awfully hard to justify giving the award to anyone else (though lots of people will try, particularly if
CC Sabathia
or
Felix Hernandez
wins 20 games).
That said, I do worry that some of my friends are a bit too quick to dismiss the reliefers. Craig's probably right about Rivera this season, because he did give up some runs early in the season and he will wind up with only 60-some innings (particularly in light of his injury).
But Rivera's job is to seal the deal in close games, and while nobody's ever been better than him, this season he's been particularly effective, converting 38 of his 39 save opportunities. Even good closers typically blow five or six saves in a season. Last season, Francisco Rodriguez set a record with 62 saves but blew seven chances; this season he's converted 28 of 33.
One might argue, then, that Rivera's been roughly five games better than a good closer. Which is, what? Eight or nine games better than a replacement-level closer? Eight or nine games is a LOT.
So if you find a full-time closer who's perfect or very nearly perfect -- as Brad Lidge was last season, and Rivera has been this season -- let's take a long, serious look at him. Because in a season without a Pedro Martinez or a Zack Greinke, he just might be the most valuable pitcher in the league. Even at 65 or 70 innings.