April, 21, 2012
4/21/12
7:52
PM ET
By
Christina Kahrl
| ESPN.com
Don't count anybody out, ever. But perfect?
Philip Humber
was never supposed to be perfect, but on the 21st day of April he was exactly that: the 21st pitcher to deliver a perfect game and the first to throw one since
Roy Halladay
threw the 20th on May 29, 2010. It was also the first American League perfecto since
Dallas Braden
on May 9, 2010.
But he was never supposed to be perfect. After all, he had proven so very imperfect since being the third overall pick of the 2004 draft. Touted as a top Mets prospect, he blew out his elbow in 2005, and it wasn't long before he was referred to as another example of a Rice pitcher who got hurt and hadn't lived up to the hype. Unimpressed with his minor league performance after coming back from Tommy John surgery, the Mets bundled him into the four-for-one swap that brought them
Johan Santana
before the 2008 season.
[+] Enlarge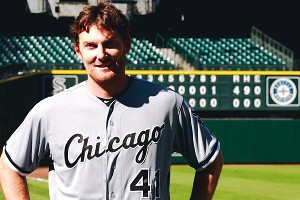 AP Photo/Elaine ThompsonThe White Sox are Philip Humber's fifth organization since he was drafted third overall in 2004.
But the Twins never let him start a single game in the majors after making 48 starts over two years at Triple-A, simply letting him slip away after 2009 rather than keep him on the 40-man roster. The Royals picked him up ... and
they
left him in Triple-A. However desperate the Royals were for pitching of any flavor, they lost him on waivers after the 2010 season to the A's. They were just looking for a possible fifth starter. But the A's lost him on waivers a month later when they decided they had a better way to use to spot on their 40-man roster, signing free agent
Grant Balfour
.
That is where the White Sox stepped in, grabbing Humber off waivers. Their goal for him wasn't any higher than anyone else's. He looked like a good guy to stash at the back end of a rotation -- a fifth guy, a bubble guy on an organizational depth chart, a guy only as good as his last start before giving him much thought. He was somebody who sticks only as long as he earns his keep and who won't be forgiven a run of bad starts.
That was his due, because at no point did Humber dominate in Triple-A. Across four years bouncing among organizations, flitting from New Orleans to Rochester to Omaha, from the Pacific Coast League to the International League and back again, he posted a 4.67 ERA in Triple-A. His clip of 6.9 strikeouts and 2.7 unintentional walks per nine reflected a pitcher who had good command.
With heat that just bumps above 90 mph and good command of four pitches, he's a finesse righty, and those don't catch many breaks. But he promptly proved he belonged last season, getting that last slot in the White Sox's rotation and keeping it, earning job security he'd probably only heard about happening to other people. And now, having achieved history as a strike-throwing machine, those days should be behind him for some time to come.
He's not the first such find for general manager Kenny Williams, though. The White Sox have made a cottage industry out of giving second chances to other teams' tarnished top prospects.
Gavin Floyd
looked like a Phillies flop after being the fourth overall pick of the 2001 draft;
John Danks
was the ninth overall selection for the Rangers in 2003, but they dealt him for
Brandon McCarthy
after seeing him deliver mediocre results at Double- and Triple-A. Good pitching might be hard to find, and not everything Williams touches turns to gold, but these are the benefits of betting on upside risk.
Humber might have had the good fortune to face the Mariners, a woeful lineup, in Safeco Field, a great place to pitch. But other people get those chances, and they don't deliver perfection. It's because of these finds that the Sox have the best rotation in the American League Central, and how they do will define how far the Sox might go this season. As Humber just showed, that might be a lot better than you ever expected.
Christina Kahrl covers baseball for ESPN.com. You can follow her on Twitter.
February, 2, 2012
2/02/12
6:45
PM ET
Diane over at the Value Over Replacement Grit blog needs your help: She's putting together a bracket of the 64 best names in major league history.
Click here for details on submitting your suggestions to her
. Great idea, Diane. Can't wait to see the bracket.
OK, some other good stuff from the network:
January, 15, 2012
1/15/12
7:35
PM ET
By
Christina Kahrl
| ESPN.com
Bartolo Colon
reportedly took
a one-year offer
Sunday from the
Oakland Athletics
. This is another win-win move in a down market for a team and a starting pitcher who need one another. The A's need warm bodies, even ones as well-insulated as Colon's, while Colon needs the gig.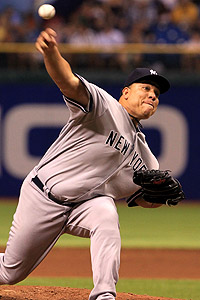 Kim Klement/US PresswireBartolo Colon should benefit from a move to Oakland.
Colon is coming off a year where he delivered his best strikeout rate since 2001, whiffing 19.5 percent of all batters faced for the Yankees as a back-end innings-muncher. Even allowing for the fact that strikeout rates are at an all-time high today, that's pretty nifty for a comeback that initially inspired snickers or despair in the Big Apple. Colon silenced that derision despite his bulk, even while inviting some controversy over the stem cell treatments to his elbow that gave the veteran a chance to come back in the first place.
Knee problems down the stretch helped end his year on a sour note, but Yankee Stadium probably wasn't the best fit for Colon in the first place. Lefties crushed him for an .880 OPS (against his .621 vs. right-handed batters), and he gave up 15 of his 21 home runs to lefties, including seven of the 11 he allowed at home. Yankee Stadium is the best ballpark for lefty power in the game today, and Colon is essentially a fastball pitcher who survives on changing speeds; his slider's really just a show-me pitch, so left-handed hitters could afford to sit dead-red and hammer him.
But why should Colon go to the A's? First, Colon really couldn't do much better than the Coliseum as far as picking a place to pitch. While he's been a fly ball-oriented pitcher his entire career, per Baseball Info Solutions, the A's home park ranked 12th in the AL for three-year park factor for home runs. While everyone likes to harp on how great grounders are, in a park like the Coliseum fly balls aren't evil -- they're a high-percentage outcome for getting outs.
Second, the game has a time-honored tradition for retreads marking time with low-budget also-rans fielding a simulacrum of a competitive team while the prospects get readied. That's what
Livan Hernandez
was good for with the Nationals the last couple of years, for example. There was no real expectation of greatness, just a hope for 30 workmanlike starts.
Some teams have made providing safe havens for low-cost veterans into a cottage industry. Perhaps the most memorable was the Montreal Expos in the 1980s. They basically spent a decade thriving as a haven for veteran retreads looking to pitch for pennies and rebuild their careers. Dennis Martinez started his second act for the Expos, going 100-72 in eight years with a 3.06 ERA after the Orioles gave up on him. Other veterans who got a new lease on life included Pascual Perez (28-21, 2.80 ERA in 65 starts), Oil Can Boyd (16-14, 3.15 ERA in 50 starts). The benefits of trawling in this end of the market was perhaps best reflected by Zane Smith: Picked up for nothing from the Braves in 1989, then dealt a year later in 1990 with a 2.79 ERA as an Expo. The payoff?
Moises Alou
, Willie Greene and lefty reliever Scott Ruskin.
For a veteran pitcher like Colon or
Erik Bedard
(who signed a one-year, $4.5 million deal with the Pirates a month ago), one of the nice benefits of signing with a team headed nowhere is that you don't have to worry about picking the right team if you want to pitch on a contender. The contenders have better Plan A options, at least until injuries hit. Perhaps the best way to be a Plan B alternative is pitch somewhere in the majors that's ready to deal you at the first sign of success. Pitch well, and your grateful dumpster-diving temporary employer will agreeably flip you to a winner worried about its rotation depth at the end of July or August.
Finally, Oakland flat-out needs warm bodies to help guarantee that they won't be piling up mileage on the Sacramento shuttle from Triple-A. With cost control being job one for Billy Beane and David Forst, the last thing they want to do is start the service-time clocks of
Jarrod Parker
or
Brad Peacock
any earlier than necessary.
That won't be easy to do, considering the fragility of almost all of the A's current rotation choices.
Dallas Braden
and
Brett Anderson
are both going to be trying to come back from injury-marred 2011 seasons, while
Guillermo Moscoso
,
Josh Outman
and
Brandon McCarthy
all have unhappy track records where the DL is concerned. The bloated Colon may be a doubtful paragon of durability, but he'll help fill up game time and roster space for the time being.
Christina Kahrl covers baseball for ESPN.com. You can follow her on Twitter.
April, 19, 2011
4/19/11
2:52
PM ET
I joined Eric for Tuesday's
Baseball Today podcast

and we had a grand old time talking baseball.
Tim Lincecum's no-hit bid against the Rockies and why he's my favorite pitcher to watch.
After a nice outing, what do you make of Daisuke Matsuzaka?
Carlos Zambrano had one of his best starts in years. Who wins more games, Cubs or Indians?
Injury issues: Joe Mauer, Franklin Gutierrez, Dallas Braden.
Mailbag: Is Cole Hamels an ace? Best unwritten rules in baseball. Should the Mets use a six-man rotation?
Preview of Tuesdays games and more talk of Carl Crawford hitting seventh.
April, 18, 2011
4/18/11
8:23
PM ET
By
Christina Kahrl
| ESPN.com
As postseason propositions go, the A's October hopes rest pretty heavily upon the availability of their best rotation starters. With a core four aged 27 or younger, the young guns of Oakland represent the team's best weapon in an AL West race, especially with the expectations that young equals "bound for bigger and better things." And in the age of hyper-awareness of pitch counts and carefully managed workloads, that's an expectation that may be more reasonable to harbor for young pitchers than it has been in decades.
Unfortunately, every well-laid plan has the problem of running up against the realities of asking people to make their living doing an unnatural act -- like throwing a baseball -- and how hard it can be to sustain a career doing it. The news that
Dallas Braden
is making another trip to the DL hardly represents a surprising development for
the hero of 209
: in the big-league portion of his career alone, Braden has already spent significant chunks of 2009 and 2010 on the DL.
However, the especially bad news is that this latest injury is the return of an old bit of bad news. Where 2009 was an unusual injury (an infection in his left foot that wound up causing nerve damage and cost him two months), and 2010 was his soreness and inflammation in his forearm and elbow (costing him a month), this latest injury is a stiff shoulder -- the same joint that Braden needed surgery on back in 2006.
How well can the A's get by without him? Last year's rotation relied fairly heavily on his contributions, as his 2.9 WAR rated third behind those of
Trevor Cahill
(4.2) and
Gio Gonzalez
(4.0). Even though WAR's a cumulative stat and not a rate metric, Braden's relative ranking isn't cheated by his absence last year. From among last year's front four in Oakland, here's where his contributions ranked:
| | | | | | | | | | |
| --- | --- | --- | --- | --- | --- | --- | --- | --- | --- |
| Pitcher | GS | QS | IP | UBB% | K% | HR% | SNWP | ERA | SIERA |
| Cahill | 30 | 21 | 196.2 | 7.9% | 15.1% | 2.4% | .603 | 3.34 | 4.16 |
| Gonzalez | 33 | 23 | 200.2 | 10.7% | 20.1% | 1.8% | .580 | 3.36 | 4.11 |
| Braden | 30 | 17 | 192.2 | 5.5% | 14.5% | 2.2% | .547 | 3.88 | 4.45 |
| Anderson | 19 | 13 | 112.1 | 4.3% | 15.9% | 1.3% | .574 | 3.28 | 3.72 |
As far as a few quick explanations, SNWP is Support-Neutral Winning Percentage, a metric which gives you an idea of what a team's expected winning percentage should be in the guy's starts, with .500 being the definition of mediocrity. Last year,
Felix Hernandez
and
Roy Halladay
gave their teams MLB-leading SNWP marks of .646, which is another way of saying that the non-Braden trio rated pretty high last year -- among pitchers with 100 or more innings, Cahill (10th), Gonzalez (19th) and Anderson (22nd) rated well up the leader board. Braden clocked in with a still creditable 41st overall, so on most teams, his departure might be seen as crippling. For the A's, he's fourth man in an excellent front four.
The other metric you may not be familiar with up there is SIERA, which sabermetricians Matt Swartz and Eric Seidman developed on Baseball Prospectus last year, finding that
it does a little bit better
than FIP or xFIP. What it's particularly handy for is giving you a broad-strokes indicator of which way a guy's ERA is subsequently likely to go -- which in the case of Braden in particular takes us a wee bit closer to mediocrity, not that teams can't win pennants with a fourth starter with an ERA around 4.50.
[+] Enlarge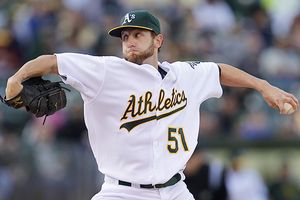 AP Photo/Ben MargotDallas Braden dealing, not dealing with the DL.
This isn't the same thing as saying that Braden won't be missed during his absence of an as-yet-to-be-determined length, because there's a lot of value to being able to pitch only a little bit better than average over the duration of baseball's six-month season. (Witness the bidding on starting pitchers every winter.) The problem should also be less one of replacing Braden for two or three turns in the rotation, especially if fifth starter
Brandon McCarthy
remains among the hot hands of spring and pitches like he was making up for lost time. Which McCarthy is, having once been rated among the top 50 prospects in baseball (by Baseball America, before 2005), before he was felled by a litany of injuries almost as long as he is tall at 6-foot-7.
There's a bigger problem beyond the concern for Braden created by his absence, though, or the hope that his replacement -- probably either
Tyson Ross
or
Bobby Cramer
-- does well. Ross is a good enough prospect that he'd rate well as most people's fifth man, while Cramer's a root-worthy underdog as a well-traveled veteran of the independent leagues as well as Mexico. Thanks to a couple of days off and the way the schedule unfolds, if Braden only misses the minimum the A's will only need a fifth starter once in that time. No, the real question with Braden's setback is whether or not this is the latest unhappy development for an A's team only too used to seeing players break down, including three of these core four starting pitchers last year, because both Cahill and
Brett Anderson
also spent time on the shelf last season. Maybe some of that was caution, but could this be a return of last year's problems?
The hope was that things might improve with yet another non-player staffing change in the trainer's room. After a lot of turnover on the training staff in the past few years, Nick Paparesta is in his first year as the team's latest head trainer, having come over from the well-regarded, award-winning Rays' operation. Paparesta's hiring was taken as a step in the right direction, but with Braden's latest breakdown, you can understand the broken-record element to this story as far as the A's are concerned.
At best, losing Braden to an injury can serve as a three-part reminder of sorts: that perhaps no amount of diagnostic acumen can prevent some players from breaking down, that an ability to maintain health is an underrated skill, and that it's a skill that, almost as a matter of professional hazard, few pitchers ever master.
The last thing the A's need now is another cause to question whether or not they're going to see another season handicapped by too much time lost to injuries. With Braden joining closer
Andrew Bailey
and key set-up reliever
Michael Wuertz
on the DL, you can wonder if the A's aren't dealing with a more basic problem -- that perhaps it wasn't the trainers, but the on-field talent itself that's the issue. If health is a skill, and it's one the A's turn out to lack, their chances of unseating Texas might take even bigger hits than Braden's latest setback in the long season to come.
Christina Kahrl helped found Baseball Prospectus in 1996, is a member of the BBWAA, and covers baseball for ESPN.com. You can follow her on Twitter here.
March, 31, 2011
3/31/11
2:12
PM ET
You have to love
Dallas Braden
. The dude's fastball doesn't crack 90, but he knows how to get hitters out. Plus, he's one of the best interviews in the game. And he even had a little fun with my pal Jim Caple, presenting his 10 rules for 2011 for
his
mound. Take a look:
September, 24, 2010
9/24/10
11:40
AM ET
Hey, at least
somebody
hasn't officially conceded the American League West championship. We can always count on
the King of Bradenia
:
Dallas Braden hasn't conceded anything yet.

The left-hander allowed one hit in eight innings and the Oakland Athletics beat Texas 5-0 Thursday night, stalling the Rangers' pursuit of their first AL West title since 1999.

"There's no obese lady in sight and I can't hear any singing," Braden said.

Braden (10-13) outpitched Cliff Lee to end his four-game losing streak and keep Texas' magic number at four for clinching the division. The A's moved within seven games of first-place Texas.

"I'll see you in October," said Braden, who has held the Rangers scoreless for 18 straight innings over three games since Aug. 6.
You have to love Braden's confidence (or cockiness; you decide) and you have to love the way he's pitched this season (except for his strikeout rate, but let's not quibble about such trivialities so soon after he pitched so well).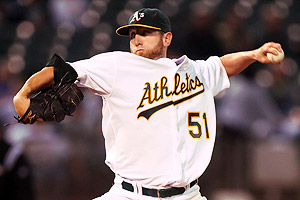 Jed Jacobsohn/Getty ImagesDallas Braden pitched 8 innings Thursday night, giving up just one hit.
October, though?
Actually, yeah. Braden's turn in the rotation will come up on October 3 ... the last day of the scheduled regular season. So yeah, we'll probably see him again.
I don't think that's what he meant, though. I think he was trying to rally the troops for an assault on the first-place Rangers, these last 10 days of the season. And somewhat suddenly, the notion doesn't seem utterly preposterous.
Ridiculous, maybe. The A's are still seven games out of first place. Just to give you an idea, if the Rangers win just
two
of their remaining 10 games, the A's have to win nine of their last 10 just to force a one-game playoff for the division title.
I suppose it really is preposterous.
You know how players always talk about taking everything "one game at a time"? I don't think that's applicable here. The A's need to begin by taking three at a time; namely, these next three games against the Rangers. If they can sweep this series, then they (and you, if you enjoy such things) can begin to dream a little. A sweep would leave the A's four games out of first place with seven games to play. This would still require a historic comeback, but at least you can sort of understand the math.
And I have to say, a sweep isn't impossible. Not with
Josh Hamilton
out of action and Cliff Lee already having pitched in this series, and the games in Oakland. It's just a shame that nobody's going to be in the Coliseum to help; there probably weren't 10,000 fans in the ballpark Thursday night.
July, 8, 2010
7/08/10
4:26
PM ET
Well, it looks like
the war is officially over
. Ben Shpigel:

A détente was seemingly reached in the Alex Rodriguez-Dallas Braden feud Tuesday, when Braden sent over what could be construed as a peace offering. Rodriguez received a "Get Off My Mound" T-shirt and a personalized poster commemorating Braden's perfect game. According to The San Francisco Chronicle, Braden wrote, "Dear Alex, here's the poster you requested. I think you're right, it will look great over your mantel. .... I know you realize it's all in fun." Rodriguez signed 10 of those T-shirts to be auctioned off for charity. It is expected that Braden will also sign them. "It's all good," Rodriguez said. "It was really, really nice."

As a human being, these latest developments have me grinning stupidly and thinking,
Awwwww
. Like I'm watching a YouTube video of a kitten playing with a St. Bernard. It's nice to know that if someone's going to be rioting in Oakland this week, at least it won't be the baseball players.
As a baseball fan, though? This stinks. I love the t-shirt, which 1) was brilliantly executed by the designer, and 2) fits perfectly in the franchise's "Green Collar" marketing campaign (which is more than just propaganda, as anyone who's been to an A's game this year can tell you; the difference between the crowds at the Coliseum and across the Bay at AT&T Park is wonderfully dramatic). Also, I just don't see the T-shirt -- as Braden apparently does -- as a slap at Rodriguez. I read it as, "I'm Dallas Braden and I don't care who you are, that's my mound and stay the $#&% off it."
Which is sort of cool.
Actually, what really stinks is that the Braden-Rodriguez feud, while it lasted, added some real color to the game. And now that everybody's pals again, that bit of color is mostly gone.
We'll always have fond memories of
Bradenia
, though.
July, 6, 2010
7/06/10
1:24
PM ET
Today's links need no introduction.
May, 10, 2010
5/10/10
5:25
AM ET
How unlikely was
Dallas Braden
's
perfect game
? According to the numbers at hand, it was
even more unlikely
than you might guess.

Braden
And leaving the numbers aside, a few years ago Braden would have been
far, far, far down the list of candidates
to do such a thing. Joe Posnanski:
Braden was never a prospect in the minor leagues either. Even in 2005, when he won 15 games in the minors and was named the team's organizational player of the year, he was still ranked as the 19th best Oakland A's prospect by Baseball America. The scouting report was build around the idea that he did not have a good-enough fastball or slider. The next year, he was not ranked among the A's 30 best prospects. In 2007, when he was called up to pitch when Rich Harden got hurt, he was certain it was a prank.

No, he was never highly regarded. He was not regarded at all. He was a left-handed pitcher with a Member's Only fastball — mid-80s — a bland slider and this one sleigh-of-hand pitch that would disappear into hitters' blind spots. Or anyway, it disappeared into MINOR LEAGUE HITTERS' blind spots … that first year in the big leagues, the league hit .303 against him, and after he won his first big league decision he lost his next eight. It was more or less a consensus that he wasn't getting big league hitters out with that stuff.
As a prospect, Dallas Braden did have one thing going for him: strikes.
He threw a
lot
of strikes. In Class A, Braden averaged
13 strikeouts
per nine innings. In AA, he averaged seven strikeouts per nine innings, which wasn't great but he would ultimately strike out 10 batters per nine innings in Class AAA (which is pretty great). Throughout, he walked roughly 2.5 batters per nine innings; not great, but perfectly fine when accompanied by all of those strikeouts.
So why didn't Braden make any noise on the prospect lists? Well, as Joe suggests, it was mostly because Braden didn't throw particularly hard. Of course that's actually too kind; Braden actually throws particularly
soft
compared to everyone except knuckleballers and Jamie Moyer.
But it wasn't completely that. Braden was a 24th-round draft pick. In his first professional season (2004) he pitched 39 innings and posted a 3.89 ERA. Worth watching, but far from special.
In his second pro season, Braden dominated in Class A (6-0, 2.68) before moving up to Double-A, where he went 9-5 with a 3.90 ERA. It was after that season that Baseball America ranked him as Oakland's No. 19 prospect (as Posnanski suggests, this was the only time Braden ever appeared in the top 30). The report concluded with this: "More advanced hitters were disciplined enough to lay off his breaking stuff and wait for his fastball, so he'll have to find a way to keep more patient hitters more off balance."
Seems fair enough, considering that Braden's strikeout-to-walk ratio had fallen from 5.82 in the California League to 2.22 in the Texas League.
In
his
book, John Sickels struck most of the same notes and gave Braden a
C
grade as a prospect, and had at least 17 Oakland prospects ranked higher. Sickels did conclude, "If his K/IP and K/BB marks hold stead, he could be a surprise." To say the least.
Basically, what everybody was saying was, "Hey, this kid is getting people out but he doesn't throw hard and we need to see what he does against better competition."
Which is enormously reasonable.
Well, in 2006 Braden didn't do anything against better competition. He was hurt, started only four games above Rookie ball and got plastered in those games.
But in 2007, Braden made something of a miracle comeback. After just a few starts in the minors, he got the call from the big club and debuted for the A's in late April. He did wind up back in Triple-A for a spell that season and the old numbers were back: lots and lots of strikes. But he pitched too many innings in the majors to make any prospect lists after the season.
Same thing in 2008: Braden dominated in Triple-A but was no longer considered a "prospect" by the common standards, so again he didn't make any lists.
Posnanski's right. Braden was never considered much of a prospect. But I can't fault any of the guys who make those lists. It's tempting in these situations to wonder what all those smart guys missed. You want to go back and find something they (or you) missed, like you want to go back and figure out how Penn & Teller could have just done something on TV that seems impossible. But maybe we didn't miss anything. Maybe there are just some things we can't know. And it's probably fair to mention, now that another day has dawned, that Dallas Braden and his 87-miles-an-hour fastball are still just 18-23 with a 4.49 ERA.
As a competitor, Braden gained extra respect from me when he staked out
Bradenia
.
As a pitcher, Braden gained extra respect from me when he threw a perfect game.
Even before Sunday, Braden had come a long way for a 24th-round draft pick. But if Braden really wants to shock everyone -- for more than a day, I mean -- he's going to have to throw
lots
of strikes in the majors, too.
April, 22, 2010
4/22/10
8:41
PM ET
LoHud's Chad Jennings on
that weird dustup
this afternoon involving
Dallas Braden
and
Alex Rodriguez
:
"He just told me to get off his mound," Rodriguez said. "I was a little surprised. I'd never quite heard that. Especially from a guy that has a handful of wins in his career."

The whole thing started when Rodriguez went from first to third on a foul ball by Robinson Cano. On his way back to first, Rodriguez ran across the pitcher's mound, which Braden saw as a sign of disrespect.

"I don't care if I'm Cy Young or the 25th man on the roster, if I've got the ball in my hand and I'm on that mound, that's my mound," Braden said. "... He ran across the pitcher's mound foot on my rubber. No, not happening. We're not the door mat anymore."
I was watching that game, and my half-hearted attempted to read Braden's lips did suggest the word "mound" preceded by f-bomb. So I thought maybe this was it, except 1) I hadn't actually seen Rodriguez running over the mound, and 2) I didn't know anyone would take exception to such a thing. There's something odd about this, though: The inning was over. Braden wasn't on the mound anymore. It wasn't his mound. Before Alex touched it, the third out had been recorded and it was
CC Sabathia
's mound. So there is, I think, something else going on here, something to which we're simply not privy.
My take on this is that your take is all about the context. If you're Alex Rodriguez or 20,000,000 Yankees fans, you have no idea what Dallas Braden is talking about. If you're one of Dallas Braden's teammates or 1,000,000 Athletics fans, you're thrilled to see one of your guys doing his small part to suggest the A's won't just roll over their collective back when the Alpha dog trots into the room.
No, the Yankees won't be intimidated by Dallas Braden or anyone else. They're too good, too experienced, too confident. But Braden wasn't yelling at the Yankees. Not really. He was yelling at himself, and at his teammates. Players have won MVP Awards for such things.
Correction:
As a few people have pointed out, my description of the events was missing something: A-Rod didn't barge across the mound after the double play; he'd done it a moment earlier, after a foul ball that left him near third base. So it
was
still Braden's mound. And whatever A-Rod's intent (or not), Braden had, according to long-held tradition, a legitimate beef. For more on this, check
It's About the Money
.
August, 11, 2009
8/11/09
3:45
PM ET
An update from Monday night,
from Pinto
:
Gio Gonzalez pitches his second consecutive short shutout as he allows seven hits and one walk over six innings against the Orioles. That gives him 12 2/3 straight scoreless innings, and four runs in his last four starts, covering 24 2/3 innings. Gonzalez is turning out to be a bit of good news as the Athletics play out the string.
I'm still not convinced of two things:
1. "Short shutout" is a better term than "shortout" (or "short-out").
2. Gio Gonzalez is going to make it.
Since rejoining the A's in late June, Gonzalez is 5-4 with a 5.23 ERA. Of course that's nothing special, but there's one disastrous start in there. Take out that one, and Gonzalez has been just fine for a 23-year-old starting pitcher who's getting just his second taste of the Big Boy League.
Also, his 6.41 career ERA is accompanied by 9.4 strikeouts per nine innings. That's a good thing.
He throws hard enough, hard enough anyway to set up his sweeping curveball. Also a good thing.
What's not good is Gonzalez's walk rate. He's walked nearly five batters per nine innings this season, he walked 6.6 per nine innings last season, and he's walked 4.6 per nine innings in Triple-A. A pitcher can survive high walk rates if the strikeouts are coming, too.
But survival's not good enough. Not for the A's, anyway. They need to develop at least two star pitchers and possibly three. Right now the top candidates are Dallas Braden, Gio Gonzalez, and young Brett Anderson. Braden has to get a little bit better. Anderson has to stay healthy. And Gonzalez has to keep most of the strikeouts while dropping roughly one walk per start.
Simple as that!