September, 30, 2012
9/30/12
12:12
AM ET
The best move of the season wasn't the Nationals trading for
Gio Gonzalez
or the Rangers winning bidding rights to
Yu Darvish
or the A's surprising everyone by signing
Yoenis Cespedes
.
No, the best move of the season was also the gutsiest move the season: On Aug. 9, the Orioles recalled
Manny Machado
from Double-A. Sure, he was their top prospect and one of the top prospects in the game, but consider the factors at the time:
He was a kid who had just turned 20 years old and had barely 200 games of professional experience.

His numbers at Bowie were solid, but he was hardly tearing up the Eastern League: .266/.352/.438.

He was a shortstop but the Orioles were calling him up to play third base.

In this age of cost containment, teams often hold back prospects to delay their major league service time.

The Orioles were doing fine, tied for the AL wild-card lead.
The Orioles weighed all that and called him up. Give credit to general manager Dan Duquette for having the audacity to make the move, and to the Orioles' player development people for believing Machado was ready for the majors.
Most of all, give credit to Machado. The kid is good.
His home run in the seventh inning on a loud Saturday night at a sold-out Camden Yards might have been the biggest of the season for the Orioles -- a low screaming liner that looked like it was headed straight to Red Sox left fielder
Scott Podsednik
but somehow kept carrying and carrying just over that low, 7-foot wall. It gave the Orioles a 4-3 lead, a
margin they would hold on to
. Of course they would; these are the Orioles and no team in history has ever compiled a better winning percentage in one-run games.
More importantly, it carried the Orioles into a first-place tie with the Yankees, who had lost earlier in the day. There are four games left in the regular season and the Orioles are tied for first place. Say that again.
Since Machado's recall, the Orioles have gone 31-16. He's started all 47 of those games. They called up him up because they needed someone to handle the position defensively;
Wilson Betemit
had played the position about as well as a toilet plunger. Machado's glove has been excellent, especially for a kid who played all of two games there in the minors -- he's averaged 2.8 assists + putouts per nine innings compared to the 2.15 of the Orioles' third basemen, and has made just four errors in those 47 games. The other five guys who played there committed 24 errors. He's made outstanding plays like the
sweet double play he started on Saturday
, or
this one
that shows off his arm strength, and
this heads-up play
, one of my favorites of the season.
Machado's bat, however, has been a bigger surprise. His Double-A numbers indicated there would be a likely adjustment period, but his home run on Saturday lifted his line to an acceptable .276/.302/.470. He's no longer hitting ninth in the order.
Interviewed on the field after the game, Machado sounded like a poised veteran who had been through many pennant race wars: "The fans were great," he told MLB Network. "The atmosphere was awesome. It felt like October baseball. It's great that the fans are into the game as much as we are."
It felt like October baseball because the
Yankees lost 3-2 to the Blue Jays
earlier in the day.
That game turned on three small plays: The tying run scored with two outs in the fifth when
Alex Rodriguez
decided to make a play on
Rajai Davis
' chopper down the third-base line that would have gone foul if Rodriguez had let it go. Davis beat out his throw to first. In the sixth with a runner at first,
Yan Gomes
reached on a bunt single to first base;
Nick Swisher
turned to make a throw to first, but
Robinson Cano
wasn't there. (He was in double play depth up the middle, so not really in position to get there in time. Give credit to Gomes for the surprise bunt.) That led to
Adeiny Hechavarria
's go-ahead double. In the seventh,
Aaron Loup
replaced
Shawn Hill
and picked
Ichiro Suzuki
off first base.
The Orioles and Yankees haven't been separated by more than 1.5 games since Sept. 2, but it wasn't always that way. Back on July 18, the Yankees led the division by 10 games. It's not getting much recognition, but the Yankees are facing a pretty epic collapse if they don't win the division.
"(Sunday) is going to be a must-win," Swisher said after the loss. "We put ourselves in this situation, our destiny is in our own hands and we've got to go out and take it. No one is going to give us anything."
Of course, the Yankees can still make the playoffs via the wild card (their magic number for clinching a wild-card spot is one). But the new format was instituted for a reason: Teams want to avoid the wild-card game and win the division. If the Orioles and Yankees do tie for the division title, an American League East tiebreaker will take place Thursday at Camden Yards.
And if Orioles do win the division, it means they have a chance to join this list: Only eight teams have ever won a World Series while overcoming a deficit of at least 10 games -- the 1911 A's, 1914 Braves, 1942 Cardinals, 1964 Cardinals, 1969 Mets, 1978 Yankees, 2003 Marlins (wild card) and 2011 Cardinals (wild card).
If that happens, I'm pretty sure a 20-year-old rookie will be making some big plays during October baseball.
PHOTO OF THE DAY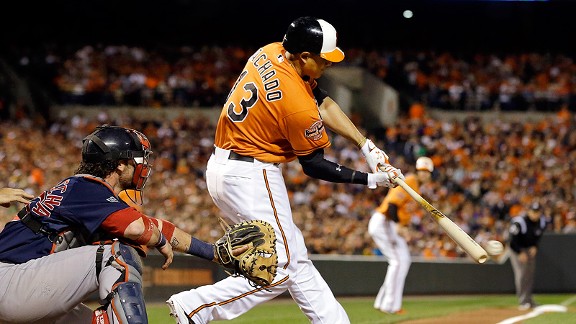 AP Photo/Patrick SemanskyIt may not be the Rookie of the Year-winning stroke, but you can bet the O's will take it from Manny Machado.
August, 19, 2012
8/19/12
1:00
AM ET
By
Christina Kahrl
| ESPN.com
The Orioles are the team that won't go away. For months now, they've been predicted to, expected to, and they have no end of excuses for why they're
supposed
to be long since out of the expanded wild-card picture already. Injuries, run differential, relative anonymity plus generally underwhelming performances from most of the people you have heard of -- the Orioles are supposed to be goners.
They aren't gone, but they might be going places. On Saturday, it was
Zach Britton
's bend-don't-break stylings that were their latest "that's not really possible, is it?" feat.
Seven shutout innings
against the Tigers make for some sort of Saturday night special, not bad for the latest transient solution in Buck Showalter's constantly fixed-up rotation.
Go by appearances alone, and it seemed like Britton had no business matching zeroes with the Tigers'
Rick Porcello
, allowing nine baserunners to Porcello's four through the first six innings. But three 6-4-3 double plays were enough to keep his head above water. Porcello had retired 11 men in a row heading into the seventh, but so what? A pair of dink singles and
Chris Davis
' three-run shot later, it didn't matter what Porcello had done beforehand or how good he looked doing it, because the O's had a decisive lead thanks to Davis' just-enough bit of bopping, making Britton a winner.
That in itself might be a bit of a surprise, considering that Britton's shot at pitching this year was no sure thing in March, when shoulder surgery seemed likely. But opting for platelet-rich plasma (or PRP) treatments put him on the shorter road to rehab, and he's been the skippable, sometime-fifth starter for a team that barely goes a week without having to change something in its rotation.
The Orioles have managed to keep the identity of their rotation's third or fourth or fifth starter a matter of a near-weekly surprise to everyone, including themselves. Some of that has been a matter of effective roster management by general manager Dan Duquette: Early in the season, the Orioles could afford to flip the optionable
Tommy Hunter
back and forth between Baltimore and Triple-A Norfolk, rostering him only when they had to. Despite that time spent shuttling back and forth, it says something about Baltimore's lot that Hunter is now second on the team in total starts because almost everyone queued up ahead of him has broken down or pitched his way out of a job.
This yo-yo role Britton found himself in on Saturday, as he was called back up into the latest breach in the rotation after already blowing his initial call-up after the All-Star break, getting clobbered in five of six starts. In the Orioles' ad-hoc rotation, he was back up because he was on the 40-man roster and had four days' rest, and little else -- he was four days removed from getting chewed up by Charlotte, pitching through a split nail on his pitching hand.
Britton briefly dealt with the burden of being blown up too soon as a sign of better times to come in the spring of 2011, after he notched a quick eight quality starts in his first 10 turns as a rookie in the big-league rotation. But just like
Brian Matusz
and
Jake Arrieta
, his success didn't last -- Britton managed just five starts of six innings or more and three runs allowed or less in his last 18 turns in 2011, putting him well on his way toward a new entry on the Orioles' list of mound disappointments. But like every other expectation for an Orioles setback, it seemed to merely set the stage for this latest improbable bit of heroics.
Where the rotation woes of the Yankees or the Red Sox get featured prominently, the Orioles have been scrambling all season. Only Chinese import
Wei-Yin Chen
has lasted the season. Chen plus Britton, Hunter, former Mariners prospect
Chris Tillman
and journeyman
Miguel Gonzalez
represent the latest front-five confection in a rotation that has already had to use 10 starters. Every day, the four non-Chens are all pitching for their jobs, because
Jason Hammel
is on the mend and due back in another two weeks.
Contenders aren't supposed to start TBD in three or four rotation slots this late in the season, are they? But this comes on top of their playing TBNL in left field. Davis was briefly their answer there, but so was
Nolan Reimold
,
Endy Chavez
,
Xavier Avery
and
Steve Pearce
. They're down to a
Nate McLouth
-
Lew Ford
platoon that would be entirely plausible if we were talking about a contender -- in the International League.
All of which is part of what makes the Orioles so entertaining. As they scrape to keep pace with the Rays in the wild-card chase, it might be hard to call them the underdog, but that's only if you keep your eyes peeled on payrolls. It's easy to root for the Rays -- every statistically savvy smart kid goes fanboy on sabermetrics' poster team. And they're supposed to beat Baltimore -- they're supposedly smarter, and stocked up on the really good players you already know, like
Evan Longoria
and
David Price
. And yet the Orioles still will not go away. Fun, ain't it?
PHOTO OF THE DAY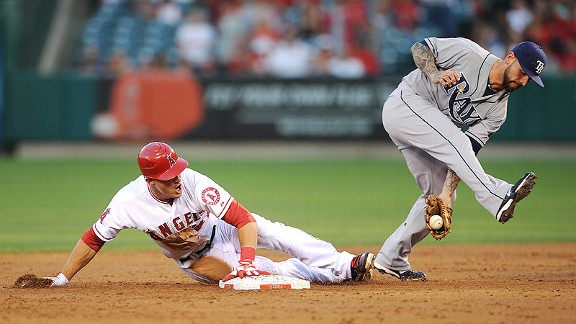 Kelvin Kuo/US PresswireRyan Roberts might do a little dance, but it's Mike Trout who has a steal to celebrate.
Christina Kahrl covers baseball for ESPN.com. You can follow her on Twitter.
June, 30, 2012
6/30/12
9:29
PM ET
By
Christina Kahrl
| ESPN.com
Jim Thome
's right back where he needs to be, and if you're an Orioles fan, you might think
the trade that moves him down I-95
has come not a moment too soon. The Orioles really needed to do something to shore up their offense, and perhaps more than anything, they've needed to find an outfield bat or two. Averaging just 4.2 runs per game, they're ninth in the American League in offense, and a major part of the problem is the lack of good wood they've gotten from their left fielders (.642 collective OPS) and right fielders (.703).
The funny thing is that the Orioles' designated hitters weren't a problem, not in the aggregate, with a .787 OPS. Their in-season problem was that the absence of a reliable performer had helped suck
Chris Davis
out of the infield and into their DH mix. With their gaping holes in the outfield corners, they really do need something that would stick at DH, freeing manager Buck Showalter to reemploy Davis in the field and spare the club from reverting to the DH-du-jour non-answers Baltimore's weakly stocked bench provides.
Which brings me to the other major implication of this move -- what this deal does
not
mean: Thome isn't replacing
Wilson Betemit
or Davis in the lineup in a bit of incremental improvement. Instead, he's the answer to a crying need in Showalter's offense, which was the absence of a regular DH who could deliver on the hitting half of being designated to hit. The Orioles' current scoring clip is not going to get it done in the AL East, even with the expanded postseason.
But the market didn't really have much to offer as far as outfield thumpers, so general manager Dan Duquette did the next-best thing: He traded for a cheaply available bat in Thome, figuring that adding a bat lets Showalter reemploy the day-to-day rovers he's used to plug lineup holes all season to man one fewer position, and perhaps more precisely help fix the club's problems in the non-
Nick Markakis
outfield corner. Markakis is due back soon, so the Orioles are already going to have one outfield answer. Trading for Thome is going to help them fix the other corner.
Adding Thome to the roster helps because it frees up the bats the Orioles were using at DH to help fix the other slots in the lineup. Showalter has utilized Davis in particular as one of those rovers, and he'll no doubt continue to use Betemit as his infield Mr. Fix-It. With Thome in the fold, Davis might very well be the Orioles' left fielder of the immediate future, a patch they desperately need.
With Markakis looking like a lock to return from the disabled list after the All-Star break, the Orioles' lineup should be in significantly better shape shortly, with Markakis in right field, Davis in left and Thome at DH.
Where roster management is concerned, it's understandably fashionable in the age of the seven-man bullpen to laud the virtues of doing without an everyday DH, and to instead use the slot as a chance to spread at-bats around to the three non-catchers most AL teams get by with on their benches. There's a certain kind of wisdom to it when you have bench bats worth playing, but that was not this Orioles team, not when it's been picking from among the likes of infrequently healthy
Nick Johnson
, minor league veteran
Steve Pearce
, Rule 5 pick
Ryan Flaherty
or career fifth outfielder
Endy Chavez
. Or what might be more simply referred to as "bad choices."
The Orioles' getting away from their initial team-DH solution and instead placing their faith in one of the last few true designated mashers left is what both Thome and they deserve. Just as he can be an instrument of their second-half success, so too can Thome show off that he's still got plenty left in the tank.
Over the past two seasons, as a 40- and 41-year-old, Thome has hit .254/.357/.484 for the Twins, Indians and Phillies. This year, DHs around Major League Baseball have put together a .257/.331/.435 line -- which might not sound great, but it's a better line than what MLB teams are getting from their first basemen or left fielders. But Thome's been better still, despite the rust that started forming in his infrequent DH role until interleague play helped get him back in action.
The 27 innings that Thome played in the field for the Phillies were more than some thought he could handle, and it was more playing time with a fielding glove than he's put in since 2005. They might also be the last, because after the misery of less-than-part-time play, Thome may elect to never return to the National League. If he keeps hitting this way, he shouldn't need to.
PHOTO OF THE DAY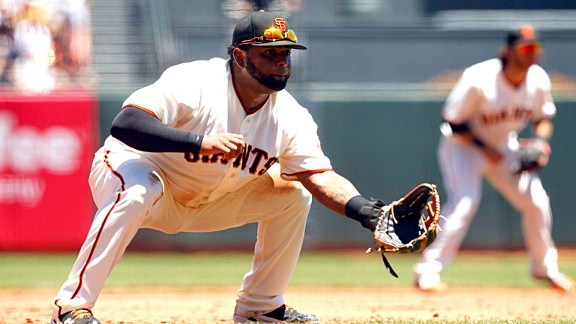 Cary Edmondson-US PresswireA Kung-Fu Panda has a natural advantage: A low center of gravity.
Christina Kahrl covers baseball for ESPN.com. You can follow her on Twitter.
February, 3, 2012
2/03/12
9:30
AM ET
By
Christina Kahrl
| ESPN.com
Where were you when the game embraced the new bad? Not the old bad, mind you -- depending on which generation you're in, that could mean the
Major League
Indians in the '80s, or it might be the Kansas City A's. Those were teams so hapless and hopeless they became legendary for it.
No, what did you think about the state of the game a decade ago, when we got to see four different teams lose 100 games in the same season for the first and only time? In 2002, the Brewers, Tigers, Devil Rays and Royals all managed the dubious feat.
What will you think if that happens again -- say, what if it happens again in 2012?
This might seem surprising to bring up now, because competitive balance in baseball is doing really well. To borrow from the immortal Chico Escuela, baseball has been very, very good to us lately -- most of us, at any rate. Go back to 2001, when the Diamondbacks upset the Yankees and overthrew the game's last dynasty, and you'll find that 25 of baseball's 30 teams have made the postseason over the past 11 years since. Nine different teams have won the World Series. For competitive balance, it might seem like it's hard to do much better than that.
And at the outset of this new age that spread Bud Selig's well-worn mantra of teams and fans having hope and faith, you've also got that quartet of hundred-loss teams. You've also got the 119-loss Tigers of 2003, the worst modern-era team since the 1962 Mets. You've also got the 2004 Diamondbacks and their 111 losses, the worst mark in National League history in the era of divisional play.
If you refer to the chart generated by Dan Szymborski of ESPN Insider after simulating the 2012 season repeatedly to test the likelihood of the outcome, you can see that there are five teams with a one-in-five shot or worse at suffering their own 100-loss season. How in the new era of competitive balance could that come to pass?
We know that
the Mets have had to shed a record amount of payroll
, and we know why:
The Wilpons are pinched for pennies
. As David Schoenfield
noted on Thursday
, what sort of hope can Orioles fans really work up about their current crew when they simply don't have the talent to really run with the big dogs?
In the case of these two teams, it's worth remembering that the Orioles and Mets are each marooned in the two hypercompetitive Eastern divisions. However, with the initiative to add a fifth playoff team to each league, suddenly finishing third in either division no longer seems such an impossible goal for the Nationals, Marlins or Blue Jays.
The Athletics and Mariners have a similar problem. While the Angels and Rangers embark on a multiyear duel fueled by star power and a ton of expense in their race to claim the AL West for themselves, the unbalanced schedule means that the luckless squads in Seattle and Oakland have to look forward to playing almost a quarter of their schedules -- 38 of 162 games -- against their two now-even-more-powerful division rivals. Indeed, in the face of that kind of competition, the A's leadership has seemingly chucked any ambition for their near-term future while they wait to see how their latest bid to move to San Jose works out.
At the bottom of the barrel, at least the
Houston Astros
might be able to look forward to the benefits of regime change in the front office. That goes for the Cubs, as well, and the presence of Theo Epstein in Wrigleyville or former Cardinals exec Jeff Luhnow in Houston, but both franchises are bogged down in long-term rebuilds. More importantly, they advertise the fact, and it's that very hopelessness that suggests how much things have changed over the past decade.
It's this seeming immediate hopelessness of so many teams that seems particularly strange, because who's running these organizations? Jack Zduriencik came to Seattle from the Brewers organization with an exceptional track record in player development. The Mets' Sandy Alderson was the architect of the A's late-'80s mini-dynasty. The Orioles' Dan Duquette was once one of the game's top-rated executives for his work in Montreal and later Boston. Luhnow comes to Houston
highly recommended and worthy of generating high long-term expectations
. And while the Cubs' shot at losing 100 games in 2012 might only clock in at 5 percent, the team's grim near-term future hasn't dimmed Chicago's enthusiasm for the Cubs' new team president, Epstein of Red Sox fame.
Which brings us back to Oakland. Billy Beane completes this set of franchise honchos, who might be the perfect pitchmen for the team's immediate lack of hope and faith. Beane completes this set of franchise honchos, who might be the perfect pitchmen for their teams' immediate lack of hope and faith. The A's dealt away
Gio Gonzalez
,
Trevor Cahill
and
Andrew Bailey
, none of whom were on the verge of leaving as free agents, merely as a matter of paring payroll to the bone and abdicating any intention to run with their division's now even bigger big dogs.
This can be seen as interesting because these days we're now far into the post-"Moneyball" world. You might have heard the movie is up for a few Oscars, but you can certainly mark the occasion by getting the DVD, the book and the T-shirt. Wait around long enough, and you might even get the action figure -- the
Scott Hatteberg
bobblehead
will be released on August 18
to commemorate "
the Streak
." But now it's 10 years later, and these are still about as high as the highlights for "Moneyball" get.
In all the hype about the "new" mindset "Moneyball" gave us, if there's one catchphrase you've had to listen get beaten to death by baseball smarties, inside the game or out, it may well be "market inefficiency." Whether that market inefficiency has been OBP or defense or performance analysts or adequate fifth starters or high school pitchers in the draft, wait around long enough and you can bet that there's going to be some new dynamic in which some fraction of a win might be gained on the cheap side of the Hot Stove league. Those who reap those gains are sure to harvest hosannas.
This was neat to think about 10 years ago, especially when there might have been more variety between management mindsets. But perhaps in today's game, we don't have that variety that created those market inefficiencies -- instead, you have a generation of GMs hunting for market inefficiencies, trying to stretch their dollars as far as they can go, and only too aware of what everyone else is up to.
In the face of that kind of competition, it's understandably harder to change a franchise's fortunes entirely, no matter how smart Billy Beane is, or Jeff Luhnow. Even the smartest GMs have to buckle in for long-term rebuilds, and that means accepting patches as rough as 100-loss seasons might represent. And maybe
that's
the paradigm change that "Moneyball" really heralded a decade ago: that even the smartest GMs have to ride out a team hitting bottom as it rebuilds -- and being able to package that message to fans waiting to see progress. In the meantime, the message isn't "Wait til next year," it's "Trust me, I've got a track record."
If we see some or all of the Astros and A's, the Mariners and Mets, or the Orioles lose 100 games in 2012, that may not mean the game's competitive balance is broken. Instead, it might reflect the penalties of rebuilding in the hypercompetitive present, especially as the number of teams with a shot at postseason play expands. Opt out of being in one season's race, and your team might just risk getting run over.
Christina Kahrl covers baseball for ESPN.com. You can follow her on Twitter.