November, 8, 2012
11/08/12
11:53
AM ET
By
Christina Kahrl
| ESPN.com
Baseball used to be the most thoughtful of industries when it came to recycling, at least where managers are concerned. But the Rockies'
surprise decision to hand the job
to former shortstop Walt Weiss is the latest instance of a baseball team choosing someone that nobody else might have considered. Much like Robin Ventura with the White Sox or Mike Matheny of the Cardinals last season, Weiss is an idiosyncratic organizational choice.

Weiss
That's because Weiss, however much he wasn't going to be on anybody else's radar, is no mystery to the Rockies -- he's someone they're very familiar with from his work within the organization as a special assistant to former head honcho Dan O'Dowd. Even so, as reported, the circumstances read like a dare trumped by a double dare topped by a double-dog dare. The reason Weiss was under consideration at all? Not because the Rockies had thought of him, but because he picked up the phone. Having retired to the area and keeping busy coaching high school baseball, Weiss apparently suggested himself for the job.
Call that equal parts chutzpah or self-confidence from Weiss, but it's the first big product of the Rockies' newly shaken-up front office now that Bill Geivett is calling the shots, with Dan O'Dowd kicked in a direction to be named later to serve in an advisory capacity. (Jonah Keri's
interview with Geivett
,
in two parts
, is worth reading if you missed it at the tail end of the regular season.)
If you're looking for
Moneyball
-style drama, where the executive and his skipper argue over who's playing and how often, you can wonder if this isn't designed to circumvent that, reflecting a desire to craft a leadership team that integrates front-office and dugout decision-making. Geivett has already taken a fairly active role as the newfangled "director of major league operations," right down to planting his office within the clubhouse and taking on some of the field manager's duties. Maybe that's what motivated Jim Tracy's resignation, maybe not; a veteran skipper used to being a lone wolf "decider" might just not see the job the same way, or care for seeing his role changed.
Ventura and Matheny represented in-house hires of younger guys and former stars with their respective teams, and if you think of them and only them, this might sound like a pretty good setup. Ventura guided a White Sox rebound that almost produced an AL Central title, while Matheny's Cardinals made it to the NLCS. Like them, Weiss has no pro managing experience going into his rookie season on the job. But not all of these insular, collaborative designs work out so well. Remember how Arizona's decision to hire A.J. Hinch turned out? A smart guy and former big-league catcher with a strong player development record within the organization, Hinch was seen as a disaster in the dugout in his two partial seasons before being replaced by Kirk Gibson.
So you've got a brazen self-selected skipper and an activist GM. Stroke of genius or crazy? Well, here's where the Rockies really take it up a notch: They're giving this leadership mix exactly one year to prove that it's going to work. Having talked his way into the job, that's how long Weiss' contract reportedly runs. That's about as conditional an endorsement as you could imagine, like Geivett and friends said, "So you really think you can run this team? OK, you're on, show me, starting
now
."
Christina Kahrl covers baseball for ESPN.com. You can follow her on Twitter.
June, 17, 2012
6/17/12
1:30
AM ET
By
Christina Kahrl
| ESPN.com
Suffice to say that these days, Orioles starter
Jason Hammel
is making room for himself. Having shut down the Braves with
a one-hit shutout
Saturday, Hammel is redefining his career. The win was his first shutout, the first nine-inning complete game of his career. He posted the highest
Game Score
(91) of any turn in his career.
Hammel has had to come a long way to get to this point, though, because it wasn't so long ago that he was just an extra guy, a fringe guy, a fifth man. The sort of pitcher who has to hear that he'll have to pack his bags because there's no room for him. That's despite the big, 6-foot-6 frame scouts love in a right-hander and a fastball that sits around 93 mph. But Hammel's mixed fortune was that he began his pro career in the Rays' system, where if you weren't a blue-chipper with Cy Young potential, you were trade bait.
That effectively was Hammel's lot. As a pitching prospect in the Rays' system, being pretty good was nice, but it wasn't enough, certainly not with as many top pitching prospects as that system has been cranking out. When Hammel debuted for Tampa Bay in 2006, he was in the same cadre as
James Shields
and
Edwin Jackson
, not to mention
Andy Sonnanstine
and
J.P. Howell
, all useful guys to stock a rotation behind an already-there
Scott Kazmir
. Then the Rays brought in
Matt Garza
in 2008, with
Jeff Niemann
and
David Price
coming into the picture. Now there really wasn't much space for "pretty good" in Tampa Bay. Even after Jackson was dealt to the Tigers (for
Matt Joyce
), Hammel just wasn't going to stand out in this crowd, not even at 6-6. He didn't rate among the Rays' front five. Or six. Or seven.
So, as Opening Day 2009 approached, the Rays decided they needed Hammel's spot on the roster more than they needed Hammel's brand of pretty good. They gave him the most bittersweet of liberating opportunities to start every fifth day in the big leagues by sending him to Denver and baseball at altitude, perhaps with the standard expectation that the pitcher-munching environment would chew him up as it had so many other pretty good pitchers, going all the way back to David Nied. Who survives that long enough to make the team dealing a pretty good pitcher look bad?
But Hammel endured and survived and stayed pretty good, giving Colorado three years of useful mediocrity (including a definitively average 100 ERA+ and a 4.63 ERA). Perhaps that sort of damnable consistency can bore even the most pitching-hungry team, because the Rockies decided they needed more than pretty good this winter, flipping him (with the reliably disappointing
Matt Lindstrom
) to the Orioles for rotation workhorse
Jeremy Guthrie
.
Credit Rockies general manager Dan O'Dowd with this much: A front-of-the-rotation starter was getting moved in this deal. Unfortunately, his Rockies weren't the team getting one -- the Orioles were, and Saturday night's start merely represented the latest in kind as Hammel turns in a season that redefines his upside and his value.
Consider what he's throwing and the results he's generating. Despite moving into the vaunted American League East, he's striking out a career-high 22.7 percent of batters, a jump of roughly 40 percent over his career rate. He's generating 40 percent more ground balls, and his ratio of ground ball outs to flies has moved to a career-high 1.53. What's he doing differently? Ditching his changeup, for starters.
If you look at PitchF/X sites that try to break down fastball types into four-seam, two-seam and cut fastballs, you'll find Hammel seems to be throwing fewer four-seam fastballs, which might help explain the jump in ground ball outs. More simply, he's becoming a quality sinker-slider guy, and that reliance on a classic power assortment is paying off with a career-high clip for swinging strikes, 18 percent, the first truly above-average mark of his career.
As a result of all this good stuff, unlike so many first-half performers providing surprises, Hammel isn't being tagged with the dreaded "regression" label. His FIP isn't much different from his actual ERA, so analysts might have to accommodate themselves to the notion that Jason Hammel isn't just pretty good anymore -- perhaps he's flat-out good.
The timing of this turnaround couldn't come at a better time for Hammel; he's a viable All-Star starter on a contending team. Among the Orioles, only center fielder
Adam Jones
(2.6) and shortstop
J.J. Hardy
(2.1) had higher wins-above-replacement values than the 1.8 Hammel was sporting before his shutout. He might be a long-shot selection, but on a personal level, it would be icing on the offseason cake he's already baking as he heads toward a last spin with arbitration and a fine shot at leveraging that into multiyear money.
In the meantime, he is giving the Orioles a better season than Guthrie ever had and seems poised to deliver more of the same. At 29, he's proved to be durable, having never suffered a major arm injury as a pro -- his one career trip to the disabled list was caused by a strained groin in 2010.
Put all of that in one package, and you can still ask whether it adds up to an All-Star, a 10-figures-per-year pitcher or a reliable No. 2 in anybody's rotation. But the way Hammel is going, we won't have to ask much longer, because he's providing the answer one turn after another. How good is that? Pretty good.
PHOTO OF THE DAY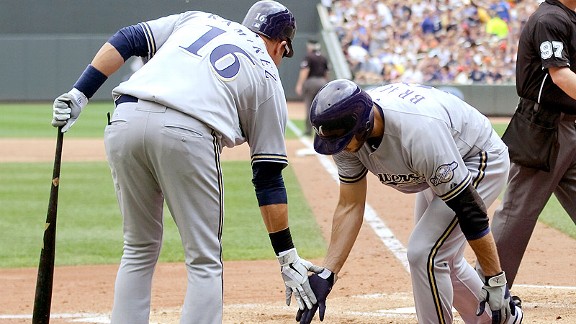 Hannah Foslien/Getty ImagesHigh or low, Ryan Braun's reliably able to celebrate another cheap-seat souvenir.
Christina Kahrl covers baseball for ESPN.com. You can follow her on Twitter.
November, 9, 2009
11/09/09
4:34
PM ET
Hey, until the BBWAA decides to expand its awards -- and when was the last time that happened? -- when it comes to general managers The Sporting News is
the only game in town
(or at least the biggest) ...
Had he not made the most agonizing move of his 27 years in baseball -- firing his friend and manager, Clint Hurdle, after the Rockies' 18-28 start -- Dan O'Dowd might be collecting unemployment right now. Instead, the 50-year-old G.M. was named by 31 of his peers as Sporting News executive of the year after Colorado rebounded to win the N.L. wild card under Jim Tracy, O'Dowd's pick to replace Hurdle. O'Dowd will be presented with the award at tonight's opening-night banquet at the G.M. meetings in Chicago.
I'm not sure what "31 of his peers" means, as technically O'Dowd has only 29 peers; there are 30 teams and 30 general managers. Also, I suspect that all of his peers didn't vote for him. Rather, D'Alessio means that O'Dowd's peers were polled and O'Dowd wound up atop the list of candidates.
Which is fine. He certainly did have a good year. I wouldn't vote for him purely because he made a managerial change and his team wound up in the playoffs. To me, that's not enough. But O'Dowd also made a trade for two players the A's didn't really want --
Huston Street
and
Carlos Gonzalez
-- and both were instrumental in the Rockies' run.
Would I have voted for him, though? My first reaction was, "What about Jack Zduriencik? In the blink of an eye, he turned the Mariners from a 101-loss team into an 85-win team!"
Well, yes. But most of the Mariners' improvement was due to two players,
Russell Branyan
and
Franklin Gutierrez
. Zduriencik deserves a great deal of credit for acquiring both of them, and the fruits of some other moves may pay off in future seasons. This season, though, the improvement wasn't nearly as large as it might have seemed. In 2008, the M's lost 101 games but actually had the run differential of a 67-95 team. In 2009, the M's won 85 games but actually had the run differential of a 75-win team.
In one meaningful way, the M's improved not by 24 wins, but rather by
eight
.
I know, I know ... Only a pointy-headed nerd would suggest that we should give more weight to the eight than the 24. And Zduriencik certainly did some smart things after taking over as GM last winter. But that fundamental way gives me pause when wondering if I know more than the GMs about which of them had the best year.
October, 21, 2009
10/21/09
10:44
PM ET
From MLB Trade Rumors (and the Denver Post), news about the Rockies' longtime GM:
Patrick Saunders of the Denver Post reports that the Rockies have given a new contract to general manager and executive vice-president Dan O'Dowd. Terms of the deal have not been announced. O'Dowd just finished his 10th full season as the Colorado GM and had come to the end of a two-year extension signed in April 2007.

--snip--

The Rockies have a 774-859 (.474) record since O'Dowd was hired on Sept. 20, 1999, but have reached the playoffs in two of the last three years, going as far as the World Series in 2007. O'Dowd is the fourth-longest tenured general manager in baseball, behind only Brian Sabean, Billy Beane and Brian Cashman.
Is this the greatest comeback in general managerial history? In O'Dowd's first seven seasons running the Rockies, they never finished higher than fourth place and finished above .500 (82-80) just once. The contract he gave to
Mike Hampton
might be the worst in the history of free agency. And nothing ever seemed to get better; after three straight seasons with just 73 or 74 wins, the Rockies won 68 games in 2004 and 67 in 2005.
But what happened next stands as a testament to both O'Dowd's skills
and
ownership's patience. First, there was that magical run in 2007 and then, after a disappointing 2008, 92 wins and a playoff berth in 2009. Presumably the Dodgers will enter next season as favorites in the West, but the Rockies figure to be in the mix again, particularly if
Jeff Francis
comes back reasonably strong from his shoulder injury.
Update: MLB Trade Rumors has pulled this post, because apparently the Denver Post's report was premature. (Oddly, the Post's story is still available with no update.) There seems to be little doubt that O'Dowd will eventually sign a new deal, though.