SweetSpot:

Daniel Descalso
October, 15, 2012
10/15/12
12:27
AM ET
Consider this: From 2002 to 2011, the
St. Louis Cardinals
appeared in more World Series than the New York Yankees. They won more championships than the Yankees. Over those 10 seasons, the Cardinals appeared in more league championship series than the Yankees.
So, maybe the Cardinals should be considered baseball's Evil Empire?
OK, OK ... the Yankees spent about $1.87 billion on payroll over that decade -- more than twice the Cardinals' $900 million.
But it is interesting to note that the team taking advantage of the addition of a second wild-card team is one of the National League's powerhouse franchises.
Two days after their stirring, never-seen-before comeback from a six-run deficit to shock the Nationals in Game 5 of the National League Division Series, Cardinals hitters picked up right where they left off, pummeling Giants starter
Madison Bumgarner
for eight hits and six runs in 3.2 innings, taking a 6-0 lead and holding on for a
6-4 victory
. The Cardinals are difficult enough to beat when
Carlos Beltran
and
Matt Holliday
and
Yadier Molina
are hitting; but when
Daniel Descalso
and
Pete Kozma
start contributing key hits, they're pretty much unbeatable.
The two middle infielders, the seventh and eighth hitters in the St. Louis lineup, had the big hits against the Nationals. Leading 2-0 in the fourth against the Giants after
David Freese
's two-run bomb in the second, those two got things going with one-out doubles.
Jon Jay
later added an RBI single and Beltran then hit his 14th home run in 29 career postseason games to knock out Bumgarner.
Descalso said they expected Bumgarner to come right after them. "We knew he was going to attack, he has the fastball and that cutter," he said. Indeed, Descalso's double came on an 0-1 fastball; Kozma hit a first-pitch slider. Bumgarner, usually in the 90-92-mph range with his two-seamer, didn't have his good fastball on this night. Descalso hit an 89-mph fastball, Jay singled on an 0-2 89-mph fastball and Beltran saw four sliders in a row, the fourth one deposited in the left-field stands.
Against the Cardinals, if you don't bring your good stuff, forget about it.
* * * *
The good news for the Giants is their bullpen was outstanding, delivering 5.1 hitless innings.
Tim Lincecum
pitched two of those, and has allowed one run in 8.1 innings of relief in the postseason. You have to think he's now in line to start Game 4 over
Barry Zito
. The Giants have won the past 12 Zito starts but you can't run a left-hander out there against this St. Louis lineup. Plus, Zito struggled in his start against Cincinnati and allowed a .468 slugging percentage against right-handers during the regular season. We probably won't see Zito in this series unless in a mop-up role or if he's needed in extra innings.
* * * *
Mike Matheny
nearly let the game get away from him with a slow hook on starter
Lance Lynn
in the fourth inning. Lynn pitched in relief in the Nationals series, appearing three times, including a 50-pitch effort in Game 3 while replacing the injured
Jaime Garcia
. The 18-game winner returned to the rotation in place of Garcia, three days after he served up the game-losing home run to
Jayson Werth
in Game 4.
Lynn didn't allow a hit through the first three innings, but tired in the fourth, in particular unable to get the ball inside to the left-handed batters. With two outs and a runner on,
Hunter Pence
singled,
Brandon Belt
dumped a soft single into center,
Gregor Blanco
lined a triple into the right-center gap and
Brandon Crawford
lined a hard double down the right-field line. After pinch-hitter
Aubrey Huff
walked, Matheny finally went to the pen and
Joe Kelly
got
Angel Pagan
to ground out to second baseman Descalso, who made a diving stop and flip for the force at second.
The Cardinals have eight relievers, and they're all good. This series may hinge on how Matheny employs them. Last year, Tony La Russa went with the game plan to yank his starters early and trust his deep arsenal of relievers. If you're going to carry eight relievers, don't be shy about using them. Six of them appeared in this game and combined for two hits allowed in 5.1 innings.
* * * *
One of those relievers is rookie
Trevor Rosenthal
, who impressed once again with his upper-90s gas. He's below
Edward Mujica
,
Mitchell Boggs
and
Jason Motte
in the pecking order, but what a weapon for Matheny to turn to. Baseball America's No. 11 Cardinals prospect heading into the season, the former 21st-round draft pick from Cowley County Community College in Kansas started in the minor leagues but has pitched out of the pen in his brief stint in the big leagues, which plays up his fastball as he airs it out in these short stints.
Rosenthal is an example of why the Cardinals compete year after year: great draft picks, many unheralded, especially since they never select high in the draft. Descalso was a third-round pick out of UC Davis. Kozma was the 18th overall pick out of an Oklahoma high school in 2007. Lynn was the 39th pick in 2008 out of the University of Mississippi. Boggs, a fifth-rounder out of the University of Georgia. Jay, a second-rounder out of the University of Miami. Kelly, another rookie, was a third-rounder out of UC Riverside. If you notice a trend, you're right: The Cardinals historically love college players, which means less projection required and often quicker paths to the majors.
Mix in a few free agents signings to plug in holes -- Holliday, Beltran,
Kyle Lohse
-- and you have a winning approach.
October, 13, 2012
10/13/12
1:38
AM ET
We just witnessed one of the most amazing games in postseason history. Whether this game will eventually earn itself a place alongside other legendary games remains to be seen -- after all, Cardinals-Nationals doesn't quite have the same buzz to it as Red Sox-Yankees or Dodgers-Giants -- but I can assure you this: None of us has ever seen this before.
No team had ever rallied from more than four runs down to win a sudden-death postseason game, and only two teams had done that -- the
Pittsburgh Pirates
in Game 7 of the 1925 World Series against the, yes, Washington Senators, and the
New York Yankees
in Game 7 of the 2003 American League Championship Series.
The
St. Louis Cardinals
made history in remarkable fashion.
Of course, that means, with the
9-7 loss
, the
Washington Nationals
made history in the most heartbreaking fashion possible.
I had an entire post written, telling Nationals fans that winning in the postseason isn't easy, that even holding a six-run lead is never easy, that playoff baseball makes your stomach churn and all that.
I wrote that assuming they would hold on to the lead. Even after
Gio Gonzalez
once again lost the ability to throw a ball over home plate and the Cardinals scored three runs. Even after
Edwin Jackson
was for some reason summoned from the bullpen to pitch an inning and allowed a run. Even after
Daniel Descalso
homered in the eighth off
Tyler Clippard
to make the score 6-5. But when the Nationals added an insurance run in eighth, it felt like Nationals fans could finally breathe.
[+] Enlarge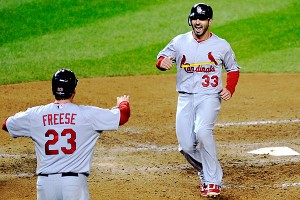 AP Photo/Nick WassDaniel Descalso, right, drove home the tying runs, then scored the final one of the Cards' comeback.
On the other hand, as Cardinals shortstop
Pete Kozma
-- a man apparently of few words -- said after delivering the go-ahead two-run single: "Never give up."
Damn.
* * * *
Friend of mine after the game, not a Cardinals fan or Nationals fan: "If the Mariners ever lost a game like this, I'd be in a hospital."
Postseason baseball is the most exhilarating ride in sports.
Postseason baseball is the cruelest of sports.
* * * *
Carlos Beltran
is awesome. He singled in the first, walked and scored in the fourth, walked in the fifth when the Cardinals scored twice off Gonzalez, doubled in the seventh to move
Jon Jay
to third (Jay would score), doubled to deep right-center off
Drew Storen
leading off the ninth. What a game. Five plate appearances, five times on base. One of the great sudden-death game performances a hitter has had.
* * * *
Calvin Schiraldi, Bill Buckner, Donnie Moore, Grady Little and company, Jose Mesa, the guy pitching in the Francisco Cabrera game (actually it was two, Doug Drabek and Stan Belinda), David Cone and Black Jack McDowell … and, yes, even
Mariano Rivera
. And now Drew Storen.
* * * *
Yadier Molina
had a terrific at-bat in the ninth inning with two outs and Beltran on second. He was 2-for-18 in the series when he stepped in and had left the bases loaded in the fifth, flying out to right field on a 2-0 fastball from Gonzalez. The pitch sequence:
Slider low.
Fastball fouled back. (Fans standing, cheering, mustering strength to wave their red towels, two strikes away!)
Fastball outside.
A 96-mph fastball fouled away. (One strike away!)
A slider that dipped low. I don't know how Molina held up. Tremendous pitch awareness and bat control.
Fastball high.
From the moment that
Allen Craig
struck out, Storen threw 12 pitches, any of which could have ended the game. Six pitches to Molina. Six more to
David Freese
, who also walked. The 13th pitch was a 94 mph fastball that Descalso ripped hard up the middle, off the glove of
Ian Desmond
, the ball bounding far enough into center field to easily score pinch runner
Adron Chambers
with the tying run.
* * * *
Kozma, a guy who hit .232 in Triple-A, playing only because of the September injury to starting shortstop
Rafael Furcal
, then lined a 2-2 fastball into right field to score two more runs. (Descalso had smartly stolen second base).
Washington manager Davey Johnson could have walked Kozma once Descalso stole second base. Cardinals closer
Jason Motte
, who had pitched the eighth inning, was due up next, although Cardinals manager Mike Matheny had sent backup catcher
Tony Cruz
, the last player left on the bench, to the on-deck circle as a decoy. He'd be entering the game anyway for Molina, who had been run for. Kozma has been pretty hot, hitting .333 for the Cardinals during his September call-up and homering earlier in this season.
Johnson could have put Kozma on and pitched to Cruz, which would have served two purposes: Force Matheny to bat Cruz, a guy who hit .254/.267/.365 in 126 at-bats, but also a guy without an at-bat in nine days. More importantly, it would have likely forced Matheny to pull Motte. Matheny already used
Joe Kelly
,
Trevor Rosenthal
,
Edward Mujica
and
Mitchell Boggs
, so that would have meant the Cardinals would be using, at best, their fifth-best reliever in the ninth.
Huge mistake by Johnson and I can only guess he was in such a state of shock he didn't have time to think the situation through properly.
* * * *
Yes, the Nationals could have used
Stephen Strasburg
. That's obvious. Whether that lost the series for them is debatable. But I'm pretty sure he would have helped somewhere along the line.
September, 16, 2012
9/16/12
1:26
AM ET
By
Christina Kahrl
| ESPN.com
If there's one takeaway where the defending world champs are concerned, it's this: Even wounded, these Cardinals could still fly. Most teams, you scratch a No. 1 starter, a leadoff man and a cleanup hitter, and you might expect them to be long since dead in the water. But even without
Chris Carpenter
, without
Rafael Furcal
, without
Lance Berkman
-- all of that in the post-Pujols era -- no matter how many blows the Cards take, they aren't dead, not by a long shot.
The big question, though, isn't why they're still going, but why they're not ahead just the same. With a record that is
games worse than expected
, they're supposed to be able to lose games like Saturday night's --
a 4-3 defeat
in Los Angeles -- and not break a sweat. But that's not where they are. Instead, they've fallen into a tie with the Dodgers for the National League's last slot.
It isn't supposed to have worked out this way.
Allen Craig
plated every run the Cardinals scored, a Pujolsian feat that also reflects a creeping problem for the Cards' offense: The league-leading attack that had been scoring 5 runs per game before the All-Star break has dropped off to score 4.4 runs per game since. They were allowing 4.2 runs before the break, and they're at 4.0 runs allowed per nine after, but because of the offense's drop-off, the margins they get to work with have narrowed.
The first-half question over why the Cardinals weren't doing as well as they should has become more persistent in the second half, and after a swing game like Saturday's, the uncomfortable questions are unavoidable.
Is it the manager? Rookie manager Mike Matheny's under fire, but he was tasked with the impossible task of following in Tony La Russa's footsteps as the old mast heads down the road to Cooperstown. It's easy to single out the Cardinals' record in one-run games -- now 18-25 -- and assert that some better manager to be named later would do better than that.
But that's looking for a fall guy, and Matheny may not really deserve that, save as a matter of expectations as the first-year skipper managing a defending world champ. Any suggestion that La Russa might be the Cardinals' missing man most missed might have needed one particular proof this night: Would the bullpen deliver? Love it or hate it, that's the gold standard by which most managers get judged by many commentators and fans, because 'pen management is the one task that's transparent to the public.
After getting a good game from
Jaime Garcia
, without getting too clever playing matchup games Matheny ran through his crew in straightforward style:
Edward Mujica
to
Mitchell Boggs
to
Jason Motte
... and Motte blew it, giving up a two-out double in the ninth to
Luis Cruz
for the tie, then gave up the game-losing single to
Juan Rivera
.
There was no special brand of genius involved, just a scripted set-up gone wrong: Closer tasked with closing, leaves the door open, then sees it blown off its hinges. If Matheny's to be judged, it's by exactly the same standard that Casey Stengel suggested back in the day, in happier circumstances after
winning the 1958 World Series
: "I couldna dunnit without the players."
To Matheny's credit, he managed other elective tasks just fine on Saturday night. Swapping around in the middle infield midgame is the Cardinals' lot. Early on they paid the penalty of making
Daniel Descalso
a shortstop as a matter of need: His first error in the first inning created the Dodgers' first score. With second baseman Descalso playing short and converted outfielder
Skip Schumaker
starting at second, the Cards have been sacrificing defense to put their best available players in the lineup. Is that on Matheny? No more than the subsequently regretted decision to dump key utilityman
Tyler Greene
on the Astros.
With a lead six frames into the game, out came Schumaker, in came good-glove
Pete Kozma
at shortstop, and Descalso slid back to his natural position. Lineup management isn't particle physics. Inveterate tinkerer La Russa may be history in every sense of the word, but this sort of lineup tinkering can still go on without him as Matheny tries to compensate for losing Furcal.
Given the Cardinals' increasingly narrow margins, watching every run, every opportunity, forces Matheny to make tough calls. You can't really blame him for the choices he made, given the options he had. No less than the bullpen blowing the game, you can't blame him too badly for having Descalso at short. The agony for the Cardinals right now is that it's adding up to just enough to lose.
PHOTO OF THE DAY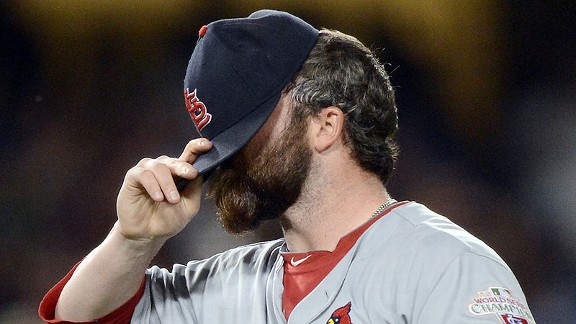 Harry How/Getty ImagesWell that Jason Motte might cover his face after blowing the save on Saturday night.
Christina Kahrl covers baseball for ESPN.com. You can follow her on Twitter.
October, 28, 2011
10/28/11
1:22
AM ET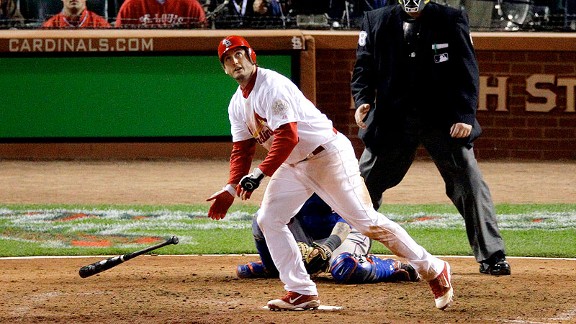 Rob Carr/Getty ImagesDavid Freese tripled to tie Game 6 of the World Series in the ninth and homered to win it in the 11th.
ST. LOUIS -- At the end of "Ball Four," the greatest book about baseball ever written, pitcher/author Jim Bouton writes, "You spend a good piece of your life gripping a baseball and in the end it turns out that it was the other way around all the time."
This sport brings the greatest of joys and then crushes you with pain. It increases its grip on you with game-ending home runs and division titles and playoff victories and rally squirrels. And when the defeats come, it's too late to turn back; you're already in, unable to escape.
Game 6 was a roller coaster for both teams, a laughable parade of Little League errors and miscues, followed by dramatic home runs, a ninth-inning rally, a monumental blast by
Josh Hamilton
in extra innings, another rally by the Cardinals and finally a
David Freese
home run into the grass in dead center field that ended this game -- we say game, but it seemed so much more consequential than a mere game -- and sent Busch Stadium into an eruption of hugs, high-fives, tears of happiness and professional athletes jumping up and down at home plate like 8-year-olds being treated to ice cream.
In the end, the scoreboard reads:
St. Louis Cardinals
10,
Texas Rangers
9, in
11 innings
. That, of course, hardly tells the story of the exciting, unpredictable and at times unfathomable Game 6 of the World Series, one that will be relived and replayed, analyzed and scrutinized, one that will go down as one of the more remarkable World Series games ever played. Some day, somebody might have to write a book about this one.
So in this season of comebacks and collapses, of the best postseason baseball has witnessed in years, we get a Game 7. The Cardinals, down to their final strike in the ninth inning, down to their final strike in the 10th inning, kept fighting and fighting and fighting, somehow keeping this baseball season going a little longer when Freese became just the fifth player to hit a walk-off home run in Game 6 or 7 of the World Series. "Growing up or whatever, and you see stuff like that happen, those become memories," Freese said. "You know, if it's going to be replayed over and over again, I don't know, but it's really cool to be a part of this and to force a Game 7."
The Rangers, one strike away in the ninth inning, one strike away in the 10th inning, will have to regroup and mentally re-energize for one more game. Ron Washington couldn't say much, other than, "It just wasn't to happen tonight."
No, it didn't happen on this night for the Rangers, so, yes, we'll get at least nine more innings. And, yes, baseball, we are in your grip.
* * * *
Where to begin? With Freese, of course. He hit the two-strike, two-run triple in the ninth inning off
Neftali Feliz
, a ball lined off the wall in right field, a tough play but one that
Nelson Cruz
could have made. He was playing deep -- you play "no-doubles" defense at the point of game -- but drifted back too slowly and the ball flew inches over his outstretched glove.
In the 11th, the Rangers brought in
Mark Lowe
, their eighth pitcher of the night, and not the guy you'd expect to be on the mound with the World Series on the line. Freese led off the inning and crushed a 3-2 changeup to center. "You know, I felt like I was part of a circus out there, bouncing balls off the top of my hat a little bit," Freese said of the Cardinals' three errors, including one by him. "But, man, I just wanted an opportunity -- we tied that up, we had some good ABs and we tied it up and just kept battling. That defines our team, that game."
Ron Washington had elected to pinch-hit for
Scott Feldman
with
Esteban German
in the top half of the inning with a runner on first and two out. You can't fault Washington for that, but it was a low-percentage opportunity to score a run. The difference in ability between Feldman and the rarely used Lowe is sizable; he may have been better off letting Feldman bat, hope to keep the game tied, and play for the 12th inning.
Other notes:
[+] Enlarge

Ezra Shaw/Getty ImagesAlexi Ogando reacts after walking Yadier Molina with the bases loaded in the sixth inning.

In the end, the wildness of Alexi Ogando and Feliz finally came back to haunt the Rangers. The worst decision of the game was Washington bringing in Ogando in the sixth inning with the bases loaded. Ogando had been terrible in this series, allowing 12 baserunners in just two innings. I wrote earlier that Game 6 of the World Series was no time to be loyal; Washington remained loyal to Ogando, believing in him as his sixth- and seventh-inning guy. But after a long season, he's clearly gassed and never should have been in there. He walked in the tying run and only escaped further damage because Mike Napoli picked Matt Holliday off third base. (And Derek Holland had to be brought in to escape the inning.)

As for Feliz, his control has been shaky all postseason. He had a chance to close out a 7-5 lead in the ninth inning, but gave up a double to Albert Pujols and then walked Lance Berkman, setting the stage for Freese. The Rangers had gone 5-2 in the postseason when walking five or more batters; that's just not sustainable. When doing that in the regular season, they went 7-19. They walked seven batters in Game 6.

Berkman quietly had one of the great individual performances in a World Series game: 3-for-5, four runs, three RBIs, a two-run home run, a big walk in the ninth, a game-tying single with two outs in the 10th, just the the fourth game game-tying hit in World Series history in the ninth or later when a team was one out from elimination (Freese's triple was the third; the others were the Braves' Otis Nixon in 1992 and the Giants' Josh Devore in 1911). "I actually felt pretty good (there)," Berkman said, "because I figured I was in a no-lose situation. If you don't come through right there, it's only one at-bat and it's over with, and they might talk about it for a couple days, but it's not that big a deal. If you come through, it's the greatest, and plus you've built a little bank account of being able to come through, so that if I don't come through tomorrow I can be like, 'Well, I came through in Game 6, what do you want from me?'"

Should Washington have left in Feliz to start the 10th? He'd thrown 22 pitches in the ninth, while the Cardinals had the bottom of their order up -- and the pitcher due up third, with no position players left to hit. (Could you imagine if the World Series had ended with a pitcher hitting?) But with lefties Daniel Descalso and Jon Jay up, Washington brought in veteran lefty Darren Oliver. Can't really fault him too much for that one; it just didn't work out.

Washington also elected to walk Pujols in the 10th inning -- when he was the winning run. Instead of having Feldman go righty-on-righty, he faced Berkman, who hit a soft single into center to tie the game. What have we been saying? You're playing with fire with all those intentional walks and Washington finally got burned. Yes, it's Albert Pujols, but Berkman isn't exactly Mario Mendoza.

Napoli once again came up big at the plate -- his RBI single in the fourth inning gave him 10 for the series, only the sixth player in World Series history to drive in that many in one Fall Classic. His pickoff of Holliday looked like it would end up being the key defensive play of the 2011 season.

You can't fault Washington for using Holland for two innings, but since he pitched two innings and threw 23 pitches, his availability as a long reliever for Game 7 is now in question. If Game 7 starter Matt Harrison struggles early, that likely makes C.J. Wilson the long man out of the pen for the Rangers.

OK, if you watched this game, you know it won't be appearing on any instructional videos. Freese dropped a routine pop fly that any fifth-grader could catch, Holliday dropped an easy fly ball in left field, appearing to yell "You take it" to Rafael Furcal, but realizing too late that Furcal was in a bad position. Both errors led to unearned runs. Two Michael Young errors at first base also led two unearned runs on the Texas ledger.

Great cat-and-mouse game in the fifth. Freese's error was followed by Young's RBI double. With Young on third and two out, Napoli was walked. Washington sent in David Murphy to hit for Craig Gentry -- and got Holland up in the pen, hoping it might force La Russa to pitch to Murphy. La Russa didn't bite; Murphy was pitched around and Washington let Lewis hit (and strike out to leave the bases loaded).

For what it's worth, the three most recent games that involved crushing defeats in Game 6 to keep the World Series alive were the Cardinals to the Royals in 1985, the Red Sox to the Mets in 1986 and the Giants to the Angels in 2002. All three teams lost Game 7. Also, the home team has won the past eight Game 7s. It won't be easy for the Rangers.