April, 30, 2014
Apr 30
7:08
PM ET
New York Mets
second baseman
Daniel Murphy
isn't what I'd call fast. I mean, he's not a catcher or a plodding first baseman, but he won't ever be mistaken for a burner. He has maybe average-ish speed. He was never much of a base stealer. He topped out at 14 stolen bases in the minors. In 2011, he was 5-for-10 with the Mets while playing 109 games. In 2012, he was 10-for-12 in playing 156 games. Through June 8 of last season, he was 1-for-4. He was 28 years old. Players don't get faster as they approach 30.
Then, a weird thing happened. Murphy started picking his spots and running more often. He stole eight bases in June, three in July, six in August and four in September. He wasn't caught. He's 6-for-6 this season and has now swiped 28 in a row, the second-longest streak in Mets history behind the 33 in a row Kevin McReynolds stole in 1987-89. Murphy is proving basestealing is as much the art of reading pitchers and knowing
when
to steal as it is a skill that relies purely on speed (
Billy Hamilton
is 10-for-15, meaning Murphy has provided more value from stealing bases than Hamilton has).
Hall of Famer Lou Brock, the great base stealer, was certainly fast but not considered
fast
. He described stealing bases this way: "Baserunning arrogance is just like pitching arrogance or hitting arrogance. You are a force, and you have to instill that you are a force to the opposition. You have to have utter confidence."
Murphy's streak got me thinking of guys who were good base stealers without having a lot of speed, guys with that confidence to steal based on their smarts. There's no sure way to measure this, not without having a database of home-to-first times.
Jeff Bagwell
is a guy who jumps to mind. A first baseman with average-at-best speed, Bagwell was a terrific baserunner due to great instincts and twice stole 30-plus bases with decent success rates (31-for-41 in 1997 and 30-for-41 in 1999). He finished with 202 career steals. Bagwell hit 32 triples in his career, giving him a stolen base/triples ratio of 6.3 to 1.
Triples are generally a good way to measure speed, so is this a good way to measure slow base stealers? Not necessarily. The top two guys since 1901 by steals/triples ratio are Otis Nixon and
Rickey Henderson
, two fast guys. Nixon had so little power that he rarely hit triples (27 in his career); Rickey has a high ratio because he stole so many bases although, surprisingly, hit only 66 triples. That's sort of interesting in itself: Rickey never hit more than seven in a season, and, while right-handed batters don't hit as many triples as left-handed batters, that still seems low. Juan Samuel, for example, had seasons with 19, 15, 13 and 12 triples.
Chuck Knoblauch
had seasons with 14 and 10. Robin Yount hit 98 triples in his career.
Anyway, just scrolling down the list, I do bump into some guys who weren't noted for plus-plus speed:
Jose Canseco: 200 steals, 14 triples
Canseco famously became baseball's first 40-homer/40-steal player in 1988. He might have had above-average speed back then but quickly lost it as he beefed up (he was 40-for-56 stealing bases in '88). Canseco was 26-for-32 in 1991 but battled injuries the next two seasons and basically quit running, except for 1998, when he went 29-for-46 as a 33-year-old DH for the
Toronto Blue Jays
. (Tim Johnson, of faux-Vietnam veteran infamy, was the manager that season, and he apparently
loved
to run. The Jays led the AL in steals and runners caught stealing.)
Gary Sheffield: 253 steals, 27 triples
Sheffield never hit more than five triples in a season and was a career 71 percent base stealer -- about the break-even point. He stole 25 bases at age 21 and then went 22-for-27 as a 38-year-old with the
Detroit Tigers
.
Alfonso Soriano: 288 steals, 31 triples
Would you describe the younger Soriano as a speedster? I'm not sure I would, but he stole 40 bases three times. He was 18-for-27 last season, almost as many steals as he had the four previous seasons combined (20).
Carney Lansford: 224 steals, 40 triples
I don't remember Lansford being fast, but maybe it was the glasses that made him seem slow. Baseball-Reference.com rates him at plus-17 baserunning runs for his career (factoring in stolen bases, advancing on hits, etc.), so maybe he was sneaky fast. What's interesting is that he quit running midcareer -- he was a dismal 3-for-11 in 1983 and swiped just two bases in 1985 -- but from 1987 to 1989, ages 30 to 32, he stole 27, 29 and 37 bases. I can't imagine many players have their career high in steals at 32.
I did another search for most stolen bases in a season without hitting triple, but that didn't reveal much (record: Miguel Dilone, 50 in 1978). Bagwell and Canseco show up high on this list as well. How about Don Baylor? I remember him in the '80s, when he was a big, burly DH with the
Los Angeles Angels
,
New York Yankees
,
Boston Red Sox
,
Minnesota Twins
and
Oakland A's
, but he ran a lot early in his career -- 285 career steals, including 52 for the A's in 1976 (that team holds the major league record with 341 steals). Baylor hit just 28 triples in his career, including one in 1976 and none in both 1977 and 1978, in which he stole a combined 48 bases.
There are also guys like the aforementioned McReynolds, who had one or two seasons in which he decided to run. McReynolds was 21-for-21 in 1988 but had just 93 steals in his career. Or opportunistic runners like
Chase Utley
, who went 23-for-23 in 2009 and is 129-for-146 in his career.
Anyway, Murphy seems pretty unique. It will be interesting to see if pitchers start paying a little more attention to him while he's on the basepaths now.
July, 6, 2012
7/06/12
12:09
AM ET
R.A. Dickey
has rescued the Mets all season. Thursday night, they rescued him.
While the expected pitching duel between Dickey and Phillies ace
Cole Hamels
never materialized at Citi Field, we instead got what baseball so often gives us: The unexpected. The Mets delivered a thrilling, bottom-of-the-ninth rally off All-Star closer
Jonathan Papelbon
, a rally sparked by a guy hitting under .200, kept alive by a guy hitting .222 and eventually finished off when
David Wright
blooped a ball to right field for the game-winning hit.
Phillies fans can cry bad luck. But this
6-5 victory for the Mets
was all about terrific at-bats with the game on the line, hitters fighting off pitches and creating their own good luck.
In the process, Dickey avoided his first loss since April 18. He entered the game with a 0.86 ERA over his previous eight starts, having allowed just seven runs (five of those in one game) and striking out 76 batters over 62.2 innings. The Phillies tagged him for 11 hits and five runs, but Dickey persevered through seven innings, leaving with a 5-4 deficit.
The Phillies turned to Papelbon to close it out.
Ike Davis
, hitting .198 as he stepped in, lined an 0-1 fastball just over the head of a leaping
Jimmy Rollins
for a leadoff double. It was a good pitch by Papelbon, but it was a better piece of hitting by Davis, going with the pitch instead of trying to yank it to right field.
After
Josh Thole
sacrificed pinch-runner
Ronny Cedeno
to third, Papelbon blew away
Kirk Nieuwenhuis
on four pitches, as Nieuwenhuis swung through three high fastballs. That brought up rookie pinch-hitter
Jordany Valdespin
, hitting .222 with two home runs in 63 at-bats -- a guy with one walk and 13 strikeouts. He's the kind of hitter Papelbon should put away with ease. But Phillies and Mets fans certainly remembered May 7, when Valdespin pinch hit against Papelbon in a 2-2 game and hit a three-run home run.
Maybe that home run was on Papelbon's mind, as well. He worked too carefully, fell behind 3-1, saw Valdespin foul off an inside pitch and then hit him with a 3-2 fastball.
Ruben Tejada
then showed off his keen eye at the plate, worked the count to 3-2, fouled off two pitches and then took ball four on a close pitch just off the outside corner. With the bases now loaded, it was up to
Daniel Murphy
. The 28,000 fans at Citi Field were on their feet on a hot, muggy night, sweating out this unlikely rally in this unlikeliest of first halves for the Mets.
Murphy grounded a 1-2 pitch up the middle that bounded off Papelbon's shoe. An infield hit. Game tied. It was Papelbon's 27th pitch of the inning and it was a bad one, a hanging splitter. The Mets were lucky the game didn't end there.
That brought up Wright, who had homered earlier in the game. On Papelbon's 28th pitch, Wright fought off an insider heater and blooped a single just out of the reach of a diving
Hunter Pence
. Mets win.
I saw several tweets from Phillies fans complaining about bad luck in the inning: Papelbon could have just as easily made a play on Murphy's hit, or Wright's blooper could have been caught. I say nonsense. Papelbon had a terrible at-bat against the weak-hitting Valdespin; he made a terrible pitch to Murphy; and Pence, a right fielder with poor defensive this season, lumbered after a ball that many right fielders would have caught.
On this night, the Mets made the plays and the Phillies did not. There was no bad luck.
* * * *
[+] Enlarge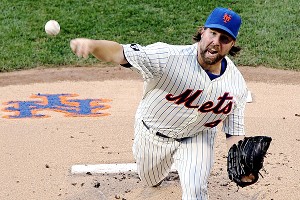 Jim McIsaac/Getty ImagesR.A. Dickey left Thursday's game trailing 5-4, but he leads the majors with a 12-1 record.
As for Dickey, he's still in line to possibly start the All-Star Game with his 12-1 record and 2.40 ERA, although I suspect if he does pitch in the game, it will be in relief and once
Yadier Molina
enters behind the plate in place of starting catcher
Buster Posey
.
With the Mets rallying in the bottom of the inning, the TV cameras flashed to Dickey still sitting in the dugout. Many starting pitchers literally hit the shower when they get knocked out early, but there was Dickey, rally cap in hand. He had that eager look of a child who has been caught with his hand in the cookie jar, hoping he'd get away with this one after letting his teammates down.
Of course, he's the guy who has done anything but this season. It's at the point when a mediocre Dickey start is now a surprise. We're at the point where we expect dominant outings from him every time out. He's not only a Cy Young candidate, but an MVP candidate (hey, if
Justin Verlander
won last year, we can consider starting pitchers for the MVP award).
In watching Dickey's run over the past several weeks, one thing I've noticed is how much he seems to be enjoying it. Not that he doesn't expect to be good -- all major leaguers expect to be good on a certain level -- but that he understands how unique it is to get on a stretch like this, let alone for a 37-year-old knuckleballer without a long track record of success. I asked him about this recently, as he sat on his clubhouse stool after shagging balls during a 95-degree day in New York, his face a bright red from the hot sun.
"Well, let me put it this way and you tell me if you agree," he said with a smile. "I'm both appreciative and confident right now. I've had a lot of people help me and support me to get here, so that means a lot."
Dickey's knuckleball, as everyone seems to know by now, is a hard knuckleball, one that comes in at speeds up to 80 and 81 mph, much faster than the conventional high-60s knuckleball from a pitcher like
Tim Wakefield
. But Dickey varies the speed on the pitch and, more impressively, the location. A knuckleballer with command? Unthinkable.
There is a method to how he achieves all this. "There is a technique, but I can't really explain it," he said. "It's not that you wouldn't understand it. But if the right hitter knew what to look for, he may be able to pick up something."
That means the Mets' catcher just puts down the sign for the knuckler, and awaits the pitch. He's as blind as the batter. Unless, of course, Dickey mixes in one of his other pitches. He doesn't throw the knuckleball on every pitch, which makes him doubly tough for hitters.
Matt Holliday
of the Cardinals recently explained this, how the knuckleball makes Dickey's 87 mph fastball appear much faster. "I do watch video," Dickey said about his daily preparation. "I have to know the hitters' weaknesses, when they swing and miss, especially since I do have a conventional repertoire." If he loses the feel of the knuckleball, or if it's a wet night on which he has trouble gripping the ball, he can always resort to his other pitches.
He hasn't had to do that much. He remains the most unconventional of pitchers, the ace of the Mets in this most unconventional of seasons for them. They're 45-38, currently tied with the Reds and Giants for the wild-card lead. There has been talk that if the Mets stay in the race, Dickey could pitch on three days' rest or maybe pitch in relief between starts. Manager Terry Collins admitted a couple of weeks ago that the Mets had considered that.
Dickey said he'd be willing to do it if asked. "It would mean I'd have to change my routine," he said. "Right now, I have a rest day and then I have my throw day."
That's a question for down the road, I suppose, maybe in August or September. The Mets will worry about that if the need arises. For now, Mets fans can enjoy this ride; Dickey can enjoy his All-Star break. Let's hope we see him pitch in Kansas City, throwing those balls that flutter beautifully through the air.
April, 8, 2012
4/08/12
6:00
PM ET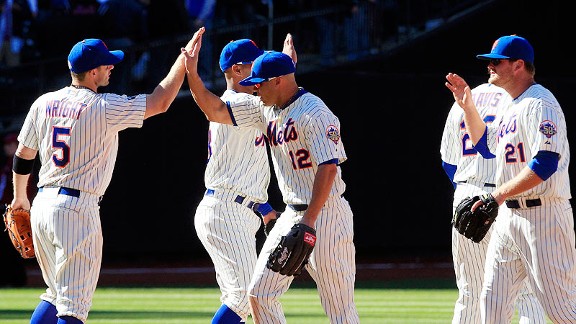 AP Photo/Frank Franklin IIThe Mets are off to a 3-0 start after sweeping the Atlanta Braves to start the season.
Hey, it's only one weekend but for one weekend
New York Mets
fans can rejoice in a simple statement of fact: the
New York Yankees
are 0-3 and the Mets are 3-0.
The
Tampa Bay Rays
' sweep of the Yankees was an important statement for the Rays, a team that has a brutal April schedule. The Rays follow up their series against the Yankees with a nine-game road trip to Detroit, Boston and Toronto, series at home against the Twins and Angels and then a three-game series in Texas. Not until they travel to Seattle and Oakland from April 30 through May 6 do they get an "easy" week. The Rays started 1-8 a year ago and managed to quickly dig out of that hole (they were 15-12 by the end of April), but this April schedule is a stiff challenge.
Jeremy Hellickson
, everybody's favorite pitcher to regress to the mean in 2012, did exactly what he did in 2011: Limit hits even though he didn't strike out many batters. Pitching on his 26th birthday, Hellickson took a three-hit, 3-0 lead into the ninth. After walking
Nick Swisher
on a 3-2 pitch with two outs -- his 118th pitch of the game -- Joe Maddon finally brought in
Fernando Rodney
for the final out. Hellickson walked four and struck out four but the top three hitters in the Yankees lineup (
Derek Jeter
,
Curtis Granderson
and
Robinson Cano
) went 0-for-11). As somebody wrote on Twitter, "Nobody induces more line-drive outs than Hellickson."
That was a knock against Hellickson's low average on balls in play in 2011 -- his .224 average was the lowest by a starting pitcher since 1988. But it's also a credit to Maddon and the Rays' defensive alignments. No team shifts and moves more on the defense than the Rays. You saw this result in several outs over the weekend, whether it was
Mark Teixeira
lining a ball to the second baseman playing in shallow right field or
Alex Rodriguez
grounding a ball over the second-base bag only to have the second baseman perfectly positioned.
Maddon will also move his players all over the batting order. Outside of
Desmond Jennings
in the leadoff spot and
Evan Longoria
in the three-hole, you never know how they'll line up.
Carlos Pena
hit second on Sunday and hit a third-inning home run off
Phil Hughes
. The Rays' lineup looks much stronger against right-handed pitching with southpaw power bats in Pena,
Matt Joyce
and
Luke Scott
. Teams would be wise to try and line up their left-handed starters against them.
Meanwhile, Joe Girardi looked like a kindergartner trying to take the SAT compared to Maddon. His intentional walk to
Sean Rodriguez
on Friday backfired when Pena hit a grand slam. He played
Eduardo Nunez
at shortstop on Saturday and his first-inning error led to two unearned runs. Look, Jeter will have to take days off throughout season and while you can understand the desire to sit him on turf, it's also just the second game of the season. Shouldn't Jeter be sitting against the Twins or Mariners or Orioles and not the Rays? And keep in mind that Nunez isn't any better on defense than Jeter; his Defensive Runs Saved in 2011 was minus-8 in 386 innings; Jeter's total was minus-14 in 1047 innings.
With Swisher battling a sensitive hammy, Girardi also put
Raul Ibanez
in right field on Sunday. This is akin to playing a fire hydrant out there. With two outs in the first Joyce blooped a ball to right field that should have been caught. Ibanez misplayed it into a triple, allowing Longoria to score the game's first run.
The Yankees travel to Baltimore on Monday, with
Ivan Nova
facing
Brian Matusz
. Nova had a rough spring, giving up 31 hits and five home runs in 22.1 innings, although he did have a 17/3 SO/BB ratio. The Yankees are 0-3 and while it's fun to pretend they are panicking, that's not really the case. This series was more about Tampa Bay doing everything right. But it is the Yankees, and when they start 0-3 that's not how most fans will view it.
* * * *
As for the Mets, they completed their sweep of the Braves as
Jonathon Niese
took a no-hitter into the seventh. The Mets nearly blew a 7-0 lead but held on for the 7-5 victory as
Frank Francisco
picked up his third save.
I watched a few innings of this game and one thing the Mets' hitters do is work the count very well. Atlanta starter
Mike Minor
threw 104 pitches in just five innings. On Saturday,
Jair Jurrjens
threw 102 pitches and didn't get out of the fifth.
Ruben Tejada
and
Daniel Murphy
may not have a lot of power at the top of the order but they're pesky, make you throw strikes and should go a nice job of getting on base. On Saturday, each saw 23 pitches in five plate appearances; on Sunday, they saw a combined 40 pitches as Tejada went 4-for-5 and Murphy 2-for-5.
It's easy to forget, but the Mets
did
lead the NL East in runs scored in 2011 -- despite playing in Citi Field. They did this with a lot of a patience as they led the NL in walks drawn. Yes,
Jose Reyes
is gone and
Carlos Beltran
was part of that production, but the Mets don't have any easy outs in the lineup. All eight regulars (
Andres Torres
landed on the DL with a calf injury after the season opener) are capable of posting a .340 OBP and that means the Mets could once again end up leading the division in runs.
Like the Rays, the Mets face a tough April: Washington, at Philly, at Atlanta, San Francisco, Miami, at Colorado, at Houston. Let's not overreact to three games and declare the Mets contenders, but I don't believe they're the 95-loss team that many fans believe. The Mets drew 27,855 on Easter Sunday, 14,000 short of capacity. It will take more than a 3-0 start to turns Mets fans into believers, but at least they can spend a few days having fun at the Yankees' expense.
Follow David Schoenfield on Twitter @dschoenfield.
April, 17, 2011
4/17/11
1:43
AM ET
The more things change for the Mets, the more they stay the same. After a complete overhaul of their front office, the hiring of a new manager and coaching staff, a rebuilt bullpen, two new additions to the starting rotation, and an Opening Day lineup that carried over only one player from the 2010 opener, the Mets continue to struggle.
Making sure things stayed familiar, on Saturday an old foe applied the damage to their dreams:
Chipper Jones
. Jones had 44 home runs and a .973 OPS in 215 career games versus the Mets coming into the game. He went 3-for-6 with two walks, two runs, and two RBIs, including his 45th career homer against the Mets, as the Braves took both games of Saturday's doubleheader.
It was only the latest development in a storyline that gets worse every day for the Flushing faithful. After losing seven straight games including two consecutive doubleheaders, the
New York Mets
have sunk to 4-11 overall. Do Mets fans have reason to be optimistic? Consider this: that 4-11 record is only one game ahead of the pace of the 1962 Mets, who began their year 3-12 en route to a 40-120 season. Losing two doubleheaders in a week was also historic. It has only happened five times since 2000 -- although the Mets did it once before, in June 2003.
To add injury to insult,
Jason Bay
lingers in Port St. Lucie with a ribcage strain, and their most effective starting pitcher --
Chris Young
-- has been placed on the DL with biceps tendonitis after only two starts. Opening Day starter
Mike Pelfrey
, the pitcher who is supposed to be their de facto ace, has completed only 16 innings in four starts, and sports a whopping 2.34 WHIP and 9.72 ERA. The bullpen has been similarly ineffective, with three blown saves, a 1.70 WHIP and 4.79 ERA through 47 innings.
Now the bad news: Pitching may be the Mets' strength.
Offensively, the Mets have scored 63 runs, which isn't awful -- it's good enough for sixth in the NL. But their .237 average and .661 OPS with runners in scoring position suggests they could have scored many more, and that they just aren't getting the big hits when they have the opposition on the ropes. Mets hitters managed only two hits in seven innings on Saturday against
Jair Jurrjens
, then struck out five times against the Braves bullpen. Their lone baserunner came with two outs in the ninth, when
Jose Reyes
struck out on a wild pitch and reached first base safely as the ball trickled away from catcher
David Ross
.
On defense, Mets outfielders have lost balls both in the sun and the lights, and haven't yet figured out the quirky confines of Citi Field. Second baseman
Brad Emaus
misplayed an easy double-play ball during a key moment in Thursday's loss against the Rockies, and has looked tentative -- which more or less describes the Mets defense in general. The catchers have allowed 16 stolen bases and have credit for only one caught stealing, which came on Saturday afternoon when the Braves'
Nate McLouth
beat the throw by a few feet, but was tagged out when his foot slipped off the base.
Perhaps most disappointing has been the Mets inability to execute "the little things" -- especially annoying since new manager Terry Collins made fundamentals a focus from the day he came on board. Failed sacrifice-bunt attempts, mysterious pitch selections, and bone-headed baserunning has marked the club's ineptitude. The players look nervous and confused, except when they try to do too much -- such as when
Daniel Murphy
channeled Marv Throneberry and inexplicably attempted to steal third base in the sixth inning of their most recent loss, with none out and down by three. Murphy was thrown out by 15 feet, killing the Mets' only potential of a rally in the ballgame. Collins subsequently described it as "an error of enthusiasm." Casey Stengel, manager of the original edition of the Mets back in 1962, might have a more scathing description of what's happening with the Mets right now by asking again, "Can't anybody here play this game?"
Despite his club's recent woes, Collins remains upbeat. Immediately after getting swept in the Atlanta doubleheader, he said, "We're gonna go get 'em tomorrow and then we're gonna go home and win six straight and this will all be forgotten."
Though Collins remains positive, his words fall on increasingly deaf ears among Mets fans. After all, when the Mets began the season 4-7, Collins' response was, "We're one pitch away, and we're one swing away, from being 9-2, and we're not. But the next 11, we need to be 9-2."
Collins is correct in the broad strokes: If the Mets rip off a six- or seven-game winning streak, this 4-11 start is likely to be forgotten. But that's a big "if," particularly when a team is struggling to pitch, hit, field,
and
run. What's more concerning is that if the Mets don't turn things around dramatically, and right away, the season likely will get even worse before it gets better. Why? Because if you put any stock into strength of schedule analysis, the Mets are currently in their easiest month, with two of their toughest two coming in May and June. In July, they play 13 games against 2010 playoff teams.
The best chance for optimism is the hope that maybe the Mets will play up to their competition as the schedule gets tougher. But if the first fifteen games are any indication, it's going to be a long, long, long season for Mets fans.
PHOTO OF THE DAY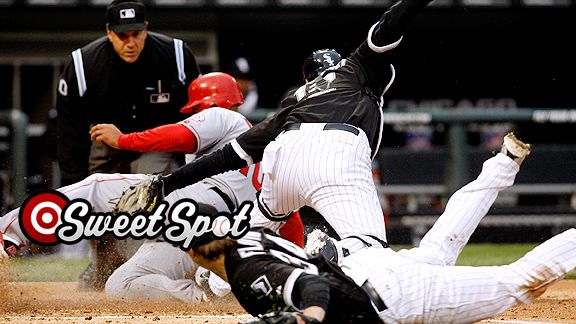 Jerry Lai/US PresswireA.J. Pierzynski's missed tag was just the beginning of a seven-run night for the Angels.
April, 7, 2011
4/07/11
12:05
AM ET
A few days before the season began I was out running with Matt, one of my editors. Matt is a Mets fan and I was having a good time threatening to write a "Why the Mets could be the worst team in the National League" post.
I never got around to writing it; I guess I didn't really believe in the premise. But we all know nobody thinks the Mets will do anything in 2011, except maybe Bernie Madoff; not one ESPN insider predicted the Mets to make the playoffs. Baseball Prospectus projected the Mets to win 80 games. The Vegas over/under was 77 wins.
So even though they lost Wednesday night to the Phillies to fall to 3-2, they showed some energy by rallying from a 7-0 deficit to tie it. I liked what I saw (other than
Mike Pelfrey
). In fact, I have 10 reasons the Mets may be better than we believe.
1.
David Wright
is still a really good player. He fell out of the "SportsCenter" highlights during that 10-homer season in 2009, but hit 29 last season. If he gets his OBP back in the .390 range, he's one of baseball's best third baseman, a step below the
Ryan Zimmerman
/
Evan Longoria
duo.
2.
Jose Reyes
in a contract year. All the skills are still there. He still has the speed and the rocket arm. He doesn't turn 28 until June. I feel a big year, back among the NL runs leaders … and a big contract in the offseason.
3.
Angel Pagan
is for real. He's a solid center fielder, a switch-hitter with speed and just enough extra-base power to be dangerous. You can win a division title with Pagan out there. For example, is
Shane Victorino
really any better than Pagan?
4. Depth in the lineup. As Baseball Prospectus pointed out in its annual, the Mets gave 40 percent of their plate appearances to hitters worse than league average. Among the culprits with at least 100 plate appearances:
Luis Castillo
,
Rod Barajas
,
Alex Cora
,
Henry Blanco
and somebody named
Jesus Feliciano
. This year, the Mets go eight deep in the lineup, with catcher
Josh Thole
hitting eighth. And Thole isn't that bad. Not much power, but a decent .357 OBP as a rookie in 2010.
5.
Brad Emaus
. My colleague Eric Karabell loves Emaus. Trust in Eric. Hey, he's gotta be better than Luis Castillo. Of course, my couch is better than Luis Castillo.
6. The bench.
Lucas Duda
has some good minor league hitting numbers,
Scott Hairston
can hit lefties,
Daniel Murphy
is back after being injured last season and he's a nice utility guy.
7. Potential in the rotation. I am worried about Mike Pelfrey after two bad starts, but the rotation could be solid with
R.A. Dickey
, a step forward from
Jonathon Niese
, a comeback from
Chris Young
and
Chris Capuano
. Yes, they lack an ace unless
Johan Santana
returns healthy, but all these guys could at least be decent. And if you have five decent starters, you have a chance.
8. The bullpen is sneaky good. Hard-throwing
Bobby Parnell
is ready to emerge in the setup role,
D.J. Carrasco
is a ground ball specialist with a rubber arm who won't give up many homers,
Taylor Buchholz
was really good with the Rockies before getting injured. I'm no fan of K-Rod, but he's better than a lot of closers. (But can we dump the nickname please? He really hasn't been K-Rod since about 2007.)
9. Terry Collins. Let's put it this way: BP reminded me of the incident last season when Jerry Manuel had Castillo bunt in extra innings against Cardinals
outfielder
Joe Mather
. Collins is worth a win or two from a strategic/lineup viewpoint. Or maybe three or four.
10.
Carlos Beltran
's knees. I've avoided mentioning them until now. The Mets are due a little luck in the health department, right?
Add it all up and the Mets could win 86-87 games, and in the National League that could make them wild-card contenders.
Photo Of The Day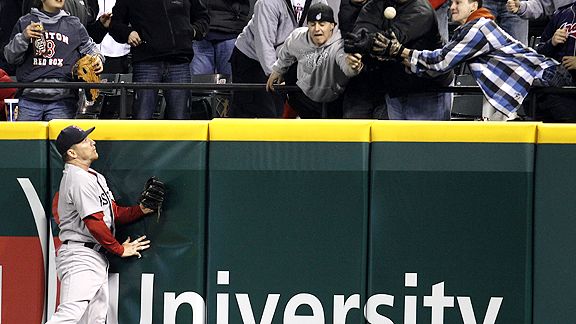 AP Photo/Tony DejakAs the Sox drop to 0-5, could Boston's J.D. Drew be singing "Come Sail Away" already?
February, 15, 2010
2/15/10
3:54
PM ET
Omar Minaya couldn't let all the warm, fuzzy feelings about
Jose Reyes
and
Johan Santana
percolate for just a few more days? Brian Costa with
the weird news
:
Three days before Mets pitchers and catchers report to camp, Omar Minaya is already settled into his office in Port St. Lucie, Fla. And the GM is looking forward to several position battles this spring, including one that seemed unlikely just a week ago: first base.

Minaya told me first base will be "an open competition" between Daniel Murphy and Mike Jacobs, who signed a minor-league deal with the Mets last week. Murphy is still the pre-camp favorite to win the job, but if he struggles over the next seven weeks and Jacobs impresses, the Mets could alter their thinking.

"He'll compete for the job," Minaya said of Jacobs. "I think it's fair to say that Murphy has proven himself worthy of being considered, but he's going to have to continue. It's an open competition."

--snip--

Whether it's Murphy or Jacobs, the Mets' starting first baseman in 2010 may just be keeping the spot warm for prospect Ike Davis, anyway. Davis, 22, will be in camp as a non-roster invitee.
Davis is probably going to win the job, eventually. But with only 55 games above Class A, that eventually is late this summer at the earliest, and probably sometime in 2011. So, considering that the Mets will have a large payroll in 2010, but will enter the season picked to finish second or third in their division, they can hardly afford to just punt a position.
But that's what they're doing. When you see the names "Daniel Murphy" and "Mike Jacobs," you might say to yourself, "Self, neither of those guys are good enough to play every day, but what about a platoon? After all, the Mets are set with every-day players for every other position, so they should have the roster space to carry two first basemen."
Ah, that's what I thought, too. But then, a nagging little suspicion: Aren't Murphy and Jacobs both left-handed hitters?
They are.
That's right, friends. Even though he already had Murphy, Minaya chose -- from among all the sluggardly sluggers looking for an invitation to spring training -- another left-handed hitter to compete with Murphy.
Against left-handed pitchers in his career, Jacobs has been utterly useless: .221/.269/.374.
Against left-handed pitchers in his career, Murphy has been slightly better: .240/.289/.442.
Granted, neither of them have been crackerjacks against right-handed pitchers, either. Jacobs hasn't reached base often enough and Murphy hasn't hit for enough power. But each might be
useful
against right-handers.
Maybe Minaya's not finished yet. Maybe he's going to trade Murphy for a righty-hitting first baseman. Maybe he's bringing Jacobs to camp just to give Murphy some competition. Maybe he's going to sign
Mike Sweeney
to platoon with the winner of the Murphy/Jacobs smackdown.
Maybe. But until something else happens, we'll have to go with this as the No. 1 early contender for 2010's Worst Plan of Spring Training Award.
September, 27, 2009
9/27/09
3:11
PM ET
In the service of promoting
Daniel Murphy
as the Mets' First Baseman of the Future, the Times' Jim Luttrell
constructs a straw man
that I can't resist setting a match to:
The Mets were contenders with Keith Hernandez and John Olerud at first. Hernandez hit more than 15 home runs only twice in his career. Olerud, never a classic slugger, hit a high of 22 while with the Mets. Mark Grace was a three-time All-Star in a 16-year career without ever hitting more than 17 homers in a season.

Murphy is never going to reach 4,000 hits and will probably not win Gold Gloves like his Met predecessors. But he may compare favorably with the Dodgers' James Loney, who will be going to the postseason for the third time in four years and had all of 13 homers entering Saturday.

Murphy is just 24. He struggled for three months this summer while first trying to become an outfielder, then moving to first. But before the defensive struggles and before injuries hit the team and increased the pressure on him, he batted .324 in April. And through Friday, he had batted .294 since Aug. 1, with 28 extra-base hits.
This argument is risible.
First, anybody who says a first baseman has to hit home runs is an idiot.
Second, it's hard to win a lot of games with a first baseman who can't hit (the Dodgers this year being a notable exception).
Third, anybody who thinks Daniel Murphy can hit really isn't paying close attention.
This season, 23 major league first basemen have enough plate appearances to qualify for the batting title. Among them, Murphy ranks 20th in slugging percentage and 22nd in on-base percentage. He's just not getting the job done, and isn't likely to. You can compare him to James Loney, except James Loney isn't getting the job done, either. You can compare him to Keith Hernandez and John Olerud, except Hernandez and Olerud were both on-base machines. Olerud posted a .425 OBP in his three seasons as a Met; Hernandez a .387 OBP in his seven seasons.
September, 7, 2009
9/07/09
2:03
PM ET
As Ben Shpigel writes, the Mets have a number of
unsettled situations
heading into the offseason, including "catcher, first base, left field and in the rotation." Well, yeah. But is first base more settled than we think?
One internal option continues to be Daniel Murphy, whose offense is now catching up with his defense. He went 3 for 4 in Sunday's 4-2 win against the Cubs, finishing a double short of the cycle, to raise his average to .259. The Mets feel he could be at worst an average defensive first baseman, and his adjustment -- and improvement -- has been one of the few pleasant surprises this season.

--snip--

Earlier this season, pitchers were exploiting Murphy's wide stance by pounding him inside with fastballs. He and the hitting coach Howard Johnson were aware of it, but Murphy continued to struggle, batting .176 in May and .240 in June. Only recently have those adjustments started to feel natural, and since Aug. 15 Murphy is batting .306 with 15 runs batted in.

"He's evolving, maturing into a pretty decent hitter," Manager Jerry Manuel said.

With Carlos Delgado unlikely to be re-signed, the Mets have maintained that they can sacrifice power at first base, a position traditionally occupied by sluggers (or at least players with 20-homer potential), as long as they fill that void at another position. They could do that in left field, the only outfield spot where a rangy and fast defender is not as much of a necessity.

Jeff Francoeur's teammates have remarked, for instance, how good a fit he seems in treacherous right field. With Carlos Beltran manning center, a slugger like Jason Bay or Matt Holliday -- both are free agents -- would make for an imposing outfield but would also cost a fortune.
I'm just going to say this even though I know it's not nice ... Daniel Murphy isn't good enough to play regularly. He doesn't field well enough to play second base, and he doesn't hit well enough to play one of the corner positions. He just doesn't.
This season, 24 major league first basemen have played enough to qualify for the batting lead. Even with those wonderful stats since the middle of August, Murphy ranks 23rd in on-base percentage and 22nd in slugging percentage.
In fairness, there's still plenty of room for improvement. Murphy's only 24, and he spent just one full season in the minors (including just one game in Triple-A). As you might recall, Murphy was an infielder in the minors before the desperate Mets turned him into a left fielder upon summoning him to the majors last August. That seemed to work well enough, particularly because Murphy enjoyed the best two months of his life as a hitter. After which a number of people -- including Jerry Manuel, I'll bet -- said he was better than just "pretty decent."
Of course, it was all a mirage. This season he looked awful in left field before switching to first base, and he never has really hit. Maybe someday Murphy will be good enough to play regularly, perhaps at third base. But he's not good enough, now. And it's preposterous to suggest that he will be good enough next year, if only the Mets can deploy a power-hitting left fielder.
Baseball doesn't work that way. You can revive Ted Williams to play left field, and you'd still be giving away runs (and wins) at first base. Which doesn't mean you don't do it; every team gives away runs somewhere. But organizationally, you'd better at least know you're giving away runs, so you can work on not giving away runs.
May, 15, 2009
5/15/09
2:42
PM ET
In the wake of the news that
Carlos Delgado
might be
out for a long while
, Ted Berg and Michael Salfino discuss
what's next for the Mets
. Among the possibilities (which they don't necessarily endorse): shift David Murphy to first base and summon top prospect
Fernando Martinez
from the minors to take over in left field.
The thinking, I guess, is that Murphy's going to wind up at first base and Martinez in left field eventually, so why not bow to the future now?
Well, because that's why they call it the future. It's not clear that Murphy, right now, will hit enough to play first base every day. Sure, you could platoon him at first base and he wouldn't kill you ... but then who's going to play left field? Right: young Fernando Martinez. But it's not clear that Martinez, right now, will hit enough to play regularly in the majors, and at 20 he needs to be playing regularly (or close to that). Fernandez currently sports a .315 on-base percentage in Triple-A, and there's little reason to think he'd do better than that in the National League. Not right now. In two or three years he figures to be one of the game's bright young stars. Right now, though? Probably not.
Here's the thing: Right now, the Mets have a first baseman. Fernando Tatis has backed up Delgado all spring, and he's been fantastic. You thought last season's .297/.369/.484 line was a bit of a mirage? I did. Well, this season it's .358/.417/.566. No, I know that's only 60 plate appearances and he's not really that good, but Tatis' career line is .266/.348/.447, which is better than Murphy or anyone else at hand is likely to do, right now.
Right now, the Mets have one big problem (or two, depending on how you look at it): their corner outfielders are not hitting. Murphy's not doing much in left field, and Ryan Church is doing even less in right field. Both of them bat left-handed. So does one of their backups, Jeremy Reed (who is hitting, but can't be expected to keep hitting). Gary Sheffield bats right-handed, but isn't hitting (and can't be expected to hit, ever).
The Mets need a good right-handed hitter, and they don't seem to have one on hand (unless you think this guy is the answer). I can't help thinking that a good general manager could find someone, just floating around out there, who can mash lefties and play left field or first base adequately. The Mets can survive, right now, without a guy like that. But if right now turns into July and August, people might start asking questions ...
April, 23, 2009
4/23/09
12:03
PM ET
Gerry Fraley has been watching the Mets, and he's
less than impressed
:
Despite the heartbreak of the past two seasons -- both of which ended with them just missing the playoffs -- the Mets have not changed a whit. They remain a high-risk, high-reward team that is prone to giving away games it should win.

If the Mets miss the National League playoffs by one game, as they have in each of the past two seasons, they can point to games such as Tuesday night's 6-4 loss to St. Louis as the reason. The defeat provided another example of sloppiness trumping talent.

--snip--

If Castillo, Murphy and Perez all pan out, the Mets can win the NL East. That is the baseball equivalent of hitting the lottery. It's nice to dream about, but rarely happens.
The 2008 Mets featured
Luis Castillo
,
Daniel Murphy
, and
Oliver Perez
. The 2008 Mets finished one game out of first place.
How does one make the leap from one game out of first place to hitting the lottery, exactly? The Mets didn't need to hit the lottery last season; they just needed to flip a coin and get heads instead of tails. Same thing in 2007. The Mets could have won two division titles almost exactly as easily as they lost two. I'm all for sophisticated, nuanced analysis. But in this case the most simplistic analysis does quite nicely: The only thing separating the Mets from the Phillies for two years running was luck.
That's no knock against the Phillies, who were better in both seasons than I thought they'd be. That's just baseball.
And about the Mets: Yes, they've got some issues. Castillo's probably a broken-down wreck, Murphy's miscast as an every-day left fielder, and Perez is never going to pitch as well as his contract suggests he should. But everyone has issues. The Yankees have an anonymous center fielder and a $160 million man who can't throw strikes. The Red Sox have Nick Green playing shortstop. And the Phillies' best starting pitcher (so far, anyway) has a 5.03 ERA.
So instead of talking about the lottery, let's talk about the odds ... and I still say the odds favor the Mets, slightly.
(H/T: BTF's Newsstand)
April, 14, 2009
4/14/09
12:20
AM ET
Posted by ESPN's Claire Smith

NEW YORK -- Mets manager Jerry Manuel made it official Monday afternoon: Gary Sheffield will get his first outfield start on Wednesday against the San Diego Padres.
Where Sheffield, formerly a designated hitter for Detroit, will play will depend on who's in the lineup with him. "If [Ryan] Church and Sheff play in the same outfield, Church will play right field," Manuel said prior to the Mets' inaugural game at Citi Field.
Sheffield and rookie left fielder Daniel Murphy spent about an hour before formal batting practice taking fly balls in the outfield, Sheffield specifically in right. Sheffield's take on playing the field, specifically Citi Field -- already noted for a footprint filled with nooks and crannies: "It's a difficult outfield, pretty big. I've just got to get out there and work the angles every day."
Noting that Sheffield has been practicing to play the outfield since his acquisition just prior to the season, Manuel said, "In this game of baseball, you can practice, practice and practice, but at some point, you have to get on the field and play."
Manuel likened Sheffield's reintroduction to the field to spring training prep time and said the Mets would likely play him, then give him a day off, then get him back on the field. But make no mistake, the manager said, what the Mets are waiting for is the bat, not the glove.
"It's very important that he get three, four plate appearances in before we can expect anything from his offensively," Manuel said.
Sheffield reiterated that he was more than ready to retire after the Tigers released him near the end of spring training and would not have been swayed by the thought of ending his career with 499 home runs.
"You know me, I've never been a stats guy. I would have had no problem leaving the game to these guys," he said, waving towards a clubhouse full of younger Mets players. "I'm not one to just want to hang around. If it's over, it's over."
Sheffield said that his uncle, former Mets ace Dwight Gooden, helped convince him that he could and should get some more swings in.
Murphy, the rookie, took fly balls and balls off the walls, as well, prior to batting practice.
"We played a couple exhibition games here, but it's important to keep working the field to see what to expect, to keep working on reads," he said. "I'm just trying to get a little more crisp out there."
As for the dimensions, Murphy, like Sheffield, agreed that Citi Field is pretty spacious. "The gaps are a little bigger," he said. "There's a little more room to cover."
Claire Smith is a news editor at ESPN. She covered baseball for 27 years at the Hartford Courant, the New York Times and the Philadelphia Inquirer.