February, 19, 2014
Feb 19
11:50
AM ET
June, 8, 2013
6/08/13
10:01
AM ET
This was supposed to be the year for the
Kansas City Royals
, the climax of all those of futile seasons, subsequent high draft pick selections, and constant rebuilding. In a perfect world the images of
James Shields
,
Wade Davis
,
Ervin Santana
and
Jeremy Guthrie
donning Kansas City uniforms would never exist.
After all, just two seasons prior to beginning the year with the four veteran right-handers in the rotation, general manager Dayton Moore and Co. had amassed what could have been the greatest farm system in baseball history. Prior to the start of the 2011 season Baseball America issued its top 100 prospects list, featuring nine members of the Royals organization, five of them among the game's top 19:
Eric Hosmer
(No. 8),
Mike Moustakas
(No. 9), Wil Myers (No. 10), John Lamb (No. 18), Mike Montgomery (No. 19), Christian Colon (No. 51),
Danny Duffy
(No. 68),
Jake Odorizzi
(No. 69) and Chris Dwyer (No. 83).
It was a deep, diverse collection of talent, offering a solid mix of potential middle-of-the-order bats and potential front-of-the-rotation arms. It was supposed to be, simply, the farm system that would thrust KC back into October.
And, yet, here the Royals are, in the midst of a horrifically poor stretch where they find themselves at the back of the AL Central. That leaves the question: What happened?
Eric Hosmer:
The young first baseman looked as close to a can't-miss prospect as any player in the organization, showing above-average to elite walk rates, solid contact skills, no discernible platoon splits, and promising power -- or was it?
Look at Hosmer's isolated power numbers:

Year	Level	PA	ISO
2009	A	327	0.129
2009	A+	107	0.093
2010	A+	375	0.191
2010	AA	211	0.303
2011	AAA	118	0.143
2011	MLB	563	0.172
2012	MLB	598	0.127
2013	MLB	215	0.066

Outside of half of one season in 2010, he never consistently showed above-average power. Instead, his two best stops in the minor leagues (according to Weighted Runs Created Plus, or wRC+) were his stints in High-A in 2010 and Triple-A the next year, both of which he posted ridiculously high batting averages on balls in play (.382 and .500, respectively).
In all fairness, he projected to hit for more power, but hasn't. Hosmer is only 23 years old, so there's still some reason to hope.
Mike Moustakas:
Heading into the 2010 season, the third baseman with the smooth left-handed stroke had been solid, but far from spectacular. He hit .272/.337/.468 as a 19-year-old in A-ball in 2008 and .250/.297/.421 in High-A the following season. But the former No. 2 overall pick broke out in Double-A in 2010, hitting an incredible .347/.413/.687 through 66 games. He was then promoted to Omaha where he hit .293/.314/.564.
Using Weighted Runs Created Plus -- a park and league adjusted offensive stat where 100 is league average and every point above or below it is equivalent to one percent better or worse than the league average -- and BABIP, Moustakas posted the following totals in the minor leagues:

Year	Level	PA	wRC+	BABIP
2008	A	549	128	0.289
2009	A+	530	95	0.275
2010	AA	298	194	0.342
2010	AAA	236	114	0.271
2011	AAA	250	105	0.314

His numbers with Northwest Arkansas certainly now appear to be the outlier, which is only supported by a unsustainable -- given his minor league track record -- .342 batting average on balls in play. But there were also two additional red flags: A history of below-average walk rates and an inability to hit left-handers consistently.
Fast forward a few years and, unsurprisingly, Moustakas owns a below-average walk rate and BABIP, and still hasn't learned to hit southpaws (he's hit .219/.274/.331 against them during his big league career).
John Lamb and Danny Duffy:
Statistically speaking, there were no red flags for Lamb and Duffy. Each missed a lot of bats and showed solid control. The problem, however, is both serve as just another cautionary tale when it comes to highly touted hurlers nabbed out of high school. The duo succumbed to elbow woes and Tommy John surgery. And while they are making progress on the hill this season, they've yet to make any type of big league impact.
Christian Colon:
The former fourth overall pick out of Cal State Fullerton in 2010 showed some offensive promise during his junior season: .358/.450/.631. But his bat -- namely his pop and walk rates -- has failed to develop in the pro ranks. Hi offensive production during his debut season in High-A certainly looked like a harbinger for things to come: He hit .278/.326/.376 and was 5 percent below the league-average, uninspiring production for a highly drafted college player in an age-appropriate level of competition.
Chris Dwyer:
Kansas City found the 6-foot-3 left-hander in the fourth round out of Clemson in 2009. Dwyer tossed a combined 102 innings the following season, the overwhelming majority in High-A. And while his overall numbers look impressive -- 10.0 K/9 and 3.8 BB/9 -- he was another polished collegiate player that spent a significant amount of time in an age-appropriate level of competition. His numbers have regressed mightily since then.
Wil Myers, Jake Odorizzi and Mike Montgomery:
Flipped this offseason for James Shields and Wade Davis, Myers and Odorizzi look like the two most likely candidates of the entire group to find sustained big league success.
Myers, who hit .314/.387/.600 between Double-A and Triple-A in 2012, started off slowly this season but has managed to pick things up as of late (.276/.355/.491). He has the potential to swing and miss a lot at the big league level, but the power output and strong walk rates have been consistent.
Odorizzi misses some bats and shows average control. He won't be a star, but should become a solid No. 3 or4 starter.
Montgomery, on the other hand, is another failed top prospect. And while he flashed some promise at certain points during his career, the southpaw's production hjas failed to match the hype once he entered Double-A.
Given the high attrition rate for prospects, you could project that probably only one, maybe two, of the team's prospects from that season would actually reach their full potential, with another two becoming solid big league regulars. Instead, the seven that remain within the organization have all struggled or been injured. For now, Myers and Odorizzi look like group's best bets. Unfortunately for the hometown fans, they no longer have a chance do so for the Royals.
Joe Werner contributes to the Indians blog It's Pronounced "Lajaway," writes at ProspectDigest.com and can be followed on Twitter @ReleasePoints.
December, 11, 2012
12/11/12
12:17
AM ET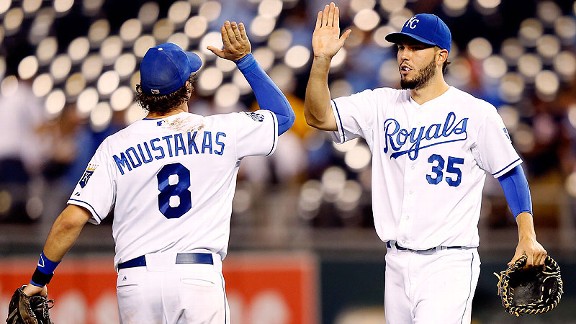 Jamie Squire/Getty ImagesImprovement from Mike Moustakas and Eric Hosmer, right, could lift the Royals into contention.
What would it take for the
Kansas City Royals
to unseat the
Detroit Tigers
, overtake the
Chicago White Sox
and hold off the
Cleveland Indians
and
Minnesota Twins
to win the American Central in 2013?
Over the past three seasons, the AL Central champions finished the season with a roster totaling about 38 wins above replacement.
The 2012 Royals finished the season 25 wins above replacement, so there is a gap to be closed. We're going to see if we can come up with the combination of numbers to close it.
Position players
The chart on the right shows
MLBdepthcharts.com
's projected Royals lineup for 2013 along with 2012 WAR total for those players.
Let's take the youngest players in that group and give them some room to grow. Let's bump Lorenzo Cain, Alcides Escobar, Billy Butler, Mike Moustakas and Salvador Perez up an average of half a win each. And let's work off the idea that Alex Gordon and the
Chris Getz
/
Johnny Giavotella
platoon will match in 2013 what they did in 2012.
Then, let's make two leaps of faith.
1. That Jeff Francoeur goes from being the lowest-valued position player in baseball (minus-2.7 WAR) to borderline-replacement level (minus-0.7 WAR) by getting his defensive game back to something reasonable and by improving slightly as a hitter and baserunner (remember, he'll be only 29 when the season starts).
2. That Eric Hosmer fixes what ailed him during his sophomore slump and gains back the WAR that he lost from 2011 to 2012, pushing him back up to 1.3 for 2013.
If all of that was to happen for the Royals, that lineup would be worth a collective 22.8 WAR, up 6.5 wins from what it was worth in 2012.
The Royals are not projected to have a strong bench in 2013, and most of their top-prospect position players are projected to start the season in Double-A or below.
So we're going to presume that when they do go to reserves, they are hurt by replacement-level-or-less players more often than they are helped by
Jarrod Dyson
and
Irving Falu
.
Let's subtract 2.0 WAR over the course of the season for the time seen by the bench.
That gives the Royals a position-player group worth 20.8 WAR.
Pitchers
The Royals basically have a No. 2 starter (
James Shields
) filling a No. 1 role, a No. 3 starter (
Jeremy Guthrie
) filling a No. 2 role, and a No. 4 starter (
Ervin Santana
) filling a No. 3 role. They have
Wade Davis
as their No. 4, which seems about right, and
Bruce Chen
as the No. 5.
Again, remember that we're creating a scenario in which the Royals win the AL Central. So let's take a rosy view of this fivesome and hand them 140 starts.
Let's peg Shields as a 4-WAR pitcher, Guthrie as a 3-WAR pitcher and Santana as a 2-WAR pitcher.
That's not a horrendous reach. Those numbers would rate as the third-, fourth- and fifth-best seasons for those pitchers, respectively.
Davis was a 1.1-WAR starter in 2010, so let's plug him in for 1.0 in 2013.
With Chen set to turn 36 in June and trending downward, we'll drop him from -0.2 to -1.2.
We'll split up the remaining 22 starts among
Luis Mendoza
,
Luke Hochevar
,
Guillermo Moscoso
,
Will Smith
, Tommy John-recoverees
Felipe Paulino
and
Danny Duffy
and whichever prospects (and they still have a few) emerge from the minors.
The big thing here is that if those top five Royals starters are healthy, their fill-ins can't do too much damage. We'll subtract 1.0 WAR for their work.
Now to the bullpen -- and we know that relief pitching is volatile. But again, we're trying to establish what the Royals need to win, not what they will do.
Among
Greg Holland
,
Kelvin Herrera
,
Aaron Crow
,
Louis Coleman
and
Tim Collins
, two will probably struggle to duplicate their 2012 numbers, and maybe one of the others gets hurt.
As a group, those five guys were worth 6.8 WAR last season. That's pretty good and strikes us as hard to duplicate. But again, this is a young group, so maybe the drop-off isn't so great.
Let's give them 5.0 WAR this time around and take away 1.0 WAR for anyone else who fills in for a time (the starters listed above, and
Everett Teaford
get the first crack).
Let's add it all together. The lineup has a value of 20.8 WAR. The starting rotation is worth 8.0 WAR and the bullpen is worth 5.0 WAR.
That gets us to almost 34 wins above replacement.
Our target was 38.
So we still have four wins to make up.
How do we do that? We change a few numbers.
Let's add a win to Shields and make him a 5-WAR pitcher, something he has done once before in his career. That means he should be getting some Cy Young votes.
Let's make Guthrie a 3.5-WAR pitcher, meaning he basically does what he did in 91 innings for the Royals in 2012 for 200 innings in 2013.
Let's make Davis a 1.5-WAR pitcher, which is better than he has done before, but he's young enough to improve.
That takes care of half of the win gap. Now we need to find two more wins among the position players.
There are a number of ways to do this, such as adding 0.2 WAR to every regular (boring), taking a couple regulars and making them a bit better (also boring), making Francoeur into an almost-average player (meh) or hand all of that WAR to one player (fun!).
I like the last option, even though it's a bit reckless.
I'm going to give those 2 WAR to Hosmer and make him a 3.3 for 2013.
Hosmer rated 26th in WAR among the 30 players with 300 at-bats who played at least half their games at first base last season. Bumping him to a 3.3 would jump him 20 spots, to the point of being viewed among the better first basemen in the game.
So, Royals fans, that's what you're looking at. Unrealistic? Probably.
But here's the key point: No one said this was going to be easy.
April, 23, 2012
4/23/12
3:06
AM ET
Of course we want the
Kansas City Royals
to do well. What have the Royals ever done to you? (Leave Jorge Orta out of this.)
No, they're the little team from the Midwest with the cool water fountains in the outfield and were once relevant before Bo Jackson broke his hip. In other words ... a long time ago. No need to recite their recent miserable history here other than to say that despite 16 losing seasons in the past 17, many predicted this would be breakout year for the Royals. They're young! They're exciting! They have
Eric Hosmer
! Fans trusted The Process and this would be the year their trust would be rewarded with a team that would actually win more games than it lost.
And then the season began and the Royals once again look terrible. They've lost 10 in a row, they're 0-9 at home, Hosmer is hitting .183 and
Yuniesky Betancourt
has hit first, second and fifth in recent days.
Can it get any worse?
OK, maybe we could have seen this coming. After all, this was still a pitching staff led by ...
Bruce Chen
. And
Luke Hochevar
. And ... wait, let's stop being so negative. Truth, it's been a lot of bad luck and bad breaks for the Royals. Five of their 12 losses have been by one run. And while they're 13th in runs scored in the AL, they're middle of the pack in average, on-base and slugging. They just haven't had enough timely hits with runners on base. Usually that corrects itself over time.
The starting pitching has struggled, but there are some good signs. Chen and Hochevar have a combined 26/7 SO/BB ratio and just one home run allowed.
Danny Duffy
has been throwing some high-octane heat, averaging 95 mph on his fastball. The control is a little wobbly but the velocity is as good as any left-hander in baseball. So maybe there's hope.
After all, it's just two weeks. It's too early to give up.
Series of the week
New York Yankees at Texas Rangers, Monday through Wednesday
CC Sabathia
(1-0, 5.59) vs.
Derek Holland
(2-0, 3.10)
Hiroki Kuroda
(1-2, 5.00) vs.
Yu Darvish
(2-0, 3.57)
Phil Hughes
(1-2, 6.75) vs.
Scott Feldman
(0-0, 0.00)
The Yankees are 9-6, even though they rank 13th in the AL with a 5.84 rotation ERA. While the ERA is high, the rotation has pitched better in some regards -- it has an excellent strikeout/walk ratio of 77/23 in 81.2 innings, but has allowed 107 hits. So have these guys been unlucky with their balls in play? Are they serving up too many meaty strikes? Is the Yankees' defense that bad? One problem: the Yankees' starters have allowed 16 home runs; by contract, Rangers starters have allowed just seven.
April has always been Sabathia's worst month (4.17 career ERA In April versus 3.43 in other months), but his velocity is down compared to previous years. His average fastball velocity is 91.5 mph compared to 92.6 mph each of the past two Aprils. Something to watch for on Monday. Holland, meanwhile, is 0-4 with a 9.00 ERA in six career appearances (five starts) against the Yankees. Besides Darvish's biggest test, note that Feldman draws the spot start on Wednesday as the Rangers played a doubleheader over the weekend after a rainout.
If we get to battle of the bullpens, it should be interesting. Yankee relievers have a 2.14 ERA with 65 K's in 54.2 innings. Texas relievers have a 2.33 ERA, an impressive 36/6 strikeout/walk ratio and .222 opponents' average allowed.
Three pitching matchups to watch
1.
Matt Cain
(1-0, 1.88) vs.
Mat Latos
(0-2, 8.22), Giants at Reds (Tuesday, 7:10 p.m. ET)
In his last two starts Cain has allowed no runs and three hits over 18 innings against the Pirates and Phillies. For the season, opponents are batting .114 against him and left-handed batters are just 4-for-43. That's nothing new as he held lefties to a .185 mark in 2011. Cain is aiming for a third straight start with a Game Score of 85 or higher -- something no pitcher has done since 1998 (
Curt Schilling
and
Roger Clemens
). Latos has struggled in his three starts, with just 11 strikeouts and a .328 average allowed.
2.
Felix Doubront
(0-0, 3.94) vs.
Philip Humber
(1-0, 0.63), Red Sox at White Sox (Thursday, 8:10 p.m. ET)
Hey, we have to highlight Mr. Perfect Game. Humber threw just 96 pitches against the Mariners, relying on his slider as his key pitch in registering nine strikeouts. Doubront left his last start against the Yankees with a 9-1 lead ... and ended up with a no-decision. And here's some good news for Red Sox fans: ESPN Stats & Information informs us that since 1995 three teams have started 4-10 or worse and made the playoffs -- 2007 Phillies, 2001 A's, 2000 Giants (all started 4-10). Including the pre-wild card are, nine teams in all made the postseason with that bad a start. Two of them won the World Series -- the 1991 Twins and 1979 Pirates.
3.
Ross Detwiler
(2-0, 0.56) vs.
Clayton Kershaw
(1-0, 1.61), Nationals at Dodgers (Friday, 10:10 p.m. ET)
Detwiler's hot start has been fueled by a 64.3 percent groundball rate, best in the majors among starting pitchers. He's also backed that up with 15 strikeouts in 16 innings. Davey Johnson has been conservative with Detwiler in his three starts as he hasn't thrown more than 81 pitches. Kershaw has allowed five runs in four starts (one abbreviated when he left after three innings with the flu) but has just one win. Not that wins matter of course.
Player on the hot seat: Albert Pujols
After a hitless weekend against the Orioles, Pujols is down to .246, hasn't homered in 65 at-bats and has driven in just four runs. Not exactly what the Angels were expecting. Two weeks is two weeks, but it's time for the $240 million man to produce. From ESPN Stats & Info: Look for the Rays to shift against Pujols. Not only do the Rays shift more than any other team, but Pujols has pulled or gone up the middle on 50 of the 56 balls he's put in play. All of his groundballs have been fielded by the third baseman or shortstop and he's 2-for-20 on grounders.
Player to watch: Matt Kemp
As long he's hitting like this, he's still the player to watch (with apologies to
Josh Hamilton
). Nine home runs in 16 games, seven in his last nine, a .450 average and 22 RBIs. Awesome stuff. Pujols and
Alex Rodriguez
hold the April record with 14 home runs. With series at home against the Braves and Nationals, you East Coasters may have stay up a little late.
April, 11, 2012
4/11/12
6:30
PM ET
January, 26, 2012
1/26/12
8:30
AM ET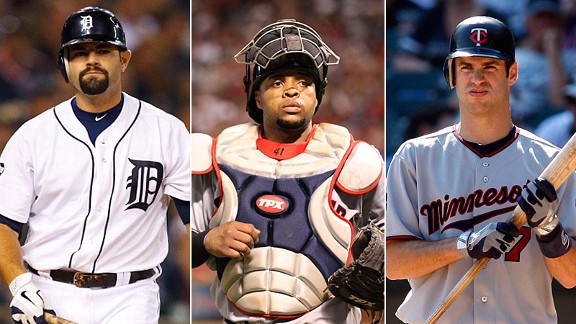 US PresswireWith Alex Avila, Carlos Santana and Joe Mauer, the AL Central is loaded at catcher.
We're back with more divisional position rankings for 2012. You can scream, you can holler, you can protest and call me names. But just because I rated your player lower than you think he deserves doesn't mean I hate your team.
(Here are the
NL East
and
NL West
rankings.)
Catcher
1.
Alex Avila
, Tigers
2.
Joe Mauer
, Twins
3.
Carlos Santana
, Indians
4.
Salvador Perez
, Royals
5.
A.J. Pierzynski
, White Sox
The AL Central might not be baseball's glamor division, but it may have three of the top five catchers in the game if Mauer bounces back from his injury-plagued campaign. Since we're not certain of his health, I'm going to give top billing to Avila, who had the best hitting numbers of any catcher outside of
Mike Napoli
and plays solid defense. I wouldn't be surprised if Santana explodes; with his power-and-walks combo, all he has to do is raise his average 30 points and he'll be one of the most valuable players in the game. Considering that his average on balls in play was .263, there is a good chance of that happening. Perez hit .331 in 39 games; OK, he won't do that again, but he doesn't turn 22 until May and puts the ball in play. There's no shame in being fifth in this group but that's where I have to place Pierzynski, who keeps rolling along and is now 36th on the all-time list for games caught.
First base
1.
Prince Fielder
, Tigers
2.
Paul Konerko
, White Sox
3.
Eric Hosmer
, Royals
4.
Justin Morneau
, Twins
5.
Matt LaPorta
, Indians
In 2009, when Morneau played 135 games, he hit .274 AVG/.363 OBP/.516 SLG. Even if he replicates that line, he may rank only fourth. Konerko has hit a combined .306 with 70 home runs the past two seasons. He's 104 home runs from 500 but turns 36 in March, so he's probably four seasons away; not sure he'll hang on that long, but who knew he'd be this good at this age. If Hosmer improves his walk rate and defense and Konerko declines, Hosmer could climb past him. If it doesn't happen this year, it will happen next. The most similar batter to him at age 21: Eddie Murray.
Second base
1.
Jason Kipnis
, Indians
2.
Gordon Beckham
, White Sox
3.
Johnny Giavotella
, Royals
4.
Alexi Casilla
, Twins
5.
Ramon Santiago
, Tigers
Well, this isn't exactly a
Robinson Cano
/
Dustin Pedroia
/
Ben Zobrist
debate, is it? Kipnis' bat is a sure thing, as evidenced by his excellent play after his call-up (.272 average and .507 slugging in 36 games). His glove was once a question mark but now appears solid enough that he looks like a future All-Star to me. Can anybody explain what has happened to Beckham? He's second mostly by default; he's gone downhill since his superb rookie season in 2009 but is only 25, so there's hope that he'll find those skills again. Giavotella has some potential with the bat (.338/.390/.481 at Triple-A), which is more than you can say for Casilla and Santiago.
Third base
1.
Miguel Cabrera
, Tigers
2.
Mike Moustakas
, Royals
3.
Lonnie Chisenhall
, Indians
4.
Danny Valencia
, Twins
5.
Brent Morel
, White Sox
We'll go with the idea that Cabrera is Detroit's starting third baseman, although I predict he'll end up starting more games at designated hitter. Manager Jim Leyland will end up doing a lot of mixing of his lineups, but for this little exercise we have to choose a starter. Moustakas didn't tear up the league as a rookie and I worry about his ability to hit lefties (.191, homerless in 89 at-bats), but he showed more than fellow rookies Chisenhall and Morel. Valencia doesn't get on base enough and he rated poorly on defense in 2011. I hope he's at least good in the clubhouse. Morel was terrible all season and then exploded for eight of his 10 home runs in September and drew 15 walks after drawing just seven the previous five months. Maybe something clicked.
Shortstop
1.
Asdrubal Cabrera
, Indians
2.
Alexei Ramirez
, White Sox
3.
Jhonny Peralta
, Tigers
4.
Alcides Escobar
, Royals
5.
Jamey Carroll
, Twins
Peralta had the best 2011 season, but he's a difficult guy to project. He had an .804 OPS in 2008 but dropped to .691 in 2009. He had a .703 OPS in 2010 and then .823 in 2011. I just don't see a repeat season, at the plate or in the field. Cabrera didn't rate well on the defensive metrics, and after a strong start he wore down in the second half. Ramirez has turned into a nice player, with a good glove and some power, and he even draws a few walks now. Escobar is a true magician with the glove. Carroll is actually a useful player who gets on base (.356 career OBP), but he's pushed as an everyday shortstop and he'll be 38. He'll be issued the honorary
Nick Punto
locker in the Twins' clubhouse.
Left field
1.
Alex Gordon
, Royals
2.
Alejandro De Aza
, White Sox
3.
Ben Revere
, Twins
4.
Michael Brantley
/
Shelley Duncan
, Indians
5.
Ryan Raburn
/
Don Kelly
, Tigers
I'm not sure what to do here. After Gordon, I just get a headache. We'll pretend to believe in De Aza after his impressive stint in the majors (171 plate appearances, .329/.400/.920). He's hit in Triple-A for three seasons now, and while he's not going to post a .400 OBP again, he should be adequate. Revere is one of the fastest players in the majors, but he's all speed and defense; he hopes to grow up to be
Brett Gardner
, which isn't a bad thing, but he'll have to learn to get on base at a better clip. Brantley doesn't have one outstanding skill so he'll have to hit better than .266 to be anything more than a fourth outfielder; Duncan provides some right-handed pop as a platoon guy. The Tigers have
Delmon Young
, but I'll slot him at DH. That leaves supposed lefty masher Raburn and utility man Kelly to soak up at-bats; both had an OBP below .300 in 2011, although Raburn has hit better in the past.
Center field
1.
Austin Jackson
, Tigers
2.
Denard Span
, Twins
3.
Grady Sizemore
, Indians
4.
Lorenzo Cain
, Royals
5.
Alex Rios
, White Sox
I can't rate Sizemore any higher since he's played just 104 games over the past two seasons, and he hasn't had a big year since 2008. Rios was terrible in '09, OK in '10 and worse than terrible in '11. I'm not betting on him.
Right field
1.
Shin-Soo Choo
, Indians
2.
Brennan Boesch
, Tigers
3.
Jeff Francoeur
, Royals
4.
Josh Willingham
, Twins
5.
Dayan Viciedo
, White Sox
Choo would like to forget 2011, but there's no reason he shouldn't bounce back and play like he did in 2009 and 2010, when he was one of the 10 best position players in the AL. I don't expect Francoeur to deliver 71 extra-base hits again, but maybe he'll surprise us. Viciedo is apparently nicknamed "The Tank," which makes me wonder how much ground he can cover. He did improve his walk rate last season in the minors and turns 23 in March, so there's still room for more growth.
Designated hitter
1.
Billy Butler
, Royals
2.
Travis Hafner
, Indians
3.
Ryan Doumit
, Twins
4. Delmon Young, Tigers
5.
Adam Dunn
, White Sox
Has there been a bigger prospect disappointment than Young in the past decade? I mean, yes, there were complete busts like
Brandon Wood
and
Andy Marte
, but those guys had obvious holes in their games, while Young was viewed as a
sure thing
, a consensus No. 1 overall prospect. But his bat has never lived up to its billing. Other than one decent year in Minnesota, he has low OBPs and he clearly lacked range in the outfield. His career WAR on Baseball-Reference is minus-0.2 (1.6 on FanGraphs), meaning he's been worse than replacement level. He's just not that good, Tigers fans.
No. 1 starter
1.
Justin Verlander
, Tigers
2.
John Danks
, White Sox
3.
Justin Masterson
, Indians
4.
Luke Hochevar
, Royals
5.
Carl Pavano
, Twins
Masterson was better than Danks in 2011, and I do believe his improvement was real. He absolutely crushes right-handers -- they slugged an anemic .259 off him. Danks had two bad months but has the longer track record of success. Even in his "off year" he had a higher strikeout rate and lower walk rate than Masterson. If you want to argue about Hochevar versus Pavano, be my guest.
No. 2 starter
1.
Doug Fister
, Tigers
2.
Ubaldo Jimenez
, Indians
3.
Gavin Floyd
, White Sox
4.
Francisco Liriano
, Twins
5.
Jonathan Sanchez
, Royals
Yes, sign me up for the Doug Fister bandwagon club. Jimenez's fastball velocity was down a couple miles per hour last season but the positives are that his strikeout and walk rates were identical to 2010; he'll be better. Floyd isn't flashy but he's now made 30-plus starts four years in a row, and he'll become a very rich man when he becomes a free agent after this season. Sanchez won't have the luxury of pitching in San Francisco (and to eight-man NL lineups).
No. 3 starter
1.
Max Scherzer
, Tigers
2.
Scott Baker
, Twins
3.
Philip Humber
, White Sox
4.
Bruce Chen
, Royals
5.
Josh Tomlin
, Indians
I could be underrating Baker, who was excellent last season, but only once in his career has he made 30 starts in a season. Tomlin's fans will disagree with this ranking, but he's a finesse guy who relies on the best control in baseball (21 walks in 26 starts). He's the kind of guy you root for, but the league seemed to figure him out as the season progressed.
No. 4 starter
1.
Felipe Paulino
, Royals
2.
Rick Porcello
, Tigers
3.
Jake Peavy
, White Sox
4.
Derek Lowe
, Indians
5.
Nick Blackburn
, Twins
Scouts still love Porcello's arm and I know he's just 23, but he's made 89 big league starts and shown no signs of getting better. His WHIP has increased each season and his strikeout rate remains one of the lowest in baseball. Paulino has an electric arm -- he averaged 95 mph on his fastball -- and
is
getting better. How could the Rockies give up on him after just 14 innings? How could the Astros trade him for
Clint Barmes
? Anyway, kudos to the Royals for buying low on the guy who may turn into their best starter. Peavy can't stay healthy. Lowe has led his league in starts three out of the past four seasons, but I'm not sure that's a good thing anymore. Blackburn is a poor man's Lowe, and I don't mean that in a good way.
No. 5 starter
1.
Chris Sale
, White Sox
2.
Jacob Turner
, Tigers
3.
Aaron Crow
/
Danny Duffy
, Royals
4.
Fausto Carmona
/
David Huff
/
Jeanmar Gomez
, Indians
5.
Brian Duensing
/
Jason Marquis
, Twins
Welcome to the AL Central crapshoot. Turner and Sale have the most upside, but one is a rookie and the other is converting from relief. Crow will also be given a shot at the rotation, but his difficulties against left-handed batters (.311 average allowed) don't bode well for that transition. Even if the artist formerly known as Carmona gets a visa, what do you have? A guy with a 5.01 ERA over the past four seasons. Duensing is another typical Twins pitcher, which means he at least throws strikes. His first full season in the rotation didn't go well, so of course the Twins brought in Marquis, yet another guy who doesn't strike anybody out.
Closer
1.
Jose Valverde
, Tigers
2.
Joakim Soria
, Royals
3.
Matt Thornton
, White Sox
4.
Chris Perez
, Indians
5.
Matt Capps
, Twins
Four good relievers plus Matt Capps. I do admit I'm a little perplexed by Perez, however. In 2009, he struck out 10.7 batters per nine innings. In 2010, that figure fell to 8.7 but he posted a pretty 1.71 ERA. In 2011, it was all the way down to 5.9, but without much improvement in his control. Perez blew only four saves but he did lose seven games. He survived thanks to a low .240 average on balls in play. He's an extreme fly-ball pitcher but didn't serve up many home runs. Bottom line: I'd be nervous.
Bullpen
1. Indians --
Vinnie Pestano
,
Rafael Perez
,
Tony Sipp
,
Joe Smith
,
Nick Hagadone
2. Royals --
Jonathan Broxton
,
Greg Holland
,
Louis Coleman
,
Tim Collins
,
Jose Mijares
3. Tigers --
Joaquin Benoit
,
Octavio Dotel
,
Phil Coke
,
Daniel Schlereth
,
Al Alburquerque
4. White Sox --
Jesse Crain
,
Jason Frasor
,
Will Ohman
,
Addison Reed
,
Dylan Axelrod
5. Twins --
Glen Perkins
,
Alex Burnett
,
Anthony Swarzak
,
Kyle Waldrop
,
Lester Oliveros
If you're starting to think I'm not high on the Twins for this season, you would be correct.
Intangibles
1. Royals
2. Indians
3. Tigers
4. White Sox
5. Twins
I like the youthful exuberance of the Royals, plus the likelihood of improvement from the young players and the possibility of some midseason reinforcements from the minors. The depth of the bullpen will help bolster a shaky rotation, and this just feels like an organization that is finally starting to believe in itself. The Indians are riding last year's positive results and enter the season knowing they might get better production from Choo and Sizemore and full seasons from Kipnis and Chisenhall. I'm not knocking the Tigers here, but they do lack depth in the pitching staff and the pressure is on them.
The final tally
1. Tigers, 65 points
2. Royals, 55 points
3. Indians, 54 points
4. White Sox, 46 points
5. Twins, 35 points
No surprise here: The Tigers will be heavy favorites to win the division with a lineup that should score a ton of runs. I don't think it's a lock that they'll win -- Verlander, Avila, Peralta and Valverde will all be hard-pressed to repeat their 2011 campaigns, for example. But the Royals and Indians appear to have too many questions in the rotations, the White Sox have serious lineup issues, and the Twins have a beautiful ballpark to play their games in.
May, 19, 2011
5/19/11
12:07
AM ET
If you collected baseball cards in the 1980s, you'll remember the "rookie craze." You'd open a pack, desperately seeking that Dwight Gooden rookie card or
Mark McGwire
rookie card or Sam Horn rookie card. Those cards were going to pay for your college tuition.
I don't know if the rookie card craze still exists -- I haven't collected baseball cards in more than 20 years -- but I had a rookie craze on Wednesday night.
Danny Duffy
was making his major league debut for the Kansas City Royals.
Zach Britton
was going for the Baltimore Orioles.
Jeremy Hellickson
started for the Tampa Bay Rays.
Julio Teheran
was making his second start for the Atlanta Braves.
Here are some notes as I flipped through the action.
Danny Duffy:
Listed at 6-foot-3, 200 pounds, although he doesn't look that big to me, maybe built more along the lines of somebody like
Erik Bedard
. ... Baby-faced, close-shaven blonde hair, looks like he should nervously be pinning a corsage on his date before the prom instead of looking calm and confident on a major league mound. ... Duffy actually retired last spring, but returned in June. He's pitched only 14 games above Class A, so the Royals are maybe rushing him a bit. ... Early on, he's relying on his fastball and occasional curveball. Works at a nice pace, moving his fastball in and out, trying to keep the ball down in the zone. Fastball speed is all over the place, according to the TV radar gun, moving around from 90 to 95 mph. ... After two scoreless innings, gets in a bases-loaded jam in the third inning with one out. Jams
Adrian Beltre
with an 0-1 inside fastball for a 6-4 force out and then throws two nice curveballs to get
Mitch Moreland
to bounce out to first. Nice job, rook. ... In the end, Duffy lasts just four innings, throwing 94 pitches, 54 for strikes. The line score looks worse than what I saw: 4 IP, 4 H, 2 R, 6 BB, 4 SO. ... On this night, he was able to get the fastball inside to right-handed hitters, but he fatigued a bit, started getting the ball up and didn't challenge the hitters if he fell behind in the count. In other words, he looked like a rookie.
Zach Britton:
I love watching this kid pitch. He enters his start against the Yankees with a 5-2 record and 2.42 ERA through his first eight starts. He throws a hard sinker, and while he has just 29 strikeouts in 52 innings, opponents are hitting just .203 with a .578 OPS off him. ... He looks good early on, keeping the ball down, getting ground ball outs. The Yankees' first four hits are all ground singles through the infield. Those are the types of hits Britton gives up, as he's allowed only 11 extra-base hits over those eight starts. ... Defense lets him down in the fourth inning when second baseman
Robert Andino
's error leads to an unearned run. ... By the way, the last Orioles pitcher to throw 200 innings with an ERA under 3.25:
Mike Mussina
in 1997. And other than Mussina? Storm Davis and Mike Boddicker -- in 1984. This franchise is starving for an ace. ... Finally gives up a couple of hard-hit balls in the sixth when
Alex Rodriguez
singles in the gap and
Robinson Cano
drills a single off the right-field scoreboard. But
Adam Jones
gunned down A-Rod trying to stretch his hit into a double and Britton gets
Nick Swisher
looking to end the inning. ... Britton ends up going seven innings and gets off the hook for the "loss" when the Orioles tie it up at 1 with a run off
Mariano Rivera
in the ninth. ... Did I mention the Orioles need an ace? They may have one.
Jeremy Hellickson:
A lot of people like to compare him to
Greg Maddux
, which is really code for "Right-handed pitcher, good control, knows how to pitch, not overpowering." Of course, everybody acknowledges there's only one Greg Maddux, and truth is Hellickson is nothing like Maddux, other than the lack of a big fastball. Maddux essentially relied on a moving fastball that he developed pinpoint control with. Hellickson throws the kitchen sink up at you: fastballs, changeups, curveballs, varying the speed and location with every pitch. ... He's not afraid to pitch up in the zone. In the first, he gets
Yunel Escobar
swinging on a 79-mph changeup that's up at the letters and gets
Corey Patterson
to swing through a 90-mph fastball that looks down the middle.
Jose Bautista
smacks a fastball at the knees into left for a single. A good pitch, in that at least Bautista didn't homer. ... Later on in the sixth, Patterson hits an outside fastball to right for a double. It wasn't a bad pitch, but Patterson was able to hook it into the corner. ... Bautista drills a liner to left on a low curve that
Sam Fuld
makes a nice running catch on, but Hellickson is chased when
Aaron Hill
doubles off the wall in left-center and Eric Thames lines his first major league hit to center. ... Hellickson had a 33/8 SO/BB ratio during his late-season call-up last year, but right now it's at 36/21 after walking three guys on this night. He lasts long enough to get credit for the win, improving his record to 5-2. ... The overall season numbers are decent, but he's also a beneficiary of Tampa's excellent defense. Without that overpowering fastball, he'll need to drop the walk rate.
Julio Teheran:
Just 20 years old, his start on May 7 against the Phillies was supposed to be a one-start cameo due to a rainout backlog, but he's back already for another try. I watched that Phillies game and he didn't look ready for the majors, with little command of his fastball. ... Watching the Arizona feed as the game begins and the announcers say he threw 23 changeups in his first start. ... He gets two quick outs, goes to a 3-2 count to
Justin Upton
and throws another changeup. As
Mark Grace
says on the broadcast, "Justin was not fooled." Upton crushes it about 15 rows over the fence in left-center. ... In the fourth, with two outs and two runners on,
Ryan Roberts
is up. On a 2-2 count, Teheran goes to the fastball this time, but Roberts cuts down on his swing (these are not your 2010 Diamondbacks) and lines an RBI single to right. ... Teheran is done after four innings and 83 pitches and leaves trailing 2-0. Like his first start, he shows that he lacks a knockout pitch, as he again strikes out just one batter. Grace likes what he sees, however: "I was very impressed with the young man. Showed good moxie out there. Wasn't afraid. Went right after the hitters."
* * * *
I was going to rank this year's rookie pitchers, but we'll do that another time. I may be biased as a Mariners fan, but it's clear that
Michael Pineda
is by the far most electrifying of these rookie starters. He's like a Don Drysdale or
Justin Verlander
: Tall, overpowering and intimidating. When Pineda gave up his first major league homer a couple starts ago to Mitch Moreland, he had a look of disbelief on his face. He's a very confident young pitcher. Of course, I suppose if I was 6-foot-7, 250 pounds, with the ability to throw 97 mph with control, I'd be pretty confident as well.
Time will tell how good this group will turn out to be, but I did a quick look back at some rookie pitching crops of the past 30 years. This isn't comprehensive and is sorted by rookie season (not necessarily debut season, so a September call-up season wouldn't count). Anyway, here are some of the best years I found (the 2006 group looks pretty special and check out that 1984 class):
2006: Justin Verlander,
Josh Johnson
,
Cole Hamels
,
Jon Lester
,
Jered Weaver
,
James Shields
Matt Cain
,
Chad Billingsley
,
Adam Wainwright
.
2000:
Barry Zito
,
Mark Mulder
,
Mark Buehrle
,
Johan Santana
,
Brad Penny
,
Bronson Arroyo
,
A.J. Burnett
.
1987: Greg Maddux,
Tom Glavine
,
David Cone
,
Chuck Finley
.
1984:
Roger Clemens
, Dwight Gooden, Mark Langston,
Bret Saberhagen
,
Jose Rijo
, Orel Hershiser,
John Franco
, Jimmy Key, Mark Gubicza, Sid Fernandez.
PHOTO OF THE DAY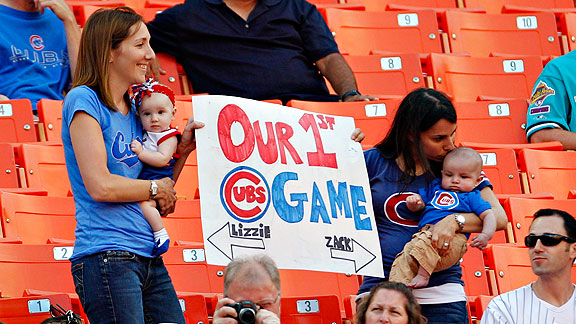 AP Photo/J Pat CarterInsert your own joke about what these poor kids are about to embark upon in a lifetime as Cubs fans.
May, 18, 2011
5/18/11
3:09
PM ET
Here are five reasons why you really should be listening to Wednesday's
Baseball Today podcast

, with myself and Keith Law. And really, why aren't you listening every day? You are? OK, good!
1. ESPNNewYork.com writer and author Ian O'Connor stops by to discuss his timely book "The Captain: The Journey of
Derek Jeter
." We pepper him with questions and he's got answers.
2. Blame it on the rain! Will this awful weather ever stop? But seriously, rainouts and doubleheaders will be affecting most every team this season, and we discuss potential repercussions for unprepared squads.
3. Poor
Francisco Liriano
. Even when he pitches well, he can't get credit for it. Oh that's right, he pitched well against the
Seattle Mariners
. How about poor
Felix Hernandez
?
4. We remember the oddity that was the 2002
Florida Marlins
rotation, with pitchers better than you think and with more staying power.
5. The
Kansas City Royals
will unveil 22-year-old left-hander Danny Duffy against the
Texas Rangers
Wednesday, and Keith discusses mixed feelings on the pitcher.
Plus: Excellent e-mails, how to find KLaw's cupcake recipe (yep, really), why
Ryan Braun
should be talking to umpires, why there are 33 picks in the first round despite there only being 30 teams and a look at the day's schedule. Phew. All of this and more on Wednesday's Baseball Today!
March, 24, 2010
3/24/10
3:02
PM ET
The more things change ... from Bob Dutton and
the Kansas City Star
:
Left-handed pitcher Danny Duffy, one of the Royals' top prospects, left camp late Tuesday night after informing club officials that he was quitting baseball.

"Danny informed us [Tuesday] that his desire is to leave baseball at this time to reassess his life priorities," assistant general manager J.J. Picollo confirmed in a statement released by the club.

"Should Danny decide in the future to return to the game, we will be happy at that time to discuss the possibility."

Club officials say Duffy's decision appears unrelated to a recent injury -- a strained left elbow -- that was expected to prevent him from pitching in games until mid-May.
1. The notion that there's no connection between Duffy's elbow injury and his decision to quit baseball strikes me as less than insightful. Some people, when they cross paths with adversity, just sort of give up. I'm not saying that's what happened here. But this does seem awfully coincidental.
2. Losing (for now, anyway) a pitcher like Duffy isn't the end of the world. Duffy's a 21-year-old who doesn't throw particularly hard and hasn't pitched against Double-A hitters yet. John Sickels rates him as a Grade B prospect, and 21-year-old Grade B pitchers don't typically win more than a couple of dozen games in the majors.
3. Still, this is a blow. The Royals need young pitchers. Michael Montgomery, their best pitching prospect, also hasn't pitched above Class A yet. Aaron Crow, their second-best best pitching prospect, is 23 and hasn't pitched
professionally
yet. Essentially, the Royals are two seasons away from even beginning to
hope
that one of their pitching prospects wins a dozen games for the big club.
In other words, business as usual for the worst organization in the American League.