SweetSpot:

Danny Espinosa
June, 5, 2013
6/05/13
2:20
PM ET
Somehow,
Danny Espinosa
played more than month with a fractured right wrist without it being properly diagnosed. After discovering the injury on May 24, the Nationals still kept around, as his average plummeted to .158. The Nationals finally ended this little experiment today by placing Espinosa on the disabled and
calling up top prospect
Anthony Rendon
.
Nationals GM Mike Rizzo to the Washington Post:
"It wasn't for the jolt scenario. More like getting guys here that give us the best chance to win baseball games. ... It's about putting the best 25 out there at this particular time to help win games. Decisions would be different if we had a full healthy team the whole season and we were hitting on all cylinders. But we're not healthy and trying to piece together a lineup to help us scratch together enough runs to win some games. We felt like to get healthy players to give us a chance to be as good offensively as we can."
OK, but why did it take 10 days to put an injured Espinosa on the DL? With backup infielder Steve Lombardozzi struggling at the plate as well, the Nationals turn to Rendon, a third baseman in college who has played eight games at second base this year in the minors. The risky move is understandable -- the Nationals are averaging a pathetic 3.45 runs per game (second-worst in the NL) so the hope is Rendon can provide some offense even if he's a defensive liability. Maybe they've paid attention to what the Cardinals have done with
Matt Carpenter
, a minor league third baseman who has successfully transitioned to second base this season, although these third-to-second moves rarely work.
Our Nationals blogger Harper Gordek questioned the timing of the moves:
They will start winning more regardless of the make-up of the roster. It's just going to happen. By waiting until yesterday to make these moves you guarantee that the moves will be associated with more winning, even if it would have happened on some level anyway. It's a brilliant strategical move to make yourself look better. It's a terrible move though to stand pat on moves that were obvious weeks ago.
Rendon alone won't revive this offense, the reason the Nationals are 29-29 and arguably the season's most disappointing team so far. They're getting little production from catcher
Kurt Suzuki
and much-praised acquisition
Denard Span
has a .316 OBP and no home runs. Espinosa was wretched (47 K's, 4 BB) and the entire bench has been awful.
There are a lot of people rooting against the Nationals, feeling the decision to sit
Stephen Strasburg
last year was a sign of arrogance. How can you just assume you'll be back in a position to reach the World Series again? I disagreed with the decision to sit Strasburg, but I was there with everyone else: I thought the Nationals were going to be the best team in baseball.
Winning isn't so easy, however. Davey Johnson, who managed the 1986 Mets to a World Series title with a young, talented team, knows this better than anybody; those Mets only made it back to the playoffs one more time. It's not too late for the Nationals to rescue their season, but they can't rely on a rookie moving to a new position to be the guy who turns on the ignition switch.
May, 29, 2013
5/29/13
11:15
PM ET
It was 86 degrees in Baltimore on Wednesday night, the ball was flying and we had one of the most exciting games of the season,
a 9-6 Orioles victory
over the
Washington Nationals
and one of the hottest pitchers in baseball, including a six-run rally in the seventh inning.
Here are 30 thoughts/observations/random tidbits on the game ...
1.
Chris Davis
. It was Chris Davis T-shirt night at Camden Yards and he didn't disappoint, slamming his 18th and 19th home runs, going 4-for-4, scoring three runs, driving in three, selling pretzels between innings. After his second home run, the camera panned to him a few moments later in the dugout, his helmet off -- and if you ever want to know the look of a man in the zone, Davis had it. Sort of part-bemused, like he was reliving the moment, part-amazed, like the first time you see the Grand Canyon, eyes wide, soaking it all in.
2. Electric atmosphere. As the Orioles announcer said, it had the feel of a Friday-night college crowd, with a buzz going all game, the fans exploding after each hit during Baltimore's big seventh. Baseball at its best.
3. Last season, it seemed Orioles fans were a little reluctant to jump on the bandwagon, as the support -- at least as shown in attendance figures -- was slow to get going, certainly understandable after years of losing. Looks like the support is getting back to levels we saw in the mid-1990s, when you couldn't get a ticket to an O's game.
4. Davis versus
Miguel Cabrera
. For all the attention that Cabrera has rightfully been generating for chasing the Triple Crown again, Davis is having the better season at the plate:
Davis: .359/.447/.755, 19 HR, 18 2B, 50 RBIs, 1.214 OPS
Cabrera: .368/.444/.656, 15 HR, 13 2B, 59 RBIs, 1.099 OPS
5. Of course, as one Tigers fan tweeted to me the other night, let's see the numbers at the end of the season.
6. Still.
7. Fifteen players have slugged .700 in the first half since 2000, but only two since 2009:
Albert Pujols
in 2009 (.723) and
Jose Bautista
in 2011 (.702).
8. This isn't the same Chris Davis who had a big breakout season last year, when he hit 33 home runs. Last year, he struck out in 30.1 percent of his plate appearances and walked in 6.6. This year, those figures are 21.9 and 13.2. A man with his power
and
better control of the strike zone is a scary proposition. OK, so maybe he's not a .359 hitter, but he's not doing it by accident.
9.
Manny Machado
hit another double. That's 24. He's on pace for 73. The record is 67, set way back in 1931 by Earl Webb.
10. He doesn't turn 21 until July. That's Machado; Webb is dead.
11. Will it upset everyone to suggest that Machado -- with his brilliant defense at third -- has arguably been as valuable as Davis and Cabrera? I mean ... he's hitting .332/.365/.517 and has more range than Meryl Streep. Baseball-Reference wins above replacement leaders, American League, entering Wednesday: Machado 3.4,
Dustin Pedroia
3.0, Cabrera 2.8, Davis 2.7. FanGraphs: Machado 3.1, Davis 2.9, Cabrera 2.9,
Mike Trout
2.9.
12. It's a legitimate argument if you can look beyond RBIs.
13.
Ryan Zimmerman
, have a day. Tough to hit three home runs -- he homered his first three times up -- and get upstaged, but that's what happened. Is it fair to say that Zimmerman is one of the most important players in the National League? With the Nats' offense struggling -- although a little better of late -- it desperately needs a second big bat behind
Bryce Harper
. Zimmerman has to be that guy, or maybe
Adam LaRoche
. Or, preferably, both. Zimmerman's throwing troubles have been an issue all season, although also better of late.
[+] Enlarge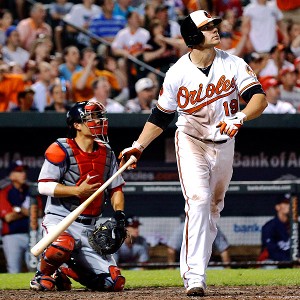 AP Photo/Patrick SemanskyChris Davis' second homer of the night, a two-run blast, gave the Orioles their final margin.
14. Davey Johnson's beard. Google it. Let's hope the Nationals turn this into a promotional event down the road.
15.
Jordan Zimmermann
was due for a bad game, but did make some bad pitches. Davis' first home run was off a slider over the middle of the plate.
Nick Markakis
' home run came off an 0-1 fastball that
Kurt Suzuki
wanted in but was also over the middle of the plate.
16. Both were hit to the almost identical location in right-center -- in fact, you can see the same guy in the white tank T-shirt reaching for both homers.
17.
Steve Pearce
's two-run shot off Zimmermann just cleared the fence in left-center. On another night, with a little more luck, it's maybe three long outs to the warning track.
18. Davis' second home run, off an 0-2 changeup from
Tyler Clippard
, was the most impressive of the night as he showcased his huge raw power, with an easy, almost one-handed swing. How strong is this guy? This one landed near where T-shirt dude was sitting as well, except he must have been off in the beer line this time around.
19. Zimmermann hadn't walked a batter since May 8. So now he has 10 in 11 starts. Terrible.
20. The Orioles can hit. That's 10 or more hits in 27 of their 53 games.
21. The Nationals' bench was supposed to be a big strength heading into the season, but it's been a weak spot.
Roger Bernadina
did homer, but he's hitting .149.
Tyler Moore
is hitting .149.
Chad Tracy
is hitting .170.
Steve Lombardozzi
is hitting an empty .234. And they've had to play a lot, accumulating more than 300 plate appearances among the four of them so far. Along with struggling
Danny Espinosa
, they're a huge reason the Nationals are just a game over .500.
22. Remember when
Nate McLouth
was washed up?
23. He's 17-for-18 in steals. The O's lead the American League in home runs and are tied for the lead in stolen bases. When's the last time that happened?
24. I'm sure Orioles fans were a little nervous when
Jim Johnson
entered for the save in the ninth, considering his last outing in Toronto on Sunday -- his fourth blown save and fifth loss. But he had a 1-2-3 inning with two strikeouts, albeit against the bottom three hitters.
25.
Tommy Hunter
was unfair in the eighth inning. He threw a 100 mph fastball to Moore followed by a two-strike curve that Moore missed. No chance.
26. I still don't know what to make of
Chris Tillman
. Four home runs tonight, 11 over his past five starts. Yes, four of those games came at Camden, but he's going to continue having gopher ball problems with such a low ground-ball rate (37 percent on the season).
27. A Beltway Series would be fun in October. Nearly happened last year, but I think the Orioles will need to make a deal for a starting pitcher. I mean,
Freddy Garcia
goes on Thursday.
28. Buck Showalter can manage my team.
29. I still think second baseman
Ryan Flaherty
can produce some offense. He returned to the Orioles lineup' and had two hits. I'm less confident about Espinosa.
30. How do I get one of those Chris Davis T-shirts?
March, 5, 2013
3/05/13
1:15
PM ET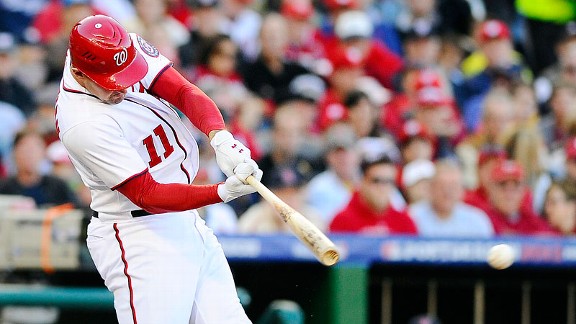 Brad Mills/USA TODAY SportsThe Nationals will be counting on the slugging of third baseman Ryan Zimmerman this season.
In the past 30 years, five teams have won at least 105 games. I've gone on record as saying the
Washington Nationals
have an excellent chance of joining that exclusive company.
While we've analyzed the Nationals previously, I was interested in looking at what went right for these five clubs. Looking at their history might give some insight on what needs to go right for the Nats to win 105 games.
First, a snapshot of the five teams:
2004 Cardinals: 105-57
855 runs (1st in NL)
659 runs allowed (1st in NL)
Run differential: 196
29-20 in one-run games
32-13 in blowouts
Beat up on: 14-5 against Reds
2001 Mariners: 116-46
927 runs (1st in AL)
627 runs allowed (1st in AL)
Run differential: 300
26-12 in one-run games
34-10 in blowouts
Beat up on: 8-1 against Twins and Orioles
1998 Yankees: 114-48
965 runs (1st in AL)
656 runs allowed (1st in AL)
Run differential: 309
21-10 in one-run games
42-13 in blowouts (5+)
Beat up on: 10-0 against Royals, 11-1 against Rays
1998 Braves: 106-56
826 runs (4th in NL)
581 runs (1st in NL)
Run differential: 245
23-21 in one-run games
35-8 in blowouts (5+)
Beat up on: 8-1 against Dodgers and Diamondbacks
1986 Mets: 108-54
783 runs (1st in NL)
578 runs allowed (2nd in NL)
Run differential: 205
29-20 in one-run games
27-9 in blowouts (5+)
Beat up on: 17-1 against Pirates
What can we take away from this? It shouldn't be surprising, but you have to dominate both sides of the ball. Even the Braves, while ranking fourth in runs, were just 19 runs behind the No. 2 team (although a more distant 48 runs behind the Astros). A year ago, the Nationals won 98 games while finishing fifth in runs scored and second in runs allowed. Their run differential was 137, so they're going to have to improve by about 70 runs to have a chance at 105 wins. That probably means adding about 50 runs on offense (doable with an improved
Bryce Harper
,
Ryan Zimmerman
hitting all season like he did in the second half, a healthy
Jayson Werth
and more production from catcher) and allowing about 20 runs less on the defensive side.
The one problem area is the Nationals may not have an easy team to beat up on. The Mets had the Pirates (64-98 that year) while the Braves and Yankees took advantage of expansion opponents in Arizona and Tampa Bay. The Nationals have to play the Braves and Phillies 19 times each, and both of those could be 90-win clubs. For the Nationals to reach 105, they're going to have do exceedingly well against the Mets and Marlins.
Pitching rotations
It's not a big surprise that all five of our teams had excellent health in the rotation. Here are the number of starts from each club's top five starters:
Cardinals: 154
Mariners: 144
Yankees: 142
Braves: 153
Mets: 148
From what I can tell, the only significant injuries were
Chris Carpenter
went down in September for the Cardinals (and missed the playoffs) while John Smoltz made just 26 starts for the Braves. The Yankees promoted Orlando Hernandez during the season and the Mariners put rookie Joel Pineiro in the rotation late in the season.
So the Nationals likely need their five guys to remain healthy -- especially since there isn't an obvious No. 6 guy right now on the 40-man roster.
Surprise players
Do you need a surprise player or a guy or two having a career year? Not necessarily. Let's look at each club.
Cardinals: Offense was built around three guys with a 1.000+ OPS:
Albert Pujols
, Jim Edmonds and
Scott Rolen
. Those three certainly had other big years. The rotation wasn't actually that dominant -- Carpenter led with a 3.46 ERA and Matt Morris, Woody Williams and
Jeff Suppan
all had ERAs over 4.00 (but about league average for the time).
Mariners: The big surprise for Seattle was second baseman Bret Boone, who had a monster .331/.372/.578 season. He had other good seasons but that was a career year. Starter Paul Abbott went 17-4.
Yankees: More than anything, the Yankees relied on extraordinary health. Four position players played 150-plus and two more played 142 and 149 games. Nobody really had a career year -- Scott Brosius hit .300 (and hit .247 in 1999), but he had hit .300 with the A's in 1996 so it wasn't a complete fluke. El Duque certainly was a surprise at the time (12-4, 3.13 ERA) but he proved to be a good pitcher.
Braves: The Braves did have a huge season from 37-year-old first baseman Andres Galarraga (.305, 44 home runs) and 30-plus home runs from Chipper Jones, Javy Lopez and
Andruw Jones
, but the only real surprise was rookie closer Kerry Ligtenberg (30 saves, 2.71 ERA).
Mets: The Mets had one obvious career year from starter Bobby Ojeda (18-5, 2.57 ERA) and Ray Knight had a good season after two miserable ones, but most of their stars -- Darryl Strawberry, Gary Carter, Keith Hernandez -- had just a typical year for them.
Weaknesses
You can win 105 games and still have flaws -- or at least minor ones.
Cardinals: As mentioned, the rotation was solid more than great, ranking tied for fourth in the NL in ERA and lacking a true No. 1. They didn't receive much offense from catchers Mike Matheny and rookie backup
Yadier Molina
.
Mariners: Never had a regular left fielder (Al Martin received the most playing time and he wasn't very good) and shortstop Carlos Guillen and third baseman David Bell were both below average with the bat.
Yankees: The bullpen depth was actually a little thin as Mike Stanton had a 5.47 ERA that year and Jeff Nelson pitched just 40 innings. But
Mariano Rivera
was great and Ramiro Mendoza was the secret weapon, posting a 1.93 ERA in 42 relief innings.
Mets: The team defense wasn't great, with second basemen Wally Backman and Tim Teufel both subpar defensively, Kevin Mitchell and Howard Johnson both seeing significant time at shortstop, and George Foster spending part of the season as the team's left fielder. Rafael Santana was the regular shortstop and hit just .218
Bench
All five teams had excellent benches.
Cardinals: John Mabry was the top reserve, slugging .504, while So Taguchi and Roger Cedeno backed up in the outfield. The team acquired Larry Walker for the stretch run and he slugged .560.
Mariners: Mark McLemore was the team's supersub, playing infield and outfield and posting a .384 on-base percentage with 39 steals in 487 plate appearances. Stan Javier was a solid fourth outfielder (.375) and pinch-hitter Ed Sprague hit .298.
Yankees: Tim Raines (.395 OBP) and Joe Girardi were the main subs, but Chili Davis came off the DL late in the year to replace Strawberry, who had colon cancer, as the team's DH.
Braves: Platoon outfielder Gerald Williams hit .305/.352/.504 and backup catcher Eddie Perez hit .336/.404/.537 in 167 PAs. Ozzie Guillen filled in at shortstop when Walt Weiss was injured and hit .277.
Mets: Mitchell played all over and hit .277/.344/.466, Johnson played third and short and slugged .445 and Danny Heep hit .282/.379/.421. Even pinch-hitter Lee Mazzilli had a .417 OBP.
This is an area where I think the Nationals can also excel. They have solid backups in
Tyler Moore
,
Roger Bernadina
and
Steve Lombardozzi
, two quality catchers in
Kurt Suzuki
and
Wilson Ramos
and a pinch-hitting specialist in
Chad Tracy
. The bench would have been even stronger if they'd kept
Michael Morse
as left field/first base insurance, but Moore can fill the same role.
In listing the five keys for the Nationals to win 105 games, I'd go something like this:
1. All five starting pitchers remaining healthy.
2. Bryce Harper and Ryan Zimmerman putting up bigger numbers.
3. Maybe one surprise/career year. Best candidate:
Danny Espinosa
.
4. Bullpen depth + quality. (Check.)
5. Don't screw it up. (Check. Davey Johnson has been here before.)
It can be done. As I said, the toughest road will be all the games against the Braves and Phillies. But even that can be overcome. The 2004 Cardinals went 8-10 against the Astros and 9-8 against the Brewers. The '98 Braves went 3-6 against the Cubs, 4-5 against the Astros and 1-3 against the Yankees. The '86 Mets went 8-10 against the Phillies.
Anyway, it should be a fun ride. That's how good I think the Nationals can be: We could be seeing an all-time great team.
December, 31, 2012
12/31/12
2:30
PM ET
We did two earlier
. Let's try another one.
Player A is a regarded as a star player, a slick-fielding second baseman who has won three Gold Glove Awards, has power and finished 13th in the MVP voting in 2012. Player B is a young player with holes in his game, most notably the low batting average and high strikeout rate. Player A, as you probably figured out, is
Brandon Phillips
of the
Cincinnati Reds
; Player B is
Danny Espinosa
of the
Washington Nationals
.
Phillips
is
the better player, but the comparison shows how the two are much closer in value than the widely held public perception and how focusing on negatives can obscure a player's contributions. Phillips hits for a decent average -- .281 in 2012, right at the .280 mark he's held steady at since becoming Cincinnati's starting second baseman in 2006 -- and puts the ball in play. With Espinosa, it's easy to focus on all the strikeouts -- he led the National League with 189.
But offensively, the two are similar in value; Espinosa just contributes in different ways. He walks more than Phillips, gets hit by a few more pitches and grounds into fewer double plays. Espinosa stole a few more bases (20 to 15) but Phillips is a better baserunner. Overall, we estimate that Phillips created about 77 runs in 2012 and Espinosa about 76 (in a few more plate appearances). Phillips, however, derived a power advantage from his home park -- 15 of his 18 home runs came in Cincinnati (14 of 18 in 2011). Put Phillips in a more neutral context and his home run total likely takes a dip.
Defensively, Phillips had +11 Defensive Runs Saved, Espinosa +4.
Who do I like in 2013? Phillips had a noticeable drop in his walk rate -- the lowest since joining the Reds -- and that's a concern. A drop in walk rate could indicate a player cheating to speed up his bat. He's entering his age-32 season, so it's not only a minor concern, but something to watch early in the season. Espinosa enters his third season and the strikeout rate is an issue. It actually worsened from his rookie season and if he doesn't learn to put a few more balls in play, the strikeouts will prevent from other becoming a star player.
But he's a good player right now, just one of many reasons the Nationals won the most games in the majors in 2012.
October, 4, 2012
10/04/12
9:07
PM ET
With help from the blog network writers, here are reasons each team can win the World Series.
St. Louis Cardinals

1. A potent, balanced lineup. The Cardinals had the best on-base percentage in baseball, including four starters --
Matt Holliday
,
Jon Jay
,
David Freese
and
Yadier Molina
-- with a .370 OBP or better, and that doesn't even include two of their most dangerous sluggers,
Carlos Beltran
and
Allen Craig
.
2. Deep and solid starting rotation. Cardinals starters featured the second-best fielding-independent pitching in the majors, and
Chris Carpenter
has rejoined the staff just in time for the playoffs.
3. Playoff experience. If there's an advantage to be gained from experience, the Cardinals have it, with nearly three-quarters of their championship team returning to the tournament.
4. "The postseason is a crapshoot." As a wild-card team, the Cardinals proved this last year by beating a dominant regular-season team in the Phillies in a short series, then the powerful Rangers in the World Series.
5. They're saving their best ball for last -- again. As with the 2011 squad, the Cardinals are coming together at the right time. They won their last two series of the season against potential playoff foes Washington and Cincinnati and their regulars are generally healthy.
--Matt Philip, Fungoes.net
Atlanta Braves

The biggest thing the Braves need to do this postseason is hit left-handed pitching. For the year, they have an 85 wRC+ compared to the league average of 100 against left-handed pitching, the lowest of any of the playoff teams. If they win the play-in game against the Cardinals on Friday, they could face three left-handed starting pitchers in the first round in
Gio Gonzalez
,
Ross Detwiler
and
John Lannan
.
On the pitching front,
Kris Medlen
has taken the ace role of the staff, but the Braves will specifically need
Mike Minor
and
Tim Hudson
to perform at a high level to compete with the other National League teams. Defensively the Braves have been stellar, so the key for all of their starters will be to avoid free passes and long balls. They do not have an overpowering or star-filled staff as other rotations do, meaning their starters will need to rely on command and pitch sequencing to perform well against upper-tier offenses.
If the Braves get solid pitching performances from Medlen and Minor, and manage to scrape enough runs across against left-handed starters and relievers, they should be able to advance through the playoffs and potentially win their first World Series since 1995.
--Ben Duronio, Capitol Avenue Club
Cincinnati Reds

Here are five reasons that there will be a celebration in Fountain Square the first weekend in November:
1. The bullpen. This is the Reds' most obvious advantage. Their bullpen ERA ranks first in baseball at 2.65. How deep is this bullpen? One of these pitchers probably isn't going to make the postseason roster:
Logan Ondrusek
(3.46 ERA),
Alfredo Simon
(2.66) or
J.J. Hoover
(2.05).
2.
Jay Bruce
. The Reds' right fielder is one of the streakiest hitters in the game. If he gets hot, the Reds will be tough to beat. Bruce was twice named National League Player of the Week this year. In those two weeks, Bruce hit .488 AVG/.542 OBP/1.186 SLG (1.728 OPS). If Bruce gets on a hot streak like that, he could carry the Reds to the 11 wins they need.
3. The defense. Defensive metrics are flaky, but when you look at all of them, you start to learn something. The Reds rank near the top of almost every leaderboard. Seven of their eight starters are plus defenders, and three-quarters of the infielders have Gold Gloves on their shelves.
4.
Ryan Hanigan
. One of the things I'm most excited about this postseason is the broader baseball world discovering Ryan Hanigan. He does a lot well. His .365 OBP is better than any Red but
Joey Votto
. He walked more than he struck out. He threw out 48.5 percent of would-be base stealers -- the best in baseball -- and his handling of the pitching staff has the Reds' coaching staff speaking about him in hushed tones.
5. Luck, or something like it. The Reds outperformed their Pythagorean W-L by 7 games. Since Sept. 1, they have an 8-3 record in one-run games. This could mean they're due for a reversion to the mean. I like to think it means they're destined to win the Series.
--Chris Garber, Redleg Nation
Washington Nationals

1. The one-two punch of Gio Gonzalez and
Jordan Zimmermann
. Few teams could lose a starter like
Stephen Strasburg
and still claim that starting pitching is a strength, but the Nats can. Cy Young candidate Gonzalez leads the NL in strikeouts per 9 innings and is second in hits per 9. Zimmermann rarely allows a walk, and has an ERA under 3.00. I'd match Gonzalez and him up with any team's one-two.
2. The infield defense. Each position is manned by someone you could argue is one of the majors' top 10 fielders at his spot. The staff throws a lot of ground balls. Put them together and you get a lot of outs.
3. The re-emergence of
Drew Storen
.
Tyler Clippard
had been manning the closer role effectively but has recently looked very shaky. No matter. Storen returned to the 'pen and has been dominant, allowing just one run in his past 16 appearances. He'll be closing games going forward.
4. The offense with no holes. While there is no individual superstar, six of the Nats' eight regulars had an OPS+ between 112 and 128 for the season. A seventh,
Danny Espinosa
, would have been right there as well if not for a hideous April. The weak link is
Kurt Suzuki
-- and he hit over .300 in September.
5. Davey Johnson. Outside of
Jayson Werth
, this team has little postseason experience, but this is the fourth team Davey has led to the playoffs, and he's won five postseason series. You have to expect that he can guide this team through the highs and lows of October baseball.
--Harper Gordek, Nats Baseball
San Francisco Giants

1.
Buster Posey
. His second half was off-the-charts awesome, hitting .385/.456/.646. He was the best hitter in the majors after the All-Star break -- even better than
Miguel Cabrera
.
2. The rest of the Giants' offense. Even though they ranked last in the NL in home runs in the second half, they still managed to rank second in runs per game.
Marco Scutaro
proved to be a huge acquisition, hitting .362 with the Giants.
3.
Matt Cain
. Remember his dominant postseason performance in 2010? In three starts, he allowed just one unearned run. This time around he's the Giants' No. 1 guy.
4.
Sergio Romo
. The Giants rode
Brian Wilson
a lot in 2010, but this time they'll have Romo, who could be just as dominant closing games. He allowed just 37 hits and 10 walks in 55.1 innings while striking out 63. He was equally crushing against lefties (.491 OPS allowed) and righties (.537).
5. Bruce Bochy. He's considered by many to be the best manager in the game. If a series comes down to in-game tactics, most evaluators would rate Bochy superior to Dusty Baker, Fredi Gonzalez and Mike Matheny.
--David Schoenfield
Baltimore Orioles

1. No. 1 -- and, you could certainly argue Nos. 2-5 as well -- is the bullpen. The O's went 73-0 when leading after the seventh inning. As relievers,
Tommy Hunter
is touching 100 mph and
Brian Matusz
has struck out 19 batters in 13 innings. Then there's
Troy Patton
(2.43 ERA),
Pedro Strop
(2.44),
Darren O'Day
(2.28) and
Jim Johnson
(2.49, 51 saves) to finish things out. While it might not be the best bullpen ever -- or even the best bullpen in the league this year -- it may have been the most "effective" 'pen in history, as noted by its record-setting (record-obliterating, really) +14 win probability added. Maybe 16 consecutive extra-inning wins and a 29-9 record in one-run games (the best since the 1800s) is partially a fluke, but having a quality bullpen certainly doesn't hurt in keeping that going.
2. Buck Showalter. Aside from bullpen management that's been so effective, Buck seems to just make all the right moves, putting guys in positions to succeed and making in-game decisions that seem to work even when they probably shouldn't. Sac bunt? You get the run you need. Hit and run? Batted ball goes right to where the second baseman was. Bring in
Chris Davis
to pitch? Two shutout innings, a pair of strikeouts (including
Adrian Gonzalez
!), and a win. Judging managers is tricky, but it would be mighty hard to argue that Buck isn't a net plus.
3. A surging offense. Overall, the O's were a little below average, but since the beginning of September they've actually been one of the league's better hitting teams (with an AL-best 50 home runs). It's mostly been the Davis show recently (.320/.397/.660, 10 home runs), but
Matt Wieters
(.296/.389/.541),
Adam Jones
(.295/.343/.504) and
Nate McLouth
(!) (.280/.355/.456) haven't been slouches either.
4. An improved defense. The glove work was often sloppy early in the year, all around the diamond, but not so much lately (largely since
Manny Machado
was called up). Machado is a shortstop (with the range that implies) playing third base, and adjusting both well and quickly to it.
J.J. Hardy
is one of the game's better shortstops. Whoever is playing second is decent (
Robert Andino
or
Ryan Flaherty
).
Mark Reynolds
may have found a home at first base, even if he's not a Gold Glover there (yet). The O's fielding (via FanGraphs) for the first four months: -20 runs. Fielding since: +0.
5. Orioles magic. Even if you count the O's as underdogs in each playoff series -- and really, you probably should -- they still have a 3-5 percent chance of winning it all (those chances double if they knock off Texas, by the way).
--Daniel Moroz, Camden Depot
Texas Rangers

1. An obvious on-paper advantage in the wild-card game.
Yu Darvish
has been dominant down the stretch with a 2.13 ERA and just 10 walks over his final seven starts. He's a strikeout pitcher against a lineup that strikes out a lot. Meanwhile,
Joe Saunders
is 0-6 with a 9.38 ERA in six career starts in Arlington.
2. Big-game experience.
Matt Harrison
had a terrific season, and having started a Game 7 of the World Series won't be fazed by the postseason.
Derek Holland
has had an inconsistent season but, as he showed in the World Series last year, is certainly capable of huge performances.
Ryan Dempster
also has playoff experience with the Cubs.
3. Defense. The infield defense with
Adrian Beltre
,
Elvis Andrus
and
Ian Kinsler
is arguably the best in baseball and was a key component to the Rangers' World Series run a year ago.
4.
Josh Hamilton
. If these are his final days with the Rangers, you get the feeling he'll be focused to go out with a bang, especially after his disastrous game in the regular-season finale. After his hot start, Hamilton recovered from his slump in June and July to hit 14 home runs over the final two months.
5. One game equals momentum. OK, the series sweep in Oakland was a disaster, but all it takes is one win over Baltimore and the Rangers can forget what happened down the stretch. Do that and this team is still the scary opponent everyone figured it was a few days ago.
--David Schoenfield
Oakland Athletics

1. Sometimes a very good overall team matches up poorly against a playoff opponent. As far as lefty-righty goes, the A's won't have that issue. General manager Billy Beane gave manager Bob Melvin the pieces to construct platoons, including at first base (
Brandon Moss
/
Chris Carter
), designated hitter (
Seth Smith
/
Jonny Gomes
) and catcher (
Derek Norris
/
George Kottaras
). Further, the top two everyday hitters,
Josh Reddick
and
Yoenis Cespedes
, bat from opposite sides of the plate, and leadoff man
Coco Crisp
, a switch-hitter, has very similar career splits from both sides of the plate.
2. The top three relievers,
Grant Balfour
,
Ryan Cook
and
Sean Doolittle
, have pitched remarkably well. All three bring gas. Cook can struggle with his command and Doolittle might hit a rookie wall any minute, but Balfour's 3.01 FIP is the highest of the group.
3. The A's are third in baseball in runs scored after the All-Star break. Ahead of the Yankees. Ahead of the Rangers. Well ahead of the Tigers. The current roster has been legitimately excellent on offense.
4. Defensive efficiency is a very simple metric: It is the rate at which a team turns balls in play into outs. It doesn't account for everything, but it does measure the core skill of a team's run-prevention unit. The A's are third in baseball in this number. Either the pitching staff doesn't give up hard-hit balls, the defense catches everything in sight, or both. Regardless of the why, the what is indisputable: Hits don't happen against the A's.
5. By record, the Tigers are the worst squad in the playoffs, yet the A's, the No. 2 AL team, play them in the first round because of the structure of playoff seeding. It likely isn't a huge advantage (the A's did just sweep Texas, after all), but every little bit counts on the way to a trophy.
--Jason Wojciechowski, Beaneball
Detroit Tigers

1. Miguel Cabrera. MVP or not, the Triple Crown speaks for itself. He is the best pure hitter in baseball and, unlike last year, is healthy heading into the postseason.
2.
Prince Fielder
was the American League's only .300/.400/.500 hitter, and he's not even the best player on his own team. He isn't completely helpless against LOOGYs either, posting an OPS of .808 against left-handed pitchers this season.
3.
Justin Verlander
, who has been just as good as he was in 2011. If Mother Nature cooperates this year, he will put a serious dent in that career 5.57 postseason ERA.
4. The rest of the rotation. With
Doug Fister
finally healthy,
Max Scherzer
's breakout second half, and the acquisition of
Anibal Sanchez
, the Tigers have the best playoff rotation in the big leagues. The four starters (Verlander included) combined for a 2.27 ERA in September and October.
5. Jim Leyland. The Tigers' skipper has been ridiculed by the fan base for most of the year for the team's lackluster performance, most of which was a mirage created by its early struggles. He has had his finger on this team's pulse all season and deserves credit for managing the outrageous expectations for a team with more flaws than people realized. Now he has the Tigers playing their best baseball heading into October and is the biggest reason why they could be parading down Woodward Avenue in early November.
--Rob Rogacki, Walkoff Woodward
New York Yankees

1. The rotation. This looks like the strongest playoff rotation the Yankees have had in years, even better than 2009, when Joe Girardi rode three starters (
CC Sabathia
,
Andy Pettitte
,
A.J. Burnett
) to the World Series title. Sabathia has battled a sore elbow but looked good down the stretch, including eight-inning efforts in his final two starts. Pettitte is 40 years old but still looks like Andy Pettitte.
Hiroki Kuroda
had a quietly excellent season, finishing eighth in the AL in ERA and 10th in OBP allowed among starters.
Phil Hughes
is a solid No. 4.
2. Home-field advantage. While this generally isn't a big factor in baseball, the Yankees' power comes into play with the short porch at Yankee Stadium. Earning the No. 1 seed was probably more important to the Yankees than any other team.
3.
Robinson Cano
. He's locked in right now, going 24-for-39 in his final nine games, all multihit games. Don't be surprised if he has a monster postseason.
4. Lineup depth and versatility. In this age of bullpen matchups, the Yankees are difficult to match up with. They can run out a lineup that goes right-left-right-left-switch-switch-left-left/right-right. You'd better have a deep bullpen to beat this team in the late innings.
5. Health. While
Mark Teixeira
may not be 100 percent, at least he's back in the lineup, meaning the Yankees finally have all their position players available (even
Brett Gardner
may make the postseason roster as a pinch runner/defensive replacement). They've been dinged up all season, but Sabathia and Pettitte should be strong. The only question: The Yankees haven't won a World Series without
Mariano Rivera
since 1978.
--David Schoenfield
May, 7, 2012
5/07/12
1:05
PM ET
Already struggling to score runs, the
Washington Nationals
have lost right fielder
Jayson Werth
for about six weeks after he
broke his left wrist
trying to make a diving catch on Sunday.
It's the same wrist Werth injured with the Dodgers in 2005, an injury that forced him to miss an entire season and placed his career in jeopardy. Werth will consult with doctors from the Mayo Clinic and also meet with the doctor who operated on his wrist in 2005.
The Nationals have been a great story so far with a 18-10 record, but it's been all about the pitching. They have a staff ERA of 2.59 and the starters have a 2.17 ERA, a .197 opponents batting average and have allowed one run or no runs in 16 of 28 starts. But while they're eight games over .500, they've only outscored their opponents by 12 runs, a difficult ratio to maintain. Werth was one of the few hitters doing anything at the plate, hitting .276/.372/.439, good enough to rank second on the team in OPS behind
Adam LaRoche
(not including the recently recalled
Bryce Harper
).
In Werth's absence, expect Harper to move to right field with
Xavier Nady
and
Roger Bernadina
platooning in left. Backup infielder Steve Lombardozzi could also see some time out there, as
Ryan Zimmerman
is expected to return from his own DL stint on Tuesday. LaRoche should also be back in the lineup after missing a few games with an abdominal strain. Considering Nady is hitting .119 and Bernadina .200, don't be surprised to see Lombardozzi get his share of action out there, at least until Mike Morse returns from the back injury that has kept him sidelined all season. He has target return date of June 1.
The Nationals rank 14th in the NL in runs scored, averaging just 3.4 runs per game. Zimmerman was struggling when he went on the DL, hitting .224/.324/.345. Second baseman
Danny Espinosa
is hitting just .192 with one home run, two RBIs and is tied for second in the majors with 34 strikeouts. But Werth's replacements will have to produce some offense.
"We have to step up, guys in the outfield,"
Nady told MLB.com
. "There is enough talent on this team to step in. It's a long season, Hopefully, we can hold it down [until] he gets back. I feel bad for him. It stinks."
November, 16, 2011
11/16/11
2:14
PM ET
Washington Nationals
general manager Mike Rizzo has said he's comfortable with the team's options at first base for 2012 -- either Mike Morse, who hit 31 home runs in 2011, or
Adam LaRoche
, if he can return from shoulder surgery.
Still, I have dreams of the Nationals going after
Prince Fielder
. Give the big guy the contract he wants. And then the Nationals could roll out this lineup in 2013:
SS
Danny Espinosa
RF Bryce Harper
3B
Ryan Zimmerman
1B Prince Fielder
LF Mike Morse
CF
Jayson Werth
2B Anthony Rendon
C
Wilson Ramos
Don't tell me that wouldn't be a fun team to watch. Enough with worrying about defense and playing scrappy little glove guys who can't hit. Let's bring back the late '90s and roll out a softball lineup. Yes, maybe this squad would be a stretched a bit defensively ... but not as much as you may think. Espinosa played second as a rookie but came up through the minors as a shortstop. Werth has played center field at various times in his career and would be adequate there, although he'll probably start losing some speed in a couple years. Morse is best suited for first base but has played some outfield. Rendon would be the big question mark; the team's first-round pick in 2011, he played third base at Rice but may be tried at second.
And don't forget: the team's manager is Davey Johnson, who once played Kevin Mitchell and Howard Johnson at shortstop, and Gregg Jefferies at second base.
OK, maybe it's a long shot. Make it happen, Mike.
And then trade
for
Cole Hamels
.
November, 14, 2011
11/14/11
12:55
AM ET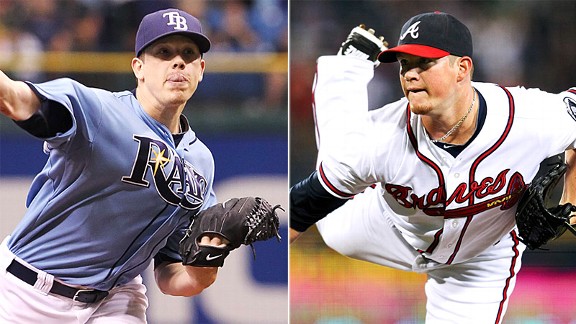 US PresswireTampa Bay's Jeremy Hellickson, left, and Atlanta's Craig Kimbrel led the SweetSpot rookie balloting.
The American League rookie crop has a chance to be one of the deepest, most exciting groups of rookies one league has produced in a long time (although the 2010 NL group with
Buster Posey
,
Jason Heyward
,
Mike Stanton
,
Starlin Castro
and
Jaime Garcia
was an excellent one as well).
On the hitting side,
Dustin Ackley
,
Eric Hosmer
,
Desmond Jennings
and
Brett Lawrie
all have All-Star potential, and guys like
Mark Trumbo
,
Jemile Weeks
,
Jason Kipnis
,
Mike Moustakas
,
Lonnie Chisenhall
,
J.P. Arencibia
and
Salvador Perez
aren't far behind or showcased plenty of potential. Pitchers included
Jeremy Hellickson
,
Ivan Nova
,
Michael Pineda
,
Zach Britton
and
Jordan Walden
. Those lists don't even include prospect studs
Mike Trout
and
Jesus Montero
, who will both remain rookies next season.
It makes for a crowded rookie race, especially since several of the hitters excelled after in-season promotions, which limited their overall numbers. Here are the voting results from the SweetSpot network (based on the same structure as the real voting: five points for first, three for second and one for third):
1. Michael Pineda, Mariners: 77 points (13 first-place votes)
2. Jeremy Hellickson, Rays: 51 points (6)
3. Eric Hosmer, Royals: 25 points (3)
4. Dustin Ackley, Mariners: 23 points (1)
5. Ivan Nova, Yankees: 11 points
(tie) Mark Trumbo, Angels: 11 points (1)
7. Brett Lawrie, Blue Jays: 8 points
8. Desmond Jennings, Rays: 5 points
9. Zach Britton, Orioles: 1 point
In our vote, it was essentially a two-player race; I suspect that in the actual vote, Nova will receive much more support. Let's start by looking at the three starting pitchers, all three of whom were regulars in their team's rotations most of the season.
Hellickson: 13-10, 2.95 ERA, 189 IP, 146 H, 117 SO, 72 BB, 21 HR, 1.15 WHIP
Pineda: 9-10, 3.74 ERA, 171 IP, 133 H, 173 SO, 55 BB, 18 HR, 1.10 WHIP
Nova: 16-4, 3.70 ERA, 165.1 IP, 163 H, 98 SO, 57 BB, 13 HR, 1.33 WHIP
Despite that glossy record, I think it's pretty easy to dismiss Nova. He doesn't have Hellickson's ERA or Pineda's peripherals; he pitched 24 fewer innings than Hellickson; he pitched in the AL East, but so did Hellickson. (We can ignore win-loss record, right? We all learned that last year when
Felix Hernandez
won the Cy Young Award, correct?) As important as Nova was to the Yankees, I think he's pretty clearly No. 3 here.
So let's compare Hellickson and Pineda.
Baseball-Reference WAR
Hellickson: 4.2
Nova: 3.6
Lawrie 2.8
Pineda 2.8
Ackley 2.5
Jennings 2.3
Trumbo 2.1
Hosmer 1.3
FanGraphs WAR
Pineda: 3.4
Lawrie: 2.7
Ackley: 2.7
Nova: 2.7
Jennings: 2.4
Trumbo: 2.3
Hosmer: 1.6
Hellickson: 1.4
Hellickson's season was an anomaly in one important regard: He allowed just 7.0 hits per nine innings while striking out 5.6 batters per nine. How odd is that combo? Since 2000, only six other pitchers have thrown at least 150 innings while allowing 7.5 hits or less per nine innings
and
fewer than six strikeouts per nine. The others:
Johnny Cueto
(2011),
Tim Hudson
(2010),
Trevor Cahill
(2010),
Barry Zito
(2003),
Derek Lowe
(2002) and
Damian Moss
(2002).
Hellickson succeeded because his BABIP (batting average on balls in play) was .223, the lowest among major league starters. That explains the difference in his WAR total between the two sites. FanGraphs' WAR is based upon FIP (fielding independent pitching), which attempts to remove defensive support from a pitcher's performance and assesses "a pitcher's talent level by looking at things a pitcher can control: strikeouts, walks, hit by pitches, and home runs."
So while Hellickson's ERA was 2.95, FIP looks at his mediocre 117-72 strikeout/walk ratio and 21 home runs allowed and projects a 4.44 run average. Pineda, meanwhile, had a 173/55 strikeout/walk ratio and 18 home runs allowed, and his FIP comes in at 3.42 -- lower than his actual ERA.
Basically, FIP regards Hellickson as being hit lucky; indeed, if you were projecting which pitcher will have the lower ERA next season, Pineda is the obvious choice (assuming Hellickson doesn't ramp up his strikeout rate). As a projection system, FIP is much better than simply looking at ERA.
But when evaluating a current season, do you simply dismiss Hellickson's results and say he wasn't that good? Personally, I think that's a big leap. Hellickson's run prevention may have involved a degree of luck -- it's worth pointing out that Pineda also allowed a low .258 BABIP, ninth-lowest among MLB starters (both were also extreme flyball pitchers, which can lower a pitcher's BABIP) -- but he
did
allow a 2.95 ERA over 29 starts, pitching in the tough AL East. He made eight starts against the Red Sox and Yankees (3-2, 3.73 ERA in 48.1 innings). Pineda only had to make one start each against the Red Sox and Yankees. Yes, Hellickson benefited from him his home park and an excellent Tampa Bay defense; but Pineda also benefited from a pitcher-friendly home park and good defense.
Hellickson had a left-on-base percentage of 82 percent -- second-best in the majors behind Jered Weaver's 82.6 percent. He allowed a .167 average with runners in scoring position, with just three home runs in 144 at-bats. Again, there is some good fortune involved here -- a .167 average allowed is not a repeatable skill -- but it
did
happen. It was a real result that helped the Rays win games and I can't so easily dismiss what happened on the field.
In some aspects, while last year's AL Cy Young debate was billed as the battle of new numbers (win-loss record for pitchers is overrated), it wasn't really the battle of new numbers: King Felix excelled in all the other conventional statistics like ERA, strikeouts and innings pitched. To deny Hellickson the rookie award would be the real shout-out to sabermetrics, ignoring his ERA and attributing his numbers completely to luck and defense. I don't think that will happen in the real vote; in fact, I'll be surprised if Pineda finishes in the top three, since -- let's face it -- win-loss record still means something to a lot of voters.
I'm a Mariners fan. I watched Pineda pitch 10-12 times this season and he and Ackley provided two bright hopes in a miserable season. If he stays healthy, the big right-hander is going to be a Cy Young contender in the future. But I put Hellickson No. 1. As for the rest of my ballot, Lawrie and Jennings were great in short stints (Lawrie's WAR includes a positive rating for his defense, which goes against the scouting reports as he came up through the minors), Ackley in a little longer stint, Hosmer over 128 games. Both B-R and FanGraphs hate Hosmer's defense (going against the general scouting reviews of his glovework), and thus affecting his WAR rating. Trumbo's 29 home runs and 87 RBIs led all rookies, but that .291 on-base percentage is damaging. Trumbo had some big hits for the Angels, but I can't put a guy with a .291 OBP in the top three.
My ballot
1. Jeremy Hellickson
2. Michael Pineda
3. Eric Hosmer
Predicted results
1. Jeremy Hellickson
2. Ivan Nova
3. Mark Trumbo
* * * *
In the National League, Braves closer
Craig Kimbrel
is expected to cruise to the award after leading the NL with 46 saves, posting a 2.10 ERA and striking out 127 batters in 77 innings, the sixth-highest strikeout rate ever with at least 50 innings pitched. (By the way, fellow rookie
Kenley Jansen
had the best rate ever, with 16.10 per nine innings.)
Here is the SweetSpot network voting results:
1. Craig Kimbrel, Braves: 108 points (18 first-place votes)
2.
Freddie Freeman
, Braves: 35 points (3)
3.
Danny Espinosa
, Nationals: 26 points (3)
4.
Vance Worley
, Phillies: 16 points
5.
Brandon Beachy
, Braves: 14 points
6.
Wilson Ramos
, Nationals: 13 points
7. Kenley Jansen, Dodgers: 2 points
8.
Josh Collmenter
, Diamondbacks: 1 point
(tie)
Lucas Duda
, Mets: 1 point
I suspect the actual voting results will follow a similar pattern, with Kimbrel possibly emerging as the unanimous winner. Espinosa flew under the radar all season, but hit for power (21 home runs) and played a very good second base. Like Hosmer, Freeman's glovework doesn't rate well by the fielding metrics. Overall, Espinosa's package of power and defense at a premium position makes him more valuable than Freeman. Worley and Beachy were terrific in partial seasons and Ramos gave the Nationals a second foundation piece for the future.
My ballot
1. Craig Kimbrel
2. Danny Espinosa
3. Freddie Freeman
Predicted results
1. Craig Kimbrel
2. Freddie Freeman
3. Danny Espinosa
August, 19, 2011
8/19/11
12:38
PM ET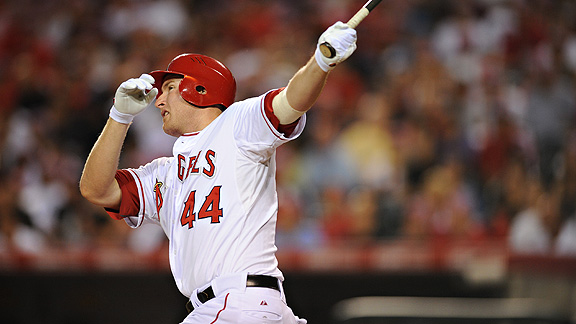 Kelvin Kuo/US PresswireAngels first baseman Mark Trumbo is hitting .259 and leads the club with 23 HRs and 68 RBIs.
If there is anything to be learned from last Friday's exercise when I ranked my top 10 choices for each
respective league MVPs
, it was that plenty of fans just aren't interested in non-traditional stats like Wins Above Replacement. Some just want home runs and RBIs. And that's OK. Stats like WAR aren't the
most
important thing to me, either, but certainly a basis for discussion. Perhaps defense shouldn't count a great deal in MVP voting. Oh, and Yankees fans love their Yankees and nobody else, Red Sox fans love their Red Sox, Phillies fans ... well, you get the picture. You can't please everyone!
This week I'm taking a deeper look at the top rookies, because I think it's definitely fun and always a good conversation starter. For example, some people will look only at home runs for this award. Others will look at wins. I judge the rookie of the year candidates similar to the MVP leaders from a week ago: Myriad factors are relevant and essential, from traditional stats to otherwise.
In the National League, it appears to be a runaway for
Atlanta Braves
relief pitcher
Craig Kimbrel
, based on his dominance along with the fact no reliever has more saves and he'll soon break the rookie record in the category --
Neftali Feliz
of the
Texas Rangers
had 40 last season. Yes, Kimbrel's teammate
Freddie Freeman
has had a nice season after a slow start, and in other years he would have won it all, but Kimbrel is on pace for 47 saves and a reliever-high 123 strikeouts, to go along with his 1.81 ERA and 0.99 WHIP. It's over, people. It's not just rookies or closers, he's been baseball's top relief pitcher. I just hope he doesn't go all
Marmol
on us in September to make the race close.
As for the rest of the NL top 10 -- and remember, things can change -- I hadn't realized just how poor a defender and baserunner Freeman had been. Still, he's got the counting stats, and I can't put a guy hitting .223 second, even if he leads
all
big league rookies in WAR.
Danny Espinosa
could be a terrific player if he hits .270, and I hope he eventually will. After that, we're pitching heavy. I don't think any of the NL rookie starting pitchers have distanced themselves, or even pitched enough. If
Brandon Beachy
could have made 30 starts, he could have been second on my list.
Vance Worley
will get a bit too much attention because of a flashy win-loss record.
Fernando Salas
has not been Kimbrel, so don't go there. And while I find it hard to believe
Darwin Barney
will play this well every season, hey, give him a break. He really hasn't been bad at all.
My choice for now:
Kimbrel.
The numbers say:
Kimbrel.
The voters would say:
Kimbrel. Though Freeman and perhaps Worley, if he goes something like 13-3, will get (too much) support, too.
* * * *
In the American League, the race is considerably closer with a number of worthy candidates. First of all,
Alexi Ogando
of the Texas Rangers is
not
a rookie, even though his 2010 season fell short of the 50 innings minimum. Based on service-time requirement he lost rookie status. If Ogando
was
eligible, however, he would get my vote. Hey, no rookie hitter or pitcher -- Kimbrel included -- has a better WAR than Ogando. Alas,
Seattle Mariners
right-hander
Michael Pineda
certainly is a rookie, and he gets my vote today, despite struggling with a 6.69 ERA since July. Pineda's ERA has spiked, but he still has more strikeouts than innings, more innings than any rookie and a cool 1.11 WHIP. Back in March I predicted
Tampa Bay Rays
right-hander
Jeremy Hellickson
would earn the award, but Pineda has been better. Plus, if I had chosen Hellickson over Pineda, not only would I have been wrong, but SweetSpot writer/editor Dave Schoenfield loves the M's and wouldn't talk to me for a month. Hmm, on second thought ...
I admit
Mark Trumbo
is an interesting case. Surely there have been other sluggers to win top rookie honors with fewer home runs. Trumbo stepped in when
Kendrys Morales
couldn't play and leads the Angels in home runs and RBIs. But he doesn't lead in on-base percentage; I can't get past that .295 mark. Wow. Still, it wouldn't surprise me one bit if Trumbo earns the award if he hits 30 home runs. I barely ranked
Toronto Blue Jays
catcher
J.P. Arencibia
, despite his 19 home runs and demanding position. He hasn't been a
good
catcher though and the .210 batting average and .274 OBP hurt the team more than the power helps it.
By the way, the No. 2 rookie hitter in WAR according to Fangraphs.com is Mariners second baseman
Dustin Ackley
, a future star. Ackley hasn't played enough yet for real award consideration, but he's going to be very, very good. As for other random AL rookie thoughts, sorry,
Ivan Nova
has not been on par with Pineda, despite the 12 victories; the case for him against Hellickson, a pair of low-K right-handers, is closer. As for
Jordan Walden
, nobody in baseball has more blown saves. It's been a good year otherwise, but not a great one, and again, he's not Kimbrel in terms of the WHIP and strikeouts.
My choice for now:
Pineda.
The numbers say:
Pineda and Ackley lead AL rookies in WAR.
The voters would say:
If Trumbo whacks 30 home runs, and Pineda barely pitches in September, the slugger will probably win it going away.
Follow Eric Karabell on Twitter @karabellespn.
July, 2, 2011
7/02/11
10:00
AM ET
By
Charlie Saponara
| ESPN.com
The Major League Baseball All-Star Game is right around the corner, and while the blogosphere is bursting with opinions of who should and shouldn't make the team, I thought it might be fun to start another debate. Who would make an imaginary 2011 all-rookie all-star team? Sure, MLB has the Futures Game, but some of these players are years away from putting up major league numbers and some may never be seen or heard from again -- such is the wonderful world of prospects. The 2011 all-rookie all-star team will feature only players playing Major League Baseball and who are rookie eligible.
Catcher: Wilson Ramos, Nationals
Ramos came out of the gates strong in April to the tune of .358/.426/.527. He hasn't done much at the plate since, dropping his overall line to .238/.317/.389. However, his defensive game has been very solid and he has thrown out 13 of 32 would-be base stealers (41 percent). Ramos was recently a first-round pick in
ESPN's Franchise Player Draft
.
First Base: Freddie Freeman, Braves
Freeman has a bit of an advantage here, as he started the season in the big leagues unlike another strong contender,
Eric Hosmer
. Even so, Freeman has put up very solid numbers for a 21-year-old in his first big-league season. He's hitting .272/.339/.434 overall with nine home runs, but he has improved significantly after a slow April, raising his slugging percentage each month. He leads all rookie first-baseman in weighted on base average,
wOBA
, just edging out
Mark Trumbo
.
[+] Enlarge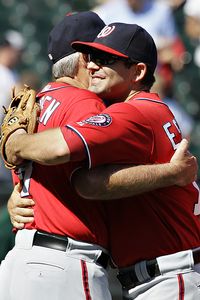 AP Photo/Nam Y. HuhThe Nationals love Danny Espinosa, the rookie second baseman who may make the actual All-Star team.
Second Base: Danny Espinosa, Nationals
Quite frankly, this one wasn't even close. Espinosa was quiet out of the gates, but he continued to play slick defense and the power numbers eventually began to soar. His 15 home runs are the most ever by a rookie second baseman prior to the All-Star break, and his .227 isolated power,
ISO
, puts him in the top 20 in all of baseball. However, Espinosa might have to miss our imaginary all-rookie all-star team, as he may be in line to take a spot on the National League's very real All-Star roster. If that were to happen, Espinosa's replacement would be
Dustin Ackley
, who has looked strong at the plate since being called to the big leagues (.300/.378/.575), but in a very small sample size of 45 plate appearances.
Shortstop: Dee Gordon, Dodgers
This was a tough call, as there is no real standout rookie at the position and no one is even close to 200 plate appearances on the year. While stats always play a role in determining an all-star, sometimes fans just want to see players that bring excitement to the field. That's why the Dodgers rookie gets the nod here. Gordon has been pretty dreadful at the plate (.243/.263/.297), he's still a raw talent, and he has the type of speed that's easy on the eyes.
Third Base: Justin Turner, Mets
With a bigger sample size, I feel that
Mike Moustakas
probably would have snagged this spot, but Turner had been extremely productive before injuring his thumb early in June. He leads all rookie third basemen with 0.6 wins above replacement,
WAR
.
Left Field: Craig Gentry, Rangers
Sometimes players get a surprise opportunity at playing time in the big leagues. Sometimes they make the most of it and sometimes they don't. Gentry has definitely made the most of his time with the Rangers this season, putting up a .355 OBP and nine stolen bases in only 28 games while playing stellar defense.
Center Field: Ben Revere, Twins
When it comes to game-changing speed, Revere has it. He has nine stolen bases in 40 games and has shown exceptional range in center to go along with a respectable .281 average.
Right Field: Josh Reddick, Red Sox
Allen Craig
was well on his way to earning a selection at one of the corner outfield spots, but he's out with a knee fracture. This leaves the selection to a group with a very small sample size. Reddick only has 42 plate appearances on the season, but he's been channeling his inner Randy Jackson, putting up a molten-hot lava bomb line of .444/.476/.772 and has already posted 1.2 WAR.
Designated Hitter: Mark Trumbo, Angels
Trumbo just missed being named the starting first baseman of my all-rookie all-stars, but he deserves a spot on the team and fits in nicely as the designated hitter. He's second among rookies in home runs and third in weighted on-base average,
wOBA
, with a minimum of 200 plate appearances.
Starting Pitcher: Michael Pineda, Mariners
Several rookie starters have had very good seasons to date, but none have been as utterly dominant as Pineda. His 8.7 K/9 is second only to
Brandon Beachy
among rookie starters -- although Beachy has only thrown 56 1/3 innings due to time on the DL -- and his 25.7 percent whiff rate is the best of any rookie starter. Pineda has also thrown the most innings of any rookie starter. Simply put, he's an All-Star, rookie or not. If he ends up representing the Mariners at the actual MLB All-Star Game, there are a number of pitchers that could fill his slot here, including Beachy,
Alexi Ogando
,
Zach Britton
or
Jeremy Hellickson
.
Reliever: Craig Kimbrel, Braves
With a dominant 14.3 K/9, 3.6 K/BB rate and only one home run allowed in a rookie reliever-leading 41 innings pitched, Kimbrel has become one of the most electric closers in baseball. Oh yeah, he also has 23 saves, which leads all rookie relievers and puts him one save behind
Brian Wilson
for the most in baseball.
Of course, all-star selections wouldn't be as fun if it weren't for the debate part of the process. Who would you put on the imaginary 2011 all-rookie all-star team? Who would they play against in an actual game -- the winner of the Futures Game, perhaps?
Charlie Saponara writes for Red Sox SweetSpot network blog, "Fire Brand of the AL." You can find all of his writing adventures by following on Twitter.
June, 29, 2011
6/29/11
2:42
PM ET
Each time myself and SweetSpot blogger/editor Dave Schoenfield sit down to talk baseball, it's memorable. You should have heard us at lunch today!
Before
lunch we recorded Wednesday's
Baseball Today podcast

in the bucolic Bristol studio, which we present to you with these highlights ...
1. So,
Cliff Lee
, that's all you got? A two-hit shutout against baseball's top scoring team? Orel Hershiser laughs at you!
2. So,
Zack Greinke
, that's all you got? Milwaukee's best wasn't so best on Tuesday at Yankee Stadium, but should Brewers fans worry?
3. Who should start at third base for the National League in the All-Star game? Should Washington's
Danny Espinosa
be the starter at second base? We discuss the Midsummer Classic!
4. Should the Red Sox rearrange their defense to get
David Ortiz
in the lineup, thus shifting
Adrian Gonzalez
to right field? You might be surprised at the debate.
5. It doesn't get any better than
John Lackey
versus
Vance Worley
. OK, perhaps it does, and despite Lackey-Worley being the ESPN featured game, we acknowledge some other top pitching matchups!
Plus: Excellent emails, more McCourt/Dodgers talk, which teams are clearly deadline sellers, which teams can actually score runs and really, so much more that I can't even list it all here ... check out Wednesday's Baseball Today!
June, 29, 2011
6/29/11
11:32
AM ET
The All-Star rosters will be announced Sunday, and here are five guys I'd like to see make the All-Star Game, but might get left out.
Espinosa
Danny Espinosa, 2B, Nationals:
Rickie Weeks
and
Brandon Phillips
are neck-and-neck in the fan voting and the other will undoubtedly be named as the backup. Weeks is the deserving starter, but Espinosa has a strong argument over Phillips. He's only hitting .239, but his overall line of .239/.323/.468 with 15 home runs makes him a better offensive player than Phillips (.298/.351/.416, six home runs), especially when you factor in Phillips' home park. The defensive metrics back up Espinosa's growing reputation as a standout defender as well. All three are deserving All-Stars -- FanGraphs ranks all three in the top 15 among NL position players in WAR (wins above replacement), but there might not be room for three second basemen, unless Espinosa gets the nods as the Nationals' rep (more likely to be closer
Drew Storen
).
Victorino
Shane Victorino, CF, Phillies:
Ryan Braun
,
Lance Berkman
and
Matt Holliday
are leading the fan vote.
Matt Kemp
and
Andrew McCutchen
are automatics.
Hunter Pence
(or maybe
Michael Bourn
) makes it as the Astros' lone representative.
Justin Upton
is probably the most deserving Diamondbacks player, although catcher
Miguel Montero
and starter
Ian Kennedy
have good cases. The NL had four reserve outfielders a year ago (plus
Jason Heyward
, who was injured at the time), so Victorino could get squeezed even though he's fourth in FanGraphs' WAR among NL position players, behind only
Jose Reyes
, Kemp and McCutchen.
Zobrist
Ben Zobrist, 2B, Rays:
Robinson Cano
has a large lead in the fan vote, even though he ranks just fifth among AL second basemen in WAR.
Dustin Pedroia
is the likely backup, likely leaving Zobrist's all-around brilliance -- .268/.347/.475, 52 runs, nine home runs, superb defense -- watching from home. Howie Kendrick is another second baseman deserving of a short at a crowded position. Zobrist's best chance is if Ron Washington likes his ability to play multiple positions, but with
James Shields
an All-Star lock (and
David Price
,
Evan Longoria
and
Matt Joyce
possibilities), the Rays have other strong candidates.
Hernandez
Felix Hernandez, P, Mariners:
Ichiro Suzuki
has been an All-Star all 10 of his previous major league seasons, but he's way back in the fan voting this year and his numbers don't come close to warranting a selection. But the Mariners need a rep.
Michael Pineda
has a better ERA than Hernandez (2.65 to 3.19), and might get the nod because of that. But Hernandez should be the All-Star, not a rookie who has had three good months. (Hernandez also drew the short straw last year; somehow, 17 different AL pitchers made the squad or were named as replacements, but the eventual Cy Young winner wasn't one of them.
Jose Valverde
,
Phil Hughes
,
Matt Thornton
,
Fausto Carmona
,
Andrew Bailey
and
Andy Pettitte
, however, were All-Stars.) Even if you think Felix is a lock, so many AL starters are having good seasons that a few will get shut out (
C.J. Wilson
?
Dan Haren
? Price?). In fact,
Mariano Rivera
is really the only AL reliever deserving of a selection. The AL roster should be 12 starters and Rivera, but we'll still see four or five relievers.
Peralta
Jhonny Peralta, SS, Tigers:
Derek Jeter
will win the fan vote and Cleveland's
Asdrubal Cabrera
is the likely backup. That might not leave room for Peralta -- .310/.358/.527, 12 home runs, 46 RBI -- especially with
Miguel Cabrera
and catcher
Alex Avila
likely picks from the Tigers. White Sox shortstop
Alexei Ramirez
is another strong candidate who might get squeezed. And that doesn't even factor in if Washington picks his own guy,
Elvis Andrus
.
Follow David on Twitter @dschoenfield.