April, 18, 2012
4/18/12
8:00
AM ET
First base: Double trouble for D-backs.
Justin Upton
sat out Tuesday's game against the Pirates due to the thumb injury he suffered April 8. Manager Kirk Gibson said his star right fielder -- batting .212 without an RBI -- saw a hand specialist and would likely undergo an MRI. "The thumb's been bothering him," Gibson
told the Arizona Republic
. "He's pushed hard through it. We've taken a day to re-evaluate what's going on with his thumb." To make matters worse for Arizona,
Chris Young
crashed into the wall in left-center making a leaping grab and left the game with a shoulder bruise. He too will undergo an MRI. The D-backs received a lot of criticism for signing
Jason Kubel
in the offseason, but this is where having four outfielders is an asset, not a problem. If Young can't go,
Gerardo Parra
can handle center.
Second base: Gold Glovers struggling on defense.
Two-time Gold Glove winner
Troy Tulowitzki
committed just six errors last season but he made his sixth already in 2012, letting an easy double-play go through his legs, an error that led to two unearned runs and nearly cost
Jamie Moyer
his "oldest pitcher to win a game" achievement. Meanwhile, two-time Gold Glover
Evan Longoria
booted two grounders and made a throwing error for a three-error night in Tampa's 7-3 loss to the Blue Jays (three of
Jeff Niemann
's five runs were unearned). While Longoria just had one of those nights, Tulo's situation appears more serious, a possible "fielding slump" that is worth keeping an eye on.
Third base: No A's for Angels.
Mike Scioscia removed
Dan Haren
after just 85 pitches, with the Angels leading 2-1 with two runners on and two out in the seventh. Lefty
Daric Barton
was up for the A's so Scioscia brought in
Scott Downs
, who did retire Barton to escape the jam. Even though Downs' is the team's best setup guy -- a guy who has proven he can retire right-handed hitters as well as lefties -- Scioscia took him out after four pitches and brought in
Kevin Jepsen
, a guy considerably lower in the bullen pecking order. Two walks and two hits later it was 3-2 Oakland, and then
Yoenis Cespedes
made it 5-2 with a two-run single off
David Carpenter
. Why Jepsen? Or why remove Haren so soon if your bullpen has been taxed in recent days?
LaTroy Hawkins
had thrown 31 pitches on Monday so was probably unavailable. Downs had thrown 14 pitches, hardly reason to limit him to four pitches.
Jason Isringhausen
had thrown 21 pitches on Sunday -- but Carpenter had thrown 37. The obvious question: Why not use closer
Jordan Walden
... you know, for
more than three batters.
He's thrown two innings all season -- one inning in a 7-1 win and one inning in a 7-3 loss. In other words, he hasn't thrown a meaningful inning all season. In the last week, the Angels' bullpen has lost two leads in the eighth inning and one in the seventh. But whatever you do, SAVE YOUR CLOSER FOR THE NINTH INNING.
Home plate: Tweet of the day.
Rockies pitcher tweeting members of the Los Angeles Clippers after Jamie Moyer's win:
Shout out 2 boys from @laclippers.U witnessed history 2nite! @blakegriffin @bobbysimmons21 @mowilliams @RandyFoye Will u b able 2 dunk @ 49?

— Jeremy Guthrie (@JGuthrie46) April 18, 2012
April, 8, 2012
4/08/12
8:00
AM ET
By
Christina Kahrl
| ESPN.com
With initial active rosters picked, we've seen a few of the same long-term trends perpetuate themselves in terms of roster set-up. Despite the less crowded April schedule that might seem to make carrying seven relievers, let alone eight, unnecessary, 23 of 30 teams went with the now-standard 13-12 split between position players and pitchers.
If you're one of those people who loved the more aggressive brand of in-game management from the '70s and '80s, with managers reaching into deeper, well-stocked benches to pinch-hit for defensive specialists or pinch-run for basepath slugs, you might be ready to rail against the seven-man bullpen. But you can do that for only so long before you have to come to the grudging concession that it's here to stay like other unpleasantries like interleague games, 10 playoff teams per season or Simon Cowell.
The extent to which conformity to the 13-12 is a fact of life is reflected in who most of the odd ducks were. The old school 14-11 spread -- "old" if you can hardly remember the '90s -- is being used by just five teams: the Tigers, Angels, Athletics, Pirates and Rockies. If you think this means any one of their managers want to create more opportunities in their lineups or any of
their
general managers have elected to let them, guess again. All five clubs are just exploiting the lighter schedule and not carrying their preferred fifth starter of the moment. Give them a week or so, and they'll more than likely be down at 13-12.
That leaves two teams who weren't at 13-12 or 14-11: The Astros and Red Sox, who have both gone with eight-man bullpens. In April. That's while the Sox get to play 12 games in the first 16 days of the season, while the Astros play just six in their first nine days. Even allowing for the questions both teams have about their rotations, that's a lot of guys standing around in the bullpen instead of the dugout, and the body account alone might seem to be a logistical challenge for Bobby Valentine in Boston and Brad Mills in Houston. Pitchers need work to stay sharp, the same as any other kind of ballplayer, and giving guys reliable time on the mound might not wind up being the highest priority for the two skippers.
The Astros have the excuse of carrying a Rule 5 pick, hard-throwing
Rhiner Cruz
from the Mets' organization (as well as shortstop
Marwin Gonzalez
from the Cubs). That's a straightforward reflection of new GM Jeff Luhnow's priority: adding talent to an organization short on it, by whatever means necessary.
But the Red Sox situation is obviously a reflection of the injury stack they've endured. Closer
Andrew Bailey
out for months, reliever
Bobby Jenks
still hurt, and lefties
Andrew Miller
and
Rich Hill
are also on the shelf. To some extent, the early weeks might represent a form of live-fire extended spring training, as Valentine gets to sift through what he has left to pick his seven relief keepers once left fielder
Carl Crawford
is ready to come off the DL.
From among the opening rosters, here are a few situations that should be interesting to follow to see how they work out in terms of playing time.
Christina Kahrl covers baseball for ESPN.com. You can follow her on Twitter.
February, 22, 2012
2/22/12
12:45
PM ET
By
Christina Kahrl
| ESPN.com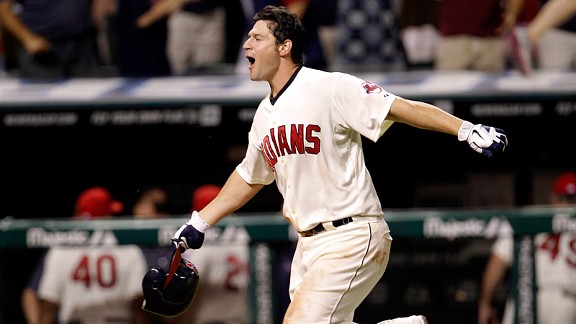 AP Photo/Tony DejakCleveland's Matt Laporta hasn't had much to celebrate in the majors. Will 2012 be different?
On Tuesday I ran through Freddie Freeman's
projections and reasons to feel good and bad about his 2012
, but there's a larger point to make about young first basemen these days, starting with this: Freeman's one of the success stories.
Look around the rest of the game, you'll find a surprisingly large number of first-base disappointments with major questions to answer over whether or not they're ever going to break through:
Chris Davis
, Orioles: MLB career line of .252/.301/.448.
After mashing 36 homers as a 21-year-old in his full-season debut in the minors, Davis was ranked 65th on Baseball America's 2008 list of baseball's top 100 prospects. In fairness, Davis has had to deal with getting shuttled between the infield corners and from Texas to Baltimore, but he's struck out more than 31 percent of the time in 1082 big-league plate appearances, and an OBP around .300 isn't going to fly, even with his tremendous power. In his age-26 season, he needs to break through.
Lars Anderson
, Red Sox: .175/.292/.200 (in 48 PAs)
Before 2009, Anderson ranked as the 17th-best prospect in baseball. It was all about projection, of course: He'd already reached Double-A and hit there before his 21st birthday. But the expectation that doubles would turn into homers as he matured hasn't happened, and he hadn't hit that many doubles in the first place -- a career minor-league ISO of .162 is nice, not excellent, not at first base. He's not done, but he's also not pushing his way into Boston's plans.
Matt LaPorta
, Indians: .238/.304/.397 in 1008 MLB PAs
The days when LaPorta was considered a top prospect and worthy payment for a couple of months of
CC Sabathia
's time seem long gone now. He ranked 23rd on Baseball America's top-100 list before 2008, "fell" to 27th as Indians property going into 2009, but after several clean shots as the Indians' starter, he now looks like the guy who will lose his job to…
Casey Kotchman
, Indians: .268/.336/.398
Seeing Kotchman on this list after his nice little season with the
Tampa Bay Rays
might seem harsh, but after already bouncing from Anaheim to Atlanta to Boston to Seattle, he's already been a non-answer for a number of teams before his 30th birthday. But you can sort of understand why so many have taken a look: He had a four-year run on BA's top-100 list where he never rated as
low
as LaPorta's best, rising from the 22nd-best prospect in the land in 2002 to sixth (!) in 2005. Even allowing for the initial stumble at the outset of his big-league career with mono, Kotchman's produced little power at a power position. He's a slick fielder and a nice place-holder of last/cheap resort -- perhaps especially if you've already endured LaPorta-induced heartbreak -- but if he's supposed to be an OBP guy, just remember that his career walk rate (8.3 percent) is lower than the MLB average over that time (8.5). Is that really what you're supposed to have gotten from the sixth-best prospect in baseball?
Brett Wallace
, Astros: .248/.323/.354
Back when Wallace was the 13th overall selection by the Cardinals in the 2008 draft, he was considered a pure hitting machine, but somebody whose thick build probably wouldn't work out at third base. Even as a hit tool-only prospect, BA rated him as the world's 27th-best prospect before the 2010 season. But in four years as a pro he's flitted through four different organizations, hasn't hit, and now the Astros are talking about giving him a shot -- back at third base, perhaps in part because he hasn't hit anywhere close to well enough to be an adequate answer at first.
James Loney
, Dodgers: .288/.348/.436
Including Loney on this list might seem unfair. He's been durable, and like Kotchman he gets credited with good glovework. He bounced around the 30s and 40s on BA's top-100 lists in the early Aughties, and that career rate might make it seem as if he's delivered. Unfortunately, he hasn't matched his career OPS since his rookie season back in 2007, when he wowed folks with a .919 clip. Back then, you could talk about
Matt Kemp
and Loney and think the Dodgers were set with two MVP candidates, but nothing Loney has done since has kept him in that conversation.
Chris Carter
, Athletics: .167/.226/.254 in 124 MLB PAs
Carter hasn't had a clean shot at a job yet, so he hasn't accrued much playing time. But at this rate you have to wonder if the A's will ever clear the path for him considering how many equally frustrating rivals they've collected to put in his way. Carter topped out as the 28th-ranked prospect by BA before 2010, and he's also moved around a lot (three organizations). Heading into his age-25 season with a career .540 SLG in the minors, you might figure he's due for a look, but the A's also have
Brandon Allen
, sabermetric favorite
Kila Ka'aihue
(long live the Kila Monster), and…
Daric Barton
, Athletics: .252/.362/.378
Barton might be the perfect example about of how "Moneyball" was a nice movie, but if there was even an organizing philosophy, you have to wonder if it hopped off the tracks at some point. When the A's acquired Barton (with
Kiko Calero
) for
Mark Mulder
, it seemed like a perfect match. Barton topped out at 28th on BA's top-100 list, but his patience at the plate made him seem like the organization's idiosyncratic answer at first base. But in the middle of what seemed like a breakthrough season in 2010, he got fascinated with bunting at will (worse yet, manager Bob Geren indulged him), and he lost most of 2011 after tearing up his shoulder. Where the modern walking man fits in on the team that's supposed to love walks more than anybody is up in the air.
Justin Smoak
, Mariners: .227/.316/.385
There's no joy to be had in putting Smoak on this list, and there are certainly special circumstances: He played with injuries to first one thumb and then the other and saw that sap his early season production. He then suffered a broken nose that placed him on the DL, and he lost his Dad -- all really tough things to work through. There was enough good stuff before he got hurt and after he healed to make you think he'll be fine this year. But set against that you've got a first baseman who rated 13th on Baseball America's top-100 prospects list heading into 2010, and he's barely topping a .700 OPS.
Now, 'tis the season for hope and faith, new beginnings and redemption, and all the rest of the warm fuzzies you're supposed to get this time of year.
Carlos Pena
's career got off on the wrong foot (several wrong feet, actually), to the point that the Tigers simply released the former top-five prospect at the end of spring training in 2006. But after five organizations Pena finally stuck as a 29-year-old journeyman with the Rays. How many of these guys' stories are going to have similarly happy endings? Touted as they've been, they've got plenty of questions to answer over whether or not they'll be flat-out useful.
Christina Kahrl covers baseball for ESPN.com. You can follow her on Twitter.
June, 17, 2011
6/17/11
12:59
PM ET
Every major league hitter goes through a slump. Sometimes it's a just a bad week here or there. Other times, it's a poor start or a slow month that may get established as part of a historical pattern. For example, when
Mark Teixeira
hit .136 in April of last season it was viewed as a traditionally slow start from Teixeira, who went on to hit .256 with 33 home runs and 108 RBIs. Sometimes though, slow starts stretch into extended slumps, which then develop into bad first halves and that's where we are with several hitters right now.
In some cases, it's hardly unexpected or inexplicable.
Hanley Ramirez
is hitting .205 but has been hampered by a nagging back injury.
Adam Dunn
is batting .185 with seven home runs but Dunn has been something of an all-or-nothing guy before. Other struggling stars like Ichiro or
Hideki Matsui
may just be aging. Some, like
Aubrey Huff
, may simply just be coming off career years or resurgent seasons. There are, however, other players whose extended slumps are more puzzling. Here are five players who have suffered some of the biggest OPS drops from last season and whose slow offensive starts may be the most baffling.
Dan Uggla, Braves
Worst slump of season:
5-for-63 (.079), May 16 to June 7.
[+] Enlarge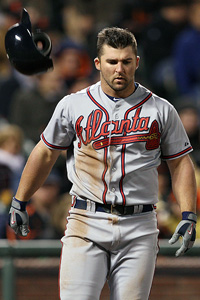 Tony Medina/SMIIt's been a tough year for Braves second baseman Dan Uggla, who is hitting .174.
According to the Elias Sports Bureau, Dan Uggla has had the biggest OPS decline of any player this season. Uggla's .877 OPS last season has plummeted to .566 after an 0-for-5 Thursday, a difference of .311 and well below his previous career-low of .805 in 2007. Uggla is batting .174/.244/.322, far below his career marks of .256/.341/.474. Another concern is Uggla's BABIP (batting average on balls in play), which has sunk from a career-high .330 last season to just .193. Uggla's groundball percentage is up to nearly 45 percent, by far highest of his career. He hit just .202 in April and followed with a .160 May, during which he managed only two home runs. From May 1 through June 15, Uggla hit .166 and slugged just .290. His Wins Above Replacement, a career-best 5.0 last season, is now -0.5, second-worst to only
Orlando Cabrera
among major league second basemen.
Shin-Soo Choo, Indians
Worst slump of season:
9-for-54 (.167), May 30 to June 14.
Choo's OPS has slid from .885 last season to .670. His 6.0 Wins Above Replacement last season is down to 0.8. Choo's season has actually seen a pair of lengthy slumps. He hit just .207 (17-for-82) from April 1 to April 24, followed by his most recent May 30-June 14 skid, during which he went without a home run and had just one RBI. One disturbing trend with Choo is that his slumps seem to be getting worse. Choo's .250 batting average through April could have been chalked up to simply a slow start but he followed by hitting .247 in May and through his first 13 games and has hit just .184 in June. Choo made headlines following his May 2 DUI arrest and since that incident is batting just .225/.312/304.
Daric Barton, A's
Worst slump of season:
8-for-64 (.125), April 16 to May 7.
Last season Barton proved that even without big slugging production from a traditional power position, a first baseman could still contribute with solid defense and good strike zone discipline. This season, however, Barton has fallen off the map. His .798 OPS last season is down to .591, a .207 drop. He's batted only .212/.327/.264, numbers that would have a utility infielder concerned. Never the prototypical first base slugger, Barton's Isolated Power (slugging minus average ) was only .144 and .131 in his two previous seasons but it's now down to a barely-visible .053. Barton seemed born from Oakland's Moneyball mold, walking 16 percent of the time in 2010 while striking out in only 18 percent of his plate appearances. Those numbers haven't altered dramatically in 2011 but Barton is a first baseman who has yet to hit a home run this season. In fact, Barton drove in only five runs in April and just eight in May. His Wins Above Replacement of 5.1 last season is now -0.4 this year, third-lowest among first basemen, ahead of only
Lyle Overbay
and Aubrey Huff.
Casey McGehee, Brewers
Worst slump of season:
6-for-52 (.115), May 21 to June 7.
McGehee has seen a .187 drop in his OPS from .801 last season to .614. In 2010, McGehee batted .285/.337/.464, but those numbers are down to .230/.287/.327. The production has vanished. From April 20 to June 15, McGehee hit only .218 with two home runs and 17 RBIs in 50 games. His BABIP: .330 in 2009 and .306 last year, is down to .257. Since his last home run on May 20 , McGehee has hit only .161 and slugged .169. McGehee is 28 years old and has played just two full major league seasons but this is a significant drop-off for a player whose 3.4 Wins Above Replacement last year is down to -0.3 this season. McGehee slugged .499 in 2009 and .464 in 2010, but this year's .327 slugging percentage ranks him ahead of only
Miguel Tejada
and
Chone Figgins
among third basemen.
Nick Swisher, Yankees
Worst slump of season:
9-for-54 (.167), April 7 to April 27.
Swisher's OPS has dropped as his profile has been raised. We see the Yankees' fun-loving outfielder in commercials, sitcoms and promos, but he's had a .142 OPS decline from .870 last season to .728. Swisher's .335 BABIP last season is down to .262. His batting average has dropped 59 points to .229 and his .511 slugging percentage from last season is at just .369. Swisher had one significant slump in each of the first two months of this season. He went without a home run during April's 9-for-54 skid and was then homerless again during a 5-for-34 slump in May. For the first two months of the season, Swisher batted just .213/.335/.314 with only three home runs in 49 games, but there is reason for optimism. Swisher has batted .293/.434/.610 in June with a 1.044 OPS. He has three homers and eight RBIs in 13 games this month. For the season, his line-drive percentage is at 20.6, his highest as a Yankee. Still, his career-high 4.2 WAR last season sits at just 1.0.
(Thanks to Dan Braunstein and Justin Havens of our "Baseball Tonight" research staff for their help with a portion of this post. Dan and Justin never slump.)
Follow Steve Berthiaume on Twitter: @SBerthiaumeESPN.
April, 20, 2011
4/20/11
10:17
AM ET
OK, let's set the ground rules:
1. Nobody on the Yankees, Red Sox or Phillies can be underrated. (Sorry,
Carlos Ruiz
.)
2. Nobody who has won an MVP Award can be underrated … even if he's Canadian. (That's you,
Joey Votto
.)
3. Nobody who plays for the Dodgers, dated Rihanna and is currently hitting .444 can be underrated. (Nice start,
Matt Kemp
.)
With some helpful suggestions via Twitter, here's my all-underrated team for 2011. We'll revisit later in the season and see how these guys are doing or if they've graced any magazine covers.
[+] Enlarge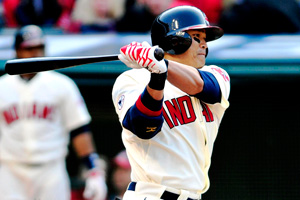 Jason Miller/US PRESSWIREShin-Soo Choo is our most underrated MVP.
C -- Brian McCann, Braves.
Can a five-time All-Star be underrated? I think so, if only because he's never started in one of those games. Sure, us baseball seamheads know how good he's been the past half decade, but since 2006 he has more RBIs than
Victor Martinez
or
Joe Mauer
, more home runs than Mauer and
Yadier Molina
combined and a higher OPS than Martinez.
1B -- Daric Barton, A's.
The new Mike Hargrove, except with better defense and fewer rain delays.
2B -- Orlando Hudson, Padres.
No obvious candidate here, but Hudson is a solid fielder (four-time Gold Glover) with a decent stick (although he slipped a bit last season). Yet nobody likes him too much: he's with his fourth team in four seasons.
3B -- Casey McGehee, Brewers.
He was such a non-prospect with the Cubs that they waived him after a short nine-game stint in the majors in 2008. The Brewers have enjoyed the productivity of the free talent, as he's hit .290/.344/.470 with the Brewers.
SS -- Cliff Pennington, A's.
He's off to a bad start, but was quietly decent in 2010 (yes, "quietly decent" qualifies as a good major league shortstop these days) when he played solid D and stole 29 bases.
OF -- Shin-Soo Choo, Indians.
I think he's our most underrated MVP. One of the best all-around players in the majors last season (second in the AL in
Baseball-Reference WAR
, eighth in
FanGraphs WAR
). And to think Cleveland stole him from Seattle for
Ben Broussard
.
OF -- Logan Morrison, Marlins.
He's only in his first full season, so maybe he hasn't played enough to be underrated yet, but I predict he'll remain underrated until he signs with the Yankees in 2017, at which time he'll become overrated.
OF -- Jose Tabata/Andrew McCutchen, Pirates.
Hey, I need a DH in case we get put in the American League.
P -- Shaun Marcum, Brewers.
He went 22-15 with a 3.53 ERA and 1.15 WHIP with the Blue Jays in 2008 and 2010, sandwiched around his DL stint in 2009. His trade to the Brewers isn't going to improve his recognition factor.
P -- John Danks, White Sox.
Durable, consistent lefty with 3.60 ERA since 2008.
P -- Jered Weaver, Angels.
Got several nominations for Weaver. His great 2010 did get largely lost in the "Only one pitcher with a good season and lousy run support can get any media attention" campaign for
Felix Hernandez
. So far, his 2011 follow-up has been even better.
P -- Hiroki Kuroda, Dodgers.
Ignore the 30-31 career and appreciate a solid No. 3 or 4 starter with a 3.60 career ERA in his three-plus seasons.
Bullpen -- The San Diego Padres.
Heath Bell
,
Mike Adams
and
Luke Gregerson
would be terrific in any park.
Follow David Schoenfield on Twitter at @dschoenfield. Follow the SweetSpot blog at @espn_sweet_spot.
March, 28, 2011
3/28/11
12:13
AM ET
Lots of pitching and defense in baseball's four-team division. Not many big sticks. (And in case you missed the other divisions:
AL East
,
AL Central
,
NL East
,
NL Central
and
NL West
.)
Catcher -- Kurt Suzuki, A's.
No, he's not exactly Gene Tenace or even Terry Steinbach, and this small honor isn't meant to suggest Suzuki is anything near a legitimate All-Star. His bat fell apart last season, perhaps fatigue from three seasons of little rest, as his average decreased 32 points and his extra-base hits fell from 53 to 33. It looks like rookie
Hank Conger
will hit, but he'll share time with
Jeff Mathis
.
First base -- Daric Barton, A's.
Doesn't have the power you want from a first baseman, but he led the AL in walks to produce a .393 OBP, and his excellent defense made him a valuable player.
Justin Smoak
has upside and
Mitch Moreland
keeps exceeding expectations.
Kendrys Morales
is a question mark and begins the season on the DL.
Second base -- Ian Kinsler, Rangers.
He turns 29 this season, so it's probably time to stop thinking along the lines of "what he might do" and appreciate him for what he is. The .319 season of 2008 looks more like an aberration, but he actually posted a career-high .382 OBP in 2010. His power should return.
Third base -- Adrian Beltre, Rangers.
Let's see ...
Chone Figgins
,
Maicer Izturis
and
Kevin Kouzmanoff
. And it's Beltre in a unanimous vote. Beltre turns 32 on April 7 and has 1,889 career hits. He needs to average just 139 hits over the next eight seasons (through age 39) to reach 3,000.
Shortstop -- Elvis Andrus, Rangers.
Cliff Pennington
was actually the better player last season, according to Fangraphs, Baseball Prospectus and Baseball-Reference. Not surprising, considering Andrus slugged a woeful .301. Andrus had just 18 extra-base hits, tied for fewest among players with at least 600 plate appearances since 1990. (Research via
Baseball-Reference.com
.) On the bright side, Andrus at least draws some walks, providing hope he can improve other elements of his offensive game.
Left field -- Josh Hamilton, Rangers.
He was the only AL West player to finish in the top 10 of the MVP voting last season. The only others to receive votes were
Vladimir Guerrero
,
Felix Hernandez
and
Ichiro Suzuki
.
Center field -- Franklin Gutierrez, Mariners.
Can we get a fifth team in this division, please? Gutierrez is
battling a stomach ailment
that has the Mariners concerned, but who else can I pick?
Coco Crisp
gets hurt every year,
Peter Bourjos
is a supreme defender who has a long way to go with the bat and
Julio Borbon
is kind of a poor man's Crisp.
Right field -- Suzuki, Mariners.
Nelson Cruz
had a monster season with the bat, but he has yet to remain healthy for an entire year, and his season was fueled by his friendly home park as he hit .267 AVG/.324 OBP/.480 SLG on the road. Add up Ichiro's durability, fielding and baserunning, and he gets the nod over Cruz (and
Torii Hunter
).
Designated hitter -- Jack Cust, Mariners.
He did have the highest OPS+ of the four DHs last season (
Hideki Matsui
,
Michael Young
,
Bobby Abreu
). He's also the youngest. And that's my case.
Right-handed starter -- Felix Hernandez, Mariners.
With apologies to the Angels' 1-2 duo of
Jered Weaver
and
Dan Haren
.
Left-handed starter -- Gio Gonzalez, A's.
Teammate
Brett Anderson
and the Rangers'
C.J. Wilson
are the other obvious candidates. I like Gonzalez's stuff, and he has All-Star ability if he cuts down on the walks. Anderson is a polished lefty who generated ground balls, but he battled minor elbow issues last year. Wilson was effective but wild (93 walks) and is unlikely to give up just 10 home runs again.
Closer -- Neftali Feliz, Rangers.
I'm with Keith Law on this one: If Feliz spends the whole season as closer, I don't think we'll ever see him in the rotation.
Follow David Schoenfield on Twitter at
@dschoenfield
. Follow the SweetSpot blog at
@espn_sweet_spot
.
February, 9, 2011
2/09/11
12:50
PM ET
By
Evan Brunell
| ESPN.com
Daric Barton
is one of the best first-basemen in the game.
Now that I've caught your attention, I can assure you I am serious. Barton deserves to be considered a top 10 first baseman over the next several seasons. In fact, I'd rank Barton ahead of players such as
Mark Teixeira
and
Ryan Howard
.
Barton is only just beginning his age-25 season in the majors and already has 1,485 career plate appearances to his name. He might not have the power many projected him to have, but Barton has more than held his own at the plate with a career .260/.369/.399 mark -- that .399 mark is dragged down by a .348 slugging percentage over 523 PA in 2008.
Barton will never be confused with his predecessors of
Mark McGwire
and
Jason Giambi
, but posting a .359 wOBA (Think OPS, but better: Weighted On-Base Average, scaled to OBP) was enough to place him 12th among all qualifying first baseman, just behind Teixeira and Howard. And I like Barton's chances of sustaining and improving his offensive production over the next three seasons a whole lot more than I like Howard -- who appears to have already entered his decline phase -- and Teixeira, who is fast developing a reputation for being dinged up and streaky over in New York.
Oh, and we haven't even talked about the contracts that made Howard and Teixeira very rich men. Both have contracts that will bring in well north of $100 million while Barton is just entering his final season at league-minimum salary. The ability for the A's to control Barton for the next four seasons at minimal dollars is a major, major mark in Barton's favor.
But even that's not enough to justify ranking Barton ahead of these players. That's where defense comes in. Barton had a staggering 14.2 UZR/150 (I prefer using UZR/150 to UZR as it allows for across-the-board comparisons) and 20 defensive runs saved (otherwise known as John Dewan's plus/minus rankings).
The Mets'
Ike Davis
came in second at 13, but he's the only other one in double-digits ... and only seven first basemen have done better than Davis over the past eight years ... and just one has beaten Barton out. That's
Albert Pujols
, with 29 DRS in 2007.
How about UZR/150? Barton's 14.2 figure was in front of Davis again, who checked in at 11.9. No other first baseman ranked higher than 4.8. And of the past eight seasons, only five first baseman bettered that figure, led by Pujols again in '07 with a 21.7 mark.
Barton's defense and overall offensive game is exactly why he placed sixth in all first baseman in WAR with 4.2, and that mark is what first caught my attention on how underrated Barton's season was.
Now, a caveat: it's generally accepted that one season is not enough to judge a player on defensive merits. You need more than that as defense can vary wildly from year to year. (Barton is no exception: he had 2 DRS in 2009 with a 6.3 UZR/150, which is still very good.) Three seasons of data appear to be what is necessary. Pujols bookended his sublime 2007 season with 17 DRS in 2006 and 15 in 2008. His UZR/150 were 10.5 and 11.9, respectively. That gives a pretty good picture that his defensive prowess in those years was for real, but he's been on the decline since. His 2009 totals were 12 DRS, 2.3 UZR.150. 2010? Exactly zero DRS and 1.1 UZR/150. Oh, and Pujols was 30.
Why do I mention Pujols' age? Because Bill James wrote the other day that "defensive value peaks earlier and fades MUCH younger than offensive value." (Hat tip to SweetSpot founder
Rob Neyer
for turning me onto that article.) James contends that defensive peak is reached at ages 22-25 and "many players are fading defensively by the age of 27, long before 30."
And that's why I bring up Pujols' age. Yes, it's cherry-picking, but it's a relevant example, and that's why I also feel Barton's a pretty good bet to hang onto his defensive value over the next three seasons, given he's beginning his age 25 season.
Tie it all together and Barton is one of the best first basemen in the game.
Evan Brunell runs the SweetSpot Red Sox blog at Fire Brand of the American League.
December, 13, 2009
12/13/09
7:31
AM ET
An era is over
:

Cust
Jack Cust became a free agent Saturday when the Oakland Athletics failed to offer him a 2010 contract.

Cust hit .240 with 25 homers and 70 RBIs last season but struck out 195 times, becoming the first player to lead in the AL in three straight seasons since Minnesota's Bobby Darwin from 1972-74. Cust whiffed 164 times in 2007 and 197 times in 2008.

--snip--

General manager Billy Beane has been determined to add more power to the lineup. The A's last week acquired third baseman Jake Fox from the Chicago Cubs largely because they like Fox's bat.
I like Cust as much as the next guy -- more, probably -- but this is exactly what you're supposed to do with marginal major leaguers like Cust: get the most out of them when they're young and cheap, and then dump them.
That's harsh, I know. If someone asks Billy Beane, he'll couch Cust's non-tendering in far friendlier terms. But he might also talk about Cust's "trendline" -- I haven't talked to him lately, but that used to be one of his favorite words -- and Cust's trendline is heading in the wrong direction.
In 2007, when Cust's services were essentially free, he hit .256/.408/.504.
In 2008, when he still was basically free ($410,000), he hit .231/.375/.476.
And in 2009, when he cost $2.8 million, he hit .240/.356/.417.
That's a steeper decline than we would have guessed, and so we might expect a bit of a comeback in 2010. Is it worth spending more than $4 million to find out, though? Probably not. This probably ends soon, and not prettily.
It's funny; I thought Fox and Cust would be
perfect
platoon partners. Was sort of looking forward to it, in fact. But with prospect
Brett Wallace
on the fast track, non-prospect
Daric Barton
might soon find himself in a limited role ... say, platoon with Fox?
Hey, a guy can dream a little, right?