SweetSpot:

Darnell McDonald
May, 10, 2012
5/10/12
11:46
PM ET
We drown in numbers and statistics these days, but here's one that sums up the crumbling state of the
Boston Red Sox
quite eloquently: Following
Josh Beckett
's implosion on Thursday night, Red Sox starters have now allowed five-plus runs in 14 starts; Nationals starters have done so once.
Here's another way. Fifty-three American League starting pitchers are qualified for the AL ERA title. Here's where Boston's five starters rank:
32.
Jon Lester
(4.29)
38.
Daniel Bard
(4.83)
46.
Felix Doubront
(5.29)
51. Josh Beckett (5.97)
53.
Clay Buchholz
(9.09)
OK, ERA can be a little misleading early in the season. Here's where those five guys rank among AL starters in strikeout/walk ratio:
27. Beckett
32. Doubront
41. Lester
48. Bard
51. Buchholz
The Red Sox are 12-19 for a lot of reasons: injuries to
Jacoby Ellsbury
,
Kevin Youkilis
,
Carl Crawford
and
Andrew Bailey
; a slow start from
Adrian Gonzalez
; a couple bullpen implosions; Bobby Valentine using outfielder
Darnell McDonald
to pitch in a tie game.
Those are all factors, but despite the injuries on offense, the Red Sox are still second in the AL in runs scored; the bullpen has five losses, but 14 teams have more; and Valentine is more lightning rod than explanation.
No, the responsibility rests with the starting rotation. Bard and Doubront have perhaps predictably been mediocre, but they've actually been improvements over
Tim Wakefield
and
John Lackey
, so the blame falls on the supposed big three of Beckett, Lester and Buchholz.
Beckett started in Fenway against Cleveland on Thursday, his first start since April 29 and first since the infamous "he cares more about golfing than pitching" story leaked to the media. Beckett actually had pitched pretty well since his five-homer disaster in his first start, posting a 2.93 ERA over his next four starts. While I'm happy to report that I didn't see any greasy fried chicken stains on his jersey, his evening was yet another May disaster for the Sox.
In the top of the second, with one run already in,
Jack Hannahan
hit a 2-2 changeup to right field for a two-out home run. Not surprisingly, the Fenway faithful let go with more than a few loud boos. In third inning,
Jason Kipnis
crushed a 3-2 cutter over the bullpen in right-center. After
Asdrubal Cabrera
singled, Beckett got ahead of
Travis Hafner
with two strikes but then threw four consecutive balls.
Shin-Soo Choo
doubled to right on a 2-0, four-seam fastball to score Cabrera.
Michael Brantley
fell behind two strikes, then lined a double into the gap in left-center on a 1-2 curveball, scoring two more runs and knocking Beckett from the bump in what would be an
8-3 Indians victory
.
You can see the issues here: Even when he got ahead of batters, Beckett was unable to put them away. He used the whole tool box -- changeups, four-seamers, cutters, curveballs; the Indians hit them all. Six of the seven hits off Beckett went for extra bases.
I blurted out on Thursday's Baseball Today podcast that Beckett is the most overrated pitcher of the past decade. That's probably unfair to a pitcher who
has
been good for a lot of years, a guy who had dominant postseason runs in 2003 and 2007 in leading the Marlins and Red Sox to World Series titles. Those playoff performances did inflate his reputation a bit, as his regular-season performances haven't been consistently at that level. He has received Cy Young votes just twice in his career (finishing second in 2007 and ninth in 2011). He hasn't exactly been
CC Sabathia
when it comes to durability, reaching 200 innings just three times and never topping 215. With the Red Sox, he's had two seasons of ERAs over 5.00.
Maybe 2012 is going to be one of those down years; Red Sox fans who saw Beckett and Lester collapse down the stretch expected leadership from Beckett, not reports on his golf swing.
Speaking of Lester, what has happened to the dominant left-hander of a few seasons ago? In 2009, he averaged 10.0 strikeout per nine innings, but that figure has dipped to 6.0 this season. His walks are up more than one per nine innings since 2009. His velocity is still fine; as Curt Schilling has pointed out, his command isn't, with Lester especially struggling in pitching to the outside corner against right-handed batters. Going back to his final 11 starts of 2011, Lester has a 4.16 ERA and a poor strikeout/walk ratio of 86/50. The stuff is still there, but we're going on 18 starts now of mediocre pitching.
Buchholz is an even bigger disaster, the worst starter in the majors so far. Unable to get the ball down in the zone, Buchholz has been pounded like a punching bag. Opponents are hitting .343 and slugging .613 off him. Essentially, the average hitter against Buchholz is
David Ortiz
. The Red Sox can't afford to keep sending him out there; he probably has one more start before a demotion to Triple-A or stint on the disabled list is necessary.
Eric Karabell made a good argument on the podcast: the Red Sox were 14-17 a year ago and only a historical collapse prevented them from reaching the playoffs. They're only two games worse now, he would suggest, so rationally they're far from out of it. Eric could also point out that Detroit and Arizona were both 14-17 after 31 games a year ago and won 95 and 94 games, respectively.
Eric is right, of course. The Red Sox aren't dead.
But with a 1-8 record in May and a starting rotation in shambles, they certainly look it.
PHOTO OF THE DAY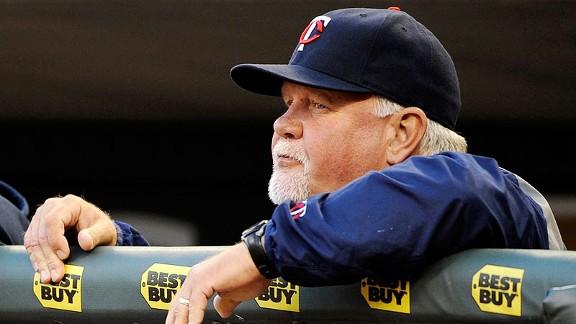 Hannah Foslien/Getty ImagesDoes this look like the manager of the worst team in baseball? Yes it does.
May, 7, 2012
5/07/12
2:25
PM ET
After a wild and wacky weekend around baseball, Mark Simon and I gathered to record Monday's
Baseball Today podcast

, with hitters pitching, Power Rankings and ridiculous emails as our backdrop!
1. Chris Davis bests Darnell McDonald in a crazy and lengthy extra-inning affair at Fenway Park. Should hitters be pitching at all? And what does our able producer think about the struggling Red Sox and their manager?
2. The Washington Nationals needed a big weekend against the rival Phillies, and they got it, though the news from the outfield was a bit mixed.
3. It's a Battle of the Beltway! Which team posted the better spot in the Power Rankings between the Orioles and Nationals? Also, why do Mark and I differ so much on the Rays?
4. Our Simon Says segment focuses on the weekly leaderboard and other players struggling worse than Albert Pujols. By the way, didja know he finally homered?
5. Our emailers have thoughts about the All-animal lineup and rotation, and the most common final score!
So download and listen to Monday's Baseball Today podcast, as we tell you who is most likely to throw a no-hitter today, and why a certain Phillies pitcher will have many eyes watching him.
May, 6, 2012
5/06/12
10:27
PM ET
One play doesn't make a season. Logically, we understand this. But you know, it's a lot more fun to throw logic out the window and turn to the emotion of a moment sometimes, the emotion of one important victory and believe, "Maybe ... just maybe, the
Baltimore Orioles
are a team of destiny."
We're allowed to think like this, right? Put the history and preseason predictions aside, focus on the Orioles' hot start, focus on their big week and focus on how they completed a sweep of the Boston Red Sox at Fenway: With infielder
Chris Davis
pitching two innings to get the win in a 17-inning, 9-6 victory, one I would call implausible except the Orioles forged ahead against another position player,
Darnell McDonald
.
Davis, who pitched in high school, retired the first two hitters in the bottom of the 16th, including a strikeout of
Jarrod Saltalamacchia
on a pretty 83-mph changeup that showed some nice vertical drop. But third baseman
Wilson Betemit
booted
Marlon Byrd
's routine grounder and
Mike Aviles
lined a double into left-center that rolled to the Green Monster. Then, the play, one that could go down in Orioles history if this season builds into the unthinkable:
Adam Jones
to
J.J. Hardy
to
Matt Wieters
, who tagged out a piano-on-his-back Byrd. A perfect relay by Jones, a perfect missile by Hardy, a perfect block of the plate by Wieters to send the game to the 17th inning.
The Red Sox had also churned through their bullpen by now and turned to outfielder McDonald, but Jones deposited a three-run homer into the Green Monster seats. With two runners on in the bottom of the frame, Davis struck out the slumping
Adrian Gonzalez
(0-for-8 this game) on another changeup and then, on his 23rd pitch and 570th of the game, induced McDonald to ground into a 6-4-3 double play.
Some of the crazy factoids: It was the first time two position players pitched in the same game since 1925, when Ty Cobb and George Sisler pitched in the second game of a doubleheader on the season's final day;
Wilson Valdez
won a game last season for the Phillies, but Davis became the first American League position player to record a win since Rocky Colavito of the Yankees in 1968; Davis also went 0-for-8 and struck out five times to record the season's first platinum sombrero (he was also the only position player to strike out five times in 2011); it was the Orioles' first sweep in Boston since June of 1994.
The game left the Orioles ecstatic and the Red Sox despondent.
"I was like 'Sweet! I get to try something different today -- because hitting ain't working,'" Davis said.
"Basically, that was my first thought." Orioles manager Buck Showalter said. "Just when you think you've seen it all, some days you come out here and just assume the position. That was fun. It was a long day, but you like to get something good out of it."
Bobby Valentine, looking in his postgame news conference like he was ready to break into tears at any moment, oddly stated that Gonzalez wanted to pitch. "And for the record, I didn't put him out there," he said. You do wonder, once Showalter had gone to Davis in the bottom of the 16th, why Valentine didn't try to eke at least one more inning from veteran reliever
Scott Atchison
, who had thrown 23 pitches over two innings. Yes, Atchison had thrown 35 pitches on Saturday and three on Friday, but it would seem the value of one more inning would have been huge. Who knows how Davis would have responded pitching in a tie game, for example, rather than with a three-run lead.
It all leaves the Orioles at 19-9. First place by a half game over the Tampa Bay Rays, four games ahead of the New York Yankees and 7.5 games ahead of the Red Sox.
At the start of the week, we said this would be an important week for the Orioles. They entered 14-8 but had three games in New York and three in Boston. This stretch would reveal the real Baltimore Orioles. And by "real" we meant "a team playing over its head." But they went 5-1 as they held the Yankees to three runs and took extra-inning games against the Red Sox. They outscored their AL East rivals 36 to 15. There was nothing flukey about the week. They hit, they pitched and they fielded.
On Sunday, the bullpen (including Davis) allowed just one run in 12.2 innings, lowering their season ERA to 1.41 (no other team is below 2.00). Closer
Jim Johnson
hasn't allowed a run,
Luis Ayala
and
Matt Lindstrom
have yet to allow an earned run and
Darren O'Day
has allowed just one run. It should be noted that the latter three are new to the club, new additions brought on to improve a pen that ranked 13th in the AL in ERA. Much like the 2011 Diamondbacks improved from 65 to 94 in part by revamping one of the worst bullpens in baseball, so hope the Orioles. The starting pitching has also been solid, and Baltimore's 2.78 ERA ranks second in the majors. Not bad for a team that has ranked 29th or 30th in ERA in five of the past six seasons.
Look, playing in the AL East, it's not going to get easier for the Orioles, so they'll need this bullpen to continue pitching lights-out baseball. Their next 32 games: Four against the Rangers, three against the Rays, two against the Yankees, two at the Royals, three at the Nationals, three against the Red Sox, three against the Royals, three at the Blue Jays, three at the Rays, three at the Red Sox, three against the Phillies. Whew.
For a franchise with the long stink of losing, it's a fun start. Check out, however, their records after 28 games the past 10 seasons. Check, in particular, 2005 (Orioles fans may wish to stop reading now):
2012: 19-9, +0.5
2011: 13-15, -4.5
2010: 7-21, -13.5
2009: 11-18, -8
2008: 16-12, -0.5
2007: 12-16, -6
2006: 14-14, -4
2005: 19-9, +2.5
2004: 16-12, -1.5
2003: 15-13, -6.5
Yep, that same 19-9 record. That team blazed out of the gate thanks to a strong offense. The club hit .302 in April and was still hitting .287 with a .483 slugging percentage through June 19 ... when the Orioles were 41-27 and still in first place.
And then the bottom dropped out. They hung in the race through mid-July, but then went on a 2-16 stretch, during which manager Lee Mazzilli was fired. They'd finish 74-88, just another in a long string of losing seasons.
Now, there is one big difference between those 2005 Orioles and these 2012. That team had a mostly aging lineup --
Rafael Palmeiro
(in his final, steroid-tainted season),
B.J. Surhoff
,
Sammy Sosa
,
Javy Lopez
,
Melvin Mora
and
Miguel Tejada
were all 31 or older. The rotation of
Rodrigo Lopez
,
Erik Bedard
,
Bruce Chen
,
Daniel Cabrera
and
Sidney Ponson
eventually wilted in the summer heat. The bullpen was thin behind
B.J. Ryan
.
This team, however, is young. At 30, Betemit is the oldest regular in the lineup, although 34-year-old
Endy Chavez
is playing right now with
Nolan Reimold
on the disabled list. At 29,
Jason Hammel
is the old man in the rotation.
Being young perhaps means this team could eventually collapse under the relentless pressure of games against the Yankees, Rays, Blue Jays and Red Sox. But it could also signify a team on the rise.
Or, maybe, a team of destiny.
PHOTO OF THE DAY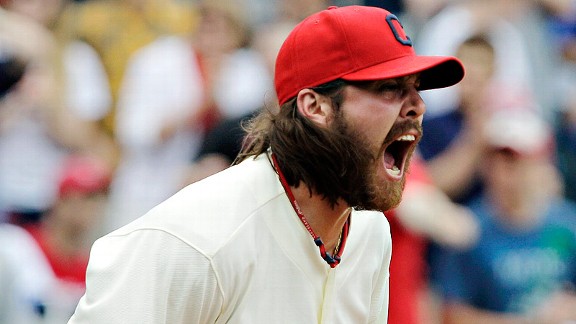 AP Photo/Amy SancettaThe Tribe did not just win the World Series, but Chris Perez likes sealing up a win over Texas.
May, 14, 2010
5/14/10
9:01
AM ET
By
Mike Silver, FirebrandAL.com
| ESPN.com
With the Red Sox falling to 18-17 with
Wednesday night's loss to Toronto
, the Fenway faithful are growing ever more frustrated with the team's journey to the cold, dark annals of the AL East basement.
There are no "ifs," "ands" or "buts" about it: The team is frantically treading water -- if not outright drowning -- in need of both a spark and better personnel to reclaim its playoff hopes.
[+] Enlarge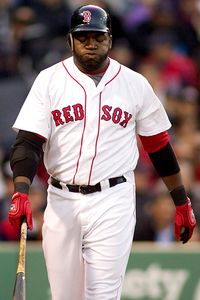 Kelvin Ma/Icon SMIDavid Ortiz is batting .200 through Boston's first 35 games this season.
While individual players struggle on Boston's squad every season, the imperfections of the 2010 Red Sox incarnation have been much harder to endure.
Victor Martinez
is underachieving at the moment, though he
can be expected to turn it around
.
Mike Cameron
and
Jacoby Ellsbury
continue to work back from injury while
Darnell McDonald
and
Jeremy Hermida
admirably attempt to fill the void.
Fortunately, the Boston front office is too well managed and too intelligent to scapegoat a single player or staff member for the team's woes (paging: Seattle and Alan Cockrell).
Unfortunately, there are serious, gaping holes in the team's once-shimmering armor -- and one, in particular, has endured for two seasons now: the plight of
David Ortiz
.
With a .200/.274/.412 line through his first 85 at-bats, countless members of the Boston media have clamored for his benching, even hinting at his possible release.
And, at this point in the season, what other choice does Boston have? The internal options are few.
Triple-A Pawtucket has plenty of future major leaguers, but none who can be entrusted with the offensive requirements of a playoff-caliber designated hitter.
Buttressing the existing platoons already in place will help, but in lieu of this, the team's best option seems to lie outside the organization.
The catch is, these precious few options are dwindling by the day.
Complicating matters are the unexpected hot starts of perennial cellar-dwellers, while the team's affinity for hulking first basemen
Adrian Gonzalez
and
Prince Fielder
make the search all the more arduous.
With their known preference for Fielder or Gonzalez as a long-term fix, Boston is limited to candidates who are both expendable to their trade partner while not interfering with the club's ability to acquire either first baseman on or before their impending free agency in 2011.
This leaves few viable candidates.