SweetSpot:

Darryl Strawberry
March, 12, 2015
Mar 12
11:47
AM ET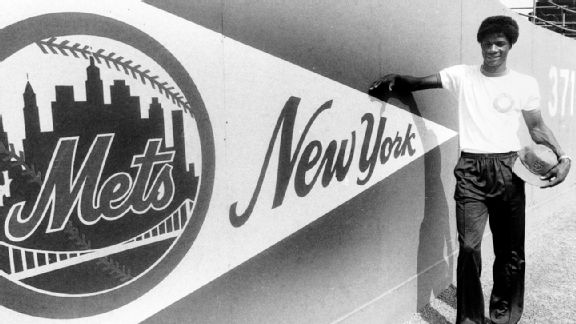 Getty ImagesDarryl Strawberry at Shea Stadium in 1980, the year the Mets drafted him first overall.
Darryl Strawberry turns 53 today.
I remember the first time I read about Strawberry. My sister used to get allergy shots, and I would read Sports Illustrated as I waited. The story was about a senior at Crenshaw High School in Los Angeles who was about to become the first overall pick by the Mets in the 1980 draft.
From Joe Jares' story:
Darryl is 6' 4" and 180, throws and bats lefthanded and has reminded several observers of Ted Williams. "He's got a Williams-type physical makeup -- tall, rangy, good leverage," says Phil Pote, former A's scout who now coaches baseball at Los Angeles City College. "He's got bat quickness, he can drive the ball. The ball jumps off his bat.

"He's got what we call 'bat presence' -- an intangible, a something. Any swing of his can hurt you. He's just a natural hitter. He could make a lot of money in baseball."

Says Crenshaw Coach Brooks Hurst, "I asked Darryl. 'Do you know who Ted Williams is?' He said, 'Well--' and kind of hesitated. I said, 'Well, there's a little generation gap here. But you're going to be a black Ted Williams, because you hit just like Ted.'"
From the beginning, those were the expectations for Strawberry, who would grow to 6-foot-6: Hall of Fame or bust. It's unfair to compare anyone to Ted Williams, and it put enormous pressure on a kid who reached the major leagues in 1983 at age 21, joining a horrible Mets team that was on its way to a seventh consecutive losing season. Strawberry was going to be the savior. He hit 26 home runs in 122 games and won Rookie of the Year honors.
Soon, he was joined by other young talent -- Dwight Gooden, Ron Darling and Lenny Dysktra -- and the Mets acquired key veterans like Keith Hernandez and Gary Carter. They won 90 games in 1984; 98 in 1985; 108 and the World Series in 1986; 92 in 1987; 100 and the NL East in 1988; 87 in 1989; and 91 in 1990.
Strawberry was one of the best players in the National League all those years, although even then there was a nagging belief that he should be better. From 1983 through 1990, he ranked fifth in the National League in WAR, behind only Ozzie Smith, Tim Raines, Ryne Sandberg and Tony Gwynn. But none of those players received the attention Strawberry did. A 1984 Sports Illustrated
cover story
proclaimed him "The Straw that Stirs the Mets." George Bamberger, Strawberry's manager in 1983, brought up the Ted Williams comparison again in that story.
William Nack's story also contained three quotes that, in retrospect, tell us a lot about the person and player Strawberry would become:
Jim Frey, a Mets coach in 1983: "The whole question is his continued motivation and ambition and willingness to work."
Strawberry, on being compared to Williams: "I don't believe that. I don't want to get my mind confused with all that crap. That's what I call it: crap. I just want to be myself. I just want to be me. To have fun and play baseball."
Lloyd McClendon, Strawberry's minor league roommate: "There was a lot of pressure on him, and he didn't know how to handle it. ... He was young, he didn't have good work habits. In this game, it's easy to stay in bed all day, especially on the road. What Darryl didn't understand is that you have to get your body regulated. You've got to get up early, walk around and do things -- go to the mall, take in a movie. It's very easy to lie around and grab a bite and go play. But you're not getting yourself ready either physically or mentally to play the game."
During his Mets days, those would be attributes constantly described to Strawberry, even as he put up some of the best numbers in the sport. During his years with the Mets, he led the majors in home runs, even though Shea Stadium wasn't a good home run park. In the National League, only Dale Murphy and Andre Dawson had more RBIs.
Still, it wasn't enough. Strawberry fled New York and signed with the Dodgers as a free agent. He had one good year there and then his life and career fell apart. Drugs. Alcohol. An arrest for domestic abuse. Tax evasion. Injuries. More drugs. By 1995, Sports Illustrated's Tom Verducci was writing about how Strawberry and Gooden had paid the
high price of hard living
:
He is living in self-imposed exile, talking about his former home cities, New York and Los Angeles, as his versions of Sodom and Gomorrah.

"It became a lifestyle for me," Strawberry says. "Drink, do coke, get women, do something freaky ... all that stuff. I did it for so long. I played games when I was drunk, or just getting off a drunk or all-night partying or coming down off amphetamines. With alcohol and drugs it was the excitement. That's how I got addicted. It was an exciting way to escape from everything else. Coming to the major leagues at such a young age and coming to New York ... maybe someplace else it would be a little different, but New York is a party place, an upbeat place."
His career was over until George Steinbrenner gave him a chance and Strawberry helped the Yankees win the 1996 World Series (he hit .417 with three home runs in the ALCS). Then came a battle with colon cancer and a final drug suspension in 2000. In March of 2001, a drug binge left him suicidal. "All that was left now was to blow his brains out and hope the life insurance policy would take care of his family," sportswriter Bob Klapisch, a biographer of Strawberry's career, said in ESPN's "SportsCentury" series.
* * * *
But Darryl Strawberry is still alive and gets to celebrate his birthday. Many didn't think he'd make it to age 53. He's a born-again Christian, an ordained minister who, with his wife, Tracy, runs
Strawberry Ministries
, as well as the Darryl Strawberry Recovery Center in Orlando, a Christian-based drug and alcohol treatment center.
I suspect most view his career as one of failed potential, even though he hit 335 home runs, drove in 1,000 runs and played in three World Series. That assessment is fair; Strawberry himself would acknowledge that he wasted a portion of his Hall of Fame talent. I would guess Mets fans from the '80s now view Strawberry with a certain fondness; we do grow kinder and gentler as we recall the players from our youths. Plus, there was
this home run at Olympic Stadium
. That's one way to remember Darryl Strawberry.
May, 25, 2011
5/25/11
6:19
PM ET
Drew Butera
is the
Minnesota Twins
' backup catcher. Which means, with
Joe Mauer
out, he's their starting catcher. And, yes, he's hitting .122.
Butera went went 1-for-3 Wednesday afternoon, which actually
raised
his average to .122. Butera hit .197 in 155 plate appearances last season and he's a career .214 hitter in the minors, so it's not exactly a surprise that he's far below the Mendoza. If you ask me, it's rather embarrassing that the Twins had no other catching option, considering Mauer's injury history. I don't care how good of a game Butera calls, he's not much more than the emergency guy you keep around in Triple-A in case three other catchers get injured.
Anyway, he's almost up to 100 plate appearances, which makes him eligible for a list I just created: Lowest batting average, at least 100 plate appearances, non-pitchers, since 1950.
It turns out 58 players (actually 55 players, since three guys did it twice) have achieved this, "led" by
Brandon Larson
's .101 mark for the Reds in 2003. He had 104 plate appearances and went 9-for-89. Larson had been Cincinnati's first-round pick in 1997, an infielder out of LSU. He hit nearly 200 home runs in the minor leagues, but never stuck in the majors. But at least he drew 13 walks and hit a home run. The lowest OPS of the 58 seasons belongs to Mike Laga, who hit .130 for the 1988 Cardinals, but with just one home run and two walks, good for a .130/.147/.160 line. Laga spent parts of nine seasons in the majors, mostly as a pinch-hitter, and hit .199. He hit 220 homers in the minors, including 29-plus four times, which is why he kept getting shots.
The three who did this three times: Tom Egan, a backup catcher for the Angels in the late '60s and early '70s; the famed Johnnie LeMaster, a Giants infielder who somehow fashioned a 12-year major league career; and
Mike Benjamin
, who did it in 1991 with the Giants and 2002 with the Pirates (and just a missed third season in 1992).
The most plate appearances for a player who hit under .150 since 1950? Ray Oyler ... shortstop on the 1968 World Series champion Tigers. He hit .135 in 247 PAs.
Brandon Wood
hit .146 in 243 PAs last season with the Angels.
We can console Butera a bit by pointing out some good players who achieved this dubious feat, including Darryl Strawberry, Harold Reynolds, Jesse Barfield and Steve Berthiaume's favorite player, Don Money.
April, 10, 2009
4/10/09
2:28
AM ET
Sorry, no snappy banter or little joke in this space today. Not in the mood. Maybe next week.
• Three years ago, Rich Lederer interviewed Nick Adenhart.
• Joshua Fruhlinger presents the best baseball tech of 2009 (and be sure to click through to No. 11 on the list).
• This time, Darryl Strawberry really seems to have turned his life around. Good for him. Does that mean it's time to retire his and Dwight Gooden's numbers? No way!
• Can Carlos Silva thrive while essentially throwing just one pitch? As Dave Cameron writes, it's certainly an interesting experiment.
• He's more than the answer to a trivia question; he's "Spook" Jacobs!
He was drafted out of the Brooklyn Dodgers chain and joined the Athletics in the last season they called Philadelphia home. His opening day show, in which he grounded out only in his last at-bat, began an eventful 17-year Major League career.

He stayed with the Athletics when they moved to Kansas City, then went to the Pittsburgh Pirates. But both before and during his time in the Majors, he had some pretty good years with other leagues.
Seventeen years in the majors? Wow. I didn't remember Jacobs having that kind of career.
Oh. He didn't. Jacobs spent three seasons -- well, one season and parts of two others -- in the majors (which is, of course, three more than I spent in the majors). Jacobs did bat .300 on the nose in 14 seasons, including a healthy .342 while playing Triple-A ball in 1956.
Wondering why I'm writing so much about a guy with 164 career hits in the majors? It's because, though I don't have much of a baseball card collection, for some reason I do have this one.
• Do you want to work in baseball? Or: Do you want to work for Baseball Prospectus? The latter has been known to lead to the former. Anyway, here's your big chance!
• Inspired by the odd sight of Garret Anderson in Braves livery, Bill Chuck presents a list of the players who have played the most games with their current teams.
• David Broder really, really, really likes the latest edition of The Dickson Baseball Dictionary. So do I.