April, 20, 2014
Apr 20
6:30
PM ET
By
Christina Kahrl
| ESPN.com
With apologies to Abbott and Costello, it might seem as if that's where the Tigers are at shortstop after they cut loose
Alex Gonzalez
. Faster than you can say Chris Pittaro, Gonzalez has gone from Opening Day hero -- having plated the game winner on that happy day -- to simply gone.
For a couple of reasons, that really isn't as big a deal as it might sound. Gonzalez is 37 years old, hasn't played shortstop every day in a season since 2011, and in the Tigers' lineup his primary responsibility was to play acceptable defense. Guess what he wasn't doing after kicking a few too many grounders? So an inability to get that particular Job One done means he's back on the scrapheap they found him on, pushing the Tigers to mull their alternatives. Finding better than Gonzalez on offense is easy. Finding someone who can play shortstop? Well, they don't call it replacement level for nothing.
For the time being, it means a lot of
Andrew Romine
at shortstop. He's still the same guy he was when GM Dave Dombrowski acquired him from the Angels: An adequate defender, Romine should actually be an improvement on Gonzalez if you want to keep your standards that low, but maybe someone able to chip in an OBP in the .300 range if he gets full-time play. Hauling up
Danny Worth
from the minors to play the utility infield role doesn't really give the Tigers a great alternative; his range isn't considered good enough for everyday play at short.
It's that thin fare that might push the Tigers to expand their options -- for 2014 and only 2014 -- because the future should still belong to
Jose Iglesias
, out for the season with his shin splints injury. Signing free agent
Stephen Drew
might fulfill some of their fans' wishes, but it's unlikely that this latest development would encourage Dombrowski to sacrifice a future pick by making that move before the draft in June. Then again, after throwing the kind of money they did at
Miguel Cabrera
, maybe aging owner Mike Ilitch is as unconcerned about his franchise's future drafts as he seems to be about the bottom line.
It's also weak enough competition to inspire further jabber about
Omar Vizquel
making a comeback, but at that rate, we may as well ask what Ray Oyler is up to, assuming Vizquel was any more capable of playing shortstop than Gonzalez, but at 46, and without having played there regularly in the majors since 2007. Like I said, Ray Oyler's out there, too.
There's also the trade market, of course, and there I think the Tigers still have options. The Cubs have
Darwin Barney
, a minor league shortstop who has sparkled as a defender across the keystone at second base. Now that
Emilio Bonifacio
has looked good in early play while prospect Javier Baez has been looked at as a second-base solution this spring, Barney is that much more expendable -- but he's also neither so good that it would take a top prospect to get him, nor all that expensive, making $2.3 million in 2014. He's also under team control for two more years, which could make him easy enough to trade next winter or spring, or non-tenderable if he doesn't get anyone's engine running in the Motor City.
Far more tantalizing is the idea of talking to the Mariners, because they have
Nick Franklin
wondering about his future now that
Brad Miller
has already leapfrogged above him on the depth chart. The risk proposition there is whether the Tigers could get Franklin for a pile of stuff that costs them as much as or less than signing Drew would now. Getting Franklin will cost a useful prospect or two, and they'd also be gaining five-plus years of service time from him. Would that cost them more in the long term than the draft pick and the cash it would take to land Drew?
We'll have to see how long Dombrowski wants to ask himself about that proposition. But if the Tigers win games and Romine is adequate in the meantime, he may well be able to afford running out Drew's clock and getting his shortstop in June after the draft, when the Tigers won't lose the pick.
Christina Kahrl writes about MLB for ESPN. You can follow her on Twitter.
March, 24, 2014
Mar 24
11:24
AM ET
Let's catch up on a few things ...
April, 17, 2013
4/17/13
9:35
AM ET
Some reaction to Tuesday's excellent slate of games ...
October, 30, 2012
10/30/12
4:04
PM ET
The Gold Glove Awards will be announced Tuesday night on ESPN2 at 9:30 p.m. ET and
Mark Simon previews the awards here
. You can see the
list of finalists here
. Managers and coaches vote for the awards.
It will be interesting to see if
Mike Trout
wins the AL center field award -- he's one of the finalists at that position, along with
Austin Jackson
and
Adam Jones
. I'll also be curious to see if Seattle's
Brendan Ryan
wins his first Gold Glove Award, despite hitting .194. As we all know, sometimes it seems as if a player's hitting ability affects the voting.
The Cubs'
Darwin Barney
and Ryan ranked 1-2 in the majors in Baseball Info Solutions' Defensive Runs Saved, which we regularly cite here. Last week, BIS announced its 2012 Fielding Bible Awards. A panel of 10 experts -- including Mark, ESPN analyst Doug Glanville, Peter Gammons and Bill James -- voted on the awards. The winners:
C:
Yadier Molina
, Cardinals
1B:
Mark Teixeira
, Yankees
2B: Darwin Barney, Cubs
3B:
Adrian Beltre
, Rangers
SS: Brendan Ryan, Mariners
LF:
Alex Gordon
, Royals
CF: Mike Trout, Angels
RF:
Jason Heyward
, Braves
P:
Mark Buehrle
, Marlins
I'll predict
Brandon Phillips
wins the Gold Glove at second base in the NL over Barney; Phillips has won three out of the past four at the position and carries a sterling defensive reputation. His numbers are very good (plus-11 DRS), but Barney was plus-28. I'll also predict the higher-profile
Elvis Andrus
(plus-7 DRS) beats out Ryan (plus-27) at AL shortstop to win his first Gold Glove.
J.J. Hardy
(plus-15) is the other AL finalist at shortstop, and he could win his first as well.
October, 2, 2012
10/02/12
11:44
AM ET
Getty Images/Jeff GrossOpposing hitters saw this "look what I just caught" expression from Mike Trout many times in 2012.
Who was baseball's best defender in 2012?
Each month during the season, we convened a group of about a dozen voters (among them ESPN.com writers, former players and those who study this material daily at Baseball Info Solutions) to pick Major League Baseball's best defensive player.

It has been a fun and educational process to study the numbers, look at the highlight reels and make a decision. (Our top candidates are noted in the poll on the right.) But when it comes to picking a Defensive Player of the Year, it's a really close call.
Ten of us ranked the top three defensive players, and we awarded points on a 5-3-1 scale.
The winner in our voting?
Angels rookie center fielder
Mike Trout
.
Trout edged out our May Defensive Player of the Month, Mariners shortstop
Brendan Ryan
, who received six of our 10 first-place votes. Ryan received the other four firsts and finished second in the voting.
Cardinals catcher
Yadier Molina
and Cubs second baseman
Darwin Barney
finished tied for third. Braves center fielder
Michael Bourn
placed fifth.
Why Trout won
Simply put, Trout won our Defensive Player of the Year Award because he went above and beyond when it came to turning batted balls into outs.
When we say above and beyond, we refer both to extra effort and to literally going above and beyond -- as in above and beyond the outfield wall.
Four times this season, Trout raced back to the fence, timed his leap, extended his left arm well over the wall, and came down with the baseball in his glove.
Trout robbed
J.J. Hardy
of a homer on June 27, stole one from
Gordon Beckham
on Aug. 4, snatched another from Miguel Olivo on Aug. 11 and pilfered one from
Prince Fielder
to end a game on Sept. 8.
Trout is one of four players since 2004 to have four home run robberies in a season, joining
Nook Logan
(2005 Tigers), Gary Matthews Jr. (2006 Rangers) and
Adam Jones
(2009 Orioles).
But those four catches don't necessarily tell the whole story. They account for a chunk of Trout's 23 Defensive Runs Saved in a little under 900 innings playing center field this season.
It's not just home runs that Trout robs. He also takes away lots of doubles and triples. He's adept at making difficult catches like Sunday's play against the Rangers'
Ian Kinsler
look routine.
With Trout's help (as well as that of
Torii Hunter
and
Peter Bourjos
), the Angels entered Monday ranked second in the majors in fewest doubles and triples allowed, trailing only the
Tampa Bay Rays
.
Baseball Info Solutions computes plus-minus ratings for outfielders based on their ability to get to the balls hit to all different parts of the field. There is a rating for shallow flies, for medium-range flies and for deep flies. A fielder is rewarded if he makes a play on a ball hit to a spot in which others usually don't.
Trout rates as an average center fielder on shallow flies. But he excels in medium-range flies and deep flies.
Trout's reward on medium-depth and deep balls is a big one; he's a plus-33, meaning he's 33 "bases" better than the average center fielder. That's the best in the majors. The next-best outfielder,
Denard Span
, rates seven bases behind him.
What do you think?
The other candidates on our ballots had comparable areas in which they excelled.
Ryan's ability to convert double plays is unmatched. Molina's control (and basically elimination) of the running game is amazing. Barney came out of nowhere to become an all-around star. Bourn was good at getting to balls of all types.
But in the end, our voters decided that Trout was the best of the best.
Do you agree? Vote in our poll and leave your thoughts in the comments section.
August, 2, 2012
8/02/12
11:33
AM ET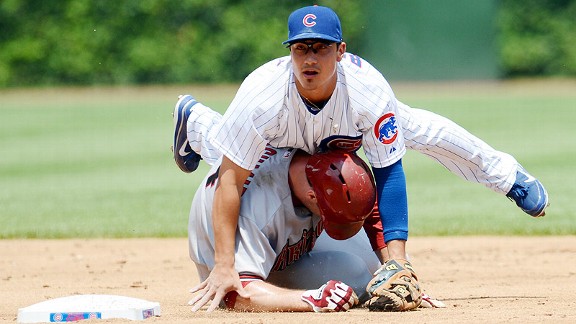 U.S. Presswire/Jerry LaiDarwin Barney's defense has been one of the best things to come out of the Cubs 2012 season.
Who was the best defensive player of the month for July?
For the first time, our panel of voters didn't have a consensus choice. The margin was narrow, but Cubs second baseman
Darwin Barney
edged out Yankees first baseman
Mark Teixeira
and Athletics right fielder
Josh Reddick
.
Because the voting was so close, it seemed only fair to salute all three in this space. Let's take a closer look at their performances.
Darwin Barney, Cubs 2B
When Baseball Info Solutions made adjustments to its defensive metrics a few weeks ago, we thought that Barney would be among those to take a big hit.
But Barney's numbers turned out to be legit all along. The Cubs second baseman ended the month as the game's most valuable defender, with 27 Defensive Runs Saved for the season, eight coming in July.
Cubs manager Dale Sveum has prioritized defensive positioning, and that seems to have benefited Barney, who has a high rating on both balls hit
to the right
of where a second baseman makes most plays (10 plays better than average, and
to the left
(12 plays better than average).
The Cubs have given up a lot of hits this season, but it's not the fault of their middle infield. The average team allows a runner to reach on about 43 percent of balls hit over the second base bag, or a few degrees to the right or left. The Cubs have allowed only 39 percent.
But Barney passes the eye test, too. He had 16 of what the BIS video-trackers call "Good Fielding Plays" in July, and only five Defensive Misplays & Errors. He excelled in turning the double play, with four of his Good Plays related to that skill, one shy of the best by a second baseman this month (Dan Uggla's five).
Barney's 3-to-1 Good Play/Misplay ratio has held up all season and is more than twice the ratio that Barney posted as a rookie in 2011, when his Good Play/Misplay & Error rate was 47 to 42.
Mark Teixeira, Yankees 1B
"Baseball Tonight" analyst Rick Sutcliffe has said just how much he values the defense of a player like Teixeira.
"A good defensive first baseman can make an entire infield" he's said on a number of occasions.
Teixeira had the best defensive month of any first baseman, with 19 Good Fielding Plays and only three Defensive Misplays & Errors. That's right on par with his season ratio of 60 GFP/10 DM&E. He was one of two first basemen this month (Mark Reynolds being the other) with multiple Web Gems.
But where Teixeira really stood out was in his Defensive Runs Saved total. First basemen don't typically accumulate a lot of Runs Saved, but Teixeira nearly matched his total of eight from April to June by netting seven Runs Saved in July.
Why was his rating so high?
It probably had something to do with
these
three
plays
, the best examples of his athleticism and range.
Those types of plays show that Teixeira is able to get to more balls to his right than the typical first baseman, and he reaps the statistical rewards in his Runs Saved total as a result.
Josh Reddick, Athletics RF
Reddick's name came to our attention when
Ichiro Suzuki
was traded to the Yankees a couple of weeks ago. We weren't surprised to see Ichiro at the top of the Defensive Runs Saved leaderboard, but were a little surprised to see Reddick right alongside.
The transition from Boston's tricky triangle and right-field corner to Oakland's cavernous outfield has been a smooth one for Reddick, who had eight Defensive Runs Saved, and a Good Play/Misplay & Error rate of 9 to 5 for the month.
The skill set that earned Reddick recognition in July was one that nearly injured him -- his ability to go back and get balls. Twice during Oakland's sizzling July, Reddick made a
wall-crashing
,
game-ending
catch, the second one knocking him woozy (he was back for Oakland's next series).
He also made like
Spiderman
, hanging on to the right-field wall at the Rogers Centre to make a twisting grab that might have been among the fanciest-looking plays of the month. It earned him his third No. 1 Web Gem of the season (his second of the month), one shy of Alexei Ramirez for the major-league lead.
Reddick's range rating (known to the BIS folks as plus-minus) ended July the same as his season rating in Boston in 2011 (he's saved 15 bases more than the average defender).
But he's solidified himself as one of the game's best with his throwing arm. He's cut back on the rate of runners advancing on balls he's fielded from 63 percent in 2011 to 45 percent in 2012.
It's not that runners aren't trying to take bases on him. It's that Reddick is gunning them down.
He's thrown out nine attempting to advance, including three in the past month. He finished July with 11 assists for the season, one shy of
Jeff Francoeur
for the major league lead.
April, 29, 2011
4/29/11
12:05
PM ET
The SweetSpot blog network weighs in with April's best surprises ...

Beachy
Atlanta Braves
Simply put, the Braves' most pleasant surprise has been
Brandon Beachy
. At this time last year, Beachy was a virtually unknown prospect at Double-A Mississippi. Now he's leading the Atlanta starting staff in strikeout per nine innings (9.51) and is a prime candidate for the NL Rookie of the Month award for April. At this pace, it's going to be impossible for
Mike Minor
to unseat him for the fifth-starter role, regardless of his dominance in Triple-A.
--Kevin Orris. Capitol Avenue Club
Florida Marlins
It is absolutely amazing that the Marlins are just a half-game out of first place, especially considering the rough start of
Hanley Ramirez
(.197/.299/.250). In another amazing twist, given the shaky outfield defense that was expected of them, the Fish have the best defensive efficiency in the National League, turning almost 73 percent of balls in play into outs, and understandably have given up the fewest runs in the Senior Circuit.
--The Common Man, The Platoon Advantage
New York Mets
Though the hot starts of
Ike Davis
and
Jose Reyes
have been greatly appreciated by Mets fans, they are not necessarily surprises -- at least, not compared to
Pedro Beato
. A Rule 5 pick, the hard-throwing Beato began the season as the last man out of the bullpen but has quickly emerged as arguably the Mets' most reliable reliever. Through 12 innings, Beato has yet to allow an earned run, has struck out eight and boasts a 0.75 WHIP. Perhaps most impressive, the youngster is now being called upon in high-leverage, late-inning situations.
--Joe Janish,
Mets Today

Bastardo
Philadelphia Phillies
The Phillies' most pleasant surprise has been
Antonio Bastardo
. As
Brad Lidge
,
J.C. Romero
and
Jose Contreras
succumbed to injury, Bastardo emerged as a legitimate late-innings option, striking out 15 and allowing just one run in 10 1/3 innings.
--Bill Baer, Crashburn Alley
Washington Nationals
Wilson Ramos
has been the Nats' pleasant (yet probably unsustainable) surprise. He is hitting a cool .375/.426/.563, while playing acceptably behind the plate, gunning down three of eight attempted base stealers. Given that he has a batting average on balls in play of around .450, he's sure to cool off a lot, but we're grateful for each additional day he keeps the corpse of Pudge Rodriguez from getting up to bat.
--Harper Gordek, Nationals Baseball
Chicago Cubs
Darwin Barney
came into spring training fighting to make the roster. One month into the season, he's a viable No. 2 hitter in the lineup and deserving of the spot on the All-Star ballot
Blake DeWitt
is hoarding.
--Joe Aiello, View from the Bleachers

Gomes
Cincinnati Reds
The plate discipline shown by
Jonny Gomes
has been the most pleasant surprise, by far. Gomes has drawn 19 walks in the first month (second in the league, behind teammate
Joey Votto
), after walking only 39 times in the entire 2010 season. Because of Gomes' patience, his OPS remains over .900, despite a batting average hovering around the Mendoza line.
--Chad Dotson, Redleg Nation
Houston Astros
As the last-place team in the NL Central, there's been very little for the Astros to be pleasantly surprised about. But for the team that won one series in April (a distinction the Mets would rather forget), its lone pleasant surprise is
Brett Wallace
, who is hitting great despite having the unfortunate situation of being sandwiched between
Carlos Lee
and
Bill Hall
. He leads the team in batting average (.373), on-base percentage (.441) and slugging (.518).
--Austin Swafford, Austin's Astros 290 Blog
Milwaukee Brewers
The best surprise for the Brewers is they're 12-12 despite
Zack Greinke
not making a start,
Corey Hart
missing nearly the entire month and the bullpen leading the majors with seven losses. They can thank the hot starts of
Ryan Braun
(.356/.454/.689),
Prince Fielder
(leading the NL with 23 RBIs) and
Rickie Weeks
(21 runs scored).
--David Schoenfield

Morton
Pittsburgh Pirates
In five starts,
Charlie Morton
already has as many wins as he did in 2010, and his ERA is 60 percent lower. Don't buy into it, though. His 18:18 strikeout-to-walk ratio is highly troubling, and his .253 BABIP is completely unsustainable, even though he's getting 2.25 grounders for every fly ball so far. The Pirates will have to hope the coming regression is accompanied by a return to form for
James McDonald
, who has been terrible.
--The Common Man, The Platoon Advantage
St. Louis Cardinals
When the Cardinals lost ace
Adam Wainwright
for the season, the pressure suddenly shifted to their starting rotation. In particular, to
Kyle Lohse
, the righty who made only 40 starts in the two seasons since signing a hefty 4-year, $41 million contract extension. Given that from 2009-10 his ERA was indistinguishable from his strikeout rate (though, to be fair, his expected Fielding Independent Pitching was much lower), expectations were tempered. So his 2011 campaign thus far -- five Wainwright-like starts with an ERA of 1.64 -- has been the most pleasant surprise for the Cardinals. He is inducing ground balls like never before (48.6 percent) and limiting self-inflicted damage with a walk rate (1.17 walks per nine innings) that
Cliff Lee
would be proud of. And he's tied for fourth among NL pitchers in Wins Above Replacement.
--Matt Philip, Fungoes.net
Arizona Diamondbacks
Bright spots are fairly few and far between for the D-backs. The starting pitching has been atrocious, but the hitters have proven solid. The most shocking performance has been from
Ryan Roberts
, a minor league lifer who has seemingly taken over the third-base job by hitting .311/.408/.607 through 20 games. It's not a mirage. Roberts is a legitimate hitter, and as long as his defense holds up, he'll be a very productive and cheap option for the near future.
--The Common Man, The Platoon Advantage
Colorado Rockies
Where in the world did
Jonathan Herrera
(.317/.442/.429) come from? The 26-year-old has never really done anything like this before and is a good bet to regress. Still, he's done a terrific job of making up for the disappointing, but totally predictable, performances of
Ty Wigginton
(.233/.309/.383) and
Jose Lopez
(.143/.169/.254).
--The Common Man, The Platoon Advantage

Kemp
Los Angeles Dodgers
The return -- and then some -- of
Matt Kemp
has been the biggest surprise. Even though he has tapered off in his past 10 games, going 10-for-41 with 15 strikeouts, he still has walked six times in that stretch and has had a superb start overall (1.072 OPS). One question is whether his walks reflect better plate discipline or the horrors of the Dodgers lineup after his spot in the order.
--Jon Weisman, Dodger Thoughts
San Diego Padres
In a month of unpleasant surprises, one exception for San Diego has been the performance of catcher
Nick Hundley
. After splitting duties with veterans
Henry Blanco
and
Yorvit Torrealba
the past two seasons, Hundley has assumed a larger role this year and responded. He is hitting .286/.356/.481 and providing the bulk of what little offense the Padres have been able to muster.
--Geoff Young, Ducksnorts
San Francisco Giants
The Giants' most pleasant surprise is this: They're still around .500 despite going through a month bereft of actual pleasant surprises. That's not to say the Giants haven't had good performances, but what's been good hasn't been surprising and what's been surprising hasn't been good.
Pablo Sandoval
shouldn't surprise anyone when he hits .330 in a month; he'll do that.
Buster Posey
and
Tim Lincecum
have played well, yes. They're good, you know. The bad surprises on the other hand: a bushel of injuries, month-long slumps from key regulars and defense that has had fans saying to each other, "You know, I don't think that fellow can really play that position."
--Otis Anderson, Bay City Ball
April, 1, 2011
4/01/11
9:37
PM ET
By
Christina Kahrl
| ESPN.com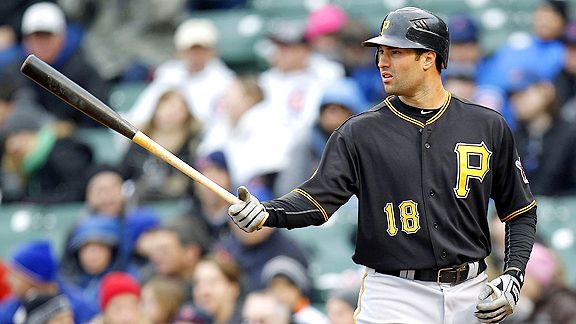 Gregory Shamus/Getty ImagesSure Neil Walker can hit, but can the Pirates stomach his defense at second?
Friday's
Chicago Cubs
home opener provided an interesting contrast. The Cubs have 2011 aspirations to try and live up to, while the
Pittsburgh Pirates
do not. Yet both teams have a similar problem: experimentation at second base.
Whatever comes out of the two teams' beakers remains to be seen -- this isn't the periodic table or your high school chemistry class, so results
will
vary.
The Cubs' situation involves one of spring training's surprising outcomes.
Darwin Barney
scrapped his way into the Opening Day gig after favorite
Blake DeWitt
handed back the job heading into Arizona action. DeWitt's difficulties with turning the double play and making good contact aren't the sort of thing you can easily overlook. As skipper Mike Quade
explained to the beat posse last month
, the ability to turn the tough double play matters to him.
DeWitt is sort of a duckbilled platypus of the infield. He has a bat that profiles better at second, with a walk rate around 10 percent and an ISO around .120, but a glove that really plays better at third. If you've got Ryne Sandberg's sort of thunder coming from second base, maybe DeWitt is somebody you could carry at third, but the 2011 Cubs aren't that team.
[+] Enlarge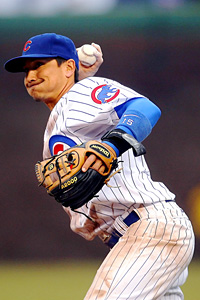 Dennis Wierzbicki/US PresswireDarwin Barney will hustle all over the diamond, but his bat is a liability.
In contrast, Barney is the sort of grinder that is easy for a manager to love. At second or short, he's rangy, strong-armed, and hustler who will chase down anything afield if you let him. But as admirable and worthwhile all that is, projecting Barney's performance via PECOTA, ZiPS, or any other forecasting model, gives you a guy who might struggle to post an OBP or SLG of .300. The glove can play, the bat ... well, did we mention he gets his uniform dirty?
The third wheel in the Cubs' keystone combo is platoon masher
Jeff Baker
, a five-position supersub with a career .908 OPS versus southpaws. Rarely given the opportunity to do more than that, Baker did manage to hit everybody in 2009 while spotting for the Cubs at second. But a career 28 percent strikeout rate versus righties -- because good right-handed off-speed and breaking stuff eats him up -- can make him a bit tough to live with. It isn't like that strikeout rate's getting traded for
Jeff Kent
-like power.
Bringing up Kent, however obliquely, takes us to the Pirates' decision to continue with the
Neil Walker
experiment at second base. Like Kent at the outset of his career, there are questions over whether Walker is nimble enough around the bag to manage at second. (Kent's bat created a fairly high tolerance for his unglovely play in the field.)
The hope with Walker is that he can do likewise, after slugging .462 as a rookie last season. If he does it, it'll be despite defense that even DeWitt would outclass. Whatever flavor of defensive metric you prefer -- Total Zone, Plus/Minus, UZR, or Colin Wyers' new Fielding Runs metric at Baseball Prospectus (best to refer to them all with caution) -- Walker's previous season at second was several shades of awful. Love the bat, hate the glove, but it isn't like the Pirates' shot at a title hangs in the balance. They can afford to experiment.
How did all this turn out on Opening Day? Barney scrapped and slapped, lucking into a second base hit on the Pirates' second muffed infield popup of the afternoon. Walker mashed, jacking a full-count slam on a
Ryan Dempster
fastball in the fifth, and then setting up another run with his two-out seventh-inning double. He also played defense about as well as you'd expect an ex-catcher, as poor infield defense created both of the Cubs' runs.
But Walker wasn't alone in being part of the problem, because one player alone didn't generate the worst defense in baseball (per Baseball Prospectus's
Park-Adjusted Defensive Efficiency metric
). How long the Pirates want to afford Walker's defense at second owes something to the decision to stick with
Pedro Alvarez
at third base for as long as possible. Alvarez's series of defensive gaffes Friday provided a reminder that he probably won't be a third baseman forever. He was responsible for the Cubs' first-inning run, with a single off his glove followed by a two-base throwing error. If Alvarez makes the move across the diamond to first later this year -- presumably after they tire of or flip one-year rental Lyle Overbay -- then Walker's trek to the hot corner seems sure to follow.
As for the Cubs' quest to find an appropriate heir to the Sandberg spot on the lineup card, you can expect more three-way shuffling. After the Arizona-inspired fascination with Barney gives way to his expected performance, Quade will have to revisit what to do with this position. Maybe DeWitt can be risked in the field when more fly ball-oriented pitchers like
Carlos Zambrano
and
Matt Garza
start, while Baker will always hurt lefties. Tinkering's well and good, but at some point, the experiment had better yield up something resembling a lasting answer.
Christina Kahrl covers baseball for ESPN.com. She helped found Baseball Prospectus in 1996, and has written her "Transaction Analysis" column ever since. She was voted into the Baseball Writers' Association of America in 2008 as one of its first four Internet columnists. You can find her ESPN archives here, and follow her on Twitter here
.