June, 11, 2014
Jun 11
1:01
PM ET
Here's the funny thing about great throws: How many do you remember? Specific throws, I mean? Of course, there's the
Bo Jackson throw
to nail Harold Reynolds and the
Ichiro Suzuki throw
early in his first season in Seattle that helped establish his reputation for having a great arm.
But do many others pop into your head? Roberto Clemente and Al Kaline are known for their legendary arms, but did either one have a signature throw? Certainly, Pirates or Tigers fans of a certain age may remember a specific throw, but from the days before widespread TV broadcasts, visual evidence is spotty. If for some reason you think maybe Clemente's arm strength has been exaggerated through the years ... you're wrong.
Here's one example
, from the 1971 World Series, late in his career. It didn't catch a runner but held one at third and provides pretty solid evidence of his cannon.
Well, I'm thinking the
throw from left field
made by
Yoenis Cespedes
on Tuesday night is one we'll remember for a long time. I was watching the end of the Yankees-Mariners game when Twitter exploded -- this time, with good reason. It was definitely an all-timer.
The best throw I ever saw in person was back in the '80s, sitting in the right-field stands at the Kingdome. Somebody hit a ball into the right-field corner and attempted to stretch the hit into a triple. Jesse Barfield fired a laser all the way to third to get the runner. I had a perfect, direct line right behind Barfield to view the throw. Amazing. Barfield was known as having the best arm in the game in the '80s. Although there's no video of that throw (at least that I could find), here he is
throwing out Chili Davis
at third base. And here he is
throwing out
Mariners catcher Matt Sinatro on a base hit -- only a big deal because Sinatro was on
third base
to start the play.
As a kid, I watched the 1979 All-Star Game in Seattle, in which strong-armed Dave Parker
threw out two runners
. That second one ... wow. Also: Bring back those all-yellow Pirates jerseys!
Another outfielder of that era known for his powerful arm was Ellis Valentine of the Expos. Here he is with the Mets
throwing out
Pete Rose and Dale Murphy. Another strong-armed -- but also famously wild at times -- Expos right fielder was
Vladimir Guerrero
. But when he was on target, he
did things like this
.
One throw that some of you may remember from 1998 was from another Pirates right fielder.
Jose Guillen's throw
from the warning track was impressive enough that MLB Network named it the most unbelievable throw of all time.
Former pitcher-turned-outfielder
Rick Ankiel
was known for his terrific arm.
Here's a fly ball
to medium-deep center in which the runner decides not to tag up -- probably a good decision.
Here's a pretty good one
to catch a runner at third from deep right-center.
Of course, in his short time in the majors,
Yasiel Puig
has developed a reputation for his great arm. Here are
four from his rookie season
.
Here's one
from 2010 that Yankees fans will remember: Backup outfielder
Greg Golson
throws out speedy
Carl Crawford
at third base for the final out of an 8-7 victory.
Here's one I just learned about:
Joe Ferguson cutting down Sal Bando
at the plate in the 1974 World Series. The Dodgers played Ferguson, a catcher, in the outfield at times because they had Steve Yeager.
The most famous throw in World Series history may be
George Foster getting Denny Doyle
in the iconic Game 6 of 1975. Mets fans would like to forget
Derek Jeter's relay throw
to nail
Timo Perez
in Game 1 of the 2000 World Series.
Anyway, we could go on and on. I didn't even mention guys like Carl Furillo, Dwight Evans,
Larry Walker
or
Raul Mondesi
. Greatest throw ever? Maybe it is Cespedes or Guillen. It's definitely
none of these
.
November, 7, 2013
11/07/13
2:00
PM ET
The Veterans Committee portion of the Hall of Fame induction process doesn't generate the same uproar as the Baseball Writers vote does. But the people it elects are still full-fledged members of Cooperstown, with their little plaques right there next to Hank Aaron, Willie Mays and Babe Ruth. Last year, the Veterans Committee elected an owner, an umpire and a player -- all of whom had been dead since 1939.
This year, the committee is looking at what it calls the
Expansion Era ballot
, for candidates whose greatest contributions came in 1973 and later. The last time the VC looked at this era, in 2011, only executive Pat Gillick was elected. This year's ballot will likely produce more Hall of Famers; sadly, however, none are likely to be players. The 12 finalists who the 16-man committee (and it's all men, no women) will consider includes six players and six others. You need 12 of 16 votes to get elected. Let's take a closer look.
The managers: Bobby Cox, Tony La Russa, Billy Martin, Joe Torre
[+] Enlarge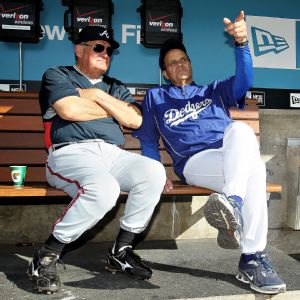 Jeff Gross/Getty ImagesJoe Torre twice beat Bobby Cox in the World Series, but they should share Hall of Fame honors next summer.
Even by the historically lax standards of the Veterans Committee, Cox, La Russa and Torre are obvious Hall of Fame managers, and I suspect all three will get in. Cox is fourth on the all-time wins list and made 16 playoff appearances with the Blue Jays and Braves, although he won just one World Series. Cox finished 503 wins above .500 -- the only managers with a higher total are John McGraw and Joe McCarthy. You can hold the the only-one-title against Cox, but Whitey Herzog made it in 2010 with just one title, fewer wins and a worse winning percentage. La Russa is third on the all-time wins list and has three World Series titles. Torre had a borderline Hall of Fame career as a player; include his four championships as a manager and he's the third lock.
Martin is the interesting candidate, but he has no chance to get in with this group also on the ballot. Martin is 35th on the wins list and won just one title. What we do know about him, however, is that he was arguably the best turn-around artist in managerial history. Now, part of that was because nobody could stand to have him as their manager for more than five minutes, so he got a lot of opportunities. But consider:
Took over the Twins in 1969 and they improved from 79 to 97 wins and won the AL West. (Fired after the season, in part for getting in a fight with one of his pitchers.)

Took over the Tigers in 1971 and they improved from 79 to 91 wins. In 1972, they won the AL East. (Fired in 1973 after ordering his pitchers to throw spitballs in protest of Gaylord Perry allegedly doing so for Cleveland.)

Took over Rangers in September of 1973. The club improved from 57-105 to 84-78 in 1974. (Fired in 1975 after some a confrontation with owner Brad Corbett.)

Took over the Yankees late in 1975. Club improved from 83 wins to 97 in '76 and won its first pennant since 1964. In 1977, the Yankees won the World Series. (Resigned in 1978 after fighting with Reggie Jackson during a game and rumors that George Steinbrenner tried to trade Martin to the White Sox.)

After managing the Yankees again for part of the 1979 season, he took over the A's in 1980. They had lost 108 games in 1979. They won 83 and then made the playoffs in the strike season of 1981. (Fired after losing 94 games in 1982.)
Then came all the ridiculousness with the Yankees in the '80s. Still, it's an impressive track record, although it came at a cost: Martin overworked his pitchers (most notably with a young staff in Oakland that soon fell apart) and none of the teams he managed sustained any long-term success. In the end, I can't really advocate for him for the Hall of Fame; not enough career wins, only one title and his other issues (drinking and brawling) that might have affected his teams. Plus: We have enough managers in already, with three more on the way.
The owner: George Steinbrenner
The Boss was on the last Expansion Era ballot and received fewer than eight votes. He was a bully, banned from baseball for paying a gambler to dig up dirt on Dave Winfield, and ran the franchise into the ground in the late '80s and early '90s (only to see it revived during his banishment). His team also won six World Series titles (and a seventh after he had given up day-to-day operations to his sons), and there's no denying he was one of the most famous people in the sport during his reign. I'll pass, but I suppose there's an argument to put him in.
The union guy: Marvin Miller
Miller fell one vote short of election last time around. Since then, he passed away and you almost feel as though the time to honor the man was missed. He's no doubt one of the most important figures in baseball history; the union leader who helped free the players from the reserve clause and enter the era of free agency. Does that make him a Hall of Famer? Nobody ever paid a penny to watch Marvin Miller in action. But if you can vote in Bowie Kuhn, you should put in Marvin Miller. FYI: There are four executives on the committee (Paul Beeston, Andy MacPhail, Dave Montgomery and Jerry Reinsdorf), so if they all vote against him, the other 12 (which includes six Hall of Fame players) have to vote for him.
The glove: Dave Concepcion
Concepcion received eight votes in 2010, so he is the highest returning player candidate. With a career WAR of 40.0, he doesn't have a strong statistical argument. There is also another shortstop candidate with obviously better credentials: Alan Trammell, who is still on the BBWAA ballot. Concepcion's case basically comes down to being part of the Big Red Machine, although he was a nine-time All-Star and won five Gold Gloves. The Reds already have one marginal Hall of Famer in Tony Perez; I don't think we need another.
The strong jaw: Steve Garvey
He was also on the last ballot and received fewer than eight votes. Career WAR of 37.6, only one season above 5.0. His case is that he was regarded as very valuable while active -- he won an MVP Award and finished second another year and sixth three other times. It's kind of a Jim Rice argument. Won't get in and shouldn't, as even his peak only lasted seven years. Keith Hernandez would be a better candidate to discuss at first base.
The guy they named the surgery after: Tommy John
Three pitching lines:
John: 288-231, 3.34 ERA, 111 ERA+, 62.3 WAR
Bert Blyleven: 287-250, 3.31 ERA, 118 ERA+, 96.5 WAR
Jack Morris: 254-186, 3.90 ERA, 105 ERA+, 43.8 WAR
Three pitchers with similar career win-loss records, but vastly different values by Wins Above Replacement. All three got about 20 percent of the vote their first years on the BBWAA ballot. Blyleven stayed there for a long time until the statistical argument became clear that he deserved Cooperstown; score one for the statheads. Morris has slowly climbed closer to 75 percent and may get in this year; score one for the old schoolers. John never really moved from his initial 22 percent.
By WAR, John is in the gray area; a good candidate but not a strong one. The argument against him is that he pitched forever but was never
great
. His peak WAR season was 5.6 and he had four years above 5.0. But just four others above 3.0. A lot of 2.4 and 1.5 kinds of seasons. Good No. 3 starter who was durable but rarely an ace. I wouldn't vote for him, although Blyleven's election in 2011 may help him.
The Cobra: Dave Parker
[+] Enlarge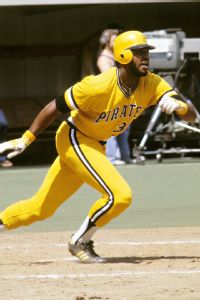 Malcolm Emmons/USA TODAY SportsDave Parker won two batting titles and an MVP Award, but is he a Hall of Famer?
Parker is new to the ballot, with Al Oliver, Rusty Staub, Ron Guidry and Vida Blue getting bumped off. Parker has some interesting career numbers: .290 average, 339 home runs, 1,439 RBIs, more than 2,700 hits. He won an MVP Award in 1978 and deserved it. He had a very high peak from 1975 to 1979, but then wasted several years and wasn't really contributing much after that despite his high RBI totals.
Is Parker the best outfielder not in the Hall of Fame? Clearly not. Even leaving off all the players still on the BBWAA ballot, there's another right fielder I would have preferred to see on this ballot: the criminally underrated Dwight Evans.
Evans is sort of the opposite of Parker. Parker had his best years in his 20s; Evans in his 30s. Parker never walked; Evans built a lot of value by walking (708 more career walks). Parker got fat; Evans stayed in tremendous shape. Parker ended up wasting a lot of his ability; Evans got the most out of his.
By career WAR, it's not close: Parker 40.0, Evans 66.7. Let's get Dewey on the ballot next time.
The submariner: Dan Quisenberry
Happy to see him get recognized. His career wasn't really so different from Bruce Sutter's, except Sutter had more facial hair and "invented" a pitch. Consider Quisenberry's run in Cy Young voting: fifth, no votes (1.73 ERA, though), third, second, second, third. He also finished in the top 10 of the MVP voting in four of those seasons. That said ... voters of that era dramatically overrated relief pitchers, even though they were pitching a lot more innings than today. But for a six-year run, he was as good as anybody.
The catcher: Ted Simmons
He's back after receiving fewer than eight votes, as well. I've always been a fan of Simmons' candidacy, which is admittedly borderline. One of the better hitting catchers, with a .285 career average (hit above .300 seven times), 248 home runs and 1,389 RBIs. He played second fiddle to Johnny Bench in the National League in the 1970s but, hey, not everybody can be Johnny Bench.
Two of the people on the committee are Paul Molitor, Simmons' teammate with the Brewers, and Whitey Herzog, who traded Simmons from the Cardinals to the Brewers after the two feuded and Simmons' defense had started declining. So I could see Molitor arguing
for
Simmons and Herzog
against
Simmons.
Either way, it probably doesn't matter, as Simmons' chances of getting in are slim.
The results will be announced at the winter meetings in December. I predict Cox, La Russa and Torre get in, with Miller, John and Concepcion falling a little short. I'd include Miller on my vote along with the three managers, while regretfully not voting for Simmons. (With Mike Piazza around, he's not the best catcher eligible for induction.)
September, 6, 2012
9/06/12
1:00
PM ET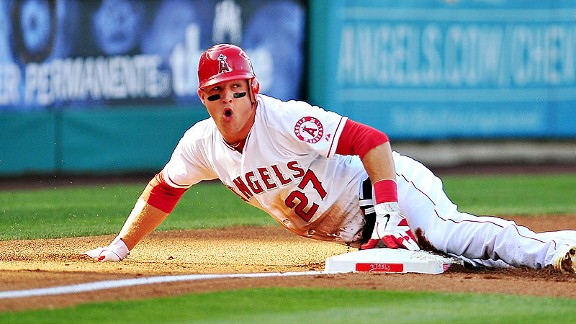 Gary A. Vasquez/US PresswireAngels outfielder Mike Trout has the tools to be baseball's most exciting player for years to come.
We all have our own favorites, of course, and maybe they change from season to season. Or month to month. That's a little of the beauty of baseball; we don't all have to enjoy and appreciate the same players. The stars aren't necessarily shoved down our throats like a certain sport played with an orange ball.
For me,
Mike Trout
has been the most exciting player in baseball in 2012. It's completely subjective opinion, of course, but if you think of some of the factors that would be considered for such a description, Trout fits (as do
Bryce Harper
,
Andrew McCutchen
,
Matt Kemp
and others):
1. Power. Check.
2. Speed. Check.
3. Spectacular plays on defense. Check.
4. Young. Check. This is kind of like how we get excited over a new restaurant or new girlfriend or new TV show.
5. Looks good in a baseball uniform. Check.
6. Has the It Factor. Hard to define, but you know what it is when you see it.
7. Cool name. Mickey Mantle wouldn't quite be Mickey Mantle if his name had been "Andy Stankiewicz."
8. He's good. Duh. Although I suppose there's a different kind of excitement for players who aren't good.
Pitchers have a slightly different list of criteria, much of which boils down to "He's one bad dude."
The first year I remember following baseball was 1976, the year before the Mariners arrived in my hometown. Leaving out the fact that most of us probably prefer a guy on our favorite team, here's my own list of Most Exciting Player in Baseball since that year.
1976: Mark Fidrych, P, Tigers
There hasn't been anybody like Fidrych since he became a national phenomenon as a 21-year-old rookie. For all the attention given to Trout or Harper this year, imagine if ESPN and 24-hour sports coverage had been around in 1976, when Fidrych was talking to baseballs and shaking hands with infielders after a good play -- in the middle of innings. I remember watching the famous June "Monday Night Baseball" game against the Yankees, that's how big it seemed at the time. Fidrych would start the All-Star Game, complete 24 of his 29 starts and boost attendance whenever he pitched (he accounted for nearly half of the Tigers' attendance that year while making just 18 starts at Tiger Stadium). In Dan Epstein's "Big Hair and Plastic Grass," a history of baseball in the '70s, he writes that other teams begged the Tigers to pitch Fidrych in their parks.
How exciting was he? Here's a
clip of that Yankees game
; fast-forward to the 2:30 mark and not just for the awesome '70s clothes and fans smoking in the stands. Detroit fans hung out
after
the game, chanting "We want The Bird! We want The Bird!" When he finally appears from the clubhouse, the place explodes. One of a kind.
1977: George Foster, LF, Reds
Maybe a bit of a one-dimensional slugger, but his 52 home runs that year seemed otherworldly. And maybe they were. It was the only 50-homer season between Willie Mays in 1965 and Cecil Fielder in 1990, Foster waved that menacing black bat and was awesome.
1978: Dave Parker, RF, Pirates
Built like a linebacker, for a few years there Parker was arguably the best all-around player in baseball. He was the MVP in 1978 as he led the majors in batting average and OPS and owned a howitzer for an arm. Plus, this was the year he fractured his jaw and cheekbone in a home-plate collision and returned two weeks later
wearing a hockey mask
at the plate (quickly replaced by a football-like face mask).
[+] Enlarge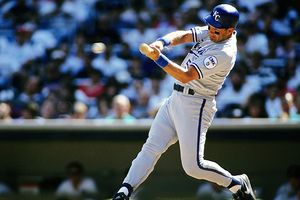 Ronald C. Modra/Sports Imagery/Getty ImagesGeorge Brett had 85 extra-base hits for the Royals in 1979.
1979-1980: George Brett, 3B, Royals
That sweet Charlie Lau swing. The dirty uniform even though he played his home games on turf. And then the chase for .400 in 1980. But how about this line in 1979: .329, 212 hits, 42 doubles, 20 triples, 23 home runs.
1981-1983: Rickey Henderson, LF, A's
Actually, you could probably give him the whole decade if you want.
1984-1985: Dwight Gooden, P, Mets
In 1984, he was Kid K, the 19-year-old phenom who finished second in the Cy Young vote, helping turn around a moribund Mets franchise. In 1985, he was Dr. K, the best pitcher on the planet -- 24-4, 1.53 ERA, 268 strikeouts. He pitched eight shutouts that year with his blistering high fastball and knee-buckling curveball, plus he had two more nine-inning scoreless outings where he got a no-decision. The four games he "lost" he allowed two, two, two and three runs. With a little luck, he could have gone unbeaten. You couldn't watch all the games back then, of course, unless you lived in the New York area, but I'd stay up late to watch the news to see how Gooden fared or devour the box score in the morning paper.
1986: Roger Clemens, P, Red Sox
Twenty strikeouts in a game. Twenty-four wins. Nothing then about needles in the butt.
1987: Eric Davis, CF, Reds
Skinny as a golf club, Davis somehow generated big power from his slight frame and combined that with blazing speed and acrobatic outfield play. In 1986, he hit 27 home runs and stole 80 bases; in 1987 he hit 37 home runs and stole 50 bases (in just 129 games). In a Sports Illustrated story, Reds manager Pete Rose said, "It's like having an atomic bomb sitting next to you in the dugout." Teammate Dave Parker said, "Eric is blessed with world-class speed, great leaping ability, the body to play until he's 42, tremendous bat speed and power, and a throwing arm you wouldn't believe. There's an aura to everything he does." In the long run, he couldn't stay healthy, although he did last until he was 39. If you missed seeing the young Davis, you missed something special.
1988: Jose Canseco, RF, A's
Don't laugh. When he went 40-40 it was a
very
big deal. But, no, I never called the
Jose Canseco hotline
.
1989-1994: Ken Griffey Jr., CF, Mariners
OK, Barry Bonds was better. He was faster. When you break it down, he was a little better hitter and that was even before Big Barry broke out. But Griffey had the It Factor from the time he reached the majors at age 19 and Bonds never really did.
[+] Enlarge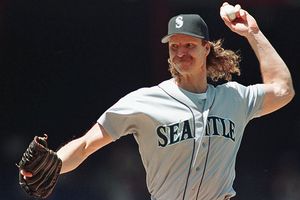 AP Photo/Duane BurlesonRandy Johnson's heroics in 1995 perhaps saved baseball in the city of Seattle.
1995: Randy Johnson, P, Mariners
Power and might, adrenaline at 100 miles per hour with his long hair flapping behind him, as intimidating a pitcher the game has ever seen. And if you were a Mariners fan in those days, a Johnson game was a treat to be savored. And when he trudged in from the bullpen in Game 5 of the 1995 Division Series, the Kingdome exploded in pandemonium. Without Johnson's spectacular '95 season (remember, Griffey was hurt part of that year), there may not be baseball in Seattle.
1996: Alex Rodriguez, SS, Mariners
The common theory is that A-Rod -- like Bonds -- never managed to connect with the fans on a national scale like Griffey, but that's a little rewriting of history, especially after he left Seattle for his first megabucks contract. In 1996, when he was 20 years old (turned 21 in July), he was, like Mike Trout, a young guy putting up bizzaro offensive numbers -- he'd hit .358 with 36 home runs and 54 doubles. It's too easy to forget now but there was a moment when Rodriguez was a player of our affection instead of a player of derision.
1997: Ken Griffey Jr., CF, Mariners
Griffey's MVP season when he led the AL with 56 home runs and 147 RBIs.
1998: Mark McGwire, 1B, Cardinals ... and Sammy Sosa, RF, Cubs
You have to put them together, no? And, no, you can't rewrite history: The home run chase was exhilarating, thrilling and astonishing.
1999-2000: Pedro Martinez, P, Red Sox
In the midst of the barrage of home runs, Pedro was putting up numbers we'd never seen before from a pitcher. In 1999, he struck out 313 batters in 213.1 innings, an average of 13.2 K's per nine innings ... and he walked just 37. He was Nolan Ryan with command and one unhittable changeup. In 2000, opponents hit .167 off him. This wasn't some reliever throwing one inning at a time. Attending a Pedro game at Fenway during this peak was like going to a religious revival, 35,000 fans believing fervently in the gifts of Pedro. He wasn't a god, but he sure pitched like one.
2001: Ichiro Suzuki, RF, Mariners
I think this list is just making Mariners fans sad.
2002-2004: Barry Bonds, LF, Giants
Are walks exciting? Bonds somehow made them so. Love him or hate him, a Bonds at-bat in this era was must-see TV.
2005: Albert Pujols, 1B, Cardinals
A weird season.
Bartolo Colon
won a Cy Young Award. Roger Clemens had a 1.87 ERA at age 42. Scott Eyre picked up 10th-place MVP vote. No, seriously, he did. We'll give the nod to Pujols, if only for that 9,000-foot home run off
Brad Lidge
in the NLCS.
2006-2008: Jose Reyes, SS, Mets
Over those three seasons he hit .292 while averaging 16 home runs, 16 triples and 66 stolen bases per season. Admit it: He was fun.
2009: Hanley Ramirez, SS, Marlins
Maybe should have mentioned him during the Reyes seasons. This was the year he hit .342 with power and speed.
2010: Josh Hamilton, CF, Rangers
He was so good he won the MVP Award despite missing the final month.
2011: Justin Verlander, P, Tigers
With apologies to Matt Kemp.
So that's my list, no slights intended to those I left off. What about your most exciting players? Discuss below ... and enjoy baseball.
June, 28, 2012
6/28/12
12:27
PM ET
On Thursday's fun
Baseball Today podcast
, SweetSpot blogger Dave Schoenfield and I delved into many interesting topics, from players being lost (and found!) to injury to an All-Star Game from our youth!
1. First the Yankees had to deal with the
CC Sabathia
disabled list stint, and then
Andy Pettitte
suffered a broken fibula when he was hit by a line drive. Can the Yankees overcome this?
2. The Dodgers still haven't scored a run all week and the Giants certainly have, not only changing the NL West race but reminding people that it doesn't take long for standings to be turned upside down.
3. The Phillies welcomed back
Chase Utley
and one of us was on hand for the fun. A certain relief pitcher was not much fun, however.
4. Our emailers are focused on
Brandon Belt
, Rangers fans and All-Star topics, and Dave shares thoughts from a midsummer classic he attended as a child!
5. It's
Trevor Bauer
night! The hard-throwing right-hander is scheduled to make his big league debut, but he's not the only interesting arm in action on this fine Thursday!
So download and listen to Thursday's Baseball Today podcast and have a great day!
January, 10, 2012
1/10/12
11:30
AM ET
With the Hall of Fame voting still on our minds, I thought it would be fun to look at which non-Hall of Famers fared best in MVP voting, and which Hall of Famers have fared worst.
Modern MVP voting began in 1931 so we'll focus on players whose careers began after that. We'll also limit our scope to position players. We'll use award shares, a metric invented by Bill James that
Baseball-Reference tracks
. If you're a unanimous MVP winner, meaning you've collected 100 percent of the possible maximum points, your award share is 1.00. If you get 80 percent of the possible maximum points, your award share is 0.80. You can than add up individual seasons to reach a career total.
[+] Enlarge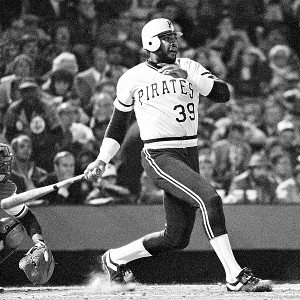 AP Photo/FileDave Parker won the MVP award in 1978.
Not including active players, those yet to have appear on the Hall of Fame ballot (like Barry Bonds or Frank Thomas) or those ineligible for Hall of Fame selection (we mean you, Pete Rose), the player with the most award shares
not
in the Hall of Fame is ...
Dave Parker
. With 3.19 career award shares, he's 28th all time. Parker was an amazing player with the Pirates from 1975 to 1979, compiling 30.1 WAR and winning MVP honors in 1978 when he hit .334 to win the batting title, led the league in slugging percentage and hit 30 home runs with 117 RBIs. He also finished third in MVP votes in '75 and '77 and 10th in '79. After that, he got fat, dabbled in drugs and ruined his career for a few years. He bounced back with the Reds and on the basis of a league-leading 125 RBIs in 1985, finished second in the MVP vote. Another big RBI season in 1986 got him up to fifth in MVP voting. Parker never fared well in the Hall of Fame voting, peaking at 24.5 percent in his second year but holding at around 15 percent after that.
Parker, by the way, had a slightly higher award shares total than Jim Rice (3.15), a similar player from the same era who did make the Hall of Fame in large part due to his success in MVP voting.
Here are the next five:
Jeff Bagwell (2.89 award shares):
The unanimous MVP in 1994, Bagwell also had a second-place and third-place finish and three other top-10 finishes.
Juan Gonzalez (2.76 award shares):
A two-time MVP, although his 1996 win was one of the worst MVP selections ever.
Steve Garvey (2.46 award shares):
Garvey won the NL MVP in '74 with a pedestrian-looking .312/.342/.469 line. It was a good line for the time, but not
that
good -- he ranked 14th in the NL in OPS. But he was third in the league in RBIs and the Dodgers won the division.
Albert Belle (2.38 award shares):
From 1991 through 2000, he hit .300 and averaged 39 homers and 122 RBIs per season. He had a second and two thirds in MVP voting. Despite his peak value, his Hall of Fame support was approximately equal to Herman Cain's in the Iowa caucus.
George Foster (2.37 award shares):
The 1977 NL MVP when he hit 52 home runs and drove in 149 runs for the Reds, Foster had a nice run from '75 to '81. Just don't ask Mets fans what happened after that.
Some Hall of Famers with low award shares:
Wade Boggs (1.20 award shares):
I was surprised Boggs' total wasn't higher. His best MVP finish was fourth in 1985. He wasn't an RBI guy, so was underrated to some extent during his time, although he cruised into the Hall of Fame. Baseball-Reference rates him as the best player in AL in 1986, '87 and '88.
Tony Perez (0.93 award shares):
Despite being a big RBI guy, the kind of player MVP voters have historically loved, he had just one top-five MVP finish in his career.
Ozzie Smith (0.65 award shares):
He finished second in 1987 but that was his only top-10 MVP finish. The MVP vote has always been about offense, but it's interesting that the player widely regarded -- even while active -- as perhaps the greatest defensive player ever fared so poorly, especially since he did became a solid offensive contributor in the mid-'80s.
Richie Ashburn (0.62 award shares):
A Veterans Committee selection in 1995, Ashburn was a gifted center fielder with a career .308 average but only 29 home runs. He twice finished seventh in the MVP vote, his only top-10 appearances.
Bill Mazeroski (0.19 award shares):
A Veterans Committee selection, he was the Ozzie of second basemen, except even less valuable with the bat. He received MVP votes in just two seasons: One eighth-place finish and one 23rd.
New Hall of Famer Barry Larkin finished with 1.10 award shares, including a 0.72 for his 1995 win. Alan Trammell, a similar player who hasn't fared well in the Hall of Fame voting, recorded 1.22 award shares.
July, 26, 2011
7/26/11
12:43
PM ET
Keith Law has a
piece up on Insider
showing how data indicates that relief pitchers are constantly overvalued. Not only are they especially volatile from year to year, they are volatile within a single season. Here's one key nugget: "In one query, we looked at relievers who changed teams midyear after throwing at least 30 innings with a sub-4 ERA for the first team. Of 166 pitchers, 108 saw their ERAs rise after relocating, with 68 posting ERAs for their new clubs a run above their ERAs for their former clubs, and 40 going up by at least two runs."
Something to keep in mind with relievers like Heath Bell, Leo Nunez, Kyle Farnsworth and Koji Uehara among the more popular trade candidates.
Of course, what their current teams can get in return remains to be seen. Because as Buster Olney
writes today
on his Insider blog, teams are more reluctant than ever to deal prospects, even second- and third-tier prospects. He quotes an executive saying, "When you've reached the point when you're refusing to trade prospects who aren't even close to being your top guys, then all that really is is being afraid to make a mistake. If you're not willing to trade a minor leaguer who you don't rate highly, then it's just fear. And that's a tough way to do business, because there the opportunities to win don't come every year."
It's all part of what makes the trade deadline so interesting:
1. It's overhyped to begin with, with rumors far outweighing the number of deals that will be made, and fans (and some GMs) overrating the actual impact one player can make anyway.
2. General managers feel pressure from media, fans and players on the team to make a deal.
3. Fans know more about prospects than ever, sparking even more debates.
4. Teams overrate/overvalue their own prospects.
5. Most prospects who are traded don't turn into stars anyway.
6. GMs are scared of making the Shin-Soo Choo for Ben Broussard or Carlos Santana for Casey Blake mistakes.
It's a big mess of fun and speculation, isn't it?
More links to check out