April, 19, 2012
4/19/12
8:00
AM ET
By
Christina Kahrl
| ESPN.com
First:
Cliff Lee
was incredible against the Giants, throwing 10 shutout innings to become just the third pitcher this millennium to do that in a ballgame, and the first since
Mark Mulder
did it against the Astros on April 23, 2005. And before you ask, the last time anyone dialed it up to 11 a la Nigel Tufnel of Spinal Tap? The incomparable Dave Stewart back on August 1, 1990. (This little bit of baseball tidbit joy has been brought to you by Baseball-Reference.com, as if you didn't already know.)
Second:
OK, that's pretty amazing. But what's even more amazing?
He didn't even have the highest game score in that ballgame.
Matt Cain
did, outpointing Lee 86-85 by allowing just three baserunners in his nine shutout innings to Lee's seven hits and seven K's. Admittedly, Game Score might be sort of sabermetrics' answer to figure skating-style judging, but to put these nights into perspective, neither game would rate among the top 300 starts by game score from 2000-2012. So, really good, but not as good as Cain's smackdown of the Pirates on Friday the 13th -- his last time out -- when he had a Game Score of 96. That's awesome, but that's Cain in a nutshell. Even when the other guy's getting the immediate attention, whoever that guy may be, Cain might just be the better pitcher.
Third:
In contrast, Bartolo Colon's Game Score while shutting down the Angels was 79, which is good, but he had two starts that were actually better in May for the Yankees. Of course, those were against the Athletics and Orioles, neither of whom had
Albert Pujols
in their lineup. Which might make me the Russian judge of Game Scores, because beating the Angels now seems a lot more impressive than beating the A's or O's then, especially when he had
Seth Smith
and
Jonny Gomes
patrolling the outfield corners.
Home:
Tweet of the Night, on what baseball rumbles must really be about:
Whenever benches clear and nothing happens, I like to imagine that everyone had to rush the diamond to hold an impromptu Socratic seminar.

— Steph Bee (@StephBee118) April 19, 2012
Christina Kahrl covers baseball for ESPN.com. You can follow her on Twitter.
July, 7, 2011
7/07/11
4:30
PM ET
By
Christina Kahrl
| ESPN.com
The 1986 season has its share of great moments that were hailed at the time, games and events and achievements that were critical for that year's great postseason slate that involved all-time greats like Dwight Gooden or Gary Carter or Jim Rice, but also those that involved stars of the '80s like Mike Scott or Don Mattingly. You knew these things were important
as
they happened.
But today marks the 25th anniversary of one of those ballgames whose significance only became apparent later, because of what it meant for one tough-luck team, a pitcher in danger of becoming a permanent disappointment, and a manager trying to start again. On July 7, 1986, Tony La Russa notched his first win as the manager of the Oakland A's in his first day on the job. La Russa gave the start to fallen prospect Dave Stewart -- who won his first game as an Athletic. And Stewart won it on national television, beating the Red Sox and
Roger Clemens
, the first of nine times that Oakland's ace-in-making would shoot down the Rocket in their head-to-head matchups. It was the perfect beginning to a team's renaissance.
Before this point, A's fans were trying to get over the heartbreak of Billyball in Oakland after Billy Martin's 1980-81 quick-flash contender imploded in a welter of pitching injuries. These same fans had had to sit by and watch as stars like
Tony Armas
and
Rickey Henderson
got dealt away. Things were finally getting better, though. After the desperate penury of Charlie Finley's last stand as the team's owner, a real front office had finally taken shape under the guidance of the new owners, the Haas family, and Sandy Alderson was busily becoming one of the game's best general managers. By 1986 they were warming up to rookie slugger
Jose Canseco
, and looking forward to kids named McGwire and Steinbach and Rijo. All of that was happening
before
this one ballgame, and you could see the outlines of it taking shape, but this one game was a turning point where key pieces -- a team, its skipper, and its ace -- all started snapping into place.
The miracle was that everything came free. La Russa had been fired by the White Sox just two weeks before, in what was merely the latest development during Hawk Harrelson's brief reign of error as the team's general manager, a decision Jerry Reinsdorf regrets to this day -- firing La Russa, that is, although we could almost certainly say the same of Hawk's time in the boardroom. In 1986, it wasn't like La Russa was going to head to the studio for the rest of the season. He was a great manager looking for a gig, so when the A's canned Jackie Moore, there was a quick deal to be struck.
Stewart was also on the unemployment line. The former Dodgers prospect had gone from being traded for Rick Honeycutt in 1983 to getting dumped on the Phillies in a minor deal in 1985, to the ignominy of being cut outright on May 9, 1986. He'd earned his fall from grace, getting hammered with the Rangers in '84 and '85, giving up 5.2 runs per nine and posting a 7-20 record. The Phillies used him as a mop-up man in lost-cause blowouts, games he only made worse; they cut him a month into the season. The A's signed him free and clear on May 23, but had little better idea what to do with him. He started a game for Moore, pitched well (five innings, a run allowed), but was tossed back into the pen.
When La Russa and his ubiquitous pitching coach Dave Duncan arrived for work with the A's, they didn't have a good choice to take the start against Clemens. But as Glen Dickey relates in his book,
Champions
:
La Russa asked Stewart if he could take the pressure of pitching in a game that would reach a big national audience, Stewart responded… "Give me that ball." When La Russa added that, oh, by the way, you'll be pitching against Roger Clemens, Stewart only said, "That will make it even more fun."
As it turned out, Stewart had never been allowed to throw the forkball that would become his key to success. Duncan and La Russa set Stew loose, and yesterday's journeyman became an overnight ace. In this one game from 25 years ago, the A's gave Stewart six runs to work with, with Canseco and Dave Kingman belting sixth inning homers; Stewart allowed four, coming out in the seventh with a lead and a victory against the eventual Cy Young winner of that season on national television.
Stewart was already 29 years old, so his new career as an ace wouldn't be built to last, but he more than made up for the time lost with bad teams and uncertain usage patterns, going on to win 115 more games for the A's through the 1992 season, and posted four straight 20-win seasons from 1987 through 1990, leading the league in starts in all four, and innings pitched and complete games twice during that run. He became the money pitcher of a generation, giving the A's an 8-3 record and 13 quality starts in 14 postseason games, winning the World Series MVP Award in 1989.
And between the regular season and the postseason, he always seemed to have Clemens' number, going 9-1 in their matchups. When he came back to Oakland for what would be his last season, he tacked on three more wins as an Athletic and ran his career tally to 168, but a 6.89 ERA sent the message that the his run was done, and that the second chance he earned with one win 25 years ago had run its course.
Christina Kahrl covers baseball for ESPN.com. You can follow her on Twitter.
April, 11, 2011
4/11/11
3:44
PM ET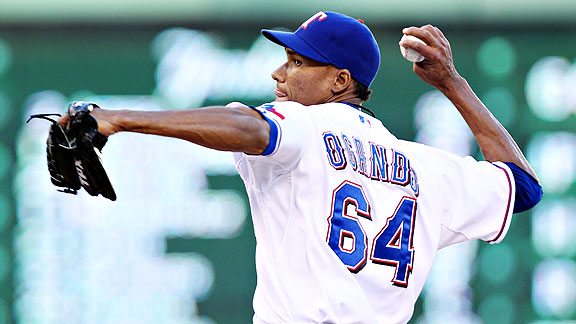 Matthew Emmons/US PresswireSo far, so good: Alexi Ogando hasn't allowed a run in his first two starts.
Alexi Ogando
made his second start for the Rangers on Monday afternoon. Ogando spent his rookie season pitching out of the bullpen (and most of his minor league career as well), but late in spring training the Rangers made the unusual move of trying Ogando into the rotation after deciding to keep
Neftali Feliz
as the team's closer.
It's not a move you see very often. Most relievers are in the bullpen for a reason, primarily because they don't have the stamina to last in the rotation, weren't able to develop the control or deep arsenal of pitches need to start, or lacked the big fastball managers like to see in a starter. Ogando certainly has the fastball needed, but we'll see how he develops on the other fronts.
I like the move and Ogando threw seven scoreless innings against the Tigers, allowing just two hits and walk. Why not take a power arm and see what happens? Kudos to the Rangers brass for taking a risk that really isn't much of a risk. If it doesn't work out, just move him back to the bullpen.
Here are a few reliever-to-starter transitions from major league history. (This isn't meant to be a comprehensive list, but these seem to be the most significant ones, not including many who may have pitched in relief as rookies, such as
Mark Buehrle
.) Many of these guys started in the minor leagues, although they all spent most of their early days in the majors in the bullpen.
David Wells
– Wells was a second-round pick by the Blue Jays but took six years to reach the majors and he spent his first three seasons in the bullpen, making just two starts. Part of that was there just wasn't room. The 1989 Blue Jays, who won the AL East, had a rotation of Dave Stieb, Jimmy Key, John Cerutti, Mike Flanagan and Todd Sottlemyre, all of whom posted ERAs less than 4.00. Wells excelled as a setup guy, with a 2.40 ERA over 86 innings. He got his shot the next year, but even then the Jays never fully entrusted a rotation slot to him as he spent three years alternating starting and relieving, helping the Jays win two World Series, before signing with Detroit as a free agent and becoming a starter the rest of his career.
Derek Lowe
– Lowe started nine games as a rookie with Seattle before getting traded to Boston. From 1998 through 2001, he appeared in 278 games (he did make 13 starts), proving himself as one of the AL's most durable relievers. Grady Little replaced Jimy Williams as manager in 2002 and made Lowe a starter and he won 21 games his first season in the rotation.
Charlie Hough
– It was a long road to the rotation for the knuckleballer. He started in the low minors but switched to relief in Triple-A with the Dodgers in the early '70s. He spent three years there before finally getting a regular job in the major league bullpen. He spent seven seasons there, once pitching 142 innings in relief, but other than 14 starts in 1979, remained stereotyped as a reliever. In 1980, he started out poorly and the Rangers purchased him. In Texas, he languished for two seasons in a mop-up role. Finally, at the end of the 1981 season, he was given a chance to start, won his final four games and became a starter in 1982. He was 34 years old, but would last until 1994, making 417 starts and winning 163 games in that span.
Wilbur Wood
– Before Hough, there was Wilbur Wood. Considering Wood's successful conversion, it's amazing it took so long before Hough got a rotation shot. Wood first reached the majors when he was 19, although he didn't exclusively use the knuckleball. He pitched periodically for the Red Sox and then Pirates for five years but never established himself. The White Sox acquired him and Hoyt Wilhelm advised Wood to stick with the knuckler. He spent four seasons as a workhorse reliever, leading the AL three years in a row in games pitched, before joining the rotation in 1971. Over the next five seasons, he started 42, 49, 48, 42 and 43 games, averaging 336 innings per season and winning 106 games.
Kenny Rogers
– A 39th-round pick out of high school by the Rangers, Rogers started 56 of 169 games in the minors but spent most of his first four years in the majors as a reliever. Like Lowe, it took a new manager to view him as a starter. Kevin Kennedy took over in 1993, put him in the rotation and he last 16 more seasons.
Jeff Fassero
– Like Rogers, Fassero was a low-round pick (22nd) and never a top prospect. Originally drafted by St. Louis, he didn't reach the majors with Montreal until he was 28. Exclusively a reliever his first two-and-a-half seasons, he joined the rotation in July 1993 and was a very good starter for five more seasons with the Expos and Mariners, later returning to the bullpen.
Omar Daal
– Daal had been a reliever for five seasons -- and not a very good one -- with the Dodgers, Expos and Blue Jays when Arizona selected him in the expansion draft and made him a starter. He posted a 2.88 ERA in 1998, won 16 games in 1999 and then was part of the booty that landed
Curt Schilling
from the Phillies.
Danny Darwin
– Darwin was undrafted by the Rangers but took just three seasons to the reach the majors. He spent two years primarily relieving, started in 1981, returned to the bullpen in 1982 and then was back in the rotation in 1983. He'd win 171 games in the majors.
Dave Stewart
– Stewart reached the majors with the Dodgers as a hard-throwing reliever in 1981, and while they did give him 14 starts in 1982, they eventually returned him to the bullpen. Traded to Texas, he bombed out of their rotation and was traded to Philadelphia, where he was released. The A's signed him and he won 20 games in four straight seasons.
Jimmy Key
– A third-round draft pick of the Blue Jays out of Clemson in 1982, Key reached the majors in 1984, appearing in 63 games in relief. Despite underwhelming numbers (44/32 SO/BB ratio, 1.65 WHIP), Bobby Cox put him in the rotation in 1985 and he'd finish his career with 186 wins and a 3.51 ERA.
Goose Gossage
– Here's a famous one that didn't stick. Gossage had led the AL with 26 saves with the White Sox in 1975, pitching 141 innings of dominating relief. Paul Richards replaced Chuck Tanner as manager in 1976 and Richards was an old-school guy from a different era and thought your best pitchers should start. Gossage went 9-17 as a starter, striking out just five more batters than the year before despite pitching 82 more innings. He was traded to Pittsburgh for the 1977 season and never started again.
Follow David Schoenfield on Twitter at @dschoenfield. Follow the SweetSpot blog at @espn_sweet_spot.