February, 3, 2013
2/03/13
10:15
AM ET
By
Christina Kahrl
| ESPN.com
As the Hot Stove League burns itself out and we near pitchers and catchers reporting, it's clear that some teams are making wishcasts about their rosters. Spring training might dispel how unrealistic expectations are for some winter lineup designs and defensive alignments. But right here, right now and entirely on paper, it's clear there are certain risks on defense that a few teams are willing to take.
We'll see whether these teams decide to really take those risks once the games begin to count, or whether they'll lose patience early in the season. So far, these risks fall into a few broad categories:
Let's see if this DH can handle an outfield corner:
The Phillies' decision to sign
Delmon Young
and return him to regular outfield play ought to make them the instant winner in this category. Young made just 20 outfield starts for the Tigers last year when the DH slot was available (and just 29 outfield starts total), "good" for minus-7 runs according to Total Zone on Baseball-Reference.com. Spin that forward, and that prorates to minus-38 runs on defense in 1,200 innings if Young had been a regular in the outfield. That's bad, but it's also fairly consistent with Young's career, which has seen him put up full seasons of minus-10 and minus-22 in seasons when he was younger and lighter afoot.
[+] Enlarge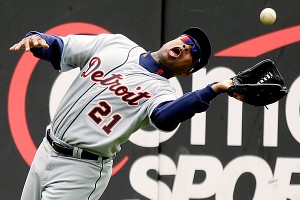 AP Photo/Nam Y. HuhDelmon Young, Detroit's primary DH last season, will be back in the outfield for the Phillies in 2013.
Working from that small 2012 sample, you might wonder, could a full-season outfielder really cost his team 40 runs over a season, or almost the equivalent of four wins? Those of you who remember Dave Kingman or Dante Bichette can put your hands back down; I'm sure it seemed that bad, but it really wasn't. How bad
could
this get for the Phillies?
Using Baseball-Reference.com's Play Index, the single worst season for an outfielder with 100 or more games played was
Matt Kemp
in 2010 (minus-37 in the defensive component of WAR); for you few Fonzie fans, Bichette's 1999 season was next-worst at minus-34. That's the most damage done in center and left; the worst ever for a regular right fielder was the Rockies'
Brad Hawpe
in 2008, at minus-28. For the sake of comparison, if we switch over to Baseball Info Solutions' Plus/Minus data for last year, nobody was as low as minus-20 in 2012.
Even if you're unwilling to concede that Kemp or Bichette or Hawpe produced the single worst seasons ever for a regular outfielder at their positions, the broad suggestion is that the most damage a bad defender in the outfield might do is somewhere around 30 runs. That seems reasonable, especially in today's high-strikeout era with fewer balls in play than ever before.
Does that theoretical ceiling for how much damage Young might do cheer Phillies fans up any? Probably not. However, the one funny thing is that back in 2007 when Young was playing right field for the Rays, he was useful, netting eight or nine runs of value on his arm alone (using Total Zone and Plus/Minus), and +5 overall. Maybe Young will accept the challenge of wearing a glove regularly and reclaim that bit of distant promise; the guy is just 27 years old, after all. I just wouldn't place any bets.
For a dishonorable mention, the Red Sox signed
Jonny Gomes
to play a whole lot of left field, even though Gomes has been reliably terrible with the Rays, Reds and Athletics, generally bouncing around -20 in Total Zone and usually in the red in Plus/Minus. As consistently bad as Gomes has been, will playing in front of the Green Monster make matters worse? Or will the Red Sox do him the favor of finding him a platoon partner who can also pick him up on defense, considering Gomes has slugged less than .400 against right-handed pitching over the past three years?
We need a center fielder and a leadoff man; can you please be both?
The Reds and the Cubs head into 2013 hoping to get good-enough fielding in center from the guys they'll be batting leadoff:
Shin-Soo Choo
for Cincinnati, and
David DeJesus
in Wrigleyville. DeJesus' numbers in the field weren't great while playing center for the Cubs last year (minus-4 in a partial season in Plus/Minus), consistent with a generally negative trend over his career. But with a poor arm for right while providing a lot less power than you expect from a corner outfielder, he's been an odd fit for a few years now.
[+] Enlarge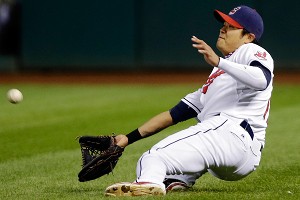 AP Photo/Mark DuncanThe Reds acquired outfielder Shin-Soo Choo for his productive bat, not his defense.
That's still miles ahead of Choo's experience as a center fielder, though. His last start in center was in 2009, for all of one game; the last time Choo spent any serious time in center field was back in 2002 in the Low-A Midwest League as a 19-year-old. Reds GM Walt Jocketty made the expected polite noises about the prospect of playing Choo in center regularly. But Jocketty wound up sounding an awful lot like former Cubs GM Jim Hendry did while talking wishfully before the 2007 season about
Alfonso Soriano
as his team's new possible center fielder after the Cubs had signed Soriano to his ginormous deal.
To make matters worse for the Reds, Choo's defensive numbers cratered to a career-worst minus-12 in Plus/Minus and minus-15 in Total Zone last season, a big change after bouncing around adequacy over his career. Assuming there's no underlying problem, you might have expected Choo to come back to adequacy as a right fielder, but putting him in center will be sporadically ugly, inviting plenty of late-game substitutions if Dusty Baker elects to get aggressive on that point. Considering the huge boost the Reds should get on offense (perhaps netting as much as five wins with Choo leading off instead of
Zack Cozart
), we'll see if Dusty can really live with the in-game lineup card challenge and the odd extra triple.
The Cubs experimented with DeJesus in the leadoff/center field role in 2012, giving him 36 starts in center when they weren't despairing over the feeble contributions of first
Marlon Byrd
, then
Tony Campana
and finally the unreadiness of
Brett Jackson
. At least initially, they might open with DeJesus leading off and playing center, but signing lukewarm bodies like
Nate Schierholtz
and
Scott Hairston
to play right field should not present Jackson with an insurmountable challenge from reclaiming a job, pushing DeJesus back to right field at some point.
This shortstop can handle the transition from the Japanese leagues.
Confronted by a weak market for shortstops this winter, the A's decided to expand their options, reaching for an extra-market solution by signing Japan's three-time Gold Glove winner
Hiroyuki Nakajima
. Seems creative enough, except does anybody remember how well three-time Nippon Professional Baseball (NPB) Gold Glover winner
Tsuyoshi Nishioka
handled the move from the NPB's artificial surfaces for the Twins? He was a thorough disaster, washing out faster than the Mississippi in March. How about Kazuo Matsui, a four-time Gold Glove shortstop in Japan? Again, he promptly flopped at short for the Mets, although he wound up an adequate placeholder at second base for a few years.
In the case of both Nishioka and Matsui, we were assured that
this
was the shortstop who could handle the transition, and both times those predictions turned out to be spectacularly wrong. Maybe the third time is the charm, but Nakajima's arrival isn't accompanied by any plugs for his fielding prowess. How about his contributions at the plate? Clay Davenport's translations of his hitting performances in Japan suggest
he's a guy who will OPS around .700
-- right around last year's average major league shortstop (.688), so there's no big payoff to expect there either. Oakland's challenge of repeating as AL West champion isn't going to get any easier with at least three infield positions in doubt.
Maybe he just has to catch to hit:
The Mariners' decision to trade
John Jaso
puts
Jesus Montero
on the spot as the club's likely regular catcher. This comes after Montero failed to hit well enough as a rookie to be their DH in 2012, producing an awful .226/.265/.309 when he was DH, against the .310/.343/.498 he delivered when he was catching.
Given that Montero is just 23, you don't want to get too upset with him. Nevertheless, his failure last season came on the heels of years of touts that Montero's best position was hitter, accompanied by stacks of indictments from scouts regarding his ability to make it as a catcher at any level, going all the way back to his arrival stateside as a Venezuelan teen. His problems behind the plate are legion: He's bulky for a backstop and stiff as a receiver. He also struggles to contain the running game because of a long, slow throwing motion and poor footwork, producing a 21 percent career caught-stealing rate in the minors and 17 percent in his big-league career so far.
The Mariners know all of this, and manager Eric Wedge was understandably being protective of his player when he asserted that he -- perhaps drawing on his days as a lead-gloved big-league backstop -- has no doubt about Montero's ability as a receiver. Unfortunately, numbers like Plus/Minus suggest that Montero's 2012 performance stretched across a full season would have tied him with
Rod Barajas
for an MLB-worst minus-12 Defensive Runs Saved behind the plate. Various metrics evaluating receiving skill suggest that, barring any improvement, Montero will be about as bad at blocking pitches as offense-first backstops like
Carlos Santana
and
A.J. Pierzynski
-- among the worst. (But still better than Colorado's
Wilin Rosario
, who has the remarkable ability to treat baseballs the way a toreador treats bulls.
Ole!
)
We'll see how much damage Montero can do, splitting time with the recently signed
Kelly Shoppach
, but it's worth noting that despite all of the ground-breaking analysis regarding a catcher's impact on the running game and blocking pitches, the Mariners have consistently employed some pretty weak catchers in recent years:
Kenji Johjima
,
Rob Johnson
and
Miguel Olivo
. Montero's numbers in limited playing time were bad as well, but you can't help but wonder if this is one area where the Mariners have simply elected to punt on the value of contemporary analysis.
Oops, we'll do that again:
The Rockies' fascination with
Chris Nelson
is one of those things that can happen to any organization when evaluating one of its own prospects. But can you really blame them? Nelson was a toolsy high school shortstop they picked with the ninth overall selection in the 2004 draft, and expectations go with the territory.
Once it turned out that Nelson couldn't play short (not just because somebody named
Troy Tulowitzki
was atop the depth chart), figuring out what Nelson's best position is has defied the organization's best efforts. They drifted into employing him as their most-regular third baseman in 2012, and for their trouble got one of the most spectacularly awful defensive seasons at the hot corner in baseball history. According to Baseball-Reference.com, Nelson's 2012 season afield, at minus-22 in Defensive Runs in WAR, was seventh
worst
among third basemen with more than 100 games played.
That really took some doing, since Nelson only managed 377 plate appearances. The only other non-batting title qualifier to do worse was
Ryan Braun
in 2007, and the only player to do
almost
as badly in as little playing time at third was ex-catcher Johnny Bench in 1982. It was Bench's next-to-last season, and his only year as a near-regular third baseman.
Playing Nelson isn't the worst tragedy for the Rockies, but their lack of a ready alternative might be. Because guess who finished with the second-worst tally of Defensive Runs Saved at third base in 2012?
Jordan Pacheco
with minus-13, in even less playing time than Nelson. And guess which two guys are at the top of the Rockies' depth chart heading into camp in 2013? If those two combined to hit like Harmon Killebrew in Coors Field, that would be one thing, but they don't.
Christina Kahrl covers baseball for ESPN.com. You can follow her on Twitter.
June, 26, 2012
6/26/12
9:00
AM ET
By
Christina Kahrl
| ESPN.com
First:
One might be the loneliest number and all that, but it was enough on the scoreboard to turn rookie
Tommy Milone
into an eight-game winner, as he combined with
Grant Balfour
and
Ryan Cook
to spin a shutout.
[+] Enlarge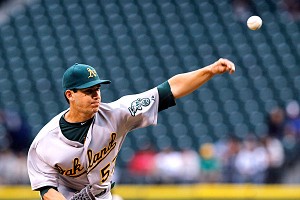 AP Photo/Elaine ThompsonTommy Milone pitched 190 innings last season, the most on the A's staff.
Now sure, you can kibitz over it being a shutout of the Mariners, or a shutout thrown in pitcher-friendly Safeco. And maybe that's because it's easy to pick on Milone because he's one from that legion of lefties who "just" throws strikes, changes speeds (averaging just 87 mph in his case), and mixes in the odd curveball. And he's a fly-ball guy. And in a world full of analysts happily harping on the virtues of power ground-ball pitchers, there's not going to be a ton of love for a soft-tossing lefty armed with little more than the proverbial guts of a burglar.
But for all that, sometimes it's worth remembering what a guy does and can do, and not treat player performance with cavalier disdain for less than perfection. Look at what Milone is, and there's a lot to like: He's bold when it comes to working inside despite his less-than-overpowering stuff; he attacks weaknesses aggressively, having learned to live low in the zone from three seasons pitching in USC's rotation in college; and with his Bugs Bunny-like slowball delivery, his low-temp heat plays up.
Most importantly, Milone has given the A's an innings-eater capable of pitching into the seventh inning or later, having done so in seven of his last nine turns. That's especially handy in an A's rotation that has lost
Bartolo Colon
to a strained oblique and
Brandon McCarthy
to his latest injury (a shoulder this time, for the second time this year, the fourth season he's had shoulder woes in his run of seven straight seasons with DL service).
So A's fans can thank their lucky stars for Tommy Milone, even if he's "just" a finesse lefty whose FIP bleats regression. He may not reliably dent bread with his fastball, but if you wanted to assemble a list of key features for any pitcher's success, Milone owns at least two: the ability to throw strikes and health. It's something lots of teams like to work with.
Second:
If you want a line score you won't see every day, check out
Alex Cobb
's
eight-inning, eight-run disasterpiece
against the Royals, the sort of game you might expect from the sports pages a century older. But the reasoning wasn't that shabby: The Rays had played a Sunday doubleheader with a pen start led off by
Cesar Ramos
in the second. He'd thrown just 53 pitches through the first three frames despite being down 6-0, so why tax your 'pen just then? It's a losing cause and just one ballgame you can't lose more than once no matter how bad it gets, so why not see if Cobb can give the relievers some rest? Cobb took a bullet for the team, but that's going to be worth something in the Rays' games to come this week.
Third:
With Tuesday marking
Anthony Rizzo
Day in Wrigleyville, one thing that might have missed your attention unless you're punishing yourself with Cubs boxscores first thing in the morning is how many platoons, strict or loose, that Dale Sveum's running these days.
Bryan LaHair
's move out to right field to platoon with
Reed Johnson
already gave them a second outfield platoon, with
David DeJesus
moving over to form the lefty half of a center-field platoon with
Joe Mather
. OK, that's semi-cool, but it was also semi-cool about the 1987 Cubs, who platooned Jerry Mumphrey and Brian Dayett in left while platooning Dave Martinez and Bob Dernier in center. (This did not lead to bigger and better things for any of them, but it was cool, even as it made for a busy scorecard.)
However, Rizzo is probably looking at the occasional day off against tough lefties so that
Jeff Baker
can fulfill the lefty-mashing role that has defined his career, so that's a loose trio of platoons in a single lineup. Heck, maybe Sveum will use
Steve Clevenger
often enough behind the plate, spotting for
Geovany Soto
to make it four platoons.
That's no easy feat in the age of seven-man bullpens. However, that's Sveum's bench in a nutshell: Everyone has his uses, even newly-minted fifth outfielder
Tony Campana
-- as a ready defensive replacement for DeJesus or LaHair.
Bringing it home:
Our own Eric Karabell has the tweet of the night, on the subject of forgiveness when it comes to closers after the Marlins' late-inning loss to the Cardinals …
To be fair to Heath Bell, he hadn't allowed a run in a month, covering 10 outings. He had 16 Ks and 2 walks in last 9.1 innings. Keep him.

— Eric Karabell (@karabellespn) June 26, 2012
April, 8, 2012
4/08/12
8:00
AM ET
By
Christina Kahrl
| ESPN.com
With initial active rosters picked, we've seen a few of the same long-term trends perpetuate themselves in terms of roster set-up. Despite the less crowded April schedule that might seem to make carrying seven relievers, let alone eight, unnecessary, 23 of 30 teams went with the now-standard 13-12 split between position players and pitchers.
If you're one of those people who loved the more aggressive brand of in-game management from the '70s and '80s, with managers reaching into deeper, well-stocked benches to pinch-hit for defensive specialists or pinch-run for basepath slugs, you might be ready to rail against the seven-man bullpen. But you can do that for only so long before you have to come to the grudging concession that it's here to stay like other unpleasantries like interleague games, 10 playoff teams per season or Simon Cowell.
The extent to which conformity to the 13-12 is a fact of life is reflected in who most of the odd ducks were. The old school 14-11 spread -- "old" if you can hardly remember the '90s -- is being used by just five teams: the Tigers, Angels, Athletics, Pirates and Rockies. If you think this means any one of their managers want to create more opportunities in their lineups or any of
their
general managers have elected to let them, guess again. All five clubs are just exploiting the lighter schedule and not carrying their preferred fifth starter of the moment. Give them a week or so, and they'll more than likely be down at 13-12.
That leaves two teams who weren't at 13-12 or 14-11: The Astros and Red Sox, who have both gone with eight-man bullpens. In April. That's while the Sox get to play 12 games in the first 16 days of the season, while the Astros play just six in their first nine days. Even allowing for the questions both teams have about their rotations, that's a lot of guys standing around in the bullpen instead of the dugout, and the body account alone might seem to be a logistical challenge for Bobby Valentine in Boston and Brad Mills in Houston. Pitchers need work to stay sharp, the same as any other kind of ballplayer, and giving guys reliable time on the mound might not wind up being the highest priority for the two skippers.
The Astros have the excuse of carrying a Rule 5 pick, hard-throwing
Rhiner Cruz
from the Mets' organization (as well as shortstop
Marwin Gonzalez
from the Cubs). That's a straightforward reflection of new GM Jeff Luhnow's priority: adding talent to an organization short on it, by whatever means necessary.
But the Red Sox situation is obviously a reflection of the injury stack they've endured. Closer
Andrew Bailey
out for months, reliever
Bobby Jenks
still hurt, and lefties
Andrew Miller
and
Rich Hill
are also on the shelf. To some extent, the early weeks might represent a form of live-fire extended spring training, as Valentine gets to sift through what he has left to pick his seven relief keepers once left fielder
Carl Crawford
is ready to come off the DL.
From among the opening rosters, here are a few situations that should be interesting to follow to see how they work out in terms of playing time.
Christina Kahrl covers baseball for ESPN.com. You can follow her on Twitter.
November, 30, 2011
11/30/11
6:40
PM ET
By
Christina Kahrl
| ESPN.com
Can't go wrong with a
Big Lebowski
reference, right?
Anyway, no sooner does it get noted the
Chicago Cubs
could
use people who draw a walk now and again
than Theo Epstein's band of merry front-office mercs signed a guy who… draws a walk now and again, inking transient Athletics/former Royals outfielder
David DeJesus
to
a two-year-plus-option contract
. DeJesus will cost either $10 million to employ over two seasons (counting a buyout of the club option of 2014) or $15 million over three years.
My first reaction was superficial and positive -- after all, David DeJesus was once a heck of a player, if a bit fragile, and if he's in demand first in Oakland and then in Wrigleyville, it means he's getting the stamp of approval from both Billy Beane and Theo Epstein. And there are a few quick and easy takeaways from this, but upon reflection, not all of them are positive.
First, DeJesus had an awful 2011. You can blame that on the BABIP fairy if such is your inclination: He put up a career-low .274 average on balls in play, against his career average of .316. You can try to blame the always-tough Coliseum a little bit, although he had an equally miserable season on the road, with a .701 OPS away from Oakland against his .695 OPS at home. Whatever Oakland's rep, he also wasn't fouling out at a more prodigious rate.
What's really troubling is that DeJesus was striking out at a career-worst 17 percent clip in 2011, more than three points worse than his next-worst campaign in the last six seasons. Dig into the data, and he was proving increasingly susceptible to off-speed stuff from right-handers while simply being owned by lefties. Maybe the Cubs see something they can fix, instead of just banking that $10-15 million on mere regression.
Second, DeJesus doesn't actually walk that much. He's patient, and he will be patient --
for a Cub
. He'll be the walk-iest Cub this side of
Geovany Soto
, but his career walk rate of 8.3 percent is just a hair below the MLB average (8.5).
Third, having DeJesus in the fold certainly frees the Cubs up to explore their outfield options, which is perhaps the best news the deal represents. He'll be in right field unless/until Epstein's crew somehow makes
Alfonso Soriano
and his monster contract and his no-trade clause go away. That's highly unlikely, though.
An outfield of Soriano,
Marlon Byrd
in center and DeJesus in right is better than counting on
Tyler Colvin
or eventually top outfield prospect Brett Jackson, but not a whole lot better. But with Jackson nearing the majors and with DeJesus signed, Jed Hoyer and Epstein can that much more easily shop Byrd around. He's in the last year of his deal and due $6.5 million, and everyday center fielders with good defense and a bat that won't hurt you can have value on a contender unhappy with the market's slim pickings. However, that's a decision that can wait until one of a few things happen: The Cubs get an offer they can't refuse, and/or Jackson looks great in spring training, and/or they hold Byrd until the deadline to try and land the best deal.
Finally, DeJesus' deal reflects another economic reality that upsets a free peoples' applecarts, which is that the inflationary pressure of salary arbitration rewarded DeJesus more than the open market did. Via arbitration, DeJesus made more in both 2010 ($4.7 million) and 2011 ($6 million) than he will in 2012 or 2013 ($4.25 million each year). That's without adjusting for inflation, which would only make his new deal look worse. You can chalk this development up to a couple of things: DeJesus' lousy 2011 season, or perhaps his quest for multi-year security instead of a single-season payday.
Or, perhaps most fundamentally, there's the expanding gap between what the best players will get via free agency and what everyone else can expect. There's next to no doubt that had the A's suffered temporary madness and offered DeJesus arbitration and he'd accepted, he would have gotten a raise -- the last guy who was even at risk for a pay cut within arbitration was
Steve Avery
with the Braves in 1996, and he won his case, getting a $200K raise from $4 million instead of the $400,000 pay cut that John Schuerholz and company asked for. The market is not the liberated remunerative paradise that it might seem to be in the abstract, and DeJesus just joined guys like
Jack Cust
in finding out about that unhappy fact of life.
Christina Kahrl covers baseball for ESPN.com. You can follow her on Twitter.
February, 7, 2011
2/07/11
5:00
PM ET
By
Dan Hennessey
| ESPN.com
As the A's have been wheeling-and-dealing throughout the offseason, I've been closely tracking how it affects both the 25- and 40-man rosters. By my count, there could be as many as eight new Athletics on the Opening Day roster.
The additions of
Josh Willingham
,
David DeJesus
and
Hideki Matsui
have just about set the position player side of the equation, but the 12-man pitching staff is still up-in-the-air (for those not as familiar with the A's, it's a lock that they break camp with 12 pitchers; Bob Geren would have it no other way).
Assuming that
Brett Anderson
,
Trevor Cahill
,
Gio Gonzalez
and
Dallas Braden
all take rotation spots, there are as many as 13 candidates for the remaining eight spots. At minimum, the A's have the following pitchers available for bullpen spots:
Andrew Bailey
,
Grant Balfour
,
Jerry Blevins
,
Craig Breslow
,
Joey Devine
,
Brian Fuentes
,
Michael Wuertz
, and
Brad Ziegler
.
That's not including
Rich Harden
, if he's not the fifth starter, or other potential fifth-starter candidates
Brandon McCarthy
,
Josh Outman
,
Tyson Ross
and
Bobby Cramer
.
There are injury questions with many of these guys, including Bailey, a shutdown closer through two seasons with a 1.70 ERA (and just-as-spiffy 2.70 FIP) in 132 major-league innings, Devine, coming off Tommy John surgery that cost him the last two seasons, and the perennially injured Harden, whose role still has yet to be determined.
The A's are sitting on at least eight average major-league relief pitchers right now, possibly more. "Average major-league relief pitchers" might not sound that great, but this bullpen stacks up with any in baseball, in terms of both peak talent and depth.
While teams might not have wanted to pay for Balfour or Fuentes during the offseason, some of them (all of them?) will need relief help come July. As we've seen recently, teams will do silly things in the thick of a playoff race when time is running out.
The A's, with extra money to spend after failing to come up with
Adrian Beltre
or Hisashi Iwakuma, smartly added assets at close to their market value. The contracts for Balfour and Fuentes could allow them to be moved for decent young talent, given their salaries. While not quite as talented, pitchers like Wuertz or Ziegler could be moved for the same talent given their short (one-year) contracts and lower salaries.
This all assumes that everything goes according to plan. Which, for the A's, it almost always does. Even if it doesn't, the A's depth will be a major strength in 2011.
-- Dan Hennessey writes Baseballin' on a Budget, a blog about the Oakland Athletics. Follow him on Twitter @DanHennessey31.
June, 21, 2010
6/21/10
6:43
PM ET
Would
David DeJesus
be a good fit with the Giants? Jon Paul Morosi suggests the parties are talking ... but only in
a non-serious way
:
The Giants have interest in Royals outfielder David DeJesus, two major league sources said, but it doesn't appear that the clubs are engaged in serious talks.

--snip--

San Francisco manager Bruce Bochy has used Pat Burrell and Aubrey Huff in the outfield corners recently; DeJesus would be a defensive upgrade over either.

Burrell has performed well since joining the Giants, but the team might still be one bat short. Aaron Rowand is hitting just .220, and Mark DeRosa is hurt.

If Andres Torres continues to shine as Rowand's short-term replacement, the Giants would have less incentive to part with a prospect for DeJesus.
There are so many moving parts here, I hardly know where to start. The Giants are set at second base with
Freddy Sanchez
and third (for now) with
Pablo Sandoval
, but the rest of the lineup is a giant game of musical chairs:
The Giants' best catcher (Buster Posey) has been playing first base,
they've got two perfectly fine shorstops (Juan Uribe and Edgar Renteria),
Burrell and Huff can both hit but can't field (much), while
Nate Schierholtz can field but can't hit, and
If Rowand's going to earn $12 million this season -- and in each of the next two seasons -- it's hard to assign him a bench role, lack of performance be damned.
What happens if you introduce David DeJesus into this mix? I don't have the slightest idea, except I don't think it would
work
in the absence of some grand plan that gets Schierholtz out of the lineup
and
somehow improves the defense in left field.
Any ideas, Mr. Sabean?