SweetSpot:

David Eckstein
January, 20, 2014
Jan 20
1:10
PM ET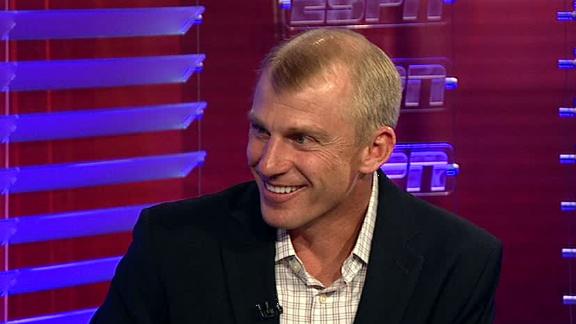 Not a great list of birthdays for Jan. 20. The best player born on this day is Brian Giles, who had a pretty amazing peak with the Pirates from 1999 to 2002, when he averaged .309/.426/.604 with 37 home runs and 108 walks. He was probably the most underrated player in the game at that time, mostly because the Pirates were awful so nobody cared much what Giles was doing. He remained an effective offensive player through age 37 due to his ability to get on base -- he finished with a career .400 OBP.
Anyway, two others born on this date ...
Ozzie Guillen: Born 1964
Would Ozzie have a career if he came up today? With his lack of power and his disgraceful on-base percentages (.287 career), front offices would be more aware of his offensive shortcomings than they were in the 1980s. Still, Ozzie -- while not as good as the other Ozzie -- was a pretty good defensive shortstop and I suspect he would have carved out a career as a starter for at least a few seasons, at least until his defense started to slip.
In fact, the defensive metrics we do have rate Guillen as a superb defender early in his career, until he tore up his knee in 1992 in a collision with Tim Raines (missing almost all of that season). From his rookie season in 1985 to 1991, Baseball-Reference rates him at +116 runs in the field; over the same span, Ozzie Smith (granted, he was older) rates at +117. Guillen won just one Gold Glove in 1990 as Tony Fernandez won four in a row from 1986 to 1989. There were some good defensive shortstops in the AL in those days: Alan Trammell was still playing well, Cal Ripken, Greg Gagne with the Twins, Omar Vizquel came up in 1989. Fernandez won the Gold Gloves -- he had a terrific arm -- but I suspect Guillen and Ripken were the two best in that period. Guillen's defense was good enough that he averaged 2.7 WAR those first seven seasons.
He was pretty useless after that, although he remained the White Sox's starting shortstop through 1997. He never walked, didn't run much after the knee injury and a new generation of power-hitting shortstops came along.
And Ozzie the manager? Hey, he won as many World Series as Bobby Cox. I suspect his managing days are probably over.
David Eckstein: Born 1975
Like Guillen (who was traded as a minor leaguer from the Padres to the White Sox), Eckstein was dumped by his initial organization. A 19th-round draft pick of the Red Sox out of the University of Florida in 1997, Eckstein was an on-base machine in the minors: .407 in the New-York Penn League, .428 at Sarasota, .440 in Double-A. Still, he was never much of a prospect -- he was too small at 5-foot-6 and his arm at second base was considered weak. When he struggled at Triple-A in 2000, hitting .246 with a .301 slugging percentage, the Red Sox placed him on waivers in August. The Angels picked him up.
Then the most remarkable thing happened. Eckstein not only became a starter in the majors at age 26, he became a starting
shortstop
. He had played just 17 games at shortstop in the minors, 16 of those in Class A ball in 1998. Considering his arm was questionable for second base, how did he end up as a shortstop -- and, eventually, a two-time World Series champion shortstop?
It wasn't really any genius on the part of Angels manager Mike Scioscia recognizing something the Red Sox never did. It was a series of fortunate events for Eckstein. He began the 2001 season as the starting second baseman only because Adam Kennedy began the year on the disabled list with a broken bone in his hand. Benji Gil was the starting shortstop. In early April, Eckstein started taking grounders at shortstop in practice, with the hope that maybe he could turn into a utility guy, but even then Scioscia said he'd probably need game action in the minors to see if he could handle the position.
Eckstein didn't go to the minors. Instead, the club sent down utility infielder Jose Nieves. Eckstein eventually got some starts at shortstop and played well enough to impress Scioscia. While Gil was hitting .361 at the end of April, he'd also committed six errors. If Gil played defense that month, who knows what would've happened? By early May, Eckstein was the regular starter. In the end, you credit Eckstein's work habits and ability, but you do have to credit Scioscia for looking past Eckstein's weak arm to realize he had enough range to handle the position. Most managers wouldn't have played a guy there who sometimes took a couple steps before throwing the ball.
In 2002, Eckstein had his best year, hitting .293/.363/.388, playing good defense, stealing some bases, getting hit by a league-leading 27 pitches and also leading the league in sacrifice bunts. He was worth 5.2 WAR and he finished 11th in the MVP voting. The Angels won the World Series and Eckstein hit .310 with six runs scored. In 2004, he hit .276/.339/.332. That offseason the Angels signed free agent Orlando Cabrera to play shortstop and let Eckstein go. He signed with the Cardinals, made it to two All-Star Games and won another World Series in 2006 -- winning MVP honors by hitting .364 with several key hits.
It's a cliché and has been said many times about him, but Eckstein got as much out of his talent and physical skills as any player in recent history. The whole scrappy/gritty thing got a little out of hand, but in his case it had an element of truth to it. He didn't reach the majors until he was 26, but still recorded over 1,400 hits, played in four postseasons and won two rings. That's a heck of a career for a weak-armed second baseman.
August, 19, 2011
8/19/11
3:48
PM ET
By
David Lipman
| ESPN.com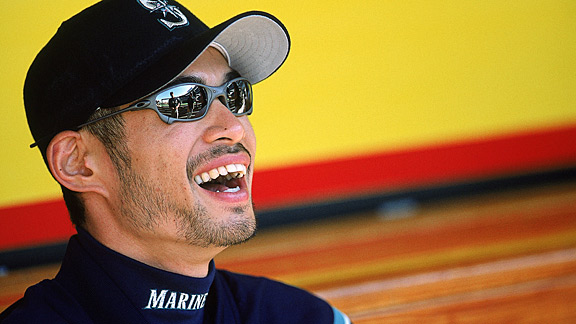 Jeff Gross/Getty ImagesAs a rookie in 2001, Ichiro hit .350, stole 56 bases, scored 127 runs and won MVP honors.
Each day, fans cheer as
Eric Hosmer
,
Freddie Freeman
and
Jeremy Hellickson
go about their business. Wouldn't it be great to look into the future, and see how their careers take shape? Eric Karabell wrote about the
2011 rookies earlier today
, but I'm still partial to the outstanding rookie class of 2001. Here's a look at 10 outstanding rookies from that year.
Adam Dunn
At the end of the 2010 season, Dunn was considered the most consistent player in baseball. For seven years, he had hit between 38 and 46 home runs (including four straight years of 40 homers) with between 92 and 106 RBIs. With over 350 home runs in 10 seasons, it appeared Dunn would easily approach some important milestones. However, in 2011, the bottom has fallen out, and Dunn has struggled to approach a .300 slugging percentage thanks to his .163 average. Dunn's progression into a prodigious slugger was fun to watch, but there is a real possibility that those days are over.
Highlight:
Hitting 46 home runs in 2004, becoming the slugger everyone had predicted.
Hall call:
If Dunn can produce a couple more 40-homer seasons, he will approach 500 career home runs. It would be difficult to ignore that number, although Dunn's low batting average and poor fielding would likely keep him out.
David Eckstein
Just by reaching the major league level, Eckstein was a feel-good kind of story. One of the shortest players in baseball, Eckstein carved out a niche by hitting, fielding, running, and hustling enough to help teams for 10 years. While he had a nice career, when compared to the other players on this list, Eckstein falls far short. Eckstein's career high in slugging was .395; by contrast,
Michael Young
has surpassed that number every full season.
Highlight:
Winning the World Series with the Angels 2002 and winning World Series MVP honors with the Cardinals in 2006.
Hall call:
Though he'll have plenty of stories to tell, Eckstein will not get to tell them in Cooperstown.
Roy Oswalt
Oswalt debuted on May 6 and immediately became one of the best pitchers in the National League, finishing with 14 wins and a 2.73 ERA. In a year of great rookie seasons, Oswalt was one of the best. It got better from there; after winning 19 games in his sophomore season, Oswalt has twice won 20 games, had an ERA of 3.01 or better in six of his 11 seasons and led the NL with a 2.98 mark in 2006. Though his strikeout rate is lower than his first few years, Oswalt should have a few more years in him if he can avoid the injuries that have hurt him this year.
Highlight:
Winning Game 6 of the 2005 NLCS, pitching seven innings to lead the Astros to their first World Series berth.
Hall call:
Though Oswalt has been called an ace his whole career, it's been awhile since he dominated the league, other than his stint late last season with the Phillies. He's on a good team, so if he can stick around and increase his counting stats, along with some postseason memories, he might have a shot.
Albert Pujols
In 2001, Pujols had just turned 21 and was thrust into the starting gig at third base, with only a few games above Class A ball. Pujols had a season for the ages, hitting 37 home runs, 47 doubles, with a robust 1.013 OPS. Pujols managed to exceed his seemingly unlimited potential and dominated baseball over the next decade, with a .328 career average and three MVP Awards.
Highlight:
2005 NLCS home run off
Brad Lidge
that is still going.
Hall call:
Five years after his retirement, Pujols will coast into the Hall of Fame.
Jimmy Rollins
From the time he put on his first Phillies uniform, Jimmy Rollins was exciting. As a rookie, Rollins hit 14 home runs and stole 46 bases. For a team in the midst of losing franchise stalwarts
Curt Schilling
and
Scott Rolen
, Rollins was a breath of fresh air. Rollins never did get on base nearly enough, and while he eventually developed some pop and the speed is still around, he has never posted an on-base percentage of even .350. By contrast, teammate
Chase Utley
hasn't posted an OBP below .375 in any full season of his career.
Highlight:
Being named the 2007 National League Most Valuable Player when he scored 139 runs and had 88 extra-base his, including 20 triples and 30 home runs.
Hall call:
Rollins is approaching 2,000 career hits and still has a few years left, but the .272 career average and .329 on-base percentage could certainly sway voters against him.
CC Sabathia
Sabathia turned 21 during the 2001 season. Despite his youth, he pitched like he had plenty of experience, winning 17 games and striking out 171 batters in 180 innings. After a few modest years, Sabathia turned into an ace in 2006 and became a regular Cy Young contender. Still only 31, Sabathia has over 170 wins and 2,300 innings, showing no signs of slowing down.
Highlight:
Clinching the 2008 National League wild card on three days' rest for the Brewers.
Hall call:
Sabathia seems like an obvious Hall of Famer, but there are plenty of cautionary tales among pitchers who came up early and seemed like Cooperstown locks.
Ben Sheets
Sheets started his career like many rookies. The hype of a top prospect -- he even made the All-Star Game -- gave way to major league mediocrity, with enough potential demonstrated to spark much debate about the future. In 2004, Sheets dominated, having a season for the ages with a 2.70 ERA and 264 strikeouts. Though Sheets' teammates could only help him to 12 wins, his season was a great one. Unfortunately, that was as far as his brilliance reached, as injury issues affected his performance. Sheets still hasn't been able to recapture the magic and might not have much left in his arm.
Highlight:
2004, a great pitcher on a bad team.
Hall call:
Is there a Hall of Fame for potential?
Alfonso Soriano
Sometimes, the much-hyped prospects actually come through. Soriano was a ballyhooed Yankee prospect and hit right away, with 18 home runs and 43 stolen bases as a rookie. The power developed, and Soriano became a rare dual threat who terrorized opposing pitchers, including four 30-30 seasons. For all his strengths, Soriano never drew many walks, which has led to an unimpressive career on-base percentage of .323. Worse, that mark seems to be ever-decreasing, as Soriano has been below that level every season since 2008.
Highlight:
Hitting the would-be winning home run in Game 7 of the 2001 World Series versus Arizona.
Hall call:
Soriano was certainly one of the most exciting players of his generation and spent most of his career in New York and Chicago. At the end of the day, the power and speed won't be enough to overcome the other flaws in his game.
Ichiro Suzuki
Ichiro had almost 1,300 hits and a .943 OPS in eight seasons in Japan. Naturally, lofty expectations were set when he came to the United States in 2001. Right off the bat, he hit well, and really didn't stop until his mysterious drop-off this season. Ichiro plays almost every game, excels in the field and on the basepaths and has hit over .350 four times. No matter how it ends, Ichiro's legacy will be impressive; the icing on the cake will be if he enters (and wins) the Home Run Derby.
Highlight:
Setting the all-time single-season hits mark in 2004.
Hall call:
Even without his Japan stats, Ichiro's career numbers are terrific, especially his defense and 80 percent stolen base rate. He should make it to Cooperstown on his first ballot.
Michael Young
Young was 24 when he became a Rangers regular, which is older than where most stars begin. Young proved to be one of the most consistent and versatile players in baseball. He's had modest power, a small amount of speed, and played over 300 games at three different positions. Young has always hit around .300 but rarely walked so never threatened to lead the league in OBP. Despite trade rumors and position shifts, Young has continued to play at a high level into his mid-30s.
Highlight:
Winning the 2006 All-Star Game MVP.
Hall call:
With 2,000 hits and counting, Young might someday approach counting stat totals that will make the discussion interesting, although he was certainly never close to the best player in the league.
David Lipman is a senior manager for ESPN Mobile, and you can follow him on Twitter.
February, 4, 2011
2/04/11
12:30
PM ET
By
Nick Nelson
| ESPN.com
Baseball headlines have been sparse over the past week (with the exception of
Andy Pettitte
calling it quits). Here in early February, many teams have turned their focus away from offseason roster fidgeting and toward spring training preparations.
There are, however, a few intriguing names still available on the free-agent market. This group of players -- overlooked for various reasons and typically willing to sign for a reduced price -- could be referred to as the bargain bin.
Signings at this stage of the offseason typically don't generate much excitement, but that doesn't mean it's impossible to find a player who can help out.
Jonny Gomes
,
Orlando Hudson
and
Jim Thome
are all examples of players who signed in February last year and went on to make meaningful contributions for playoff teams.
So let's sort through the bargain bin and see which of baseball's remaining free agents might be able to make a difference on the cheap for clubs with postseason aspirations.
Vladimir Guerrero
: He earned plenty of accolades last year -- All-Star, Silver Slugger, even a few MVP votes -- but the market has been bone dry for Guerrero this winter, to the point that the Orioles appear to be bidding against themselves on a one-year deal. Teams are no doubt scared of his age, his balky knees and his second-half drop-off in 2010. Yeah, Vlad has his flaws, but he can still hit. I'm surprised there's not more interest.
Russell Branyan
: The lefty can really only do one thing: hit home runs. His career BA is .234, he strikes out a ton, he's not good in the field and supposedly not very pleasant in the clubhouse. But boy, can he hit home runs. Sixty-eight over the last three years, in limited playing time, with a .515 slugging percentage. You'd think someone would sign him for that reason alone.
David Eckstein
: He's lurking. Like a gremlin in the shadows ready to pounce forth in a flurry of grit. Which fan base will become his unsuspecting victim?
Jose Guillen
: He was acquired by offense-hungry San Francisco in an August trade, and went on to post a sub-.700 OPS over 42 games. He was left off the postseason roster and forced to watch his team win a World Series from home, and now he remains unemployed in February. It's been a rough few months for Guillen. He can really crank it when he gets in the zone, but his flaws are evident.
Kevin Millwood
: There's some value in a veteran who's likely to give you close to 200 average innings, and that's what Millwood is. He's nothing flashy but he's made at least 29 starts in each of the past six seasons and registered a decent enough 4.37 ERA during that span. For a rotation short on depth, he could prove to be a wise one-year investment.
Jermaine Dye
: In 2008, he was one of the key figures in Chicago's dramatic run to the postseason. In 2009, he bashed 27 homers and drove in 81 runs. He sat out last year, but at 37 Dye still might have something to offer teams in need of a right-handed bat.
Jarrod Washburn
: A 36-year-old junkballer who's 16 months removed from big-league action, Washburn isn't the most appealing commodity in the world but he was a solid innings-eater up until his disappearance. Prior to sitting out the 2010 campaign, he'd strung together nine straight seasons with at least 149 innings pitched and an ERA never exceeding 4.69. He'd probably take a minor-league deal.
-- Nick Nelson writes Nick's Twins blog, a blog about the Minnesota Twins.