SweetSpot:

David Robertson
September, 28, 2013
9/28/13
11:40
AM ET
Here are my choices for the 2013 American League All-Star team:
Catcher: Joe Mauer, Twins
(.324/.404/.476, 11 HRs, 47 RBIs, 5.2 WAR)
There's not a real clear choice, as Mauer played just 75 of his 113 games behind the plate, but he's the best hitter among the catchers and threw out a league-leading 43 percent of base stealers.
Carlos Santana
has good offensive numbers, but he played a lot of first base and DH and struggled defensively.
Jason Castro
's fine season was buried in the Astros' awfulness, and
Jarrod Saltalamacchia
has hit .272, raising his average 50 points from last year, while bashing 40 doubles and 14 home runs. If he had played a little more behind the plate -- he started 95 games -- he might have been my choice.
First base: Chris Davis, Orioles
(.287/.370/.637, 53 HRs, 138 RBIs, 6.7 WAR)
Davis is the easy choice in a weak year at first base in the AL. The only other two first basemen to slug .500 were
Edwin Encarnacion
, who spent a large chunk of his time at DH, and
Brandon Moss
, a platoon player. Davis joined Babe Ruth and Albert Belle as the only players with 50 home runs and 40 doubles in a season.
Second base: Robinson Cano, Yankees
(.313/.383/.514, 27 HRs, 106 RBIs, 7.6 WAR)
In a year when so much went wrong with the Yankees, Cano was the one constant, missing just one game and putting up his usual excellent numbers. Now the Yankees have to decide exactly how much they're willing to pay for those numbers. Teams like the Dodgers and Nationals could pursue the free agent this winter.
Third base: Miguel Cabrera, Tigers
(.347/.441/.637, 44 HRs, 137 RBIs, 7.1 WAR)
Despite the injury issues that have slowed him in September (.265, just two extra-base hits and seven RBIs), Cabrera remains the likely MVP winner, thanks in part to a .397/.529/.782 mark with runners in scoring position. It's a deep position with
Josh Donaldson
having his own MVP-caliber season,
Manny Machado
catching everything at the hot corner and
Evan Longoria
and
Adrian Beltre
once again doing everything, but it's hard to deny Miggy's dominance with the bat.
Shortstop: J.J. Hardy, Orioles
(.262/.305/.432, 25 HRs, 74 RBIs, 3.6 WAR)
There's not an obvious guy at the position. Hardy is good defensively and has power, but that .305 OBP lowers his offensive value.
Yunel Escobar
may have had the best year on defense, but a slow start dragged down his offense.
Elvis Andrus
plays great defense and has 41 steals but doesn't give you much at the plate.
Jed Lowrie
stayed healthy and hit but lacks range. In the end, I went with Hardy, who has played 157 games and gives you a little on both sides of the ball.
Left field: Mike Trout, Angels
(.323/.431/.554, 26 HRs, 94 RBIs, 9.1 WAR)
OK, I cheated a little bit since Trout actually started more games in center than left. But the state of left field in the AL is pretty pathetic, with
Alex Gordon
and
Michael Brantley
the only other two rated as even 2.0 WAR players.
Center field: Jacoby Ellsbury, Red Sox
(.297/.355/.421, 8 HRs, 52 RBIs, 5.7 WAR)
Ellsbury also stole 52 bases in 56 attempts, the second-best percentage ever for a player with at least 50 steals. Orioles fans will argue for
Adam Jones
, who has 33 home runs and 108 RBIs, but he's drawn just 25 walks so his OBP is a mediocre .318 and his defense doesn't match Ellsbury's.
Right field: Shane Victorino, Red Sox
(.297/.354/.456, 15 HRs, 61 RBIs, 6.2 WAR)
He's been solid offensively -- including hitting .303 and slugging .515 while having to bat right-handed against right-handed pitchers after a hamstring injury prevented him from batting left-handed. He has been terrific defensively with 24 Defensive Runs Saved, the sixth-best total in the majors at any position. Again, nobody with big numbers here on offense, especially with
Jose Bautista
's season-ending injury, but Victorino is a worthy selection.
Designated hitter: David Ortiz, Red Sox
(.308/.395/.565, 30 HRs, 103 RBIs, 4.3 WAR)
At 37, he's still going strong with his seventh 30-homer, 100-RBI season. Hall of Famer? He's up to 431 career home runs and 1,429 RBIs.
Starting pitchers: Max Scherzer, Tigers (21-3, 2.90 ERA, 6.6 WAR); Hisashi Iwakuma, Mariners (14-6, 2.66 ERA, 7.0 WAR); Chris Sale, White Sox (11-14, 3.07 ERA, 7.0 WAR); Yu Darvish, Rangers (13-9, 2.82 ERA, 5.7 WAR); Anibal Sanchez, Tigers (14-8, 2.64 ERA, 6.0 WAR)
Apologies to Bartolo Colon and
Felix Hernandez
, and even
Clay Buchholz
, who went 12-1 with a 1.74 ERA in 16 starts.
Left-handed setup guy: Neal Cotts, Rangers
(7-3, 1.13 ERA)
Cotts was one of the great stories of the season. He hadn't pitched in the majors since 2009, having Tommy John and four hip surgeries in the intervening years. He pitched in 25 games for the Rangers in Triple-A last year and started there again this season before getting recalled. In 55 2/3 innings, he's allowed just eight runs and 35 hits while striking out 63.
Right-handed setup guy: David Robertson, Yankees
(5-1, 2.07 ERA)
For those worried about replacing
Mariano Rivera
as Yankees closer, the bigger question may actually be: Who replaces Robertson as the eighth-inning guy?
Closer: Koji Uehara, Red Sox
(4-1, 21 saves, 1.10 ERA)
Apologies to Kansas City's
Greg Holland
, who has a 1.23 ERA and 46 saves, and Texas'
Joe Nathan
, who has a 1.41 ERA and 43 saves. But Uehara, who began the year in middle relief, has put up one of the most dominant relief seasons ever, limiting batters to a .129 average with a strikeout-to-walk ratio of 100-to-9.
August, 29, 2013
8/29/13
5:40
PM ET
Here's the thing: There are a lot of good relief duos out there. Eric Karabell and myself discuss five of the best ones in the video, but there are others we left out:
--The Pirates. Closer Jason Grilli is out right now, but he and Mark Melancon have been terrific all season. Melancon (0.91 ERA) has stepped into the closer's role with Justin Wilson (2.05 ERA) handling most of the eighth-inning duties. That's still a great pair, with Melancon arguably the most valuable reliever in the majors this season.

--The Rangers. They have the fourth-best bullpen ERA in the majors and are 65-3 when leading after seven innings. Great depth behind Joe Nathan with Neal Cotts, Tanner Scheppers, Robbie Ross and Jason Frasor, all with ERAs under 2.70 in 40-plus innings.
--The Royals. The second-best bullpen ERA behind the Braves, and closer Greg Holland has a 1.41 ERA and 29 consecutive saves converted, but the setup guys have been inconsistent and they have five losses when leading entering the eighth.
--The A's. Grant Balfour has just two saves all season, but the second one was a big one on Thursday afternoon, allowing four runs as the
Tigers beat the A's 7-6
in dramatic fashion.
One team not listed: The Reds. Aroldis Chapman been shaky at times -- he's 3-5 with a 2.87 ERA and five blown saves -- and the Reds have lost eight games they led entering the eighth and three entering the ninth, making their bullpen one of the league's
least
effective in terms of holding leads late in games.
By the way, another reminder of the volatility of relief pitchers and bullpens in general: Three of the five closers included in the poll did not begin the season as their team's closer.
July, 6, 2013
7/06/13
7:49
PM ET
The big questions for this season's All-Star selections as we headed into Saturday's selection show: Would
Yasiel Puig
make it? Who backs up
Miguel Cabrera
at third base in the American League from a strong field of candidates? Who represents the Astros?
But I'm left with this one: Could the American League have chosen a worse, more boring squad?
Remember, the All-Star squads are chosen by a four-tiered system: The fans vote in the starters, the players vote for the reserves at each position, plus the top five starting pitchers and top three relievers, the managers choose the rest of the squad (with their choices limited due to having to name a representative for each team) and then the fans vote again for the final man.
Got all that?
The player vote is the one that usually causes the biggest mistakes. Last season, for example, the players voted in Cubs first baseman
Bryan LaHair
as the backup first baseman even though he was a platoon player with 28 RBIs at the time of selection. Similarly,
Lance Lynn
, who had a big April, was voted in as one of the top five starters even though he ranked 28th in the National League in ERA. The ripple effect for selections like those end up causing more worthy All-Stars to not make it. This season, a similar thing happened, most notably with
Torii Hunter
named as an outfield reserve in the AL.
My quick reaction to this season's
American League
and
National League
squads:
Best fan selection:
Chris Davis
, Orioles. Hardly a household name before the season, his offensive numbers are just too good to ignore, and he's a deserving starter over
Prince Fielder
.
Worst fan selection:
Bryce Harper
, Nationals. The fans generally do a good job -- better than the players -- and while I don't see Harper as a glaring mistake (I'd put him on my NL roster as a reserve), he did miss significant time with the knee injury.
Andrew McCutchen
of the Pirates or
Carlos Gomez
of the Brewers would be a more deserving starter (both should be starting over
Carlos Beltran
as well).
Most controversial AL selection:
Justin Verlander
, Tigers. He's not having a terrific season, with a 9-5 record and lukewarm 3.54 ERA, but I don't have a huge problem with American League manager Jim Leyland selecting the guy who's been the best pitcher in baseball the previous two seasons.
Most controversial NL selection:
Marco Scutaro
, Giants. The NL roster is actually pretty solid, but you can nitpick Scutaro and
Allen Craig
. With
Matt Carpenter
being voted in by the players, manager Bruce Bochy didn't have to add a third second baseman, but he did select his guy and take a slot away from a deep pool of outfield candidates -- Puig and
Hunter Pence
were added to the final-vote group, but
Starling Marte
,
Jay Bruce
and
Shin-Soo Choo
all had All-Star first halves. But, hey, even All-Star teams need professional hitters.
How the Astros screwed the AL:
Salvador Perez
being voted in by the players as the backup catcher meant
Jason Castro
was named as a third catcher to represent the Astros. Actually, this is a little unfair, since Castro is having a season equal to or better than Perez's. But having three catchers on the squad takes a slot away from one of the much more deserving third basemen --
Evan Longoria
,
Josh Donaldson
or
Adrian Beltre
.
[+] Enlarge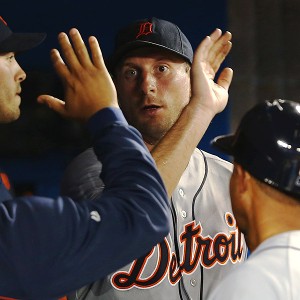 Tom Szczerbowski/USA TODAY SportsWith the American League's weak pitching staff, Max Scherzer could see a couple innings.
How the players screwed the AL:
Hunter rode a .370 April to an All-Star berth, but he's down to .307 with just five home runs. It's not a great season for AL outfielders, but Hunter is kind of a joke selection: He ranks 24th among AL outfielders in FanGraphs WAR (0.9).
Brett Gardner
or
Jacoby Ellsbury
are better options.
Weirdest selection:
Brett Cecil
, Blue Jays. The Jays already had
Jose Bautista
and
Edwin Encarnacion
, so there was no need to add Cecil. Don't get me wrong, he is having a nice season -- 1.43 ERA, 50 strikeouts in 44 innings -- but this is also a guy with a 4.79 career ERA entering the season. (Granted, mostly as a starter.) Rangers starter
Derek Holland
was the better choice here.
Team with a gripe:
The A's have a better record than the Tigers yet ended up with one All-Star to Detroit's six.
Most-deserving guy who didn't make it, AL:
Longoria. Seventy All-Stars were named today, but somehow one of the top 10 players in the game didn't make it.
Most-deserving guy who didn't make it, NL:
Not including the players eligible in the final-player vote, I'd go with Pirates outfielder Marte or Braves defensive whiz
Andrelton Simmons
.
Worst final-player vote ever:
American League. Choose from
Joaquin Benoit
,
Steve Delabar
,
David Robertson
,
Tanner Scheppers
and
Koji Uehara
. Can I go to a dentist appointment instead? Unless you have a fetish for right-handed relief pitchers, this isn't exactly the best way to get fans enthused about the All-Star final vote. Why not at least have a final-man vote with Longoria, Beltre and Donaldson?
Most predictable final-player vote ever:
National League. Is there any way Puig doesn't beat out
Ian Desmond
,
Freddie Freeman
,
Adrian Gonzalez
and Pence for the final vote?
In a perfect world, Jim Leyland does this:
The AL pitching staff is a little shaky, so he should try to ride his top starting pitchers. Assuming
Max Scherzer
starts, I'd pitch him two innings and then bring in White Sox lefty
Chris Sale
for two more innings so he can face the top of the NL lineup that would probably feature
Carlos Gonzalez
and
Joey Votto
.
Yu Darvish
and
Felix Hernandez
take over from there and hand the ball to
Mariano Rivera
, with
Glen Perkins
and Cecil used as situational lefties if needed.
Offensively, Cabrera and Davis should play the entire game, as they've clearly been the dominant offensive forces in the AL. Frankly, I'm not too thrilled with the AL bench, especially the outfield.
Mike Trout
and Bautista should also play the entire game. Use Fielder and Encarnacion to pinch hit as needed for
J.J. Hardy
or
Adam Jones
.
Manny Machado
can replace Cabrera in the late innings if the AL is ahead.
In a perfect world, Bruce Bochy does this:
The NL squad looks much better on paper. Assuming
Matt Harvey
starts, he should be followed up with
Clayton Kershaw
and
Cliff Lee
(
Adam Wainwright
is scheduled to pitch on Sunday and will be unavailable). From there, I'd match up --
Madison Bumgarner
or
Jordan Zimmermann
-- and then turn the game over to three dominant relievers:
Jason Grilli
,
Aroldis Chapman
and
Craig Kimbrel
. (Kudos to Bochy for going with all starting pitchers after the mandatory three relievers.)
Offensively,
David Wright
should play the whole game in front of the home fans, and assuming
Paul Goldschmidt
gets the nod as the designated hitter, I'd let him and Votto play the entire nine as well. Without a regular center fielder in the starting lineup (although Beltran, Gonzalez and Harper have all played there in the past), I'd get McCutchen in the game as soon as possible, with apologies to Gomez. I'd hit for
Brandon Phillips
in a key situation with a better bat like
Buster Posey
or Craig or maybe for Gonzalez against a left-hander (although he's hit very well against lefties this season).
And Puig? Yes, once he makes the team, I'd like to see him play as well.
May, 10, 2012
5/10/12
1:59
PM ET
SweetSpot blogger Dave Schoenfield and I argued so much on Thursday's
Baseball Today podcast
that fisticuffs nearly ensued! OK, that last part isn't true, but it was fun!
1.
David Robertson
blows up in the ninth inning Wednesday, which some say means he can only pitch in a setup role. We can't begin to describe how ridiculous that is.
2. Meanwhile,
Josh Beckett
is out playing golf, eating chicken and drinking beer. Talk about a story that isn't a story ... until Dave calls him the most overrated pitcher of the past decade. True or false?
3.
Jake Peavy
is pitching like a star and
Tim Lincecum
is not. Which right-hander would you choose for the rest of the season?
4. Our emailers have thoughts about ripping the surprising starts for the Baltimores and Clevelands of baseball, as well as schedule strength for the last-place Red Sox and Phillies.
5. On Thursday's schedule we'll get an exciting matchup in the Bronx as well as Nationals stud
Stephen Strasburg
on the hill, but there's a certain AL Central pitcher that really needs to step up!
So download and listen to Thursday's energetic Baseball Today podcast, and learn why you never leave a baseball game early. Ever.
May, 4, 2012
5/04/12
2:44
PM ET
By
Marty Bernoski
| ESPN.com
We needed two guests to fill Eric Karabell's shoes as pinch-hitters on Friday's
Baseball Today podcast
and found a pair that filled the void with insightful discussion.
Baseball Tonight's
Doug Glanville
joined me and talked about the impact of the injury to Yankees closer
Mariano Rivera
. Doug explains why he'd give
Rafael Soriano
the first shot at closing even though
David Robertson
may be better suited for the role.
Pablo Sandoval
goes down and we look at the impact of his injury to the offensively challenged Giants. Is there another hitter whose absence would be missed as much?
Breaking news: One of Doug's former teammates,
Bobby Abreu
, signs with the Dodgers. Doug explains the valuable role and the specific skills that Abreu will bring in helping someone like
Dee Gordon
become a better hitter.
Doug's defensive thought of the week is on the role of the warning track, and how it's not anywhere as useful as you might think. He has a lot to say on the subject.
Rays pitching coach Jim Hickey was our guest on the back end of the podcast. The Rays are the hottest team in baseball right now, with a large credit for that going to their bullpen. We run through the process and conversations that went into fixing
Fernando Rodney
.
Though we forgot
Jeff Niemann
, we went through the Rays' rotation starter-by-starter and looked at the keys to their success, and what their future may hold.
What role do the Rays' pitchers play in the team's defensive shifting? Jim explains. He also shared the most unusual strategic decision he's ever played a part in.
All that, and a two-minute-drill style run through four(!) Ridiculous Questions of the Day. Check it out
here
.
May, 4, 2012
5/04/12
12:20
AM ET
Imagine being the best in the world at something. Doesn't matter what it is. The best chef or painter or auto mechanic or blogger or cancer researcher or whatever.
That title, of course, would be under dispute. And if bequeathed such a label, there would be natural push back that somebody else is better, plus there is a likelihood that your ego would run amok and you'd start attending Vanity Fair Oscar parties in an outfit designed by Tom Ford or write a self-improvement guide-to-life book.
This is why we love
Mariano Rivera
. His title -- Greatest Closer of All Time (tm) -- is not under dispute.
Nobody
disputes this. OK, maybe a few isolated souls who attempt to state the case for Goose Gossage or maybe Hoyt Wilhelm, but that was a different game and a different time. Anyway, Rivera has been the best closer in baseball for going on 15 years now. Oh, sure, there have been contenders to the throne.
Billy Wagner
had dominating seasons and
Trevor Hoffman
was great for a long time and
Eric Gagne
was the best there for a year or two and
Joe Nathan
had a terrific stretch and now that kid in Atlanta,
Craig Kimbrel
, is putting up some insane strikeout numbers.
But Rivera kept on ticking, throwing that singular, magnificent pitch. Cutter, cutter, cutter. I think my mom knows he throws a cutter.
"He's the best I've ever been around," former Yankees manager Joe Torre once said. "Not only the ability to pitch and perform under pressure, but the calm he puts over the clubhouse. He's very important for us because he's a special person."
And that's the other reason we love Mariano Rivera. He's the best in the world at his craft, yet remains humble and without ego. You can dislike the
New York Yankees
, but you can't dislike Mariano Rivera.
And that's why Thursday's news is so jarring.
Rivera suffered a freak torn ACL during batting practice
, hurting his knee while shagging balls during batting practice. If Yankees team doctors confirm the MRI, Rivera is likely out for the season; watching the Yankees without Rivera coming on in the ninth to protect a lead is like going to the Louvre only to have the Mona Lisa undergoing restoration. There has been talk that this will be the final season for Rivera, which means there is the possibility Mariano Rivera has thrown his final pitch.
Manager Joe Girardi confirmed the injury after the Yankees' loss in Kansas City. "He was in pain. … If that's the report, that's about as bad as it gets," Girardi said.
Bryan Hoch, Yankees writer for MLB.com tweeted
, "Mariano Rivera, head bowed and teary-eyed, says he does not know if he will pitch again."
Which means we have to go down this route. What if he is done, at least for this season?
Now ... as great as Rivera is, even the best in the world, the actual impact of losing him for a lengthy period of time would be pretty minimal. First, in
David Robertson
they have one of the most dominant relievers in baseball, a guy with a 0.93 ERA over the past two seasons and 118 strikeouts in 77.2 innings.
Rafael Soriano
,
Cory Wade
and
Boone Logan
give the Yankees a deep core of capable middle relievers and once
Andy Pettitte
joins the rotation,
David Phelps
or
Phil Hughes
would add another solid arm to the 'pen.
So, I'll state this delicately: Being the best closer in the world doesn't mean you're the most valuable player on the team. Here's another way of putting this. From 1997 through 2011, the Yankees won 97.2 percent of the games they led heading into the ninth inning. The
Pittsburgh Pirates
, a team that featured infamous closers such as
Rich Loiselle
,
Mike Williams
,
Jose Mesa
,
Matt Capps
and
Octavio Dotel
during that span, won 94.7 percent of games they led going into the ninth. The
San Diego Padres
, where Hoffman pitched for many of those years, won 96.7 percent of their games.
That doesn't mean Rivera isn't valuable; of course he is. Aside from his statistical dominance, there is the comfort level of having him sitting down in the bullpen, that calming influence like a little kid's stuffed animal. Maybe that can't be properly measured, and the first time Robertson blows a save or one of the other guys blows a lead in the eighth inning, fans and media and teammates may wonder: What if we had Mo?
But as David Cone said on the YES Network broadcast, "You never replace a Mariano Rivera; it's a huge blow. But the Yankees are dealing from strength, and one of their strengths is that bullpen."
In the end, we can disagree on what the loss of Rivera might mean to the Yankees. But I hope we all agree that we haven't seen Rivera throw his final pitch.
PHOTO OF THE DAY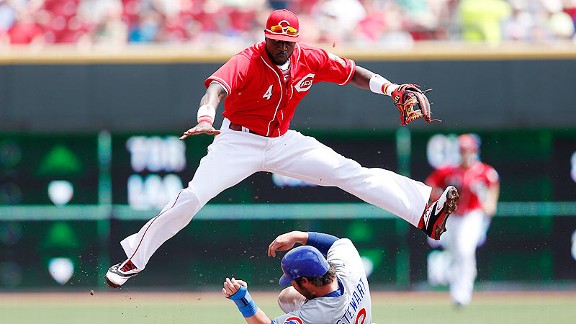 Joe Robbins/Getty ImagesBrandon Phillips, you are more flexible than most of us.
April, 6, 2012
4/06/12
8:15
PM ET
If my math is correct, the
Tampa Bay Rays
and
New York Yankees
still have 17 games against each other. The Rays and
Boston Red Sox
have 18 games against each other. The Red Sox and Yankees have 18 games against each other. And all three teams have 18 against the
Toronto Blue Jays
.
That's 107 more games of American League East mini-wars, in which every game will be treated as the one that may win -- or lose -- a division championship.
Friday's game at the Trop was as interesting as a regular-season game can be, with a hundred little moves worth discussing and dissecting. Rays manager Joe Maddon was already in midseason form, calling for a squeeze bunt, pinch-hitters and lefty/righty matchups out of the bullpen. Yankees counterpart Joe Girardi went to his trusty binder in the bottom of the first inning and got burned. And the greatest closer of all time failed to do his job. Yes, I'll take more, thank you very much.
[+] Enlarge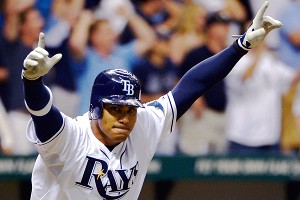 AP Photo/Phelan M. EbenhackCarlos Pena's game-winning hit was his first ever off Yankees closer Mariano Rivera.
A few quick highlights about a game you could write 3,000 words about:
With two out in the first and runners on second and third, Girardi had CC Sabathia walk Sean Rodriguez to pitch to Carlos Pena. Girardi has a bit of unusual obsession with the intentional walk. Sabathia, for example, issued 17 IBBs over the previous three seasons. Compare that to guys like Justin Verlander (0), Cliff Lee (3), Roy Halladay (5) or Jon Lester (0). Anyway, while it's true Pena struggles against left-handers (.133 in 2011, .179 in 2010), it's also true that he's a very patient hitter willing to take a walk. Juicing the bases forces Sabathia to throw a strike. Pena worked the count to 3-2 and drilled a fastball for a grand slam. An intentional walk on Opening Day with two out in the first inning? Just ... well, wow.

Down 6-5, the Rays had a great chance to tie the game in the bottom of the eighth when they put runners on the corners with no outs against David Robertson. Maddon sent Stephen Vogt in to hit for Elliot Johnson, Vogt's first major league at-bat. Robertson struck him out on four pitches -- two 92 mph cutters and a fastball up sandwiched around a curveball in the dirt. With Jose Molina up and a 1-1 count, Maddon sent the runners ... except Molina missed the squeeze sign and instead fouled off the pitch. Maddon, with the proverbial guts of a cat burglar, went right back to the squeeze, but Molina fouled it off for strike three. Robertson than fanned Matt Joyce to escape the jam.

Mariano Rivera entered to close out it out. Desmond Jennings singled to right-center and Ben Zobrist tripled to deeper right-center. Girardi -- remember, he loves the intentional walk -- gave free passes to Evan Longoria and Luke Scott to load the bases. Once again, Girardi left his pitcher with no margin for error. Rivera fell behind 3-1 to Rodriguez but came back to strike him out, bringing up Pena. He got the count to 1-2 and the strikeout-prone Pena looked like a dead duck. Instead, Rivera threw a meaty pitch over the middle of the plate and Pena lofted a deep fly off the base of the wall in left-center. Game over. His first hit ever off Rivera. "Oh, yeah. [I was] very aware of it," Pena said. "His ball moves so much that your eyes deceive you." But Pena's eyes mapped this Rivera cutter, giving him a three-hit, five-RBI day. And as Pena did a postgame on-field interview, B.J. Upton delivered a shaving cream pie in the face that tasted just right.
Follow David Schoenfield on Twitter @dschoenfield.
October, 7, 2011
10/07/11
2:27
PM ET
I spent last night watching the postgame coverage on YES. I listened to Yankees fans calling in to sports-talk radio as I drove in to work this morning. I have the Mike Francesa show on YES on right now as I write this. Love the Yankees or hate the Yankees, the day after they're eliminated from the postseason is always one of the more interesting days of the year: The overanalysis, the stunned shock of defeat, the placing of blame on
Alex Rodriguez
. As
Yankees broadcaster Michael Kay said on Mike & Mike
about Game 5, "You couldn't find a person in New York who thought the Yankees had a chance to lose that game. ... Everything was lined up for the Yankees to win, it just was."
OK, some thoughts on all this, the 10th time in 11 seasons that will end without a World Series pennant flying over Yankee Stadium, the seventh time in eight years that ends without the Yankees making a trip to the World Series.
[+] Enlarge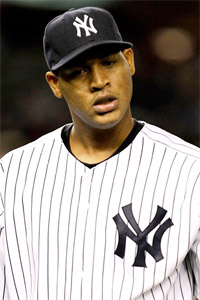 AP Photo/Kathy WillensRookie starter Ivan Nova gave up first-inning homers to Don Kelly and Delmon Young in Game 5.
1. I didn't quite understand why everybody thought this was such a sure win for the Yankees. Did I miss the memo where
Ivan Nova
had suddenly turned into Bob Gibson? Do people realize this is
baseball
, where anything can one happen in one game? You could have put the
Houston Astros
out there and they would have had a chance to win. Plus, the dismissing of
Doug Fister
was a little embarrassing. It's easy to argue that Fister is a better pitcher than Nova and certainly not inconceivable that he could outpitch Nova. In analytical terms, the game was a toss-up.
2. You can extend that analogy one step further: Not enough fans understand that the baseball playoffs are a crapshoot. Since 1990, you know how many teams with the best regular-season record have won the World Series? Three -- the '98 Yankees, '07 Red Sox and '09 Yankees. If you make the playoffs, you essentially have a 1-in-4 chance of reaching the World Series. If you get to the World Series, you have 1-in-2 chance of winning. So if you make the playoffs every season you should win a World Series once every eight years. In their past eight trips to the postseason, the Yankees have reached two World Series and won one. Exactly what the odds would predict.
3. Of course, the current Yankees suffer in comparison to the 1996-2000 squad that captured four World Series titles in five years. What that team did was simply mind-boggling, going 46-15 in the postseason over a five-year span ... that's a .754 winning percentage, which is higher than the 1927 Yankees. That kind of run will never happen again. It can't. It just defies the laws of probability and postseason baseball. Since 2001, the Yankees have gone a still-impressive 48-43 in the postseason, but it's led to just one championship. (There's a comparison here to be made with the 1991-2005 Braves.
In this ESPN Insider piece
, Dan Szymborski reported that given their opponents, the Braves' postseason record of 63-62 was only one game worse than their expected record of 64-61.)
4. Let's not forget that the Yankees actually outscored the Tigers in the series by 11 runs. Of course, playoff series aren't determined on aggregate.
5. Alex Rodriguez ... look, you can argue that he shouldn't have been hitting cleanup. That would be the major question regarding Joe Girardi's managing in the series. Yankee fans love to bash A-Rod, of course, and it's somewhat understandable why. Here are his postseason averages since joining the Yankees:
2004 -- .320
2005 -- .133
2006 -- .071
2007 -- .267
2009 -- .365
2010 -- .219
2011 -- .111
Add it up and his overall postseason line with the Yankees isn't as bad as you think, however: .260/.388/.480, with 10 home runs and 33 RBIs in 53 games. He's hardly the one who should be "blamed," however. Here's how some of the Yankees did with runners in scoring position this series:
Derek Jeter
: 1-for-8
Curtis Granderson
: 1-for-4
Nick Swisher
: 1-for-5
Russell Martin
: 0-for-3
Mark Teixeira
: 0-for-3
Alex Rodriguez: 0-for-5.
By the way, I'm not quite sure why Teixeira seems to escape criticism. His career postseason line (including one series with the Angels) is an abysmal .207/.315/.322, with just three home runs and 13 RBIs in 31 games. Swisher is a .169 postseason hitter in 38 games, with just six RBIs (he's 1-for-31 in his postseason career with runners in scoring position). The blame can be spread around.
6. You can't really fault Girardi too much. You can question the odd
Eric Chavez
pinch-hitting move for
Brett Gardner
in Game 3 and I thought his handling of the bullpen in Game 5 was a little questionable. Like pretty much every manager today, Girardi gets too locked into roles:
David Robertson
in the eighth,
Mariano Rivera
in the ninth. I know Ivan Nova's injury made things a bit more difficult, but I didn't like the idea of using
CC Sabathia
unless absolutely forced to. He brought in Sabathia to face the top of the Detroit lineup in the fifth inning when the Yankees trailed 2-0.
Austin Jackson
doubled and then after two strikeouts, he intentionally walked
Miguel Cabrera
. I think there were two better options as that inning unfurled: (1) Bring in
Rafael Soriano
to start the inning in the first place, try and get two innings from him, and then two from Robertson and then Rivera; or (2) once Sabathia had put two runners on base, bring in Robertson. What are you waiting for? I know it's CC Sabathia, but he was pitching on two days' rest. You cannot afford to allow any more runs at the point and Robertson was terrific all season. You have to manage Game 5 differently, and in my book, that meant getting as many innings as possible from Robertson and Rivera.
7. The Rob Thomson hold on A-Rod: Absolutely the right call. After the watching the replay again this morning, Rodriguez would have been out by 15 feet. Good decision by Thomson not to run the team out of a big inning.
8. For all the questions of "What will the Yankees do next?" the answer is: Not much. I expect the whole lineup will return, with the exception of
Jesus Montero
taking over the DH role from
Jorge Posada
. The bullpen is set with
Boone Logan
, Soriano, Robertson and Mo. A-Rod will be a year older and maybe a year more injury-prone (he's missed 150 games over the past four seasons and I wonder if we can ever expect him to play 150 games injury-free again). Jeter is a year older. Swisher will be 31. Teixeira will turn 32 and his OPS has declined three seasons in a row. And the rotation ... well, let's see if CC opts out of his contract and go from there. No doubt the pressure will be on GM Brian Cashman to re-sign Sabathia, and maybe go after free agent
C.J. Wilson
or swing a trade for another rotation anchor.
9. Anyway, it was a fun, interesting series. Did the better team win? Maybe, maybe not. I certainly don't buy the argument that the Yankees
should
have won the series and Game 5. There is no
should
in postseason baseball.
Follow David Schoenfield on Twitter @dschoenfield.
September, 26, 2011
9/26/11
2:43
PM ET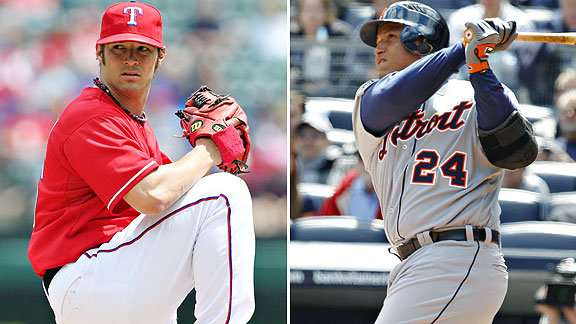 US PresswireRangers lefty C.J. Wilson and Tigers first baseman Miguel Cabrera are two of the SweetSpot All-Stars.
We have a few days in the regular season, but before we got caught up in the final hours of the wild-card races and playoff previews, here's my 2011 SweetSpot American League All-Star team.
Catcher: Alex Avila, Tigers
(.295/.388/.509, 19 HR, 78 RBI). Maybe the most surprising season in the majors this year, considering he hit .228 last year as a rookie. Avila hit .311 in April and other than a one-RBI July, has kept hitting all season. He ranks sixth in the AL in on-base percentage, 12th in slugging and has thrown 32 percent of base stealers.
First base: Miguel Cabrera, Tigers
(.341/.447/.579, 29 HR, 103 RBI, 107 R).
Adrian Gonzalez
got most of the attention, but it's now clear that Cabrera had the better year with the bat. Cabrera has created more runs, has a higher on-base percentage (thanks to 40 more walks) and a higher slugging percentage. Gonzalez has a few more RBIs, which is strictly a function of having better hitters in front of him. Cabrera is hitting .381 with runners on base and .397 with runners in scoring position.
Second base: Dustin Pedroia, Red Sox
(.302/.381/.467, 20 HR, 88 RBI, 101 R, 26 SB). Yankee fans will cry foul, but Pedroia's big edge in OBP (.381 to .351) and even bigger edge with the glove, makes him the selection.
Third base: Evan Longoria, Rays
(.240/.345/.482, 29 HR, 95 RBI). Longoria has a chance for 100 RBIs despite missing most of April with a strained oblique. While the batting average is down, the power numbers are there and he owns a terrific glove. So does
Adrian Beltre
, who is also hitting .293 with 30 home runs, but Beltre has the advantage of a hitter-friendly home park; he's hitting .265 on the road and 23 of his 30 home runs have come at home.
Shortstop: Asdrubal Cabrera, Indians
(.273/.333/.463, 25 HR, 92 RBI). The toughest call on the board as
Jhonny Peralta
,
J.J. Hardy
,
Yunel Escobar
,
Alexei Ramirez
,
Erick Aybar
and
Elvis Andrus
all have their supporters and decent claims to best in the league. Cabrera's defense isn't highly regarded by the advanced metrics, but he had a terrific season at the bat, gives you more on the base paths than Peralta, and hit well with runners in scoring position -- .312/.393/.529.
Outfield: Jose Bautista, Blue Jays
(.304/.447/.615, 43 HR, 107 RBI, 105 R). Bautista's OPS at home: 1.062. On the road: 1.062.
Outfield: Jacoby Ellsbury, Red Sox
(.322/.377/.551, 31 HR, 103 RBI, 117 R, 38 SB). Obviously, nobody saw this coming. A remarkable all-around season, the best by a Red Sox center fielder since Fred Lynn in 1979.
Outfield: Curtis Granderson, Yankees
(.266/.368/.561, 41 HR, 119 RBI, 135 runs). He's tailed off in September (.221, three home runs), costing him a chance to become just the third player since World War II to score 150 runs in a season, but he remains in the thick of the MVP discussion.
Designated hitter: David Ortiz, Red Sox
(.307/.397/.557, 29 HR, 96 RBI).
Michael Young
, with his .338 average and 104 RBIs, has been enormously valuable to the Rangers, especially with his ability to fill in at first, second and third bases. But for pure offensive numbers, Ortiz is the guy.
Starting pitcher: Justin Verlander, Tigers
(24-5, 2.40 ERA, 251 IP, 174 H, 57 BB, 250 SO). Yes, wins aren't everything, but he had the most wins in the American League since Bob Welch in 1990.
Starting pitcher: Jered Weaver, Angels
(18-8, 2.41 ERA, 235.2 IP, 182 H, 56 BB, 198 SO). Here's how he's been: In one less start than Verlander, he's allowed eight fewer runs.
Starting pitcher: James Shields, Rays
(15-12, 2.84 ERA, 240.2 IP, 189 H, 62 BB, 221 SO). Brought back the complete game: His 11 were the most in the AL since 1993. Saddled with poor run support, he didn't win a single game all season when he allowed more than two runs.
Starting pitcher: C.J. Wilson, Rangers
(16-7, 2.97 ERA, 221.1 IP, 189 H, 72 BB, 206 SO). He hits the free-agent market this winter and general managers would be salivating to see what he could outside of the Ballpark -- he had a 2.34 ERA on the road.
Starting pitcher: CC Sabathia, Yankees
(19-8, 3.00 ERA, 237.1 IP, 230 H, 61 BB, 230 SO). The big man may have had his best season. Now the pressure is on to repeat his 2009 postseason performance.
Setup guy: David Robertson, Yankees
(4-0, 34 holds, 1.09 ERA). The Yanks paid big bucks for
Rafael Soriano
in the offseason, but he went down and Robertson never gave up the big hit as
Mariano Rivera
's setup guy, allowing just nine runs in 66 innings. He gave up just one home run while fanning 99.
Closer: Jose Valverde, Tigers
(2-4, 47 saves, 2.30 ERA). Rivera has a lower ERA and better WHIP, but he's blown fives while Valverde was 47-for-47 in save opportunities. It's not always pretty, but he's you can't deny the job he's done.
Player of the Year: Justin Verlander.
He leads the AL in wins, ERA, strikeouts, innings, WHIP, quality starts, opponents' batting average, opponents' on-base percentage and opponents' slugging percentage. He's been the most electrifying performer in the league. More than any other player in the AL, it's been his season.
July, 12, 2011
7/12/11
11:33
PM ET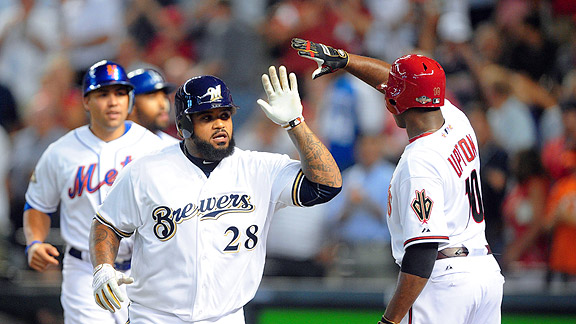 Mark J. Rebilas/US PresswirePrince Fielder's home run in the fourth inning gave the National League the lead for good.
Despite everything that is so wrong about it, I still like the All-Star Game. Maybe it's the fan in me that still remembers the 1987 game, when Seattle's Mark Langston came on and pitched two perfect innings with three strikeouts, causing Vin Scully to exclaim something like, "This kid is something else!"
Every fan of every team has a memory like that. Maybe it's
Hank Blalock
ruining
Eric Gagne
's perfect season in 2003 with his pinch-hit, go-ahead two-run homer in the eighth inning. Or
George Sherrill
's 2 1/3 scoreless innings for the AL in the 15-inning marathon in 2008. Or
Carl Crawford
's defense in 2009 that snared him MVP honors.
Is it a glorified exhibition game? Or a game that is supposed to matter? It's both, of course, and while that isn't a clear answer, it's what we have.
I do know this: I'm going to do a running diary of the game.
Pregame introductions
Random notes from the most underrated part of the All-Star broadcast -- the opportunity to see who is the Royals representative this year.
Nice ovations for White Sox Paul Konerko, from Scottsdale, and Carlos Quentin, who began his career with the Diamondbacks. And you thought Diamondbacks fans don't know their baseball.

Cliff Lee manages to not smile during pregame warmups. This is just slightly less shocking than Derek Jeter sending out a Tweet that says, "Actually, I just wanted to spend a few days in Atlantic City."

The Dodgers are so irrelevant, the fans can't even muster up the energy to boo a division rival. The Giants players get booed loudly, however, although not as loudly as the Yankees players.

Tyler Clippard? Who let my accountant into the All-star Game?!?

I'm happy for AL starter Jered Weaver, who has been underrated throughout his career, had a great season last year that went largely unrecognized and has arguably outpitched Justin Verlander this year only to see Verlander get much of the attention.
First inning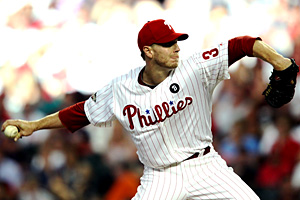 Christian Petersen/Getty ImagesStarter Roy Halladay pitched two innings of shutout ball and didn't allow a hit while striking out one.
Asdrubal Cabrera
goes down on strikes. Jeter could have done that and it would have been more controversial!
Fox shows
Brian Wilson
introducing some of the NL lineup. For
Carlos Beltran
, he mentions trade rumors involving the Giants and the Mets right fielder. "Come on over," Wilson says. I think he just got fined $100,000 for tampering.
Second inning
Jose Bautista
swings at the first pitch and pops out to shallow center field.
Josh Hamilton
grounds softly to third base. Joe Buck goes back to Bautista and points out that Bautista was with five organizations in June of 2004.
Adrian Beltre
flies to deep right on a 2-2 pitch.
Roy Halladay
's half innings don't last as long as the commercial breaks.
Red Sox Nation just had a collective heart attack when Buck announced
Josh Beckett
was supposed to enter in the bottom of the second inning but tweaked his knee warming up. AL skipper Ron Washington is forced to bring in Yankees reliever
David Robertson
.
My question: Why couldn't Weaver go two innings? Back in the day, All-Star starters were MEN and pitched THREE innings. I blame the parents.
With one out,
Lance Berkman
singles sharply up the middle. I'm enjoying Berkman's bounce-back season. ("Comeback" doesn't seem quite like the right word.) Berkman's been a terrific player for a long time, never
quite
recognized as a superstar by the mainstream media, even though he was on that level. He seems to be getting more attention this year than ever before. Funny how baseball works sometimes.
Tim McCarver just tried to compare Robertson to
Mariano Rivera
.
Matt Holliday
takes a 3-2 fastball down the middle and Berkman slides off the bag on a stolen base attempt for a double play. You know there isn't much offense anymore in baseball when Berkman is running in an All-Star Game. He had zero steals on the season. Robertson has one of the best K rates in the majors, so either Bruce Bochy just made one of the worst decisions in All-Star history or Berkman decided to go on his own. I'm 99 percent sure Berkman is probably to blame.
Third inning
After Lee cruises through a 1-2-3 third,
Michael Pineda
comes on. Not sure it's a good sign for the AL that its second and third pitchers used are guys who weren't on the roster. (Not that Robertson and Pineda are slouches. By the way … I wonder if
Rafael Soriano
is watching the game.) As a Mariners fan, this is where you hope
your guy
isn't the one to blow it. For most of the country, I'm sure it's the time they're seeing the big rookie pitch. He's calm and cool, and blows away
Scott Rolen
and
Rickie Weeks
with nasty sliders. As Vin Scully might say, "This kid is something else!"
Fourth inning
Hunter Pence
and
Justin Upton
enter. Glad to see Holliday and Berkman made it through three innings. Maybe Bochy is a little ticked at that botched hit-and-run.
Adrian Gonzalez
breaks up the NL's perfect game with a two-out home run to right-center. That equals the number of runs Lee allowed all of June. After
Prince Fielder
misplays Bautista's pop-up into a single, Hamilton singles to center. Bochy goes to the pen to bring in Nationals reliever Clippard to face Beltre. This could be one of the key at-bats of the game. So Buck decides he needs to thank Brad Pitt for narrating the opening of the broadcast.
Beltre lines a sharp single to left, Pence rifles a perfect throw to nail Bautista easily at the plate. Pence, by the way, has never played left field in the majors. Cheer proudly, Astros fans. I'd make a joke how that could be the highlight of their season, but I don't think that's really a joke.
[+] Enlarge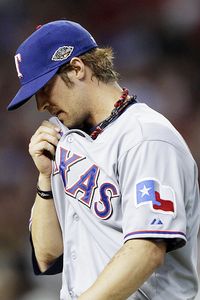 AP Photo/David J. PhillipC.J. Wilson is the losing pitcher after giving up a three-run blast to Prince Fielder.
C.J. Wilson
enters for the AL. I think Washington should try and get two innings out of one of these starters. His watered-down pitching isn't as deep on paper as the NL staff and the more pitchers he uses the more likely one of them will blow up.
Beltran reaches on an infield hit to Cabrera and
Matt Kemp
lines a single to left to put two on with no outs for Fielder and
Brian McCann
. Wilson is tough on lefties, so he's still a good bet to escape the jam. Yes, that's a prediction.
Well, I was wrong. Prince blasts a home run off the top of the wall in left-center. I think his free-agent contract this winter just went up another $5 million. Wilson had allowed two home runs to left-hander in 253 at-bats over the past two years. Credit for Prince for a terrific at-bat. No offense to Wilson, who is a good pitcher, but the "Sunday rule" needs to go. No Verlander, no
CC Sabathia
, no
Felix Hernandez
, no
James Shields
for the AL. But the game counts!
Fifth inning
Angels rookie
Jordan Walden
gives up a run on
Andre Ethier
's RBI single. NL takes a 4-1 lead. It's going to be tough for the AL to come back in this one. Since Bochy was actually trying to, you know, win the game, he used Halladay and Lee for 11 outs. He has
Clayton Kershaw
and then
Jair Jurrjens
for the fifth and sixth innings and then he'll be able to mix and match his relievers over the final three innings as needed to get the best matchups. Big strategic edge in this one to Bochy, although to be fair he had more horses to work with than Washington.
Sixth inning
Jurrjens sails through the top of the sixth. In the bottom of the frame,
Yadier Molina
hits a two-out double off his former battery mate,
Chris Perez
. Now that's the All-Star matchup fans were waiting to see.
Seventh inning
Bochy still has
Jonny Venters
,
Craig Kimbrel
,
Heath Bell
,
Joel Hanrahan
and Wilson available to him, with starters
Tim Lincecum
,
Kevin Correia
and
Ryan Vogelsong
available if the game goes extra innings. It will be interesting to see if Bochy saves his own guy Wilson for the ninth, considering his struggles of late -- he's allowed runs in four of his past six appearances.
Bochy ends up leaving Jurrjens in for a second inning, with Braves teammate Kimbrel warming up. Love Bochy's handling of his staff in this game. After
Kevin Youkilis
singles with two outs, Konerko is announced as the pinch-hitter for
David Ortiz
. Bochy goes to the pen to bring in Kimbrel. Of course, it would actually make more sense to leave in Ortiz to face Jurrjens or Kimbrel, both righties. But of course, Washington is more concerned with getting everybody in the game instead of winning. At least it's just a glorified exhibition game.
Commerical airs for the "Moneyball" movie out in September. I can't wait to see who plays
Jeremy Giambi
.
Kimbrel walks Konerko on a 3-2 slider. You're up three runs. You throw 98. Hmm. Kendrick up as the tying run. Good thing
Robinson Cano
isn't in the game anymore. Kendrick fouls off a couple two-strike pitches before bouncing out to second.
Here's what I hate about the way managers manage the All-Star Game these days. They have the starters and then the backup at each position. The starters get their two at-bats and then in come the backups. I'd leave the starters in longer, giving you more pinch-hitting options in the late innings. Yes, that may actually mean some of the players may not get into the game. Gonzalez and Bautista should get at least three at-bats -- if not more. They're the best hitters in the American League.
Brandon League
is pitching and I'm getting bored. I look up the slowest player to ever steal a base in an All-Star Game. You won't believe this: It may be Berkman! He stole a base in 2002. He may not actually be the slowest; he does have 82 career steals after all. It could be
Robert Fick
, who stole a base in 2002 as well. And, yes, I just wanted to get Robert Fick into this writeup.
Eighth inning
I'm not sure if this string of AL pitchers is the least exciting group in All-Star history. In 1996, the AL used just five guys, but they were
Charles Nagy
,
Chuck Finley
, Roger Pavlik,
Troy Percival
and
Roberto Hernandez
. As a kid, I attended the 1979 contest in Seattle. The AL started Nolan Ryan, but then used Bob Stanley, Mark Clear, Jim Kern and Ron Guidry (for one out). By the way, the only other pitchers on that AL squad were Tommy John, Dave Lemanczyk, Sid Monge and Don Stanhouse. Wow, that has to be the worst All-Star pitching staff ever assembled.
Ninth inning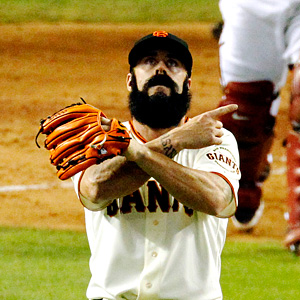 AP Photo/Ross D. FranklinThe American League threatened in the top of the ninth, but Brian Wilson came on for a two-out save.
Pirates reliever
Joel Hanrahan
in to close it out for the NL. He's 26-for-26 this season. Not bad for a guy once released by the Dodgers. Of course, Gagne was perfect in 2003! You never know! OK, I'm trying to act excited.
Michael Young
strikes out.
Starlin Castro
just bounces a throw in the dirt, allowing Quentin to reach base. Yes, that sums up the Cubs season pretty well.
Matt Joyce
singles to right on a 3-1 pitch, the NL throws the ball around like a bunch of Little Leaguers ... and Bochy goes to the mound! In comes The Beard!
Did I mention Wilson has allowed runs in four of his past six appearances? Yes I did! AL needs one runner to bring the tying to the plate. Of course,
Michael Cuddyer
then swings at the first pitch and flies to right field. Two outs. Konerko takes a strikes, misses a slider away, works the count to 2-2, fouls off a pitch and then grounds out to Castro, who makes the throw this time.
Yay, Cubs. Yay, Fielder, the obvious MVP. Yay, National League. Home-field advantage is yours. Let's hope we actually get a seven-game World Series this year.
And Clippard gets the win. Without retiring a batter. Put that one in the record books of the weird.
June, 29, 2011
6/29/11
12:45
PM ET
One of the most unheralded performers of the season has been Yankees reliever
David Robertson
, who is 1-0 with a 1.15 ERA and 15 holds. Wonder how the Yankees feel now about that $35 million they gave
Rafael Soriano
. Most impressively, Robertson is striking out 14.4 batters per nine innings. Only nine times has a pitcher (minimum of 50 innings pitched) fanned 14 or more per nine innings. Not surprisingly, all were relievers, and
Billy Wagner
did it three times:
There have been calls for Robertson to make the All-Star team. It's a possibility, although due to 20 walks in 31.1 innings, his WHIP is an unimpressive 1.34 -- a total that doesn't him place him among the top 50
starters
, let alone relievers.
In fact, the best argument for an AL middle reliever to make the All-Star team may not belong to Robertson, but to Tigers rookie
Al Alburquerque
. He's 5-1 with a 1.95 ERA and he's averaging
15.0 strikeouts
per nine innings. Like Robertson, he hasn't allowed a home run. In fact, he hasn't allowed much of anything: Alburquerque has allowed just one double and is holding batters to a .126 average. Like Robertson, he's been wild -- 19 walks in 27.2 innings -- but the strikeouts are countering the free passes for now.
June, 9, 2011
6/09/11
9:00
PM ET
By
Christina Kahrl
| ESPN.com
The
glum news
that
Joba Chamberlain
is likely out for the year with a torn ligament in his elbow adds injury to insult in the bad-news Bombers' bullpen. They already had lost
Pedro Feliciano
until July and are still without
Rafael Soriano
for more than a month. As much as the latter signing drew fire for being a decision made against GM Brian Cashman's judgment, by the time July rolls around, with Chamberlain on the shelf, they now may well be glad to have him back.
Chamberlain had been extremely effective this season setting up
Mariano Rivera
. He generally got full frames in the seventh and eighth innings, and usually, but not always, pitched to protect a lead.
It was a structured role in which he was
not
coming into many messy situations with other people's runners on base. Consistent with last year's usage, Girardi sent him into a game to clean up somebody else's mess just six times this season. But even in those pressure situations, Chamberlain nevertheless delivered, stranding eight of 10 inherited runners, or coming out of those situations with zero runs four times out of six. Last year, Chamberlain put up zeroes in 17 of 23 inherited-runner situations.
With Chamberlain out of the picture and Soriano and Feliciano still on the DL, it will be interesting to see how Girardi runs his non-Mo relievers in the meantime. The team's relief fireman this year has been
David Robertson
, as he's come into 14 games already with men on base. He's generally been used in situations earlier than the seventh or eighth inning. Will Girardi want to push back Robertson and situational lefty
Boone Logan
into the later innings to cover for the DL trio? That might risk trusting those tough midgame assignments to the likes of
Luis Ayala
or
Lance Pendleton
or
Amauri Sanit
.
Do the Yankees have ready alternatives? Sure, Scranton's hard-throwing closer, Kevin Whelan, has 30 K's against 23 baserunners in 27 IP while notching 18 saves in 21 opportunities. But the additional complication is that they might be unwilling or unable to cram Whelan onto a 40-man roster that already has two players on the 15-day DL and a half-dozen men on the 60-day DL. When pitchers such as
Phil Hughes
and Feliciano eventually return from the 60-day DL, Cashman will be in a tough situation of either using or potentially losing to waivers the guys they have now.
Chamberlain might already be baseball's active leader in the biggest discrepancy between how much attention he gets compared to how much he's actually managed to pitch in the major leagues. Heading into the fifth year of his career and his first back-to-back seasons in the same role -- as a reliever -- it's worth noting that he is still just 25 years old. Spending the rest of 2011 and a good chunk of 2012 rehabbing from the Tommy John surgery he'll likely need might keep the expense of employing him down in his last two option years. Even then, he'll still potentially be an under-30 free agent looking for an opportunity to define himself as something other than a subject of Big Apple fascination. In the meantime, we can wish him well in his surgery and his recovery -- while recoveries from Tommy John surgery are relatively certain as these things go, no procedure delivers a 100 percent success rate.
Christina Kahrl covers baseball for ESPN.com. You can follow her on Twitter.
May, 10, 2011
5/10/11
1:05
AM ET
The Minnesota Twins and Boston Red Sox battled for 11 innings on Monday night, and in the end,
Carl Crawford
's double high off the Green Monster plated
Jose Iglesias
with the winning run in a 2-1 victory.
Twins manager Ron Gardenhire, apparently waiting to take the lead before using closer
Matt Capps
, and not wanting to use
Joe Nathan
on back-to-back days, was left with somebody named
Jim Hoey
on the mound. With one out, Hoey walked
Jed Lowrie
-- not necessarily a surprise since Hoey walked 34 in 52 2/3 innings in the minors last season. Iglesias came in as a pinch-runner and Crawford hit a 3-2 pitch off the wall.
We're going to see a lot of games like that this season: low-scoring affairs decided in the late innings. With scoring down, games will be tight, and with close games, late-inning bullpen work may be more important than ever. And if you're relying on Jim Hoey in tie games, chances are you may be 12-21.
Let's do a quick overview of the state of 'pens around baseball.
Three best bullpens on contenders
1. San Francisco Giants: The unheralded secret weapon of last year's champs, the bullpen has picked up where it left off, with
Javier Lopez
,
Sergio Romo
,
Ramon Ramirez
and
Guillermo Mota
throwing lights-out. Closer
Brian Wilson
blew his first save chance but has since converted 11 in a row, despite a little wildness. The team has lefty-righty balance, with lefties
Jeremy Affeldt
and
Dan Runzler
adding solid depth.
2. Florida Marlins: Several arms were added to the Marlins' 'pen after last season's shaky performance and so far they have a 2.59 relief ERA, second only to San Diego's. I believe in this group, although stellar setup man
Clay Hensley
was just placed on the DL with a bruised rib. Closer
Leo Nunez
appeared in 17 of the team's first 32 games, so watch his usage carefully.
3.
New York Yankees
: Yes,
Mariano Rivera
had that little burp, but he's back on track. Setup man
Rafael Soriano
has struggled, but I project he'll turn it around.
Joba Chamberlain
is throwing better than he has in years, and underrated
David Robertson
has one of the nastiest curves you'll see. The 'pen has allowed just five home runs in 95 innings. The big question is whether
Boone Logan
will prove to be a reliable lefty in the absence of
Pedro Feliciano
.
Bullpen doing it with smoke and mirrors right now
Tampa Bay Rays: The Rays have a 2.69 bullpen ERA, third-best in the majors, and have allowed opponents a .203 batting average. They've allowed just 61 hits in 87 innings despite a poor 51/34 strikeout/walk ratio. Some of that is attributable to their defense, but the low strikeout rate means that .203 average will be difficult to maintain. And maybe you believe in
Kyle Farnsworth
more than I do.
Three bullpens I'm worried about
1. Texas Rangers: The Rangers will be fine at closer once
Neftali Feliz
returns, but the rest of the 'pen looks shaky, as it has allowed 16 home runs in just 94 innings and has a poor 66/43 strikeout/walk ratio. Forty-somethings
Darren Oliver
and
Arthur Rhodes
are looking more their age and have surrendered three home runs apiece, and
Darren O'Day
is on the 60-day DL with a torn labrum in his hip.
2. Detroit Tigers: The team's best reliever has been
Al Alburquerque
, and with a name like that, he'd better be good, because we want him to last a long time. Closer
Jose Valverde
is always a tightrope, but the rest of the setup crew, including high-priced free agent
Joaquin Benoit
, has looked inconsistent.
3. Milwaukee Brewers: Brewers relievers already have nine defeats. They have a few good arms in closer
John Axford
and
Zach Braddock
and
Brandon Kintzler
, but control issues have been a problem so far and lack of depth could be an issue.
Two awesome bullpens if you only need two guys
1. Atlanta Braves:
Craig Kimbrel
and
Jonny Venters
are dominant (and
Eric O'Flaherty
provides a nice third guy). We'll have to see whether Venters holds up after pitching 79 games and 83 innings last year, but so far he's been even better than he was in 2010, with a 0.70 WHIP.
2. Boston Red Sox:
Daniel Bard
's raw numbers are great (well, except that 0-3 record, which is not exactly a non-important notation).
Jonathan Papelbon
is back with an 18/2 strikeout/walk ratio. But new acquisitions
Bobby Jenks
and
Dan Wheeler
have been disastrous, leaving a gaping hole after the top two.
Bullpen that may actually be OK
St. Louis Cardinals: The Cards are tied with the Brewers with nine bullpen losses, three by deposed closer
Ryan Franklin
. And while the team may not have a set closer (
Fernando Salas
has the role for now), there are some good arms here.
Jason Motte
,
Mitchell Boggs
and rookie
Eduardo Sanchez
all average more than 93 mph with their fastballs, and Salas throws strikes. Mix in LOOGYs
Trever Miller
and
Brian Tallet
, and I think Tony La Russa will figure out roles that turn this into one of the better 'pens in the NL.
PHOTO OF THE DAY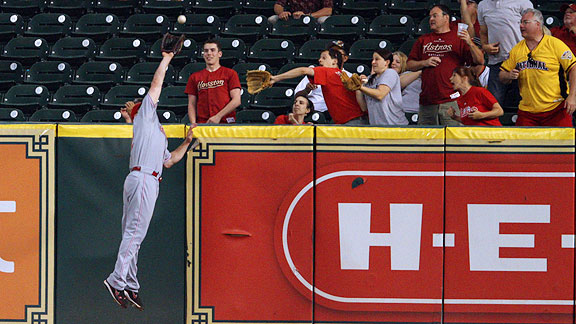 Thomas Campbell/US PresswireStretch! Jay Bruce reached as high as he could, but no dice. That one's gone.