August, 4, 2013
8/04/13
11:00
PM ET
Here's how bad the
Kansas City Royals
have been during the wild-card era: They would need to win 430 consecutive games just get back to .500 since 1995.
Yes, it's easy to dismiss the Royals considering that laughing-stock track record of nearly 20 years, and many did that heading into the final days of the trade deadline, when it was suggested general manager Dayton Moore call it quits on the season and trade starting pitcher Ervin Santana. That's what the Royals are supposed to do at the deadline: Dump any player not in the team's long-range plans for prospects who may one day be able to help.
I thought it smacked a little of East Coast/West Coast snobbishness: "Kansas City? Eh, is that in Missouri or Kansas? Do they even know what sushi is there?" Trade Santana to the Red Sox or Orioles or Braves because that's what the Royals are, a farm system for the rest of baseball.
On July 31, the Royals were a game over .500, in the midst of a seven-game winning streak that had left them seven games behind the Tigers in the AL Central and five games out of the wild card. A postseason long shot? Sure, catching the Tigers would be unlikely and, yes, there were four teams between them and the second wild-card spot. But the Royals were playing their best baseball of the season and -- however small the chance -- winning that second wild card would be the best thing to happen to Royals baseball since Bret Saberhagen leaped into George Brett's arms in 1985 (not including Hal McRae's tirade and definitely not including Tony Pena Jr. bobblehead night).
[+] Enlarge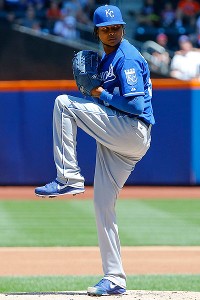 Anthony Gruppuso/USA TODAY SportsErvin Santana's still in K.C., but will he still deliver on the mound?
General manager Dayton Moore kept Santana and instead made a minor move to acquire Justin Maxwell. He was criticized for not moving Santana and criticized for giving up a marginal fifth-starter-type prospect in Class-A pitcher Kyle Smith to acquire Maxwell. Granted, Moore hasn't exactly done much to merit a benefit of the doubt, but a GM shouldn't punt when you're five games out of the playoffs, especially a franchise that is dying for any type of important baseball this time of year.
As if to prove the skeptics wrong, the Royals have continued to win, winning on July 31 and Aug. 1 to run their streak to nine and then taking two of three this weekend from the Mets. Santana got the win in Sunday's
6-2 victory
, allowing one run in six innings, his fourth straight excellent start. He's now 8-6 with a 2.97 ERA and .628 opponents OPS -- that's the eight-best OPS among AL starters, just behind Felix Hernandez's .626 mark and better than Bartolo Colon, Hisashi Iwakuma, Matt Moore or David Price.
So the Royals have an 11-1 record since July 23; unfortunately, the Tigers have gone 10-1 and the second-place Indians have gone 10-2 since then so they haven't made up much ground in the AL Central. They are, however, now 4½ behind the Indians for the second wild card, tied with the Yankees.
Do the Royals have it in them? Here are three reasons they can win a wild card ... and three reasons they won't:
1. Pitching, pitching, pitching:
The Royals have allowed the fewest runs in the American League. The last time that happened? 1986. The last time the Royals even finished in the top
half
of the AL in runs allowed was 1996. This is exactly what Moore set out to do in the offseason when he traded for Santana and James Shields and re-signed Jeremy Guthrie. Skeptics would point out that the Royals are just ninth in the league in strikeout percentage and fifth in OPS allowed, but their .294 average on balls in play is right at the league average, so there's nothing that screams fluke there.
Part of the credit for the team's run prevention goes to the defense. The Royals rank first in the majors in Defensive Runs Saved at +74 runs entering Sunday's games. Leading the way has been Gold Glove candidate Lorenzo Cain in center field with +18 runs saved; David Lough has been +12 in the outfield and Salvador Perez +9 behind the plate.
[+] Enlarge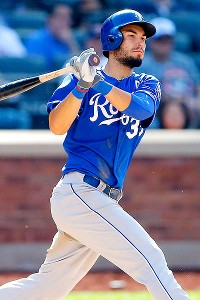 Jim McIsaac/Getty ImagesEric Hosmer is finally delivering on his promise at the plate.
2. Eric Hosmer is hitting:
When the Royals hired George Brett as temporary batting coach on May 30, a primary reason was the struggles of Hosmer and Mike Moustakas. At the time, Hosmer was hitting .262 with one home run; since then Hosmer is hitting .308/.342/.496 with 10 home runs. Maybe not MVP material but at least he gives the Royals a solid middle of the order bat.
Look, I can't sugarcoat that this is still a bad offensive team (only the Yankees and Astros have scored fewer runs in the AL). But if Hosmer keeps hitting and Alex Gordon and Billy Butler improve to a something more like they hit last year, which is not out an impossibility, the offense could at least be respectable the rest of the way.
3. Schedule:
The Royals have 54 games remaining, with only 25 of those against teams currently over .500. Eleven of those are against the Tigers and six against the Indians. The Royals also have 30 home games and 24 road games. If the AL East teams beat up on each other, that opens the door for the the second wild card coming from the Central.
OK, three issues to be concerned about:
1. Santana won't continue to pitch this well:
There are some red flags in Santana's numbers, starting with a .259 BABIP. That's seventh-lowest among AL starters and could be ripe for some regression. His FIP -- Fielding Independent Pitching -- is 3.65, another sign that he has possibly outpitched his peripherals. As good as he has been, Santana is a pitcher plagued by inconsistency throughout his career. He's pitching confidently right now and relying on his defense. We'll see if that continues.
2. Back of the rotation:
The fourth and fifth spots have been unproductive most of the season, although Bruce Chen has been solid since moving into the rotation a few weeks ago. But Wade Davis has been one of the league's worst starters all season -- 5-9, 5.42 ERA, 144 hits allowed in 109.2 innings. He may miss his next start due to a family emergency, but otherwise still remains in the rotation. Moore got hammered for not upgrading at second base but his failure to upgrade on Davis may haunt him even more.
3. Schedule:
On the other hand, check out the remaining games against over-.500 teams for all the wild-card contenders:
Indians: 22
Rangers: 16
Orioles: 32
Royals: 25
Yankees: 26
The Rangers, currently four games up on the Royals, have an even softer slate of games remaining, including 10 against the Astros and 10 against the likely-to-fold Angels.
That's what's going to make things difficult for the Royals. They can catch Cleveland and they can catch Baltimore. But the Rangers' schedule will help boost them to a strong finish.
So I'm predicting the Red Sox or Rays and the Rangers to win the wild cards. But hoping the Royals give us some fun baseball down the stretch and a reason for Royals fans to watch some big games in September.
May, 30, 2013
5/30/13
2:27
PM ET
The
Kansas City Royals
probably would be better off putting George Brett in the lineup than
making him their interim hitting coach
, but at least it will be good to see Brett back in a Royals uniform.
Because the real Royals sure haven't been good of late.
THIS WAS GOING TO BE THE YEAR, many prophesied before the season. Instead, after going 14-10 in April, the Royals have played like the Royals. In May they've gone 7-19, have lost eight in a row and 12 of 13, and have averaged 2.5 runs per game over those 13 games while hitting a grand total of two home runs.
And both of those home runs were hit by
Miguel Tejada
! A guy who wasn't even in the majors last year. Those may be the saddest two sentences I've written all year.
[+] Enlarge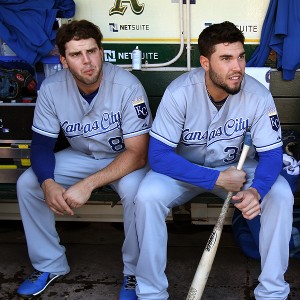 Brad Mangin/MLB Photos via Getty ImagesHighly regarded prospects Mike Moustakas and Eric Hosmer have been slow to take the next step in the majors.
So, no, it's not a surprise that hitting coaches Jack Maloof and Andre David have been reassigned. The real surprise is that manager Ned Yost wasn't given the ax as well.
As Joe Posnanski
wrote a few days ago
:
The last three games, the Royals have had Chris Getz and Alcides Escobar at the top of their lineup. You are not trying to win when you put Chris Getz and Alcides Escobar at the top of your lineup. You're just not. Chris Getz has a .311 career on-base percentage and a lifetime OPS+ of 70. Alcides Escobar has a .304 career on-base percentage and a lifetime OPS+ of 79. You hit those two guys 1-2 when you are trying to lose games for a better draft pick.
As Posnanski also pointed out, this power outage hasn't come at the expense of Maddux, Glavine and Smoltz. The 13 starters the Royals have faced:
Jarrod Parker
, Tom Milone,
A.J. Griffin
,
Dallas Keuchel
,
Bud Norris
,
Jordan Lyles
,
Joe Blanton
,
Jason Vargas
,
Billy Buckner
,
Jerome Williams
,
Adam Wainwright
,
Tyler Lyons
and
Lance Lynn
.
No, the ugly truth is everyone expected
Eric Hosmer
and
Mike Moustakas
to become stars because they were highly rated prospects, and highly rated prospects become stars. The ugly truth is this is a franchise trying to win with
Jeff Francoeur
and Getz eating up outs every day.
But Hosmer can't hit a fastball. In an excellent
subscription piece
on Baseball Prospectus, Sam Miller wrote about watching a week of Hosmer at-bats. His conclusion:
Hosmer is consistently late on fastballs. In seven days, I saw Hosmer foul off 18 pitches, and my recollection is that one of them—a slider that he dribbled toward the first-base dugout—was pulled. Nearly without fail, the rest were fastballs that he popped foul into the left-field stands or, occasionally, lined sharply toward the third-base dugout. Part of this is approach—as noted, he goes the other way—but the frequency of foul pop-ups on fastballs points to an inability to catch up and get on top of these pitches.
I've written before about Hosmer's inability to hit fastballs. It could be a mechanical thing. It could just be that he can't react to good fastballs. It could be his approach, and maybe that's why Maloof and David are no longer here. If they
were
telling their guys to go the opposite field, that's a problem. Yes, that's
part
of being a good major league hitter, but the majority of home runs are pulled. If you can't pull the ball, you're not going to hit many home runs. Not every hitter has the strength of
Ryan Howard
or
Miguel Cabrera
. And while the
San Francisco Giants
proved last year that home runs aren't the only way to score runs, the Royals are 14th in the AL in walks, so if you're not getting on base and not hitting home runs, your offense is going to stink.
And the Royals' offense stinks.
Also, that hot start in April?
Ervin Santana
and
Jeremy Guthrie
were great and allowed 10 home runs between them. In May they've allowed 18 and haven't been great.
In other words, the pitching that fueled that hot start may not really be as good as it was in April.
Somehow I got through this whole post without mentioning general manager Dayton Moore. He was hired May 31, 2006. Has it really been that long? His team has essentially made no progress in seven years.
It's time.
May, 5, 2013
5/05/13
12:25
AM ET
By
Christina Kahrl
| ESPN.com
After beating the
Chicago White Sox
2-0
with a complete-game shutout Saturday,
Jeremy Guthrie
is now 9-3 as a
Kansas City Royal
, and that's at a time when it hasn't been easy to do anything of the sort wearing a Royals uniform, even with the vagaries of run support and how much a win-loss record for any one starting pitcher can amount to a series of coin tosses.
From disappointing high expectations as a top prospect in Cleveland, to being stuck as an innings-eater in Oriole irrelevance, to the brief horrors of a mile-high exile as a Rockie, Guthrie has paid his dues and deserves a good turn. That he's given the Royals more than one in kind is one of those happy developments. With the additions of
James Shields
and
Ervin Santana
to the rotation, Kansas City general manager Dayton Moore can reasonably brag that he's managed to cobble together a better-than-average rotation in short order despite limited supply and limited cash. Thanks to their rotation, the Royals are in that gaggle of teams fighting for bragging rights to be second in the American League to the
Detroit Tigers
in quality-start percentage so far -- just a tick or two below 60 percent -- even as they fight to keep up with the heavily favored Motor City Kitties in the AL Central.
One thing to always keep in mind is the separation between "how things would be if everything goes our way," and how things are. That's worth keeping in mind because while the Royals are 16-10, the really interesting thing about the team at this point of the season is the number of things that
haven't
gone entirely its way -- and yet Kansas City is competing just the same. Anybody can win when everything you thought would happen, does, but the Royals haven't been nearly that fortunate.
The biggest problems are to be found in the lineup, which has a number of bats that have gone MIA so far -- and for far longer than a mere month. Starting third baseman
Mike Moustakas
is on the wrong side of the Fermin line for OPS (which is .600, since I just made it up; Felix Fermin's career mark was .608). If the Royals had an alternative, a punitive trip to Omaha would have been long since earned. Former Brave
Jeff Francoeur
, briefly a source of bragging rights for an organization run by a former Braves exec, is now a month into a second season of brag-unworthiness as an outfield regular. Catcher
Salvador Perez
has yet to really get on track. Overhyped wunderkind
Eric Hosmer
is slugging a whopping .350, which would be considered terrible if he hadn't already slugged just .359 last year. In his age-23 season, Hosmer obviously has nowhere to go but up, but that's just because he's dug himself a hole; he needs to prove he isn't merely the Midwest variation on an unslugly
Justin Smoak
theme for massive first-base disappointments of his generation. And after four years of ghastly production at second base, it's time for the franchise to be honest with itself: It (
Chris "Getz"
) better? No, no it does not, at least not for this guy.
[+] Enlarge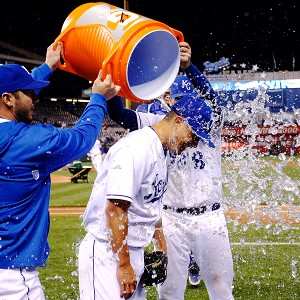 AP Photo/Colin E. BraleyJeremy Guthrie gets an early shower after his shutout of Chicago, leaving him 4-0 and the Royals right on Detroit's heels in the AL Central.
Admittedly, this kind of caustic snapshot of an offense is easy in the season's fifth week. If or when most of these guys start hitting -- and once the team replaces Getz with
Johnny Giavotella
, a move that's at least a year overdue -- they could propel the Royals' offense toward the top of the AL in runs scored per game, which would mean cashing in many more great games from Shields, Guthrie and Santana for wins. But Francoeur, Hosmer and Moustakas all need to rebound sooner rather than later if the Royals are going to keep alive their case for either unseating the Tigers or making a run at one of the two wild-card slots.
In the meantime, barring any major moves to fix these problems on offense, it's going to be up to the Royals' rotation to make sure the team can survive until its fixed, which makes for narrow margins to work with and tight games. More big games like Guthrie's will help, but how well the rotation lasts over the next five months is an open question. After all,
Wade Davis
has one quality start in five turns, Santana broke hearts all over Anaheim, and fifth starter
Luis Mendoza
is a cipher at best or a placeholder due to be bumped at worst. Maybe
Bruce Chen
or
Luke Hochevar
will have to swing back to starting, and maybe that would merely lead to more of the same after counting on them as rotation regulars the previous three seasons.*
In the big picture, it's important to keep in mind how transient this window of opportunity being bought by Kansas City's rotation might be. Santana is a free agent at season's end, while Shields is here for one more year if the Royals spring for his option ($13.5 million). Santana was available in part because he has been so reliably maddening; Shields was available because, like much of the Rays' statistical thaumaturgy, not everyone believed they could reproduce the same success in their own home laboratory. The Royals were sufficiently desperate to take a chance.
Which is where the Royals are now: Desperate to deliver, and deliver now. Young talents like Hosmer and Moustakas have plenty of time to develop, but it remains to be seen if the Royals' leadership can afford the time it will take for them to fulfill their promise. Clearly, they couldn't wait on Wil Myers, having dealt him away to land Shields (and Davis).
The Shields trade is a reflection of win-now desperation, but one armed by the knowledge that it has never been easier to make the postseason. If the Royals finally do make it to October and buy Moore more time to deliver on whatever master plan he might have beyond self-preservation, he'll have bought himself continued opportunity to try to make people forget that he traded away a stud prospect to land just two seasons of Shields at near-market pricing.
With so many of their remaining top talents struggling even as the Royals get off to a good start, the Shields deal might sound like a defensible exchange, but just as you can't judge the Royals on the basis of their getting off to a good start now, it remains to be seen if the full potential benefits of trying to win now will be realized. If the Royals get more than a boost in ticket sales in June and July, good on them. If they get to sell tickets in October, good on Dayton Moore -- he'll have bought himself another several seasons worth of tomorrrows in the Royals' front office. The odd thing is, that might add up to hope and faith in KC for many loss-addled Royals fans after decades of irrelevance, even as it frustrates those who'd rather still have Myers and the promise of an even better tomorrow.
* Yes, the Royals have at least four guys on this staff you'd call swingmen, if you count Mendoza and Davis as well as Chen and Hochevar. But hey, if you want to stick with the current fashion and pretend nobody's employing swingmen, by all means, keep playing make-believe.
September, 7, 2011
9/07/11
2:43
PM ET
It wasn't raining in the bucolic Bristol studios as Keith Law and I talked about the greatest sport in Wednesday's
Baseball Today podcast
. Here are a few of the highlighted topics:
1. OK, so I guess that
Stephen Strasburg
guy is pretty good, eh?
2. The
New York Yankees
and
Baltimore Orioles
played a baseball game on Wednesday morning. We discuss.
3. Do catchers make for good future managers? Or is it just catchers that didn't hit well?
4. Who is the next
Rick Ankiel
… and does someone want to be the next Rick Ankiel?
5.
You
are
Kansas City Royals
GM Dayton Moore. What do you do with the Royals?
Plus: Excellent emails, conjunction junction,
Mariano Rivera
and the saves record, appreciating
Livan Hernandez
and a look at Wednesday's schedule, all on Baseball Today!
March, 3, 2011
3/03/11
12:00
PM ET
By
Bill
and
The Common Man
| ESPN.com
On Tuesday, Darryl Johnston caused a bit of a stir when he ranked the components of "organizational management" -- the owners, GMs and managers -- of
the five AL East teams
. Being Midwest guys, we thought we'd try the same thing with the AL Central; not as sexy, maybe, but fun nonetheless. We're using the same basic method Darryl did, with one point for a fifth-place ranking and five points for a first-place ranking.

Owner
: Jerry Reinsdorf |
AL Central rank
: 2nd |
Points
: 4
Reinsdorf generally stays out of the way and cuts checks these days. He's also succeeded at the unenviable job of maintaining détente between his manager and general manager. Which is good, because the two are both excellent in their roles, even if they don't always work well together. Reinsdorf gets a slight ding here because of his role as Bud Selig's chief supporter and his role in collusion in the late 1980s.
General manager
: Kenny Williams |
Rank
: 1st |
Points
: 5
Williams, who has held his job since 2000, excels at making trades, picking up guys like
John Danks
,
Gavin Floyd
,
Carlos Quentin
and
Jose Contreras
in very one-sided deals. He's reached into the Cuban market, generally hit on his free-agent acquisitions, and had decent farm systems that he's mostly leveraged to acquire more talent.
Manager
: Ozzie Guillen |
Rank
: 1st |
Points
: 5
Ozzie has made waves this offseason by not keeping his clubhouse's business in-house. But he's typically been quick to leap to his players' defense and take the blame himself for any failures. He also consistently provides the best quotes in the business.
White Sox's composite score: 14 points
---

Owner
: Larry Dolan |
Rank
: 4th |
Points
: 2
The Indians used to be the class of the American League Central. They had a beautiful ballpark, they sold out every single game (literally), and they finished 171 games over .500 from 1994-99. Working diligently, Dolan has managed to undo all of that hard work. The Indians sit at the bottom of the division, they drew under 1.4 million fans last year, and they've finished .500 or worse seven times in nine seasons.
General Manager
: Chris Antonetti |
Rank
: 4th |
Points
: 2
Antonetti's hard to figure, given that this is his first season at the helm and the club still has ties to former GM Mark Shapiro. It's also unclear how much of the Indians' performance these last several years are traceable back to Antonetti, Shapiro's right hand since 2007. His first offseason was not exactly inspiring.
Manager
: Manny Acta |
Rank
: 2nd |
Points
: 4
We like Acta. He earns high marks for his open-mindedness, willingness to experiment, demeanor and jaunty hat. His overall record, 227-345, is deceiving, since his owners and GMs steadfastly refuse to provide him with actual major league players.
Indians' composite score: 8 points
---

Owner
: Mike Ilitch |
Rank
: 1st |
Points
: 5
IIlitch and the Tigers spent a long time in baseball's wilderness. Now he's mostly content to hand out the checks and let Jim Leyland and Dave Dombrowkski run the show. This is a good thing. Pizza! Pizza!
General manager
: Dave Dombrowski |
Rank
: 2nd |
Points
: 4
When he's had a free hand, he's put winners on the field. He's occasionally played a little too fast-and-loose with Ilitch's money -- like this year, comically overpaying for a middle reliever and apparent DH in
Joaquin Benoit
and
Victor Martinez
.
Manager
: Jim Leyland |
Rank
: 4th |
Points
: 2
Leyland's still a good and popular manager when he's engaged and happy. As he gets older, there's additional risk that he'll burn out again or fall asleep in the dugout. We're probably starting to get into Casey Stengel-with-the-Mets territory here.
Tigers' composite score: 11 points
---

Owner
: David Glass |
Rank
: 5th |
Points
: 1
We'll never blame an owner for refusing to spend on a team that's going nowhere, but their continually going nowhere is in large part BECAUSE of Glass, who had a huge hand through the mid-90s in turning the team into the perpetual downer it's become.
General manager
: Dayton Moore |
Rank
: 5th |
Points
: 1
Yes, the farm system is excellent right now. Yes, GMDM remains the worst GM in all of baseball. Virtually every move he has made at the big league level has failed spectacularly and predictably. There's been no indication at all that, once those great kids are ready, he is capable of acquiring the pieces necessary to turn that core into a contender.
Manager
: Ned Yost |
Rank
: 5th |
Points
: 1
He's had only about three-fourths of a season in KC, but he has a rep among Brewers fans as a high-strung statistics-phobic dinosaur who used his bullpen in a bizarre and ineffective way. Yost probably isn't a terrible manager, but he's at the bottom of a strong stack.
Royals' composite score: 3 points
---

Owner
: Jim Pohlad |
Rank
: 3rd |
Points
: 3
Pohlad's father did basically what Glass did in the '90s, with the same results. The Twins are spending a lot more these days, but that's the park, not the owner. It's pretty hard to argue with the results under either Pohlad since 2002, though.
General manager
: Bill Smith |
Rank
: 3rd |
Points
: 3
Smith is an enigma. After starting his career with two disastrous trades and little else, Smith shockingly hit a home run with nearly every move a year ago. This offseason, he seems back to his old ways. Antonetti gets ranked behind him for now, but I have a suspicion that Smith might be pretty close to 29th out of 30.
Manager
: Ron Gardenhire |
Rank
: 3rd |
Points
: 3
The esteem in which one holds Ron Gardenhire seems to have an inverse relationship to how often you watch the Twins play. You love him at 30,000 feet, but if you're close enough to see his irrational love of "scrappy" players and his bullpen usage, the cracks start to show. But the players seem to love him and love playing for him, and I think that's the one aspect of managing that sometimes gets unfairly overlooked.
Twins' composite score: 9 points
---
Overall AL Central ranking
:
1. Chicago (14 points)
2. Detroit (11 points)
3. Minnesota (9 points)
4. Cleveland (8 points)
5. Kansas City (3 points)
This roughly approximates how you might expect the 2011 standings to look, at least with the group of three who will finish at the top and the two who are destined for the bottom. The all-around futility of the Royals kind of skews the rest of the results (making Cleveland and Minnesota appear closer than they probably are), but the general order is right.
The Common Man and Bill write obsessively on The Platoon Advantage and bicker incessantly on Twitter here and here.
February, 13, 2011
2/13/11
12:30
PM ET
By
Craig Brown
| ESPN.com
Tick, tick, tick …
The sound of another edition of "60 Minutes"? Hardly. How about the countdown on the deadline for the Cardinals to sign
Albert Pujols
to a contract extension. As you've undoubtedly heard by now, Pujols has set a deadline of the beginning of spring training for the sides to come to an agreement, or he will play out the 2011 season and hit the free-agent market at season's end.
[+] Enlarge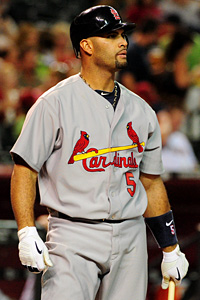 Matt Kartozian/US PresswireSt. Louis first baseman Albert Pujols can become a free agent after the coming season.
With the Cardinals pitchers and catchers reporting to Jupiter today, and Pujols due to report on Wednesday, the pressure is on both sides to reach an agreement. What's adding to the pressure is the fact
the Cardinals aren't exactly sure where the deadline falls
. Is it today? Is it Wednesday? Is it arbitrary and able to change at a moment's notice?
This is one of those negotiations where you want to grab a box of popcorn. The next couple of days should be some kind of fun.
Jason Rosenberg did an excellent job
detailing the potential suitors
should Pujols enter the market next winter, narrowing the list down to the usual suspects -- including the Red Sox, Yankees, Angels and Cubs. Of course, there could be a Mystery Team. You know the Mystery Team. They're always lurking, ready to strike when you least expect it. A team cloaked in secrecy, shrouded in inscrutability, and covered in question marks. Yet chock full of stealth, and with it's pockets lined with cold, hard cash.
According to Jeff Gordon from STLtoday,
that mystery team could be in the same state as the Cardinals
.
"But wouldn't the Royals offer the ultimate free-agency option for Pujols?

Kansas City is home for Albert and Dee Dee, to a significant degree. That is where they met. That is where Pujols played high school and college ball. It's where he worked with his hitting/training mentor to become the machine that he is.

The Royals are loaded with prospects that player development experts love. They have Tampa Bay Rays-like potential, with plenty of big arms and big bats on the way.

That team has significant money committed to just one player beyond 2011, Billy Butler. The Royals loaded up with veterans on one-year deals this season, including pitcher Jeff Francis and outfielder Jeff Francoeur.

They possess maximum payroll flexibility for 2012. More than most franchises, the Royals can afford to spend $30 million (or more) per season for one hitter."
Gordon pretty much speaks the truth. Yes, Pujols spent his formative years in the Kansas City area. Yes, the Royals system is loaded. Yes, the Royals have a number of players on one-year contracts. And yes, the Royals have payroll flexibility for 2012 and beyond.
But can the Royals afford to spend $30 million for one player?
As Jason pointed out in his post, committing more than a quarter of your payroll for one player isn't just bad business, it's potentially franchise crippling. As such, for a $30 million player to fit, the team must operate with a payroll north of $120 million.
The Royals Opening Day payroll in 2010 was a franchise record $74.9 million. Take the 25th man off the Royals roster -- say
Mitch Maier
and his $415,000 salary -- and replace him with Pujols and his $30 million, and you're looking at the first baseman gobbling up roughly 29 percent of the payroll. It's not the 25 percent that seems to be the accepted amount, but it's close. Maybe that's not a killer. Maybe that's doable.
However, that was last season. After a couple of years of escalating payroll, the Royals have sliced and diced costs in an effort to prepare for what some have termed Project 2012 -- when the majority of the team's pool of young talent is slated to reach the majors. After dealing
Zack Greinke
to the Brewers and getting the $12 million gift that was the
Gil Meche
retirement, the Royals are looking at an Opening Day payroll that will be in the neighborhood of $35 million.
To look at it another way, the Royals Opening Day payroll will be just $5 million more than Pujols is seeking for his next contract.
The Royals diminished payroll for the upcoming season is all part of The Process. With the Royals' system flush with talent in the minors, the Royals have a unique situation in which they will be able to either complement their young players with some major league free agents, or they have the flexibility to lock in those young players to club-friendly, long-term contracts. You can never say never, especially when it comes to the actions of Dayton Moore at the major-league level, but it's highly unlikely Moore will squander his flexibility with a single contract. After all, Moore has been fairly vocal about how he has gotten the Royals to this point regarding payroll, and how he plans to maintain the flexibility. Of course, he also once said he valued on-base percentage …
(Quick aside: Time for a perspective check from one Royals fan …
Pujols? Why do we need Pujols? We have Billy Butler, who can rake. Kila Ki'ahuie is a monster who is going to set the baseball universe on its axis and will undoubtedly start a streak of 10 consecutive All-Star Game appearances this summer. And then Eric Hosmer has the best looking swing in the history of whatever and will be ready for the majors in 2012.
Honestly, tell me where Pujols fits. I just don't see it.
Ummmm … Yeah. That was fun. Perspective check over.)
While the thought of Pujols driving west on I-70 might be enough to cause heartburn on the Hill in St. Louis, and while Pujols might feel the pull of his hometown should he hit the open market, Kansas City won't be a player in the Pujols Sweepstakes.
Craig Brown writes for the Royals blog, Royals Authority and about fantasy baseball for Baseball Prospectus. Follow him on Twitter.
August, 31, 2009
8/31/09
4:06
PM ET
Maybe I shouldn't keep picking on the Royals, but sometimes these posts just write themselves. Plus, for all you budding baseball executives out there, the Royals are a great lesson in what
not
do if you're running an organization.
To wit
:
Bloomquist knew it was time to leave Seattle when he became a free agent after last season. He longed for an opportunity to be more than a spare part, an opportunity that simply never surfaced through seven big-league seasons with the Mariners.

"They were ready to turn the page, and so was I. It worked out well for both sides. They're playing well, and I'm getting an opportunity to play."

Bloomquist, 31, has already set career highs this season in virtually every offensive category. His 342 at-bats through Wednesday put him on pace to finish with 440 after never getting more than 251 in Seattle.

And he finds satisfaction in proving, finally, that he only needed a chance to prove he can be a regular player.

"I play best when I have a chip on my shoulder," he admitted, "and I've had a chip on my shoulder for a long time. I started off the year really well. It wasn't just to show Seattle. It was to show everyone who has always doubted me. Recently, things haven't gone as well as I'd like."
Willie Bloomquist
really has proved a few things this season.
He has proved that he can, like most players, play better than his career numbers for a couple of months.
He has proved that he will, like most players, revert to his career numbers given enough playing time. Entering this season, Bloomquist's career included a .322 on-base percentage and a .324 slugging percentage, adding up to a 74 OPS+. This season, he's got a 74 OPS+. He has done exactly this season what we should have expected.
And finally, he has proved that the Royals have absolutely no idea what they're doing. And if you need still further proof of that, there's this.
July, 24, 2009
7/24/09
2:32
AM ET
July, 13, 2009
7/13/09
3:34
PM ET
It took me just a couple of hours to post
my reaction
to the Royals' trade for
Yuniesky Betancourt
. It took Rany Jazayerli nearly 24 hours to post his but then, he had a good excuse:
Rany's response
ran more than 4,200 words. Frankly, I don't know if I recommend reading the whole post unless 1. You're a Royals fan, or 2. You've got a masochistic streak within you. Because this is painful stuff.
A snippet, though:
Unfortunately for the Royals, last year [Mariners GM Bill] Bavasi was fired -- and remember, this was the same genius who, before the axe fell, cited the departure of Jose Guillen as one of his biggest regrets -- and the Mariners hired the talented Jack Zduriencik as their new GM. Zduriencik had been the scouting director for the Milwaukee Brewers, but unlike certain scout-oriented GMs he quickly proved that he was not intimidated by statistical analysis. He created a Department of Statistical Research and hired his former assistant Tony Blengino to run it. The Mariners also hired the brilliant Tom Tango as a consultant.

This winter, the Mariners and Royals were both looking for first basemen. The Mariners decided to gamble on a player who, despite a .485 career slugging average and being a perennial stathead favorite, had never batted even 450 times in a season and had gone over 300 plate appearances just twice. They signed Russ Branyan to a $1.4 million contract, and Branyan currently is hitting .284/.383/.575 and ranks second in the league with 21 homers despite playing in one of the AL's best pitchers' parks. The Royals, despite having one of the best first base prospects in baseball in Kila Ka'aihue, instead sacrificed a quality reliever in Leo Nunez for the opportunity to pay Mike Jacobs over $3 million. Jacobs had a career .498 slugging average, but his plate discipline was terrible and he was coming off his best season at age 27 – a strong statistical sign that he was likely to fall back. You may recall that the stats community hated the trade. He's hitting .218/.294/.401.
You probably don't need anything more from me, after that. Zduriencik is employing all (or most) of the tools at a modern general manager's disposal; Moore chooses to ignore one of those tools, and winds up with out-machines like Jacobs,
Miguel Olivo
, and (soon) Betancourt in his lineup. Zduriencik's acquisitions of castoffs Branyan and
Franklin Gutierrez
-- two of three best players in the lineup -- were right out of the sabermetric playbook. Meanwhile, Moore behaves as if Bill James hadn't started writing "The Baseball Abstract" more than 30 years ago.
Which is how we got where we are: the Royals are, once again, the most ridiculous franchise in the American League. And a hearty congratulations to everyone who made it happen.
(For more on the disconnect between Dayton Moore and the current state of baseball analysis, there's Pos-o'-plenty here and especially here. Oh, and now there's this; at least Moore admits that he doesn't know, and doesn't care. More kudos to all involved.)
April, 21, 2009
4/21/09
11:02
AM ET
You've no doubt heard about Zack Greinke's scoreless streak (and if not, check out Buster's Blog). How is Greinke doing it? R.J. Anderson's got the particulars:
Zack Greinke's Scoreless Streak
Date
Opponent
IP
K
BB
LD
9/18
Mariners
7
7
1
2
9/23
Tigers
7
4
2
5
4/8
White Sox
6
7
3
2
4/13
Indians
5
9
2
5
4/18
Rangers
9
10
0
6
Quite a few things have been different for Greinke. Greinke is hardly walking anyone, yet only 42% of his pitches are being registered as in the strike zone. Part of the reason he is avoiding the free pass is thanks to an impressive 64% first pitch strike rate. Throw in a decreased contact rate, and it's pretty clear that Greinke has good stuff.

The most notable change in pitch usage has been the increased presence of Greinke's curveball. Since 2007, his curve has went from 8% usage to 14% to 18%. Along with a slider and change-up, Greinke has scaled down his fastball usage. Intriguingly, his fastball has seen an improvement in horizontal movement since doing so, gaining almost an entire inch of movement inwards to righties. Greinke's curve has a violent break and his ability to control the speed of it is quite impressive. It's been measured as low as 60 MPH and as high as 85.

Give Dayton Moore some points for getting Greinke signed to an extension last off-season.
I'll give Moore some points for
the extension
, and I'll give him some points for
making his minor leaguers wear stirrups
, too.
A few more points like this, and I might forget all about Jose Guillen and Kyle Farnsworth.
April, 10, 2009
4/10/09
10:42
AM ET
The Royals are 2-1 and their starting pitchers have given up one run in 20 innings, so you'll understand if there's a little buzz around the club. And as Sam Mellinger writes,
expectations for the Royals have seldom been higher
(not since the early 1990s, at least).
The Royals' focus has been investing time and money on the amateur draft -- it's thought that they spent more money on last year's picks than any team ever -- and on player development.

From spending $91 million on free agents Gil Meche and José Guillen, to trading for Kyle Davies (who blanked the Chicago White Sox for seven innings Thursday) and Coco Crisp (who hit the go-ahead homer in the ninth), everything the Royals are doing at the big-league level is meant as a bridge of sorts to when the organization's investment in the infrastructure of the minor leagues begins to show.

"Our constant balance is improving our big-league club without sacrificing what we're doing below," Moore says. "Look, I understand. I like getting some sleep at night, and that certainly is a product of things going well (with the major-league team). But we can't be so consumed that we forget about what's most important, and that's long term."

--snip--

Moore knows this other side of it, too. He knows the expectations that are created by adding nine new players and $12 million of payroll.

Internet message boards that used to fill with positive fan comments now question why Moore signed Kyle Farnsworth -- who didn't help himself by blowing an eighth-inning lead in the season opener -- for two years and $9 million.
Dayton Moore made a big mistake when he signed
Jose Guillen
for three years and $36 million. That contract suggested -- and continues to suggest, each day -- that Moore lacks a basic familiarity with objective analysis. Moore made a small mistake when he signed Farnsworth, whose skills, impressive as they might be -- in, say, South Korea -- are not worth anything like $9 million on the open market.
If the Royals played in the American League East, Moore's propensity for such mistakes would take the Royals off the board for as far into the future as you might care to look. But they don't play in the AL East, and if Moore really does build a superior farm system and picks up a little luck here and there -- well, a Royals fan can dream a little. Especially if Davies keeps pitching like this.