SweetSpot:

Dellin Betances
May, 24, 2014
May 24
8:48
PM ET
By
Tommy Rancel
| ESPN.com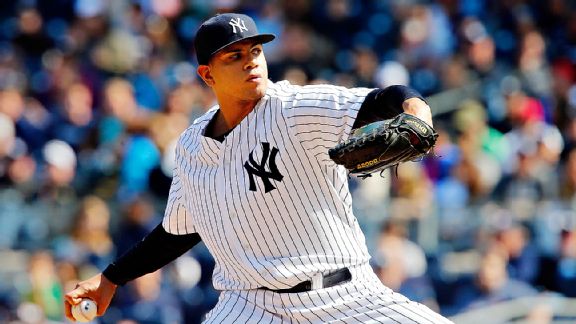 Jim McIsaac/Getty ImagesDellin Betances has been a big factor in the Yankees' bullpen, covering for injuries in the rotation.

In his first few years as manager of the New York Yankees, Joe Girardi showed an affinity for using relief pitchers for four or more outs. From 2008-10, Girardi's first three years as Yankees' skipper, the club finished in the top five of multi-inning relief appearances in each season. Back then, former starting prospects Joba Chamberlain and Phil Hughes were frequently used for more than three outs. Signed out of the Mexican League, Alfredo Aceves also had appearances that typically lasted more than one inning.

Be it a change in philosophy or roster composition, Girardi's clubs finished outside of the top 10 in multi-inning appearances in each season from 2011-13. Hughes became a permanent member of the rotation before signing a multiyear contract with the Minnesota Twins this winter. Chamberlain battled through injuries and bouts of ineffectiveness. He also left New York as a free agent in the offseason. Like Chamberlain, Aceves got injured, but he was non-tendered after the 2011 season. He has since returned to the club this year.

Partially out of necessity, and another part out of practicality, Girardi has returned to his roots in 2014. In 2013, he had his relievers record four or more outs 101 times. This year's Yankees are almost halfway to that total this year, as they lead the league with 49 games of a relief pitcher working a game in which they record more than three outs.

Currently, the Yankees have three members of their Opening Day rotation on the disabled list: CC Sabathia, Michael Pineda and Ivan Nova. Sabathia is out until at least July if not longer, while Ivan Nova is out altogether after undergoing Tommy John surgery. Pineda, however, is close to a return from a strained lat muscle. The injuries in the rotation in addition to time missed by closer David Robertson and setup man Shawn Kelley in the bullpen -- two key figures tapped to help fill the void left by Mariano Rivera's retirement -- have left Girardi with little or choice but to maximize his available resources. Meanwhile, the emergence of two former starters turned relievers has given him extra incentive to use a longer leash with his men in the pen.

Who are some of the guys the Yankees are relying on now? Adam Warren is one of them. The Yankees selected Warren in the fourth round of the 2009 draft. The North Carolina native worked exclusively as a starter in the minor leagues. He made his major league debut as a starting pitcher in 2012.
[+] Enlarge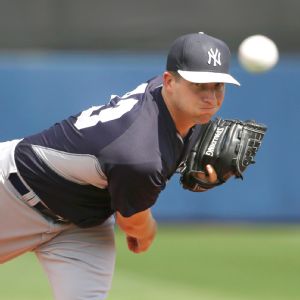 AP Photo/Steven SenneAdam Warren has been another of the Yankees' multi-inning options pitching from the pen.

Since then, Warren has appeared in 55 games at the big league level. Just two of those were starts. Instead, the right-hander as been a multi-inning weapon for Girardi. Of the 55 relief appearances he has made since last season, he has recorded more than three outs in 31 of them. This season nine of his 22 outings have lasted more than an inning.

Primarily using a three-pitch mix consisting of a mid-90s fastball, a strikeout slider and a power-zapping changeup, Warren has had little trouble retiring batters at the highest level. His medicine has been best served in smaller doses (25 pitches or less); however, he has extended past that limit recently to favorable results.
Dellin Betances had a short distance to travel when the Yankees called his name in the eighth round of the 2006 draft. Born in New York City, the Grand Street Campus High School (Brooklyn, N.Y.) product quickly shot to the top of prospect lists. Blessed with a big fastball and an even bigger frame (listed as 6-foot-8 and 260 pounds), it was believed Betances might one day anchor the Yankees' rotation.

Injuries to his elbow and shoulder, along with an inability to consistently throw strikes, dominated most of Betances' time as a minor leaguer. After working as a starter for the first seven years of his professional career (although he appeared as a reliever in his 2011 big league debut), he converted to a reliever full time in May 2013.

While Warren became indoctrinated as multi-inning weapon last season for the Yankees, Betances spent most of the year honing his craft in the minors. He made six appearances out of the Yankees' pen in 2013, only one going beyond three outs.

What a difference a year makes. The 26-year-old has recorded more than three outs in 12 of his 18 appearances -- leading the majors. Not only is he generating outs, he's doing so in grand fashion. Among relief pitchers with 15 or more innings thrown, only two (Craig Kimbrel and Wade Davis) have struck out a higher percentage of batters than Betances' whopping 45.2 percent.

As a reliever, Betances has narrowed his repertoire down to two pitches: a blazing fastball that lives around 96 mph and a breaking ball that sweeps in more than 10 mph slower than the fastball on average. Unlike his days as a starter, he now controls the heater and commands the hook (a potential byproduct of shifting positions on the rubber toward first base). With upper-90s heat pounding the zone (68 percent strikes), he has used the hook to entice hitters to expand the zone. Commanding the pitch glove side and down, hitters have missed on 38 of the 64 swings they have made against the pitch. The 59.4 percent whiff rate is the highest of any offering that has been thrown at least 150 this season including Mashiro Tanaka's splitter, according to ESPN Stats & Information.

With his team trailing 4-3 on Friday night against the Chicago White Sox, Girardi deployed both his weapons in an effort to keep the game close. After an uncharacteristically short outing from Hiroki Kuroda, Betances was summoned with two outs in the fifth inning. He recorded the final out of the frame before tossing a scoreless sixth inning. He struck out two more batters.

Betances was relieved by Warren in the seventh. By this time, New York had grabbed a 5-4 lead. Warren struck out two batters in the inning and around a two-out single to hold the lead. He remained on for the eight, logging two more outs (one via strikeout) wrapped around a single.

The dynamic duo combined for three innings allowing three hits while striking out five and walking none. They needed 56 pitches to generate nine outs. In the process, they allowed their team to comeback to take the lead.

Unfortunately for New York, Girardi attempted to go to the multi-inning well one time too much. With two outs in the eighth, Girardi called on closer David Robertson to relieve Warren. He closed out the eighth before taking the mound in the ninth in search of a four-out save. Following a single to begin the inning, Robertson served up a two-run, walk-off shot to Adam Dunn.

In this case, perhaps there was a bit too much of what has been, for the Yankees this year, a good thing.

Tommy Rancel writes for The Process Report blog on the Rays and contributes to GammonsDaily.com.
May, 9, 2014
May 9
3:13
PM ET
By
Jason Rosenberg
| ESPN.com
We're nearing the end of Week 6 and Nolan Arenado is
still hitting
, Seattle can't seem to lose,
the Jays are mashing
, Miami sits atop the the NL East and is unbeatable at home, Laz Diaz is
still taunting
players and a few teams picked to excel this year are below .500 (looking at you, Rays, Pirates, Royals, Reds, Cleveland).
Arizona Diamondbacks: Inside the 'Zona
Projections vs. reality: D-backs position players
: Jeff Wiser compares preseason ZiPS projections to the performances of each of the Arizona position players, showing that some players are more responsible for the team's slow start than others, and discussing what to expect of each going forward. Follow on Twitter:
@OutfieldGrass24
.
Atlanta Braves: Chop County
The Braves made a mistake by signing Chris Johnson
: Martin Gandy says the Braves signed one too many players to a long-term contract when they inked Chris Johnson this week. Follow on Twitter:
@gondeee
.
Baltimore Orioles: Camden Depot
Anatomy of a Scoring Decision
: Joe Reisel discusses what goes into the decision-making process of an official scorer. He uses a specific incident during one of his games in Norfolk. Follow on Twitter:
@CamdenDepot
.
Boston Red Sox: Fire Brand of the American League
Starting rotation could separate Red Sox in AL East
: With a deep and talented set of starters and plenty of prospects biding their time in Triple-A, the Red Sox's depth at starting pitching might prove to be their crucial advantage. Follow on Twitter:
@AlexSkillin
.
Chicago Cubs: View From the Bleachers
Three Cubs prospects who deserve a promotion
: Joe Aiello takes a look at some names in the Cubs farm system who are off to a great start and deserve consideration for a promotion. Follow on Twitter:
@VFTB
.
Chicago White Sox, The Catbird Seat
On Donald Sterling and Jerry Reinsdorf
: Chris Lamberti uses Jerry Reinsdorf's history to explore the fallacy of believing owner misdeeds are as obvious and easily purged as Donald Sterling's boorish racism. Follow on Twitter:
@TheCatbird_Seat
.
Colorado Rockies: Rockies Zingers
Analyst Who? Don't blink
: Richard Bergstrom channels The Doctor with a word to any companions attempting to observe the Colorado Rockies' front office. Follow on Twitter:
@rockieszingers
.
Milwaukee Brewers: Disciples of Uecker
Carlos Gomez and controlled aggression
: Carlos Gomez's game is all about aggression, but he's bringing more control to it all the time according to Curt Hogg. Follow on Twitter:
@cyrthogg
.
New York Yankees: It's About The Money
Derek Jeter and the fastball
: It seems Derek Jeter is having an issue with fastballs and so far, and teams like the Rays and Angels are bombarding him with them.
@edermik
.
The maturation of Dellin Betances:
Dellin Betances has been tremendous out of the bullpen and Brad Vietrogoski writes about how much Betances has matured to get to this point. Follow on Twitter:
@IIATMS
.
St. Louis Cardinals: Fungoes
MAD factor for pitchers
: Pip quantifies the Madduxian ideal of enticing batters both to swing at balls and to not swing at strikes. Follow on Twitter
@fungoes
.
Tampa Bay Rays: The Process Report
Under The Hood: Jennings, Loney and Joyce
: Tommy Rancel examines the hot starts of Desmond Jennings and Matt Joyce while exploring James Loney's performance in "clutch" situations. Follow on Twitter:
@TRancel
Texas Rangers: One Strike Away
Second Base and the offensive regression
: Brandon Land looks at the spot in the lineup that is now hurting the Rangers the most. Follow on Twitter:
@one_strike_away
.
Jason Rosenberg is the founder of It's About the Money, a proud charter member of the SweetSpot Network. IIATMS can be found on Twitter here and here as well as on Facebook, although the to-be-renamed podcast was spiked on iTunes.
April, 11, 2011
4/11/11
5:23
PM ET
By
Christina Kahrl
| ESPN.com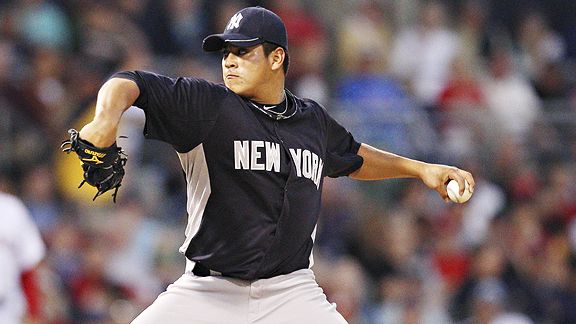 Derick E. Hingle/US PresswireManny Banuelos is the Yankees' top pitching prospect, but he's only made three starts above Class A.
John Ford's
PT-boat classic
, "They Were Expendable," might seem to be a strange sort of reference to kick off a recap of the Yankees' decision to sign
Carlos Silva
, but what are you going to do? It goes to the heart of the nature of the pickup, but also reflects its signal virtue. Silva ain't John Wayne, but for this outfit, he won't need to be.
The Yankees' signing Silva might seem like another admission of failure, as they try to make up for not landing
Cliff Lee
-- or anyone else of note. While the Yankees donned pinstripes to help slenderize the Babe, you make the case that they're just as necessary (and ill-suited) to the purpose when it comes to potentially suiting up the hefty Silva on a staff already employing the even beefier
Bartolo Colon
.
However, there are a number of things to keep in mind. First and foremost, the Yankees have their commitment to win now to observe. Rather than keep moping about what they could not control -- like making up Lee's mind for him -- or making a spectacularly expensive mistake on a poorly stocked pitching market, the Yankees have to work with what they can control for the time being. Until the also-rans start running out of hope and faith, and start peddling their veterans on the verge of free agency, arbitration eligibility, or general all-around expensiveness, Brian Cashman and company really have two options: call up the kids, or rely on temps until the inevitable ill fortunes of others expand their options and make those pre-deadline deals possible.
Calling up the kids will always have its attractions, of course. Prospects are always in vogue, everyone likes the thrill of something new, and Manny Banuelos, Dellin Betances and
Andrew Brackman
all look like they're the real deal as prospects go. Unfortunately, Banuelos and Betances have less than 30 innings above A-ball between them, while Brackman's half-season at Double-A Trenton last year involved his giving up an unimpressive 4.2 RA/9 (the team-wide average in 2010) in pitcher-friendly Waterfront Park. Good as they may be, seeing what they do against upper-level hitters makes more sense than rushing them up.
Happily, these are not your daddy's Yankees, the team that called up and then quit just as quickly on quality homegrown arms like
Jose Rijo
,
Al Leiter
, or even a solid mid-rotation filler like Bob Tewksbury. That way lay Dave LaPoint, Andy Hawkins and madness. The kids will be allowed time to ripen on the vine, and it's more than a little possible that any one of the Triple-B prospects will be a Killer B down the stretch after proving their mettle in the first half. The nice thing for the Yankees is that they don't need to count on any one of them, taking comfort that by having all three they can reap the benefit if any one of them comes through down the stretch.
In the meantime, signing Silva is exactly like bringing in
Freddy Garcia
and Bartolo Colon, in that he's another inexpensive veteran with some reason to invest temporary faith in. Nabbing Silva will only end up costing them a pro-rated share of the minimum (the Cubs have to pay off the rest of his deal until it runs out at season's end), so the combined expense of employing these three vets adds up to less than $3 million. While signing Silva is another case of retreading a guy who isn't what he once was, Colon is demonstrating that age and bulk have not robbed him of the ability to dial up the occasional mid-90s fastball. Silva isn't that far removed from last year's first half, when he went 9-2 in 16 starts while posting a 2.96 ERA. While that wasn't going to last -- and didn't -- and while you can worry about how he'll do as a flyball pitcher in a homer-happy ballpark like NuYankee if they do call him up, as a Yankee he'll have the advantage of a good outfield defense. Like Chief and Colon, spotted against the right foes in the right situations, he can be successful for a short stretch, and that's all the Yankees would need of him.
Consistent with Cashman's past patience, such as during 2008, when he kept his powder -- and his pocketbook -- dry waiting for the day he could sign up
CC Sabathia
and
Mark Teixeira
, it's moves like adding Silva, Colon, and Garcia that afford the Yankees the opportunity to play a waiting game. That lasts until the people they'll want pitching for them for the stretch identify themselves: either from among their prospects, or those top-tier starters who will be shopped by the non-contenders in June and July. Then and only then should Cashman spend top dollar for the players who are worth it.
Christina Kahrl covers baseball for ESPN.com. You can follow her on Twitter here
.