SweetSpot:

Dennis Eckersley
September, 28, 2012
9/28/12
4:20
PM ET
In my earlier post, I wrote about players since 1969
who had terrific all-around seasons but didn't win the MVP Award
. As a companion to that piece, let's take a quick look at worst MVP winners. There are many ways to look at this, but the easiest is to simply create a cutoff using Wins Above Replacement.
Let's start by looking at MVP winners who had less than 5.0 WAR (via Baseball-Reference.com).
Division Era: 1969 to 2011
[+] Enlarge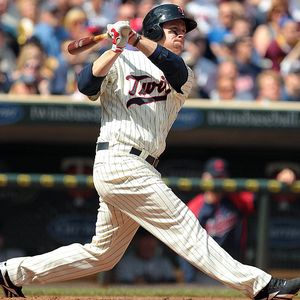 Jesse Johnson/US PresswireFinishing second in the AL in RBIs helped Justin Morneau earn league MVP honors in 2006.
2006 AL: Justin Morneau, Twins (4.0 WAR)
This actually wasn't as bad a selection as it may seem.
Grady Sizemore
led AL position players at 6.5 WAR and
Vernon Wells
was the only other 6-win player, but their teams didn't make the playoffs. Morneau wasn't a great choice -- he won because he finished second in the league in RBIs -- and edged out
Derek Jeter
(5.4 WAR) by 14 points in a year without an obvious top guy.
1998 AL: Juan Gonzalez, Rangers (4.6 WAR)
Gonzalez fit the classic mode of an MVP winner: An RBI leader who played for a playoff team. Nomar Garciaparra (6.8 WAR) and Jeter (7.3 WAR) finished second and third in the voting and also went to the postseason. They would have been better choices, along with WAR leader
Alex Rodriguez
(8.3).
1996 AL: Juan Gonzalez, Rangers (3.5 WAR)
Touched on this one in the other post. He was only ninth in the AL in OPS and his game was all offense. According to WAR, he ranked as the 30th-best position player in the AL. Probably my vote for the worst MVP selection ever.
1995 AL: Mo Vaughn, Red Sox (4.1 WAR)
Shortened 144-game season, but was unlikely to reach 5 WAR. Edged out Albert Belle (6.6 WAR) by eight points. Red Sox teammate John Valentin actually led the AL in WAR for position players at 8.1, with Edgar Martinez (6.7) second and Belle third. Voters during this period didn't really give much weight to position. Sure, up-the-middle guys like Robin Yount or Ryne Sandberg or Cal Ripken would win MVP Awards, but in years when they
were
the best offensive players in the league. Valentin had great numbers, especially for a shortstop, and was an underrated defender. Vaughn got extra credit for leadership and Valentin finished ninth in the voting.
1992 AL: Dennis Eckersley, A's (2.8 WAR)
Before
Justin Verlander
last year, the last pitcher to win MVP. An idiosyncratic selection that's impossible to defend (this even wasn't his 0.61 ERA season). Kirby Puckett had the highest WAR among hitters (6.8) and finished second in the vote.
1987 AL: George Bell, Blue Jays (4.6 WAR)
One of the more famous MVP disputes. Bell led the AL in RBIs and hit 47 home runs and edged out Alan Trammell (8.0 WAR) even though Trammell's Tigers won the AL East on the final day of the season.
1987 NL: Andre Dawson, Cubs (3.7 WAR)
Inexplicable back then and even more so now. Wait, it was explicable: Dawson led the league in home runs and RBIs and won despite a .328 OBP and the Cubs' last-place finish. Ozzie Smith (6.2 WAR) was second in the voting, while Tony Gwynn had the highest WAR at 8.3.
1984 AL: Willie Hernandez, Tigers (4.6 WAR)
The Tigers closer did have an amazing season (9-3, 1.92 ERA, 32 saves, 140 innings) but arguably the most anonymous MVP winner ever. Ripken had the highest WAR in the league and finished 28th in the vote. Ouch.
1979 AL: Don Baylor, Angels (3.5 WAR)
Baylor led the AL in runs scored and RBIs, was viewed as a team leader and the Angels made the playoffs for the first time in franchise history, so it's easy to see
why
he won, despite his limited defensive value (he split the season at DH and left field). George Brett (8.4) and Fred Lynn (8.6) had monster seasons, but finished third and fourth in the voting.
1979 NL: Willie Stargell, Pirates (2.3 WAR)
Shared the award with Keith Hernandez. The only time a guy won an MVP Award for putting gold stars on his teammates' caps.
1974 AL: Jeff Burroughs, Rangers (3.2 WAR)
Another RBI leader and the Rangers won 84 games after losing 105 games the year before. Six different players received first-place votes. The WAR leaders were Rod Carew (7.2) and Bobby Grich (7.0), who finished seventh and ninth in the voting. Grich's all-around game never was fully appreciated. Actually, Gaylord Perry had the best WAR; pitchers dominated the AL back then. Eight of the top-10 players in 1974 by WAR were pitchers.
1974 NL: Steve Garvey, Dodgers (4.3 WAR)
A very good player for a few years but not really a great one. Mediocre on-base percentages and only moderate power for a first baseman.
1970 AL: Boog Powell, Orioles (4.8 WAR)
Talked about this in the other post. Carl Yastrzemski had a huge season for the Red Sox.
Pre-1969 winners
I'm not saying the best players won every year -- heck, it would have been boring just to give it to Willie Mays every year -- but here the most egregious MVP winners in the pre-division period.
1962 NL: Maury Wills (5.8) over Mays (10.2)
Wills did have a good season but won primarily because he stole a then-record 104 bases, at a time when the stolen base was just regaining popularity after nearly going extinct in the 1950s. So there was a certain "wow" factor that impressed the writers back then. Still ... Mays was incredible (.304, 49 home runs, 141 RBIs, 130 runs, Willie Mays defense). Plus, the Giants beat the Dodgers in the three-game tiebreaker to win the pennant. Wills won the vote by seven points.
1961 AL: Roger Maris (6.7) over Mickey Mantle (10.2)
Like Mays, they couldn't give it to Mantle every year. Maris set the home run record but Mantle hit 54 of his own and had a 1.135 OPS versus .993 for Maris. The vote was close: 202 to 198.
1958 AL: Jackie Jensen (4.6 WAR)
Jensen led the league in RBIs and Mantle (8.4) didn't.
1955 AL: Yogi Berra (4.2 WAR)
Voters used to place a lot more emphasis on leadership attributes back in the '50s, a big reason Berra and fellow catcher Roy Campanella both won three MVP awards. Yogi had a good year, but Mantle or Al Kaline probably should have won.
1952 NL: Hank Sauer (5.2 WAR)
Often cited as a terrible MVP selection -- Sauer was a 35-year-old left fielder on a .500 club -- he did lead the NL in home runs and RBIs and ranks fifth in WAR among position. Still, an odd choice over more well-rounded players like Jackie Robinson (8.1) or Stan Musial (7.8), or 28-game winner Robin Roberts (who finished second in the vote).
1950 NL: Jim Konstanty (4.2 WAR)
An obscure 33-year-old relief pitcher for the pennant-winning Whiz Kids who went 16-7 with a 2.66 ERA in 152 innings. Had only one other season above 1.0 WAR. The Phillies didn't really have a star position player, so the Konstanty story line took hold and he got 18 of the 24 first-place votes.
1947 AL: Joe DiMaggio (4.5 WAR) over Ted Williams (9.6 WAR)
Maybe the most controversial results in MVP history. This was the year Williams won the Triple Crown but was left off a ballot and lost the vote by one point. Whether it was Boston writer Mel Webb who did so remains unclear.
This story
says Webb may not even have had a vote.
This may have been the most bizarre MVP vote ever and not just because Williams didn't win. Eddie Joost, a shortstop who hit .206 for the 78-76 Philadelpia A's received
two
first-place votes -- just one fewer than Williams. Some of the down-the-ballot votes were hilarious, including a shortstop named for the Senators named Mark Christman who hit .222/.287/.281 and earned four points.
1944 NL: Marty Marion (4.6) over Stan Musial (8.8)
Musial actually finished fourth in the voting as his Cardinals teammate won. Marion was a good defensive shortstop and probably led the league in intangibles. Eight different players received first-place votes but Musial was the best player in the league.
1934 AL: Mickey Cochrane (3.7)
Cochrane was the player-manager for the pennant-winning Tigers, so this one wasn't just about numbers. Lou Gehrig hit .363/.465/.706 and compiled 10.1 WAR -- good enough to finish fifth in the voting. Yankee fans are still ticked off.
September, 10, 2012
9/10/12
3:23
PM ET

Some recent performances of Cy Young candidates:
Anyway, one guy holding his consistency has been
R.A. Dickey
, who is 3-0 with a 1.21 ERA over his past four starts and has passed Cueto as the NL ERA leader while ranking just behind
Clayton Kershaw
in innings and strikeouts. Kershaw has a 1.97 ERA over his past eight starts but his 12-8 record compared to Dickey's 18-4 is a strike against him. (Yes, we all know wins don't matter, but in an otherwise close race, they probably will.)

While Dickey has probably re-emerged as the NL favorite, it remains a crowded field: Braves closer
Craig Kimbrel
(1-1, 1.18 ERA, 35 saves) and Nationals lefty
Gio Gonzalez
(18-7, 2.98) are in the mix alongside Dickey, Cueto, Chapman and Kershaw.
The AL race isn't any more clear. Verlander and Sale lead in WAR, but Verlander's 13-8 record won't blow away the voters and Sale has pitched a lot fewer innings than some of the other leading contenders. Nobody seems to be talking about Tampa Bay closer
Fernando Rodney
, but he's 2-2 with 42 saves and a 0.69 ERA.
You know my opinion on closers for the Cy Young, but Rodney has a chance to pass Dennis Eckersley for the lowest ERA for a pitcher with at least 50 innings pitched. Eck had a 0.61 ERA over 73.1 innings with the A's in 1990. He allowed nine runs and five earned runs -- Rodney's exact totals so far in 65.1 innings. So if Rodney can pitch 8.1 scoreless innings (or at least allow no earned runs), he'll pass Eckersley. And that will throw him in the Cy Young mix.
August, 13, 2012
8/13/12
5:46
PM ET
Before the Olympics began,
Kobe Bryant
suggested this year's Olympic basketball team would defeat the fabled 1992 Dream Team that featured Michael Jordan, Magic Johnson, Charles Barkley and Larry Bird. Bryant later adjusted his thoughts, saying the Dream Team was better but that the 2012 squad could beat them.
Bryant and company cruised throughout the tournament until Sunday's gold-medal game against Spain,
prevailing 107-100
after leading by just one point heading into the fourth quarter.
Anyway, that's a lead-in to this: What would baseball's dream team from 1992 look like? Let's turn back the clock and imagine we're in the summer of 1992. Let's pick a 25-man team -- 15 position players, seven starting pitchers and three relievers. Just like the '92 hoops Dream Team, legend status should come into play a bit. Since we're imagining an Olympic-type scenario, we're going with U.S. players only.
The Starters
1. 2B Ryne Sandberg, Cubs
(.304/.371/.510, 26 HR, 7.6 WAR)
Made his ninth consecutive All-Star appearance in '92.
2. CF Kirby Puckett, Twins
(.329/.374/.490, 19 HR, 6.8 WAR)
Had led the Twins to a World Series title in 1991; finished second in '92 American League MVP vote.
[+] Enlarge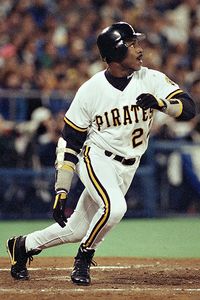 AP Photo/John SwartBarry Bonds led the Pirates to the NLCS in 1992.
3. LF Barry Bonds, Pirates
(.311/.456/.624, 34 HR, 8.9 WAR)
The best player in the game; won his second MVP award in '92.
4. DH Frank Thomas, White Sox
(.323/.439/.536, 24 HR, 6.7 WAR)
In his second full season, but the most feared hitter in the AL. Led the league in OBP and OPS for the second consecutive season.
5. 1B Mark McGwire, A's
(.268/.385/.585, 42 HR, 6.2 WAR)
Had rebounded from a poor 1991 to lead the AL in slugging percentage and the A's to the AL West title.
6. RF Ken Griffey Jr., Mariners
(.308/.361/.535, 27 HR, 5.5 WAR)
At 22 years old, already one of the game's best all-around players. We'll move him to right field with Kirby in center.
7. 3B Terry Pendleton, Braves
(.311/.345/.473, 21 HR, 4.8 WAR)
People remember his 1991 MVP season, but he finished second to Bonds in the '92 vote.
8. C Darren Daulton, Phillies
(.270/.385/.524, 27 HR, 6.7 WAR)
It was a weak year for catchers, but Daulton had a monster season with the fourth-highest WAR among position players.
9. SS Cal Ripken, Orioles
(.251/.323/.366, 14 HR, 3.8 WAR)
Not a good season but a baseball dream team wouldn't have been complete without Ripken.
The Bench
OF Rickey Henderson, A's
(.283/.426/.457, 15 HR, 5.4 WAR)
The best leadoff hitter in the game compiled 5.4 WAR despite playing just 117 games.
OF Andy Van Slyke, Pirates
(.324/.381/.505, 14 HR, 5.9 WAR)
Led the NL in doubles and hits, fourth in the MVP vote, Gold Glove center fielder. His window was small, but a terrific player for a few years.
OF Dave Winfield, Blue Jays
(.290/.377/.491, 26 HR, 3.8 WAR)
Others with a higher WAR, but Winfield gets credit for legend status and helping the Blue Jays win the World Series.
SS Ozzie Smith, Cardinals
(.205/.367/.342, 0 HR, 5.0 WAR)
Tough call here:
Barry Larkin
(.304/.377/.452, 5.5 WAR) or the 37-year-old Ozzie? The Wizard could still pick it and had 43 steals.
3B Gary Sheffield, Padres
(.330/.385/.580, 33 HR, 6.0 WAR)
Challenged for the Triple Crown much of the year before finishing first in batting, third in homers and fifth in RBIs.
C Terry Steinbach, A's
(.279/.345/.411, 3.8 WAR)
Gets the nod over Mickey Tettleton as the backup catcher for his good defense and leadership.
Pitching Staff
Tom Glavine, Braves
(20-8, 2.76 ERA, 3.6 WAR)
The only lefty on our 10-man staff, finished second in the Cy Young vote after winning it the year before.
[+] Enlarge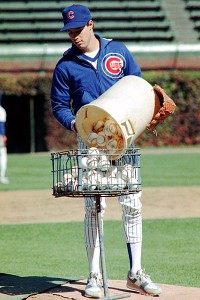 AP Photo/Bill WaughGreg Maddux would win four consecutive Cy Youngs beginning with the 1992 season.
Greg Maddux, Cubs
(20-11, 2.18 ERA, 8.9 WAR)
Won the first of his four consecutive Cy Young Awards.
Roger Clemens, Red Sox
(18-11, 2.41 ERA, 8.4 WAR)
Led the AL in ERA, shutouts, WHIP and SO/BB ratio, but finished just third in Cy Young vote.
Doug Drabek, Pirates
(15-11, 2.77 ERA, 5.1 WAR)
Career went downhill after signing with the Astros in '93, but regarded as one of the toughest competitors in the game at the time.
Jack Morris, Blue Jays
(21-6, 4.04 ERA, 2.5 WAR)
Morris absolutely would have been on a '92 dream team despite the high ERA. He'd just won back-to-back World Series titles and had the 21 wins.
Jack McDowell, White Sox
(20-10, 3.18 ERA, 4.9 WAR)
Kevin Appier
and
Mike Mussina
had better ERAs, but Black Jack had the image at the time. And the league-leading 13 complete games.
Nolan Ryan, Rangers
(5-9, 3.72 ERA, 1.8 WAR)
The numbers don't merit inclusion, but by '92 Ryan was the biggest icon in the game, a 45-year-old flame-throwing legend. Much like Bird, you wouldn't leave him off.
Dennis Eckersley, A's
(7-1, 1.91 ERA, 51 saves, 2.8 WAR)
The last AL reliever to win the Cy Young, Eck also walked away with the MVP trophy. OK, it was a bad vote, but Eck seemed unbeatable back then.
Rob Dibble, Reds
(3-5, 3.07 ERA, 25 saves, 0.9 WAR)
At the time, Dibble had four of the five highest K/9 rates in major league history (minimum 50 innings).
Jeff Montgomery, Royals
(1-6, 2.18 ERA, 39 saves, 3.0 WAR)
From '89 to '93, Montgomery fashioned a 2.22 ERA with 159 saves. What, you expected Mitch Williams?
So, who got Isiah'd? We mentioned Barry Larkin.
Tony Gwynn
was in a bit of a down spell (for him), so he loses out as well. We can't find room for NL home run leader
Fred McGriff
, Will Clark or Paul Molitor. For pitchers, some of the better statistical options would have included the aforementioned Mussina (7.9 WAR) and Appier (7.7 WAR) as well as Frank Viola, Sid Fernandez, Bob Tewksbury and
David Cone
, plus some up-and-coming guys like
John Smoltz
and
Curt Schilling
.
How does this team compare to a 2012 dream team? I'll let you debate who would be on such a 2012 team in the comments section.
June, 15, 2012
6/15/12
11:25
AM ET
How did we get here?
No, I don't mean "What's on the other side of the universe?" kind of here.
How did we get
here
?
June 8: The Mariners lead the Dodgers 1-0 in the eighth inning. They're working on a combined no-hitter, but the Dodgers have runners at second and third with one out. With the game on the line, Mariners manager Eric Wedge brings in Brandon League, the team's former closer, who had recently been demoted for pitching poorly. League does escape the jam, and closer Tom Wilhelmsen completes the no-hitter. Still, League has to get the game's biggest outs, not Wilhelmsen.

June 10: The Phillies lose 5-4 to the Orioles in 10 innings. It is the Phillies' seventh walk-off loss of the season. Closer Jonathan Papelbon, signed to a $50 million contract in the offseason, does not appear in any of those defeats.

June 12: The Braves lead the Yankees 4-0 in the eighth inning with one out and one on. Left-handed reliever Jonny Venters, who has struggled all season, gives up a hit and a walk to load the bases for Alex Rodriguez, who lines a game-tying home run. Two batters later, Nick Swisher hits a two-run homer off Cory Gearrin. The Braves lose 6-4. Closer Craig Kimbrel never gets in the game.
So what happened? How did we reach this juncture where managers are willing to lose games without using their best and often highly paid relief pitchers? Where they will use inferior relievers in crucial situations late in the game or refuse to use a dominant closer like Kimbrel unless it's the ninth inning?
Let us skip over Firpo Marberry and Hoyt Wilhelm and Dick Radatz and others and begin in the 1970s. By 1970, the percentage of complete games had fallen dramatically. In 1950, 40 percent of all games were complete games; in 1970, 22 percent. As managers required more innings from relievers, most teams turned to a relief ace in the late innings. They were called firemen back then because they often came in with runners on base and were asked to put out fires. The term seems as antiquated now as wool uniforms.
The best ones -- Mike Marshall most famously -- pitched a lot of innings. He pitched 208 1/3 innings in 106 games for the Dodgers in 1974, winning 15 games and the Cy Young Award. He pitched 163 innings in 1973, 142 2/3 in 1979. Marshall is the extreme example, but there were others: Bill Campbell pitched 167 2/3 innings for the 1976 Twins and went 17-5. John Hiller pitched 150 innings for the Tigers in 1974. Jim Kern had a monster season for the Rangers in 1979, going 13-5 with a 1.57 ERA while throwing 143 innings in relief. And, of course, there were Goose Gossage, who topped 130 innings three times as a reliever in the decade, and Rollie Fingers, who averaged 123 innings per season from 1972 to 1978.
The workloads couldn't continue. A lot of the firemen were breaking down. They weren't pitching as well in subsequent seasons. Kern, in 1980, went 3-11 with a 4.83 ERA. Campbell signed a big free-agent contract with the Red Sox in 1977, pitched 140 innings and then spent much of the next four years on the disabled list. A pitcher named Ken Sanders saved 31 games for the Brewers in 1971 while pitching 136 1/3 innings. He was never as good again.
Here's a quick study. From 1970 to 1979, there were 74 seasons in which a pitcher saved 20-plus games, including 47 in which the reliever pitched at least 100 innings. Leaving out three seasons when Gossage, Wilbur Wood and Terry Forster worked as starters the following year, here's how those 44 relievers fared the next season:
Year 1: 5,507 1/3 IP, 4,527 H, 1,894 BB, 4,153 SO, 2.49 ERA
Year 2: 4,316 IP, 4,037 H, 1,562 BB, 2,982 SO, 3.20 ERA
Those aren't 44 different relievers. The study includes multiple seasons from the likes of Gossage, Fingers, Marshall, Sparky Lyle and others. Still, collectively they weren't pitching as well or as many innings; their arms couldn't handle the workload.
As managers began to understand this, something else happened.
"For once, it is absolutely clear who caused baseball history to turn," wrote Bill James in "The Bill James Guide to Baseball Managers." "It was Bruce Sutter."
[+] Enlarge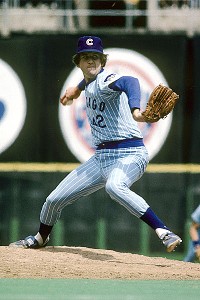 Focus on Sport/Getty ImagesBruce Sutter had 100 career saves of 2+ innings.
James points out how Sutter and his split-fingered fastball dominated the National League early in the season in both 1977 and 1978. By June 28, 1977, Sutter had appeared in 37 games, pitched 66 2/3 innings and owned a 0.68 ERA. In 1978, he had a 1.42 ERA on June 26. But in '77, he got hurt; in '78, he tired in the second half, losing five games in September. What to do?
As James writes, "Herman Franks was his manager, and Franks hit on a solution. In 1979, he announced, Sutter would be used
only
to protect a lead."
In 1979, Sutter saved 37 games, one short of the then-record, and won the NL Cy Young Award. Two important notes, however, related to this: 1) Although it's true that managers did start emphasizing save situations more, there wasn't necessarily an immediate flip in reliever workloads; 2) Sutter himself actually didn't pitch less. In 1978, he pitched 98 2/3 innings; in 1979, he pitched 101 2/3. Franks was fired, but in 1980 Sutter threw 102 1/3 innings. In 1984, then with the Cardinals, he pitched 122 1/3.
As for the workloads in general, here's one way to look at it:
1975-79, seasons with 20-plus saves, 120-plus innings: 15

1980-86 (1981 was the strike year), seasons with 20-plus saves, 120-plus innings: 15
Save totals
were
going up, however. From 1975 to 1979, there were eight seasons with 30-plus saves. From 1980 to 1986, there were 30. As James wrote in regard to using Sutter in save situations, "Within a very few years, this would become the standard definition of a closer's job."
However, we were still a long ways from 2012.
Aside from Sutter, there was something else going on here. I don't think other managers were just emulating Franks. Part of the tipping point is that relievers started winning Cy Young Awards and finishing high in the voting.
Sutter won in 1979. Fingers won the Cy Young and MVP in 1981. Detroit's Willie Hernandez won both awards in 1984. Dan Quisenberry never won but finished second twice and third two other years. Steve Bedrosian won the 1987 NL Cy Young after leading the league with 40 saves. I think it became natural for managers to believe that all these saves
were
increasingly valuable.
Hey, these guys are winning awards and getting all these accolades. We must be doing the right thing.
Back to James:
This is rather remarkable, isn't it? Nobody studies the issue, nobody explains or defends the strategy in any meaningful way, and there is no dramatic example of a team which adopts this strategy and comes out of nowhere to win a pennant. And yet, within a few years, every major league manager adopts the strategy. How can that happen?

Our language drives our thought.
The save rule. It had taken over.
We still had another tipping point, however. We needed Tony La Russa and Dennis Eckersley to get
here
.
* * * *
Eckersley came to the Oakland A's in 1987, acquired for nothing from the
Chicago Cubs
. He was a guy viewed as a washed-up veteran starter. In retrospect, he wasn't that old (32) and wasn't that washed up. He'd posted a 3.08 ERA in 1985, and while his ERA in 1986 was 4.57, he had the best control in the NL.
Still, La Russa and pitching coach Dave Duncan put him in the bullpen, using Eckersley as the long man with the possibility of starting down the road. He'd become the closer by the end of the year after Jay Howell got hurt and saved 16 games. The next season he transformed into the finger-pointing, long-haired, Hall of Fame Eck, the guy with the slingshot delivery and impeccable command.
Eck was phenomenal in 1988, saving 45 games with a 2.35 ERA. The only relievers who had saved at least 20 games with a lower WHIP had been Wilhelm in 1965 and Sutter in 1977. His 6.36 strikeouts for every walk was the fourth-best by a reliever with at least 50 innings, behind only Tom Morgan, Dick Hall and Eckersley's own 1987 season. The A's won 104 games.
But Eckersley didn't pitch 100 innings like Sutter or Gossage or Quisenberry. He pitched 72 2/3 innings. And had few decisions. He went 4-2. He was used even more discreetly than Sutter.
"La Russa and Duncan really understand how to use a bullpen," Eckersley told Sports Illustrated after that season. "I hardly ever warmed up without going in. I only pitched on back-to-back days a half-dozen times. I rarely worked more than two innings. I almost always started an inning."
Before Eckersley, most top closers were still being used on occasion during tie games and certainly before the ninth inning. For example, from 1980 through '88, 45 relievers saved 30 games. They averaged 13 decisions per season.
The pendulum had started to swing, but Eckersley put it in full motion. During his 1988-92 peak, he seemed unhittable. During those five years, he posted a 1.90 ERA and 0.79 WHIP. And he went 24-9 -- 6.6 decisions per year. He also maxed out at just 80 innings, in 1992, the year he won the Cy Young and MVP.
[+] Enlarge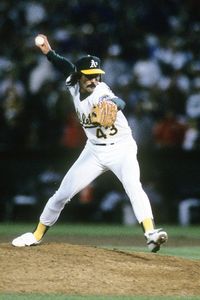 Focus on Sport/Getty ImagesFrom 1988 to 1992, Dennis Eckersley saved 220 games -- 77 were more than three outs and 28 were two innings.
Eckersley's numbers were so staggeringly efficient that every manager wanted his own Eck. And what better way to improve efficiency than to cut innings back even further?
The last closer with 120 innings? Roger McDowell of the 1986 Mets.
The last one with 100 innings? Danny Graves of the 1999 Reds.
The last one with 90 innings?
Ryan Dempster
of the 2004 Cubs.
Papelbon has never pitched 70 innings in a season.
Joe Nathan
has topped out at 72 as a closer. Wins and losses were now the work of the less expensive middle relievers. The save had become the manager's god. Innings were down, decisions were down ... but saves were up.
Relief pitcher seasons with at 15 saves and 15 decisions:
1970-79: 65
1980-89: 52
1990-99: 11
2000-06: 8
2007-11: 1 (Kevin Gregg with the 2008 Marlins)
So this is how we got to here. Where Phillies manager Charlie Manuel prefers pitchers other than his $50 million closer getting decisions. Where Papelbon will pitch with three-run leads but not in tie games.
Is this a more efficient use of relievers? Of course not. In "Baseball Between the Numbers," published in 2006, Keith Woolner studied the use of closers to determine more optimal usage strategies. Looking at the years 2000 to 2004, his models showed that three-quarters of teams could win more games, and that was without increasing the workload of the pitchers. "The average team would add about 1.6 wins," he wrote. "In the best case, a team could add more than 4.5 wins."
That study was done during the high-octane offensive era, but you get the idea: It's smarter to use a closer like Papelbon for four or five outs when necessary, or in tie games in the eighth or ninth inning, instead of just managing to the save statistic. If managers saved their closers for these more high-leverage situations --leaving the three-run leads to other relievers, for example -- teams would be better off.
The ironic part of all this? La Russa didn't save Eckersley just for the ninth inning. And he didn't use
just
Eckersley to close out games. When Eck saved 45 games in 1988, Rick Honeycutt also had seven saves, Eric Plunk had five, Gene Nelson and Greg Cadaret each had three. That was a pretty good bullpen, of course, but La Russa managed to maximize Eckersley's usage in the most crucial moments.
Most importantly, he wasn't just a one-inning closer. During that 1988-92 peak, Eckersley saved 220 games; 77 (35 percent) were more than three outs. He had eight two-inning saves in 1988 alone. Papelbon and Nathan each have one two-inning save in their careers. Of Papelbon's 236 career saves, 32 (14 percent) have been more than one inning. That's actually
high
for a modern closer, as Terry Francona frequently used him for four outs. Nathan has just 11 saves -- 4 percent of his career total -- of more than inning. Kimbrel already has 65 career saves -- none is more than one inning.
Part of what happened, besides managers reacting to the believed strict usage La Russa applied with Eckersley, is bullpens expanded to seven and eight relievers and managers had to figure out roles to actually keep all of them busy. It just became
easier
to essentially give specific innings to pitchers.
You're the seventh-inning guy. You're the eighth-inning guy. You're the closer.
It's easier, but not smarter. It ends up being about managing your team so one guy can rack up saves.
James wrote his essay in a book that came out in 1997. He expected things to change. "The plates will move again," he wrote. "The search for a static equilibrium in relief strategy will go on to its next phase, whatever that might be."
It's 15 years later. We're still waiting.
January, 6, 2012
1/06/12
8:00
AM ET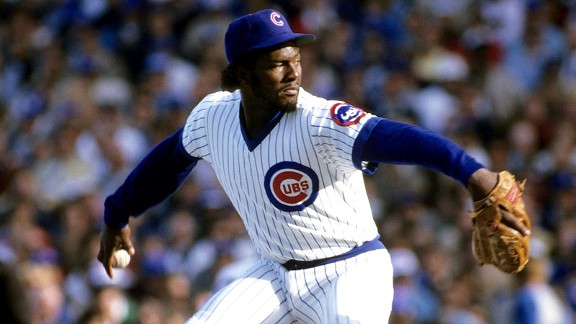 Ronald C. Modra/Getty ImagesLee Smith led his league in saves four times and ranks third all-time with 478 saves.
I want to consider Lee Smith's Hall of Fame question fairly. But I keep returning to what I think is the obvious question: Would you really rather have Lee Smith on your team than Barry Larkin or Alan Trammell or Edgar Martinez or Tim Raines or Bernie Williams or Larry Walker or Jack Morris or Jeff Bagwell or Dale Murphy or Fred McGriff?
You really think if the Chicago Cubs had called up the Montreal Expos or Atlanta Braves in 1983 -- when Smith was at his most dominant -- and said, "Hey, we'll give you Smith for Raines or Murphy" that those teams would have said yes? In 1991, when Smith finished second in the NL Cy Young vote, do you think the Padres would have traded McGriff for him?
Isn't the answer clear?
* * * *
Smith was taken in the second round of the 1975 draft by the Chicago Cubs, discovered in his small Louisiana hometown by the legendary Buck O'Neil. He was big, he threw gas and he had no idea what he was doing. In 1978, pitching as a starter for Double-A Midland, he threw 155 innings, walked 128 and struck out 71. His ERA was 5.98. He nearly quit baseball at the time, but Billy Williams convinced him to return. The odds that he'd become a Hall of Fame candidate at the point? I'd say less than the Cubs' chances of winning the 2012 World Series.
Smith, of course, converted to a relief pitcher and became one of baseball's most intimidating closers, sauntering in slowly from the Wrigley Field bullpen, his cap sitting loosely atop his head, throwing smoke from the late-afternoon shadows. It's that slow walk that I most remember Smith for; indeed, near the end of his career he became notorious for napping in the clubhouse during the game and not heading out to the bullpen until the seventh inning.
What I don't remember is ever thinking of Smith as baseball's best closer. But memories are hazy. Let us check some of Smith's best seasons.
1983: 4-10, 1.65 ERA, 29 saves, 103.1 IP, 70 H, 41 BB, 91 SO
In Smith's only season with an ERA under 2.00, he led the NL in saves and ranked fourth in the majors. You can make a case he was the second-best reliever in baseball that year behind Dan Quisenberry (45 saves, 139 innings, 1.94 ERA), although Jesse Orosco was also pretty dominant (1.47 ERA in 110 innings) and Orosco went 13-7 rather than 4-10.
1984: 9-7, 3.65 ERA, 33 saves, 101 IP, 98 hits, 35 BB, 86 SO
The Cubs won the division title and Smith ranked second to Bruce Sutter in the NL in saves, but didn't have a particularly dominant season. Sutter, Quisenberry, Willie Hernandez (AL Cy Young and MVP), Goose Gossage and Bill Caudill, for example, all clearly had better seasons. In fact, 77 pitchers with at least 100 innings had a lower ERA that year. In the NLCS, he also served up the game-losing gopherball to Steve Garvey in Game 4.
1988: 4-5, 2.80 ERA, 29 saves, 83.2 IP, 72 H, 37 BB, 96 SO
Now with the Red Sox -- he was considered so valuable the Cubs gave him up for Al Nipper and Calvin Schiraldi -- Smith got his ERA under 3.00 for the first time since 1983 and the Red Sox won the AL East. Smith was 29-for-37 in save opportunities that year, a 78 percent success ratio. He ranked ninth in the majors in saves and among those with at least 25 saves, he ranked ninth in ERA, sixth in innings, second in strikeouts and tied for 13th in save percentage. I don't think you say he was one of the best three or four closers that year.
1990: 5-5, 2.06 ERA, 31 saves, 83 IP, 71 H, 28 BB, 87 SO
For some reason, the Red Sox had signed Jeff Reardon in the offseason, so in early May they traded Smith to the Cardinals for Tom Brunansky. Smith was 31 for 37 in save chances. But it was a good year for closers: Dennis Eckersley had a 0.61 ERA, Bobby Thigpen saved 57 games with a 1.83 ERA, Randy Myers and Tom Henke were just as dominant as Smith. A good year, but Smith clearly ranks behind Eck and Thigpen and no better than even with Myers and Henke.
1991: 6-3, 2.34 ERA, 47 saves, 73 IP, 70 IP, 13 BB, 67 SO
You'll notice that Smith's innings are slowly dropping as closers became more and more protected. Once a 100-inning reliever, he's now in the low 70s. That didn't prevent Smith from finishing second in the Cy Young vote, as he led the majors in saves. He had a good year, although Bryan Harvey was the most dominant closer that year -- 46 saves, 1.65 ERA, 101/17 strikeout/walk ratio. I'd argue that Eckersley, Rick Aguilera and Henke were also as effective or more so than Smith. He did convert 89 percent of his save chances -- the third-highest ratio of his career.
1992: 4-9, 3.12 ERA, 46 saves, 75 IP, 62 H, 26 BB, 60 SO
Smith led the NL in saves, but with nine losses and eight blown saves, it was hardly a stellar season. Among the 12 relievers with at least 30 saves, Smith ranked 10th in ERA, sixth in innings, sixth in strikeouts and seventh in OPS allowed. And somehow finished fourth in the Cy Young vote. (Thirteen NL starters pitched 200 innings with a lower ERA than Smith that year.)
1994: 1-4, 3.29 ERA, 33 saves, 38.1 IP, 34 H, 11 BB, 42 SO
Still going strong at 36, Smith was now the ultimate one-inning reliever -- actually, not even that. He pitched in 39 games so he averaged just less than an inning per outing. He led the majors in saves in the strike-shortened season, but let's be serious -- this was not a great season. Among the 10 closers with 20 saves, he had the fewest innings, ranked sixth in ERA and seventh in OPS allowed. Here's another way to look at the end of Smith's career: From 1992 through 1995 he led the majors with 159 saves, nine more than Myers. But he was really a dominant reliever in that span? Among the 15 pitchers with at least 50 saves over those years, Smith's 3.43 ERA ranks 12th and his OPS allowed 11th. He got saves because he wasn't terrible and had the easiest job in baseball: Come in with the bases empty and get two or three outs.
So what are we left with? Yes, he retired as baseball's all-time saves leader with 478, although he has since been lapped by Trevor Hoffman and Mariano Rivera. He does still rank third and the closest active closer is Francisco Cordero with 327.
In the end I see Smith as a very good reliever, but also the ultimate compiler. Considering the coddled nature of the position, to even consider a closer you need to at least be
the man
for a period of years, and Smith never had a run of dominance like Rivera or Goose Gossage or Billy Wagner or Joe Nathan. On his first year on the ballot, Smith received 42.3 percent of the vote; nine years later, he hadn't budged much, with 45.3 percent. The line has been drawn on Lee Smith, as strong as the line on steroids users. He had a great career, he filled his role at a position where a lot of guys burn out quickly. But I say again: You can't vote for Smith when there are so many more valuable, viable candidates to vote for.
November, 20, 2011
11/20/11
6:30
PM ET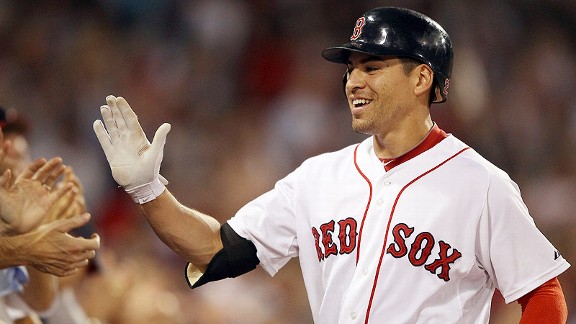 Elsa/Getty ImagesThe numbers put Boston's Jacoby Ellsbury above his offensive competition for American League MVP.
Justin Verlander
is hoping to become the first pitcher to win the MVP Award since Dennis Eckersley in 1992, and the first starting pitcher since
Roger Clemens
in 1986.
Jacoby Ellsbury
is hoping to win the MVP Award despite the late-season collapse of the Red Sox (hey, don't blame him!).
Jose Bautista
is hoping his big offensive numbers carry the day even though his team finished 81-81.
Curtis Granderson
is hoping to win despite a September slump that would leave his .262 batting average as the lowest ever for an MVP hitter. And then there's
Miguel Cabrera
, who put up monster numbers in the shadow of his teammate.
Who will win? Nobody knows. Despite a storyline that seemed to focus on him, will a historical bias against pitchers hurt Verlander? There is also a strong historical bias in favor of players on playoff teams, which will help Verlander and Granderson, but work against Ellsbury and Bautista. Will Ellsbury lose some votes to teammates
Adrian Gonzalez
and
Dustin Pedroia
, who also had strong seasons? Here's how the SweetSpot bloggers voted (14 points for first, nine for second, eight for third, etc.)
Jose Bautista, Blue Jays: 296 points (15 first-place votes)
Jacoby Ellsbury, Red Sox: 256 points (8)
Miguel Cabrera, Tigers: 177 points
Justin Verlander, Tigers: 131 points (1)
Curtis Granderson, Yankees: 114 points (1)
Dustin Pedroia, Red Sox: 44 points
Ian Kinsler
, Rangers: 26 points
Adrian Gonzalez, Red Sox: 23 points
Alex Gordon
, Royals: 12 points
Evan Longoria
, Rays: 8 points
CC Sabathia
: 7 points
Michael Young
, Rangers: 6 points
* * * *
Let's do the center fielders first, since that's the easiest comparison. Granderson starts with an advantage of nine more home runs (41 to 32), five more triples (10 to 5), three more hit-by-pitches (12 to 9) and 33 more walks (85 to 52). That's 87 more bases. But Ellsbury had 20 more doubles (46 to 26), 53 more singles (129 to 76) and four fewer double plays hit into (12 to 8). That's plus-97 bases for Ellsbury. Ellsbury stole 39 bases (caught stealing 15 times) and Granderson stole 25 bases (10 caught stealing), a minor edge for Ellsbury. Granderson used up 463 outs, Ellsbury 479. Run it through the mixer and Baseball-Reference.com estimates that Ellsbury created 139 runs, or 7.8 runs per 27 outs; Granderson created 121 runs, or 7.0 runs per 27 outs. Granderson played in a slightly higher run-scoring environment.
Some more numbers: Ellsbury hit .366/.420/.691 with runners in scoring position, Granderson hit .242/.303/.516. With two outs and runners in scoring position, Ellsbury hit .400, Granderson hit .208. When the score was tied, Ellsbury had a .900 OPS, Granderson .820. No matter how you slice things, I can't come up with a way that proves Granderson had the better year at the plate. And the deeper you dig, the more you uncover that Ellsbury played his best in clutch situations and close games. Yankees fans may accuse me of bias or being a Red Sox fan, but such is not that case. Ellsbury was the more productive offensive player.
Then you get to the defense. By all accounts, Ellsbury played a better center field in 2011. I'm not sure he deserved his Gold Glove (
Austin Jackson
and
Peter Bourjos
were superb), but the defensive metrics also say he was far superior to Granderson.
Look, both were dynamic players, power-speed combinations at an important defensive position. But I think it's clear that Ellsbury had the superior season. The one caveat in regard to MVP voting, of course, is that Granderson's team made the playoffs and Ellsbury's did not. But don't blame Ellsbury for Boston's collapse -- he hit .358 with eight home runs in September. But some voters will hold the collapse against him; to me, it's failed logic to say that Ellsbury is less of an MVP candidate because
Jonathan Papelbon
couldn't close out a lead on the final night of the season and
Dan Johnson
hit a home run off
Cory Wade
.
* * * *
OK, Ellsbury versus Jose Bautista is a little tougher. Bautista starts off with 11 more home runs (43 to 32) and 80 more walks (132 to 52). He had an awesome year at the plate. But Ellsbury had three more triples (5 to 2), 22 more doubles (46 to 24), 43 more singles (129 to 86), three more hit-by-pitches (9 to 6). Both players grounded into eight double plays. Bautista had 25 more bases, although Ellsbury closes that gap with a 39-to-9 edge in stolen bases. The big difference is Ellsbury used up 479 outs and Bautista 375. Run it through the mixer and Baseball-Reference estimates that Bautista created 149 runs, or 10.7 per 27 outs; Ellsbury created 139 runs, or 7.8 per 27 outs. Both guys played in similar run-scoring environments. Given Ellsbury's production over the same number of outs as Bautista had, he would have created 108 runs, 41 fewer than Bautista.
But Ellsbury did have the advantage of playing nine more games and, since he hit leadoff, receiving more plate appearances (and thus more chances to affect the game). And then we have to factor in defense: Ellsbury is a good center fielder (+6 runs better than average according to Defensive Runs Saved, +15.6 runs by Ultimate Zone Rating), while Bautista rates as a below-average right fielder in both systems (-1 and -8.6), although he did rate well at third base in his limited time there (+6 and +3.8).
If you remember, Bautista was on fire early on, hitting .363 with 20 home runs through May. He slowed down after that, hitting .257 with 12 home runs in 65 games after the All-Star break. His walk rate actually remained consistent throughout the year, so it doesn't appear that he started chasing pitches, but maybe frustration did set in from not getting a lot of pitches to hit. And for those who think he was part of the sign-stealing allegations that came out, his home/road splits were actually nearly identical: 1.063 OPS at home, 1.047 on the road. Breaking down some of Bautista's other numbers, one jumps out at me: He hit .307/.523/.760 in "close and late" situations.
It was an impressive season, MVP-worthy.
If you go by WAR (Wins Above Replacement), it's essentially a dead heat: If we average FanGraphs WAR and Baseball-Reference WAR, Bautista is at 8.4, Ellsbury 8.3.
But I give the edge to Ellsbury. The season-long excellence matters, but so does his combination of playing center field, hitting leadoff and putting up awesome numbers at the plate. He created runs and prevented runs, while playing an important up-the-middle position. If you watched the Red Sox regularly, he was clearly the best player on the team, the dynamo at the top of the order.
* * * *
Obviously, I'm more of a numbers guy. But even I admit: Sometimes we get too caught up in the numbers. In 10 years, in 25 years, when we think of the 2011 season, what will we remember most other than the dramatic World Series and the greatest final day in baseball history? I think we'll remember Verlander, the year he turned from flamethrower to pitcher, the year he made The Leap, when we began thinking of him as a guy with Hall of Fame potential, a pitcher who could win 300 games and join that inner circle of greatness. Now, maybe all that won't happen, but that doesn't mean the 2011 regular season didn't belong to Justin Verlander. I think if you ask managers and general managers around baseball if they could have one player from the 2011 season, the majority would say Verlander.
Which is why, I admit, I'm conflicted to say that I think Jacoby Ellsbury deserves the 2011 American League MVP Award.
My unofficial ballot:
1. Ellsbury
2. Verlander
3. Bautista
4. Cabrera
5. Granderson
6. Pedroia
7.
Robinson Cano
8. Gonzalez
9.
Alex Avila
10. Longoria
September, 9, 2011
9/09/11
2:40
PM ET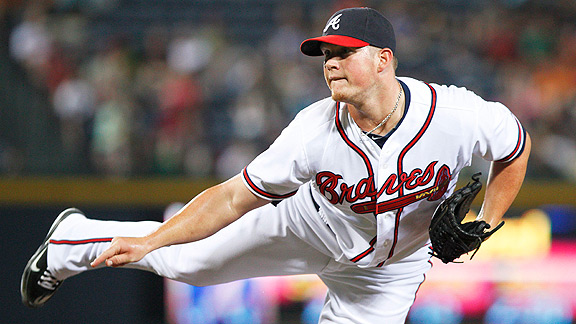 Daniel Shirey/US PresswireCraig Kimbrel, one-man flamethrower.
Heading into the weekend,
Atlanta Braves
rookie closer
Craig Kimbrel
has 43 saves, a 1.55 ERA and a WHIP of 0.96. Only 22 closers have posted similar number: 40 or more saves, an ERA under 2.00 and a WHIP under 1.00.
How does Kimbrel's season compare to those other 22? Let's have fun with a little exercise. I'm going to rank all 23 of those closers -- -- plus
Francisco Rodriguez
's 2008 in which he set the record with 62 saves and
Brad Lidge
's 2008 season when he didn't blow a save -- in various categories: saves, save percentage, ERA, WHIP, strikeout per nine, opponents' OPS allowed and innings pitched.
If you rank first in a category, you get one point; if you rank 25th, you get 25 points. The pitcher with the fewest points wins the tally. By the way, all but one of these seasons have happened since 1990, aka the modern era for closers. Dan Quisenberry's 1983 season with the Royals is the lone exception. I would suggest that by no means should these be considered the greatest relief seasons of all time. I used the 40 saves/2.00 ERA/1.00 WHIP as an arbitrary cutoff point for statistical dominance; before 1990, it was difficult for closers to either (A) rack up as many saves, often because they pitched more innings and entered more tie games; or (B) dominate on the same statistical level since they did pitch so many more innings.
Anyway, here's the final tally:
1.
Eric Gagne
, 2003 Dodgers: 14 points
2. Dennis Eckersley, 1990 A's: 41 points
3.
Trevor Hoffman
, 1998 Padres: 46 points
4.
J.J. Putz
, 1997 Mariners: 63 points
5. Eric Gagne, 2002 Dodgers: 70 points
6.
Armando Benitez
, 2004 Marlins: 73 points
7. Bryan Harvey, 1991 Angels: 81 points
7.
Billy Wagner
, 2003 Astros: 81 points
9. Bryan Harvey, 1993 Marlins: 82 points
10.
Mariano Rivera
, 2005 Yankees: 83 points
11. Craig Kimbrel, 2011 Braves: 87 points
12.
Robb Nen
, 2000 Giants: 88 points
12. Dennis Eckersley, 1992 A's: 88 points
14.
John Smoltz
, 2003 Braves: 90 points
15. Robb Nen, 1998 Giants: 91 points
16.
Joe Nathan
, 2004 Twins: 97 points
17.
Rafael Soriano
, 2010 Rays: 98 points
18.
Joakim Soria
, 2008 Royals: 105 points
19. Mariano Rivera, 1999 Yankees: 109 points
20. Mariano Rivera, 2009 Yankees: 110 points
21. Brad Lidge, 2008 Phillies: 114 points
22. Dan Quisenberry, 1983 Royals: 124 points
23.
Chad Cordero
, 2005 Nationals: 125 points
24. Francisco Rodriguez, 2008 Angels: 127 points
25.
Mike Jackson
, 1998 Indians: 132 points
It's no surprise that Gagne's 2003 ranks No. 1 -- by a landslide. He was 55-for-55 in save opportunities, had a 1.20 ERA and his 14.98 K's per nine is the only figure that tops Kimbrel's mark of 14.86.
It's fun to see some of the forgotten great closer seasons like J.J. Putz with the Mariners in 2007 -- 40-for-42 in saves, 1.38 ERA, .454 OPS allowed; or Armando Benitez with the 2004 Marlins or Bryan Harvey, who appears twice on the list. Also noted is that Francisco Rodriguez's 2008 season with 62 saves wasn't really all that impressive other than the raw saves total: He blew six save chances, had a 1.28 WHIP, allowed a .630 OPS and pitched just 68.1 innings.
As for Kimbrel, he could move higher on the list since he still has a few weeks left to rack up more saves and more innings. What's most interesting is while he ranked 21st in WHIP, he ranks fourth in OPS since he's allowed just one home run and only four doubles. What's been quite a season for the rookie and deserves recognition as one of the best closer seasons we've seen.
Follow David Schoenfield on Twitter @dschoenfield.
May, 14, 2011
5/14/11
12:28
AM ET
On Sunday afternoon in Seattle, Mariners closer
Brandon League
entered in the top of the ninth of a tie game. He pitched a 1-2-3 ninth but gave up RBI doubles to
Alexei Ramirez
and
Adam Dunn
in the 10th, and the Mariners lost 5-2. He'd been pretty much perfect before that game: no record, and a perfect nine-for-nine in save chances.
League
Tuesday in Baltimore, the Mariners scored a run in the 13th inning to take a 6-5 lead. League gave up four singles and lost 7-6.
Thursday night was a thrilling 0-0 game (note sarcasm in "thrilling") until the 12th, when Seattle broke through with a run. League came on, gave up a single, hit two batters, got a line drive out and then surrendered a two-run single to
J.J. Hardy
and the Mariners lost 2-1.
Friday night, Eric Wedge again called upon League, to protect a 4-2 lead in the bottom of the ninth in Cleveland.
Michael Brantley
doubled.
Carlos Peguero
misplayed
Asdrubal Cabrera
's fly ball into a double. League should have been out of the inning after getting the next two batters, but instead had to face
Travis Hafner
. Boom. Home run. Indians win 5-4.
Brandon League appeared in four games this week and lost them all. Has a major league pitcher ever had a worse week?
Anthony Young, who holds the major league record with 27 consecutive defeats, had 13 of those occur in relief. But that happened over two seasons, and he never lost four appearances in a row, let alone in one week. The reliever with the most consecutive losing decisions is another Met -- Skip Lockwood, who lost his final 10 decisions of 1978 and his first four of 1979. Hall of Famer Dennis Eckersley once lost 12 straight decisions from 1995 to 1997 (he was 0-6 in 1996). The Mariners are used to this kind of thing:
David Aardsma
, last year's closer, went 0-6 and is currently on a nine-game losing streak. (Twenty-four relievers, including Lockwood, Young and Eck have lost at least 10 decisions in a row in relief.)
But four losses in one calendar week? Four in a five-game span?
A week ago the Mariners were 16-17 and M's fans actually started believing, just a little bit. Now Seattle is 16-23 and it looks like a long summer ahead.
April, 22, 2011
4/22/11
10:58
AM ET
Do you like the idea of expanding the baseball playoffs? Is a one-game winner-take-all playoff your cup of tea?
Vote here
and see what other fans think.
In other stuff ...
Links for Friday morning
July, 20, 2009
7/20/09
4:27
AM ET
A tweet Sunday from
Jon Heyman
, eight innings into the Yankees' 2-1 win over the Tigers:
drew this game up in dreams. great start by joba, followed by great 8th by phil hughes. only mr. automatic to go.
"Mr. Automatic" being, of course,
Mariano Rivera
, who wasn't perfect -- with two outs in the ninth, he issued a walk for just the fourth time all season, but he did retire
Ramon Santiago
to clinch the Yankees' sweep of Detroit.
I didn't remember that nickname for Rivera, so I turned to the Google and came up with this story, from 2005:
Ray Fosse has one of the most unique perspectives on Dennis Eckersley, because he was once Eckersley's catcher with Cleveland (including the night of Eck's no-hitter), faced Eckersley as an opponent and was an A's broadcaster when Eckersley became the best closer in baseball history.

"If there was ever a guy you could say was 'Mr. Automatic' -- and I know they talk about [Mariano] Rivera now -- it was Eck," Fosse said. "When Eck came in, these guys in the other dugout and us upstairs said, 'OK, let's go. That's it.'

"When you saw him warming up and he comes in, it was over."
Obviously, if nobody actually
called
Eckersley "Mr. Automatic," Fosse's point is moot, mostly. I mean, if we're talking about nicknames. And I think "Mr. Automatic" is a fine nickname for Mr. Rivera. "Mo" isn't much of a nickname, "Super Mariano" is atrocious, and "Sandman" isn't bad except: 1) it's suggests that he's boring and he's not, plus; 2) it doesn't seem to have caught on, really. So while I don't believe in doubling up nicknames, unless someone can show a connection between Eckersley and "Mr. Automatic," I think it's Rivera's if he wants it (or even if he doesn't).
But was Eckersley more automatic than Rivera? I got interested in these two just yesterday, when I was looking at the highest strikeout-to-walk ratios, ever. Last year, Rivera's 12.8 was the highest of his career. Until this year; this year it was even better until Sunday afternoon, when Rivera walked Gerald Laird but didn't strike out anybody, lowering his K/BB ratio all the way from 14.7 to 11.
Obviously, both figures are impressive, and I wondered if they might be the best ever.
Well, among pitchers with at least 50 innings in a season -- and no, Rivera hasn't thrown 50 innings this season, but for the sake of argument -- Rivera isn't the best ever, but he sure does figure high on the list. Last season's 12.8 is third all-time, and this year's 11 would tie him for fourth with Bret Saberhagen (1994).
And Nos. 1 and 2 on the list? Right: Dennis Eckersley. In 1989, Eckersley struck out 55 and walked three. In 1990, he struck out 73 and walked four. In both seasons, his strikeout-to-walk ratio was 18 and change.
Again: 18. Nobody else has topped 13, and Eck's got two 18s.*
* For some reason, HBO loves to show a movie called "Ballistics: Ecks vs. Sever." That might be the worst title in cinematic history, plus every single time I see that title on the schedule page, for a split-second I think it must be a documentary about Dennis Eckersley and Tom Seaver. Am I the only one?
I don't know that any closer's ever had a two-season run quite like Eckersley's: 8-2, 1.03 ERA, 81 saves in 87 tries. Not to mention the amazing K/BB ratio.
Eckersley had a few other great seasons. But the truth is that Eck was a truly brilliant reliever for only five or six years. Rivera's been brilliant for nearly 15 years. You can use "Mr. Automatic" for whomever you like, but I'll stick with the candidate who has essentially tripled the other candidate's automatic tenure.