SweetSpot:

Dennis Martinez
January, 28, 2013
1/28/13
8:10
PM ET
Tyson Ross
went 2-11 with a 6.50 ERA for the Oakland A's last year on a team that won 94 games, which seems pretty unusual to me. After all, one reason teams win 90 games is because they determine early on to jettison those pitchers who aren't performing.
Curious about how unsual Ross' feat was, I asked on Twitter how many pitchers were at least 9 games under .500 on a team that won at least 90 games.
The loyal followers came up with the following pitchers:
Kenshin Kawakami, 2010 Braves: 1-10, 5.15 ERA on a team that went 91-71 (and made the playoffs). Kawakami wasn't good, but wasn't terrible. He won just once in 16 starts. (From @ekap1)
Randy Lerch, 1980 Phillies: 4-14, 5.16 ERA on a team that went 91-71 ... and won the World Series. The Phillies didn't really have a great staff that year, but Steve Carlton went 24-9 and pitched 304 innings. Lerch was legitimately bad, giving up 178 hits in 150 innings with 55 walks and 57 strikeouts. Among pitchers who threw at least 130 innings in 1980, only two had a higher ERA. (From @BleepingFrakker)
Dennis Martinez, 1983 Orioles: 7-16, 5.53 ERA. The Orioles ran Martinez out there for 25 starts, but they won 98 games and the World Series anyway. Martinez was in the midst of his days of heavy drinking, from which he'd recover after leaving the Orioles and become one of the best pitchers in the game in the late '80s. (From @Kiko_Sakata)
Bob Sebra, 1987 Expos: 6-15, 4.42 ERA on a team that went 91-71. Sebra kept his spot in the rotation until he went 0-4 in August, but he wasn't really that bad (remember, 1987 was the crazy lively ball year). Neal Heaton went 13-10 with a 4.52 ERA on the same team. (From @MWEinNC)
Frank Castillo, 2002 Red Sox: 6-15, 5.07 ERA. This was a fun Red Sox team. Pedro Martinez went 20-4 and Derek Lowe went 21-8, so the rest of the rotation went 37-35. They won 93 games -- but underperformed their Pythagorean projection by seven wins. First baseman Tony Clark hit .207 with three home runs in 275 at-bats, so when Theo Epstein took over after 2002 ... well, the team was already pretty good, with obvious holes to fill. (From @MWEinNC)
Mike Emeigh (@MWEinNC) says that's the list, although it's also worth pointing out David Cone, who went 4-14 for the 2000 World Series champion Yankees, but that team won just 87 games in the regular season.
January, 9, 2012
1/09/12
9:30
PM ET
By
Christina Kahrl
| ESPN.com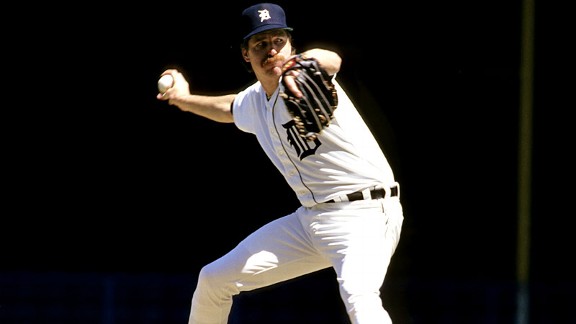 Ronald C. Modra/Getty ImagesJack Morris made significant gains in his 13th year of voting, but will he ultimately get enough?
The subject of Jack Morris and the Hall of Fame seems to be the bright burning flame before the fireworks for
Barry Larkin
have finished going off. Morris' clock may have been running out, but after he reached 66.7 percent of the vote in the 13th year on the ballot, he might just slip into the Hall on his next-to-last or last chance.
There are too many layers to this onion to sort it out entirely and explain the sudden jump in votes. But in broad strokes, some of my fellow statheads seem to be looking for a new Cooperstown cause to champion now that Bert Blyleven has been given his belated due, while some of my fellow BBWAA members are looking to honor a "pitcher of the '80s." Sticking with the broad strokes, those are both worthy goals. There have been too many mistakes already as far as the Hall has been concerned -- with Blyleven, Ron Santo and Lou Whitaker representing the worst cases -- while the '80s are a big chunk of recent history that deserves to be remembered.
But in this case these two parties wind up diametrically opposed about Morris. You've got mainstream commentators inventing, and then deriding, statheads' supposed "joyless" worldview about Morris, while the blogosphere burns down any cobbled-together case made for him. I've always counted myself among the latter where Morris is concerned. Nevertheless, is there something to his case?
Now if we went with a definition of the "Big '80s" as 1980-1990, Morris handily leads the field with 177 wins, innings pitched (2,693 1/3) and starts (368). These numbers represent the pitcher that he was: a durable workhorse, usually pitching with support of good-to-great lineups
and
good-to-great defenses. At least this was the case up the middle when he had Whitaker and Alan Trammell plus Lance Parrish behind the plate and Chet Lemon in center. There's no shame in that -- Morris was a critical component for the Tigers because of his durability. That shouldn't be the standard for best pitcher of a decade, though.
So the question is whether Morris was anywhere close to being the best pitcher of the decade? He clearly was not. Among the 68 guys who made 200 or more starts from 1980-90, Morris is tied for 22nd in ERA+, behind guys like Charlie Leibrandt or Bryn Smith. So let's raise the bar to 300 starts -- Morris winds up tied for seventh out of 12 men, behind Dave Stieb, Bob Welch, Frank Viola, Nolan Ryan, Charlie Hough and Blyleven. Morris' "pitcher of the '80s" tag owes everything to his durability, not the quality of his work. If you
want a pitcher of the '80s
, it was Stieb, because he was almost every bit as durable as Morris (364 starts, 2537 1/3 IP), and significantly better (128 ERA+). And nobody's firing up a Stieb-for-Cooperstown campaign.
None of this is to meant to diminish the value of Morris' durability, though, and perhaps we take that for granted. In rushing to discredit arguments for and against Morris, perhaps neither side is doing a very good job of wrestling with a more fundamental issue: There is simply a shortage of "pitchers of the '80s" for which cases can be made.
That 11-year span of 1980-90 generated just a dozen men capable of pitching 300 or more turns. In contrast, 1970-80 produced 21 guys making 300 or more starts. The strike season of 1981 is responsible for a small fraction of the drop off, but even allowing for that fact only brings the '80s close to the standards set since. During the "steroids era": 1990-2000 gives another 16 300-game starters, and 2000-2010 just 15. So the number of guys we might broadly define as "workhorses" was lower in the '80s than in the period immediately before, and is also lower than what came after. That might speak well of Morris overall as a survivor in a generation that didn't have many.
This hints at a broader historical problem. The '70s put all sorts of things out of whack for subsequent interpretation and analysis, where two key factors come into play. First, there's the introduction of the DH in the AL in 1973. Second, immediately before 1973 you have a generation of young starting pitchers coming up at the end of the high-mound era -- perhaps the best time ever to be a young pitcher making his way to the majors because of low scores and short games.
Nolan Ryan might be the most famous member of that generation, but he was far from the only one who lasted forever. Steve Carlton, Don Sutton, Jerry Reuss, Phil Niekro and Tom Seaver comprise a short list of all-time greats who made it to the majors long before Morris debuted in 1977, and who then wound up being his contemporaries. (You can also add Vida Blue, Tommy John, Jerry Koosman, Joe Niekro, Charlie Hough … the list goes on.) Morris barely outlasted this older cadre by the time his career ended in 1994, but he didn't start off with the same advantages they did.
So on the one hand, with the addition of the DH you have something that makes pitching in the American League harder, and on the other, you have a new standard set for the kind of workloads that starters are supposed to be able to maintain. Morris faced this new combined challenge and survived, which makes him relatively rare among the first generation of starting pitchers who pitched during what we might call "the early DH era."
To give Morris the benefit of the doubt, let's stretch the scope to include 1973 to 1992 -- or the end of Morris' career as an effective big-league starter. Put him in that context, and a stat like WAR still has little love for Morris. According to Baseball-Reference, he ranks just 17th overall among big league starters during the first two decades of the DH era. However, half of those 16 men ahead of Morris were his predecessors, older men who benefited from the high-mound and/or no DH.
Fair enough. Let's look at him in the context of guys who, like Morris, arrived in big league rotations to stay in 1973 or later. Among the leaders in starts over those 20 years there are five guys we might call near-peers, starting pitchers who established themselves and endured at time when the DH was in play: Frank Tanana, Rick Reuschel, Doyle Alexander, Dennis Martinez and Morris. In that group, Morris and Martinez are the youngest, born just two days apart in May of 1955. Let's switch to a table to spotlight the full careers of those five guys:
None of them ever finished higher than third on a Cy Young ballot during his career -- Morris and Reuschel both managed that twice. That's symptomatic of the challenges they faced, following in the wake of that tremendous group of aces, and then combating the faster-fizzling or more fragile aces of the '80s: briefly great starters such as Ron Guidry, Mario Soto or Steve Rogers.
Morris got the best run support within this small peer group, with 4.9 R/G. That goes a long way toward explaining why he gets the most wins, and why this conversation even exists. Contentions that Morris "pitched to the score" were
refuted almost 15 years ago
by the late Greg Spira, before it was easy to do the research. Meanwhile, Reuschel got the worst support with just 4.1 R/G, which is essentially why he ends up being the great forgotten workhorse while Morris gets kudos. Of course, Big Daddy Reuschel was also the one of these five who was in the NL for almost the entirety of his career -- and a Cub for most of it, the poor soul -- where everyone else on this list spent most of his career in the AL, with the benefit as well as the hazard of the DH.
Which leaves us where? Even with this much special pleading, Morris wasn't even that remarkable among these few that make up this first cadre of the most durable starters who had to come up after the high-mound generation and having to face designated hitters. Being better than Doyle Alexander is really, really good, but is that really Hall of Fame-level good?
Putting someone in the Hall of Fame because this generation of pitchers risks being overlooked in Cooperstown represents a reasonable enough goal. But why Morris instead of Martinez, or Reuschel? Because he was fortunate in the teammates his teams put around him, where Reuschel obviously was not? Because he barely won more games than Martinez? Because he's the one left on the ballot and still eligible? If that's what we're left with, that's pretty weak. If the instinct is to be fair to an era as well as a good pitcher, does it make sense to reward this one but not the other, better pitchers who were his peers?
Of course Morris was one of the most durable pitchers of his generation -- he was, and you can love him for it, as we did watching him muscle through one outing after another back then. If you're a believer in the virtues of a big Hall you might even almost talk yourself into voting for him. Going through this exercise brought me a lot closer to "maybe" than I initially thought possible. But even then, with as many allowances as you might make for Morris, he wasn't exactly the most durable any more than he was anywhere close to the most effective. Which leaves us with a likely Hall of Famer who is going to wind up as an idiosyncratic generational selection as Jim Rice, Andre Dawson or Bruce Sutter were in recent years. And he is someone we're just as likely to argue about after he gets elected as we have beforehand.
Christina Kahrl covers baseball for ESPN.com. You can follow her on Twitter.
September, 16, 2011
9/16/11
6:29
PM ET
By
Christina Kahrl
| ESPN.com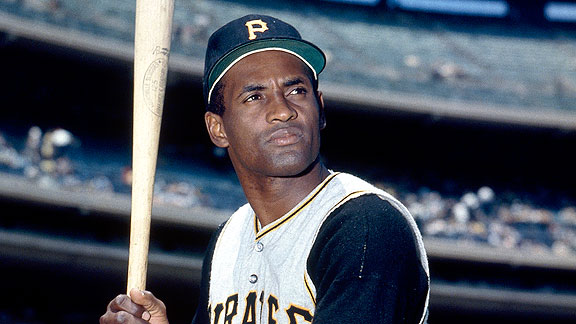 Louis Requena/ MLB Photos via Getty ImagesRoberto Clemente became the first Latin player to win the NL MVP, doing it with the Pirates in 1966.
Yesterday, in recognition of Hispanic Heritage Month, we talked about one person's list -- mine alone -- for
the AL team's all-time greats of Hispanic heritage
, so naturally enough, let's turn to the senior circuit and look at the best of the National League's teams.
Arizona Diamondbacks
: Although a recent expansion addition to the circuit, the Snakes have a clear favorite in
Luis Gonzalez
, who as recently as the All-Star break was inducted into the Hispanic Heritage Baseball Museum Hall of Fame. Gonzo's also the man who beat
Mariano Rivera
in the ninth inning of Game Seven of the 2001 World Series, a postseason feat unlikely to be forgotten any time soon.
Atlanta Braves
: If you make the mistake of thinking this is about Latin America versus what is or isn't culturally Hispanic, you might count
Andruw Jones
, but the Netherlands Antilles aren't culturally Spanish or Portuguese. Among the Braves' Hispanic players, the choices boil down to Dominican bopper Rico Carty or catcher Javy Lopez of Puerto Rico. While the 'Beeg Boy' won the 1970 batting title, I'll go with Lopez for his playing a key role on the great teams of the Braves' recent dynasty.
Chicago Cubs
: Arguments over how he got there will go on for as long as we're willing to debate the impact of PEDs on performance, but Dominican
Sammy Sosa
's easily the most productive player to call Wrigley Field home. His 545 homers top all Cubs ever, and his .569 SLG as a Cub is second only to Hack Wilson.
Cincinnati Reds
: You can make arguments for either of two great Latin players who were key players for the Big Red Machine: first baseman Tony Perez of Cuba, or Venezuelan shortstop Davey Concepcion. Concepcion was a career Red, so 19 years in the Queen City puts the nimble defender high up on the Reds' al-time counting stats, while "Big Doggie" moved around a bit, but was mostly, essentially, a Red. Per WAR, it'd Perez's place, but I'd also cite Joe Posnanski's fine
The Machine
, which helps remind us today how important Perez was then to a team stuffed with stars.
[+] Enlarge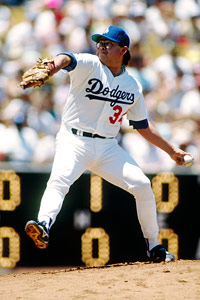 Icon SMIFernando Valenzuela won the NL Rookie of the Year and Cy Young awards in 1981.
Colorado Rockies
: The Rockies have never had a shortage of great Latin players, but perhaps surprisingly, none of them have had long careers in Denver.
Ubaldo Jimenez
would have been an easy choice if he hadn't already been traded away, while Mexico's
Vinny Castilla
mashed 239 homers in nine seasons manning the hot corner. However, let's use this as an opportunity to give well-traveled
Andres Galarraga
some love, because the Big Cat was the team's first star by winning the batting title in the franchise's inaugural season in 1993.
Florida Marlins
: Between going by teams and the near-impossibility of anyone sticking around as a Fish for any great length of time, it makes for a short list, but Dominican
Hanley Ramirez
makes for a relatively easy selection, although you can offer honorable mentions to
Luis Castillo
,
Miguel Cabrera
,
Anibal Sanchez
and
Livan Hernandez
for their contributions to the Marlins' strange, episodic history.
Houston Astros
: Given a choice between Cesar Cedeno and Jose Cruz, you could easily pick either player and have good reason to. Cedeno was a wonderful center fielder and may well be the least well-remembered great player of the '70s, while Cruz was the gifted all-around hitter hurt badly by a career almost entirely spent shackled by the Astrodome. I'm slightly biased towards Cruz (a personal favorite back in the day), but for purposes of this sort of exercise, it's easy to leave this as a tie.
Los Angeles Dodgers
: While you could concoct an argument for Pedro Guerrero because he was one of the best bats of the '80s, this is a slam dunk: Fernandomania, baby! Fernando Valenzuela's breakthrough was a national phenomenon, as the Mexican southpaw provided both peerless pitching early in his career -- winning the Cy Young and Rookie of the Year Awards in 1981 – with unprecedented box-office and media value in Los Angeles. His unique delivery and nifty screwball are things you had to see to believe, putting him on a short list of pitchers you never forgot after watching him work.
Milwaukee Brewers
: It isn't a strong field, but it wasn't Teddy Higuera's fault that his career flamed out early, as injuries sapped the Mexican hurler's career early on. He still ranks third all-time in wins for the team while handily leading their pitchers in career WAR as a Brewer, not too shabby for what was essentially a six-year run spent in relative obscurity.
New York Mets
:
Carlos Beltran
wins via WAR, but he's also been tabbed as the Royals' best, while better health from
Johan Santana
would have made him worth choosing. So let's use the opportunity to cite
Jesse Orosco
, who holds the all-time record for games pitched on a career.
Philadelphia Phillies
: It's perhaps characteristic of the franchise and city that its greatest Latin player, Venezuelan
Bobby Abreu
, was dumped on the Yankees at the deadline in 2006 -- for nothing, effectively -- but Abreu's brand of patience and power made him an offensive keystone for nine years, hitting .303/.416/.513.
Pittsburgh Pirates
: Roberto Clemente, the easiest great to note in a wide field of greats, and the first Latin to win an MVP award in 1966.
St. Louis Cardinals
:
Albert Pujols
has become as easy a selection as Clemente, but with a career that's still going strong, the question best asked might be whether or not the man who will unseat Lou Gehrig on all-time lists walks and plays among us.
San Diego Padres
: Strangely enough, the border town franchise doesn't have a storied history where its Latin talent is concerned, but native son
Adrian Gonzalez
makes for a good fit, even with his recent shuffle to Boston.
San Francisco Giants
: There's a fun debate to be had over whether this ought to be the Baby Bull, Orlando Cepeda or their Dominican ace of the '60s, Juan Marichal. Much like Galarraga and Perez, Cepeda was a hard-hitting first baseman who got around -- he immediately followed Clemente as the NL MVP in 1967, for the Cardinals, but started out winning the Rookie of the Year award in 1958 (second in this as well, as Luis Aparicio was the first to win in 1956 with the White Sox). Against that, Marichal had six 20-win seasons and 238 victories for San Francisco while contributing the highest Giants WAR pitching tally since Christy Mathewson. Whether as a matter of career value or peak value as a Giant, I think you have to go with Marichal.
Washington Nationals
: Vladi Guerrero has already gotten credit as an Angel, but since this is the franchise stolen from Montreal, stealing the Impaler from their list might seem an additional injustice. However, doing so opens the field to tab Nicaragua's greatest player,
El Presidente
. In a 23-year career, Dennis Martinez won 100 or more games with both the Orioles and Expos, pitched the only perfect game thrown by a Latin pitcher, and nearly helped deliver Cleveland a long-awaited championship as a 40-year-old workhorse in 1995.
Christina Kahrl covers baseball for ESPN.com. You can follow her on Twitter.