July, 31, 2011
7/31/11
11:37
PM ET
Fact:
Michael Bourn
is a better player than
Hunter Pence
.
Fact: A lot of you probably think I'm nuts.
Hunter Pence returned pitcher Jarred Cosart (Keith Law's No. 17 prospect in his
midseason top 50 update
) and first baseman Jonathan Singleton (Law's No. 24 prospect).
Bourn, meanwhile, got the Astros three prospects from the Braves plus weak-hitting center fielder
Jordan Schafer
. As Law wrote in his
analysis of the trade
, "The return for Houston, however, is shockingly poor -- quantity over quality, to say the least -- and can't do Ed Wade any good in extending his status as GM beyond 'lame duck.' It makes me wonder if Houston had a ranking of Atlanta's top 25 prospects but looked at it upside-down."
Pence does have an extra season before hitting free agency, which increases his value, but my assumption is Wade didn't realize Bourn is a better player, merely focusing on Pence's home runs and RBIs. My guess is Phillies GM Ruben Amaro Jr. also believes Hunter Pence is the superior player, probably looking at his home runs and RBIs.
And, of course, if you look just at the old-school numbers, Pence is better:
Pence, 2009-2011: .291, 61 home runs, 224 RBIs
Bourn, 2009-2011: .279, 6 home runs, 101 RBIs
Now, we now that comparison is lacking a few nuances of the games. It doesn't include the most important offensive skill, getting on base (Bourn has the higher on-base percentage over the past three seasons, .348 to .342). It doesn't factor in defense (Bourn is a two-time Gold Glove center fielder while Pence is an average right fielder). It doesn't factor in baserunning (Bourn is one of the best in the majors and is leading the league for the third straight season in stolen bases). And it doesn't factor in positional adjustment, an all-important consideration when evaluating player performance. (We don't expect shortstops to hit like
David Ortiz
, do we?)
The easy way to compare the value of the two is by looking at the WAR statistic, shorthand for wins above replacement level. This number calculates how many wins a player generates over a theoretical Triple-A player for his position. It factors in hitting, fielding and baserunning.
FanGraphs.com and Baseball-Reference.com calculate WAR in different ways, but both rate Bourn as the more valuable player since 2009:
FanGraphs WAR, 2009-2011
Bourn: 13.3
Pence: 9.9
Baseball-Reference WAR, 2009-2011
Bourn: 11.8
Pence: 6.4
The differences in value primarily come from different methods in evaluating fielding (FanGraphs likes both players' defense better than B-R).
You don't have to agree with or even like the WAR statistic. It's just a tool -- a very good one, in my opinion -- in evaluating player performance. I think the main confusion or disagreement comes in understanding the position importance. Bourn is compared to other center fielders; Pence to other right fielders.
For example, here are Bourn's 2010 and 2011 average/on-base percentage/slugging percentage lines compared to the average National League center fielder:
Bourn 2010: .265/.341/.346
NL CF 2010: .260/.329/.406
Bourn 2011: .303/.363/.403
NL CF 2011: .267/.336/.417
And here's Pence compared to the average National League right fielder:
Pence 2010: .282/.325/.461
NL RF 2010: .264/.334/.443
Pence 2011: .307/.355/.468
NL RF 2011: .265/.338/.437
That's a bunch of numbers, but it translates to: Bourn gets on base more than the average center fielder. So despite his lack of power, he's still a productive hitter for the position (more so in 2011). Pence is hitting better this year but overall he's about league average or slightly above for his position.
Look, this doesn't mean Bourn is a
better
hitter than Pence. It means he's similar to others for his position. If you factor in just hitting and baserunning, B-R says Bourn has been about 82 runs better than a replacement-level center fielder over the past three seasons; Pence about 73 runs better than a replacement-level right fielder. Factor in Bourn's defense and he's the more valuable player.
This isn't to knock Hunter Pence or the trade by the Phillies to get him. Considering the ages and health issues of many of their primary players, the Phillies
should
be in win-now mode. The fact that they didn't have to give up
Domonic Brown
made the trade a no-brainer for them. Pence makes them better in 2011 and 2012.
And for the Braves, they get exactly what they needed -- a leadoff hitter and center fielder. They're a better club right now than two days ago. It just appears -- for now -- that they gave a up a lot less to get their guy.
SERIES OF THE WEEK
There's so much good action this week, I have a whole list of must-watch series.
1. Arizona at San Francisco (Monday through Wednesday). Admit it: You keep waiting for the Diamondbacks to hit a skid. There's nothing fancy about Arizona, but it does rank third in the NL in runs scored (with help from their home park) and they have a bigger run differential on the season than the Giants. The D-backs are just two games back of the Giants and have won seven of their past 10 and 10 of their past 15.
Justin Upton
has led the way, hitting .368 with six home runs and 19 RBIs in 15 games since the All-Star break.
Ian Kennedy
starts Monday against
Matt Cain
in the marquee matchup of the series.
2. St. Louis at Milwaukee (Monday through Wednesday). The NL Central leaders still have 12 games left against each other, beginning Monday. The Cardinals had a busy deadline, acquiring
Edwin Jackson
and
Rafael Furcal
, while the Brewers must move forward without
Rickie Weeks
. This series is in Milwaukee, where the Brewers have the best home record in baseball at 39-14.
3. Cleveland at Boston (Monday through Thursday). It's a huge week for the Indians as they travel to Boston and then Texas. Cleveland was 32-20 through May, but went 10-17 in June and 11-15 in July, getting outscored by 50 runs over those two months. The AL Central remains wide open, but a bad week could create a hole too big to dig out of. The offense needs to start producing: It's hitting .214/.284/.340 since the All-Star break.
Ubaldo Jimenez
would make his regular turn on Thursday, but that's
Justin Masterson
's scheduled day, so I assume he'll make his Cleveland debut on Wednesday (he pitched just one inning on Saturday) or Friday.
Also: Texas at Detroit (Monday-Thursday), Yankees at White (Monday-Thursday), Philadelphia at San Francisco (Thursday-Sunday), Yankees at Boston (Friday-Sunday),
PITCHING MATCHUP OF THE WEEK
Saturday:
Cole Hamels
(12-6, 2.61) vs. Matt Cain (9-6, 2.91), Phillies at Giants
Hamels is having a Cy Young-caliber season, holding opponents to a lower batting average, on-base percentage and slugging percentage than
Roy Halladay
. Cain and Hamels met in Game 3 of the NLCS last year when Cain allowed two hits in seven scoreless innings of a 3-0 shutout for the Giants, and then again last week when Cain again outdueled Hamels, winning 2-1.
THREE STRIKES
1. The
Justin Verlander
-
Jered Weaver
Cy Young showdown certainly lived up to the billing, with Verlander taking a no-hitter into the eighth inning. His own throwing error leading off the inning may have prevented the no-no as
Maicer Izturis
singled with two outs to break it up. Weaver was strong, but allowed home runs to
Magglio Ordonez
and
Carlos Guillen
. Weaver still hasn't allowed more than four runs in a game all season.
2. Fun to see the Cardinals fans give new shortstop Rafael Furcal a huge ovation when he pinch-hit Sunday night against the Cubs. While the Pence and Bourn trades grabbed a lot of the attention, the upgrade from
Ryan Theriot
to Rafael Furcal could be the biggest of the deadline. Theriot wasn't doing much at the plate and lacks the range and arm strength to be much more than replacement-level at shortstop. Of course, Furcal hasn't hit in limited duty with the Dodgers, including just .183 since coming off the DL on July 3, but if he produces like last season (.300/.366/.460), it's a great pickup for St. Louis.
3.
Derrek Lee
isn't have a great season for the Orioles -- .246/.302/.404. But that's better than what the Pirates were getting from
Lyle Overbay
(.227/.301/.342). Lee may also hit better moving back to the NL, where he hit .260/.347/.428 a year ago. It's a no-lose risk for the Pirates, as they gave up Aaron Baker, a 23-year-old first baseman who is still in Class A. Similar to Furcal, it's not as sexy as the Pence pickup, but the production the Pirates were getting from first base was so poor that Lee has a chance to be a significant upgrade.
RANT OF THE WEEK
Remember when everyone was griping about declining attendance early in the season? According to Baseball-Reference, that difference was down to only
42 fewer fans per game
compared to this time last year (entering Sunday). And that's despite the Dodgers being down more than 8,000 fans per game. Now that the NFL is back in action -- you'd have thought we actually missed an important time of the season from the reaction -- the pundits will get back to kneeing at the altar of the NFL and ripping baseball. Major League Baseball is averaging more than 30,000 fans per game. Fourteen teams -- nearly half the league -- are within five games of first place or the wild-card lead. Small-market teams like Cleveland and Pittsburgh are competing. Big-market teams like the Dodgers, Cubs, Mets and Astros are out of it. Baseball is in trouble? Please.
Baseball is doing just fine.
Follow David Schoenfield on Twitter @dschoenfield.
PHOTO OF THE DAY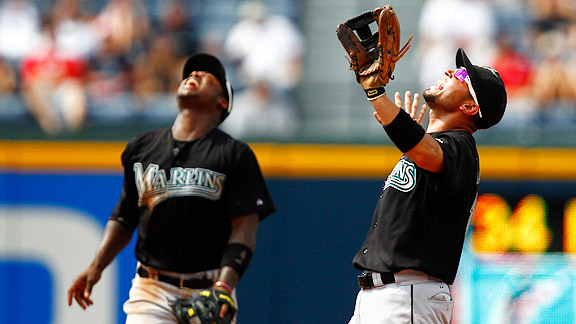 Josh D. Weiss/US PresswireOK, everybody stand back. I've got this under control. So, please, just step back.
May, 3, 2011
5/03/11
12:38
AM ET
I have to think one of the most difficult decisions a manager has to make is when to tell a veteran star he is moving down in the lineup ... or is being relegated to part-time duty ... or is not playing at all.
Sometimes the player makes the decision himself. Mike Schmidt and Ken Griffey Jr. walked away in the middle of seasons. Sometimes the manager might be tied down by the status of the player, reminding me of an old Earl Weaver quote, "No promises. None. If you don't make any promises, then you won't break any. Don't back yourself into a corner."
How much longer before the managers of these struggling veterans will feel backed into a corner?
Magglio Ordonez, Tigers:
After going 0-for-4 on Monday, Maggs is hitting .151 with one extra-base hit and one RBI in 73 at-bats. His one RBI came on a grounder to shortstop. This isn't a slump; this is a career crisis. He is 37 and has battled injuries, but the career .310 hitter hasn't hit less than .290 since his rookie season and hit .303 in 2010. Jim Leyland has kept Ordonez in the No. 3 spot all season. He's also kept
Austin Jackson
in the leadoff spot all season. I don't want to say Leyland is asleep at the helm, so I'll just say he apparently has more confidence in these guys than I do. As one Tigers blog penned after Ordonez got the day off Sunday, "Don Kelly hits third, Jim Leyland declared genius." Can you tell the Tigers are in a long losing streak? As for Ordonez, his line-drive percentage on balls in play is 20 percent, right at his career norm of 20.3, so it appears he's hitting into a lot of bad luck, as indicated by a .172 average on balls in play. He'll break out of it almost any day. I'm almost sure of it.
Aubrey Huff, Giants:
Huff went 0-for-3 Monday, dropping his season line to .190/.257/.290 (BA/OBP/SLG), as the Giants were shut out by
Tom Gorzelanny
and
Drew Storen
. It was the third shutout in less than a week for the Giants, after 2-0 and 3-0 losses to
James McDonald
and
Jason Marquis
. Not exactly like getting blanked by Roy Halladay, Cliff Lee and Cole Hamels. Huff's numbers are down across the board from his big 2010: walk rate down slightly, strikeout rate up slightly, line-drive percentage down, ground ball percentage up. All the trends are negative and, at 34 years old, cause for major concern.
Brandon Belt
has been playing the outfield in Triple-A, but he might want to keep his first-base glove close by.
Vernon Wells, Angels:
The Angels' left fielder hit a two-run homer in the eighth inning off
Dan Wheeler
in a 9-5 loss to the Red Sox,
raising
his season totals to .172/.218/.267 with two home runs. Wells isn't too concerned with his slow start, tweeting, "I love how people panic after two weeks of the season. Never panic, always persevere! Too blessed to be stressed." Of course, he tweeted that April 17. Wells has some major red flags brewing: His line-drive percentage before Monday's game was 7.7 percent -- well below his career norm of 18.3 percent, indicating his sub-.200 average on balls in play isn't all bad luck. It's also worth noting that while Wells hit 31 home runs last season, he was one of many Blue Jays to benefit from the friendly air conditioning at Rogers Centre; he hit just .227/.301/.407 on the road. At 32, he's the youngest guy on this list, but he looks like a much older athlete to me, with declining speed and a few extra pounds. Call-me-crazy prediction: Wells will not exercise his right to opt out of his contract after this season. (Only three more seasons, Angels fans.)
Raul Ibanez, Phillies:
ESPN Insider looked at Ibanez

the other day, and I tend to agree that a "big chunk of his struggles are attributable to making very poor contact when he does connect." Like Ordonez, Ibanez doesn't offer much in the field, and when
Domonic Brown
returns from his rehab stint in the minors, Ibanez might see much reduced playing time. I hope he rebounds but he's turning 38 in a month. I won't completely write him off -- hey, this is a guy who had just 112 career RBIs in his 20s but now is approaching 1,000 for his career -- but the end could sadly be near.
Vladimir Guerrero and Derrek Lee, Orioles:
The two vets showed signs of life in Monday's 6-2 loss to the White Sox, combining for five hits, including Lee's second home run. Vlad the (former) Impaler has long been one of my favorite players, but it's painful to see him hacking away these days. He's hitting .274 -- which also happens to be his on-base percentage, as he's yet to draw a walk. He's connected for four home runs, but with three GIDP, Vlad might join that elusive more-double-plays-than-walks club, entered in recent seasons by the likes of
Miguel Tejada
,
Ivan Rodriguez
and
A.J. Pierzynski
. At 35, Lee is a year younger than Guerrero, and his home run lifted his line to .248/.325/.333. His BABIP is actually more than .300, so his main problem has been a high strikeout rate and lack of power when he does connect. Maybe he'll warm up with the weather.
"Maybe." I'm sure countless managers have thought that through the years, waiting for the vets to heat up with the summer. Sometimes they do.
And sometimes the bat remains a millisecond too slow.
PHOTO OF THE DAY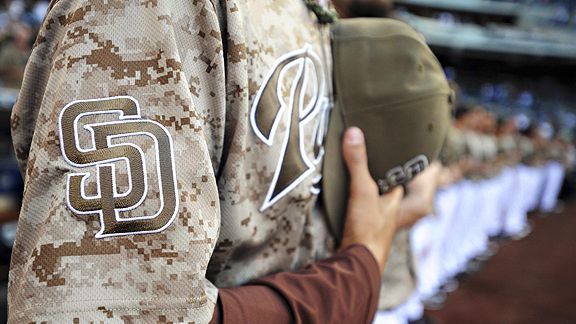 Christopher Hanewinckel/US PresswireAs America celebrated its troops Monday, so too did the San Diego Padres.
April, 13, 2011
4/13/11
5:55
PM ET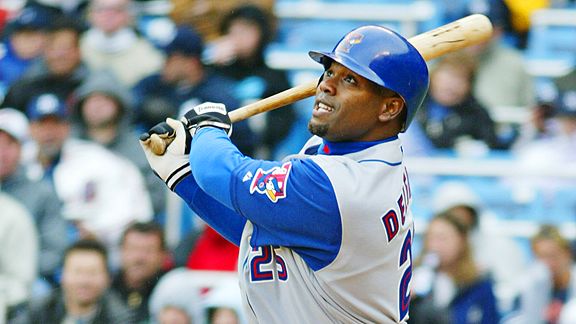 David Seelig/Icon SMICarlos Delgado hit 473 home runs and drove in more than 1,500 runs in his career.
Carlos Delgado
officially
announced his retirement
, in slightly less dramatic light than
Manny Ramirez
.
He was a great hitter, a player worthy of some random thoughts ...
1. Delgado came up through the minors as a catcher and everyone knew he could hit -- he ranked as Baseball America's No. 4 prospect in 1993 and No. 5 in 1994. He caught two games in the majors but the Blue Jays originally tried him in left field before he settled in at first base. The attempt to make him a catcher meant he spent two seasons in Triple-A when he was ready for the majors (and probably cost him 500 career home runs).
2. Long home runs. Outside of maybe
Mark McGwire
,
Barry Bonds
and
Sammy Sosa
(ahem), did anyone in the past 15 years hit longer home runs than Delgado? Loved that left-handed power stroke, like he was using a big sledgehammer.
3. The four-homer game against Tampa Bay in 2003. Delgado had taken antibiotics for a cold earlier in the day and homered in all four trips to the plate. His fourth homer was a mammoth blast to center field off
Lance Carter
.
4. His 99 extra-base hits in 2000 -- he had 57 doubles, a triple and 41 home runs -- tied for 16th-most in one season. Delgado hit .344/.470/.664 that season -- and finished fourth in the MVP voting. Yes, there was a lot of offense that year.
5. His one season with the Marlins. Actually, I don't remember this much at all.
6. Finally making a postseason appearance with the Mets in 2006 -- and raking. He hit .351/.442/.757 in 10 games, with four homers and 11 RBIs. In Game 7 of the NLCS, the Cardinals wanted nothing to do with him -- they walked him three times.
7. He only made two All-Star teams (2000 and 2003). What? The same number as Scott Cooper? How is this possible? Well, here are the first basemen who got selected in his prime years ...
1998:
Jim Thome
,
Rafael Palmeiro
,
Mo Vaughn
.
1999: Jim Thome, Rafael Palmeiro,
Ron Coomer
... yes, Ron Coomer! ... plus THREE DHs (
Harold Baines
,
John Jaha
and
Jose Canseco
).
2001:
John Olerud
,
Tony Clark
,
Jason Giambi
,
Mike Sweeney
.
2002: Jason Giambi,
Paul Konerko
, Mike Sweeney.
2004: Jason Giambi,
Ken Harvey
... yes, the immortal Ken Harvey.
2005:
Derrek Lee
,
Albert Pujols
. This one was weird. The NL selected only two first basemen, but Pujols started at DH. Third baseman
Morgan Ensberg
ended up playing first base. But
Cesar Izturis
and
Felipe Lopez
were All-Stars that year.
2006: Albert Pujols,
Lance Berkman
,
Ryan Howard
,
Nomar Garciaparra
. Nomar was hitting .358 at the break.
2007: Delgado had a bad year.
2008: Lance Berkman, Albert Pujols,
Adrian Gonzalez
. This was the year Delgado had a monster second half.
Anyway, I'm not saying he deserved to make it all those years, but it's surprising he was only a two-time All-Star. Heck, Bruce Benedict was a two-time All-Star.
8. His stance against the war in Iraq. Not an easy decision, but I applauded his courage to take a political stand
with thought and conviction
.
9. He finished with a career WAR of 49.1 via
FanGraphs
, 44.2 on
Baseball-Reference
. I'd thought it would be higher, but he's being compared against some great first basemen from his era. That places him about 26th among first basemen (minimum 50 percent of career games at first base) since 1901, similar in career value to guys like Orlando Cepeda, Gil Hodges, Don Mattingly and Boog Powell. He loses a lot of value for baserunning (terrible) and fielding (below average). Based on hitting value alone, he's about 13th to 15th among first basemen.
10. Hall of Famer? Not quite.
March, 20, 2011
3/20/11
10:59
AM ET
As a resident of the Baltimore-Washington metro area, I've heard a lot of chatter regarding the Orioles' winter trades and free-agent signings from fans and sports radio talking heads alike. For the most part, the tone has been positive and hopeful. To be perfectly honest, after 13 straight losing seasons, any sense of optimism is exciting. Still, I can't help but wonder if the fans' expectations are a tad too high as a result of these improvements. Are they setting themselves up for disappointment? Let's take a look at their four big offseason acquisitions to see what kind of improvements we can expect to see over the upcoming season.
First Base – Derrek Lee
[+] Enlarge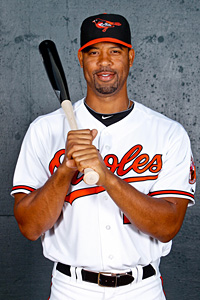 Derick E. Hingle/US PresswireThe Orioles are counting on new first baseman Derrek Lee to add some punch to their lineup.
Last season, first base was a big problem for the Orioles.
Garrett Atkins
was nothing short of a train wreck, and the immediate replacements that followed in
Jake Fox
and Rhynes Hughes weren't any better. Even Ty Wiggington, the de facto starter who hit 22 home runs, was a near-replacement level player last year, producing 0.3 fWAR. All-in-all, the production (or lack thereof) the O's received from their first basemen was about a win below the replacement level.
Even though Lee had a down season in 2010, there are encouraging signs he could rebound this season. He plays solid defense at first, draws walks, works counts and should hit about 20 home runs. There's absolutely no doubt that Lee is a big upgrade. Still, considering his age and recent performance history, we shouldn't expect more than a 2-3 WAR season. Considering the monster spring training showing by Fox, perhaps Fox could see more time here if Lee is hurt or struggles.
Third Base – Mark Reynolds
In terms of Oriole problem areas, their third base situation was nearly as dire as the one at first base. Last season, the Orioles gave the majority of playing time to
Miguel Tejada
and
Josh Bell
, and in return they received -0.5 WAR in value. Something tells me that this isn't what the front office envisioned when the season started.
To remedy this issue, the Orioles traded for Reynolds, the former Arizona third baseman. Despite coming off a difficult season in which he hit a measly .198, Reynolds still managed to provide the Diamondbacks with 2.4 WAR in value, primarily on the strength of his power, durability and defensive contributions. While Reynolds isn't the defensive player that UZR made him appear to be last season, he'll likely make up for the lost value in terms of improved offensive production. Reynolds' paltry 13.3 percent line drive rate is likely to rebound given that his career average exceeds that rate by 4 percent. With an improved line drive rate, his batting average and OBP will improve in kind. A 2.5-3.0 WAR season is not out of the question.
Shortstop – J.J. Hardy
From 1983 to 2007, the Oriole shortstop situation was about as stable as any position in baseball with
Cal Ripken
,
Mike Bordick
and Tejada all holding down the fort for extended periods of time. In the three years since Tejada's departure,
Juan Castro
,
Alex Cintron
,
Freddie Bynum
, Brandon Fehey,
Luis Hernandez
, Cesar Izturiz,
Robert Andino
and
Julio Lugo
have all been given their share of playing time. Yikes! Talk about replacement-level production.
Like Lee and Reynolds, Hardy is coming off of a down year. The good news is that even if he reproduced his 2010 season, he'd still provide about a 2.0-2.5 WAR improvement over last year's crew. Still, I wouldn't be surprised to see Hardy's performance rebound this season. Last year, he played half of his games at Target Field, which was the most unfriendly ballpark in which to hit home runs. With Camden Yards being a home run neutral park, Hardy should see more of his long fly balls leave the yard. If he does, his improved offense, along with his above average defense, should provide about 3.0-3.5 WAR in value to the Orioles this season.
Designated Hitter – Vladmir Guerrero
Despite my objections to the Orioles increasing their offer to Vlad from $2 million to $8 million without a real competing offer on the table, his signing makes sense from a "good will" perspective. While he's not the same player he was five years ago, he generates considerable excitement; especially with regards to the Orioles fan base. Still, I feel I should temper expectations. He's old, can't play defense (as we saw in the 2010 postseason), and his offensive skills are eroding, though he still commands a great deal of respect within the locker room. Furthermore, his signing shifted the defensively challenged
Luke Scott
from DH to left field, thus weakening the team at that position. Despite all the hoopla surrounding Vlad's arrival, he projects to provide about 2.0 WAR in value. While that's admirable production, it neither outpaces Scott's 2010 production, nor improves the team in a measurable way. His addition appears to be purely cosmetic.
Even with the improvements the Orioles made during the offseason, it's probably only enough to take them from 66 to 76 wins. While that's an admirable accomplishment, I have to wonder if it was worthwhile to invest in short-term stop gaps, especially when the Orioles lack talented young prospects to fill behind those veterans. Really, if the Orioles are going to make any marked improvements, it will need to be on the backs of their young starters. At this point, outside of
Brian Matusz
, none of their young arms have shown they're ready to take that next big step forward this year. That could change, but until they do, the Orioles will probably remain in the back of the AL East pack.
Chip Buck walks the tight rope of the Red Sox-Yankee rivalry by contributing to both Fire Brand of the American League, a blog about the Boston Red Sox, and It's About the Money Stupid, a blog about the New York Yankees. IIATMS can also be found on Facebook here and you can follow on Twitter here.
March, 4, 2011
3/04/11
11:02
AM ET
By
Austin Swafford
| ESPN.com
Finding the balance between experience and youth can be a tricky line to walk in sports. A winning formula in baseball is often found in those teams that manage to have veteran experience in the right places and youthful energy in others. You don't want to be too old or too young, and experience just for experience's sake is no benefit. The Astros have done a very bad job walking that line and they can serve as a cautionary tale for teams trying to win right now.
There's certainly nothing wrong with trying to win right now if you have the right parts. But I have thought about the lesson that could be learned from the Astros as I have watched the Orioles since the end of last season. They closed 2010 on a good note. They hired Buck Showalter and, with him at the helm, went 34-23 to end the year.
[+] Enlarge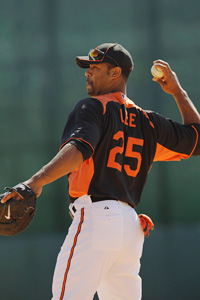 AP Photo/Eric GayThe Orioles signed 35-year-old Derrek Lee, among other veterans, during the offseason.
So, naturally, they looked around at their very talented division and said, "No rush. We have a good manager, we're making good progress and we have young talent. We can be patient while that young talent develops." Right?
It'd be nice if that were the case, but instead of doing that, the Orioles got very involved in free agency, went out and got
J.J. Hardy
,
Derrek Lee
,
Mark Reynolds
,
Vladimir Guerrero
,
Justin Duchscherer
and
Kevin Gregg
. Average age: 31.8.
They're not all old and I don't dislike all of the signings, but why the urgency? Why the apparently desperate need to compete now when they probably won't?
Baltimore is in serious risk of getting mired in the same mud as the Astros since their surprising World Series run in 2005. The Astros haven't been bursting at the seams with young talent the last six years, but they spent four seasons taking what young talent they did have and dishing it to other teams to get veterans to try to compete now. They dealt
Taylor Buchholz
,
Jason Hirsh
and
Willy Taveras
to the Rockies for
Jason Jennings
. They shipped
Luke Scott
,
Troy Patton
and three others to the Orioles for
Miguel Tejada
. At the same time, they signed
Carlos Lee
as a free agent to the biggest contract in club history and patched together their rotation with guys like
Woody Williams
,
Randy Wolf
and
Brian Moehler
.
This not only cleansed the team of promising young players, but also suppressed the development of other young players, because if you're trying to win now, you can't be patient with a guy who struggles through the first couple of months of a season. Where a rebuilding team might recognize its ability to be patient and wait out the growing pains of a young player, a competing team can't afford to take the losses.
Houston spent four years suppressing the development of young players under the delusion that these poorly constructed teams loaded with not-so-good veterans might actually compete. Much like the Orioles, the Astros would go on good second-half runs that convinced the front office that they were just a piece or two shy of competing. Of course, they never even came close.
Much like the Orioles, the Astros finished 2010 on a good note. They had good second-half records, they have young talent and they both appeared to be heading in the right direction for the first time in a long time.
But the Orioles are in danger of falling into the same trap as the Astros. Let them serve as a cautionary tale that a good month and a half doesn't mean the team is a few overpriced veterans away from going to the World Series. Let them serve as a cautionary tale of what happens to a club when they refuse to develop young talent.
Austin Swafford writes Astros 290, a blog about the Houston Astros. You can follow him on Twitter.
February, 25, 2011
2/25/11
4:03
PM ET
By
Darryl Johnston
| ESPN.com
The American League East division is a beast. At one point in 2010, the top three teams in baseball were New York, Boston and Tampa. No other division in baseball can keep pace or boast that type of firepower.
This offseason, Boston made waves by signing and trading for big-time hitters and bullpen arms. In one fell swoop they became the pre-eminent favorites in the AL East and perhaps all of baseball.
The
New York Yankees
floundered around in the winter and lost out on
Cliff Lee
, prompting the Yankees' fan base to split among depression, denial and anger.
And despite spending over $200 million, guys such as
Mark Teixeira
and GM Brian Cashman refer to themselves as underdogs (tell that to Orioles fans) while all of this hoopla in Boston runs rampant.
So that now means that the AL East winner is already a foregone conclusion. It will be the Red Sox and they could very well win 100 games in the process. The Yankees will take second and probably win the wild card. No need to play the games. Just look at the rosters and move on.
[+] Enlarge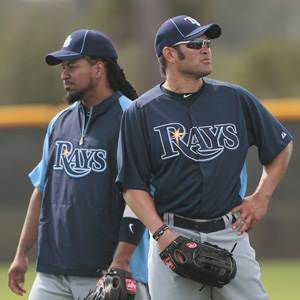 AP Photo/Dave MartinThe Rays brought in Manny Ramirez and Johnny Damon to help shore up an offense that lost Carl Crawford and Carlos Pena.
That is of course until you get to the "lowly" Tampa Rays who watched their star outfielder,
Carl Crawford
, defect to Boston. Wasn't this team supposed to be bad? They lost Crawford,
Dan Wheeler
,
Rafael Soriano
,
Carlos Pena
and traded
Matt Garza
. No way can they compete.
But in what was supposed to be the year that the Rays returned to insignificance, they have quietly (and cheaply) revamped their offense by adding
Johnny Damon
and
Manny Ramirez
. Their pitching staff is fully stocked and loaded with high-impact arms and they boast one of the best managers in baseball as well as one of the smartest front offices.
Maybe it's time we stop trying so hard to overlook them.
Up in Toronto, (where lately fly balls and home runs are more abundant than hockey pucks) the mood is high after the organization brought John Farrell in to manage the team. The Jays, while not as well put together as Tampa, also boast some great players and have some young arms that should flourish under Farrell, the former Red Sox pitching coach.
But Toronto's calling card last year was what chicks dig the most -- long balls. The Jays' plate approach -- put the ball in the air -- helped carry
Jose Bautista
to a 54-home run season. Anyone want to take the over on 40 homers in 2011?
While the Blue Jays could cause some headaches for the Red Sox and Yankees, it's highly unlikely that enough stars will align to propel them to a division championship this year.
And how about the Orioles in Baltimore? Is there any reason to "Fear the Bird"?
Short answer: no. But that offense has been stacked up with some nice offensive pieces and Camden Yards is pretty favorable for home run hitters. The additions of
Vladimir Guerrero
,
Derrek Lee
and
J.J. Hardy
will certainly help them score runs and
Mark Reynolds
may even churn out 30 homers this year (with 250 strikeouts). How many times will
Clay Buchholz
strike Reynolds out this year? Seven, eight times maybe? Reynolds is already 0-for-3 against him with three strikeouts.
The real problem for Baltimore is that pitching staff. Good luck keeping opponents to fewer than five runs per game when you are trotting
Jeremy Guthrie
to the mound as your ace. Sure he might give you 200 innings, but that's about all you're getting unless he can continue to post sub-30 percent hit rates.
O's fans better hope that
Brian Matusz
can wear the crown as he's been anointed (much like
Matt Wieters
) but the team is built as a dichotomy -- offense for today and the pitching for tomorrow. It's doubtful that Baltimore will win 65 games in 2011.
So, can anyone knock off the Yankees or Red Sox? Probably not -- they are both fully loaded with deep war chests.
But don't sleep on Tampa just yet.
Darryl Johnston contributes to Fire Brand of the American League, a blog about the Boston Red Sox. You can follow him on Twitter.
February, 7, 2011
2/07/11
3:15
PM ET
By
Dan Hennessey
| ESPN.com
The Orioles officially
added Vladimir Guerrero on Friday
, continuing the turnover of their roster. And for the scant sum of eight million dollars!
Guerrero joins
Derrek Lee
,
J.J. Hardy
, and
Mark Reynolds
as new right-handed bats in the Baltimore lineup. Add center fielder
Adam Jones
, and the new-look Orioles are right-handed heavy. A potential lineup (with 2010 OPS against right-handed pitchers):
2B
Brian Roberts
(.726)
CF Jones (.804)
RF
Nick Markakis
(.762)
LF
Luke Scott
(.935)
DH Guerrero (.810)
1B Lee (.773)
C
Matt Wieters
(.741)
3B Reynolds(.694)
SS Hardy (.759)
The Orioles have definitely improved, but not quite as much as the names might suggest. Decent right-handed pitching will be able to handle this lineup. Guerrero fell apart at the end of last season, Reynolds and Lee are coming over from the weaker National League, and Scott having his first huge season at age 32 screams "fluke" more than "breakout."
According to
Cot's Contracts
, the four new players will cost Baltimore $26 million in 2011, which leads to the bigger question: When will the Orioles actually be able to contend for a playoff berth?
It's not 2011. The pitching's not close to ready;
Brian Matusz
had a good rookie season,
Chris Tillman
is fun to watch, and … that's the extent of nice things I can say about the pitching staff.
Additionally, by handing the DH job to Guerrero, Scott shifts to left field, denying
Nolan Reimold
regular playing time. In what will be just his third big-league season, Reimold might still be around when Baltimore could compete. By signing Guerrero, the Orioles won't find out if Reimold can hack it in the bigs until 2012.
Guerrero and Lee are rentals, used (if Baltimore management is wise) as trade bait come July, and Hardy will become a free agent after the season. While the Orioles might be hoping for draft picks if Hardy leaves town, the compensation system is in danger of being either replaced or eliminated after this season.
Not to mention that the Red Sox, Yankees, and Rays all figure to win 90-ish games, and the Blue Jays keep getting better.
And that money didn't have to be spent on free agents, if at all. Keith Law recently
ranked the farm system 24th
, citing recent graduations and a "lack of international talent."
Baltimore's offseason moves have made them a better fifth-place team in 2011, which counts for nothing. The cost: delaying respectability in the form of contention. The kids in the system need to play, if only to figure out that they can't get the job the done.
There's no value in moving from 66 wins to 72, or from 74 or 77, when those same guys won't help a team get to 85 or 90 wins.
Dan Hennessey writes Baseballin' on a Budget, a blog about the Oakland Athletics. Follow him on Twitter @DanHennessey31.
August, 18, 2010
8/18/10
8:49
PM ET
Capitol Avenue Club's Peter Hjort on the deal sending
Derrek Lee to the Braves
:
... the Cubs get three legitimate prospects. The best of the trio is Robinson Lopez, a 6'23 right-hander with an extremely live arm and a very projectable frame. His results at class A Rome have been disappointing, but it's important to remember he's only 19 years old and this is his first full season. I still hold him in very high regard. The other two are relievers. Lorick, the left hander, was a 20th round pick out of the University of Virginia in last year's draft. He's not the typical refined prospect you see from a 4-year college, but he has some late-game potential. Harris was taken one round before Lorick in the same draft. He throws hard and he's had a successful first full pro season, making it all the way to AA. He's got a huge frame (6'43, 235 LB), and like Lorick has some late-game potential.

I think the Cubs did very well to get Lopez and two interesting relief prospects, even if they had to pay some to get them. Still, this deal probably makes the Braves better, and the middle of a pennant race isn't the time to worry about giving up a lottery ticket and some Carolina League relievers.

Still, if the organization had put Troy Glaus on the DL a month ago, they'd probably still have their three prospects and a productive first baseman.
It's a fair point. If Glaus's struggles over the last month have been caused by a real injury, somebody should have known about it before now.
Of course, it's entirely possible that if they'd put him on the DL a month ago, they'd have traded three prospects then rather than now.
Like Peter, I can't really fault the Braves for doing this deal. But unless Lee helps get them into the playoffs, the trade might look really, really silly in a few years.
August, 18, 2010
8/18/10
11:59
AM ET
From
ESPN Chicago
:
The Chicago Cubs and Atlanta Braves are working on a deal to send first baseman Derrek Lee to Atlanta for prospects, according to a league source.

Lee, who is presently dealing with a bulging disc on his lower left side, received an epidural on Monday to relieve the pain and will not be ready to play again until Thursday.

Braves top scout Jim Fregosi watched Lee hit four home runs during a series in St. Louis over the weekend. Fregosi reported back to general manager Frank Wren that Lee was swinging the bat as well as he has all season, according to a source.

Atlanta lost All-Star third baseman Chipper Jones for the season with a knee injury on Aug. 10. First baseman Troy Glaus, a former third baseman, could be moved back to third if Lee is acquired.
The key passage here: Lee
was
swinging the bat well.
It's hard to swing the bat well with a bulging disc. Impossible, maybe. Add the fact that before last weekend's homer-fest, Lee was sporting a .246/.332/.383 batting line for the season, and you have to wonder if he's really any sort of upgrade over what the Braves already have.
You can understand the Braves' concern about first base, though. Since June, Troy Glaus is hitting .192/.292/.288 in 36 games. If the Braves do get a first baseman, I would expect Glaus to spend more time on the bench than at third base (where
Omar Infante
would provide a better glove and roughly as much hitting).
June, 3, 2010
6/03/10
10:00
PM ET
So are we supposed to believe
this one
?
Excellent baseball sources are telling us the Angels and the Cubs may be involved in trade talks that could send Derrek Lee to L.A. The Angels lost their starting first baseman, Kendry Morales, last weekend when he broke his leg in a celebration after he hit a walk-off grand slam. Lee was a late scratch from Wednesday's lineup because of tightness in his right hamstring.
On a scale of 1 to 10, here are Derrek Lee's last six seasons (including this one): 10-2-6-5-7-2. At $13 million per season, you want to see at least a 6 every season, which means Lee's been worth his salary just half the time. Still, he wouldn't be a terrible gamble if the Cubs are willing to throw some money into the deal. As usual, the "winner" depends on who else is included; I certainly wouldn't give up more than one Grade B prospect to get Derrek Lee (and considering how poorly he's played this spring, that's probably too much).
Is Derrek Lee better than some sort of platoon involving
Mike Napoli
and Mike Ryan, with
Robb Quinlan
occasionally tossed in there for old times' sake? Probably. But not by a lot. But as long as they're within shouting distance of first place, they have to keep looking at their weak spots. First base is obviously one of them, but third base is worse, plus two-fifths of the rotation and a goodly chunk of the bullpen. Considering Mike Scioscia's man-crush on
Jeff Mathis
, when Mathis comes off the DL, Scioscia should probably just install him behind the plate and give most of the first-base action to Napoli. The Angels need to make some in-house fixes, and this is probably the easiest.
May, 27, 2009
5/27/09
2:41
PM ET
Hey, better late than never, right?
Paul Sullivan
:
In a shakeup of their roster, the Cubs made three moves today to help their lineup and their pen.

Jake Fox, who is hitting .423 with 17 home runs and 50 runs batted in for Triple-A Iowa over 40 games, was called up. Joining the infielder from Iowa is shortstop Andres Blanco and left-handed reliever Jason Waddell. Blanco is hitting .314 with 4 home runs and 25 RBI. Waddell has made 18 appearances for Iowa and has a 5.40 earned-run average.

To make room for Fox, Blanco and Waddell, the Cubs put Aaron Miles on the 15-day disabled list and sent down fan-favorite Bobby Scales and lefty reliever Neal Cotts, who has struggled to get out left-handed batters this season.
It's a shame about Scales, who's actually done quite well since getting called up a few weeks ago. Considering that he plays second base and third base -- two positions at which the Cubs have gotten almost no production this spring -- Scales must be wondering what else he could have done. And with Miles hitting the DL, who's going to play second base? Blanco, with the .290 career on-base percentage? OK, so all that came with the Royals when Blanco was still soaking behind the ears. Now he's 25, and doing well enough in Triple-A this season.
Obviously, Fox is the interesting guy here. Unfortunately, he's not in today's lineup and it's not at all obvious where he'll fit, since he can't really play third base and the Cubs are committed to Derrek Lee for the interminable future, even though Lee hasn't hit much since more than a year ago.
All these moves, then, are just fooling around at the edges. The Cubs need Geovany Soto and Milton Bradley to hit, and Aramis Ramirez to come back strong. Otherwise all the Jake Foxes and Andres Blancos in the world aren't going to make any difference.
Update: Well, the Jake Fox Era is off to a good start, as Fox drove an RBI double into the gap as a pinch-hitter in the bottom of the eighth.