SweetSpot:

Didi Gregorius
June, 2, 2013
Jun 2
12:40
AM ET
By
Christina Kahrl
| ESPN.com
When it comes to this year's rookies, as fans I think we sort of came into this season like the kid at Christmas the year after you got the bike
and
the pony, or the new car
and
the Red Ryder BB gun. Because, let's face it, the year after
Mike Trout
and
Bryce Harper
arrived on the scene had to be something of a letdown, right?
Turns out, not so much, at least not in the National League. The difference is that this year the kids are all right on the mound.
Hyun-Jin Ryu
has been one of the few bright spots on a Dodgers team desperate for something worth bragging about beyond its price tag. But the Cardinals'
Shelby Miller
just got his ERA down to 1.82, almost a full run lower than Ryu's, while catching the Korean southpaw in the win column for at least a day, what with Ryu set to take the mound Sunday.
It's a showdown between a pair of outstanding candidates who press many of the hot-button issues about Rookie of the Year voting every season. Some fans -- and perhaps more than a few voters -- might favor the future value they anticipate when they see Miller. Some might have qualms about voting for a foreign leagues veteran, MLB-rookie status or no. But as long as Miller keeps pitching like a man who belongs with teammate
Adam Wainwright
in the conversation on who the best pitcher in the league might be, two months into the season it's Miller's race to win -- if he pitches all year.
[+] Enlarge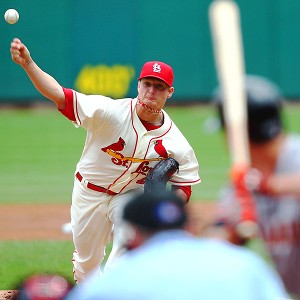 Dilip Vishwanat/Getty ImagesShelby Miller improved to 6-3, and lowered his ERA to 1.82, in the Cardinals' win over the Giants.
That said, it
is
a long season, and as the Nationals' decision to shut down
Stephen Strasburg
in 2012 reflected, pitchers might be excused for factors that have nothing to do with performance.
Happily, the NL field for first-year talent is wider than that tandem, even as Miller and Ryu contend for headlines. Just from among the hurlers,
Jose Fernandez
might have to labor in relative obscurity with the Marlins, marooned in the depths of a new-park hangover that has many Miami fans and voters asking themselves the coyote-ugly question about their franchise a year or two too late. But that has nothing to do with Fernandez's talent, on full display as he mowed down Mets on Saturday. Like Miller, he's striking out more than a man per inning, good enough to put him in the top 10 among NL starters in K/9. If it weren't for Ryu
and
Miller, even in the spring of
Matt Harvey
, we'd be talking about Fernandez a lot more. So you can imagine how
Julio Teheran
, doing well as a rotation regular on a first-place Braves team, feels.
This year, you can really only say one NL rookie position player is generating anything like the same buzz. Atlanta's
Evan Gattis
deserves the love he's getting, not for the backstory but for the production. This is not
Chris Coste
2.0 -- not that a guy like Coste wasn't as easy to root for as Gattis, but when you're slugging north of .600 two months into the season, you're not a passing fancy, you're somebody hitting so well that demoting an eight-figure salary becomes
something more than merely speculative
.
Gattis is doing for position players what Miller and Ryu have done for the pitchers in terms of sucking all the oxygen out of the room. As a result,
Jedd Gyorko
of the Padres might not merit more than a courtesy mention now, but I wouldn't count him out over the next four months. Gyorko has the power to slug .450 or better despite having to call Petco Park home as a rookie; if he cranks 60 extra-base hits while helping the Padres finish around .500, that's an amazing season.
You could say much the same for the pair of rookies starting up the middle for the Diamondbacks. However overmuch attention has been given to Kirk Gibson's clubhouse makeover or the likely big-picture penalties for trading away
Justin Upton
, the work Arizona is getting from
Didi Gregorius
at shortstop (and
A.J. Pollock
in center field) has helped propel the Snakes to first place in the NL West. As easy as it might be to say Gregorius has been helped by the D-backs' bandbox ballpark, three of his four homers have come on the road. If he starts slugging at home, too, how do you count out a slick-fielding shortstop with power on a first-place team?
Even with their delayed call-ups, by this time last year Trout and Harper had already been strutting their stuff. Trout was putting up an .887 OPS for an Angels lineup that needed all the help it could get overcoming
Albert Pujols
' slow start. Harper was hitting .274/.357/.504 in a little more than a month. They might not have been brought up until the end of April, but you already knew we were in for something special. But this year's class? Its players might not compare directly, but they're doing more than enough to pay attention to, now and down the stretch.
The American League, on the other hand ... well, you have to give the Rangers some unexpected due. I don't know if anyone really expects
Justin Grimm
or
Nick Tepesch
to still be in this conversation at the end of June, let alone September, but their contributions have clearly helped keep the Rangers' riding to the league's best record. But
Conor Gillaspie
?
Yan Gomes
? That they're among the top WAR-generating rookies in the AL so far just means that nobody has shown enough, for long enough, with the expectation that he'll still have a job at the All-Star break. I wouldn't rule out
Nick Franklin
or
Jurickson Profar
in partial seasons. I also wouldn't rule out that the eventual AL Rookie of the Year hasn't been called up yet. Or possibly even drafted yet -- who said Christmas comes just once per year?
Christina Kahrl covers baseball for ESPN.com. You can follow her on Twitter.
May, 8, 2013
May 8
9:45
AM ET
Crazy night in baseball --
Matt Harvey
's near-perfect game, the Yankees getting shut out at Coors Field, ninth-inning wins for the Blue Jays (a victory made less joyous after
J.A. Happ
was hit in the head by a line drive) and Diamondbacks,
Yuniesky Betancourt
homering again -- but the most stunning result happened in Cincinnati, where the Reds hit back-to-back home runs with two outs off
Craig Kimbrel
to defeat the Braves 5-4
.
It was just the second time in 30 years that a team hit back-to-back home runs with two outs in the ninth to win a game (
Nick Green
and
J.D. Drew
did it for the Braves in 2004). That it came off Kimbrel, regarded as the game's best closer, was all the more shocking.
First,
Devin Mesoraco
, pinch-hitting, lined a 3-2 low fastball
just over the fence in right-center
to tie it and then Shin-Soo Choo hit his second homer of the game, off another low fastball, for the improbable walk-off.
We all remember how dominant Kimbrel was last season. Not only did he strike out over half the batters he faced, he allowed just four extra-base hits -- three home runs and a double. He's now allowed three home runs and two doubles in 2013 in just 13.1 innings and has blown three save chances -- and the Braves lost all three games. You can point to his still-great strikeout totals (21) but the bottom line is Kimbrel has not done the job. That's three losses for the Braves in games they led entering the ninth inning, after losing just one such game a year ago.
In 2012, the 30 teams combined to lose just 111 such games --3.7 per team. So unless Kimbrel is perfect the rest of the way, the Braves' ability to protect ninth-inning leads will likely be worse than the average major league team.
Making Kimbrel just another overrated closer.
Other quick thoughts:
April, 28, 2013
Apr 28
1:15
AM ET
By
Christina Kahrl
| ESPN.com
Cody Ross
, bottom of the 10th, man in scoring position, tie game. You're supposed to bank on that, right? You plan on it, because it wasn't that long ago that Ross was a postseason hero and -- briefly, because who doesn't have ADD nowadays? -- a household name. It's why the Diamondbacks gave him big money, $28.5 million for three years. Ross plated
A.J. Pollock
with a blow that looked like it would go out, settled for the warning track, giving him his sixth career walk-off and the Snakes their sixth win in extra innings in just this one month of play.
Which is definitely not something that you plan on. While the D-backs are 14-10, very little has gone according to plan -- certainly not the one they had for themselves on Opening Day, let alone the expectations anybody else had for them. The lineup has been a work in progress all month. Slugger
Jason Kubel
may be out for just a few more days, but until
Adam Eaton
comes back sometime in late May the D-backs have yet to enjoy the benefit of their starting outfield trio in the lineup at the same time. Second baseman
Aaron Hill
is out for weeks to come.
Miguel Montero
, a key lefty OBP source in a lineup with a heavy right-wards lean, has yet to get his bat going.
But out of initial struggles opportunities are born, and here's where you have to give some measure of credit to the organization for the benefits of some of their pickups.
Martin Prado
is nobody's ideal at second base, but as a multi-positional asset he's given manager Kirk Gibson considerable lineup flexibility. Absent Hill as an everyday answer up the middle, Gibson has been adaptable, moving Prado between second, third and left. This way, he doesn't risk burning out a fragile old-timer and sporadic power source like
Eric Chavez
at the hot corner, nor does he risk going down in flames with
Cliff Pennington
as an everyday player. Even with all the injuries, the Diamondbacks are fifth in the league in runs scored.
Here, you can credit the right-now benefits of GM Kevin Towers' win-now moves. While
Justin Upton
is going to make the Snakes look bad now and likely far into the future for dealing him, we don't know what he would have done if he was still in Phoenix. For better and worse, Prado isn't somebody you acquire to win next year, he's 29 and as good as he'll ever be and as useful as he'll ever be right now -- and that's very useful. But this same win-now sensibility has taken other forms, like turning to
Didi Gregorius
as their shortstop of the present, allowing them to move Pennington to a reserve role.
That's something right out of the playbook Gibson ran in 2011 when the D-backs won the NL West: Trusting the kids you think are ready. Then, they won breaking in a relatively unheralded rookie slugger named
Paul Goldschmidt
; now, they might do the same with rookies up the middle with Gregorius at short and Eaton in center.
In large part, Gibson can afford to be creative in the lineup in the short term because his roster boasts tremendous rotation depth, and that's the kind of talent that keeps you in ballgames with any kind of offense. Youngsters like
Tyler Skaggs
or
Randall Delgado
are marking time in Triple-A, cooling their jets because the only rotation regular struggling is
Brandon McCarthy
, everybody's favorite sabermetric starter. As is, the clock's ticking until
Dan Hudson
comes back from elbow surgery after the All-Star break, so even if the D-backs blow a piston or two in this engine of success, they have replacement parts here as well.
Normally, that kind of depth suggests you're eventually make room for extra talent in the bullpen, especially one struggling as badly as Arizona's has in the early going, having blown eight saves already after
Heath Bell
gave up a one-run lead in the seventh. That's eight out of 25 opportunities if you count all save opportunities with a lead after the sixth. It's easy to mock the decision to give Bell a multi-year deal, but that money's spent -- how well Gibson makes it work and whether or not they have the freedom to rely on the same depth in pitching that has kept them afloat on offense remains to be seen.
This time of year, you can play the "if only" game with just about any ballclub. Pretty much everybody can plead a reasonable failure to anticipate early-season results, and suggest why things would be so much better if only the master plan had survived contact with Opening Day. It's a broad truth, but it's also broadly true that as much as regression is supposed to get you, there's nothing in the rule book or the law of averages that demands that you hand back the wins you notch in April. The D-backs' 6-0 start in extra innings is a fluke, it's improbable, it's the sort of thing you don't predict and it's certainly something you don't count on.
But it also isn't coming off the Diamondbacks' permanent record, not now, not ever. And if they fix their other issues, like get Hill back in full working order, or once they see McCarthy and Montero get turned around, once they get their entire starting outfield, you better believe they can be in it to the end.
Christina Kahrl covers baseball for ESPN.com. You can follow her on Twitter.
April, 18, 2013
Apr 18
11:52
PM ET
The
Arizona Diamondbacks
took a beating in the offseason from the pundits.
Prospect hounds criticized them for trading away former first-round pick
Trevor Bauer
, a deal made in part because of Bauer's iconoclastic approach to his craft that rubbed the Diamondbacks the wrong way.
Statheads mocked them for apparently focusing on acquiring players with that undefinable attribute known as grit, in the mold of manager Kirk Gibson, who had grit running through his veins in his playing days.
Traditional front-office types and ex-players ripped general manager Kevin Towers for publicly putting talented right fielder
Justin Upton
on the block, and then not trading him when it became clear he had to be dealt, and then not getting enough in return when they did finally trade him.
The message the Diamondbacks sent was clear: They didn't like Bauer, they didn't like Upton, and they probably didn't like
Chris Young
, dealt for scrappy overachiever
Cliff Pennington
. As Jeff Passan of Yahoo
wrote in January
:
As much as any baseball team in recent memory, the Diamondbacks on Thursday publicly embraced the idea of grittiness and guts, of the inherent and unquantifiable. And in doing so, they finished a two-trade whammy over the last six weeks that has seen them ship out their two most talented players in an effort to better embody this belief. ... The result is a fascinating experiment: a team stressing culture over talent. The Diamondbacks might say otherwise -- (Martin) Prado is an All-Star and in both deals they got young and talented shortstops, one of the toughest things to find -- but a consensus of scouts and sabermetric wonks agree: In both trades, Arizona sacrificed one for the other.
Towers didn't hide behind what the Diamondbacks were trying to do. "Different clubs like to look for certain intangibles," he said. "We like that gritty, grinder type. Hard-nosed. I'm not saying Justin isn't that type of guy."
I thought the Diamondbacks were criticized too heavily for their offseason deals; not that I'm a believer in gritty grinders, but because the other side of the talent issue was that Bauer has had trouble throwing enough strikes, Upton wasn't that great in 2012, and maybe -- let's give Towers a little credit here -- the players Arizona got in return will help them win in 2013 and beyond.
Of course, we're two-plus weeks into the season and Upton has already hit nine home runs -- more than half the 17 he hit last season -- so his hot start has sealed the perception that Arizona got snookered in that trade with Atlanta.
It's way too early to make any judgments on that, but on Thursday we saw both of Arizona's primary trade acquisitions make contributions in Arizona's
6-2 win over the Yankees
, as
Didi Gregorius
, acquired in the Bauer trade, played his first game for Arizona and homered in the third inning, and
Martin Prado
homered in the sixth. For Gregorius, it was his first major league home run -- on the first pitch he saw with the D-backs, a 92 mph fastball from
Phil Hughes
launched to right-center and prompting a big smile as he rounded third base.
Prado is a career .295 hitter who hit .301/.359/.438 last season with the Braves, but it's his ability to play superb defense at multiple positions that Arizona liked as well. He's already started games at third base, left field and second base. Check out this trio of plays made at third base against the Yankees:
This one
on Thursday,
this one
on Wednesday, and
another one
from Wednesday.
Gregorius comes with a strong defensive rep at shortstop; the question is whether he'll hit. After batting .265/.324/.393 between Double-A and Triple-A in 2012, he was off to a great start at Triple-A Reno, hitting .387 with two homers and only one strikeout in 33 plate appearances. Sure, it's Reno, but maybe Towers saw more potential in his bat than others did.
Those home runs gave the D-backs a 2-1 lead heading into the bottom of the ninth inning --
Patrick Corbin
allowed just two hits in seven innings -- which
J.J. Putz
gave away, but Arizona rallied with four runs in the 12th off
David Phelps
.
The impressive aspect of Arizona's 9-6 start is they've done so while being banged up -- maybe not quite to the extent the Yankees are banged up, but enough so that even grit and guts have been sidelined. Projected starting center fielder and leadoff hitter
Adam Eaton
is out with an elbow strain;
Aaron Hill
, who hit 26 home runs last season, was off to a good start before breaking his hand;
Cody Ross
just returned but fellow outfielder
Jason Kubel
is on the DL with a strained quad; supersub
Willie Bloomquist
is also on the DL with an oblique strain.
That meant Arizona played Thursday's game, for example, without three of its projected starters in Eaton, Hill and Kubel. But that was a main reason I liked Arizona to win the NL West: I liked their depth more than any other club in their division. They can still plug in
Gerardo Parra
and
A.J. Pollock
in the outfield; Gregorius shows their depth at shortstop behind Pennington and Bloomquist; veteran
Eric Chavez
is around to play some third base or come off the bench. Corbin, the second-year No. 5 starter who beat out prized rookie
Tyler Skaggs
in spring training, shows that the rotation is five-deep.
Yes, the Diamondbacks will be a punching bag all season on Twitter and in blogs as people make jokes about their latest gritty effort. But don't be surprised if they do some punching back of their own where it counts: in the win column.
December, 12, 2012
12/12/12
2:20
PM ET
An apparently disgruntled Diamondbacks fan has undertaken to "
update" Kevin Towers' Wikipedia page
(via Dayn Perry of the Eye on Baseball blog). You may think it's funny, but, man, there are a lot of angry fans out there.
It is worth looking at Towers' three big trades over the past two offseasons:
-- Traded rookie pitchers
Jarrod Parker
and
Ryan Cook
and outfielder
Collin Cowgill
to Oakland last offseason for
Trevor Cahill
and
Craig Breslow
. Cahill performed about as expected for Arizona in 2012 -- 200 innings of slightly better than league average performance, worth 2.5 WAR. Parker and Cook, however, were worth 6.4 WAR between them, while making the league minimum. With Parker's potential, right now that deal does look like a great trade for Oakland, assuming Parker stays healthy. But it's not like Cahill is without value.
-- As part of a three-team deal earlier this offseason, Arizona traded away center fielder
Chris Young
and received shortstop
Cliff Pennington
and relief pitcher
Heath Bell
. This deal was pretty widely criticized -- why would anyone want Bell after his implosion in Miami last season? -- and Young has compiled 11.7 WAR after the past three seasons compared to Pennington's 6.3.
-- Just traded
Trevor Bauer
-- the third overall pick in the 2011 -- as part of another three-team deal that netted shortstop
Didi Gregorius
. There were other parts, but for Arizona it's really all about Bauer for Gregorius. Again, the general opinion seems to be Arizona gave up too quickly on a pitcher with Bauer's upside; it didn't help that Towers attempted to put his foot in his mouth by comparing Gregorius to
Derek Jeter
.
Maybe Towers could have gotten more for Young. Maybe he could have gotten more for Bauer. Certainly, it now seems odd that he's traded Young and Bauer to acquire
two
shortstops. At the same time, you can't be afraid to act, and he acquired Pennington to hedge his bets against not later acquiring another shortstop. And while prospect hounds love Bauer and bloggers love that he does things in his own unique way, it's also possible that Bauer has become overhyped and that Gregorius will hit enough (nobody questions his ability with the glove). Plus, it's not that easy to acquire a young shortstop with the potential to develop into a quality regular. Teams are reluctant to trade those kind of players.
And in the end, why does every trade have to have a "winner" and a "loser"? A trade can be beneficial to both teams (or, in this case, all three teams), even if one club ends up winning the WAR.
As I mentioned in my previous post, I like the roster Arizona has built for 2013, especially if Towers decides to hold on to
Justin Upton
. The Diamondbacks' run differential was only 23 runs less than the Giants' in 2012, so the base level of talent between the two teams wasn't that different.
OK, we get it: Towers isn't the most sabermetrically inclined of general managers. But the guy also made the playoffs four times as Padres GM and in 2011 as Diamondbacks GM. That's a fair track record of success.
December, 12, 2012
12/12/12
12:00
PM ET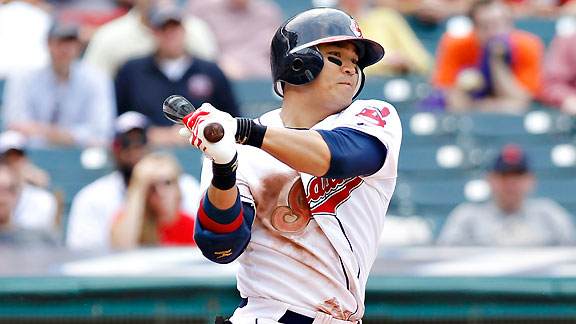 Joe Robbins/Getty ImagesShin-Soo Choo, who has a career .381 on-base percentage, gives the Reds a legit leadoff hitter.
1. The Reds needed a leadoff hitter and a center fielder.
They got their leadoff guy
in
Shin-Soo Choo
, who posted a .373 OBP with the Indians in 2012 and owns a career mark of .381. But did they get their center fielder? Choo has played eight innings in center field since joining the Indians in 2006, and his defensive metrics in right field -- once respectable -- were terrible in 2012, as he had minus-12 defensive runs saved (DRS).
Before we get to defense, let's compare Choo and
Drew Stubbs
, whom the Indians acquired in the trade, offensively. In 2012, Choo created about 104 runs in 686 plate appearances, Stubbs about 50 in 544 PAs. Prorating each to 600 PAs, Choo is at 91 runs created and Stubbs is at 55 -- a 36-run difference (and that's not accounting for ballpark effects). Defensively, Stubbs graded out at plus-2 in DRS -- which falls in line with his career numbers. If we believe that Choo will be a disaster in center field -- say, minus-20 runs (which would be a lot, as only two players rated that poorly in 2012,
Rickie Weeks
and
Chris Nelson
) -- the aggregate still favors the Reds to the tune of plus-16 runs. So we're talking about a two-win improvement, if you factor in ballpark and the idea that Choo will be more awful than completely incompetent.
2. Reds manager Dusty Baker can minimize some of that potential defensive problem, however, by playing
Chris Heisey
at times in center field. Choo hit just .199/.318/.216 against left-handers in 2012 (.249/.338/.358 in his career), so you could argue a platoon is in order. Or maybe Heisey plays center in the bigger National League parks on the road -- San Francisco, San Diego, Colorado and so on -- with Choo sliding over to left to give
Ryan Ludwick
some days off. Or maybe Heisey plays center when
Bronson Arroyo
, the most extreme fly ball member on the Reds' rotation, starts. Heisey isn't Stubbs out there, but he projects as a better fielder than Choo. With a little creativity, Choo ends up starting maybe 100 games in center and 30 or 40 in left, and the Reds don't take as big a hit in the field.

3. The Reds gave up shortstop
Didi Gregorius
to Arizona in the three-way deal. Arizona GM Kevin Towers compared the 22-year-old to -- ahem --
Derek Jeter
in
this story
, saying, "When I saw him he reminded me of a young Derek Jeter. I was fortunate enough to see Jeter when he was in high school in Michigan and he's got that type of range. He's got speed. He's more of a line drive-type hitter, but I think he's got the type of approach at the plate where I think there's going to be power there as well." Now, I'm pretty sure that Towers doesn't really think Gregorius is going to turn into Derek Jeter, since it's pretty obvious he won't. At age 22, Jeter hit .314 in the American League; at age 22, Gregorius hit .265 between Double-A and Triple-A.
4. As Buster Olney
put it
: "The question for Arizona is this: Is the upgrade of Gregorius over [Cliff] Pennington worth
Trevor Bauer
?"
5. Chad Dotson of Redleg Nation has a
podcast
discussing the deal, and suddenly this
lineup and pitching staff
looks pretty good.
6. Indians fans seem pretty happy to be getting Bauer. "Well, we needed pitching, we got pitching,"
writes Susan Petrone at It's Pronounced "Lajaway."
"Well done, gentlemen."
7. Does this mean
Justin Upton
now remains in Arizona? Towers got his young shortstop; he's already signed
Brandon McCarthy
for rotation depth behind
Ian Kennedy
,
Wade Miley
,
Trevor Cahill
,
Tyler Skaggs
and
Patrick Corbin
; and the GM signed
Eric Chavez
to platoon at third base with
Chris Johnson
. While many have opined the Diamondbacks
need
to trade Upton since their relationship has been damaged, now I'm not so sure. The Arizona roster is basically set now, and Towers did say that it's "highly unlikely" Upton would be traded.
8. Interesting that the Mariners drafted
Danny Hultzen
and the Diamondbacks took Bauer ahead of
Dylan Bundy
in the 2011 draft. While Bundy has ascended to the consensus No. 2 prospect in baseball behind
Jurickson Profar
, Bauer has now been traded and Hultzen has to regain his control (supposedly his strong suit coming out of Virginia) after walking 43 batters in 48 innings in Triple-A.
9. The Reds are already good and I think the Diamondbacks could be very good. I wouldn't be surprised to see the NL West develop into a three-team race. Arizona now has depth all over the diamond -- multiple options at third, two shortstops (Pennington and Gregorius, plus
Willie Bloomquist
and
John McDonald
), four solid players in the outfield (Upton,
Jason Kubel
,
Gerardo Parra
and
Adam Eaton
), depth in the rotation and in the bullpen, especially if
Heath Bell
bounces back. They lack the
Clayton Kershaw
/
Matt Cain
rotation anchor, although Kennedy was at that level in 2011. The Diamondbacks finished 13 games behind the Giants in the standings in 2012, but only 23 runs behind in run differential. Arizona has improved; the Giants haven't.
10. Three-way trades are fun.