SweetSpot:

Dioner Navarro
December, 29, 2013
12/29/13
9:30
AM ET
Today, Buster Olney
rated the top defensive teams in the majors
. We thought we'd take the time to look at the offseasons for each team from a defensive perspective. Here's our American League look.
AL East
Blue Jays:
The transition from
J.P. Arencibia
to
Dioner Navarro
behind the plate is likely a wash and there hasn't been much of an overhaul to this team other than the departure of
Rajai Davis
(who did have
a decent amount of defensive value
).
Goins
The most interesting thing for the Jays will be how
Ryan Goins
fares as a regular second baseman. Goins racked up a hard-to-believe 12 Defensive Runs Saved (backed up on video review by 21 Good Fielding Plays and only a pair of Defensive Misplays & Errors) in a 32-game stint last season.
Orioles:
The biggest issue on defense for the Orioles will be dealing with the loss of
Manny Machado
's major-league leading Runs Saved, at least until he returns from injury. Baltimore did make one positive move that should upgrade its outfield defense, getting
David Lough
from the Royals for utilityman
Danny Valencia
.
Rays:
The Rays made a long-term commitment to
James Loney
, which bodes well from a defensive perspective, and also made one to catcher
Ryan Hanigan
, who is considered one of
the best base-stealing deterrents and pitch-framers
in the sport. He'll give them a solid alternative to
Jose Molina
.
Red Sox:
Jackie Bradley Jr
. and
Xander Bogaerts
will likely step into everyday roles and fill the shoes of
Jacoby Ellsbury
and
Stephen Drew
. The Red Sox will also have a new catcher, though there isn't much of a defensive difference between
A.J. Pierzynski
and
Jarrod Saltalamacchia
. Both rate below-average statistically.
Yankees:
There have been some pretty notable changes on the defensive side.
Brian McCann
's pitch-framing rates well, but he's not the baserunning deterrent that
Chris Stewart
was.
Kelly Johnson
and
Brian Roberts
could split time at second base but neither is the Gold-Glove-caliber glove that
Robinson Cano
was. Johnson could also wind up full-time at third base, a position at which he's barely played more than 100 innings, if
Alex Rodriguez
gets suspended.
The Yankees should be great in center and left with an Ellsbury/
Brett Gardner
combo.
Carlos Beltran
has
less ground to cover in the Bronx than he did in Busch
. That could benefit his achy knees and help his defensive rating.
One smart thing the Yankees did: Hire
Brendan Ryan
to be their "shortstop closer" for the next two seasons and as much as it will pain
Derek Jeter
to leave games, it will be for the good of the team to let Ryan finish close games.
AL Central
Indians:
The Indians tried to make a right fielder out of center fielder
Drew Stubbs
in 2013 and it didn't work. They got themselves an upgrade in free agent
David Murphy
who rates adequate enough (5 Runs Saved in about a season's worth of innings in right field) that his D could be a one-win upgrade by itself.
Royals:
The best team in baseball, as it comes to Defensive Runs Saved, tinkered a little bit, swapping out Lough for
Norichika Aoki
in the outfield, which probably rates as a push (they're both good … fair warning to Royals fans, Aoki likes to play a deep right field), and making an offensive upgrade by getting
Omar Infante
to fill the hole that was second base.
The one thing the Royals got from their second basemen last season was good defense (18 Runs Saved from the collection of
Elliot Johnson
,
Chris Getz
and others). Infante isn't at that level, but he rates above average more often than not (he did by UZR, but not Runs Saved in 2013) and his offensive work should make up for any drop-off.
Tigers:
The Tigers' defensive overhaul has been the biggest of the offseason as the team's opening-day infield will be entirely different from 2013.
Ian Kinsler
is a definite upgrade at second base and we'll see if
Jose Iglesias
' wow plays add up over a full season (he has seven Runs Saved in just under 800 career innings at short).
Going from
Prince Fielder
back to
Miguel Cabrera
should actually be a slight upgrade.
The big question will be third base where the scouting reports on
Nick Castellanos
' defense
don't inspire confidence
. But even so, conservatively, the Tigers should be about 25 Runs Saved better in 2014, which takes them from being a lousy defensive infield to an average one.
Twins:
The Twins made the career-preserving move of shifting
Joe Mauer
from behind the plate to first base and signed
Kurt Suzuki
, who has a good statistical history at the position. Suzuki has rated better than Mauer over the course of his career in Runs Saved, though he's not as good at throwing out basestealers.
I asked
Doug Glanville
to assess what Mauer's challenge will be in making the move to first:
"He is a super athlete and I am sure he will be fine. It will be tough to not be as involved with the game in every single moment. No one can compete with catchers in the leadership it requires to play that position and the need for constant vigilance. He has to sharpen his focus to deal with new lulls in time. I am sure he will."
White Sox:
The White Sox had the third-worst Defensive Runs Saved total in the majors in 2013 and they've been overhauled all over the place. Their worst position last season was center field (-19 Defensive Runs Saved in 2013) and they'll have a new look there with
Adam Eaton
.
They'll also be much different at first base with
Jose Abreu
,
whose hitting
has been compared to
Ryan Howard
's (but if his defense is, that's not good) and third base with
adequately-rated
Matt Davidson
, whom they got for
Addison Reed
. Will different equal better? They better hope so.
Al West
Angels:
The aging of
Albert Pujols
will continue to be an issue both on offense and defense. Last season broke a run of eight straight seasons in which Pujols ranked in the top five among first basemen in Runs Saved.
Pujols will have a familiar teammate working at the opposite corner with the addition of third baseman
David Freese
, who had a dreadful season in 2013 per both Runs Saved and UZR, ranking third-worst in the former and second-worst in the latter. That's something that will need to be dealt with.
Astros:
The Astros traded away their second-best defender stats-wise from 2013 in
Brandon Barnes
to get
Dexter Fowler
from the
Colorado Rockies
. Fowler has less ground to cover in the gaps of Minute Maid Park, but has a deeper center field (and Tal's Hill) to worry about. Fowler has posted a negative Runs Saved rating in four of his six seasons, but has fared well at handling balls hit to the deepest parts of the park.
Athletics:
The Athletics made two moves that should definitely help their defense in 2014.
Gentry
By adding
Craig Gentry
in a trade from the Rangers, they've obtained one of the game's premier outfield defenders and one who could fit in well both in left field (to make
Yoenis Cespedes
a DH) and center (to give
Coco Crisp
a breather) very well.
The Athletics also added a valuable utility piece in
Nick Punto
, who could start at second base (ahead of
Eric Sogard
) or close games at shortstop (replacing
Jed Lowrie
, who rates as a poor defender). Either way, he's a big upgrade over what they had.
Mariners:
The Mariners now have a Gold Glove-caliber defender at second in Cano. He'll need to cover more ground to his left than he did in New York, because the Mariners' first-base options (
Justin Smoak
,
Logan Morrison
and
Corey Hart
) do not rate well. Morrison is going to present an issue wherever they put him. He's not quite at the level of
Michael Morse
, but his ratings historically have been poor.
Rangers:
The difference between
Prince Fielder
and
Mitch Moreland
at first base is a sizable one, potentially 15 runs over the course of a season, so if the Rangers do decide to hang on to Moreland, they'd be best off playing him at first base and having Fielder DH. The Rangers could use a good defender at first, since
Jurickson Profar
is basically going to learn on the job at second base. Texas will also have some outfield concerns with
Shin-Soo Choo
having limited experience in left field and the team no longer having the security blanket of Gentry (traded to Athletics).
September, 11, 2012
9/11/12
2:00
AM ET
New plan after last two seasons: I'll check baseball standings on Oct 1, 2013. If the Pirates are in 1st, I'll watch. No way before that.

— DJ Gallo (@DJGalloESPN) September 11, 2012
Hurdle's explanation: Wandy was 'maybe going to get one more hitter.' Added he was concerned about someone named Navarro.

— Dejan Kovacevic (@Dejan_Kovacevic) September 11, 2012
This is the time of year when losses dig deep, a toothache of inexplicable pain that runs through your blood. This is the time of year when every manager's decision is scrutinized, overanalyzed and ultimately criticized based on the final result of the game.
The last time the Pittsburgh Pirates and Cincinnati Reds played 14 innings was back in 1984. Amazingly, the Pirates used only two pitchers in that game, as Don Robinson pitched eight innings in relief, losing when Reds catcher Brad Gulden hit a two-out, three-run homer in the bottom of the 14th inning.
On Monday night, Pirates fans may have preferred that Clint Hurdle stick with one pitcher. The game's crucial moment -- or at least the first of many crucial moments -- came in the bottom of the seventh inning. Pirates starter
Wandy Rodriguez
had pitched sweetly into the seventh, allowing just one hit, a
Chris Heisey
home run in the fourth inning. The Pirates led 3-1 and
Joey Votto
singled and with two outs
Todd Frazier
reached on an infield single. Rodriguez was at 89 pitches.
As you can see from the tweet from Pittsburgh Tribune-Review columnist Dejan Kovacevic, the decision to remove Rodriguez with
Dioner Navarro
at the plate did not work out. Navarro
doubled into the right-field corner
off
Jared Hughes
, scoring two runs to tie the game.
Was it the wrong move to yank Rodriguez, or is this second-guessing in hindsight? I wasn't watching the game at the time, but it certainly appears Rodriguez was still pitching well. Navarro had only 34 plate appearances at the time and both his home runs had come off left-handers and he has been better in his career against left-handers (.747 OPS versus .631), so it's certainly possible Hurdle was aware of that and went to the right-handed Hughes. It's also worth noting that Hughes had pitched well lately: Over his previous six appearances he'd gone 6.1 innings and allowed five hits with eight strikeouts and no walks. On the other hand, Hughes has a somewhat significant platoon split (.198 versus righties, .248 versus lefties).
One more number: When Rodriguez manages to pitch deep into a game, he has been effective this season. Look at his numbers (entering Monday) at various pitch totals:
Pitches 1 to 25: .307/.365/.500, 1.63 SO/BB
Pitches 26 to 50: .253/.321/.349, 1.82 SO/BB
Pitches 51 to 75: .274/.310/.400, 2.90 SO/BB
Pitches 76 to 100: .196/.226/.331, 5.80 SO/BB
Add it all up, and it's probably a 50/50 call. If Hurdle leaves in Rodriguez and
he
gives up a double, then the criticism comes from not replacing Rodriguez. I can't blame Hurdle on this; he turned Navarro around to his weaker side and used a reliever who has been very good of late.
From that point, maybe it was inevitable the Pirates would lose.
Joel Hanrahan
pitched out of a one-out, runner-on-third jam in the 11th and
Chris Leroux
threw two scoreless innings. Meanwhile, the Pirates had loaded the bases against
Aroldis Chapman
in the 10th, thanks to three walks, but
Sam LeCure
rescued Chapman by getting
Michael McKenry
to ground out.
Then came the 14th inning, and that inning may live on in 2012 Pirates lore longer than the seventh. The Pirates loaded the bases with no outs off
Alfredo Simon
. Chase D'Arnaud flew out to shallow center.
Pedro Alvarez
grounded to Joey Votto,
who made a nice play to record the force at home
.
Jose Tabata
grounded out to Votto to end the inning.
And then
Rick VandenHurk
came in -- his first appearance of the season. In their biggest game of the season (so far!), the Pirates turned to a reliever with a 5.97 career ERA. It was a tough position to put VandenHurk in. We'll forgo the details.
It's not over yet for the Pirates; the Cardinals lost again and Pittsburgh remains 2.5 games behind St. Louis (and notice Philadelphia and Milwaukee slowly creeping back into this thing?). And I'm guessing Pirates fans -- including our friend Mr. Gallo -- will be watching on Tuesday.
February, 8, 2011
2/08/11
3:50
PM ET
My
recent interview with Dodgers general manager Ned Colletti
prompted me to reflect on a little-discussed aspect of his tenure.
Colletti has held the management reigns for more than five years now, and some clear patterns have emerged. He values depth. He values veteran leadership. He wants young players to succeed, but he'd much rather do it on his own timetable. One of the funnier revelations I've had is that while Dodger fans think Colletti took too long to commit to then-kids like
Andre Ethier
or
Matt Kemp
, Colletti would tell you that he wishes they could have had more time in the minor leagues to develop. You can imagine that there would be some fun arguments at the imaginary Dodgers dinner table.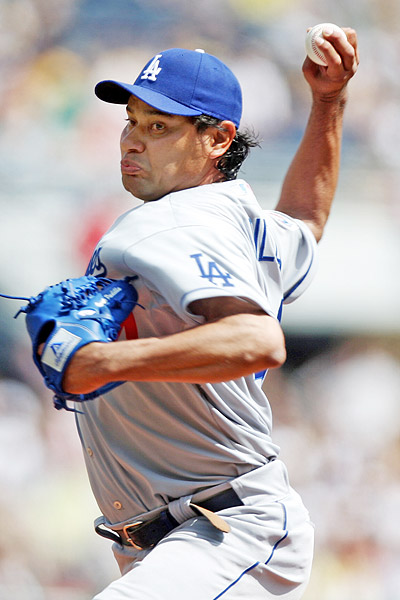 Jason Bridge/US PresswireNed Colletti has signed Vicente Padilla twice after picking him up midway through the 2009 season.
I've long been suspicious of the value placed on so-called clubhouse leaders, for a number of reasons. For one thing, these clubhouse leaders, at times, seemed not all they were cracked up to be. Players like
Nomar Garciaparra
,
Luis Gonzalez
and
Jeff Kent
were supposed to show how this game was played, but often they seemed more concerned with turning up their noses and looking out for themselves.
Then there were the players who would seem to have no other function other than to be clubhouse gents and gems. The Dodgers would give money to players staring retirement right in the face -- last year, it was
Garret Anderson
and
Brad Ausmus
-- and justify it in large part by the examples they set as professionals. Nothing against these guys personally, but there's a word for baseball men who can teach but can no longer play. They're called coaches -- or at least they should be.
All this might be enough to conjure up an image of Colletti's Dodger clubhouse as a local branch of the VFW -- guys hanging out, sharing war stories while hazing the rebellious small-fry. But that wouldn't tell the whole story.
It doesn't get discussed much in a broader context, but Colletti has also taken in guys who have worn problems on their sleeves.
Vicente Padilla
was practically chased out of Texas, but not only did Colletti pick him up from the midseason junkyard in 2009, he has signed him as a free agent twice since, including once shortly after Padilla shot himself in the leg.
In his first year as Dodger GM, Colletti traded away catcher
Dioner Navarro
when he was a 22-year-old with promise, in order to clear the path for
Russell Martin
. This winter, Colletti signed Navarro to a $1 million contract when he was a 26-year-old who packed his bags and left the
Tampa Bay Rays
after they didn't include him on the active postseason roster, rather than stay and support the team.
Ronald Belisario
will be back, visas willing, despite being late to the past two spring trainings and having a DUI arrest and rehab stint on his ledger.
Meanwhile,
Blake DeWitt
, who wowed even the irascible Larry Bowa with his work ethic, and
Juan Pierre
, who was considered the clubhouse MVP at one point, are among the good citizens who have been traded away in the past year.
In other words, the pattern to Colletti's attitude toward the clubhouse is that there isn't exactly a pattern. He's wants a good mix off the field, but he's not afraid to take a chance on a player that would upset that mix if he thinks he can help. Colletti asks the question, "Can they succeed in Los Angeles?" and comes up with an answer. That answer might sometimes perplex fans, but it isn't dependent on the players being angels.
Jon Weisman writes about the Dodgers at Dodger Thoughts for ESPNLosAngeles.com.