April, 4, 2012
4/04/12
10:00
AM ET
I can't wait for the season to get going.
You
can't wait. Last October was the best we've had in years, and the offseason only fueled our baseball fever. Spring training is mercifully over. Let the games begin. Here are 100 reasons I'm pumped for the next seven months.
1.
Albert Pujols
in Anaheim. They call him The Machine, but Pujols had a few rusty bolts in 2011. He hit under .300 for the first time, his walk rate was down, and his extra-base-hit percentage was down. After a slow start through May (.267, nine home runs), he did hit much better after returning from his fractured forearm. He moves to a tougher division and will have to face the Rangers, A's and Mariners 19 times each -- with cavernous parks in Oakland and Seattle -- rather than the Cubs, Pirates and Astros. The pressure is on. The spotlight is bright. But machines are immune to all that, right?
2.
Jim Thome
's pursuit of a World Series title. He'll turn 42 in August and will play some first base until
Ryan Howard
returns. That's a pretty good story in itself (he hasn't played on the field since appearing in one game at first in 2008), but he's played in nine postseasons and reached two World Series without winning it all.
[+] Enlarge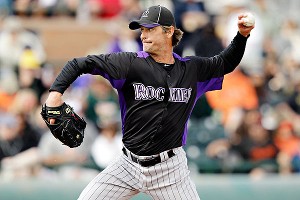 AP Photo/Marcio Jose SanchezAge is just a number for Jamie Moyer.
3.
Jamie Moyer
is back in the majors at age 49 and can surpass Jack Quinn as the oldest pitcher to win a game. Moyer's arsenal these days: an 80 mph fastball, a 70 mph changeup, a 65 mph curveball, a 55 mph slowball, a 20 mph Bugs Bunny ball and an 8 mph retirement community ball that bends time.
4.
Justin Verlander
's encore performance. Verlander threw 3,941 pitches in the regular season, the most since
Livan Hernandez
's 4,007 in 2005. Verlander added 360 more in the postseason. It's not necessarily a big deal -- Verlander's 2009 total is the third-highest since 2005 -- but you do wonder whether Jim Leyland will back off a little.
5.
Roy Halladay
's paintbrush.
6.
Yu Darvish
.
7. Yu Darvish's hair. Straight from Supercuts.
8.
Adam Wainwright
's return to the Cardinals' rotation. He was third in the 2009 NL Cy Young vote and second in 2010. He looked good this spring, pitching 18 2/3 innings and allowing just 11 hits. The strikeout rate wasn't great -- just nine K's -- but signs are positive a year after Tommy John surgery.
9. A full season of
Stephen Strasburg
, who was electric in his own return in September from TJ surgery in September 2010 -- his fastball averaged 95.8 mph, below the 97.3 he averaged in 2010 but still with enough velocity that it would have ranked No. 1 among starting pitchers. The big question for his season: How much the Nationals will limit his innings?
10.
Jose Canseco
's tweets.
11.
Clayton Kershaw
's slider. His fastball isn't too shabby, either. By the way, here's what Kershaw does in the offseason to
stay in shape
and get ready for the season.
12. Verlander, Halladay, Kershaw: three of the amazing generation of pitchers we get to enjoy. Maybe Darvish and Strasburg will join them. In 2011, 14 pitchers pitched at least 200 innings with an ERA of 3.00 or less. The last time we had even 10 such pitchers in one season was 1997, with 11. The last season with more than 14 was 1992, with 20. Yes, steroids are a small part of that. A small part. The best pitchers today are throwing harder and with meaner breaking stuff than we've ever seen. Guys like Kershaw and Halladay are relentless in their workout routines. It's not a lot of fun to be a hitter these days.
13. Well,
Jose Bautista
has a lot of fun.
14. A new generation of young hitters like
Giancarlo Stanton
,
Eric Hosmer
,
Brett Lawrie
,
Jason Heyward
,
Freddie Freeman
,
Starlin Castro
and
Jesus Montero
. All will play their age-22 seasons in 2012.
15.
Jose Reyes
and
Hanley Ramirez
.
16.
Miguel Cabrera
and
Prince Fielder
.
[+] Enlarge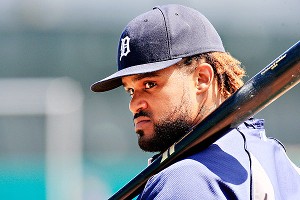 Ronald C. Modra/Sports Imagery/Getty ImagesPrince Fielder adds even more punch to the Detroit Tigers' lineup.
17. Will Cabrera win his first MVP award? He's finished fifth in the voting three times, fourth once and second once. Two things that could prevent him from winning:
A.
Austin Jackson
's on-base percentage. Cabrera hit .388 with runners in scoring position in 2011 but drove in "just" 105 runs.
B. Fielder. Batting behind Cabrera and his .400-plus OBP will give Fielder more RBI opportunities. If he ends up driving in 15 to 20 more runs than Cabrera, they could split votes.
Five other all-time greats who have never won an MVP award:
Derek Jeter
, Eddie Murray,
Mike Piazza
, Al Kaline,
Manny Ramirez
.
18. Cabrera playing third base. With Fielder at first base, the Tigers could have the worst first baseman
and
worst third baseman in baseball. (And, please, don't defend Fielder's defensive prowess at first base. He's better than
Adam Dunn
, I suppose ... but Dunn is a DH.)
19. Defensive runs saved!
Your leaders by position in 2011:
C --
Matt Wieters
1B --
Adrian Gonzalez
2B --
Ben Zobrist
3B --
Evan Longoria
SS --
Brendan Ryan
LF --
Brett Gardner
CF -- Austin Jackson
RF -- Jason Heyward
20. The Sandman.
21. The fans in Milwaukee. The Brewers drew a franchise-record 3.071 million fans in 2011. Depressed over losing Fielder? Hardly. They'll surpass that in 2012.
March, 6, 2012
3/06/12
4:18
PM ET
After getting a chance to watch some spring training in baseball in Arizona, and sighing at being back in the Northeast, it was time to tape Tuesday's Baseball Today podcast with Arizona resident Keith Law (he gets to stay!). We had many interesting topics:
1. Special guest pitcher/author
Dirk Hayhurst
joined us to discuss his new book
"Out Of My League,"
but also to reacquaint us with the Garfoose and share thoughts on his future adventures in a new country.
2. If you know KLaw you know he can't be pleased with MLB adding two wild card teams. Hear his reasons and my gripe as well.
3. We check in on hotshot young players
Bryce Harper
and
Mike Trout
to see if their chances of making the Opening Day roster have changed, and also discuss other spring news, including an unfortunate
Alex White
situation.
4. A pair of young National League outfielders recently signed long-term contract extensions, but were their teams really the biggest winners, rather than the players?
5. It's email time! Among the topics were our opinions on whether teams have or need faces of the franchise, and the ongoing myth about lineup protection.
So download and listen to Tuesday's Baseball Today podcast, teeming with entertainment and information, and check us out next week. The show goes daily the week of March 19, and we can't wait!
February, 12, 2011
2/12/11
1:00
PM ET
By
Drew Fairservice
| ESPN.com
To call general manager Alex Anthopoulos a folk hero in Toronto does him a disservice. Sources tell me plans for a statue in his honor are already under way, a tribute to the Great Unloading (also known as the
Vernon Wells
trade). Despite not sniffing the playoffs in 18 years, an incredible amount of good will and buzz surrounds this
Toronto Blue Jays
team. The minor league system underwent a complete overhaul and the team hired a fleet of scouts. It is hard to argue the future isn't bright in Toronto.
[+] Enlarge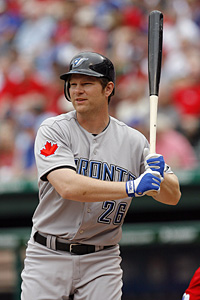 Tom Pennington/Getty ImagesThe Blue Jays are counting on a productive season from slugger Adam Lind.
Until we consider 2011, that is. The 2010 Blue Jays won a surprising 85 games, never competing seriously for a playoff spot but making a good show of themselves in the process. The young pitching staff excelled in the absence of
Roy Halladay
with
Ricky Romero
and
Brandon Morrow
jostling for the Opening Day starter role for years to come. Free-agent acquisitions
John Buck
and
Alex Gonzalez
provided best-case scenario contributions: huge power numbers for cheap before giving way to draft pick compensation (in Buck's case) and sell high/buy low trade opportunities (i.e. Gonzalez traded for
Yunel Escobar
.)
While the Jays brass keep their eyes firmly on the prize -- with 2012 pegged as the earliest possible season to make a playoff run -- the expectations of many fans jumped ahead of the intricate plan laid out by the brain trust. Fans clamber for big-name signings, hoping the elusive final piece falls into their collective lap.
For Blue Jays fans, the immediate future might be a little rockier than they expect. None of the losses suffered by the Blue Jays figure to torpedo the season. For the team to win 85 games again, far too many things must go right.
The rotation must stay healthy. While the No. 5 starter spot saw more than its share of pretenders; the top four Blue Jays hurlers toed the rubber at least 25 times apiece. A figure that would be higher had the team not shut down Morrow early in September. While replacing
Shaun Marcum
's 200 innings is tough, it won't be the first time this team filled a gaping rotation hole. Young
Kyle Drabek
has the makeup and stuff to slot into the rotation directly, but he, too, comes with innings limits.
Staying healthy is vital for every team, rebuilding or otherwise. The Jays racked up the third-most days spent on the disabled list in all of baseball,
according to Fangraphs research
. A closer look at those numbers reveals the true impact of these maladies wasn't quite so severe.
Dirk Hayhurst
,
Jesse Litsch
,
Scott Richmond
and
Dustin McGowan
spent much of or all of 2010 on the shelf. Only McGowan at his peak had an honest shot of making the rotation or any discernable impact.
The bullpen underwent a complete rebuild as well. A virtual parade of competent right-handed pitchers now lurk in the 'pen, hoping to scoop up whatever stray saves come their way. Losing versatile "setup" man
Scott Downs
is a huge blow for any team. Downs was long the team's best reliever and the man generally tasked with the highest-leveraged work.
Adam Lind
and
Aaron Hill
need to decide which season was a fluke: Was it 2009, when they powered the middle of the lineup, or their ugly 2010 seasons?
Jose Bautista
is not going to hit 54 home runs again, so the Jays need these two key players to produce runs in bunches. Maybe throw a walk in there for good measure.
The future is bright for the Blue Jays. Financial agility coupled with a renewed pipeline churning out major league-ready talent positions the Jays perfectly to make multiple runs at the playoffs. Be prepared for some growing pains in 2011.
Drew Fairservice writes the Blue Jays blog Ghostrunner on First. Follow him on Twitter.
April, 16, 2010
4/16/10
6:30
PM ET
This spring, Citadel Press published
The Bullpen Gospels: Major League Dreams of a Minor League Veteran
, written by Dirk Hayhurst, who was drafted by the San Diego Padres in 2003 and reached the majors near the end of the 2008 season, when he was 27. Hayhurst, a right-handed relief pitcher, was waived by San Diego and claimed by Toronto, and he pitched in 15 games for the Blue Jays in 2009. This winter, he suffered a serious shoulder injury and is currently on the 60-day disabled list. On a happier note,
The Bullpen Gospels
has hit the New York Times
bestseller list
. What follows is an e-mail interview conducted today.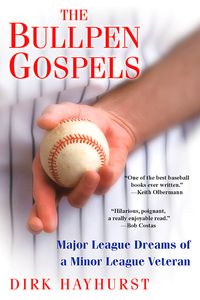 Citadel PressDirk Hayhurst's "The Bullpen Gospels" is on the New York Times' bestsellers list.
Rob:
Before we get into the book, I have to ask ... How are you doing? After kicking around in the minors for so many years -- yes, years about which you write so movingly in the book -- you pitched well for the Blue Jays last season, with a 1.31 ERA in 21 innings before a rough outing the last weekend. This winter, you must have felt like you had a pretty good shot at making the big club's Opening Day roster for the first time in your career, right? And then the shoulder surgery ... What went through your head in February when you learned that you'd miss most of the season, recovering from an injury that's somewhat notorious for being hard to come back from? And is rehab as awful as we've heard?
Dirk:
I don't mean to seem arrogant, but yes, you're right: I did feel like I had a shot at making the team on Opening Day. And that hope is an integral part of a baseball player's life, the chance to do something great or finally carve out a niche for yourself in the game you love. In the minors, coaches would tell us, "You (players) shouldn't just want to make it there; that's the easy part. It's sticking that's the hard part." I don't know, it was pretty hard for
me
to make it there! Yet, this off-season, not only had I made it and done well, but I thought I had a chance to stick.
So when the arm started barking at me, it came as especially bad news. Playing baseball for a living is a gamble, and this turn of events was rather like watching all my winnings get snatched from me on one really bad hand.
As for the surgery itself, it's definitely not a fan favorite. Estimated dates of return optimistically slated me as back and competitive by the All-Star break. Well, tell that to my arm when it squeals just reaching across my body to scratch the other arm. I don't know what my ETA is now, but I know it's not the same as when I started ... They say baseball is 90-percent mental. I agree. I am technically still a baseball player even though I can't play right now, but some of my biggest baseball challenges have come during these times of inactivity. It's hard to wake up in the morning and know that you aren't earning your keep and, in the worst case, you may never take the mound again. That's the defeatist attitude talking about stuff that probably won't happen, but the mind tends to wonder when unoccupied. I do my best to remember that being a competitor transcends simple physical limitations.
Rob:
There are moments in the book of real comic genius, and some of them might be credited to your teammates except none of it would be funny if the words or the timing were different, and those were decisions that you made, as author. I always tell kids that if they want to write well, they have to read voraciously. Am I right? Or did the Gods give you that 90-m.p.h. fastball
and
the ability to write funny scenes like Richard Russo?
Dirk:
I have never read a baseball book, except one about Ron Guidry when I was eight or nine years old. "
Louisiana Lightning
," I believe it was called ... Anyway, I don't read much about baseball, mainly because I play it all day and I really enjoy escaping it when I can. Literarily speaking, I'm a huge Alexander Dumas fan, love Cormac McCarthy's style, the tone of Salinger, and the candid wit of David Sedaris.
People hear "baseball book" and they immediately think of
Ball Four
. I didn't read it. Not because I couldn't have learned something from it, but because I didn't want to steal his voice or ideas. I wanted my book to be my book. If I imitated his style, I really wouldn't be doing something original, and that was important to me; after all, no one is going to out-Bouton Jim Bouton.
Thanks for the "comedic genius" compliment. A lot of the credit does go to my teammates who consistently did things you can't make up. But humor has to be put in context and team humor is an extremely contextual thing. A lot of clubhouse humor is "in group" stuff. We work, live, travel, eat, and shower with each other. Over time, we develop our own language with its own definitions. I think if you want to really bring a reader into the fold, you have to show this process in a way the reader can grasp. That is one of the things I'm most proud about in the book: I feel like I present everything in a way that makes readers feel they are part of the team, rather than just observing with curious amusement.
Rob:
You're careful to avoid painting teammates in a negative light, but there's some pretty personal stuff in the book about your grandmother (which I'm guessing was exaggerated for comic effect) and about your more immediate family (which I'm guessing was not). Did your family know you were working on a book? Did your teammates know? Were you taking notes during the season, or was the book written mostly from memory? Sorry, I know that's a lot of questions. Mostly, I'm just interested in the writing process, and wondering if you've had any reaction yet from the people you wrote about. Oh, and I'm wondering if you're working on another one ...
Dirk:
I am careful about teammates because
I
am a teammate. I don't want to end up cast from the game because I used someone's name the wrong way. Furthermore, I don't think a story, even one about baseball, has to have names to sell. If a writer is worth his salt, he should be able to tell a tale worth reading without resorting to scandal and exposé. If I was to pull the cover off things, the persons exposed would be crushed and so would those who believe in them. I think we live in an age where we understand that young men, especially in sports, do juvenile and risqué things.
Funny but true: More people have been upset with me for using nicknames than for describing our juvenile behavior. I take that as a good thing and I think you can thank nicknames for it because as soon as you attach a name to a circumstance it seems to become an attack and ceases being story telling. Since nicknames are such a common part of baseball lore, it made sense to use them and I think it helps more then it hurts.
As for my dear grandmother, the tone may be comedic but the facts are not exaggerated: She is a real piece of work. Living with her is truly an adventure; you've got guns, dogs, bloodthirsty neighbors, killer squirrels, the Antichrist ... it's a Michael Bay film. It's one of those moments where facts are stranger than fiction. And then right around the corner you've got my family, falling to pieces as alcoholism and depression tears through them. I didn't have to add anything.
My family did know I was working on the book, and they read and OK'd all the chapters before it went to print. I know that some of the early chapters are raw. I had to show it. I could not, for my own conscience, hide the truth. For the story to work, I had to show that baseball can't fix everything. Dreams can change our lives, but they can't fix them. This approach pays off at the end of the book, but would not have been possible without the stark chapters at the beginning. My family is proud of all the book has accomplished, and they're in knowing their story may help others, as am I.
To create the book, I took longhand notes during the season the book chronicles. I actually wrote in little Mead journals while I sat in the bullpen. By then I had seen enough minor-league games that a little hobby style writing wasn't going to hurt me. Besides, I was pitching the best I ever had, so the coaches encouraged me to keep doing this "part of my routine." Naturally, teammates were worried I was writing down their life stories as some form of literary bomb, set to detonate upon publication. But now, after the book has landed on the NY Times bestseller list two weeks in a row, they're contact me to offer congratulations. That may be the most vindicating thing about the process, as I've gone from death threats and promises of being fired to having a bestseller without one mention of 'roids or cheating on girlfriends and wives.
And yes, Rob: I am definitely planning a sequel.
Rob:
Thanks a million, Dirk. Good luck with the book, and with rehab.
For much more about Dirk Hayhurst and
The Bullpen Gospels
, visit his website. You can also follow him on Twitter.
December, 14, 2009
12/14/09
2:51
AM ET
With the Winter Meetings just a memory and Santa Season upon us, do you really have time to be reading about baseball? If not, please let me know so I can do some shopping ...
*
Are you like me? Do you wonder how
Rafael Soriano
can possibly be worth something like $8 million to a poor franchise like the Rays? It's all about
marginal value of a win
, my friends.
*
Why does Brian Cashman
seem so unconcerned
about who's going to replace
Hideki Matsui
in the lineup? Because of
Juan Miranda
, of course. And yes, Miranda might be good enough, particularly in a platoon.
*
Joe Posnanski's right: the signing of
Jason Kendall
won't make a material difference to the Royals. But as Posnanski writes, it sure does tell us
something large
about the men who
run
the Royals.
*
Everyone's wondering -- for example,
here
-- why the Pirates non-tendered
Matt Capps
. According to GM Neal Huntington, it's because of
that pesky media
.
*
Do No. 1 starters, over the course of the season, tend to face a disproportionate share of No. 1 starters?
For the hundredth time, no.
*
Three things I think we all adore: Baseball, movies, and on-line polls. And when you can combine
those adorable things
? Nirvana. (If you're interested in which three movies got my votes, check the comments here).
*
ESPN's Dan Shulman has picked up
a wonderful honor
. And I'm happy to report that in addition to being an outstanding broadcaster, Shulman is also a wonderfully nice man.
*
It won't be out for a while yet, but Keith Olbermann
really, really likes
reliever
Dirk Hayhurst
's upcoming memoir (for the record, so do I). More when the book is actually available.