January, 16, 2014
Jan 16
4:40
PM ET
I'm going to try something new here. Maybe this will be a one-time post, maybe I'll do it on occasion or maybe I'll do it for two months and get tired of doing it. Anyway, the idea is to look at each day's list of birthdays and write a short blurb about some of the players. So let's give it a shot.
Today looks like a pretty good day for birthdays -- two Hall of Famers plus a future Hall of Famer.
Jimmy Collins: Born in 1870
Collins was a turn-of-the-century third baseman known for his slick fielding, one of the stars of the National League powerhouse Boston Beaneaters. He jumped ship to the Boston Americans to become player-manager when the American League was founded in 1901. Can you imagine the uproar that must have caused? It would be like
Robinson Cano
leaving the Yankees to become player-manager of the Mets. Collins received a big raise in salary and a percentage of the team's profits and accused National League owners of holding down salaries (he was right). Collins was the manager of the Americans when they won the first World Series in 1903.
Those Beaneaters teams were dominant for much of the decade. They won championships in 1891, '92 and '93, and with Collins, they won National League pennants in 1897 (Collins hit .346 and drove in 132 runs) and 1898 (Collins hit .328 and led the league in home runs and total bases). The 1897 team featured four Hall of Famers (Collins, outfielders Hugh Duffy and the original Billy Hamilton, and pitcher Kid Nichols) and went 93-39 while outscoring its opponents 1,025 runs to 665. That's 7.6 runs per game. And you thought offense was out of control in the steroids era. The 1898 club went 102-47 and added a fifth Hall of Famer in pitcher Vic Willis. Manager Frank Selee is also in Cooperstown. The Boston clubs were known for their speed, probably utilizing the hit-and-run and double steal with runners on first and third more than any team of their era.
After his major league career ended, Collins played and managed a couple years in the minors before returning to his hometown of Buffalo, where he lived well off real-estate investments until the Depression wiped him out. It seems odd he never got another chance to manage in the majors, as his Boston teams were generally successful, but maybe he'd had enough with baseball. As Bill James has written, Collins was largely considered the greatest third baseman of all time up to the mid-'50s, but he's a forgotten star now. The Old Timers Committee elected him to the Hall of Fame in 1945, two years after his death.
Dizzy Dean: Born 1910
You probably know the Dizzy Dean story; or maybe not. If not, you should, as he's one of the most colorful characters in major league history, an American original, the last National League pitcher to win 30 games in a season and later a national broadcaster for ABC and CBS. He was a country boy from Arkansas, an image he played up both as a player and broadcaster. ("The Good Lord was good to me. He gave me a strong right arm, a good body, and a weak mind.")
Dean won 30 games in 1934 and two more in the World Series, including a Game 7 shutout to beat the Tigers. He won the MVP Award that year and followed that up with MVP runner-up finishes in 1935 (28-12, 29 complete games) and 1936 (24-13, 28 complete games
and
11 saves). He was pitching as well as ever when he started the 1937 All-Star Game. Earl Averill smoked a line drive back to the mound that broke Dean's toe and, as the story goes, Dean came back too soon from the injury, altered his delivery so he wouldn't land as hard on his foot and hurt his shoulder.
Does the story hold up? It seems to. The All-Star Game was on July 7. Dean had thrown a shutout in his last start before the game. He returned on July 21 and made a few more starts -- pitching OK, although his strikeouts were down. He started on Aug. 8, but not again until Aug. 22. On Aug. 26, he started but left after one batter. He tried one more start before shutting it down for the season. So there's little doubt he wasn't the same after the All-Star Game.
The following April, the Cardinals traded Dean to the Cubs at the end of spring training. The AP article doesn't mention anything about Dean's injury problems from the year before, although it quotes teammate Pepper Martin saying this about his spring performance: "Well, he's been sort of in and out so far. He hasn't been pitching his fast ball." Terry Moore, another teammate, said, "Don't worry about that. We'll have his fast ball all right when he gets to Chicago." The article quotes a Cubs scout saying, "I'm convinced Dizzy is just as good as he ever was."
Dean actually went 7-1 with a 1.83 ERA with the Cubs, but he made just 10 starts. Sure, it could have just been a result of all those innings -- he averaged 306 innings from 1932 to 1936, often pitching in relief between starts -- but everything did fall apart after the broken toe. A 1942 newspaper story tells of Dean attempting a comeback (he had pitched one game for the Cubs in 1941), and mentions he was now throwing sidearm and a lot of slow curveballs. Dean said his shoulder didn't hurt, just that he no longer had his fastball.
Here's a question: If Dean had his career today, would he be elected to the Hall of Fame? He won just 150 games and basically had a six-year career. Kind of where
Clayton Kershaw
is right now. If
Mike Trout
hits a line drive off Kershaw in the 2014 All-Star Game, breaking his toe, and Kershaw proceeds to hurt his shoulder and scuffle along for a few years, does he get elected to the Hall of Fame? Probably not. (Of course, if Kershaw had Dean's personality ...)
Jack McDowell: Born 1966
As a Mariners fan, I have two quick recollections of McDowell:
Randy Johnson
should have won that 1993 Cy Young Award (OK, maybe
Kevin Appier
should have won it); and, of course,
this play
. A fun pitcher to watch, competitive, injuries cut his career short.
Albert Pujols: Born 1980 (no snickering)
Is there a more difficult player to project for 2014 than Pujols? It still seems too soon to dismiss his greatness, especially considering the foot injury he tried to play through in 2013. On the other hand, there is the trend line in his batting averages and slugging percentages: .357, .327, .312, .299, .285, .258; and .653, .658, .596, .541, .516, .437. In 2008 and 2009, he was a 9-WAR player and deservedly won two MVP trophies. In 2013, he was down to 1.5 WAR.
The projection systems don't know exactly what do with Pujols. Steamer has him at .282/.357/.515 -- basically a mirror image of 2012, when he hit 50 doubles and 30 home runs. Oliver has him at .263/.330/.446.
Pujols is still just 34 and he was pretty good in 2012, even if he wasn't the ALBERT PUJOLS of his Cardinals days. So the Angels have to believe that Pujols can rebound to his 2012 level. If he does and plays 150 games, they should be happy at this point. I'm inclined to bet he rebounds a bit -- that .280/.350/.500 line sounds about right.
Mark Trumbo: Born 1986
Happy birthday, Mark. May you hit 40 long ones for the Diamondbacks.
April, 9, 2011
4/09/11
12:58
AM ET
By
The Common Man
| ESPN.com
Allow me to date myself a little. When I was growing up and just becoming cognizant of baseball, Pete Rose was finishing up his career as a player-manager and transitioning into the manager's role full-time. I didn't know Pete Rose "The Hit King" or "Charlie Hustle." I knew Pete Rose, manager of the Reds. And frankly, that guy seemed awfully sour. Never smiling on his baseball cards. Always intense. I had no connection to the joy that Rose brought to millions of baseball fans who admired his accomplishments and his style.
And that's the main reason, when it was revealed he had bet on the game, I had no forgiveness in my heart. I had nothing to fall back on. No good memories of Rose that would help humanize him even a little. And over the years, as he continued to lie about his activities, and eventually try to profit off finally telling the truth, I found him increasingly distasteful. That's my problem, and that's why I don't much cotton to Charlie Hustle. But as I look at baseball fans who continue to marvel at his career, I wish I did. Just a little. I feel like I'm missing something.
Why do I bring this up? Of course, because of
Manny Ramirez
and
his sudden retirement today
. Because it's important to start deciding now, or in five, 10, 20 years ... how are you going to remember Manny Ramirez? What is the first thing you're going to think of when you think back to Manny's career? Is it his youth and 165 RBIs in 1999 for Cleveland? Is it peppering balls at and over The Green Monster and winning two World Series with Boston? Is it his brief resurgence in Mannywood, where he lifted the Dodgers into the playoffs almost single-handedly? Is it the sound of the ball off his bat? Or the dreadlocks sprouting from beneath his helmet? Or is it this, this end, this sad finish? Really, if that's what you choose to remember, I feel sorry for you.
This is not an apology for Ramirez, nor a defense. Taking banned substances, especially in this era, is a defenseless decision that has hurt Manny's team and ended his career. It's inexcusable and stupid. But there was so much more to Manny that is worth remembering.
First and foremost, he was one of the most dangerous right-handed hitters in baseball history, and finished his career in the top ten righties in virtually every category that we use to measure overall hitting performance. He hit 555 homers and drove in more than 1,800 runs. He hit .312 and got on base 41 percent of the time. He was, quite simply, among the elite batters in baseball history.
Too often I, and other online writers, get accused of getting too buried in the numbers. Maybe it's just better to try to figure out Manny's impact, as so many have tried to do with Jack Morris and Jim Rice. You want feared? Manny twice led the American League in intentional walks, and finished with more than 20 four times. In the postseason he was excellent, hitting .285 with 29 homers (more than anyone else in history), and was the MVP of the 2004 World Series. He was selected to 12 All-Star teams and won nine Silver Sluggers. And he finished in the top five of the MVP vote four times.
He also leaves his mark as one in a long list of characters that have made baseball great over the past century and a half, evoking memories of King Kelly, Rube Waddell, Dizzy Dean and Mark Fidrych. Men who were simultaneously loved and hated (well, not Fidrych). Who frustrated everyone around them, except on the diamond, and who made baseball's history richer.
I hope that, if you're a real baseball fan, watching Manny Ramirez hit gave you a little bit of joy (and maybe a little bit of dread, if he was facing your team). I hope you loved it and marveled at it. And, more importantly today, I hope that remember how happy he made you, or how much you may have laughed because of him. And I hope that, just a little bit, you thank him for it.
The Common Man writes for The Platoon Advantage on the SweetSpot Blog Network and spreads the word in 140 characters or less on Twitter.
Photo of the Day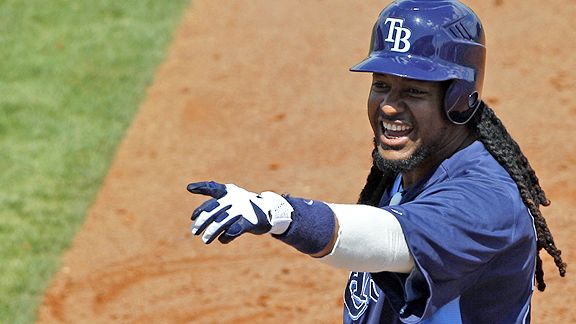 AP Photo/Charles KrupaManny Ramirez... in happier times.