April, 30, 2014
Apr 30
7:08
PM ET
New York Mets
second baseman
Daniel Murphy
isn't what I'd call fast. I mean, he's not a catcher or a plodding first baseman, but he won't ever be mistaken for a burner. He has maybe average-ish speed. He was never much of a base stealer. He topped out at 14 stolen bases in the minors. In 2011, he was 5-for-10 with the Mets while playing 109 games. In 2012, he was 10-for-12 in playing 156 games. Through June 8 of last season, he was 1-for-4. He was 28 years old. Players don't get faster as they approach 30.
Then, a weird thing happened. Murphy started picking his spots and running more often. He stole eight bases in June, three in July, six in August and four in September. He wasn't caught. He's 6-for-6 this season and has now swiped 28 in a row, the second-longest streak in Mets history behind the 33 in a row Kevin McReynolds stole in 1987-89. Murphy is proving basestealing is as much the art of reading pitchers and knowing
when
to steal as it is a skill that relies purely on speed (
Billy Hamilton
is 10-for-15, meaning Murphy has provided more value from stealing bases than Hamilton has).
Hall of Famer Lou Brock, the great base stealer, was certainly fast but not considered
fast
. He described stealing bases this way: "Baserunning arrogance is just like pitching arrogance or hitting arrogance. You are a force, and you have to instill that you are a force to the opposition. You have to have utter confidence."
Murphy's streak got me thinking of guys who were good base stealers without having a lot of speed, guys with that confidence to steal based on their smarts. There's no sure way to measure this, not without having a database of home-to-first times.
Jeff Bagwell
is a guy who jumps to mind. A first baseman with average-at-best speed, Bagwell was a terrific baserunner due to great instincts and twice stole 30-plus bases with decent success rates (31-for-41 in 1997 and 30-for-41 in 1999). He finished with 202 career steals. Bagwell hit 32 triples in his career, giving him a stolen base/triples ratio of 6.3 to 1.
Triples are generally a good way to measure speed, so is this a good way to measure slow base stealers? Not necessarily. The top two guys since 1901 by steals/triples ratio are Otis Nixon and
Rickey Henderson
, two fast guys. Nixon had so little power that he rarely hit triples (27 in his career); Rickey has a high ratio because he stole so many bases although, surprisingly, hit only 66 triples. That's sort of interesting in itself: Rickey never hit more than seven in a season, and, while right-handed batters don't hit as many triples as left-handed batters, that still seems low. Juan Samuel, for example, had seasons with 19, 15, 13 and 12 triples.
Chuck Knoblauch
had seasons with 14 and 10. Robin Yount hit 98 triples in his career.
Anyway, just scrolling down the list, I do bump into some guys who weren't noted for plus-plus speed:
Jose Canseco: 200 steals, 14 triples
Canseco famously became baseball's first 40-homer/40-steal player in 1988. He might have had above-average speed back then but quickly lost it as he beefed up (he was 40-for-56 stealing bases in '88). Canseco was 26-for-32 in 1991 but battled injuries the next two seasons and basically quit running, except for 1998, when he went 29-for-46 as a 33-year-old DH for the
Toronto Blue Jays
. (Tim Johnson, of faux-Vietnam veteran infamy, was the manager that season, and he apparently
loved
to run. The Jays led the AL in steals and runners caught stealing.)
Gary Sheffield: 253 steals, 27 triples
Sheffield never hit more than five triples in a season and was a career 71 percent base stealer -- about the break-even point. He stole 25 bases at age 21 and then went 22-for-27 as a 38-year-old with the
Detroit Tigers
.
Alfonso Soriano: 288 steals, 31 triples
Would you describe the younger Soriano as a speedster? I'm not sure I would, but he stole 40 bases three times. He was 18-for-27 last season, almost as many steals as he had the four previous seasons combined (20).
Carney Lansford: 224 steals, 40 triples
I don't remember Lansford being fast, but maybe it was the glasses that made him seem slow. Baseball-Reference.com rates him at plus-17 baserunning runs for his career (factoring in stolen bases, advancing on hits, etc.), so maybe he was sneaky fast. What's interesting is that he quit running midcareer -- he was a dismal 3-for-11 in 1983 and swiped just two bases in 1985 -- but from 1987 to 1989, ages 30 to 32, he stole 27, 29 and 37 bases. I can't imagine many players have their career high in steals at 32.
I did another search for most stolen bases in a season without hitting triple, but that didn't reveal much (record: Miguel Dilone, 50 in 1978). Bagwell and Canseco show up high on this list as well. How about Don Baylor? I remember him in the '80s, when he was a big, burly DH with the
Los Angeles Angels
,
New York Yankees
,
Boston Red Sox
,
Minnesota Twins
and
Oakland A's
, but he ran a lot early in his career -- 285 career steals, including 52 for the A's in 1976 (that team holds the major league record with 341 steals). Baylor hit just 28 triples in his career, including one in 1976 and none in both 1977 and 1978, in which he stole a combined 48 bases.
There are also guys like the aforementioned McReynolds, who had one or two seasons in which he decided to run. McReynolds was 21-for-21 in 1988 but had just 93 steals in his career. Or opportunistic runners like
Chase Utley
, who went 23-for-23 in 2009 and is 129-for-146 in his career.
Anyway, Murphy seems pretty unique. It will be interesting to see if pitchers start paying a little more attention to him while he's on the basepaths now.
September, 28, 2012
9/28/12
4:20
PM ET
In my earlier post, I wrote about players since 1969
who had terrific all-around seasons but didn't win the MVP Award
. As a companion to that piece, let's take a quick look at worst MVP winners. There are many ways to look at this, but the easiest is to simply create a cutoff using Wins Above Replacement.
Let's start by looking at MVP winners who had less than 5.0 WAR (via Baseball-Reference.com).
Division Era: 1969 to 2011
[+] Enlarge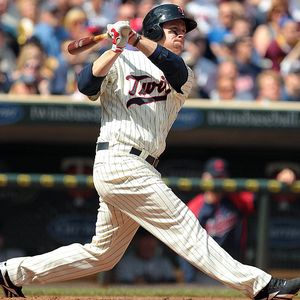 Jesse Johnson/US PresswireFinishing second in the AL in RBIs helped Justin Morneau earn league MVP honors in 2006.
2006 AL: Justin Morneau, Twins (4.0 WAR)
This actually wasn't as bad a selection as it may seem.
Grady Sizemore
led AL position players at 6.5 WAR and
Vernon Wells
was the only other 6-win player, but their teams didn't make the playoffs. Morneau wasn't a great choice -- he won because he finished second in the league in RBIs -- and edged out
Derek Jeter
(5.4 WAR) by 14 points in a year without an obvious top guy.
1998 AL: Juan Gonzalez, Rangers (4.6 WAR)
Gonzalez fit the classic mode of an MVP winner: An RBI leader who played for a playoff team. Nomar Garciaparra (6.8 WAR) and Jeter (7.3 WAR) finished second and third in the voting and also went to the postseason. They would have been better choices, along with WAR leader
Alex Rodriguez
(8.3).
1996 AL: Juan Gonzalez, Rangers (3.5 WAR)
Touched on this one in the other post. He was only ninth in the AL in OPS and his game was all offense. According to WAR, he ranked as the 30th-best position player in the AL. Probably my vote for the worst MVP selection ever.
1995 AL: Mo Vaughn, Red Sox (4.1 WAR)
Shortened 144-game season, but was unlikely to reach 5 WAR. Edged out Albert Belle (6.6 WAR) by eight points. Red Sox teammate John Valentin actually led the AL in WAR for position players at 8.1, with Edgar Martinez (6.7) second and Belle third. Voters during this period didn't really give much weight to position. Sure, up-the-middle guys like Robin Yount or Ryne Sandberg or Cal Ripken would win MVP Awards, but in years when they
were
the best offensive players in the league. Valentin had great numbers, especially for a shortstop, and was an underrated defender. Vaughn got extra credit for leadership and Valentin finished ninth in the voting.
1992 AL: Dennis Eckersley, A's (2.8 WAR)
Before
Justin Verlander
last year, the last pitcher to win MVP. An idiosyncratic selection that's impossible to defend (this even wasn't his 0.61 ERA season). Kirby Puckett had the highest WAR among hitters (6.8) and finished second in the vote.
1987 AL: George Bell, Blue Jays (4.6 WAR)
One of the more famous MVP disputes. Bell led the AL in RBIs and hit 47 home runs and edged out Alan Trammell (8.0 WAR) even though Trammell's Tigers won the AL East on the final day of the season.
1987 NL: Andre Dawson, Cubs (3.7 WAR)
Inexplicable back then and even more so now. Wait, it was explicable: Dawson led the league in home runs and RBIs and won despite a .328 OBP and the Cubs' last-place finish. Ozzie Smith (6.2 WAR) was second in the voting, while Tony Gwynn had the highest WAR at 8.3.
1984 AL: Willie Hernandez, Tigers (4.6 WAR)
The Tigers closer did have an amazing season (9-3, 1.92 ERA, 32 saves, 140 innings) but arguably the most anonymous MVP winner ever. Ripken had the highest WAR in the league and finished 28th in the vote. Ouch.
1979 AL: Don Baylor, Angels (3.5 WAR)
Baylor led the AL in runs scored and RBIs, was viewed as a team leader and the Angels made the playoffs for the first time in franchise history, so it's easy to see
why
he won, despite his limited defensive value (he split the season at DH and left field). George Brett (8.4) and Fred Lynn (8.6) had monster seasons, but finished third and fourth in the voting.
1979 NL: Willie Stargell, Pirates (2.3 WAR)
Shared the award with Keith Hernandez. The only time a guy won an MVP Award for putting gold stars on his teammates' caps.
1974 AL: Jeff Burroughs, Rangers (3.2 WAR)
Another RBI leader and the Rangers won 84 games after losing 105 games the year before. Six different players received first-place votes. The WAR leaders were Rod Carew (7.2) and Bobby Grich (7.0), who finished seventh and ninth in the voting. Grich's all-around game never was fully appreciated. Actually, Gaylord Perry had the best WAR; pitchers dominated the AL back then. Eight of the top-10 players in 1974 by WAR were pitchers.
1974 NL: Steve Garvey, Dodgers (4.3 WAR)
A very good player for a few years but not really a great one. Mediocre on-base percentages and only moderate power for a first baseman.
1970 AL: Boog Powell, Orioles (4.8 WAR)
Talked about this in the other post. Carl Yastrzemski had a huge season for the Red Sox.
Pre-1969 winners
I'm not saying the best players won every year -- heck, it would have been boring just to give it to Willie Mays every year -- but here the most egregious MVP winners in the pre-division period.
1962 NL: Maury Wills (5.8) over Mays (10.2)
Wills did have a good season but won primarily because he stole a then-record 104 bases, at a time when the stolen base was just regaining popularity after nearly going extinct in the 1950s. So there was a certain "wow" factor that impressed the writers back then. Still ... Mays was incredible (.304, 49 home runs, 141 RBIs, 130 runs, Willie Mays defense). Plus, the Giants beat the Dodgers in the three-game tiebreaker to win the pennant. Wills won the vote by seven points.
1961 AL: Roger Maris (6.7) over Mickey Mantle (10.2)
Like Mays, they couldn't give it to Mantle every year. Maris set the home run record but Mantle hit 54 of his own and had a 1.135 OPS versus .993 for Maris. The vote was close: 202 to 198.
1958 AL: Jackie Jensen (4.6 WAR)
Jensen led the league in RBIs and Mantle (8.4) didn't.
1955 AL: Yogi Berra (4.2 WAR)
Voters used to place a lot more emphasis on leadership attributes back in the '50s, a big reason Berra and fellow catcher Roy Campanella both won three MVP awards. Yogi had a good year, but Mantle or Al Kaline probably should have won.
1952 NL: Hank Sauer (5.2 WAR)
Often cited as a terrible MVP selection -- Sauer was a 35-year-old left fielder on a .500 club -- he did lead the NL in home runs and RBIs and ranks fifth in WAR among position. Still, an odd choice over more well-rounded players like Jackie Robinson (8.1) or Stan Musial (7.8), or 28-game winner Robin Roberts (who finished second in the vote).
1950 NL: Jim Konstanty (4.2 WAR)
An obscure 33-year-old relief pitcher for the pennant-winning Whiz Kids who went 16-7 with a 2.66 ERA in 152 innings. Had only one other season above 1.0 WAR. The Phillies didn't really have a star position player, so the Konstanty story line took hold and he got 18 of the 24 first-place votes.
1947 AL: Joe DiMaggio (4.5 WAR) over Ted Williams (9.6 WAR)
Maybe the most controversial results in MVP history. This was the year Williams won the Triple Crown but was left off a ballot and lost the vote by one point. Whether it was Boston writer Mel Webb who did so remains unclear.
This story
says Webb may not even have had a vote.
This may have been the most bizarre MVP vote ever and not just because Williams didn't win. Eddie Joost, a shortstop who hit .206 for the 78-76 Philadelpia A's received
two
first-place votes -- just one fewer than Williams. Some of the down-the-ballot votes were hilarious, including a shortstop named for the Senators named Mark Christman who hit .222/.287/.281 and earned four points.
1944 NL: Marty Marion (4.6) over Stan Musial (8.8)
Musial actually finished fourth in the voting as his Cardinals teammate won. Marion was a good defensive shortstop and probably led the league in intangibles. Eight different players received first-place votes but Musial was the best player in the league.
1934 AL: Mickey Cochrane (3.7)
Cochrane was the player-manager for the pennant-winning Tigers, so this one wasn't just about numbers. Lou Gehrig hit .363/.465/.706 and compiled 10.1 WAR -- good enough to finish fifth in the voting. Yankee fans are still ticked off.