October, 18, 2012
10/18/12
10:30
AM ET
By
Christina Kahrl
| ESPN.com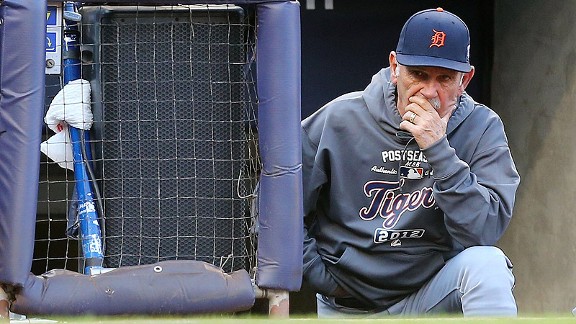 Jim McIsaac/Getty ImagesJim Leyland's adaptability and creative lineups are what set him apart from his peers.
DETROIT -- Where the Tigers are concerned, it's easy to lose yourself in the statistical feats of their star sluggers:
Miguel Cabrera
's Triple Crown, of course, but also
Prince Fielder
notching his sixth consecutive 30-homer season and
Austin Jackson
's huge year.
But successful seasons from his stars are one of the hallmarks of Jim Leyland's contending teams over the years, going all the way back to his original trio of Barry Bonds, Andy Van Slyke and Bobby Bonilla in Pittsburgh. They powered his Pirates team that won three straight division titles from 1990-92. Each man from among that trio was worth three wins or more at the plate, using Baseball-Reference.com's oWAR or offense-only WAR, as did shortstop Jay Bell. His World Series-winning '97 Marlins featured a trio of three-win players (Gary Sheffield, Moises Alou and Bonilla). And the Tigers of this year and last? Same deal.
Miguel Cabrera
is the lone holdover at that level, though, with the 2011 performances
Alex Avila
,
Jhonny Peralta
and
Victor Martinez
being replaced by Fielder and Jackson this year.
Admittedly, there's an obvious bit of circular logic in play here: If you pile up great players, you're liable to see great results. One of the frequent criticisms of Leyland's legacy is that he has been given great talent to work with -- he's supposed to win with it, and if he didn't, you'd be no more likely to remember Leyland as a skipper than you do Larry Parrish. Stars represent big-time investments by owners and general managers; you might credit or discount Leyland's impact on their contributions.
But that brings us to another aspect of Leyland's teams worth keeping in mind: As with most teams, they're not just made up of the superstars. Which is why an equally important way to evaluate a manager's impact is where
his
choices make a difference. Who's filling out the rest of the lineup or manning the back end of the roster, and what are they there for?
Unlike Joe Girardi with the Yankees, Leyland has usually had to help conjure up solutions everywhere his stars were not, and to his credit he's been remarkably adaptable and creative in his lineup and roster choices. As uncharitable as it might be to say about some of the players, Leyland might be one of the best stars-and-scrubs skippers in the majors today.
How so? First, he's long been willing to make sacrifices on defense in the infield and outfield corners to make room for an extra bat. Having Cabrera play third is only the most recent instance, but Leyland was willing to use the far more error-prone Bonilla at the hot corner 20 years ago, and it worked just as well then: Like Miggy, Bonilla wasn't great but he was adequate, and the payoff of getting another outfield-level bat on the lineup card more than made up for it, now as then.
Opening up space in the lineup to add extra bats hasn't been a problem for Leyland over time because he's one of the game's more adept platoon-builders. The Pirates' catching platoon of Don Slaught and Mike LaValliere is perhaps his signature on this score, but in the absence of a star first baseman on that same team, he'd do things like pair off
Orlando Merced
with Lloyd McClendon. He's platooning with
Quintin Berry
and
Avisail Garcia
in the outfield right now, not because he wanted to all along, but because he adapted to the talent he had on hand once
Brennan Boesch
and
Ryan Raburn
-- the latter a key masher of left-handed pitching -- broke down this year. What he
didn't
do was something easy or lazy, like just write
Delmon Young
into his everyday outfield.
Which demonstrates something else Leyland's adaptable about: He may make a sacrifice to get another star into the mix, but he doesn't just punt defense outright. If anything, he's been willing to compensate for the risks he's been willing to run with guys like Bonilla or Cabrera or by employing some fairly slick defenders over the years. Pirates second baseman Jose Lind was perhaps the best example of his relying on an extreme glove-first everyday player: His highest OBP in any of the five years he started for Leyland was .308, and he had as much power as a potato battery, but he was there to play second base.
[+] Enlarge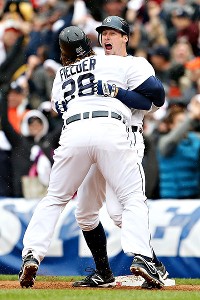 Leon Halip/Getty ImagesJim Leyland has made good use of utilitymen such as Don Kelly, right, over the years.
Over time, Leyland's list of guys whose primary value has been on defense includes middle infielders
Ramon Santiago
and
Adam Everett
, or when he's using a less-than-Ozziesque shortstop, slick-fielding third basemen like Steve Buechele and
Brandon Inge
. In short, the selections seem more tailored for each collection of talent. Get the core in place, and then figure out how the rest of the edges of the roster should work around them.
But even those big plans leave room for a quick-fix solution, which brings us to one other thing Leyland's rosters have reliably featured over 21 seasons: Utility players that he puts to work. Going all the way back to aging utilityman Bill Almon on his first ballclub as a rookie big-league skipper for the Pirates in 1986 to John Wehner with the Pirates to Don Kelly, Leyland has a knack for carrying multi-positional supersubs he can start at five or six positions and give 200-250 at-bats to. They're not great, but they are handy for the tactical flexibility they give Leyland in-game.
In short, easy as it might be to home in on the big things when evaluating Leyland as a skipper, beyond seeing his stars shine you can just as easily admire the man's tradecraft with his lineups and roster usage. There is no such thing on a Leyland roster as a player he doesn't know how to use, or might only use in an emergency, and he keeps them sharp with consistent use. In a postseason where Fielder and Cabrera have one homer between them so far, it's that sort of acumen that has helped compensate.
Christina Kahrl covers baseball for ESPN.com. You can follow her on Twitter.
October, 7, 2012
10/07/12
4:45
PM ET
The last few innings won't exactly go down as textbook October baseball, but the
Detroit Tigers
will happily take the
5-4 walk-off win
over the A's, the 2-0 series lead and the plane ride to Oakland knowing they need to win only one of three games.
It was a game in which some of Detroit's little guys stepped up:
Omar Infante
had two key hits,
Don Kelly
delivered the winning sacrifice fly and backup shortstop
Danny Worth
made a nice play in the ninth.
In the end, the A's have nobody to blame but themselves.
Tommy Milone
, after looking like he wouldn't last past the third inning early on, settled down and allowed just one run over six innings. When the A's took a 2-1 lead in the seventh off
Doug Fister
, Bob Melvin had the game exactly where he wanted: The chance to hand the ball to his final three relievers with a lead.
Sean Doolittle
,
Ryan Cook
and
Grant Balfour
had been dominant down the stretch for the A's when they surged to win the division title. Check out their numbers:
Doolittle since Sept. 7: 15 IP, 8 H, 3 BB, 13 SO, 1.80 ERA, .154 AVG
Cook since Sept. 7: 15 IP, 8 H, 1 BB, 16 SO, 0.00 ERA, .154 AVG
Balfour since Sept. 14: 11 IP, 3 H, 1 BB, 14 SO, 0.00 ERA, .086 AVG
It's worth noting that Melvin pushed all three hard in the final week -- Cook and Balfour each appeared in the final five games and Doolittle the final four. None had appeared in more than three consecutive games all season prior to that. The A's had three days off since clinching and all three had excellent velocity, but you do wonder how much they have left in the tanks.
The key play came with Doolittle pitching in the seventh. After
Austin Jackson
and Infante singled,
Miguel Cabrera
hit a fly ball to somewhat shallow center field.
Coco Crisp
, playing in Saginaw, got a late jump and then tried to Willie Mays it, but dropped it, and two runs scored on the error. It wasn't that difficult of a play, even from where Crisp started. You can't make errors like that and win postseason games.
But the A's actually took the lead in the eighth when
Yoenis Cespedes
created a run all by himself, singling, stealing second and third and scoring on a wild pitch. When
Josh Reddick
then lofted a 3-2 changeup from
Joaquin Benoit
over the right-field fence to make it 4-3 (batters had previously hit .174 off Benoit's changeup, with 47 strikeouts and three walks), the A's once again looked good.
But in the bottom half,
Delmon Young
and
Jhonny Peralta
singled off Cook and
Andy Dirks
laid down a perfect sacrifice bunt. Pinch-hitter
Quintin Berry
struck out, but Cook then threw a pitch in the dirt, catcher
George Kottaras
made an unsuccessful backhand stab and pinch-runner Kelly scored the tying run.
In the ninth,
Al Alburquerque
relieved
Phil Coke
with two runners on and got Cespedes on a bouncer back to the mound to end the threat. Balfour, the hyper Australian, came on in the bottom of the ninth having retired the previous 26 batters he faced. But Infante singled to right with one out, Cabrera dumped a flare into center to send Infante to third, and after
Prince Fielder
was intentionally walked, Kelly lofted an 0-1 pitch to right, easily scoring the winner.
Despite the back-and-forth nature of the game, there weren't too many managerial moves to question. I'm not a fan of loading the bases since it forces the pitcher to throw strikes, but you can't argue with putting on a hitter such as Fielder to pitch to Kelly. Fielder did ground into 17 double plays, but Balfour is a fly-ball pitcher and Kelly was hitting .186 (although his strikeout rate of 17 percent isn't terrible). All things considered, you're much more likely to get a strikeout there than a double play with Fielder.
I did think Melvin missed a chance to get power-hitting
Chris Carter
in the game when Leyland brought in Coke to start the ninth to face Kottaras. Melvin instead pinch-hit his other catcher,
Derek Norris
, who struck out.
Melvin also chose not to sacrifice bunt with
Stephen Drew
in the third inning after the first two batters reached. I didn't have a problem with that. Even though the score was 0-0 at the time, Milone had been shaky, escaping a bases-loaded jam in the second, so Melvin was correct in thinking he should go for a big inning instead of one run. Drew struck out and the A's scored just one run, as the Tigers ended the threat when rookie
Avisail Garcia
gunned down Crisp at home plate with a perfect throw from right field.
So it's a huge win for the Tigers and a frustrating loss for the A's. The one clear advantage Oakland had going into the series was the bullpen, and now the 'pen has a mark on the wrong side of the ledger. The A's do head home, where they've won eight of nine, but even if they pull out the next two games, you know who is staring down at them for a possible Game 5:
Justin Verlander
.
September, 16, 2012
9/16/12
11:59
PM ET
Here's the thing about closers: If they were better pitchers, they'd be starters.
Here's another thing: They're often inconsistent from week to week and month to month, let alone season to season.
Here's one more thing: Even
Mariano Rivera
isn't perfect. He has blown 73 saves in his career in the regular season. He once blew nine in one season. He blew seven in another.
So in the case of
Jose Valverde
of the
Detroit Tigers
, nobody expected him to be perfect again in 2012, not after going 49-for-49 in save opportunities in 2011. But Sunday's blown save wasn't just another random blown save in the midst of a grueling 162 games. It's one that Tigers fans won't be so forgiving about, not when it occurs against the lowly
Cleveland Indians
in the middle of September, on a day the first-place
Chicago White Sox
won to stretch their lead over the Tigers to 2 games.
Valverde entered with a 6-5 lead, thanks to Mr.
Miguel Cabrera
and his three-run homer in the seventh. Valverde, like nearly every appearance we see from closers in 2012, entered with nobody on base, no fires to put it. Get three outs and go home and you can pump your first, jump up and down, point to the sky or yank out your jersey. Three outs.
Jason Kipnis
doubles to deep center.
Asdrubal Cabrera
flies out.
Carlos Santana
triples off the glove of
Don Kelly
in right field.
Michael Brantley
and
Ezequiel Carrera
are intentionally walked to load the bases.
Lonnie Chisenhall
drills a line drive over Kelly's head in right-center for the winning hit.
Indians 7, Tigers 6
.
The rally capped a frustrating day for the Tigers. Manager Jim Leyland was tossed in the fifth inning when first-base umpire Brian Knight called Chisenhall out on a potential inning-ending double play that instead allowed a run to score. In the sixth,
Prince Fielder
and his rather large body mass collided with catcher
Alex Avila
on Santana's foul pop, knocking Avila from the game and allowing Santana to extend the at-bat. Santana reached on what was ruled on an infield single as Cabrera's throw pulled Fielder off the bag and Fielder may or may not have slapped a tag on Santana in time. Meanwhile, Asdrubal Cabrera scored on the play.
Despite the Tigers blundering away outs, they still held that precious ninth-inning lead.
In 2012, entering Sunday's games teams were a collective 1886-95 when staring the ninth. That's about three losses per team on average. The Tigers were right at that average: 71-3. Valverde was 31 for 35 in save chances, but had converted 15 in a row. However, that shows how the saves statistic can be misleading at times. Valverde gave up two hits and a run on Sept. 12 but recorded the save. He allowed three hits and a run but got the save on Sept. 2. He'd allowed a run the day before in a non-save situation. He allowed two on Aug. 7 but still got the save.
You get the idea. There's still a lot of Philippe Petit's to Valverde's performance. In fact, check out his numbers from 2011 and 2012:
2011: .198/.292/.282, 2.24 ERA, 5 HR, .250 BABIP
2012: .232/.313/.343, 3.77 ERA, 3 HR, .267 BABIP
He hasn't been
quite
as effective as 2011, perhaps best indicated by a decline in his strikeout rate from 8.6 to 6.4 per nine innings, but such is the life of a closer: One year things go your way, the next year they don't. There's a lot of randomness in luck.
Anyway, four notes on Sunday's blown save:
1. The pitch to Kipnis was a 1-2 splitter that didn't split. It was still down in the zone, however, so give Kipnis some credit for a solid piece of hitting.
2. The pitch that Santana tripled on was terrible, a 1-2 fastball left over the heart of the plate. Catcher
Gerald Laird
signaled outside; Valverde missed ... by a lot.
3. Right fielder Kelly could have made the catch, as the ball bounded off the heel of his glove before he flew into the wall. A difficult play, yes, but one that has to be made when you're fighting for a playoff spot.
4. Leyland -- or interim manager Lloyd McClendon -- then ordered two intentional walks. Hate, hate, hate this play. Hate loading the bases in a situation where you have to force the pitcher to throw strikes. I can understand the walk to Brantley, since he's a good contact hitter. But Carrera had struck out 32 times in 110 at-bats; with his speed he's unlikely to ground into a double play, but you have an excellent chance at a strikeout or some other form of weak contact with him. You certainly have a better chance of striking him out then inducing a double play with Valverde -- who is one of the more extreme fly ball pitchers in the league with a 34 percent ground ball rate.
So it was lousy pitching by
Rick Porcello
, lousy defense, lousy managing and lousy closing. Forget frustrating; it was just a bad day of baseball for the Tigers, even if the Tigers weren't quite so willing to admit as such.
"It was a good comeback," Leyland said. "There wasn't anything cheap about it. It was a heck of a ballgame. Give them credit. That's the way it goes. Turn the page and move on."
"I made good pitches, but they hit them," Valverde said. "I want to be perfect, but I am not. Now, let's go to Chicago and win."
Valverde was referring to Monday's crucial makeup of last week's rained-out
Justin Verlander
-
Chris Sale
showdown. Instead we'll see
Doug Fister
face
Jose Quintana
. The Tigers will have to assess the healthy of Avila, who left with a sprained jaw, and center fielder
Austin Jackson
, scratched Sunday with a sore knee but who anticipates he'll play on Monday.
Seventeen games left. It's the last meeting of the year between the two clubs.
Adam Dunn
is back in Chicago's lineup. The Tigers lead the season series, 12 wins to 5. Lucky 13? I have a feeling it may be the most important game of the season in the AL Central. Are you ready, Papa Grande?
PHOTO OF THE DAY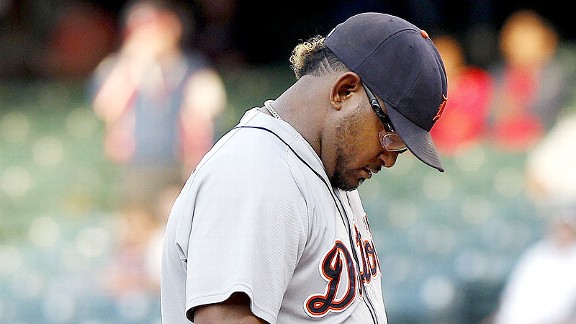 David Maxwell/Getty ImagesSuffice to say that it wasn't Jose Valverde's best day at the office, and he knew it.
January, 26, 2012
1/26/12
8:30
AM ET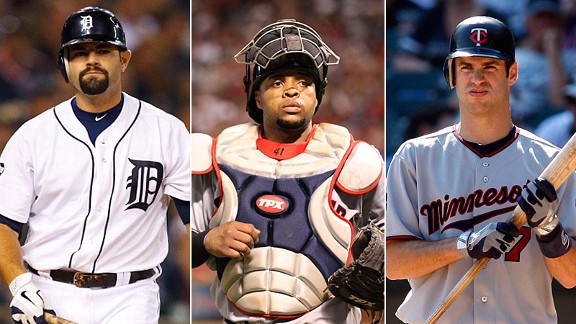 US PresswireWith Alex Avila, Carlos Santana and Joe Mauer, the AL Central is loaded at catcher.
We're back with more divisional position rankings for 2012. You can scream, you can holler, you can protest and call me names. But just because I rated your player lower than you think he deserves doesn't mean I hate your team.
(Here are the
NL East
and
NL West
rankings.)
Catcher
1.
Alex Avila
, Tigers
2.
Joe Mauer
, Twins
3.
Carlos Santana
, Indians
4.
Salvador Perez
, Royals
5.
A.J. Pierzynski
, White Sox
The AL Central might not be baseball's glamor division, but it may have three of the top five catchers in the game if Mauer bounces back from his injury-plagued campaign. Since we're not certain of his health, I'm going to give top billing to Avila, who had the best hitting numbers of any catcher outside of
Mike Napoli
and plays solid defense. I wouldn't be surprised if Santana explodes; with his power-and-walks combo, all he has to do is raise his average 30 points and he'll be one of the most valuable players in the game. Considering that his average on balls in play was .263, there is a good chance of that happening. Perez hit .331 in 39 games; OK, he won't do that again, but he doesn't turn 22 until May and puts the ball in play. There's no shame in being fifth in this group but that's where I have to place Pierzynski, who keeps rolling along and is now 36th on the all-time list for games caught.
First base
1.
Prince Fielder
, Tigers
2.
Paul Konerko
, White Sox
3.
Eric Hosmer
, Royals
4.
Justin Morneau
, Twins
5.
Matt LaPorta
, Indians
In 2009, when Morneau played 135 games, he hit .274 AVG/.363 OBP/.516 SLG. Even if he replicates that line, he may rank only fourth. Konerko has hit a combined .306 with 70 home runs the past two seasons. He's 104 home runs from 500 but turns 36 in March, so he's probably four seasons away; not sure he'll hang on that long, but who knew he'd be this good at this age. If Hosmer improves his walk rate and defense and Konerko declines, Hosmer could climb past him. If it doesn't happen this year, it will happen next. The most similar batter to him at age 21: Eddie Murray.
Second base
1.
Jason Kipnis
, Indians
2.
Gordon Beckham
, White Sox
3.
Johnny Giavotella
, Royals
4.
Alexi Casilla
, Twins
5.
Ramon Santiago
, Tigers
Well, this isn't exactly a
Robinson Cano
/
Dustin Pedroia
/
Ben Zobrist
debate, is it? Kipnis' bat is a sure thing, as evidenced by his excellent play after his call-up (.272 average and .507 slugging in 36 games). His glove was once a question mark but now appears solid enough that he looks like a future All-Star to me. Can anybody explain what has happened to Beckham? He's second mostly by default; he's gone downhill since his superb rookie season in 2009 but is only 25, so there's hope that he'll find those skills again. Giavotella has some potential with the bat (.338/.390/.481 at Triple-A), which is more than you can say for Casilla and Santiago.
Third base
1.
Miguel Cabrera
, Tigers
2.
Mike Moustakas
, Royals
3.
Lonnie Chisenhall
, Indians
4.
Danny Valencia
, Twins
5.
Brent Morel
, White Sox
We'll go with the idea that Cabrera is Detroit's starting third baseman, although I predict he'll end up starting more games at designated hitter. Manager Jim Leyland will end up doing a lot of mixing of his lineups, but for this little exercise we have to choose a starter. Moustakas didn't tear up the league as a rookie and I worry about his ability to hit lefties (.191, homerless in 89 at-bats), but he showed more than fellow rookies Chisenhall and Morel. Valencia doesn't get on base enough and he rated poorly on defense in 2011. I hope he's at least good in the clubhouse. Morel was terrible all season and then exploded for eight of his 10 home runs in September and drew 15 walks after drawing just seven the previous five months. Maybe something clicked.
Shortstop
1.
Asdrubal Cabrera
, Indians
2.
Alexei Ramirez
, White Sox
3.
Jhonny Peralta
, Tigers
4.
Alcides Escobar
, Royals
5.
Jamey Carroll
, Twins
Peralta had the best 2011 season, but he's a difficult guy to project. He had an .804 OPS in 2008 but dropped to .691 in 2009. He had a .703 OPS in 2010 and then .823 in 2011. I just don't see a repeat season, at the plate or in the field. Cabrera didn't rate well on the defensive metrics, and after a strong start he wore down in the second half. Ramirez has turned into a nice player, with a good glove and some power, and he even draws a few walks now. Escobar is a true magician with the glove. Carroll is actually a useful player who gets on base (.356 career OBP), but he's pushed as an everyday shortstop and he'll be 38. He'll be issued the honorary
Nick Punto
locker in the Twins' clubhouse.
Left field
1.
Alex Gordon
, Royals
2.
Alejandro De Aza
, White Sox
3.
Ben Revere
, Twins
4.
Michael Brantley
/
Shelley Duncan
, Indians
5.
Ryan Raburn
/
Don Kelly
, Tigers
I'm not sure what to do here. After Gordon, I just get a headache. We'll pretend to believe in De Aza after his impressive stint in the majors (171 plate appearances, .329/.400/.920). He's hit in Triple-A for three seasons now, and while he's not going to post a .400 OBP again, he should be adequate. Revere is one of the fastest players in the majors, but he's all speed and defense; he hopes to grow up to be
Brett Gardner
, which isn't a bad thing, but he'll have to learn to get on base at a better clip. Brantley doesn't have one outstanding skill so he'll have to hit better than .266 to be anything more than a fourth outfielder; Duncan provides some right-handed pop as a platoon guy. The Tigers have
Delmon Young
, but I'll slot him at DH. That leaves supposed lefty masher Raburn and utility man Kelly to soak up at-bats; both had an OBP below .300 in 2011, although Raburn has hit better in the past.
Center field
1.
Austin Jackson
, Tigers
2.
Denard Span
, Twins
3.
Grady Sizemore
, Indians
4.
Lorenzo Cain
, Royals
5.
Alex Rios
, White Sox
I can't rate Sizemore any higher since he's played just 104 games over the past two seasons, and he hasn't had a big year since 2008. Rios was terrible in '09, OK in '10 and worse than terrible in '11. I'm not betting on him.
Right field
1.
Shin-Soo Choo
, Indians
2.
Brennan Boesch
, Tigers
3.
Jeff Francoeur
, Royals
4.
Josh Willingham
, Twins
5.
Dayan Viciedo
, White Sox
Choo would like to forget 2011, but there's no reason he shouldn't bounce back and play like he did in 2009 and 2010, when he was one of the 10 best position players in the AL. I don't expect Francoeur to deliver 71 extra-base hits again, but maybe he'll surprise us. Viciedo is apparently nicknamed "The Tank," which makes me wonder how much ground he can cover. He did improve his walk rate last season in the minors and turns 23 in March, so there's still room for more growth.
Designated hitter
1.
Billy Butler
, Royals
2.
Travis Hafner
, Indians
3.
Ryan Doumit
, Twins
4. Delmon Young, Tigers
5.
Adam Dunn
, White Sox
Has there been a bigger prospect disappointment than Young in the past decade? I mean, yes, there were complete busts like
Brandon Wood
and
Andy Marte
, but those guys had obvious holes in their games, while Young was viewed as a
sure thing
, a consensus No. 1 overall prospect. But his bat has never lived up to its billing. Other than one decent year in Minnesota, he has low OBPs and he clearly lacked range in the outfield. His career WAR on Baseball-Reference is minus-0.2 (1.6 on FanGraphs), meaning he's been worse than replacement level. He's just not that good, Tigers fans.
No. 1 starter
1.
Justin Verlander
, Tigers
2.
John Danks
, White Sox
3.
Justin Masterson
, Indians
4.
Luke Hochevar
, Royals
5.
Carl Pavano
, Twins
Masterson was better than Danks in 2011, and I do believe his improvement was real. He absolutely crushes right-handers -- they slugged an anemic .259 off him. Danks had two bad months but has the longer track record of success. Even in his "off year" he had a higher strikeout rate and lower walk rate than Masterson. If you want to argue about Hochevar versus Pavano, be my guest.
No. 2 starter
1.
Doug Fister
, Tigers
2.
Ubaldo Jimenez
, Indians
3.
Gavin Floyd
, White Sox
4.
Francisco Liriano
, Twins
5.
Jonathan Sanchez
, Royals
Yes, sign me up for the Doug Fister bandwagon club. Jimenez's fastball velocity was down a couple miles per hour last season but the positives are that his strikeout and walk rates were identical to 2010; he'll be better. Floyd isn't flashy but he's now made 30-plus starts four years in a row, and he'll become a very rich man when he becomes a free agent after this season. Sanchez won't have the luxury of pitching in San Francisco (and to eight-man NL lineups).
No. 3 starter
1.
Max Scherzer
, Tigers
2.
Scott Baker
, Twins
3.
Philip Humber
, White Sox
4.
Bruce Chen
, Royals
5.
Josh Tomlin
, Indians
I could be underrating Baker, who was excellent last season, but only once in his career has he made 30 starts in a season. Tomlin's fans will disagree with this ranking, but he's a finesse guy who relies on the best control in baseball (21 walks in 26 starts). He's the kind of guy you root for, but the league seemed to figure him out as the season progressed.
No. 4 starter
1.
Felipe Paulino
, Royals
2.
Rick Porcello
, Tigers
3.
Jake Peavy
, White Sox
4.
Derek Lowe
, Indians
5.
Nick Blackburn
, Twins
Scouts still love Porcello's arm and I know he's just 23, but he's made 89 big league starts and shown no signs of getting better. His WHIP has increased each season and his strikeout rate remains one of the lowest in baseball. Paulino has an electric arm -- he averaged 95 mph on his fastball -- and
is
getting better. How could the Rockies give up on him after just 14 innings? How could the Astros trade him for
Clint Barmes
? Anyway, kudos to the Royals for buying low on the guy who may turn into their best starter. Peavy can't stay healthy. Lowe has led his league in starts three out of the past four seasons, but I'm not sure that's a good thing anymore. Blackburn is a poor man's Lowe, and I don't mean that in a good way.
No. 5 starter
1.
Chris Sale
, White Sox
2.
Jacob Turner
, Tigers
3.
Aaron Crow
/
Danny Duffy
, Royals
4.
Fausto Carmona
/
David Huff
/
Jeanmar Gomez
, Indians
5.
Brian Duensing
/
Jason Marquis
, Twins
Welcome to the AL Central crapshoot. Turner and Sale have the most upside, but one is a rookie and the other is converting from relief. Crow will also be given a shot at the rotation, but his difficulties against left-handed batters (.311 average allowed) don't bode well for that transition. Even if the artist formerly known as Carmona gets a visa, what do you have? A guy with a 5.01 ERA over the past four seasons. Duensing is another typical Twins pitcher, which means he at least throws strikes. His first full season in the rotation didn't go well, so of course the Twins brought in Marquis, yet another guy who doesn't strike anybody out.
Closer
1.
Jose Valverde
, Tigers
2.
Joakim Soria
, Royals
3.
Matt Thornton
, White Sox
4.
Chris Perez
, Indians
5.
Matt Capps
, Twins
Four good relievers plus Matt Capps. I do admit I'm a little perplexed by Perez, however. In 2009, he struck out 10.7 batters per nine innings. In 2010, that figure fell to 8.7 but he posted a pretty 1.71 ERA. In 2011, it was all the way down to 5.9, but without much improvement in his control. Perez blew only four saves but he did lose seven games. He survived thanks to a low .240 average on balls in play. He's an extreme fly-ball pitcher but didn't serve up many home runs. Bottom line: I'd be nervous.
Bullpen
1. Indians --
Vinnie Pestano
,
Rafael Perez
,
Tony Sipp
,
Joe Smith
,
Nick Hagadone
2. Royals --
Jonathan Broxton
,
Greg Holland
,
Louis Coleman
,
Tim Collins
,
Jose Mijares
3. Tigers --
Joaquin Benoit
,
Octavio Dotel
,
Phil Coke
,
Daniel Schlereth
,
Al Alburquerque
4. White Sox --
Jesse Crain
,
Jason Frasor
,
Will Ohman
,
Addison Reed
,
Dylan Axelrod
5. Twins --
Glen Perkins
,
Alex Burnett
,
Anthony Swarzak
,
Kyle Waldrop
,
Lester Oliveros
If you're starting to think I'm not high on the Twins for this season, you would be correct.
Intangibles
1. Royals
2. Indians
3. Tigers
4. White Sox
5. Twins
I like the youthful exuberance of the Royals, plus the likelihood of improvement from the young players and the possibility of some midseason reinforcements from the minors. The depth of the bullpen will help bolster a shaky rotation, and this just feels like an organization that is finally starting to believe in itself. The Indians are riding last year's positive results and enter the season knowing they might get better production from Choo and Sizemore and full seasons from Kipnis and Chisenhall. I'm not knocking the Tigers here, but they do lack depth in the pitching staff and the pressure is on them.
The final tally
1. Tigers, 65 points
2. Royals, 55 points
3. Indians, 54 points
4. White Sox, 46 points
5. Twins, 35 points
No surprise here: The Tigers will be heavy favorites to win the division with a lineup that should score a ton of runs. I don't think it's a lock that they'll win -- Verlander, Avila, Peralta and Valverde will all be hard-pressed to repeat their 2011 campaigns, for example. But the Royals and Indians appear to have too many questions in the rotations, the White Sox have serious lineup issues, and the Twins have a beautiful ballpark to play their games in.
October, 10, 2011
10/10/11
11:50
AM ET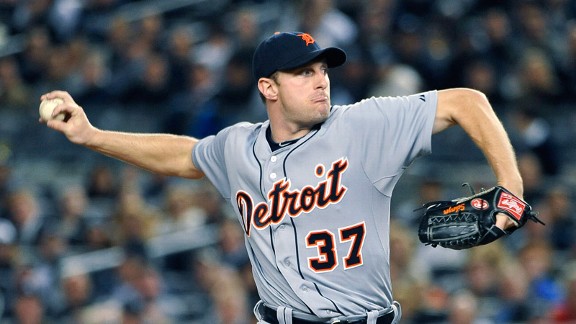 AP Photo/Kathy KmonicekThe Detroit Tigers need a strong outing from Max Scherzer in the ALCS against Texas.
If there's one piece of good news for the
Detroit Tigers
, it's that Sunday's rainout means
Max Scherzer
received an extra day of rest before his Game 2 start. Scherzer had thrown 32 pitches in a relief outing against the Yankees in Game 5 of the Division Series, so now he'll have three days between appearances instead of two.
On the other hand, the list of problems for the Tigers continues to grow.
1.
Magglio Ordonez
refractured the ankle he injured last season, becoming the third Tigers outfielder to get injured down the stretch, joining
Delmon Young
and
Brennan Boesch
. Young will be added back to the roster, but his oblique strain will likely limit him to pinch-hitting duties. (
Update: Young is in the starting lineup for Game 2. Which begs a follow-up question: If he's able to start, why was he left off the roster in the first place?
While
Ryan Raburn
is an acceptable replacement for Young in left field, it does hurt Jim Leyland's versatility as Raburn often played second base against left-handed pitching. And while
Don Kelly
might be one of
Leyland's favorite guys
, he had four hits all season against left-handed pitchers and is hitting .185 in his career against lefties (10-for-54, 13 strikeouts, one walk). Kelly against
Derek Holland
or
Matt Harrison
doesn't look like a good matchup for the Tigers.
2.
Alex Avila
and
Austin Jackson
are a mess right now. Avila is hitting .050 (1-for-20) in the postseason. Jackson is hitting .143 (3-for-21). They've struck out a combined 20 times. Needless to say, those two need to start hitting.
3. The Rangers' bullpen. Let's see:
Alexi Ogando
comes in throwing 98 mph heat;
Mike Adams
is one of the best setup guys around; Neftali Feliz was clocked at 101 in Game 1 and looked dominant in striking out the side. Lefty
Darren Oliver
can be used to face Avila or Kelly. As good as
Joaquin Benoit
and
Jose Valverde
have been this season, the Rangers' bullpen depth looks like a big edge right now, a key advantage as the series plays four games in four days.
4.
Justin Verlander
hasn't delivered. He's pitched 13 innings this postseason and has allowed 18 runners and eight runs. Yes, the weather hasn't been good in two of his starts, but no matter how you slice it up, Verlander hasn't kept runs off the board. Everyone raved about his Game 3 performance against the Yankees, but he still allowed four runs that game. I don't care if he was throwing 100 mph and dropping knee-buckling curves ... he still gave up four runs. He has to pitch better.
Of course, the Tigers need to win at least one of the next three games to get Verlander another start. Barring any further rainouts, here's how the rotations line up:
Game 2, Monday: Scherzer versus Holland
Game 3, Tuesday:
Doug Fister
versus
Colby Lewis
Game 4, Wednesday:
Rick Porcello
versus Harrison
Game 5, Thursday: Verlander versus
C.J. Wilson
Game 6, Saturday: Scherzer versus Holland
Game 7, Sunday: Fister versus Lewis
The Tigers are hitting .226 through their first six playoff games, so they're going to need some big outings from Scherzer and Fister. Lewis is actually a much better pitcher on the road, as his big problem -- home runs -- becomes less of an issue away from The Ballpark. On paper, he also matches up well against Detroit's righty-heavy lineup, as he allowed right-handed batters just a .204 average and .238 on-base percentage this season.
On the optimistic side, if the Tigers can get to Game 5, I like their chances: Verlander shuts down the Rangers in that game, Scherzer comes up big in Game 6, and then Lewis has to pitch at home, where he had a 5.54 ERA and allowed 22 home runs in 15 starts.
It looks like Scherzer has become the key man in this series. While going down 2-0 isn't the end of the world, four games in four days means Leyland will have to be careful about how much he uses Benoit and Valverde. With Porcello unlikely to go deep into his game, a strong outing from Scherzer today -- pitching into the seventh or eighth inning -- becomes paramount to help keep the bullpen fresh for the next two games.
Scherzer started three times against the Rangers this season, allowing nine runs in 17 innings. Six innings and two runs, like he did in two of his starts, would be acceptable.
Eight innings and two runs? Even better.
October, 7, 2011
10/07/11
1:58
PM ET
We close out another great week on the
Baseball Today podcast
with Friday's edition, as Mark Simon and me discuss the AL, the NL, and of course, that crazy squirrel!
1. Yanks lose! Yanks lose! Who gets the blame? There's plenty to go around, but can we also give some credit to the victors? It's Tigers with a T.
2. Speaking of Tigers, the confusion about just how good their closer is continues with an angry, bitter and funny email. Well, I thought it was funny.
3. The Brewers get to host the first of Friday's elimination games, and while each team has proven it can hit, don't you have to give the edge to the home team? Or not?
4. Roy Halladay needs to pitch well for the Phillies to win, but in reality, it's the offense -- and lack thereof -- that has Philly in an elimination game.
5. Robin Ventura as manager, Aroldis Chapman as starting pitcher and not one, not two, but three Ridiculous Questions of the Day also spice things up.
So get in there and download Friday's Baseball Today podcast, not solely because you love the great game of baseball, but for the crazy noises we hear when producer Jay Soderberg feels like pushing them. Enjoy your weekend!
October, 7, 2011
10/07/11
12:12
AM ET
I was sure
Alex Rodriguez
was going to pop one out.
I was pretty sure
Mark Teixeira
was going to pop one out.
I
knew
Nick Swisher
was going to knock one over the short porch in right field, probably down the line and into the first row.
That's what we expect from the
New York Yankees
, isn't it?
When the Yankees asked
Joaquin Benoit
to remove the big bandage that covered a zit or mosquito bite or whatever had infected his cheek like a small alien, you knew it was coming: Benoit would be rattled, he'd be thinking about exposing his sore to a national TV audience more than throwing strikes and the Yankees would win another big October game.
Band-Aid Gate. We all saw it coming.
And it almost did.
Curtis Granderson
reached out on a 3-2 pitch off the plate and looped a liner into right field to move
Derek Jeter
to second base.
Robinson Cano
hit a dribbler to Benoit's right that he stabbed at and somehow missed to load the bases. Bringing up Rodriguez. He just missed a 1-1, 95 mph fastball, fouling it straight back. He laid off a low changeup. Benoit came back with another changeup, a fantastic one that dove inside, an unhittable pitch. A-Rod missed it, swinging over the top. The fans booed as he walked back to the dugout. Sometimes it's not easy being the $275 million cleanup hitter.
But Teixeira walked on five pitches. Tigers 3, Yankees 2.
Nothing beats the tension of postseason baseball, especially in Yankee Stadium, with a visiting team trying to pull off the upset, the fans on their feet, too nervous to cheer or boo, it seemed. Maybe we've seen too many ballparks with fans waving towels. Maybe we just haven't seen enough Game 5s or Game 7s in recent years. But this felt like the most pressure-filled October moment in a long time.
Swisher struck out on a 2-2, 96 mph fastball.
Tigers fans exhaled for the first time in 12 minutes.
Benoit had needed 23 pitches to get two outs. The Tigers still needed six more.
Tension? It was punishment for fans on both sides, 166 games of big wins, big home runs and big comebacks, all down to two innings of October baseball. This is why we watch those games when it's 48 degrees and drizzling in April, why we watch those 3-hour games that move slower than a slug in the sun, meaningless games against the Royals or Twins in June. To get here. To six more outs.
As Jeter stepped in with two outs and
Brett Gardner
on first base in the eighth, Benoit had thrown 36 pitches. He hadn't thrown 37 pitches in a game all season. You can't make that kind of stuff up. On Benoit's 37th pitch, Gardner took off, Jeter took his classic inside-out swing ...
Don Kelly
took a step or two back, that right-field wall at Yankee Stadium that seems like it was built for wiffleball looming just a few feet behind him ... it looked like it had a chance ... fans reaching over, trying to pull a Jeffrey Maier ... the ball dropping into Kelly's glove.
So of course it came down to
Jose Valverde
, the man who said the series wouldn't return to New York. All he had to do was retire Granderson, Cano and Rodriguez. The big pitch was a 3-2 fastball to Granderson that he popped up to left. Cano lined softly to center. A-Rod swung through a 94 mph fastball. Game over, Tigers move on, Yankees go home, A-Rod walks off to more boos, the fans not caring that he was playing with a bad knee or that he wasn't the only Yankee to come up short in this series.
* * * *
Three big moments in this game:
1. Home runs from Don Kelly and
Delmon Young
in the first inning. I criticized Jim Leyland for hitting Kelly second. As we say though: You gotta make the plays, and Don Kelly came through. Kudos.
2. Yanking
Ivan Nova
after two innings essentially forced Joe Girardi to use
CC Sabathia
. I didn't like the idea of using CC, and he didn't pitch well. He got four outs but gave up two hits, two walks and the run that proved to be the winning run. Of the 37 pitches he threw, just 19 were for strikes.
3. Yankees third-base coach Rob Thomson held up Rodriguez at third base on
Jorge Posada
's one-out single in the fourth. Rodriguez had reached the bag right as
Austin Jackson
picked up the ball. Jackson has a decent arm and threw out eight runners on the season. It probably would have been a bang-bang play, especially with Rodriguez not at 100 percent speed. Tough call for Thomson, but I think he made the right decision, not wanting to potentially ruin a big inning.
Russell Martin
popped out to first and Gardner fouled out to leave the bases loaded.
* * * *
During his postgame news conference, Leyland said it perfectly: "This will be a game I'll remember the rest of my life." He pointed out he's been on both sides of it. Asked about Kelly's home run, he said, "Sometimes things just work out for you." He then praised Kelly, said it couldn't have happened to a better kid and nearly got choked up, knowing that home run will be with Kelly for the rest of
his
life.
And that's October baseball. Unsung heroes, big strikeouts, big hits, tension, pain, suffering and ... joy.
And memories. Love the memories.
You can follow David Schoenfield on Twitter @dschoenfield.
October, 6, 2011
10/06/11
6:03
PM ET
Five thoughts before tonight's awesome Game 5:
1. Everybody seems to be giving
Ivan Nova
the big edge over
Doug Fister
in the pitching matchup, which I don't necessarily understand. Well, I do understand why; In his Game 1 relief appearance/start, Nova pitched 6.1 innings and didn't allow a run until his final inning. I would hardly call it a dominating effort -- he walked four guys and struck out five -- but he kept the runs off the board. While everyone says he won't get rattled, I think the Tigers would be wise to be patient and see if he's getting ahead early in the count. One thing Nova has done well in the second half is keep the ball in the park: After allowing nine home runs total in May and June, he allowed just four over the final three months. The Tigers can't expect to beat him with the long ball tonight. Meanwhile, I expect Fister to pitch much better than his Game 1 outing. As our Yankee blog pointed out, Fister loves to get ahead of hitters; when he gets ahead 0-1, batters hit just .196 against him this season. The Yankees will have to balance their usual patience with perhaps a little more aggressiveness than normal.
2. The biggest boost Nova may get is Jim Leyland's inability to construct a lineup that passes a basic test for common sense. OK, he hits
Austin Jackson
leadoff. We'll let that one slide, even though Jackson has a poor on-base percentage (.317 on the season). But Leyland is moving
Don Kelly
into the No. 2 slot, playing third base. Yes, he's 3-for-7 in the series, but his OBP this season was .291, and .285 for his career. Kelly is not a good major league hitter. Batting third is
Delmon Young
, who has drawn rave reviews since coming to the Tigers. His OBP with Detroit? .298. The rest of the lineup:
Miguel Cabrera
,
Victor Martinez
,
Magglio Ordonez
,
Jhonny Peralta
,
Alex Avila
and
Ramon Santiago
. It remains a mystery why Leyland wants three guys who do a poor job of getting on base batting in front of the most feared hitter in the American League, and it makes it easier to avoid giving Cabrera much to hit. The Yankee lineup remains unchanged.
3. Leyland has also said
Justin Verlander
won't pitch tonight. He seems pretty definitive about that, although those things have a way of changing in the middle of the game. As dominant as
David Robertson
and
Mariano Rivera
have been at the back end of the bullpen for the Yankees, let's not forget that
Joaquin Benoit
has been lights-out in the second half (1.13 ERA, .116 batting average allowed), although he did serve up a home run to
Curtis Granderson
in Game 2. I suspect both managers will use their back-end bullpen duos for nine outs if necessary. If neither starter makes it through six innings, then the middle relief comes into play: the Yankees have
Rafael Soriano
, the underrated
Cory Wade
,
Boone Logan
to face the struggling Alex Avila and maybe
CC Sabathia
(I still think it's unlikely we see Sabathia, except in an extra-innings scenario); the Tigers have ... well, it will be interesting to see who Leyland trusts right now. Al Albuquerque was better than
Ryan Perry
during the season, but I suspect we'd see Perry first.
Phil Coke
is the lefty Leyland could use to face
Robinson Cano
or
Brett Gardner
;
Mark Teixeira
is better from the right side of the plate (.967 OPS versus .779, .940 versus .799 in 2010), so I wouldn't want Coke facing Teixeira.
4. Certainly, the other key guy for Detroit is Avila, hitless in the series after finishing eighth in the AL in OPS during the regular season. Since 2005, three players who hit .290 or higher in the regular season (among qualifiers) went hitless in a Division Series:
Bill Mueller
(2005 Red Sox),
Aramis Ramirez
(2007 Cubs) and
Chone Figgins
(2009 Angels). I won't say it's must for Avila to do something, but they sure could use his lefty bat to pop one.
5. This is just the fifth sudden-death game since 2006. In the previous four, the only starter who failed to last six innings was
Daisuke Matsuzaka
for the Red Sox in the 2007 ALCS. He went five innings and allowed two runs and got the win anyway. So if recent history is any indication, expect both starters to keep their teams in the game. Nova is the first rookie since Dice-K and just the 13th overall to start a sudden-death game. If you want to go back further, since 2000 there have been 20 such games, with the starting pitchers averaging 5.4 innings per start with a 4.30 ERA and 91 pitches. Of course, that takes us back to a higher-scoring time.
Anyway, let's hope for a tight, drama-filled game and let's admit: It would be fun to see CC and Verlander out there in the 12th inning, wouldn't it?